Find out which are the best money saving apps on offer, which tools you shouldn't do without, and the apps that offer the most effective way of growing your money with my complete guide to the best money-saving apps UK.
Interest rates up to 5.1% AER at Raisin UK
All banks products and offers are FSCS protected or European equivalent
Compare zero-fee savings accounts
Best saving app for your child's future
Fee: 0.5% – Lower than other JISAs and child trust funds
A great way for grandparents to save for their grandchildren
Open an account in minutes
Savings pockets and investment funds
Direct debit card available
Cashback on everyday spending
Sign up in 2 minutes
Doesn't store your bank details
Covered by the Financial Services Compensation Scheme (FSCS)
Easy withdrawals. Competitive rates
Cash prizes. Automatic saving
See all your bank accounts together
Daily balance alerts for all your connected accounts
Unique money-saving ideas
Guide, motivate and encourage kids and teens with app experiences tailored to their age.
Pre-paid 'top-up' card, so there's no risk of debt or overdraft
Prepaid debit card + app + Money Missions
See all of your finances securely in one place
Select from 100s of financial accounts
Understand where your money goes
What is a money-saving app?
A money-saving app is a tool aimed at people who find it difficult to put money to one side. They will often utilise complex algorithms to identify small, imperceptible amounts of money which they will automatically set to one side without you noticing. In this way they aim to grow a savings pot, making saving money achievable for people who typically find it hard to save money.
Plum gets my top pick for best saving app due to its free automated savings and round-ups feature. Downloading and registering on the app takes a couple of minutes, and if you have your banking already on your mobile, Plum will automatically link to all your bank accounts, making the entire process as quick and seamless as possible. Within moments you will be able to access all the great features available. You can create pots to achieve particular saving goals and withdraw your money whenever you like.
There is little doubt that this app is aimed at younger savers, however, it would almost certainly be effective for just about anyone, regardless of your saving ambitions. Users save a significant amount, with 77% rating the app as excellent.
What sets Plum apart from the competition is Plum give users access to investments, interest accounts and pensions. Putting money aside is only half the picture, what you do to grow that money is just as important.
Plum also comes with FSCS protection.
There are two options for monthly interest in your Plum savings account.
|   | Monthly Cost | Interest Paid |
| --- | --- | --- |
| Plum Basic | FREE | 0.65% AER |
| Plum Plus, Plum Pro, Plum Ultra | £1 | 1.15% AER |
Plum offer the following accounts to choose from:
 
Monthly Cost 
Additional Features
Plum Basic
FREE

0.25% AER

Automated Savings

Plum Plus
£1

0.4% AER

Investments

Plum Pro
£2.99

Goals

Cashback

Diagnostic reports

Plum Ultra
£4.99
Money Maximiser
Features of Plum I like include:
Earn interest
Automated savings and rounding up feature
Lost money alerting you when you are overpaying on bills
Unlimited withdrawals
Multiple pockets for targeted saving
Invest in a choice of funds
Gamify your savings with the 52-week challenge
Goals to set saving targets for each of your pockets
Cashback when you shop at partner retailers
Diagnostic reports to analyse spending
Money maximiser to turn your monthly paycheck into a weekly budget while earning the maximum interest
Withdraw money easily to your main bank account
£1 a month to access investments is expensive for a small saving pot, however, you can access 0.25% AER for free and then upgrade to the Plum Plus account when Plum has successfully grown your saving pot.
Raisin acts like an interest rates marketplace, connecting you to some of the most competitive interest rates available, completely free of charge. This is a great option if you already have savings that might be languishing in a low-interest savings account and you would rather stay away from any investments.
At present, the best interest rate available through Raisin is 2% AER although you will need to lock your money away for 5 years in a fixed-rate bond. Signing up is quick and easy and immediately gives you access to savings accounts with Raisin's partner banks.
Raisin is completely free to use, so if you are looking for better interest rates but don't have time to scroll through countless banking websites they may just be perfect to meet your needs.
Raisin also offer a generous sign-up bonus of £50 should you deposit anything in excess of £10,000.
The best interest rate currently available at Raisin is 3.55% AER on a 5-year fixed rate bond.
There are plenty of other interest rates available, and some are exclusive to Raisin. More information can be found on the Raisin website.
Raisin offers the following accounts to choose:
Easy Access Savings accounts
Fixed-rate bonds
Notice accounts
Sharia account options
Features of Raisin I like, include:
Sign up bonus
Refer a friend bonus
Raisin is not whole of market and therefore there may be better rates available that you miss out on
All savings are subject to tax
Minimum deposit of £1,000
Whilst Moneybox doesn't utilise automatic saving, it does have a handy round-up feature which rounds your purchases to the nearest pound, as well as a variety of saving accounts for your money to go into, including a Lifetime ISA which is by far the most efficient way to save for a house deposit.
Moneybox offer a Cash Lifetime ISA with an interest rate of 0.85% AER which is industry-leading, and a Stocks and Shares Lifetime ISA, where you can invest your savings to grow them quickly. Both these ISAs attract a government bonus of 25% on all deposits up to £4,000 per annum.
Moneybox also comes completely free and they offer free mortgage advice with deals from over 90 lenders.
Interest rates correct at time of publishing: 08/09/22. Please check site for latest.
|   | Monthly Cost | Interest Paid |
| --- | --- | --- |
| Simple Saver | FREE | 1.49% AER |
| 45 Day Notice | FREE | 1.65% AER |
| 95 Day Notice | FREE | 1.87% AER |
| 120 Day Notice | FREE | 1.90% AER |
| Cash Lifetime ISA | FREE | 1.20% AER |
Moneybox offers the following accounts to choose:
Stocks and Shares ISA
General Investment Account
Junior Stocks and Shares ISA
Simple Saver
45 Day Notice
95 Day Notice
Cash Lifetime ISA
Stocks and Shares Lifetime ISA
Pension account
Features of Moneybox I like, include:
Free mortgage advice
Roundups
Start with just £1
Regular weekly or monthly deposits
Payday boosts
House deposit calculator
Interest rates on the standard savings accounts are not very competitive.
Cleo is my top pick for a saving and budgeting app that can use spending insights, regular expenses, trends and budgets to help you effectively manage your finances. Whilst it is aimed at millennials and Gen-Zs, it would be an effective tool for anyone looking to gain financial control.
Cleo does this by connecting to your primary current account and analysing your spending habits so you can see where your money is going. It also offers the option to create budgets, within each spending category with automatic messaging when you are approaching your limits.
No interest offered at Cleo
Cleo will move your savings into an account of your choice.
Features of Cleo I like, include:
Track spending to see where your money is going
Create budgets to identify what you can and can't afford
Automatically save money with the additional option of savings goals, automatic round-ups when you spend money and swear jars
Cleo game with the option to win cash prizes
Cleo credit builder card to help you improve your credit score
There is no interest offered on your savings at Cleo, so if this is the automatic savings app you decide to use, it would be wise to find an appropriate place to move your savings to once they are established.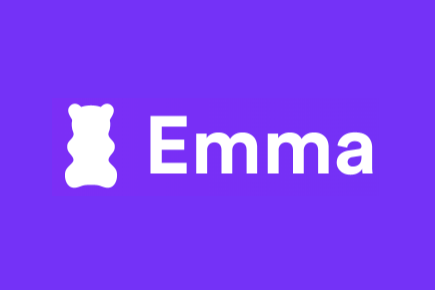 If you have a tendency to overspend and often find yourself getting into debt then Emma is a great option for you. Emma can connect to all your cards, current accounts, credit accounts, savings, investments, cryptocurrencies and pensions all in one place in order to conduct a full analysis so you can track and categorise all your expenses.
Emma is brilliant at identifying areas where you are overspending and finding old subscriptions that you may have forgotten about. By setting a budget, you can start to control your spending across categories or even individual merchants.
One of the greatest advantages with Emma is that it is completely free of charge. There are no premium paid accounts.
There is no interest offered at Emma
Emma doesn't actually store any of your money so there are no account options.
Features of Emma I like, include:
Avoid overdrafts
Find wasteful subscriptions
View all accounts in one place
Sync your budgets to payday with advanced insights into spending behaviour
Set spending limits
Easy to add a new bank account
Whilst Emma can help prevent overspending, there are no options available for putting money to one side for saving.
Whilst Emma can see your overdraft, there is no way to take into account where you owe money.
Anyone can now save money, regardless of their finances or circumstances and you don't need a mountain of self-discipline to make it happen. Clever little apps that harness artificial intelligence and algorithms work quietly in the background, squirrelling away imperceptible amounts of money, slowly building up a pot by moving this money to a separate savings account.
It really is painless, and most people are shocked at how quickly their savings grow without any effort on their part. But not all these apps offer the same level of service, and some will cost you money.
Savings that aren't handled correctly will lose value over time as they fail to keep up with inflation, so saving money isn't the only important factor, where you keep it will also ultimately affect your bottom line.
Some apps will offer you a complete service, saving and growing your money simultaneously, whilst others will require future management on your part.
How do money-saving apps work?
Different automatic savings apps will work in different ways, however, there are some basic features that it's useful to get your head around so you can decide whether a saving app is the best option for you.
How they connect to your primary bank accounts
In order for algorithms and round-ups to work, these apps require access to your primary bank account. This is achieved via Open Banking allowing banks to share banking data with the apps that have a special licence from the Financial Conduct Authority. Open banking operates with most of the major banks so this shouldn't be an issue for you.
I would always recommend that the app you are considering has this level of authorisation in order to prevent any fraudulent activity on your account.
How your money is protected
It's important to understand how your money is kept safe while using these apps so you can make safe decisions when selecting the app that's right for you.
Firstly, Financial Services Compensation Scheme (FSCS) coverage will protect your money up to the value of £85,000 should anything happen to the app that is providing you with saving services. However, not all apps have this level of cover.
Some of the apps will have an electronic money licence. This means all client money is held in a bank account ring-fenced from their own accounts, keeping client money completely separate from the operating cash of the app. This ensures that client funds remain safe regardless of what happens to the saving app.
How can I save more money in the UK?
Many of the apps will simply help you put money aside, however, what you do with your savings to help them grow is just as important. You have two main options, put your money into a high-interest savings account, or invest it.
High-interest savings accounts don't really exist in the current climate of interest rates, however, it is still worth trying to secure the best interest rate you can from any standard savings account. If you only have a small amount of savings that you are currently growing, this may be the best option as investing your money comes at a cost and your investment returns will need to be sufficient in order to meet that cost. However, once you have grown your savings you may want to consider moving them to a risk-appropriate investment fund like a stocks and shares ISA.
Investment accounts come in many shapes and sizes and some can be accessed from the saving app as is the case with Plum and Moneybox. This can save time and effort in registrations and save you from managing multiple accounts.
How much money you should have saved before you consider investing depends on the cost of the platform you choose but generally, experts will recommend starting with around £500 or £50 monthly deposit.
The main thing to remember with investing is that whilst it is more effective at growing your money during times when interest rates are low, it is also risky and you could end up losing all your money. Therefore it is important that you never invest money that you can't afford to lose, and that you remain diversified across your investments.
High street banks vs money-saving apps
In response to the rise in challenger banks and money-saving apps, many high street banks have started providing their users with access to some of the more advanced features via their own apps.
Many of these apps will allow you to open dedicated pockets or satellite accounts into which you can choose to deposit a set amount of money each month from your main account.
However, these dedicated saving apps tend to have a lot more features to really help maximise your savings, and keeping your savings in a separate entity can help remove the temptation to spend them.
Money-saving apps FAQs
Are money-saving apps worth it?
Yes, if you find it difficult to budget and save, then these smart saving apps can help you start saving using your current expenses and income. Often they cost you nothing but are very effective at what they do. Note that money-saving apps such as Emma don't offer saving into accounts that can earn interest, unlike
Raisin
and
Moneybox
.
Should people in debt save?
It is always advised that you pay off any outstanding debt before attempting to save money. Debt will often carry interest, and this will lose you money over time.
See which share tip is making the headlines

Have you considered transferring your pension?

Find the best trading platforms
*Capital at risk