Read my full and independent Raisin review to discover why it's a great option for savers looking for the best interest rates, without any additional hassle or cost.
However, this won't be the best option for everyone, and in particular, those with substantial savings may want to consider a more tax-efficient option.
Raisin UK is a marketplace of savings accounts, designed to help you find the best interest rates in the UK, whilst saving you time and effort. The best bit is that you can access Raisin's savings marketplace free from any costs and Raisin UK allows you to save with multiple savings account providers, with just one, easy to open cash hub account.
How does Raisin UK work?
Unlike money comparison sites which will list some of the best interest rates available, Raisin offers its users one Raisin UK account, from where you can access the saving rates of your choice, without the need for multiple accounts at different establishments. This makes moving funds around to take advantage of new and better rates a quick and painless process.
In today's world where savings accounts provided by UK banks are paying increasingly low levels of interest, this kind of service can help highlight the best rates without spending hours trawling through the web pages for each individual financial establishment.
Who is Raisin UK?
Raisin UK is a saving marketplace, connecting users with a range of banks offering savings accounts with some of the best rates in the UK.
Who owns Raisin?
Raisin UK is a subsidiary of Raisin GmbH and has managed to raise in excess of 206m EUR through investments from giants including Goldman Sachs, PayPal, Thrive Capital, Index Ventures and Ribbit Capital.
Raisin UK is the trading name of Raisin Platforms Limited which is authorised and regulated by the Financial Conduct Authority (FRN: 813894).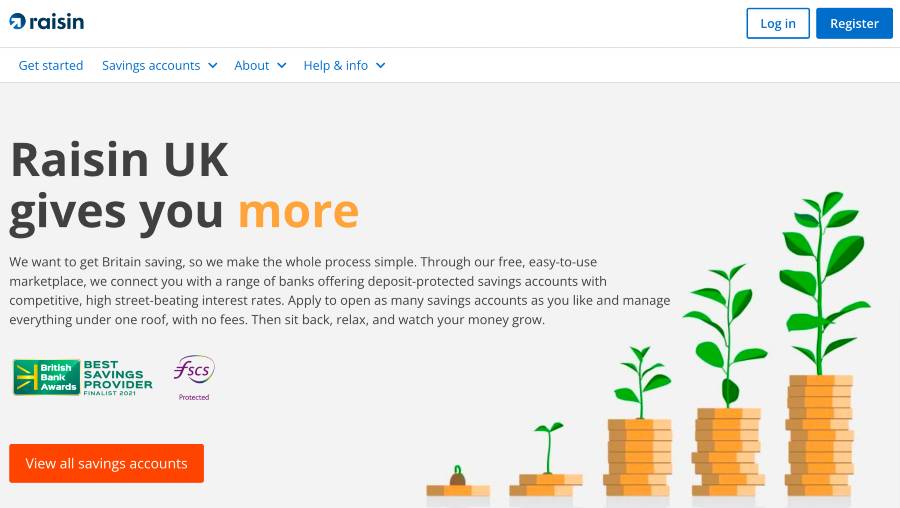 Raisin UK offers a variety of different savings accounts from over 30 partner banks, to suit unique circumstances.
The highest interest rate that you can currently access through Raisin varies, especially with the current economic climate, so I suggest you check the Raisin website for the best and current rates.
Once you have opened an account with Raisin you can choose the savings account which suits you best from the following types of savings accounts:
Easy Access Savings Account
An easy-access account is for people who require complete flexibility as to when they can withdraw from the savings account. It can otherwise be known as an instant access account. If you can't lock your money away for any length of time, this would be the account most suited to you.
You will sacrifice on interest but the interest will still be better than what you would find on the high street and you can access your money from your easy-access accounts at any time.
Fixed-Rate Bonds
These savings accounts are also known as fixed-term deposit accounts and require you to lock away your money for the set term of the account which is usually somewhere between 1 and 7 years.
If you have a long-term savings goal then a fixed-rate account will offer you the best interest rates. However, should you be unsure as to whether you may need to access the money held within your savings account then fixed-rate accounts would not be your best option.
Remember, that you will be unable to access your money, or indeed add any extra money to fixed term deposits until the account has matured regardless of the service provider.
Notice Account
Notice accounts also offer competitive interest rates, however, they require a notice period should you wish to withdraw your money from the savings account. They do offer more flexibility than a fixed-rate bond, and would ideally suit someone who is unlikely to need the funds in an emergency.
Some of the best rates available at Raisin in the UK are from their Sharia Banking saving provider. Whilst this is ideal for followers of Islam, it is also open to all faiths. The rate offered at these banks is 'an expected profit rate' which is a target rate rather than a guaranteed rate to fall in line with Islamic principles.
However, should Raisin feel that the expected rate is likely to change, they will offer you the option to close your account and receive your initial deposit back, along with any interest you have earned on the amount up to that point.
The advantage of opening a savings account with Raisin
Anyone who has opened a savings account in the past will be familiar with the laborious process of completing forms and the verification processes at each savings provider.
In some instances, this even required a visit to your local branch. The time-consuming nature of opening an account made switching accounts or having multiple accounts, with different financial institutions, in order to access the best rates, inaccessible.
However, Raisin have successfully streamlined this process with one quick registration that provides you access to all the savings account with their partner banks, meaning you can swap and change and open multiple accounts, to take advantage of different rates.
This also makes managing each savings product easier, with one central login and password, providing you access to all your savings accounts.
Raisin refer a friend bonus
Raisin also offers a refer-a-friend bonus that gives customers the opportunity to earn £25* for each friend they refer. There are certain criteria that must be met.
Your friend will be required to fund their account with £5,000 or more. Your friend will also receive the £25 bonus* when they have reached the minimum duration of 6 months.
* Check the Raisin website for the most up-to-date refer-a-friend bonus
Opening an account at Raisin
As mentioned, the account opening process at Raisin is certainly part of its appeal. This can be done entirely online with a range of personal details including:
First and Last name
Home address
Time lived at current address
Nationality
Date of birth
Telephone number
Contact number
National insurance number or UK tax ID number
You may be asked for supporting documentation such as your passport or driving licence but once this is done you can browse savings accounts from the full range offered at Raisin, selecting the deals, interest rates and durations that suit you best.
It is important to note at this stage that when you register your account with Raisin, you are effectively opening an account with Starling Bank. Starling and Raisin have collaborated in order to manage your money transfers to the savings account of your choice. Starling is responsible for storing and managing your money. For more information on Starling please go to my Starling Bank review.
Transferring funds into Raisin
Your account with Raisin will come with a sort code and account number, much like a traditional bank account.
This makes it easy to transfer funds into your new Raisin account. You will be asked to set up a nominated bank account and enter your bank details and from there you're able to transfer as much or as little as you would like.
It's important to keep Raisin up to date with any changes to your nominated account as this is the only account funds can be moved to and from.
Raisin fees
Raisin is a completely free service, offering users the ability to access great interest rates without paying a single penny. How it does make money is from the partner bank you open an account with. The amount of money that is exchanged will depend on the duration of your term, and the initial deposit you make. However, all these services remain completely free for you.
The only charge that you may have to consider is the tax bill on any interest you make. A basic rate taxpayer can earn up o £1,000 per year in savings interest without incurring any tax costs, however, over and above this, it is your sole responsibility to declare your profits to the taxman and pay any subsequent bills.
Raisin customer service
Raisin offer customer service via email, phone and secure message from your Raisin account although they do ask on their website that you stick to email as they are struggling to handle large call volumes.
Upon emailing my query I received an automated response informing me that Raisin are striving to get back to emails within 3 days, however, a higher than usual volume of enquiries means that this could take longer.
This is pretty poor in terms of wait times. However, if you ignore the advice on the website, and call the number provided, you can get through to a helpful human almost immediately.
The most obvious alternative to Raisin UK is Hargreaves Lansdown as both these providers offer access to savings products for free.
However, at the time of writing this review, Hargreaves Lansdown had 11 partner banks and had ceased their partnership with some of the bigger banks they offered previously such as Goldman Sachs and Investec. Conversely, Raisin has 30 partner banks.
The other tick for Raisin comes in the form of their generous welcome bonus which would certainly be worthwhile for savers with more than £10,000 to deposit.
However, if you are looking to grow your money faster and are not averse to the associated risks, you may want to consider investing your savings in a stocks and shares ISA.
With today's considerably low-interest rates, this is becoming an increasingly popular option.
Is Raisin Safe?
In short, yes! Raisin is fully authorised and regulated by the Financial Conduct Authority, ensuring they uphold strict rules on client conduct and the protection of client funds. All client money is held in separate bank accounts, ensuring its safety regardless of what happens to Raisin as a business.
All the partner banks featured on the Raisin website have full banking licences and therefore come under the Financial Services Compensation Scheme, protecting your money up to the value of £85,000 per banking group.
Some of the partner banks at Raisin are registered in Europe and therefore fall under the European Deposit Guarantee Scheme (DGS) up to 100,000 EUR.
Is Raisin really offering the best interest rates on the market?
It's important to distinguish that whilst Raisin can offer a great choice of rates, it is limited to its partner banks. That is not to say that there won't be times when these represent the best rates available, however, this is not a whole of market service, and if securing the best possible rate is of utmost importance then I would encourage you to do the leg work to find these for yourself.
Where Raisin does add value is in securing some of the best rates whilst providing users with the utmost convenience. And whilst they may not have every bank as a partner, they still have some of the big names including Investec, ICICI Bank, QIB, Hoist Savings, Zenith Bank, Aldermore, Charter Savings Bank, Cambridge & Counties Bank and Reliance Bank to name a few.
If it makes sense for you to split your savings between different accounts in order to provide you with varying levels of access whilst taking advantage of some of the best rates available, then Raisin is a great option.
The registration process is quick and simple with the whole process taking minutes to complete, unlike many traditional banks. This will definitely save you time and the fact that this service comes for free is an undeniable advantage.
Raisin can also save you time transferring money between accounts should better rates come up elsewhere. Obviously, this would only be applicable to instant access accounts.
With Raisin, you can enjoy total confidence in the service they are providing due to their years of previous experience operating in Europe. In addition to this, Raisin is able to offer access to some European banks which may not otherwise be available to you.
However, don't be fooled into thinking these are the best rates available. If you have the time and inclination to search the marketplace then you could end up with a better deal elsewhere.
Useful Information
Here I have outlined some useful information to make your experience as seamless as possible at Raisin.
Does Raisin provide a Cash ISA?
At this time Raisin does not provide access to an ISA. Therefore, individuals who have substantial savings that will generate a tax bill may want to look elsewhere for all or part of their savings.
I'm unsure which financial product is best for me. Does Raisin offer financial advice?
No, Raisin is unable to offer you any sort of independent financial advice, however, they do provide a useful section on the website to help you establish which of the savings products on offer would best suit your circumstances. Remember, with Raisin it is easy to put your money in more than one saving product at one time.
Is it better to switch money from a current account to a savings account?
Yes! Any spare money in your current account that you don't need access to is effectively shrinking in value due to the fact that it won't be keeping up with inflation.
How do I contact Raisin?
You can email raisin at [email protected], however, the quickest way to get a response from Raisin is to phone them on 0161 601 0000.
They offer customer support Monday to Friday 8.30 am to 4.30 pm.
Raisin FAQs
Who can open an account with Raisin and access the savings products?
Any UK resident over the age of 18 is able to open an account with Raisin. You will need details such as National Insurance Number and an email address and phone number in order to complete the account opening process.
Does Raisin offer joint accounts?
No, sadly at this time Raisin has no provision for joint accounts.
Most recent reviews:
Very slow customer service – the frustration of which almost cancels out the benefits of decent interest rates. I can't withdraw my deposit that has matured, because it's been over two weeks and they haven't changed my nominated account details.
Dislikes
Deposit and withdrawal
Customer service
I have food it to be very useful and helpful – there are lots of different types of investments to make, spreading the money over all of them to gain a better return. advice is also available if i need help.
It is a little bit of a pain to open an account. It takes some time, especially for a deposit to clear and become available. I have also emailed customer support in the past and not received a response, albeit the enquiry was not urgent or that important. I would likely invest elsewhere in future. Deposit accounts are becoming much more competitive and so Raisin would have up their game for me to continue with them.
See which share tip is making the headlines

Have you considered transferring your pension?

Find the best trading platforms
*Capital at risk