Moneyhub is a powerful money management app that combines all your existing finances including bank accounts, investments, credit cards, and savings accounts in one place providing you with valuable insights to help you budget effectively. This smart technology acts as a financial assistant with the added benefit of human financial advisors included.
Moneyhub is an excellent tool for anyone looking to take control of their finances however, you will need to be comfortable with sharing all your data and there is a small subscription fee to be aware of.
Get your first six months FREE
First six months free when you sign up to Moneyhub
Budgeting apps are increasing in popularity, and Moneyhub is certainly taking its share of the market. But is this the best place to trust with your financial data and is it worth the subscription fee when there are plenty of free alternatives available?
In my Moneyhub review, I seek to answer these questions and provide you with an in-depth analysis of what exactly the Moneyhub app offers and whether the spending analysis here can really make an impact on your financial life.


• Best Employer Award 2022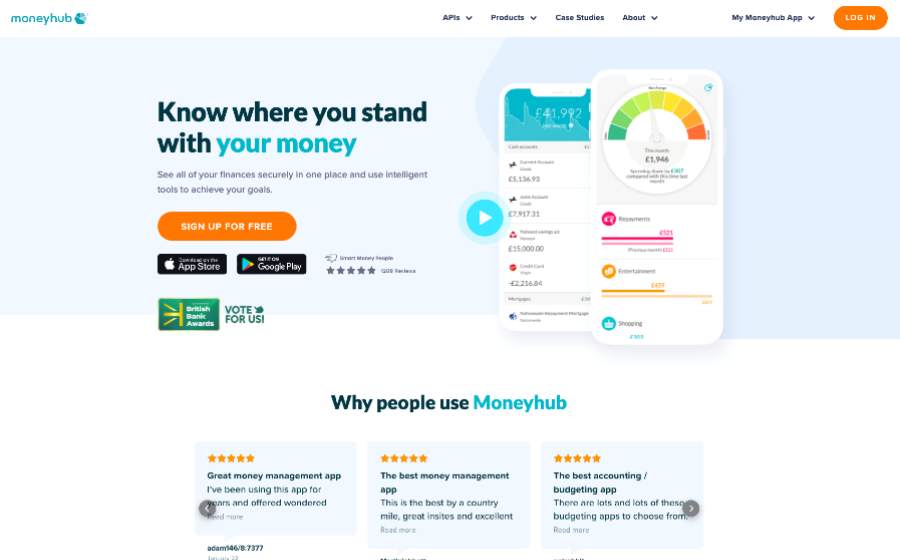 Who are Moneyhub?
Moneyhub provide an app with the intention of helping individuals and businesses improve their financial well-being. In order to achieve this, they utilise powerful technology, Open Banking, and the experience of financial experts, to combine information from all your accounts, as well as detailed spending analysis, so you can make informed financial decisions.
Who owns Moneyhub?
Moneyhub was founded by Dave Tonge and was acquired by MMI Holdings in May 2014.
Moneyhub product range overview
How does Moneyhub work? Moneyhub connects to all your accounts via Open Banking and is packed with tools and features to help you gain financial control. In terms of this type of product, the range of services is excellent.
Moneyhub is not a lender, so what you won't get is any kind of overdraft or loan facility.
Once you have signed up to Moneyhub and connected all your accounts including savings, credit cards, bank accounts, investments, mortgages and pensions you will be able to access the following insights:
Spending analysis – Moneyhub provides users with graphs of where their money is being spent with the categorisation of transactions and monthly comparisons
Custom categories – users have the ability to change the categorisation of any transactions to a personalised category
Split transactions – transactions can be split into more than one spending category
Spending goals – users can set spending budgets, make realistic with information from previous months' spending, and track their progress throughout the month to help keep them on track
Nudges – these provide information on your current position for your monthly budget so you can adjust your spending accordingly.
Money transfers – transfer money from between your linked accounts all through the Moneyhub app
Manage direct debits – view all your regular direct debits and standing orders in one place for easy management
Forecast – help plan for the future with the forecast feature including the ability to add big transactions such as a car or holiday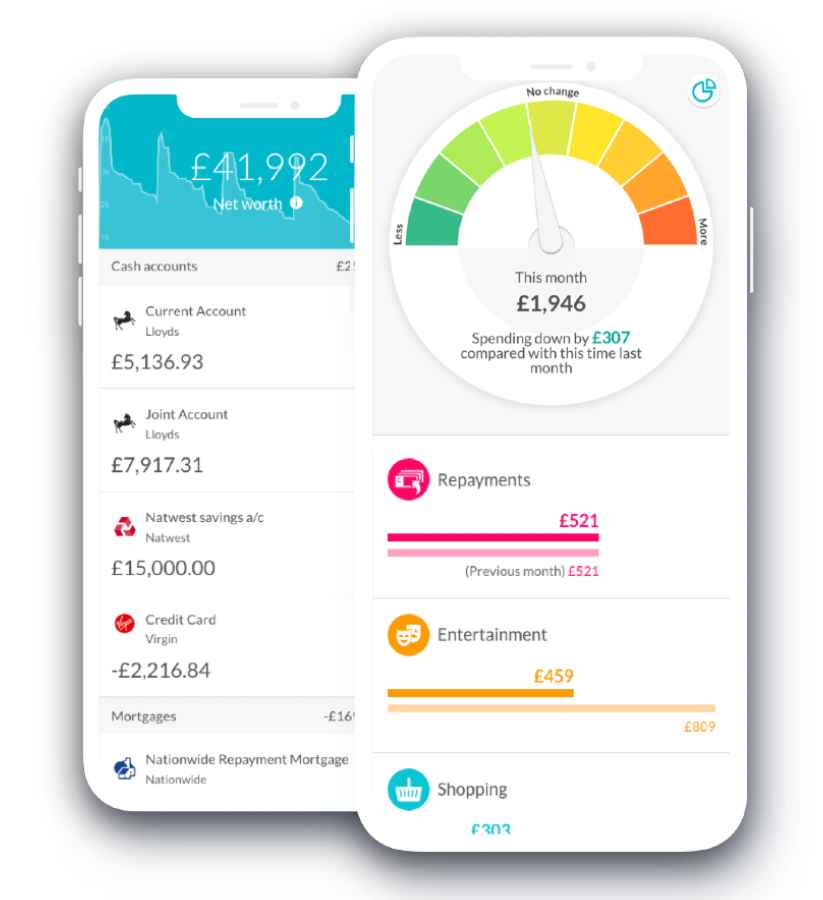 Moneyhub customer service review
Emails to Moneyhub were answered between 30 minutes and 4 hours and there is a live chat option within the app. However, Moneyhub do not offer any phone support.
Although some of my emails were answered promptly, others took much longer and I did think it was a shame that there was no phone support on offer. That being said, the live chat worked well and agents were able to answer my questions promptly.
Moneyhub customer reviews
"Great software tool for tracking your spending and assets"
"This is a great product for keeping track of spending across multiple bank accounts and credit cards. It's quick and easy to set up, and the ongoing categorisation of each transaction is simple. Once entered, the information can then be viewed directly in the app or downloaded into Excel for more detailed analysis. It also works for keeping track of investment assets, although not all investment platforms are online. The Help Desk team are great for ironing out any technical issues. In short – it's well worth the modest cost to keep a 360 degree view of your finances."
"Brilliant app with the features it…"
"Brilliant app with the features it provides, not had any issues with the application itself and really helps me get insight into where my money disappears to each month.
Keeping track of all my pensions and investments is really handy too, as you lose information as you trade funds around or sell shares. So getting your portfolio history tracked via an external tool is mightily helpful"
"Should be great but……."
"I would really like to give a glowing review because when Moneyhub is working it's great, however…….Over the last year or so I have had problems with re-authorising the connection with some, but not all of my accounts. The first time this happened it took three months to sort it out, I lost a lot of data and wasted time on emails answering the same questions from customer service over and over again. Now it has happened again. I have been unable to re-authorise with two major banks for more than a month and customer service are just fobbing me off again saying it has been referred to their technical team. Just not good enough sadly."
Moneyhub opening an account
Opening your account at Moneyhub is quick, easy, and fully digital. The app automatically links to your existing accounts using Open Banking.
When you open an account with Moneyhub, you will be redirected to your bank's login portal in order to provide Moneyhub with read access, without giving Moneyhub access to any of your personal bank details. Most UK current accounts are supported including:
Barclays
Bank of Scotland
Halifax
HSBC
Lloyds
Monzo
Nationwide
RBS
Santander
Ulster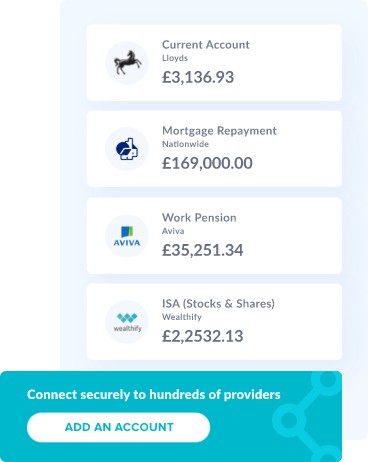 Should you have assets that are not part of an online banking institution, these can also be added manually for a more complete picture.
Moneyhub have taken all the necessary precautions when it comes to protecting your account and your data.
When it comes to linking all your financial data into one place, security is absolutely paramount and in this regard, I found no cause for alarm at Moneyhub.
In order to access your account, you will be asked to provide a pin-code, password, or touch ID.  In addition to this Moneyhub is regulated by the Financial Conduct Authority and has bank level authentication and security. None of your login details are stored by the app as Moneyhub encrypts all user login credentials and then separates them from your personal information.
Should you have concerns about your phone being stolen or hacked, you can take comfort from the fact that Moneyhub is a read-only budgeting app, meaning the app cannot be used to conduct any transactions.
How much does Moneyhub cost? Moneyhub does charge a small fee for using their service, unlike other budgeting apps. However, they justify this by saying that they will never sell your data to third parties.
How much does Moneyhub cost? Moneyhub does charge a small fee for using their service, unlike other budgeting apps. However, they justify this by saying that they will never sell your data to third parties.
Your first six months at Moneyhub are completely free of charge. After that time there is a subscription charge of £1.49 a month or £14.99 a year.
Who is Moneyhub suitable for?
Moneyhub is a useful tool for anyone looking to take complete control of their finances. It is especially useful for people with multiple financial accounts, as well as for couples who wish to bring their combined wealth together under one hat for a more accurate financial picture of their net worth. That being said, Moneyhub charges a fee which is substantially more than similar apps.
Moneyhub free alternative
If you were looking for a similar service to Moneyhub, without the monthly subscription fees then you could consider Emma. Emma also works by grouping all your accounts together in one place, while helping you avoid using your overdraft and paying off your debt. Emma will prompt you about your monthly savings to help you remain on track and like Moneyhub, Emma will allow you to set saving goals.
Useful Information
This section contains useful information to make your experience at Moneyhub as seamless as possible.
How do I contact Moneyhub?
Users can get in touch with Moneyhub's customer service team either from within the app by going to 'Settings' and selecting 'Support' followed by 'Contact Support' or alternatively by emailing [email protected].
Can I trust Moneyhub?
Yes, being authorised and regulated by the Financial Conduct Authority means that Moneyhub are bound by strict levels of conduct. Moneyhub take several measures to keep their customers details safe including the latest encryption technology.
How can I see all my bank accounts in one place?
Once you open an account with Moneyhub, the read only service will connect to your banks, credit card providers, pensions, and investment platforms in order to provide you with monthly spending insights on your money dashboard. This includes regular payments and spending categories.
How can I close my account with Moneyhub?
Closing your account with Moneyhub can be done by simply contacting customer support and informing them that you would like your account closed. You will at this point have the option of returning in the future or the more permanent action of deleting all your data.
Moneyhub FAQs
Is Moneyhub any good?
Moneyhub certainly has good tools and features and will perform the task of providing you with useful spending insights well. However, there is the monthly cost to consider, and while Moneyhub insist that, unlike other apps, they charge this fee so they can afford not to sell your personal details to third parties, there are in fact other apps, such as Emma, that don't charge the fee, and don't sell your data.
How often will my account information refresh on Moneyhub?
There is a way of refreshing all your information manually should you require an up to the minute summary, however, all your accounts should automatically refresh after 24 hours.
Moneyhub Customer reviews
Most recent reviews:
There are no reviews yet. Be the first one to write one.
See which share tip is making the headlines

Have you considered transferring your pension?

Find the best trading platforms
*Capital at risk