Looking for commission-free stocks and ETFs?
Freetrade's affordability has made it a popular choice among millennial investors and the free share for InvestingReviews readers is an added incentive.
Get a FREE Share
Sign up to Freetrade and fund at least £50 in your account within 30 days of signing up, and get a FREE share worth between £10-100.
Terms and conditions apply. Check website for more details.
So is Freetrade a good platform?
I would say this is easy to use and can be a low-cost option, especially for those who don't need a tax wrapper. There are also a decent number of shares and ETFs, including fractional shares.
And what are Freetrade's limitations?
At Freetrade, there are subscription fees associated with the ISA and the pension account, and the offering of assets is limited to stocks and ETFs so this option would not suit those looking for a wide variety of assets.
So would I recommend Freetrade?
Yes! The free basic plan comes with a General Investment Account that is entirely suitable for beginners looking for access to more than 1500 stocks and ETFs commission-free.
Deposit and withdrawal:
50%
Markets and products:
40%
Pros
Extremely quick and easy to open a Freetrade account
Free trading on stocks and ETFs
No minimum deposit
Cons
Research is almost non-existent
Options for depositing and withdrawing are limited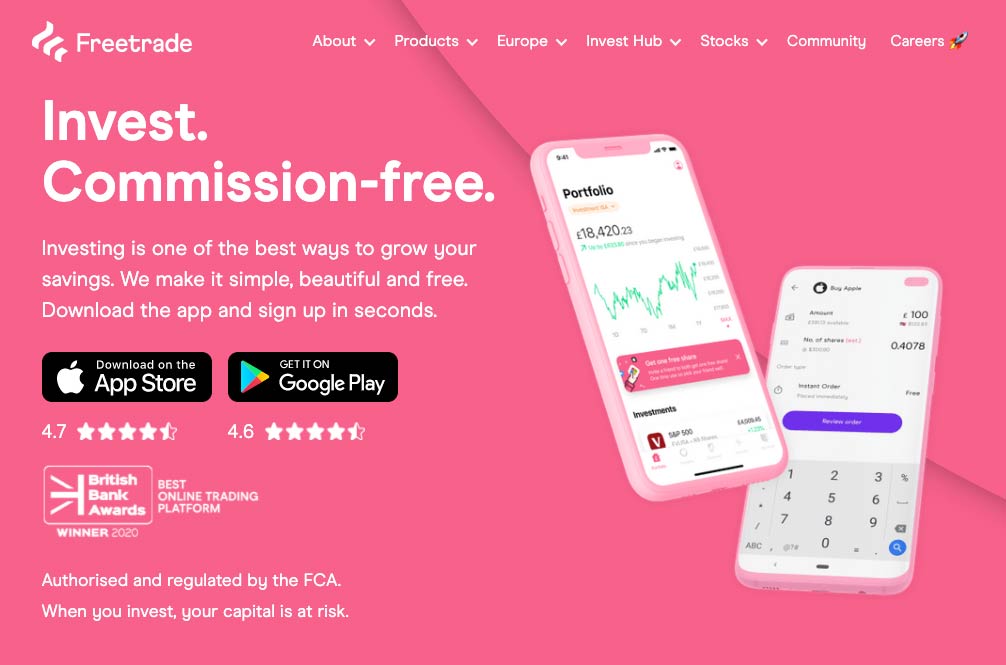 Who is Freetrade?
Freetrade, a no-frills fintech startup launched in 2018, offers commission-free share dealing. They are regulated by the Financial Conduct Authority and covered by the Financial Services Compensation Scheme. Despite some controversy and regulatory notices, Freetrade remains popular among Millennials and Gen Z for its freemium model and available securities.
Who Owns Freetrade?
Freetrade is a privately owned company with almost 8,000 shareholders through crowdfunding. It was founded by CEO Adam Dodds, a former manager at KPMG, and in 2019, they received a Series A investment from venture capital firm Draper Esprit.
While Freetrade does offer commission-free trading on stocks and Exchange Traded Funds in the US and UK stock markets, this is fairly limited and potentially increases risk by restricting the user's ability to create a truly diversified portfolio.
Freetrade lacks European and emerging market companies, mutual funds, options, futures, and cryptocurrency trading. However, they plan to expand their offerings. Commission-free trading is available on over 1000 stocks and ETFs from the London and New York Stock Exchanges, including fractional shares and basic orders after market hours. Freetrade also offers over 30 investment trusts.
Freetrade General Investment Account Review
The General Investment Account offering at Freetrade allows users to trade in their UK stocks, ETFs, and index funds without any monthly costs and with commission-free instant orders.
While you can't take advantage of the tax savings offered in the ISA, the General Investment Account is a free account that can be used once investors have used up their UK ISA allowance and is a very effective, easy-to-use investment account.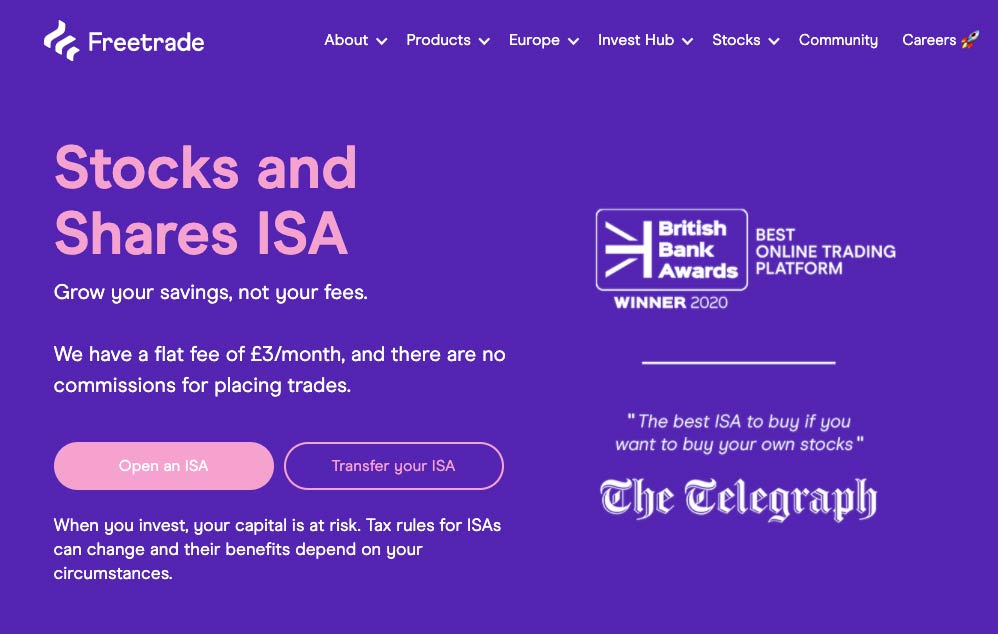 The Freetrade stocks and shares ISA account gives users the option to deposit up to £20,000 per year of their money, free of any UK tax; however, Freetrade does charge users £3 per month as a flat account fee for the use of the stocks and shares ISA.
This is still a cost-effective solution when compared to other stocks and shares ISAs on competing trading platforms, most of which will charge between £5 and £12 for a single trade when using their stocks and shares ISA account.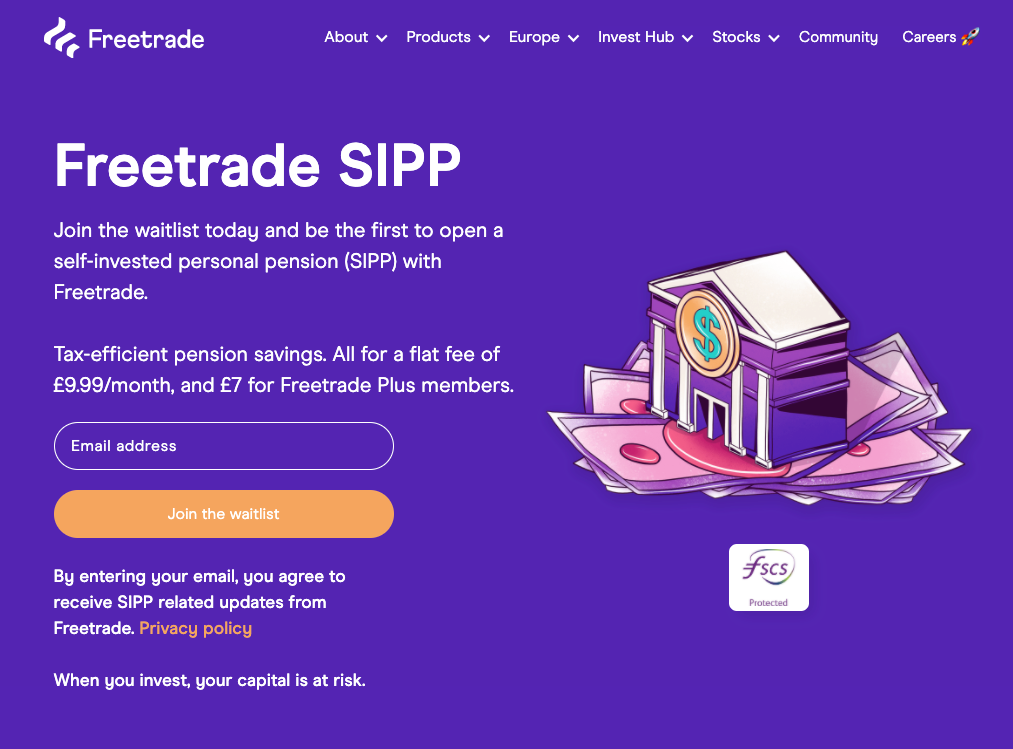 Freetrade has recently launched its Self-Invested Personal Pension (SIPP), providing Freetrade account holders with an efficient and cost-effective way to save for their retirement. The SIPP will set you back £9.99 a month, which is still a very low-cost offering when compared to other providers, and allows you to receive UK tax reliefs on contributions of up to £40,000 per tax year from your investment account.
The cost of the Freetrade SIPP is reduced to £7 a month for Freetrade Plus members, and of course, with the added advantage of commission-dealing on all trades as well as free transfers into the Freetrade SIPP and the option to trade in fractional shares, this is a great offering from an already successful platform.
Also consider: The most important pros and cons of investing in SIPPs
Freetrade SIPP vs Hargreaves Lansdown SIPP
|   | Freetrade | Hargreaves Lansdown |
| --- | --- | --- |
| Buying and Selling Shares | Free | £11.95 |
| SIPP Account Fee | £9.99 | 0.45% |
| Fractional Shares | Yes | No |
| FX Rate | Spot rate +0.99% | Spot rate + 1% |
Freetrade Plans
There are three plans to choose from at Freetrade, depending on your particular needs as an investor.
How do Freetrade's plans compare?
Here is a visual comparison of the plans on offer at Freetrade and the benefits of each.
| Feature | Freetrade Basic | Freetrade Standard – £4.99/mo | Freetrade Plus £9.99/mo |
| --- | --- | --- | --- |
| General Investment Account | | | |
| Stocks and Shares ISA | | | |
| Self Invested Personal Pension | | | |
| Commission-free trades | | | |
| US fractional shares | | | |
| Access to 1,500 stocks and ETFs | | | |
| USD & EUR stocks at reduced FX fee | | 0.59% | 0.39% |
| Access to 6,000 US, UK, and EU shares and ETFs | | | |
| Automated order types | | | |
| Advanced stock fundamentals | | | |
| Interest on uninvested cash | | 1% up to £2,000 | 3% up to £4,000 |
| Priority customer service | | | |
| Advanced stock fundamentals | | | |
| Freetrade Web beta | | | |
Freetrade Basic
£0.00/mo
Freetrade Basic Account provides access to the General Investment Account, where investors can take advantage of commission-free trades, US fractional shares and access to over 1,500 stocks and ETFs
Freetrade Standard
£4.99/mo
The Freetrade Standard Account is the latest offering from the investment platform, providing a mid-range account that offers access to the general investment account in addition to the stocks and shares ISA.
Here you can access all the benefits of the basic account; however, you will have more access to stocks from the US, UK, and EU (over 6,000 in total), which may suit investors looking to build a diversified portfolio containing stocks from more than one geographical location.
The other big advantage of this account is the automated order types, including limit orders and stop losses, in addition to advanced stock fundamentals. There is also an interest rate of 1% on all uninvested funds held within the account, up to a maximum of £2,000.
Freetrade Plus
£9.99/mo
Freetrade Plus acts like a hybrid between an investment account and a savings account, earning uninvested cash with 3% interest, up to a maximum of £4,000, paid monthly.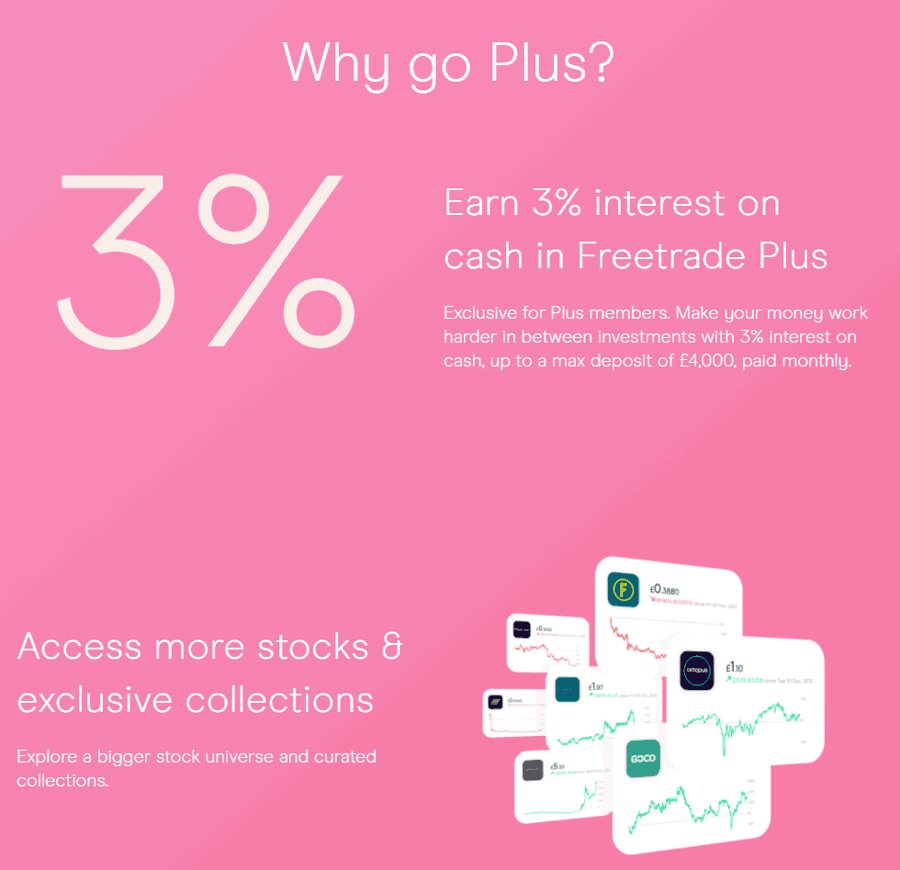 Freetrade Plus offers advanced investment tools, priority customer service with extended hours, expanded stock and ETF options, curated collections, and various order types like limit orders and stop losses. It includes the Freetrade ISA and SIPP in the monthly price. Freetrade also has a referral program called Free Share, where you and your friend can earn free shares worth at least £10.
Freetrade Platform Review
The Freetrade trading platform has proven to be very popular with investors and currently has more than 600,000 users; however, there is no web or desktop trading platform to perform trades in US and UK stocks, shares, and ETFs, as Freetrade has taken the decision to offer all this trading through the Freetrade app alone, unlike alternative DIY investment platforms.
Freetrade has consistently received excellent reviews for its innovative and well-designed mobile app. When it comes to being user-friendly, they really have ironed out all the kinks and designed a streamlined interface that is available on both iOS and Android. Everything about the app is designed to make investing as easy as possible, and you can be up and running in moments.
It's worth noting that while Freetrade has a website, you can only trade stocks and access your SIPP via the Freetrade app and not on your desktop PC or tablet, so it might not appeal to everyone.
I found the security to be first-class with both a digital password and biometric authentication (face and touchID), and once inside the app, investing is fast and slick as you would expect from such an innovative offering. However, beyond that, there is not much to report, as one of the most alluring features lies in its simplicity.
On the App Store, Freetrade has scored 4.7 out of 5 stars from over 5,000 reviews, and they have a similar rating on Google Play, which speaks volumes about how user-friendly the app is for investing. When held up against all the trading apps on the market today, the Freetrade app is certainly a good place to complete your trades.

Research Service and Tools Review
In terms of research, you would be hard-pressed to find a more meagre offering than what is currently available at Freetrade. There are no real analytics tools available, which makes finding and picking investments a bit of a guess. There is some basic information with graphs that illustrate the company's historical share performance, but without more further information, this is fairly unhelpful when it comes to investing.
There are some charts and graphs to help track the performance of your investor portfolio; however, the charts aren't actually labelled, and the amount of data available won't actually give you much of an idea of how your stocks and ETFs are performing. That being said, Freetrade seems to be aware of this failure and is constantly rolling out new updates, so it wouldn't come as a surprise if this issue was rectified in the long term.
There is a really vibrant community forum on Freetrade where discussions, comments, and education are readily available, as well as really helpful articles outlining upcoming updates and trading insights. And for completely novice investors, there is Investing Deep Dives, which provides information on investing such as what ETFs are and what a share is.
As already mentioned in this Freetrade review, the fees at Freetrade are exceptionally low. In fact, they charge zero commission on all stocks, shares, and ETF trades.

Of course, there are other trading platforms where this is available. Revolut will also offer zero commission per trade; however, when compared to other similar platforms, this is still an excellent offering. As an example, Hargreaves Lansdown charges £11.95 per trade on US stock when you trade between 0 and 9 trades per month. Of course, Hargreaves Lansdown has notoriously high trading fees; however, this still serves to illustrate the excellent value Freetrade is offering when it comes to buying and selling stocks.
When it comes to non-trading fees, Freetrade is still coming out on top, with no inactivity fee, no withdrawal or deposit fees, and no share dealing account fee for the GIA (General Investment Account). While their basic Freetrade account is free of any charges, as mentioned above, you can expect to pay a monthly fee for tax advantaged accounts which includes the Standard plan in order to access the individual savings account (ISA), which is low at just £4.99 per month, and their Freetrade Plus account, which is £9.99 a month, which still seems to represent good value and includes the ISA as part of the price, as well as the Freetrade SIPP.
Conversely, Hargreaves Lansdown charges 0.45% of the trade value on their ISA with an annual cap of £45, still considerably more than what Freetrade is offering, and Interactive Investor and AJ Bell charge a monthly account fee ranging from £9.99 to £19.99 depending on what plan you choose.
Here is a quick breakdown of all the fees you can expect to encounter at Freetrade:
| Freetrade Fee type | Fee |
| --- | --- |
| General investment account | £0 |
| Stocks and Shares ISA | £4.99/mo |
| Self-Invested Personal Pension | £9.99/mo |
| Trading fee | £0 |
| FX fee | 0.99% – 0.39% |
Guide to opening an account at Freetrade
Freetrade had one of the fastest and easiest account opening processes I've experienced to date. Once you have downloaded the app, you simply need to add the following:
Your email address is where your confirmation link will be sent
Personal details such as name, date of birth and national insurance number
Address and nationality
Once you have done this, you simply need to select the account type you wish to open between GIA, ISA, SIPP, or Freetrade Plus, and Freetrade will automatically verify your identity. Quick and easy, and you can be investing in moments.
Should Freetrade encounter difficulty verifying your identity, you may be asked to furnish them with additional documents, such as your passport or driving licence, as well as a utility bill or bank statement as proof of address.
Deposit and Withdrawal Review
The only base currency available to deposit money at Freetrade is GBP, which is no issue if you're in the United Kingdom; however, rival platforms like Degiro have nine base currencies, and as Freetrade does offer their service in several European countries, I felt it was a shame that they didn't have more currencies available in order for overseas investors to avoid losing money on the exchange rate.
In terms of fees, Freetrade doesn't charge any deposit fees or withdrawal fees unless you require your withdrawal to be rushed through the same day, in which case you can expect to pay £5 in withdrawal fees.
While Freetrade doesn't accept credit or debit cards, it does accept bank transfers from your bank accounts and Apple Pay and Google Pay as deposit options, which, given that the platform is aimed at millennials, seems quite sufficient. However, withdrawals can only be done using a bank transfer from your bank account, and without the express service, they can take around 2 business days. This seems reasonably quick to me.
There have been some misgivings about Freetrade's lack of phone or email customer support; however, they have a great live chat facility, which is often preferred by millennials, and whilst conducting this Freetrade review, I found response times to be good with knowledgeable, helpful answers to my questions. You can clearly see who you are talking to, and I liked the personal approach to customer service. That being said, I did have to reduce the score to reflect the lack of email and phone support.
While there was no 24/7 service, Freetrade Plus customers can get help between 6 a.m. and Midnight, Monday through Friday, which is a pretty good offering in addition to the priority customer service.
Freetrade customer reviews on Trustpilot are largely positive with an overall score of 4.1 at the time of this review. Reviewers appreciate the level of customer service available on the online trading platform, however there are a few reviews citing the lack of stock market research to help with investment decisions.
Who is Freetrade suitable for?
Freetrade is a great platform for the millennial investor who may not have much experience in investing but would like to dip their toes in the London Stock Exchange and New York Stock Exchange markets with a really easy-to-use app. Their stocks and shares ISA offers a great UK tax-saving tool, and once you have linked your bank account, you will be investing, depositing, and withdrawing at the click of a button.
While Freetrade is an easy way for a novice investor to start buying shares and ETFs, it's important to note that they don't offer investment advice and any research is very limited; therefore, it is up to the investor to research independently or seek independent advice. Experienced investors may find the trades available a bit limiting compared to other investment platforms.
Useful Information
Important and useful information about Freetrade for UK investors.
How to contact Freetrade
All contact with Freetrade is done using the Live Chat function from within the Freetrade app.
Can you withdraw money from Freetrade?
Withdrawals are all done via bank transfer and can be requested through the Account tab within the mobile app. Simply select 'Withdraw' and insert the amount that you wish to withdraw. You will need to ensure you have linked your bank account before the withdrawal can be initiated. It is prudent to remember that any gains will be subject to UK capital gains tax and should therefore be declared by the investor.
You should take the time to sell shares and ETFs before commencing with a withdrawal.
How to close an account at Freetrade
Closing your account is quick and easy at Freetrade; however, you should ensure you sell shares and ETFs you still have and withdraw all your money back to your bank account via bank transfer beforehand. After this, simply contact customer service through the live chat within the Freetrade App and request that they close your account.
Is Freetrade legitimate?
Freetrade is a completely legitimate trading platform, regulated by a top-tier regulator, with all the appropriate safety measures in place to protect your capital.
Can you make money on Freetrade?
Yes, you can make money on Freetrade. This is because Freetrade allows you to buy and sell shares and ETFs completely free of any commissions, with the intention being that you will buy at a low price and then sell when the price has risen in order to make a profit.
However, it is prudent to remember that while the price of an asset can go up, it can also go down, and you could end up losing all your original investment. Therefore, it is important to ensure that you do ample research before investing in any company and diversify your portfolio in order to reduce your risk. Investing should also be a long-term endeavour, with a minimum term of five years.
Is Freetrade really free?
While there are charges for their premium product and ISA and SIPP accounts, all trading on Freetrade is commission-free, and their General Investment Account is also free of charges.
What is the minimum investment on Freetrade?
The minimum investment on Freetrade is £2 for UK, US, and EU stocks. £2 will allow you to buy a fractional share in a company. This allows you to purchase shares in companies that you may not otherwise be able to afford.
Which is better, Trading 212 or Freetrade?
Trading 212 offers a greater number of shares, including ones from Europe, which is an area Freetrade is falling short on. The other consideration is that the Trading 212 ISA is free, whereas Freetrade is charging £4.99 for their ISA.
Freetrade alternatives
I have spent some time researching Freetrade's main competitors and conducting a direct comparison so you can make an informed decision as to which platform would best meet your needs.
Freetrade vs eToro
I will go into the main differences between these two platforms in more detail, but my findings were that eToro presented a better option for most traders, mostly due to the extensive offering of tradable assets and the thriving eToro social and copy trading capabilities.
Fees: Both of these platforms are low-cost with commission-free trading. However, eToro has a withdrawal fee of £5 and an inactivity fee of $10 per month after one year of inactivity, making Freetrade the lower cost of the two.
Investment options: There is no doubt that eToro has a wider range of options when it comes to tradable assets like stocks, ETFs, forex, commodities, and cryptocurrencies. Whereas Freetrade has a limited number of stocks and ETFs.
Trading platform: eToro offers a web-based and mobile platform that is user-friendly and easy to navigate. Conversely, the Freetrade platform is available only on mobile. eToro also offers social trading on its platform.
Education: Both platforms offer articles, videos, and webinars.
Customer support: eToro offers 24/7 support, whereas Freetrade only offers support during set hours.
For more information, please refer to my in-depth eToro vs Freetrade analysis.
Freetrade vs Trading 212
If you are looking for a low-cost way to invest in an ISA, then Trading 212 is a better option for you with a greater range of tradable assets; however, for those saving for their retirement, only Freetrade has the option to invest in a SIPP.
Fees: The main point of interest here is that while an ISA at Trading 212 will cost you nothing, the same product at Freetrade will set you back £5.99. In addition, Trading212 will charge a 0.15% FX fee, compared to a 0.99% FX fee on the Freetrade Basic Plan. This makes Trading 212 a lower-cost option.
Investment options: While you can trade stocks and ETFs at both of these platforms, Trading 212 also offers access to CFDs, commodities, and cryptocurrencies.
Trading platform: Again, Trading 212 have pulled ahead with access to an Islamic account, social trading, and a web platform in addition to the platforms offered at Freetrade.
Education: Both these platforms offer access to guides, podcasts, and videos, although Freetrade also offer retirement education.
Customer support: Trading 212 offers 24/7 customer support available via live chat, phone, and email.
For more information, please refer to my in-depth analysis here.
Freetrade vs Moneybox
Moneybox offers a hands-off approach to investing with very little cost and some handy additional features. However, if you want to pick and choose individual stocks, then you can only do this at Freetrade.
Fees: For a stocks and shares ISA, this could work out cheaper at Moneybox at just £1 per month compared to Freetrade's £5.99 a month. However, there is a platform fee of 0.45% so larger pots will need to work out which of these options would cost less. There are also fund charges to take into account at Moneybox.
Investment options: Moneybox only offers pre-made funds, which while easy, is limiting. At Freetrade you have access to stocks and ETFs.
Trading platform: Moneybox has some nice additional features such as the ability to link to your bank account and round up your spending, putting your spare change into your choice of product including a Lifetime ISA, Junior ISA, Pension, or range of interest-bearing savings accounts.
Education: Freetrade has a more comprehensive suite of educational materials compared to Moneybox, which only has some articles on their website.
Customer support: Both of these platforms offer support via email and live chat, but there are no 24/7 capabilities.
Freetrade vs. Plum
Plum works a little differently from Freetrade by analysing your income and spending and working out how much you can afford to invest and save using complex algorithms.
Fees: The stocks and shares ISA at Plum will set you back just £1 a month, making this much more cost-efficient than the Freetrade ISA that comes in at £5.99. You will have to take into account the management fee of 0.15% on the funds you select.
Investment options: Plum offers access to a range of funds and a limited selection of stocks. Freetrade has a wider range of assets to choose from.
Trading platform: There are a number of features on the Plum account, such as savings accounts, a Visa debit card, and round-ups.
Education: Both of these options offer access to articles, videos, and webinars.
Customer support: Only Plum offers 24/7 support.
Freetrade FAQs
Is Freetrade any good?
While conducting this Freetrade review, I found Freetrade to be a great 
investment app
 for a novice investor who wants to take advantage of their free investment account and commission-free trading.
Is Freetrade safe?
It was my opinion that Freetrade had taken all the necessary steps to keep your money safe. Freetrade is regulated by the Financial Conduct Authority (FCA), and all client money is kept in segregated bank accounts, which means they are unable to use your money in any way.
Freetrade Customer reviews
Most recent reviews:
Best of the best, highly recommended. Easy to use and free. Great customer service as well, so I would highly recommend this app to a friend
Likes
Fees
Account opening
Deposit and withdrawal
Customer service
I have found this particular app perfect for my needs. The platform is easy to use and intuitive with all the information I need to make decisions about my investments. The fees are low and the service has been excellent. I am very pleased with this app.
Easy to use and free. Only issue being you can't buy some shares with the free version . The app is quick and updates in real time. ISAs are cheap to run as well as SIPPS. Nothing else to say really.
See which share tip is making the headlines

Have you considered transferring your pension?

Find the best trading platforms
*Capital at risk