Chip is an automatic saving and investment app that provides access to market-leading interest rates and a selection of BlackRock investment funds. There are several great features that harness artificial intelligence and Chip are constantly improving their service.
However, there are cheaper options available so I've taken the time to assess whether Chip are the best solution on the market for auto investing and saving.
In this Chip app review, I've taken a detailed look under the hood of this automatic saving app which claims to make saving easy and accessible to everyone, regardless of your current financial circumstances.
Saving money doesn't always come naturally to everyone, however, a new generation of saving apps are using artificial intelligence to analyse your income and spending habits in order to help you squirrel away money without even noticing it.
Having thoroughly tested this method of saving over a considerable period of time, I can confirm that it is an effective and painless way to put money aside, but that being said, Chip isn't the only saving app on the market so I've taken the time to test this offering against its main competitors to find out if Chip's 300,000 users have chosen the best saving platform available.
That being said, I would encourage you to read my entire Chip app review, in order to obtain a completely impartial account of the savings app and whether it would be a good option for you.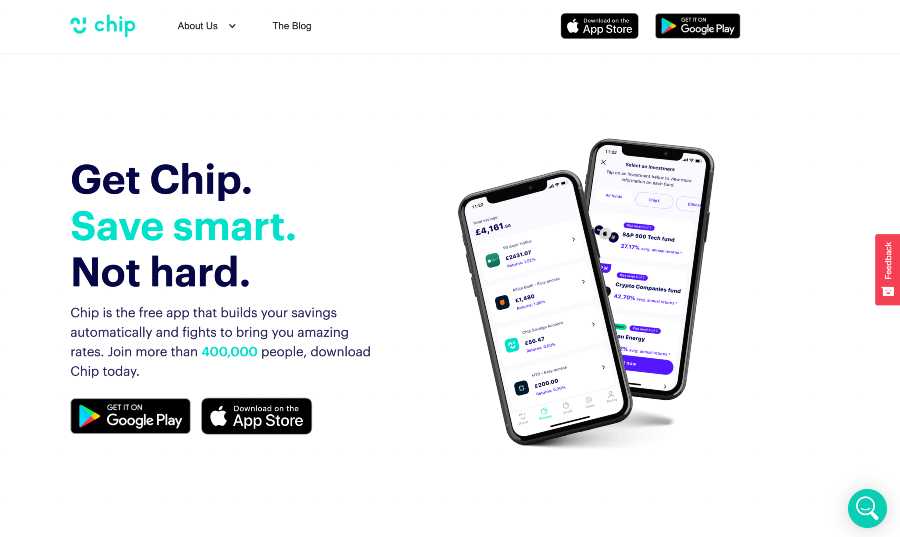 Who are Chip?
Chip is an automatic saving app that connects to your current account through Open Banking. It utilises complex algorithms to establish how much you can afford to save and then places that cash in a saving or investment account on your behalf.
Who owns Chip?
Chip was founded in 2016 by Nick Ustinov and Simon Rabin. Simon Rabin retains his role on the board of directors to this day.
How Does The Chip App Work?
Chip works by connecting to your main bank account, where it analyses your income and expenditure and automatically takes small and seemingly unnoticeable, amounts of money, out of your bank account and stores them securely in your Chip account. The act of connecting to your main bank account takes around 60 seconds, but you will need to have your bank app already installed on your smartphone device. Chip will automatically link to your banking app, meaning you won't need any of your online banking login details.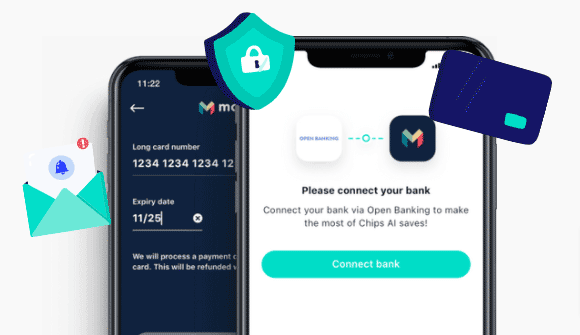 Once this is complete, Chip will use your transaction history in order to identify small amounts of money that can be taken out of your account to help you save money. This will happen every four days unless Chip decides that there are inadequate funds in your account, in which case the automatic saves will not go ahead. You will also get notifications of any saving activity before it happens so you can easily cancel before the transaction takes place.
There is also the option to set savings goals and Chip will automatically assign funds to these goals where you will easily be able to track your progress. You have the ability to set several of these goals, whether it be a car or holiday, and Chip will effectively help you painlessly reach these goals.
You can take advantage of the autosave feature and goals with the free Chip plan.
There are two Plans on offer at Chip:
ChipX
Prize Savings Account
After speaking with a Chip customer service representative, it became clear that there are several changes currently taking place at Chip which I will go into in more detail in this review.
Chip Product Range Overview
Chip offers savers the following products to help generate great saving habits:
Prize Savings Account
This is a more recent addition and whilst you won't earn any interest here, you will be entered in a prize draw to win over £10,000 in prizes each month as long as your balance is above £100. Every £10 gets you one entry, so the more you save, the more chance you have of winning.
Whilst there are no charges for using this account, the current rate of inflation would mean that should you fail to secure a prize in the draw, your funds would actually be losing value over time.
Allica Bank Easy Access Savings Account
Returns: 1.1% AER
As of August 2021, Chip have launched their new easy-access savings account with an AER of 1.1% with FSCS protection for your funds. Interest is paid daily, so you can take advantage of compounding and you can access your funds whenever you like.
This is a decent interest rate at the moment, and Chip have suggested there are more savings accounts to come.
90-day Notice Account
Returns: 2.15 AER
If you don't think you will need to get your hands on your savings quickly, then this is by far the best interest rate on offer at Chip. This account is powered by OakNorth Bank and accounts holders are required to give 90 days notice in order to withdraw their funds.
Chip Plans
Basic Plan
This is the free plan. You can earn a great interest rate of 2.15% on the 90-Day Notice Account and 1.1% AER on the Easy Access Savings Account using this plan and the great thing is that it is completely free of charge.The Basic Chip plan comes with a choice of savings accounts and most importantly the auto-saving technology and savings goals. You can also access the General Investment Account (GIA) with an annual platform fee of 0.5% (min. £1 per month) and the basic investment funds from BlackRock, however, the full range of funds is only available with the ChipX plan.
ChipX Plan
This is the plan that unlocks the full range of funds and the investment ISA, at a cost of £4.99 per 28 days. This includes ethical and clean energy funds emerging markets fund and new funds that are constantly being added. In addition there is no platform fee to contend with which is very competitive in the industry.
Chip Investments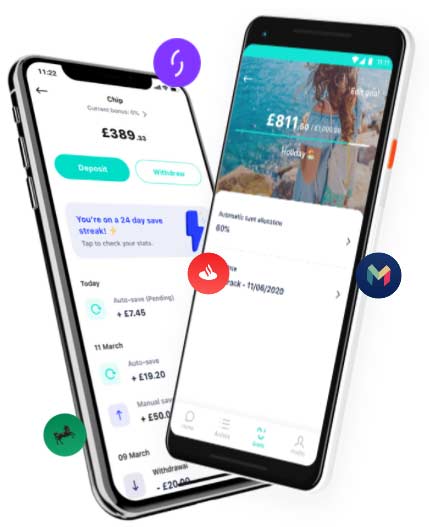 Chip have partnered up with BlackRock in order to provide their investment offering.
There are several funds to choose from including
S&P 500 Tech Companies:
Average annual return: 21.58%*
Risk rating: 6/7
FTSE 100:
Average annual return: 3.48%*
Risk rating: 5/7
Crypto Companies:
Average annual return: 20.74%*
Risk rating: 7/7
Healthcare Innovations:
Average annual return: 7.32%*
Risk rating: 6/7
Emerging Markets:
Average annual return: 3.95%
Risk rating: 6/7
Global Companies Fund:
Average annual return: 7.91%*
Risk rating: 6/7
Physical Gold:
Average annual return: 5.3%*
Risk rating: 4/7
Clean Energy:
Average annual return: 21.24%*
Risk rating: 7/7
It is important to note that Chip does not offer any financial advice and investing is entirely at your own risk. The value of your investments can go up as well as down and you may not get back the original amount you invested.
Of note out of the funds on offer is the lack of low risk funds. It is also important to note that the average returns may give you an indication of how the fund has performed in the past, however, this is no guarantee of future performance.
Chip Savings App Review
The Chip app is slick with a modern interface and great usability. One of the things that really stood out for me when using the Chip app was that security was an optional extra that you have to manually set yourself from within the Chip app and not part of the onboarding process. Given that Chip links to your main bank account, I would have been more comfortable knowing that this was an automatic part of opening an account with Chip. That being said you can opt to have both a passcode and biometric authentication as security measures.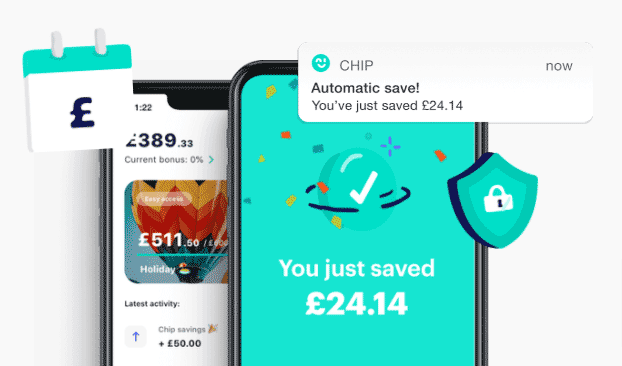 Once you have downloaded the app Chip will start doing calculations on how much money you can afford to save, assuming you have enabled automatic saving. If not you will need to manually deposit money into your Chip savings account.
Chip Customer Service Review
Customer service was frustratingly slow at Chip. Upon making contact via live chat, I was quickly informed that the typical waiting time for a response was one day. They did on occasion get back to me sooner than this, however, it was still off par with other providers and some of the information I received was copy and pasted and out of date with recent developments to the service provided. I felt Chip have really let themselves down in this regard.
Opening a Chip Account
Downloading the Chip app and linking to your bank account takes moments with Chip, however, they do now ask for your debit card details first, and will take a small payment (£1.01) which is refunded to your card at a later date. They claim this is to support instant saves and withdrawals, however, other saving apps such as Plum are able to do this without the debit card details so this seemed like an odd addition to the process here.

Chip Fees
As previously mentioned there are two payment plans at Chip, the Basic plan that is free of charge and ChipX which will set you back £4.99 a month.
The standard plan actually provides a lot of features that can all be accessed for free and is definitely the better option for small investment pots that won't generate a big tax bill. However, once your investments start to grow you will probably want a tax wrapper and sadly the ISA can only be accessed by paying for ChipX.
It is also worth noting that Chip charge a withdrawal fee of £0.50 should you withdraw more than once in any 28 day period.
Which is Better Chip or Plum?

Having used both of these offerings it is my view that Plum is currently the better savings app available for the following reasons:
Plum currently has access to 12 investment funds offering a greater scope of choice.
Outside of the free account, the premium Plum account comes at a cost of £3 per month, compared to Chip's premium account which costs £4.99 every 28 days.
Plum can link to more than one current account.
Plum also offers users the ability to save extra using roundups.
Chip charges a withdrawal fee of £0.50 should you make more than one withdrawal in any 28 day period.
That being said it would be wrong not to point out that the Chip interest account earns 1.1% compared to Plum where the maximum interest is 1.40%.
Useful Information
Some key information to help you navigate the Chip app.
How do I withdraw money from my Chip savings pot?
Withdrawing your money from your chip account can be done from the 'Accounts' tab in the app.
How long does it take to withdraw money from Chip?
The length of time it will take for your withdrawal to take place will depend on the type of account you have. However, instant access account holders can expect to receive the withdrawal into their current account on the same day, provided you have requested the withdrawal before 5.50 pm on a weekday. Chip+1 withdrawals take 3 working days to complete.
How does chip work out how much I can afford to save?
Chip uses artificial intelligence and complex algorithms to work out exactly how much you can afford to save without placing too much pressure on your finances. You have the option to manually pause or stop your saving activity so ultimately, the control is still in your hands.
Which banks can Chip connect to?
Chip can connect to most high street banks including; Barclays, Co-operative Bank, First Direct, Metro Bank.
Chip App FAQs
Is the Chip app safe?
Yes, the Chip app is safe. Given the link to your current account, it is important that Chip provide a level of security that you can rely on. In this respect Chip have you covered with complete cover by the Financial Services Compensation Scheme they are also authorised and regulated by the Financial Conduct Authority.
Can I save extra into my Chip account?
Yes, there is always the option to manually transfer money from your bank account into your Chip savings accounts. You can do this as often as you like should you wish to give your savings a boost.
Can I link a new bank account to my Chip account?
Currently, Chip only supports the linking of one account, although they claim adding the ability to link more than one account will be coming soon.
Most recent reviews:
I used to have an account, but due to constant changing plans (chip, chip x, now prize savings, what is next?) and now fees, I closed my account and now switched to Plum
Likes
Account opening
Deposit and withdrawal
Customer service
As an investor I am disappointed that they are not maintaining differentiation on vanilla savings interest rates, now focussed on alternative investment offers. Unless base rates return the fall in rankings will continue. I have moved funds away to other banks … the shine is definitely beginning to dull.
Likes
Account opening
Deposit and withdrawal
Customer service
I was with Chip until November last year and I am a crowd investor in them so I want them to do well. I've been monitoring them with a view of going back when they are better, but to my disappointment they are getting worse. From October they are going to charge for every autosave that they make into your account which is quite shocking given they control this, it's charging you to deposit money into your account and NO OTHER autosave app charges you for this feature (e.g. Plum). They are also charging for withdrawals more than 1 in a 28 day period. But it's free to deposit money directly into their account. Their interest rates for savers is WAY OFF from competing against the best in the market which as of today 8th September is 2.10% for easy access (no charges to deposit money or withdraw it as many times as you wish). Its really sad to see all of this, new customers will not be attracted to Chip now, and existing customers will probably leave them once they start seeing the new charges hit their accounts.
Dislikes
Deposit and withdrawal
Customer service
See which share tip is making the headlines

Have you considered transferring your pension?

Find the best trading platforms
*Capital at risk