Hargreaves Lansdown is one of longest established investment platforms. A premium option where investors can expect an excellent, personalised service alongside an unrivalled number of assets and products. Equally, you can expect to pay for the privilege with high trading fees, management fees, and FX fees.
The real cost comes in the form of trading fees; therefore, those saving into a fund and not actively trading could still find this a cost effective option, although it's never going to be the cheapest. Still, with the biggest market share, Hargreaves Lansdown has proven that cost is not a barrier for everyone.
Unlike other online providers, any customer can book in for phone consultations or even an in-person consultation with one of Hargreaves Lansdown's financial advisors. (Fees do apply after the initial consultation.) These are investment services often restricted to those with both the funds and the confidence to approach a financial advisor, and they demonstrate Hargreaves Lansdown's commitment to helping every one of its customers reach their financial goals.
The investment platform's popularity is also reflected in its long list of industry awards, which includes winning Share Dealing Customer Satisfaction at the Finder Awards 2023, and Best Online/Mobile Access at the Colwma City of London Wealth Management Awards 2023.
There are so many investment providers available today, but could Hargreaves Lansdown be the right choice for you? In this Hargreaves Lansdown review, I analyse the Hargreaves Lansdown investment platform and share my answer below.
Hargreaves Lansdown Ratings
Deposit and withdrawal:
80%
Markets and products:
80%
Pros
Extensive selection of investment products
Easy to use trading platforms
Educational tools are well structured and high-quality
Cons
Fees for stocks and ETFs are high
Only available in GBP as a base currency
No digital registration process for clients outside of the UK
Who is Hargreaves Lansdown?
Also known as Hargreaves Lansdown.co.uk, Hargreaves Lansdown is one of the most popular ISA providers, fund supermarkets, financial services companies, and investment platforms in the UK. Today, Hargreaves Lansdown manages over one million client share accounts worth over £105 billion in assets.
Who owns Hargreaves Lansdown?
Hargreaves Lansdown was founded as a financial services company in 1981 by Bristol-based Peter Hargreaves and Stephen Lansdown. Today, Hargreaves Lansdown has grown to become a FTSE 100 company. In February 2021, Peter Hargreaves cashed in £300 million of shares via a placing with institutional investors. With a 24% stake in the business worth almost £1.9 billion, the 74-year-old businessman is Hargreaves Lansdown's biggest shareholder.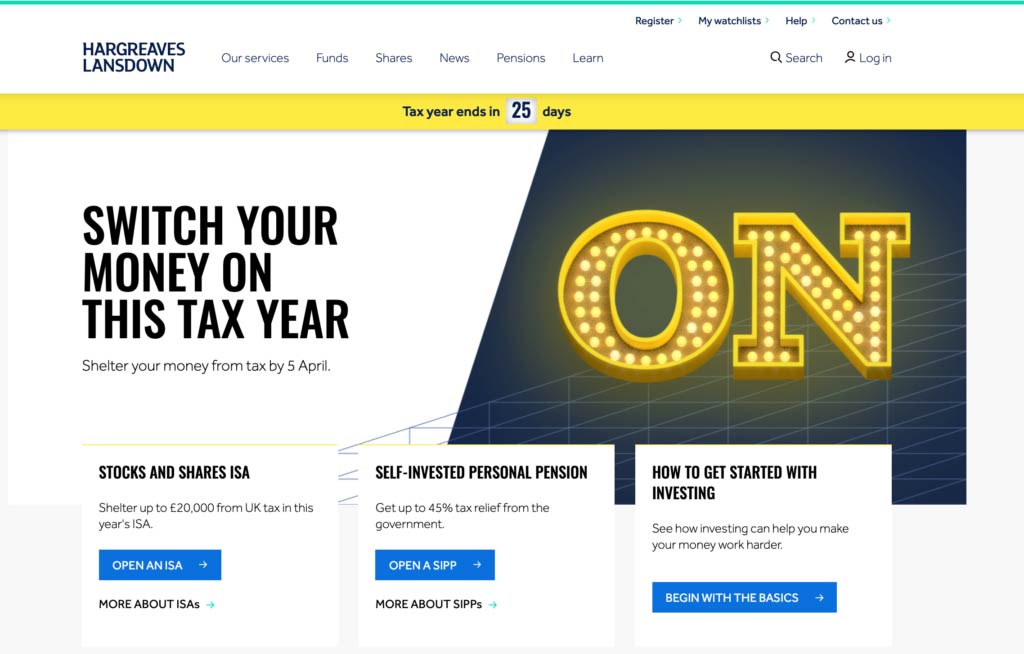 Product Range Overview
Hargreaves Lansdown provides a wide range of services for traders at most stages of both financial planning and life in general. The options include:
Investment Products:
Stocks and Shares ISA
Lifetime ISA
Junior ISA
Investment Trusts
Fund and Share Account
Wealth Management
Pension Products:
SIPP
Junior SIPP
Annuities
Pension Drawdown
Savings Products:
For advanced traders, there are venture capital trusts (VCTs), Spread Betting, and CFD Trading accounts.
Hargreaves Lansdown offers fund discounts, which they negotiate on your behalf with various fund management groups in order to provide you with good value on the fees you pay per unit. This is one of the advantages of trading shares with the largest fund supermarket in the UK.
If you were to switch to HL from another investment provider, you would probably do so for the ISA, which is the company's award-winning and best-loved product.
Hargreaves Lansdown Investments
Hargreaves Lansdown provides their traders with access to over 3,500 funds run by their sister company, Hargreaves Lansdown Fund Managers, which is about as comprehensive a selection as you will find on any investment platform and should sufficiently meet the needs of even the most seasoned investor.
As well as their extensive list of in-house funds, HL provides traders with shares listed on the London Stock Exchange, theCanadian stock market, the European stock market, corporate and government bonds, ETFs, unit trusts, and investment trusts.
Investment Trusts
Investment trusts should only be used by investors with the time and knowledge to build a diversified portfolio. While I was reviewing Hargreaves Lansdown, the investment trusts were offered for purchase both within the ISA and the Hargreaves Lansdown Vantage SIPP.
Customers can also take advantage of HL Multi Manager Funds, which are diversified, managed investments that offer a convenient and diversified way to invest if you prefer to have your investments managed for you by a fund manager.
Hargreaves Lansdown Investment Advice
Hargreaves Lansdown offers its customers human investment advice at a cost of between 1 and 2% of their portfolio. A quick call to their customer help desk can help you identify whether you need advice on your investment options or not.
Hargreaves Lansdown has won the 'Best Stocks and Shares ISA Provider" award multiple times. Its many awards combined with its name recognition make it one of the most popular ISA tax-free savings vehicles across the UK for both new and experienced investors.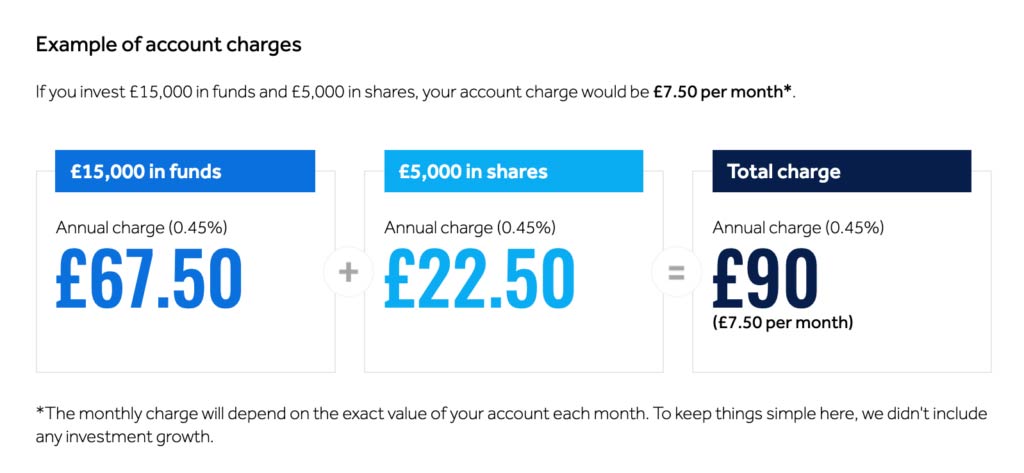 With a Hargreaves Lansdown ISA, you have access to 2,500 different funds, shares, and trusts. You can also access shares in Europe, the United States, and Canada. The number of investment options is attractive to hands-on traders, but if you are new to the product or prefer to rely on Hargreaves Lansdown's advice, you can also take advantage of their Portfolio Management Service with one of six ready-made investment portfolios.
What sets HL apart from other providers is the recently-revamped website, which provides a wealth of information in an easily accessible format. If you are interested in an ISA provider willing to hold your hand every step of the way, then this tax-efficient ISA would suit you well.
Hargreaves Lansdown Junior ISA
The Hargreaves Lansdown Junior ISA offers a tax-free investment account for under-18s. With thousands of funds to choose from as well as expert ideas from their professional investors, parents can choose to open an account on behalf of their children with as little as £100 or with a monthly direct debit of £25 per month. The annual fee charged for the HL Junior ISA is 0.45% plus any dealing charges you might incur.
Lifetime ISAs and Junior ISAs are also available, and they follow the same path as the Hargreaves Lansdown Stocks and Shares ISA in terms of fee structure and customer service.
Hargreaves Lansdown SIPP Review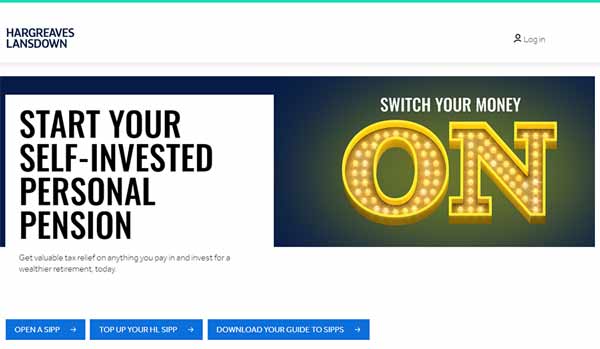 For ten years running, HL Vantage SIPP has dominated the industry awards line-up, winning the 'What Investment' award for best SIPP provider every year. SIPP stands for 'Self-Invested Personal Pension' and gives pension savers greater flexibility with their retirement savings.
The popularity of Hargreaves Lansdown's SIPP product relies on largely the same factors as the ISA: using the Hargreaves Lansdown website and app makes account management easy and it offers access to a huge range of investments (exchange-traded funds, stocks, shares, investment trusts, and 2,500+ funds).
How to Access Your HL SIPP
There are several options when it comes time to access your pension, and at Hargreaves Lansdown, the supportive customer service and financial advice is on hand to help you make the right decisions from the following options:
Drawdown – This allows you to take the income you need from your pension, whilst leaving the remaining amount invested where it can hopefully continue to grow. 25% of your income from this will be tax-free. There is of course an element of risk with this method as you could run out of money.
Annuity – This guarantees an income for the rest of your life. You will sacrifice any flexibility but can enjoy complete security. The first 25% of the cash you use to purchase your annuity is tax-free
Lump Sum – This is one of the riskier options, allowing you to access your pension as and when you like. It means your remaining funds stay invested, however, you could run out of money.
Mix and Match – As suggested, this option is a hybrid of buying an annuity and drawdown – offering the security of having a fixed income for life, and keeping some of your pension back to remain invested to provide a flexible income.
SIPP Fees
The annual 0.45% charge for £0 to £250,000 is expensive if you have a portfolio closer to the £250,000 limit, but this becomes a lot more cost-effective in the lower 0.25% bracket for £250,000 to £1 million. The tiered transaction cost for shares can also be painful. On one hand, the fee encourages you to engage with the account every month, but the account also caters more to people who want a hands-off approach.
The Hargreaves Lansdown Fund and Share Account is Hargreaves Lansdown's answer to a general investment account and provides customers with access to the underlying investments of 2500 funds, shares, bonds, spread betting, corporate bonds, ETFs, and investment trusts. In order to start investing with your Hargreaves Lansdown fund and share account, you will need a minimum balance of £100, or alternatively, you can set up a direct debit for £25 a month.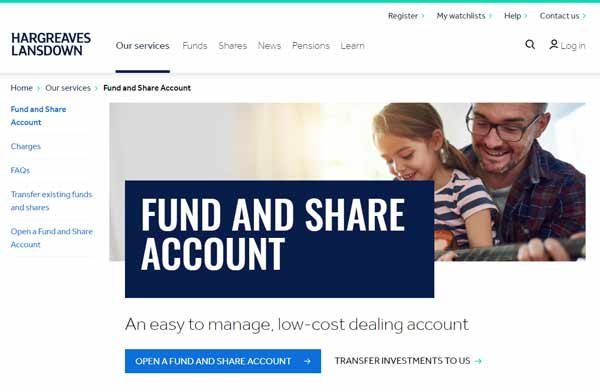 From this fund and share dealing account, you can also access live share prices and all the research tools that are provided by HL. As an investment account, HL has provided customers with a comprehensive facility from which to trade investments, with a good range of investment tools at their disposal.
Hargreaves Lansdown Active Savings Review
The Active Savings service at HL gives you access to a range of banks and building societies, so you can get the best rates available for your cash savings. Moving bank accounts between providers can be done easily and quickly through your Hargreaves Lansdown active savings account without the need for any forms or verification. All the latest rates are clearly published on the HL website, and at the time of this review, they were offering 0.4% on an easy access product, which, when compared to the average rate of 0.08%, offers decent value. This rate climbs to 0.9% for a 3-year fixed-term product.
Active Savings includes 10 savings accounts from partner banks, including Paragon, Investec, Charter Savings Bank, and Kent Reliance. The savings accounts on offer include an easy-access savings account and 1- to 3-year fixed-term savings products.
Hargreaves Lansdown Investment Platform Review
HL gave their website a makeover back in 2018, which has resulted in a well-designed, easy-to-navigate layout with a sharp design. The share trading and portfolio management platform is also well designed with a minimalist feel; however, for investors who like to customise their share trading platform, this isn't an option here. I was also a little disappointed that they only offered a one-step login; however, the search functions worked well, allowing traders to search by company name or asset ticker, and traders are able to set alerts and notifications, but only for UK stocks. There is also access to portfolio and fee reports on the share trading platform, which allows you to check the costs an asset would incur for the next five years.
Hargreaves Lansdown Mobile App
The Hargreaves Lansdown mobile app is suitable for iPhone, iPad, and Android, and Hargreaves Lansdown offers investors the option to trade on the go using a simple and user-friendly trading platform that functions well. Most of the fundamental research is also available on the mobile app, and traders are able to view their mobile chart in full screen, unlike a lot of other trading platforms.
On the downside, traders are unable to set alerts and notifications using the app, and I was a bit disappointed that they only provide a one-step login, although biometric authentication is a nice touch.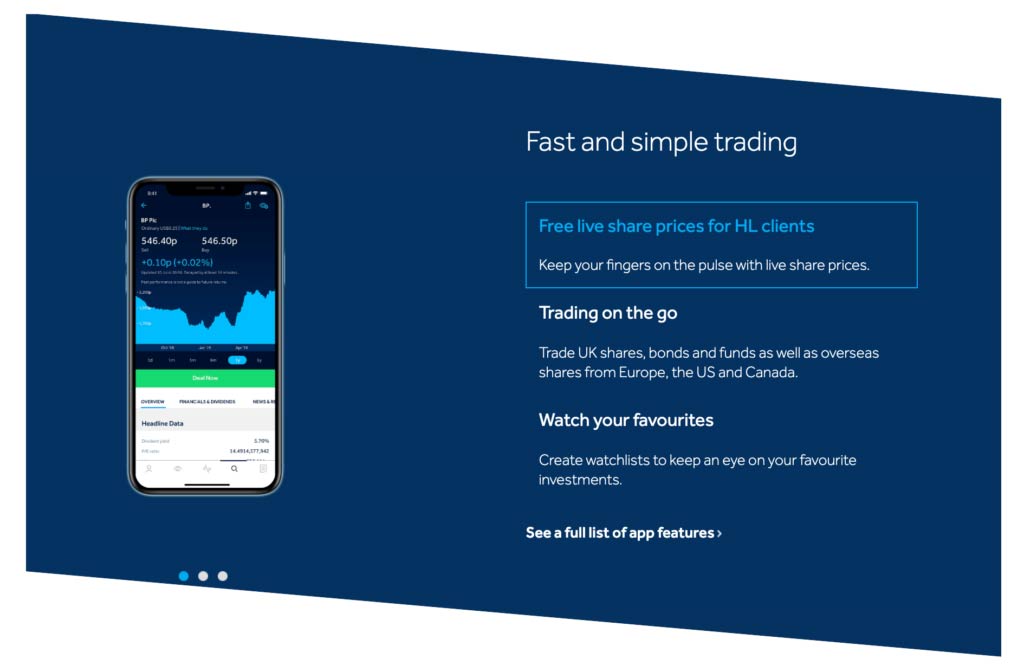 Reviews in the app store have scored the app a very respectable 4.7 out of five stars. It was also good to see that they are quick to respond to reviews and appear to be taking client feedback into consideration.
Hargreaves Lansdown Research Service and Tools Review
The investment tools available cater to investors of all knowledge levels, with an emphasis on beginners' guides to investing with plenty of investment ideas, stock market reports, fundamental company data, market news, and inspiration for everyone. You'll enjoy items like the Guide to Hargreaves Lansdown Vantage SIPP and the Investor's Guide to Cash ISAs, as well as a long list of calculators that simplify the math for those who don't enjoy or don't know how to run the numbers on their own.
Perhaps one of the better offerings from HL is the free introductory call available to all customers. Before opening an account, you can use their trading platform demo account as well as call the advisory helpdesk, which can provide more details on taking financial advice from the company, including whether seeking advice (and paying the fees) is the right call for your finances and potential portfolio. They also provide a list of their 84 financial advisors, who also provide free initial consultations.
You can also book a space in one of Hargreaves Lansdown's regular webinars, which cater to both beginner and experienced investors. They constantly schedule different programmes, including:
Gaining confidence in your investment approach
Inheritance and passing wealth on to loved ones
Preparing for retirement
Hargreaves Lansdown places the most emphasis on the above products (particularly the calculators), but it does offer excellent research and other tools as well. You can also register for free fund research from their professional team.
There are risk management tools, for example, the stop-loss and limit order functions, that protect investors in the event of a downturn. You'll also find interactive charts and live share prices, which are free to use.
All in all, Hargreaves Lansdown's approach to research tools is in line with its commitment to providing a premium service. It serves more as a way for those entering the market for the first time to gain access to financial advisors as well as a trading platform for the more experienced investor to tinker with their portfolio on their own (but who are not doing a lot of trades per week).

Wealth Shortlist
There has been a fair amount of controversy surrounding the Hargreaves Lansdown Wealth Shortlist due to the historical inclusion of funds that have experienced poor performance. This led to a revamp of the list in June 2020 with greater transparency and a strong focus on performance potential. That being said, some analysis has revealed that not all their recommended funds are performing well, and in my opinion, it would be a mistake for investors to rely on this list as it can be a bit hit-and-miss.
Insight and Research
Hargreaves Lansdown offers investors information and discussions, including recent news articles relating to share prices on the stock exchange. I found this section to be very informative and was impressed with the amount of commentary provided within the articles.
Market News
This is the place to head for company dates and comprehensive stock exchange reports. This is provided both in-house and by third parties and contains useful bits of information such as top-traded stock lists and a financial diary so you can stay on top of all activity on the stock exchange prior to trading stocks.
Editors Choice
Hargreaves Lansdown offers a weekly email that customers can subscribe to to gain commentary on the economy, markets, and investment ideas and picks.
Hargreaves Lansdown Fees and Charges Review
There is no charge for registering at Hargreaves Lansdown. Instead, tariffs depend on the products you choose (SIPP, ISA, Share Dealing, etc.).
Perhaps the biggest issue with Hargreaves Lansdown.co.uk is that, although it provides a helpful platform, its management fees can be expensive compared to low-cost competitors. Although some accuse Hargreaves Lansdown of lacking price transparency, the provider has improved the way it shares this data.
All Hargreaves Lansdown's charges are provided on what I find a very easy-to-use website, and it also provides helpful examples.
One example transaction provided on the site includes account charges for a SIPP fund. According to Hargreaves Lansdown, if you invest £15,000 in funds and a further £5,000 in shares, then you will pay £7.50 per month in account charges, or an annual fee of £90. However, the exact amount Hargreaves Lansdown charges depends on the precise value of your account at the end of each month.
Non Trading Fees
Depending on your account, you may also see non-trading fees that include:
Government tax and levies
Foreign exchange charges for overseas deals (depending on deal size)
Phone and post dealing charges
Equity regular savings
Reinvestment of income charges
Automatic reinvestment charges for share income (no charge for fund income)
Hargreaves Lansdown ISA Fees
Charges for management fees within the Hargreaves Lansdown ISA follow this tiered system:
First £250,000 – 0.45% of trade value annual management fee
£250,000-£1 million – 0.25% of trade value annual management fee
£1-2 million – 0.1% of trade value annual management fee
Over £2 million – No annual management charges
Share dealing comes with a rather steep charge according to the number of deals you completed in the previous month.
0-9 deals in the previous month – £11.95 per deal current month
10-19 deals at £8.95 per deal
20+ deals at £5.95 per deal
Hargreaves Lansdown SIPP Management Fees
Charges for management fees within the Hargreaves Lansdown SIPP follow this tiered system:
First £250,000 – 0.45% of trade value annual fee
£250,000-£1 million – 0.25% of trade value annual fee
£1-2 million – 0.1% of trade value annual fee
Over £2 million – No charge
Hargreaves Lansdown doesn't assess charges for holding cash and also doesn't have the dreaded inactivity fees.
The same share-dealing prices above also apply.
Hargreaves Lansdown vs Interactive Investor Fees
| | | |
| --- | --- | --- |
|   | Hargreaves Lansdown | Interactive Investor |
| Cost per trade | £11.95 | £7.99 plus one free trade per month |
| Frequent Trader | £5.95 | NA |
| Annual Custody Fee | 0.45% | £9.99 per month |
| Bonds Fee | £11.95 | £40.00 |
| ETFs Fee | £11.95 | £7.99 |
| Investment Trusts Fee | £11.95 | £7.99 |
| Platform Fee | £0 | £9.99 per month |
| Phone Dealing Fee | £20-£50 | £49 |
Guide to Opening an Account
Hargreaves Lansdown promises that new investors resident in the UK can open a trading account in as little as 10–15 minutes, depending on the account chosen. There is no general account; you need to open a specific account for the programme that best suits your financial needs.
To open an ISA or SIPP, you need a minimum of:
Your debit card details (if opening with cash)
Your bank details (if opening with monthly Hargreaves Lansdown direct debits)
You also have the option to open an account by phone or by post, if you prefer. There is no minimum deposit required by Hargreaves Lansdown, and should you prefer to start investing slowly, they offer a monthly direct debit option for as little as £25.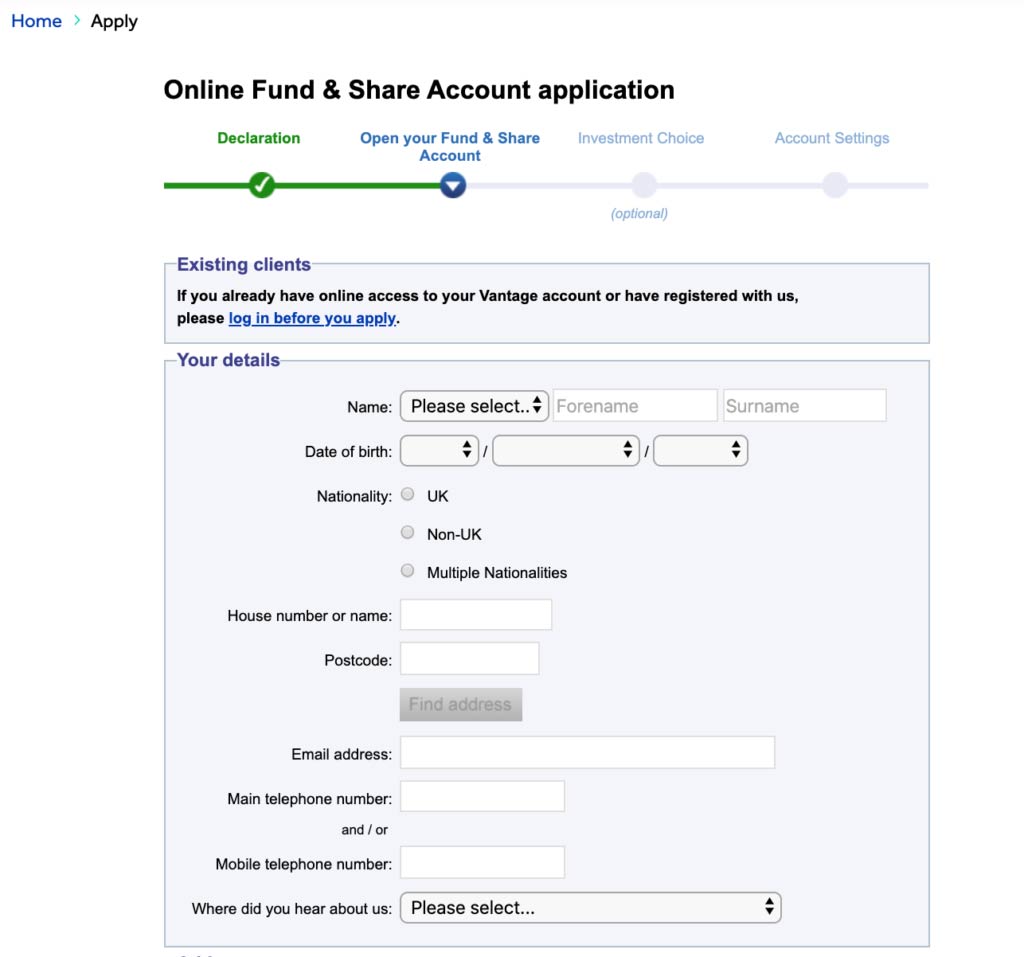 Hargreaves Lansdown Deposits
Hargreaves Lansdown is happy to accept transfers, and the company doesn't charge any fees when you move your ISA (or another account) from another provider to Hargreaves Lansdown, which I think is great. Though you should always be aware of any exit fees associated with your current provider.
In terms of how long your deposits take to show in your account, credit and debit card deposits can be available instantly or within a few hours at the most, while wire transfers can take between 2 and 3 days. Deposits are completely free of charge; however, they currently only accept deposits in sterling, so should you wish to deposit in a currency other than sterling, you should be aware of any currency conversion fees that may apply.
Guide to Transferring Your Investments
Hargreaves Lansdown is happy to accept transfers, and the company doesn't charge any fees when you move your ISA (or another account) from another provider to Hargreaves Lansdown, which we think is great. Though you should always be aware of any exit fees associated with your current provider.
Transferring is relatively easy. As with most investment platforms, you simply apply to transfer an existing account to the relevant Hargreaves Lansdown account. Hargreaves Lansdown then works with your current provider to complete the transfer and lets you know when it's complete.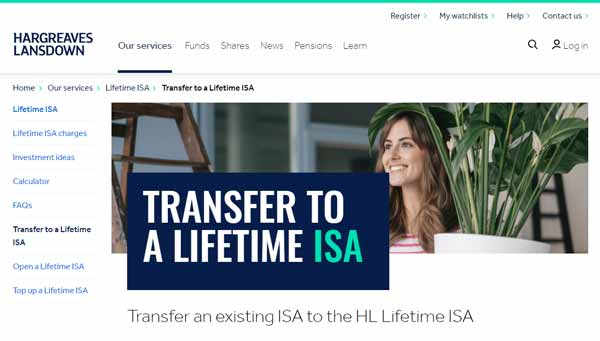 An ISA usually takes an average of just over 3 weeks to complete from the date of receipt until you can begin investing with your Hargreaves Lansdown account.
However, it's worth noting that customers say transferring out of Hargreaves Lansdown tends to be much slower.
Hargreaves Lansdown Customer Service Review
Hargreaves Lansdown has a strong customer service system that is very hands-on with customers of all account types.
Although there are the usual gripes from customers concerning trading fees, it is generally recognised that Hargreaves Lansdown's customer service team is the most responsive out of almost all investment platforms in the UK.
That being said, they don't offer any live chat support, which most of their competitors would support, and reading reviews on TrustPilot, people do experience long waiting times when they use the phone support.
Hargreaves Lansdown vs eToro
The most obvious difference to touch on is the cost. As mentioned, at Hargreaves Lansdown, investors are paying for a premium service, whereas eToro is a low-cost option with zero-commission trading. eToro also leads the way in social and copy trading, which are facilities unavailable at Hargreaves Lansdown.
However, where Hargreaves Lansdown does pull ahead is with their access to a wide range of funds, which can be accessed using a tax wrapper such as an ISA or SIPP. Therefore, which of these would be more suitable depends on your personal circumstances. For a more detailed analysis, please refer to my eToro vs Hargreaves Lansdown comparison article.
Hargreaves Lansdown vs Vanguard
There is little doubt that investors will have access to a greater choice of assets at Hargreaves Lansdown, and for anyone saving for their first home, the addition of the Lifetime ISA will definitely place HL as the better option.
However, Vanguard is one of the least expensive options available, with platform fees of just 0.15% compared to 0.45% at HL. And while HL may have more assets available, Vanguard has the popular LifeStrategy funds that have performed well historically and continue to be a popular choice among passive investors.
Hargreaves Lansdown vs AJ Bell
As you would expect, AJ Bell is a more cost-effective solution than Hargreaves Lansdown, with platform fees of 0.25% compared to the 0.45% you would pay at HL. Dealing charges for funds are £1.50 at AJ Bell compared to £11.95 at HL, which represents a huge difference, especially for traders conducting less than nine trades a month.
However, for investors looking to engage in spread betting or CFDs, this is only available at Hargreaves Lansdown.
Who is Hargreaves Lansdown Suitable For?
Before signing up for any investment platform, you should also check your own suitability for the product you're interested in. Only you know enough about your current finances and future goals to choose the right platform and investment type for you.
That being said, Hargreaves Lansdown provides excellent customer service, an easy-to-use digital platform available on the web and as an app, a wide range of investment choices, as well as an excellent savings account. It's suitable for clients who are just starting out in managing their investment and retirement products and who benefit from both introductory guides to their products and a simple, clean, user-friendly layout that makes setting up an account so easy that you can do it in 10 minutes.
Access to live financial advisors is also a benefit. Although you will pay more in trading fees compared to competing providers, it does open up an opportunity to access services previously restricted to those with larger investment accounts.
Despite fee slashing over the past five years, both the Hargreaves Lansdown ISA and SIPP are expensive for those with larger portfolios because of the tiered structure. However, Hargreaves Lansdown is a UK market leader for a reason, and the peace of mind of managing your investments with the largest platform in the UK that offers all the investment opportunities you could ever need is priceless.
Useful Information
Here, I have compiled some useful information to make your experience at Hargreaves Lansdown as seamless as possible.
How do I contact Hargreaves Lansdown?
You can contact HL by phone or email. Sadly, there is no live chat at this time.
How do I withdraw my money from Hargreaves Lansdown?
Within the account that you want to withdraw money from, click the "Action" button and then choose "Withdraw Money", Then just follow the instructions (amount, account details, etc.). Always remember that customer support is on hand to help you if needed.
How long does it take to withdraw money from Hargreaves Lansdown? When I tested withdrawals during my Hargreaves Lansdown review, I found them to be reasonably quick, and my bank transfer was completed within two working days.
How do I close my account at Hargreaves Lansdown?
The easiest way to close your Hargreaves Lansdown account is to login and contact customer support. They will help you with the technicalities of closing your positions and/or transferring your assets to another provider, such as Interactive Investor. Ensure that you have withdrawn all your money prior to closing your account. As I discussed in my review, there are no fees for closing your account, but there will be transaction costs for closing positions.
Is AJ Bell cheaper than Hargreaves Lansdown?
The short answer to this is yes, AJ Bell does represent better value in terms of share dealing, with 0–9 share deals per month costing only £9.95 compared to Hargreaves Lansdown's £11.95.
They are also cheaper in terms of the annual custody fee, which is 0.45% at Hargreaves Lansdown compared to 0.25% at AJ Bell.
Do Hargreaves Lansdown charge investors exit fees?
The exit fees at Hargreaves Lansdown were the source of much controversy until September 2019, when they finally listened to their customers and Hargreaves Lansdown scrapped this charge, leaving customers free to move their money without incurring any sort of charge.
Do Hargreaves Lansdown charge to buy shares?
Yes. Hargreaves Lansdown charges £11.95 per trade, or £5.95 if you are a frequent trader, depending on the number of trades you have executed in the previous calendar month. This is at the high end of the scale for online trades, but they do offer an extensive range of products to justify this cost. That being said, for traders with a large portfolio, who trade frequently, this cost will soon start to add up and could end up eating into your investment gains
Is it safe to invest with Hargreaves Lansdown?
As per Financial Conduct Authority requirements, all client money is held in trust in a segregated bank account, and being regulated by the Financial Conduct Authority ensures that Hargreaves Lansdown adheres to industry standards. All assets are held in nominee accounts, with you as the client listed as the beneficial owner. Hargreaves Lansdown Plc is also listed on the London Stock Exchange (LON:HL), so it is easy to read their quarterly and annual reports as well.
Also consider: The Hargreaves Lansdown share price forecast from our stock analysts
While Hargreaves Lansdown is financially strong and holds more capital than they are required to, they also offer their customers the security of being covered by the Financial Services Compensation Scheme, which means should anything happen to the Hargreaves Lansdown platform, you are covered up to the value of £85,000.
Can Hargreaves Lansdown go bust?
Yes, of course, it's technically possible that Hargreaves Lansdown could go bust; however, you are protected if the worst happens. All client cash is held in segregated accounts, and stocks are held in nominee accounts with the client listed as the beneficial owner, so you can trade with complete confidence.
Is Hargreaves Lansdown expensive?
There is no cut-and-dry answer to this question, as there are various factors that will affect the cost for each individual. However, Hargreaves Lansdown charges a 0.45% platform fee, which can get expensive for larger pots that may fare better with a fixed fee such as they have at interactive investor. At £11.95 per trade, the trading fees are possibly one of the most expensive you will encounter from an online platform; however, there is the opportunity to reduce this cost with frequent trading.
Is Hargreaves Lansdown good for day trading?
No, day trading relies on small margins, and given the high commission rates on the platform, this could work out as a really expensive option. Therefore, Hargreaves Lansdown would be a better option for passive investors.
Can you bank transfer to Hargreaves Lansdown?
Yes, it is possible to conduct a bank transfer to Hargreaves Lansdown as long as the bank account is in your name. The details for a bank transfer are: Bank Account Number: 03124772. Sort Code: 30-92-13
Hargreaves Lansdown FAQs
Is Hargreaves Lansdown Good for Beginners?
Undoubtedly yes. The main reasons they are good for beginners are that the tiered fee system means that they work out a lot more cost-effective for smaller pots, and they also provide a decent amount of education and tools to help guide you through the investment process and make solid investment decisions.
Is Hargreaves Lansdown any good?
Yes, Hargreaves Lansdown is good for investors looking for a wide range of investment opportunities who have a pot worth under £100,000. Hargreaves Lansdown is a great option; however, they do tend to get a little pricey for larger pots due in large part to their percentage fee. That being said, their Active Saver Account is a great addition, and they are one of the only investment platforms that provides access to a financial adviser should you need it, making this level of service much more accessible to even novice traders.
Hargreaves Lansdown Customer reviews
Most recent reviews:
Platform not the best, but gives live pricing and further information for all your holding at one click of a button. No holding fee for the dealing account ( at least for shares/ETF), £40 for their iSA offering.
Likes
Fees
Account opening
Deposit and withdrawal
Customer service
If you already have a SIPP with HL and wish to transfer in another pension [as does my son], it should be noted that HL cap their sipp charges for shares and etfs to £200 pa. He is already paying the full charge, so any additional added Sipps are 'free'. Other providers like AJBell have lower charges so it's a dilemma.
Likes
Account opening
Deposit and withdrawal
Customer service
The investing app i use has so many features that can help beginners, intermediate and professional investors, it has a very good reputation too and therefore many people use this app, and i would advice and recommend when the opportunity arises
See which share tip is making the headlines

Have you considered transferring your pension?

Find the best trading platforms
*Capital at risk