The Beanstalk app is a fairly new contender in the Fintech space, offering an innovative family mobile app with provision for the whole family to contribute towards a junior stocks and shares ISA, in order to save a nest egg for your children.
Beanstalk allows you to save for all your children in one, easy to manage account, designed to make investing and saving as easy as possible.
Who is Beanstalk?
Beanstalk is a fintech app that aims to solve the problems facing future generations who are finding it increasingly difficult to save for lifetime events such as purchasing a first property.
Beanstalk achieves this by providing its users with a low-cost Stocks and Shares Junior ISA that all the family can contribute to. Beanstalk lets grandparents and extended families save towards the children's future.
Who owns Beanstalk?
Beanstalk was co-founded by Julian Robson and Cem Eyi who identified what they believed to be a gap in the market for children focused saving vehicles. Julian Robson is now CEO of Beanstalk and Cem Eyi is COO and they continue to innovate their product to help families collectively save towards their children's future.
Julian Robson and Cem Eyi were part of the team at KidStart, the free shopping club that has helped families save millions of pounds on shopping over the last 10 years.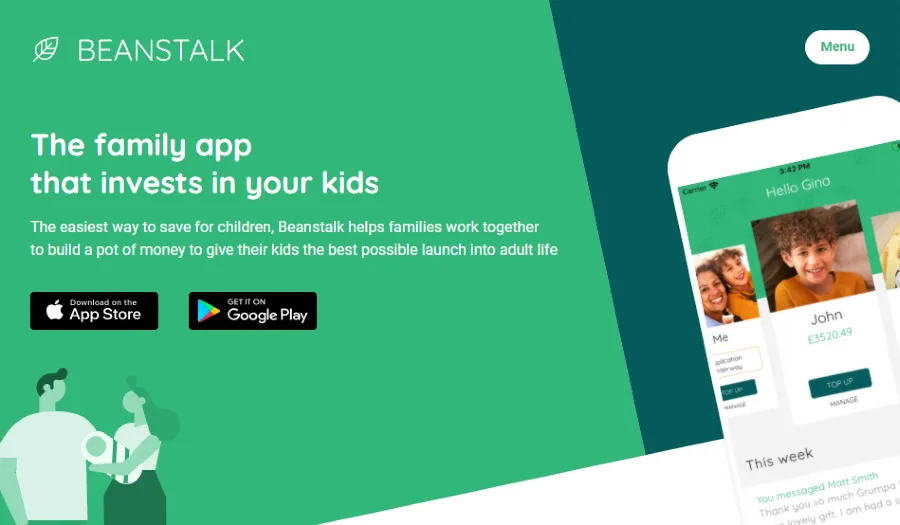 Beanstalk offer a Stocks and Shares ISA for adults, and a Junior ISA so family members can start saving towards your child's future.
Family members are invited to contribute via the app where they are automatically linked to your children's accounts.
Any monetary gifts can be sent with a message, making birthdays a breeze and this combined effort makes saving a nest egg easier.
With Beanstalk you can manage all your children's accounts from the one app, as well as your own Stocks and Shares ISA. Contributions can be made on a regular basis, or ad hoc, whatever suits you and there are no minimum contributions.
There is also a round-ups feature so you can make regular contributions by rounding up your everyday spending to the nearest pound. Beanstalk is also linked to KidStart, which offers free savings at 2,500 retailers, which can then be added to your child's investment. With companies like John Lewis, Amazon, Sky and TUI included in the list of retailers, this could soon start to add up.
One of the advantages of Beanstalk is there is no minimum or regular contribution required, you can open an account with nothing and add as little or as much as you like.
There are two funds to choose from when investing the money you save into your children's accounts and of course any gains are completely tax-free.
Cash Fund
The cash fund at Beanstalk is the Legal and General Cash Trust Fund, aiming to provide returns that are in line with money market rates. This is an actively managed fund that is constantly adjusted in order to ensure that it remains on track to achieve the fund's objective.
This is a very low-risk fund that in times of market volatility may be solely invested in government and public securities in order to preserve your funds.
Shares Fund
The Shares Fund at Beanstalk is the Fidelity Global Index Fund which aims to track the performance of the global stock markets and henceforth companies such as Amazon, Facebook, Google and Johnson and Johnson. This global shares fund is good for people looking to grow their investments over the long term (five years or more) and invests directly in company shares as derivatives such as exchange-traded funds.
This fund has a risk rating of 5 out of 7 which is much higher than the Legal and General Cash Trust Fund but is also designed to achieve greater returns. Of course, as always with investing, this is not always the case.
With Beanstalk you have the option to invest in both these funds, and you use a slider to determine the percentage of each fund that you are invested in. This way you retain a level of control over your risk and investments, however, in this space, this is still a limited choice. This may not deter everyone, and the lack of investment choice can certainly help to keep the process quick and streamlined. However, experienced investors will definitely find this very limiting.
Research services & tools
Due to the lack of investment choice, there is very little available in terms of research services or tools.
Each fund comes with its own fact sheet which can be accessed from the Beanstalk website and this will give you some further detail on the fund including past performance.
Beanstalk fees
Beanstalk are great on the transparency of their fees as the management cost of the funds you invest in are included in the one annual charge of 0.5%. If you compare this to a high street bank or building society it would represent excellent value. However, there are lower-cost options out there, Vanguard as an example has an annual platform fee of 0.15% and fund management costs of 0.22% which together would still represent better value and you would get a greater choice of investments.
That being said, if you wanted to set up a JISA for your child that other family members can contribute to, this would still represent excellent value.
Opening an account with Beanstalk
As we have come to expect from Fintech platforms of this nature, the account opening process is quick, easy and can be completed entirely online.
Verification is usually completed electronically however there are occasions when you may be asked to provide proof of identity, such as a driving licence or passport as well as a recent bank statement.
Beanstalk will then provide parents with a link to send to wider family and friends so they can contribute easily.
Transferring your investments to Beanstalk
The transfer of any existing investments to Beanstalk is handled entirely by them.
You simply have to complete the transfer authorisation form and return it to FREEPOST KIDSTART. I did think it was a shame that this part couldn't be done electronically, however, Beanstalk claim that this entire process usually takes between 2 and 3 weeks to complete.
Beanstalk customer service
There is no phone support or live chat function at Beanstalk. If you need to contact customer support then you will have to email them and they claim they will aim to get back to you within one working day.
This is a major shortcoming, and often account holders will be looking for more immediate responses. If your query requires a conversation, this could take up a significant amount of time.
I found Beanstalk to be an easy, uncomplicated way for parents to start saving for their children and whilst there are a limited choice of funds, this does serve to make investing easy.
Beanstalk provides several tools to help make saving into your kids pot easier and the app is slick and easy to navigate. The low fees make this an effective way to save.
Useful information
Here I have outlined some useful information to make your experience at Beanstalk as seamless as possible.
How to contact Beanstalk
You can contact Beanstalk by emailing them on [email protected]
What is the Beanstalk app?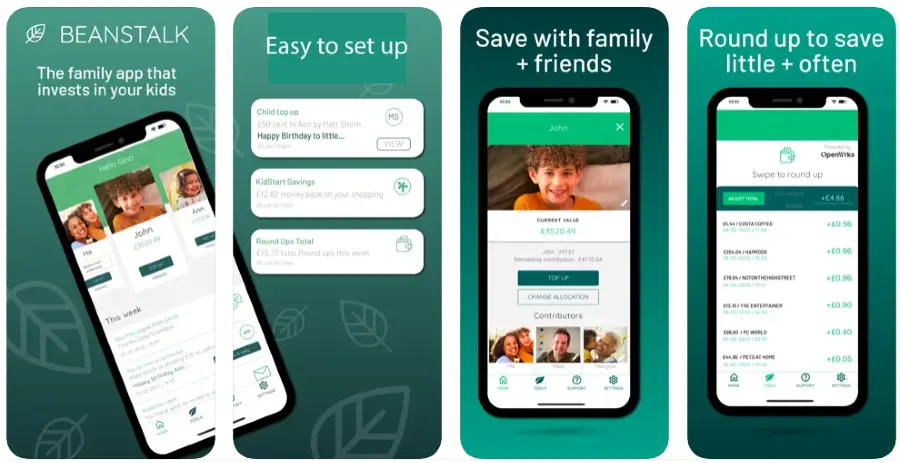 The Beanstalk app is your gateway to opening and managing a Beanstalk account for you and your children.
Beanstalk is a family app that invests money towards your children's future from a Junior ISA, with the ability to invite grandparents and wider family to contribute to your children's futures.
Beanstalk is a completely online service, so you will need to be comfortable with running this level of finance from your smartphone.
Will I have to pay tax on the investment gains at Beanstalk?
No. The tax treatment of Junior ISAs means that any gains within are completely protected from capital gains tax.
What happens when my kids turn 18?
Whilst Beanstalk invests in your kids, it doesn't end when they become adults. Before their 18th birthday, your kids will receive communication from Beanstalk making them aware of their kids' pots and informing them that their Junior ISA will automatically be converted into an adult Stocks and Shares ISA where it will continue to earn money through the funds they are invested in.
This serves to give kids the best possible launch into adult life.
Beanstalk FAQs
Is my money safe in Beanstalk?
In short, yes, your money is safe in Beanstalk. Beanstalk is authorised and regulated by the
Financial Conduct Authority
and all client funds are covered by the Financial Services Compensation Scheme up to the value of £85,000.
Is the Beanstalk app free?
Yes, the Beanstalk app is free to download. However, once you open and fund your account, you will be charged 0.5% of your investment amount annually on your and your children's accounts. This includes access to all the awesome tools available at Beanstalk.
Beanstalk Customer reviews
Most recent reviews:
There are no reviews yet. Be the first one to write one.
See which share tip is making the headlines

Have you considered transferring your pension?

Find the best trading platforms
*Capital at risk