I've had my own account with Plum and tested the app for the last eight months at the time of writing this Plum app review, and can confirm that it works very well as a saving tool.
The Plum app calculates what it thinks you can afford and transfers that money across without any intervention from you. However, Plum isn't the only savings app on the market, and it also has an investment account which I have investigated further in this Plum app review so you can decide for yourself whether this is the saving and investment app to suit your needs.
Plum is a Fintech start-up that links to your bank account and uses complex algorithms powered by artificial intelligence to calculate exactly how much you can afford to save, without you even realising it. It's aimed at people who historically struggle to save and comes with some handy little features that you can use to increase your savings pot.
Plum was launched in 2016 and is authorised and regulated by the Financial Conduct Authority as well as offering protection from the Financial Services Compensation Scheme (FSCS).
Plum is a savings and investment app that allows users to manage their money from their phone at the click of a button.
There are several accounts on offer, with associated costs to the user, however, their basic account is completely free of charge and an effective saving tool.
Who owns Plum?
Plum was co-founded by early TransferWise (now Wise) employees Victor Trokoudes and Alex Michael. Victor Trokoudes still acts as CEO of the company and is continually developing the app.
Plum has four main plans, as well as an ISA and a SIPP all offering varying degrees of functionality to help you save money.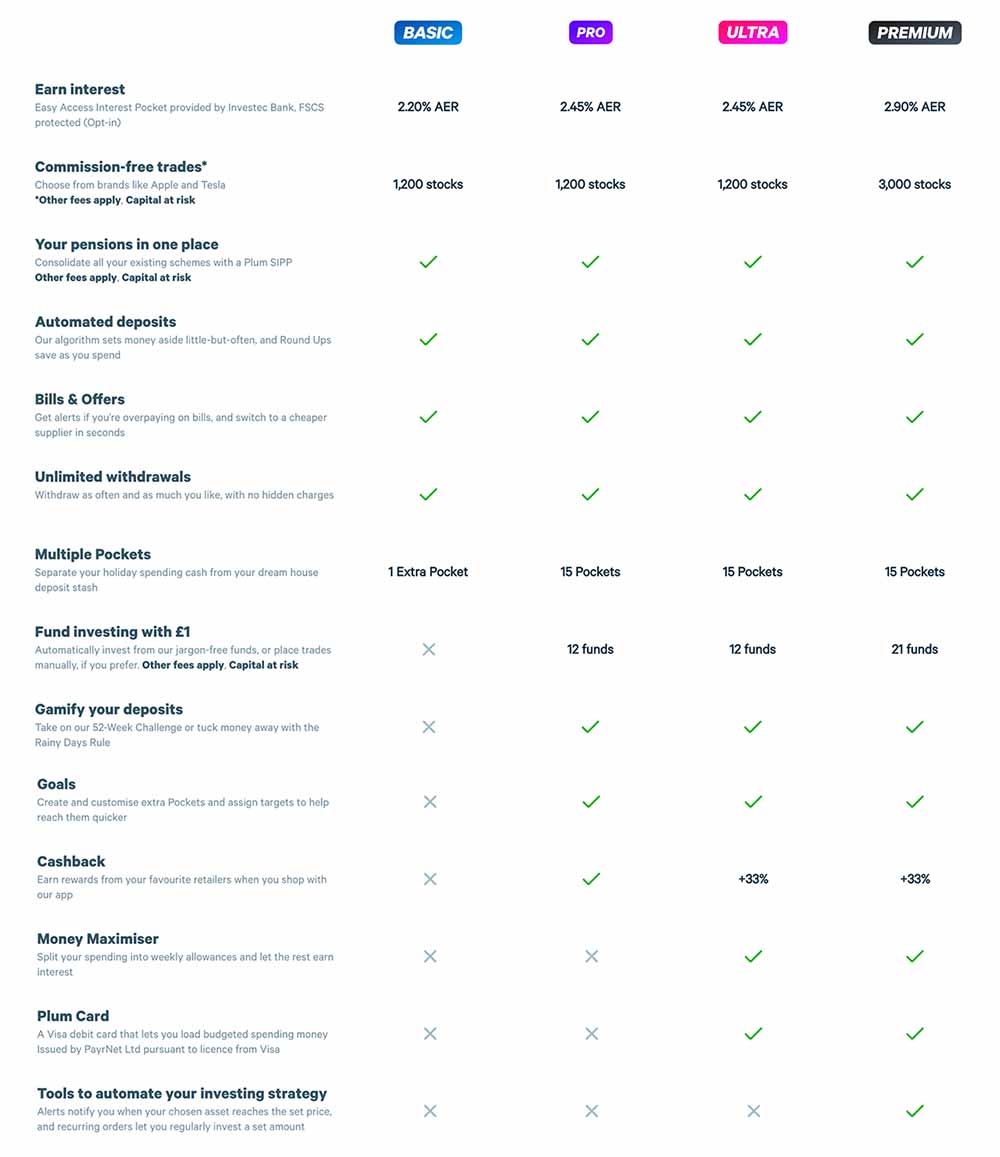 Plum Basic
If you are simply looking to put some money aside, then the basic account offers two main pockets:
Primary Pocket
Easy Access
Plum Primary Pocket
The primary pocket savings account is effective, intuitive, and best of all, free! The wizardry of artificial intelligence is harnessed to analyse how you currently spend your money, in order to ascertain a suitable amount to save every few days, an amount which you won't even miss in your day-to-day life. You can control the rate of saving money by selecting your 'mood' and withdraw your money back into your bank account within 24 hours.
This account is great if you are saving money for a one-off item, or saving for the short term (you could easily take some of the financial stress out of Christmas this way). However, this pocket comes with zero interest, so if you have a long-term goal, you may want to consider moving your funds into the Easy Access Account which comes with 2.00% AER.
Plum Easy Access
This pays interest of 2.00% AER without any account fees. You will have to wait for 1 working day in order to withdraw, however, all the great features of the primary pocket are available and your money is covered by the Financial Services Compensation Scheme (FSCS).
Another handy feature of the Primary Pocket and Easy Access accounts is that Plum will automatically suggest ways to save on your household bills. Whilst this is essentially little more than a comparison site, they can take some of the leg work out of the process and automatically switch you across as well as ensure you remain with a cost-effective provider.
There is also the option to take advantage of the rounding-up feature, where Plum will round up all your purchases to the nearest £1 and tuck this amount away in your Plum saving account. Whilst this is a great way to save money, it's not exactly ground-breaking and has been offered by many high street banks for a good few years now.
Plum Pro
For longer-term savers the Plum Pro account gives you the opportunity to invest money for the small fee of £2.99 a month. All the features of the Plum Basic account are still available, however, you also have easy access to Plum's 12 investment funds that include a mix of thousands of companies and assets, in a risk-assessed portfolio. Plum Pro works in a similar way to a general investment account, however, most general investment accounts won't have access to the neat savings features.
Plum actually outsources the management of your funds to third parties such as Vanguard and Legal and General, however, you would pay slightly lower fees if you were to invest with Vanguard directly (of course you would then be missing out on the saving functionality that you have easy access to at Plum). Fund management fees at Plum are currently 0.45% of your portfolio and fund fees are 0.08% – 0.90%. However, this still comes out cheaper than some of Plum's closest competition, including Moneybox which charges fund fees of 0.12% – 0.30%.
Plum Pro account holders can also take advantage of the 'Splitter' function, which allows you to split your savings, leaving a predetermined portion in your savings account whilst investing your remaining funds.
The Plum Pro account also allows you to separate funds that are going towards a certain goal and where you can earn interest at an interest rate of 2.30%% AER.
Plum Ultra
Plum Pro has all the advantages of the Plum Pro account, plus some handy little features to really help you make the most of your savings. Plum Ultra will set users back £4.99, however, it does include the £2.99 you would have spent on the Plum Pro account for investing your savings. Some of the features of this account include:
Pockets – As with the Plum Pro account, with Plum Ultra you have access to multiple easy access interest pockets (2.30% AER) for multiple savings goals.
Goals – Set predetermined goals for each of your interest pockets.
Gamify your saving – Plum has a 52-week saving challenge that has received great reviews from users.
Cashback – Earn up to 33% cashback when you shop at one of their partner retailers.
Money maximiser – allows you to split your income into weekly allowances, allowing the rest to earn interest and ensuring you never overspend.
Plum Card – a Visa Debit card that you can load your weekly allowance onto.
Plum Premium
This account has everything you would find in the Plum Ultra account but with access to 1000 stocks and 21 funds. This is definitely angled at the more serious investor who requires more choice in their investments.
Stock investing is commission-free and Plum have informed us that they plan to add more stocks soon.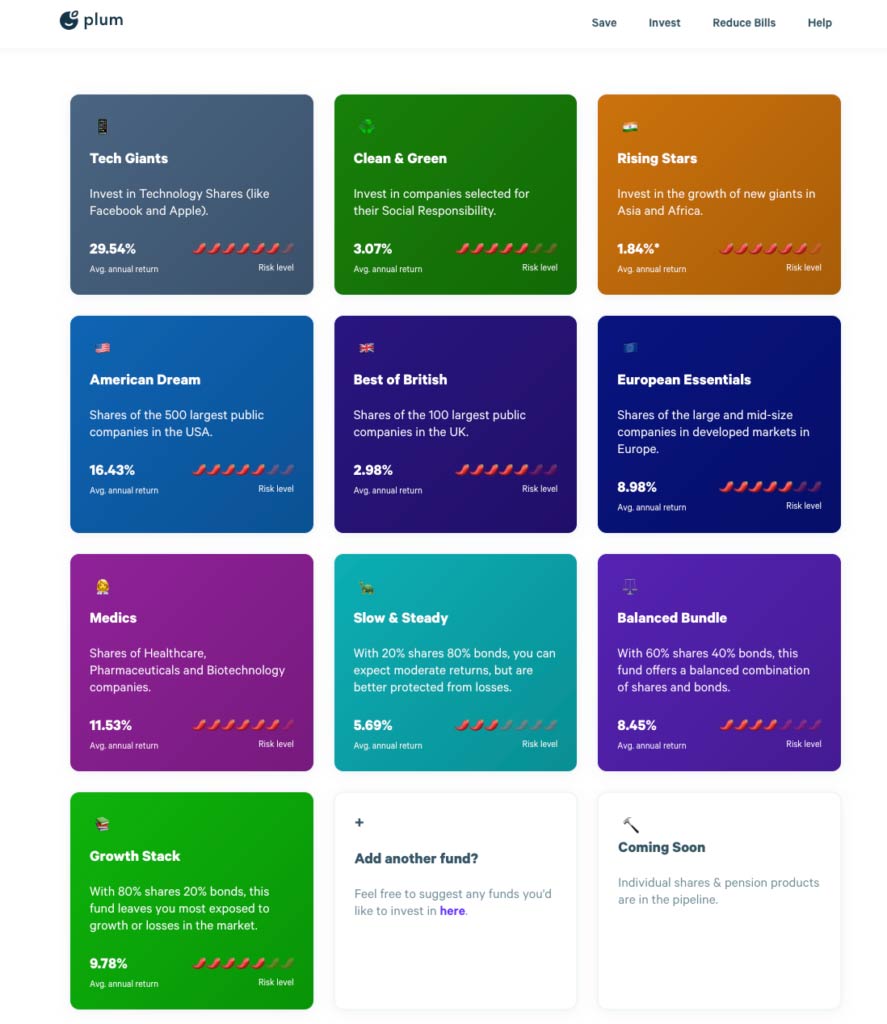 Plum offers a stocks and shares ISA where account holders can take advantage of the investment portfolios on offer, with the added benefit of tax breaks.
As with all the investments on offer at Plum, Plum isn't investing the money for you, but outsourcing your funds to a fund provider.
Also consider: Will ISA rates go up in 2022?
Plum SIPP Review
The Plum SIPP is available on all the plans, even the free one. You can transfer your savings from your other pockets into your SIPP and invest the money in any of Plum's 3 SIPP portfolios which include the following:
Target Retirement Date Fund
Global Growth
Future Planet
Is it cost-effective?
Whilst you will have to pay a product provider fee of 0.45% each year and a fund management fee of an average 0.25%, the Plum SIPP is free of any subscription charges.
Plum Investments
Below is some of the key data that might be useful when deciding whether Plum would have a portfolio to suit your investment needs.&
| Name of Fund | Risk Level | Avg. Annual Return | Fund Management Fee | Fund Provider |
| --- | --- | --- | --- | --- |
| Balanced Ethical Fund | 5/7 | NA | 0.17% | Blackrock MyMap 5 Select ESG Fund |
| Growth Ethical Fund | 5/7 | N/A | 0.20% | Vanguard ESG Developed World All Cap Equity Index Fund (UK) |
| Tech Giants | 6/7 | 29.13% | 0.32% | Legal & General Global Technology Trust |
| Clean and Green | 6/7 | 11.03% | 0.90% | ASI UK Ethical Equity Fund |
| Rising Stars | 6/7 | 14.60% | 0.78% | Vanguard Global Emerging Markets Fund |
| American Dream | 5/7 | 16.61% | 0.10% | Vanguard U.S. Equity Index Fund |
| Best of British | 6/7 | 6.46% | 0.06% | Vanguard FTSE U.K All Share Index |
| European Essentials Fund | 6/7 | 11.48% | 0.12% | Vanguard FTSE Developed Europe ex-U.K. Equity Index Fund |
| The Medic Fund | 6/7 | 10.50% | 0.69% | Legal & General Global Health & Pharmaceuticals Index |
| Slow and Steady | 3/7 | 4.31% | 0.22% | Vanguard LifeStrategy 20% Equity Fund |
| Balanced Bundle Fund | 4/7 | 8.25% | 0.22% | Vanguard LifeStrategy 60% Equity Fund |
| Growth Stack Fund | 5/7 | 10.21% | 0.22% | Vanguard LifeStrategy 80% Equity Fund |
Past performance is intended as a guide and cannot guarantee future results. If you are unsure of how to invest I would advise that you seek independent financial advice.
Plum App Review
Everything about the Plum money management app is designed to make this as accessible to everyone as possible. There is a clean interface, with clear graphics that make navigating through the various functions really user-friendly.
Security is outstanding, which considering it is linked to your bank account is an absolute must. I was asked to provide a digital password as well as biometric authentication (face and touchID). Plum has received 4.7 out of 5 stars on the app store with reviews that commented on the personal and friendly interface.
Within moments of opening a Plum account, I had identified a couple of subscriptions that I no longer used and cancelled them. The algorithm also worked out how much money it would take from me this week and let me know when this would be transferred to my new Plum account.
As a negative, there was a bit of upselling to the paid accounts almost immediately, however, this was quick and easy to get rid of and to be expected with any App of this nature

Research Service and Tools Review
Initially Plum was only offering the Vanguard funds to investors, essentially meaning that any research was unnecessary.
However, there are now individual stocks on offer with very little in the way of research or tools to help investors pick which stocks to buy. However, you can of course track how your investments are performing and withdraw your funds at any time.
Plum have a blog section on their website, where they share helpful articles that can help you identify whether you are ready to start investing with Plum, as well as some information on the past performance of the funds they have on offer and details of some of Plum's investment features.
There is also a 'plummunity' forum, where members can share their experiences, and ask questions. Being fairly new this is still quite sparse on information, however, it is a great little way of talking to fellow investors in order to share investment tips.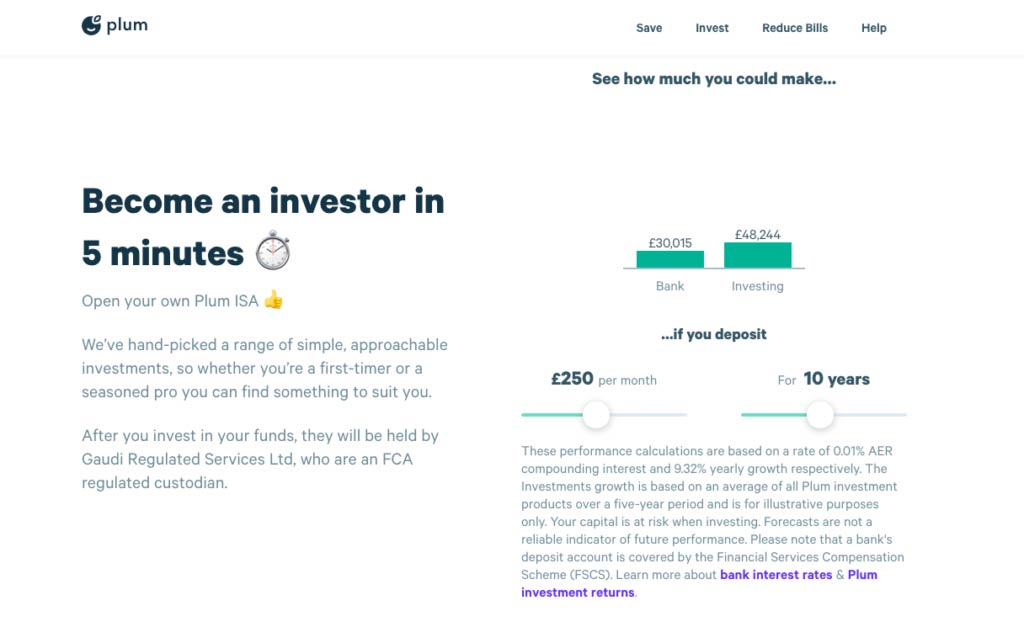 Fees and Charges Review
How much does Plum cost?
The Plum Basic account is totally free of charge, which is great if you are simply looking for a way to utilise artificial intelligence in order to effectively save as much as possible in line with your income and spending. Having the option to earn interest is also a great feature and really makes this competitive.
The Plum Pro account costs £2.99 per month and also incurs fund management charges for your investments of 0.45% and fund fees of 0.08% – 0.90%. As a comparison Moneybox charges fund fees of 0.12% – 0.30% as well as fund management charges of 0.15%.
Plum Ultra levies a monthly fee of £4.99 on top of the fund management and fund fees.
Plum Premium has an account fee of £9.99 per month.
Guide to opening an account
The Plum mobile app really couldn't be easier to use.
Setting up your account takes seconds, and you really don't need to have bank login details to hand as it automatically links to your current account through your banking app (with your permission of course), accesses your bank transaction data and your bank account balance, and in moments the savings bot has got to work in order to analyse your spending habits, crunching numbers to work out where you can potentially start saving so you can begin to set aside money.
You can link Plum to multiple bank accounts, however, it is for private accounts only and will only be able to link to major UK banks.
Having been through the process, and read some of the reviews from other users, I suspect that Plum has an affiliate deal with Octopus as it seems to be the default supplier they recommend when analysing your energy bills. That being said, they can tell you how much you stand to save by switching and handling all the fiddly admin for you.
Deposit and Withdrawal Review
Deposits into your Plum account happen automatically by direct debit so this isn't an area that you really need to think about.
Withdrawals are free, fairly straightforward and can be completed in a few simple steps within the Plum app. You have instant access and should receive your money into your account within 24 hours, although Plum claims that this is more often than not completed within 30 minutes of the withdrawal request.
Should you wish to withdraw your investments, this can take up to five working days as your investments will need to be sold prior to you withdrawing your funds. This money will be paid into your Plum account and you will need to initiate a withdrawal back into your main bank account from there.
Customer Service Review
The Plum website has a help centre with useful FAQs and a telephone number, however, I failed to get any reply from their customer support team when I tried calling the number provided on the website whilst conducting this Plum review. Within the app there is a chatbot, however, if you want to speak to a real person you can expect to wait around for a response. I waited for two and a half hours for a response. However, you don't need to keep the app open while you wait, as the response to your question will be sent to the email address you provided.
Who is Plum Suitable For?
Plum has been targeted at customers who need help saving, whether it's as a nest egg, or towards a particular goal.
Plum effectively analyses your spending every few days using AI in order to identify the perfect amount to save.
Plum is also a good tool for people looking to pay off their overdraft or credit cards by putting aside money that they can use later. Plum will only use your overdraft for auto-deposits once you have a zero balance. This can help anyone who is looking to take control of their finances.
When it comes to investing, Plum aims to provide an investment platform that is so easy to use, that even people who have been deterred by a lack of investment knowledge can have the confidence to start their investment journey. Plum provides a safe, easy-to-use platform for first-time investment groups who don't typically invest, such as women and millennials.
Useful information
Some key information to help you navigate the Plum app.
How to contact Plum?
The best way to contact Plum is through the chat function within the app. Whilst response times can be slow, you don't need to stay logged into the app as you will receive a notification as soon as you have a response to your question.
Plum is also available on email at [email protected] and their customer support team is available from 9.00-17.00 on weekdays and 10.00 – 16.00 on Saturdays and Sundays.
How to withdraw money from Plum?
Customers wanting to withdraw money can do so by logging into their Plum app and selecting the 'Home' tab. From there tap 'Pockets' and 'Withdraw'. Simply enter the amount you wish to withdraw and wait one working day for your funds to appear in your bank account.
How to close an account at Plum?
Closing your account with Plum is fairly straightforward, however, you should ensure you have paused all saving direct debits previously and withdrawn all your money to your main bank account. Once this has been completed simply go to Personal Details and select Close Account.
Plum FAQs
Is Plum any good?
Yes, I have been using Plum for a while and find it to be a very effective saving and investing tool with good account options and decent interest rates.
Is Plum safe?
In short, yes Plum is safe to use. It has taken all the correct steps to ensure the safety of your funds. They are authorised and regulated by the Financial Conduct Authority as a Registered Account Information Service Provider.
Most recent reviews:
Had my account about a month it's good to see my money being put in the right places also I have started buying shares which is easier than I thought so let's see how next month goes.
Likes
Fees
Account opening
Deposit and withdrawal
Customer service
Great app, easy to use and a great way to put money aside.
My experience with their Customer Service department was great.
Haven't used the investment features, however I upgraded to Ultra and was able to use their new Credit Card which was a great way to have immediate access and use the money I was able to save
Likes
Fees
Account opening
Deposit and withdrawal
Customer service
Plum is a great app that i use regularly. It was easy to set up an account and the customer service is great. I particularly enjoy how easy to is to add and withdraw funds. Overall it is a great experience and i would recommend it to anybody.
See which share tip is making the headlines

Have you considered transferring your pension?

Find the best trading platforms
*Capital at risk