Moneybox have continued to expand their offering, successfully bridging the gap between saving and investing with their extensive range of savings products and long-term investment products.
They are a great option for anyone who struggles to save and offer a simplified way for new investors to enter the market.
Moneybox have won multiple awards for their wealth management solutions and it's easy to see why. Not only do they offer automated savings straight from your bank account in the form of round-ups, but they also have the best interest rates on a lifetime ISA that you can find.
This is a perfect solution for anyone who doesn't have the time or resources to study the market and choose how their money is invested, and for people who are saving towards a specific financial goal, especially those looking to buy their first home.
You only need £1 to get started with Moneybox and they even have a provision to consolidate your pensions into their Personal Pension product. This really is a simple solution that takes moments to set up, but can have a significant impact on your future with very little intervention from you. All you need to get started is to be over 18 and have a national insurance number to access the stocks and shares ISA, Lifetime ISA or personal pension.
I think it would be prudent to point out that Moneybox is an app-only service. Therefore, if you're not smartphone savvy, this won't be the solution you are looking for.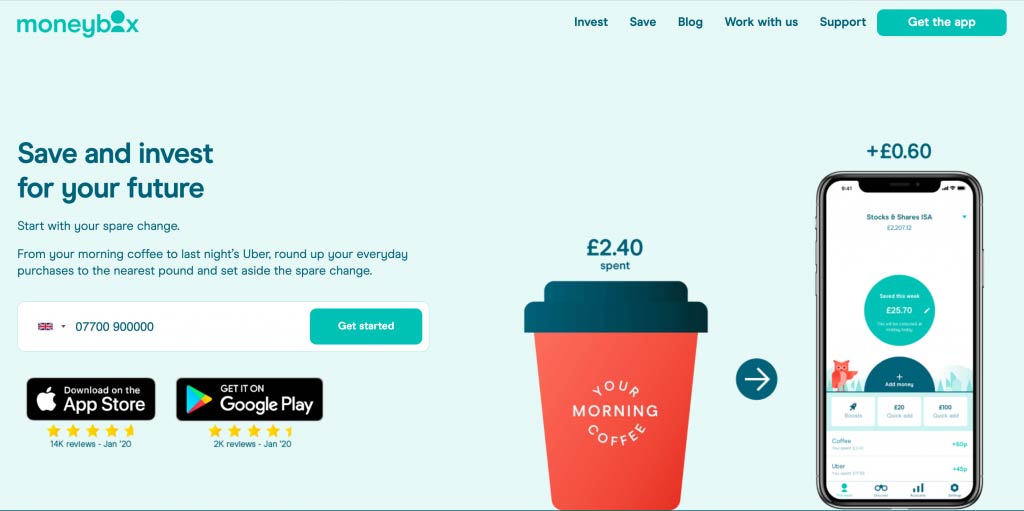 Who is Moneybox?
Moneybox is a saving and investing app that aims to simplify these activities with one, low-cost, easy-to-use app. They have been authorised and regulated by the Financial Conduct Authority since their launch in 2016 and today have over 900,000 customers.
Who owns Moneybox?
Moneybox was founded in 2015 by Ben Stanway and Charlie Mortimer who still own the majority of Moneybox. Moneybox have completed their Series C funding round with institutional investors, raising £30 million and are now launching their first crowdfunding raise, providing scope for further investment.
Moneybox product range
In my opinion this is where Moneybox really stands out in what is fast becoming a crowded market. It is rare, when doing these reviews, that I come across an app with the number of account options that you can get at Moneybox.
Moneybox's investment accounts include the following:
Stocks and Shares ISA
General Investment Account
Junior Stocks and Shares ISA
Whilst the range of savings accounts including the following:
Simple Saver (1.40% AER)
32 Day Notice (2.22% AER)
45 Day Notice (1.97% AER) – currently closed for new customers
95 Day Notice (2.32% AER) – currently closed for new customers
120 Day Notice (2.28% AER)
For those saving for their first home:
Cash Lifetime ISA (3% AER)
Stocks and Shares Lifetime ISA
Moneybox Mortgage Advice
House deposit calculator
And for those saving for retirement:
Personal Pension
Pension Calculator
Stocks and Shares ISA
The Moneybox Stocks and Shares ISA differs a little from your average offering in that it includes the rounding up feature, meaning you can continue to drip feed money into your account without even noticing it, helping to grow your investment portfolio.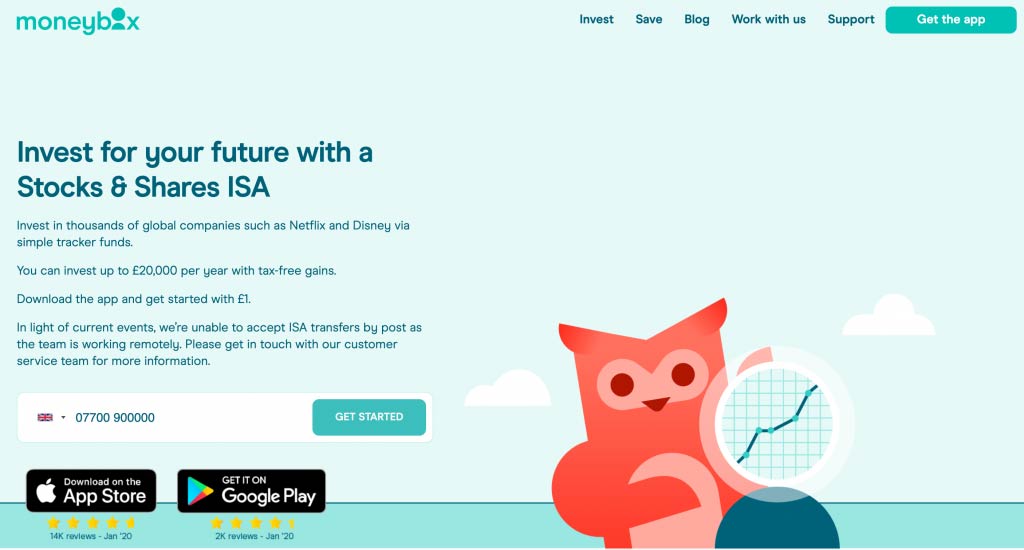 Other than that it is a fairly standard offering, allowing investors to deposit up to £20,000 a year in 2022/21 and invest that cash into one of their three low-cost Starting Options made up of tracker funds, or build their own portfolio from a range of tracker funds and exchange-traded funds (ETFs).
Starting Options
Starting Options are aimed specifically at beginner investors and those who prefer to keep things simple.
Cautious – Made up of 40% Corporate and Government Bonds
Balanced – Made up of 65% shares
Adventurous – Made up of 80% global shares
Customise Allocations
Moneybox have expanded their offering of investment options to include tracker funds that allow investors to customise their allocations, giving them complete control of their investments and allowing selections that fall in line with values and objectives. This includes a full range of US stocks.
This option is best for intermediate and experienced investors who are looking for more control over their investment funds.
Socially Responsible Fund
There is also the option to invest in a Socially Responsible Portfolio which Moneybox have introduced with young investors who wish to invest ethically in mind.
Any of the three funds mentioned above (Cautious, Balanced, and Adventurous) can be converted into a Socially Responsible fund for ethical investing.
General Investment Account
For those that have reached their ISA allowance there is also a General Investment Account available, however, returns here will be subject to capital gains tax unlike in the ISA. From the General Investment Account, you can still invest in the four portfolios on offer and Moneybox accepts deposits of up to £20,000 per week.
Junior Stocks and Shares ISA
This is for parents who are looking to start a nest egg for their children. You can still invest in any of the four portfolios on offer and tap into the great round-ups feature to maximise on your savings. The big thing of note with this account is that it can't be accessed on the main app but rather requires a separate iOS Junior ISA app.
Simple Saver Account
The Simple Saver Account is provided by Shawbrook Bank so all your savings are covered by the Financial Services Compensation Scheme. You can only withdraw once per calendar month. Shawbrook are actually offering an AER of 2.30% on their Easy Access Account which is very similar and without the restrictions on withdrawals. However, if you were to take this option, you would be sacrificing the option to drip-feed your money in using the rounding-up tool which comes free at Moneybox.
32-Day Notice Account
This account is provided by Investec and requires 32 days notice for all withdrawals. However, in exchange you get a rate of 2.22% AER with interest calculated daily and paid monthly. There is no information about this account on the Investec site which would suggest that this is available via Moneybox only.
45-Day Notice Account
This will offer a better interest rate in exchange for you giving 45 days notice should you wish to withdraw. However, this account is currently closed for new applications and it is unclear whether this is a permanent move by Moneybox or whether it will become available again in the future.
95-Day Notice Account
This account is also closed for new applications. The 95-Day Notice account is particularly interesting as it offers a fairly competitive rate compared to UK banks of 2.32%, but funds can only be withdrawn from this account with a 95-day notice period which may not be all that useful if you need the funds in an emergency. This account is powered by Investec, so of course, I went directly to them to check the rate etc and found that Investec only offers a 90 day notice saver account and the rate on this is slightly better at 2.90%. Again, you would need to feel that the functionality at Moneybox is worth the reduced rate.
120-Day Notice Account
If you missed out on the 95-Day Notice Account but would still like to access the great rate, then this is the answer. Of course, the notice period is longer at 120 days, however, you will have access to an AER of 2.28%.
This is powered by Charter Savings Bank with interest calculated daily.
Cash Lifetime ISA
If you are saving for your first home and don't have the stomach for investing, then put your money here! There is a reason that Moneybox got my title for Best Cash Lifetime ISA as their interest rate of 3% AER is industry-leading. This interest rate includes a 2.75% base rate which is variable and a fixed one-year bonus interest rate of 0.25%. Even if you transfer out after the first year, this is still worthwhile.
The Lifetime ISA is, without doubt, the most efficient way to save for your first home, as it attracts a government bonus of 25% on all deposits you make into the account. At Moneybox this bonus is paid monthly, and of course, you can still take advantage of the rounding-up feature to boost your savings.
There are however limitations on this type of account, regardless of your provider. Firstly you have to be between the ages of 18 and 39 to qualify, and you can only access the money to buy your first house or for your retirement without incurring a penalty of 25% on the amount withdrawn. You can save up to £4,000 each year, which means the government bonus can only go up to £1,000 and the value of the house you buy with your lifetime ISA can only be up to the value of £450,000.
Stocks and Shares Lifetime ISA
This performs in the same way as the regular Stocks and Shares ISA with access to the Moneybox funds to invest in and with the round-ups feature to boost your investments, however, this account is yet again geared towards people who are saving for their first home or retirement. The same rules apply as with the Cash Lifetime ISA, in that you have to be under the age of 40 to open an account and you can only deposit up to £4,000 a year in order to trigger the government bonus of 25%.
Of course, there are other providers offering a Stocks and Shares Lifetime ISA, however, Moneybox have made it onto my list of Best Stocks and Shares Lifetime ISA, in part due to their low-cost service of 0.45% platform fee with £1 per month flat fee, and in part due to the round-ups feature which can really help when saving for a first home.
Mortgage Advice
Free mortgage advice? This is a nice touch from Moneybox and really sets them apart from a lot of their competition. It's a reasonably new offering, and a good sign of the continued improvements being made to the app. Moneybox claims to access deals from over 90 lenders and you can do the entire application process from within the app.
Personal Pension
The pensions service at Moneybox is very similar to that of PensionBee and Penfold, in that they help you locate and consolidate any existing pensions into one, easy to manage, Moneybox Self-Invested Personal Pension (SIPP). Again you will have the option to invest your Moneybox pension in the following funds:
Blackrock LifePath – a fund that will automatically adjust your risk in keeping with your age and proximity to retirement.
Fidelity Index World – a low cost, global fund.
Islamic Global Equity – In line with Islamic principles by omitting industries that include tobacco and alcohol.
The downside of this is that only you can contribute to your pension, Moneybox do not accept employer contributions.
Research services & tools
With Moneybox, you don't see all the usual research and analysis tools you may be used to finding on a broker webpage. That's likely due to the product being slightly different than your usual ISAs and SIPPs a broker would offer.
With Moneybox, all the funds are pre-selected for you and you simply put in what level of risk you want to take, which redistributes what percentage of shares go where. They are all tracker funds and Moneybox state that they review them annually – which, so far they have done.
When it comes to general educational content, Moneybox does fairly well, they have easy-to-digest videos and blog posts to explain all the basics of finance and keep you up to date with the latest news. Their blog is categorised into four topics which are easy to navigate; Updates, Pensions, Learn, Academy and Stories.
It's important to note that Moneybox do not offer anything in the way of financial advice and it is therefore up to the individual investor to ascertain which of their funds would be best for their circumstances.
Moneybox Fees
The fees you pay with Moneybox are dependent on your account type and what funds your money has been distributed in. They pride themselves on being transparent with fees and we have to say that it's refreshing to see simple pricing rather than pages upon pages of options for SIPPs, ISAs, phone transactions, stock purchases and so forth.
Monthly Subscription Fee
To make the fee structure simplistic they have a monthly subscription fee of just £1 which covers all investment accounts with  Moneybox, they're also offering new customers their first three months for free.
Platform Fees
Moneybox charges a platform fee of 0.45% which is more than most other providers charge. Having said that, the slightly higher fee is likely from the fact that it's pretty much a done-for-you service so is understandable.
Annual Fund Provider Costs
These fees vary depending on the funds you opt to invest in but vary between 0.12% and 0.58% which is pretty standard. Moneybox doesn't really have much control over these rates – though they can choose funds with lower fees so they can pass those savings on to investors.
Pension Fees
Moneybox doesn't charge their subscription fees for pension funds but does charge their platform fees on a sliding scale basis.
For those of you who have a pension pot of less than £100,000, you will be charged the standard 0.45% platform fee. However, if you hold a pension pot over £100,000, their fees become much more lucrative at just 0.15% making them a great option for those with pension balances between £100,000 and £250,000
Opening an account with Moneybox
Opening an account with Moneybox is incredibly easy and you don't seem to have to go through the masses of questions you get with the more traditional brokers. It's all done on the Moneybox app too which has been designed to be very user-friendly.
The only details you may need to double-check are your bank account details as you are required to set up a direct debit when opening the account but other than that you will just need your personal details, national insurance number and address to get going (and a smartphone – of course).
You're asked what type of account you want to open and how much you want to invest weekly with the option of adding a lump sum investment on payday (so you don't miss the money). They've also taken the liberty of showing you how much you could have in 10 years based on the various options you select throughout the sign-up process.
Transferring your investments to Moneybox
Transferring your investments to Moneybox is simple and the form to initiate the transfer can be accessed on their website or the Moneybox app. It will then have to be posted to them.
The process can take a fair amount of time however, compared to most mainstream brokers. They state that the transfer can take up to 30 days which is around double the time it takes to transfer in with other investment services providers.
It's also worth noting that you won't be able to invest your money in the same funds or shares that you currently have them in unless they happen to be the same as what Moneybox is offering as they have already pre-selected the investments for you.
Moneybox customer service
The Moneybox customer service team are around 7 days a week 9-5:30 pm either via the chat section on the Moneybox app or by email.
Their chat service, however, is operated by Intercom, so it could be a few hours before they actually get back to you, although we guess it's a step in the right direction as most brokers don't offer an online chat option at all – having it 'live' though would make it much better and they might try to aim for this as the company grows.
Moneybox review summary
Moneybox is best suited for people with no investment experience who want to dip their toes into the world of investing without putting too much effort into selecting funds and doing their own analysis. Of course, this does pose some risk as you're relying on someone else's opinion but it's a great way to get started.
It's also a perfect option for those who aren't great at saving as it aims to encourage putting away small amounts of money often to see potentially big returns.
Moneybox have recently made moves to attract a more investing-savvy audience with their customise allocations which give investors greater control over their portfolio allocation and access to US stocks.
Alternatives to Moneybox
There are plenty of alternatives to Moneybox including the likes of Moneyfarm,  Plum, Revolut, Monzo and Startling to name a few.
Useful Information
Important useful information for Moneybox customers in the UK.
How to Contact Moneybox
The best way for Moneybox users to contact support is via the live chat within the app. This can be located by tapping the Settings icon on the bottom right and tapping 'Help; and 'Contact Us'
Alternatively you can email [email protected]
How to Withdraw from Moneybox
Firstly ensure that any investments have been settled before attempting to withdraw. After that withdrawals can be done from within the app by going to 'Settings' and then 'Withdraw' after which you will be asked to supply details of the bank account the funds will be going to.
How to Close Your Account
Once you have withdrawn or transferred any assets within your account, you can simply go to 'Settings' within the app and select 'Close Account'
Moneybox FAQs
Is my money safe in Moneybox?
Yes, your money is safe with Moneybox, because they have taken all the necessary precautions in order to keep your money secure and are regulated by the Financial Conduct Authority.
Is Moneybox good?
In short, yes, Moneybox is good, especially for their Lifetime cash ISA which offers the best interest available. Very experienced investors may find the choice of funds and stocks limiting.
Moneybox Customer reviews
Most recent reviews:
Signed up for a Cash LISA when buying my first house last year after getting a few years of bonus, the process was really simple to use. Only downside is my Cash LISA interest rate now saving for retirement hasn't gone up at all even though the base rate has been increased a few times recently.
Likes
Fees
Account opening
Deposit and withdrawal
Customer service
Have been using this company with a Stocks and Shares ISA. Have to say to date not a lot of interest has been added. However I have been informed that this type of investment is for the long term. I am going to give it another 12 months to see what the outcome will be then. On the whole an easy app to use and they do keep you up to date and informed.
Likes
Fees
Account opening
Customer service
Very easy to use and set up. I'm not only investing with it, but also have a ISA, both of which have been so easy and quick to set up and use. I like how they don't use hard terms to explain anything and how things are straight forward. I like how reliable I feel they are, I feel safe investing with them as they are well known and appear to have a good reputation. Their support team are also very quick and good, always respond super fast and are helpful!
See which share tip is making the headlines

Have you considered transferring your pension?

Find the best trading platforms
*Capital at risk