Interactive Investor is also known as ii.co.uk and is one of the top execution only investing platforms in the UK. They have you covered with a full suite of products for the typical UK investor including ISA, SIPP, Share Dealing, Fund Investing, CFDs and even IPOs
In 2019 Interactive Investor introduced a new and easy to understand flat fee structure for trading including a certain number of free trades per month. Over the long-term lower fees have a huge impact on your portfolio, so we are a big fan of this. We have more details below on fees.
Like everyone else, Interactive Investor has mobile trading apps for android and ios (iphone/ipad) and a web-based trading platform that works on Mac and Windows. ii.co.uk also provide 24/customer support via their trading platform as well as a very active discussion forum for those that want to debate their investing decisions or look for inspiration for the next trade.
In 2019 alone, Interactive Investor has won such awards as Best ISA Provider, Best SIPP Provider and Best Low-Cost Stockbroker, while we take a steer from 3rd party awards we will still review Interactive Investor based on our own independent review criteria.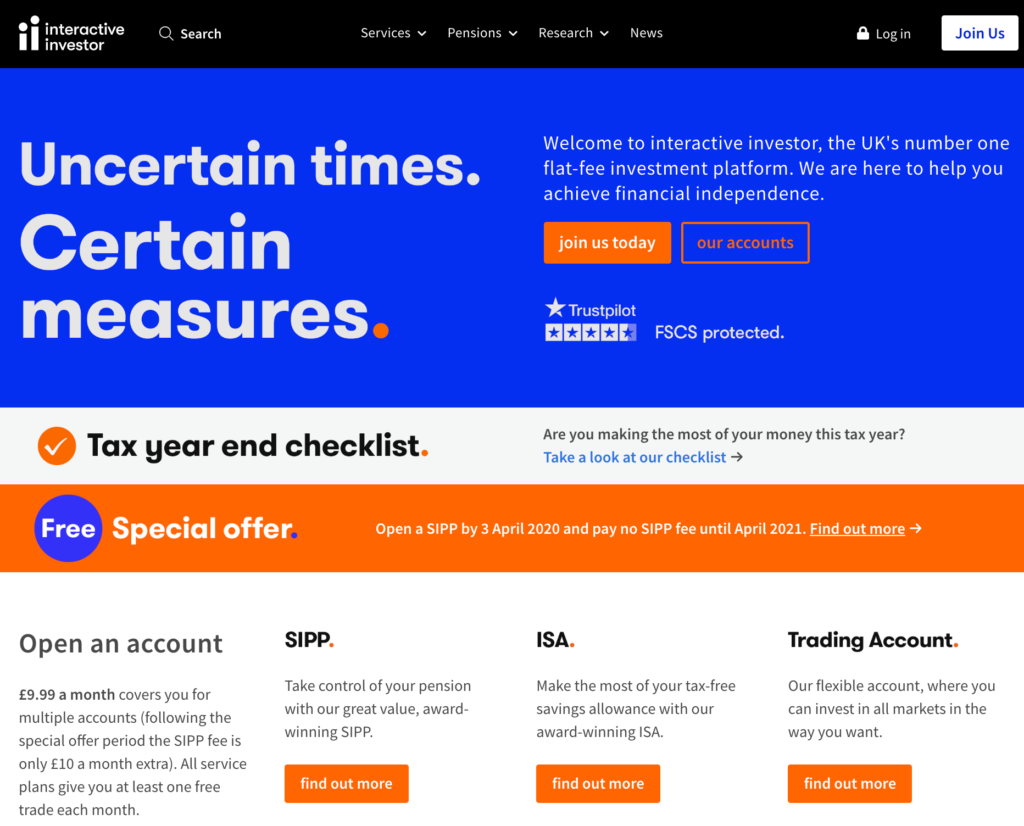 Interactive Investor Product Range
A breakdown of the products available on the Interactive Investors platform is listed below, as you can it is a very comprehensive list that covers everything the average UK investor will need.
Trading Account which is focused on Investment Products include:
Stocks & Shares
ETFs (Share ETFs and Index ETFs)
Investment Trusts
Investment Funds
Bonds & Gilts
Warrants
Venture Capital Trusts (VCTs)
Leveraged Trading
Spread Betting (called Spread Trading on the platform)
Contracts for Difference (CFDs)
Options
Commodities
FX Trading
ISA & SIPP
Stocks and Shares ISA
Junior Cash ISA
Junior Stocks and Shares ISA
Self Invested Personal Pension (SIPP)
Interactive Investor Charges, Fees and Costs
Interactive Investor in 2019 introduced a new and improved fee structure for customers, depending on the type of investing you would like to do you can choose the right package that suits. Moving away from more traditional quarterly fee or annual fees, interactive investor has moved to a monthly subscription fee.
There are three subscription packages available, each package enables a series of "free trades" in a month but realistically it's a credit against trading fees. The "free" trades expire after 90 days, so keep this in mind when choosing your package as it could be cheaper to just take the basic package if after a while you won't be trading as frequently. Keep in mind while the "Super Investor" fee of 3.99 for UK shares is extremely low the basic fee of 7.99 for UK Shares is also very low. For example Hargreaves Lansdown share dealing charge is 11.95 and even at 20+ trades per month are still charging 5.95 for UK Shares . When we look at the other near competitor AJ Bell (youinvest.co.uk) they charge 9.95 for UK Shares on their dealing account services. As such any package at interactive investor is providing great value for money.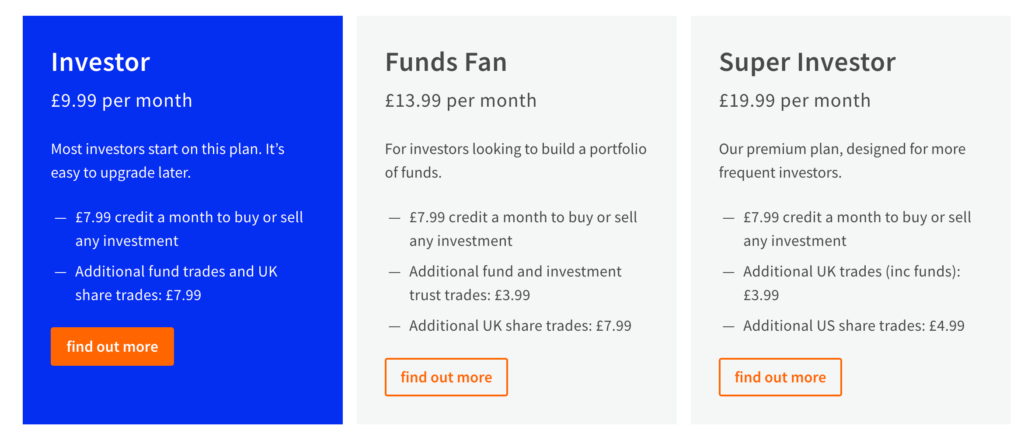 As you can see from the table below, the three packages are broken down into "Investor" subscription (at £9.99 per month) is the base package, "funds fan" (at £13.99 per month) gets you cheaper fund and investment trust fees and "Super Investor" (at £19.99 per month) gets you cheaper trading fee on all the different shares, ETFs and Fund types.
What we really like on every package is that the charging for Dividend Reinvestment and Regular Investment fees are low for everyone at £0.99, this in our view is fantastic and will have a huge impact on your long-term returns.
"Investor" Fees
Monthly Charge: £9.99
UK Shares & ETFs: £7.99
Funds and Investment Trusts: £7.99
US Shares: £7.99
Other International Shares: £19.99
Dividend Reinvestment: Free
Regular Investment: Free
Free Trades Per Month from the trading credit: 1
"Fund Fan" Fees
Monthly Charge: £13.99
UK Shares & ETFs: £7.99
Funds and Investment Trusts: £3.99
US Shares: £7.99
Other International Shares: £19.99
Dividend Reinvestment: Free
Regular Investment: Free
Free Trades Per Month from the trading credit: 2 Free Funds or Investment Trades
"Super Investor" Fees
Monthly Charge: £19.99
UK Shares & ETFs: £3.99
Funds and Investment Trusts: £3.99
US Shares: £4.99
Other International Shares: £9.99
Dividend Reinvestment: Free
Regular Investment: Free
Free Trades Per Month from the trading credit: 2 Free UK trades
Interactive Investor SIPP Fees
Normally you pay an additional 10 per month for a SIPP account (on top of your subscription package), however as a special offer, if you open your SIPP account before 3rd of April 2020 you get 1 year of no SIPP fees, this is a fantastic offer.
SIPP accounts come with the following fees breakdown:
No fees for setting up a SIPP or transferring into a SIPP
No fees for transferring your SIPP to another UK provider
No fees for closing your SIPP
Additional SIPP charges apply for divorce, death settlement and drawdowns.
Interactive Investor ISA fees
ISA fees are as per your subscription package,(Investor, Funds Fan, Super Investor) so very simple to understand and manage.
Opening an Interactive Investor Trading Account
Like opening any trading or share dealing account you will need certain paperwork before you start, so make sure you have the following to hand;
Proof of Identity – such as passport or driving license
Proof of address – recent utility bill or bank statement
Also as per the FCA regulations you will need to complete a short questionnaire called a "suitability test" this will help ii understand the level of experience you have with trading and investing, it's pretty straightforward but does take a couple of minutes.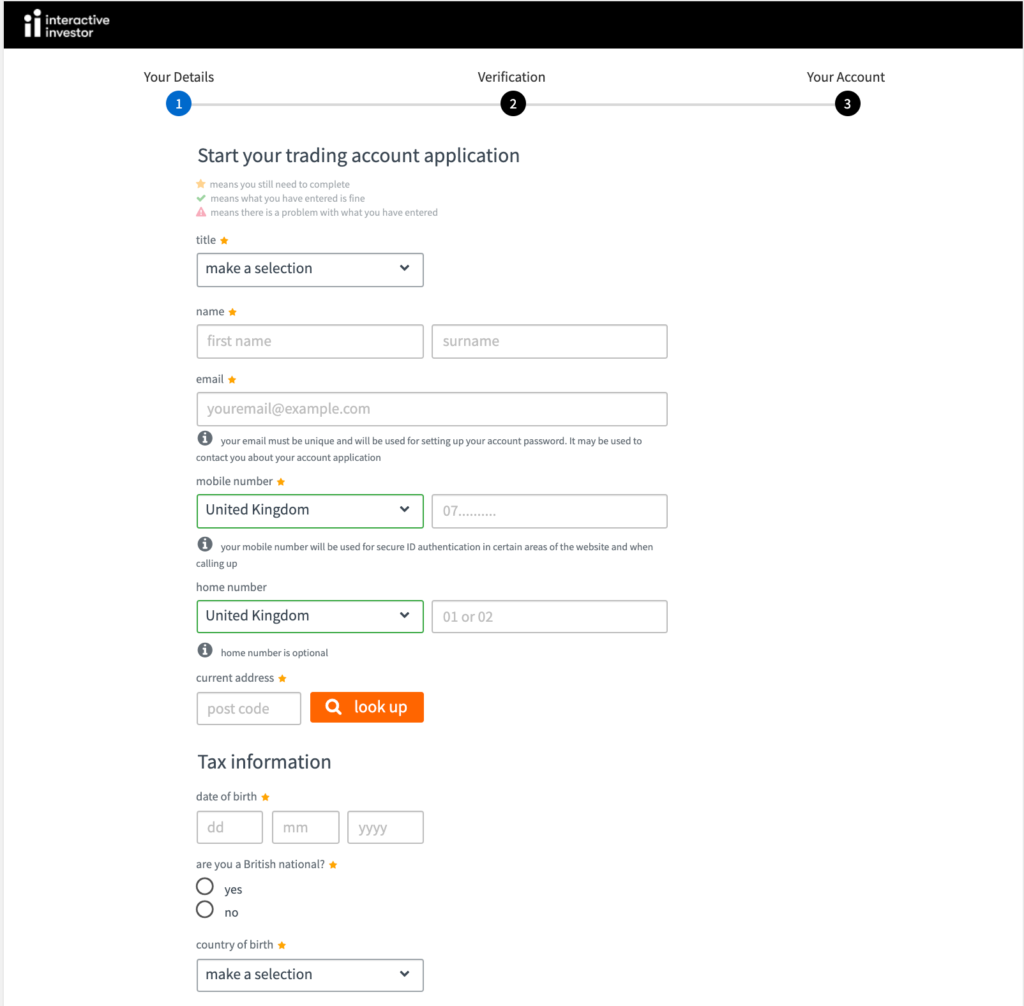 Once you have done that your account will be reviewed and approved, while you wait you have access to the platform but will not be able to trade until approved.
Funding your account is very straightforward you can use your debit card, bank transfer and even cheque. If you already have an ii account you can do an inter-account transfer as well from within the platform.
Transferring your investments to Interactive Investor
This is all managed from within the platform (click "cash & transfers" and then "transfers in"), just choose your broker, print and sign the paperwork and send to ii. They will then do the hard work and keep you updated. As always this can take a while (few weeks), if your portfolio is small/simple it might be worth considering selling on your old broker and buying again on the ii platform to speed up the process. It's not the right strategy for everyone but does work.
Interactive Investor ISA Review
The interactive investor ISA account allows you to maximise your annual allowance (£20,000 19/20 tax year) making it simple to maintain a stocks and shares ISA. Trading in your ISA is covered under your monthly subscription so pricing is simple and transparent, it is free to transfer your ISA to interactive investor and also free to transfer your ISA to another broker in the UK if you want.
Depending on your confidence level there is two ways you can approach creating your ISA portfolio, for the DIY investor you can just start picking and choosing yourself or for those who need some inspiration, ii have a range of options to help:
Quick Start funds where you can choose from 3 different Vanguard portfolios
II Super 60 Investments a range of investment choices (picked by a panel of experts) ranked by category with a simple to use screener to help you narrow your selection
Model Portfolios organised by investment goals to help you create a suitable portfolio that meets your needs
For those with a Spouse or Children, your spouse can create a Stocks and Shares ISA account as well and ii offers a Cash Junior ISA and Stocks and Shares Junior ISA (allowance of 4,368 between the two account types 19/20 tax year). All of these ISA accounts can be opened online in a few clicks.
From a cost perspective Interactive Investors performs extremely well against the big UK brands.
Interactive Investor SIPP Review
A SIPP is a "Self Invested Pension Plan" which is a fancy way of saying DIY Pension. ISA and SIPP go hand in hand at interactive investor and how you manage them is practically the same. Low cost fees are key to helping improve the return of any investment particularly a pension, so it makes sense to compare your current fees to what interactive investors charges to make sure you have the best possible set-up.
It's super easy and free to transfer your SIPP to II and on the flip side should you ever choose to leave it's just as easy and just as free to transfer your SIPP to another broker.
Interactive Investor list well over 40,000 global shares, ETFs and Funds, covering UK, EU, US and the rest of the world, on 17 exchanges and across 9 different currencies. So the bottom line is they have everything the typical investor could need.
What we particularly like about share dealing with II is that all shares are stored in the same investment account, and you can control when currencies are converted (for example dividend payments), this minimises currency exchange costs and even allows currency hedging.
Note: If you want to buy US listed shares you need complete a W-8 Form (due to US regulations) which is very simple to complete and if the account is in your own personal name then the form can be completely digitally online through the platform.
Pricing for share dealing is dependent on your subscription package and when we compare to the major competitors interactive Investors is the one of the most competitive in the market
Interactive Investor – Platform & APPs
iOS Apps (iPhone & Android)
Interactive Investor has a full range of apps to choose from
For your iPhone and iPad there are two apps to choose from.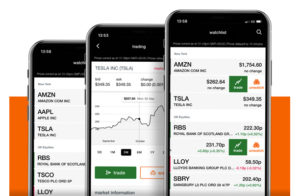 The first and the best is the "II Investing" app, which was voted "Best Mobile Share Dealing" by Investors Chronicle in 2018 and we can see why, the app is a full functioning app that gives you full control of your account allowing:
Share, ETFs and Fund trading
Portfolio overview and management
Including your ISA, SIPP, JISA and trading account
Create and manage your watch lists and curate newsfeed
Access to customer service
Easy login via fingerprint and face-recognition
The second iOS app is Interactive Markets SB (spread betting) and CFDs this app is a badged version of the GAIN capital app who II use for their CFD and Spread betting services. Unfortunately, this app just isn't as good, it doesn't have the same snap and polish that the Investing app from ii has, it does the job and if you dabble it's fine. However, if Spreads and CFDs are your main focus, we'd recommend
Interactive Investor Android App
Like most companies they have spent more time building and polishing their iOS app than the Android app. However, when we benchmark to competitors such as Hargreaves Lansdown the II Android app holds up very well. It has all the functionality as the iOS app and gives you full control of your investments (similar to iOS above). When we tested the app on the most popular android devices
Research & Tools
A whole suite of tools is provided to customers to use for making investing and trading decisions.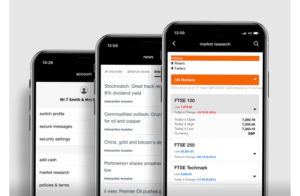 WATCH-LISTS
Interactive Investor has a more than adequate watch list for the typical investor, however there are definitely better ones out there for the more serious day-trader.
CHARTING
For those interested in charting, everything is provided through an integration with MorningStar which is great for fundamental analysis but necessarily known for its technical analysis. With 11 different technical indicators to choose from the basics are covered. Charting functionality such as drawing and marking-up aren't possible.
Here at investigreviews.co.uk we prefer the long term view of fundamental analysis so don't see this as a major drawback. However for those where technical analysis is important this is key to keep in mind.
SCREENERS
Through an integration with Recognia there are preset markups of the common technical patterns and a screener available for use.
Interactive Investor Customer Support
Customer and trade support is offered via the platform live chat, via email or over the phone.
In our testing wait time on the phone was less than a minutes, emails where answered within an hour and the live chat was instant
Supported languages are English, German, Arabic, Polish, Chinese, Japanese and Hungarian and as traditional in the financial markets' customer support is available 24 hours per day 5 days per week.
Conclusion: Interactive Investor Review
So who is Interactive Investor suitable for? This is a key question you should be asking yourself. In our view the typical UK investor is very safe hands with interactive investor (ii) this includes people with ISA and SIPP accounts, Investors who want to invest on a regular automated basis (including dividend reinvestment), have a portfolio of 70% UK stocks, want to invest in ETFs and Funds or have a lump sum to invest.
With their low fees, comprehensive product range, solid customer support and good investment platform, Interactive Investor has everything your normal UK investor needs.
For traders who want to trade on leverage, large volume of trades per day (15+), the majority of shares are non-uk or want to trade complex products such as options while interactive investor can technically handle that, there are better brokers to choose as we can explain in our Hargreaves Lansdown Review.

Overwhelmed with how to invest?
Connect with a Financial Advisor near you for FREE.
Interactive Investor ii.co.uk FAQ
Is Interactive Investor Any Good?
Short answer is Yes. For the typical UK investor who wants to invest in an ISA, SIPP, ETFs, Investment Trusts or Stocks and Shares then Interactive Investor is very good. With a low fee structure and full product range it has you covered. However for people who want to do more than 15 trades per month or want to trade leverage products instead we'd recommend Hargreaves Lansdown instead.
Is Interactive Investor Safe?
Yes, very safe. Your investments and cash are held in segregated trust accounts and kept separate from the accounts of Interactive Investor. As such if something should happen to Interactive Investor your assets are safe
Who Owns Interactive Investor?
Interactive Investor is a privately owned limited liability company called Interactive Investors Services Ltd. It is 100% equity owned with no debt and net assets over 100 million and includes large key shareholders such as J.C. Flowers & Co
How Do I Contact Interactive Investor?
Telephone from the UK: 0345 607 6001
Phoning from overseas: +44 113 346 2309
For existing customers you can also log into the platform and app and go to "account > secure messages"
How Do I Close My Interactive Investor Account?
To close your account you need to contact customer support who will help help you with the transfer to another broker. You also need to be careful if you are leaving the UK as your eligibility for tax wrappers such as ISAs and SIPPs could change