In this interactive investor review, I have personally tested every corner of the platform to provide you with an accurate and unbiased account of what to expect from one of the best online brokers in the UK.
Find out why this is one of my top picks for investors who like to manage their own portfolios.
Interactive Investor is a comprehensive investment platform offering an extensive range of assets that would suit those who like to manage their own investment portfolios while also providing a range of options that would suit beginners.
Is interactive investor a good option?
Yes, for those with a substantial investment pot, the flat fee at interactive investor works out as a low cost option while still providing one of the most extensive ranges of assets available. It is also an established and trusted brand.
What's its major downfall?
The cost could be prohibitive to investors who are just starting out with less than 1,000 pounds. There are also trading fees every time you buy and sell assets, which are absent on other platforms such as Freetrade. However, if you are a buy and hold investor, this needn't put you off.
Read on to find out why ii is one of my top picks for an investment platform.
Interactive Investor Ratings
Deposit and withdrawal:
90%
Markets and products:
70%
Pros
User-friendly, award-winning web and mobile trading platform
Widest choice of investment options for share dealing
Very economical for larger portfolios
Cons
Cheaper options are available for portfolios under £1,000
Basic charting tools
Trading fees
Interactive Investor review in 60 seconds
Interactive Investor Review 2023: Pros & Cons
Who is interactive investor?
interactive investor is a privately owned limited liability company called interactive investor Services Ltd. It is 100% equity funded with no debt and net assets over £100 million, and it includes large key shareholders such as J.C. Flowers & Co. In 2019, interactive investor acquired Alliance Trust Savings, resulting in the merger of two of the largest fixed-price retail investment platforms. This makes interactive investor the second largest investing platform in the UK after Hargreaves Lansdown.
Who owns interactive investor?
UK-based global investment company abrdn acquired 100% of interactive investor in 2021.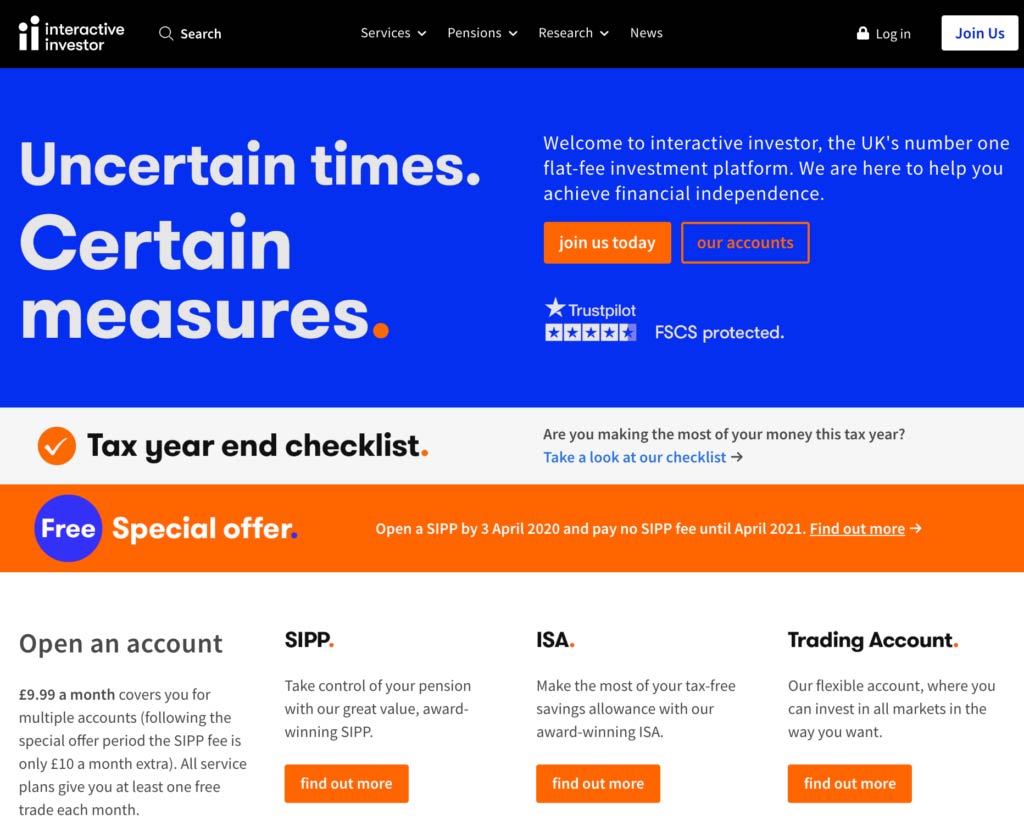 A breakdown of the products available on the interactive investor investment platform is listed below, and, as you can see, it is a comprehensive list.
Trading platform
The interactive investor's GIA, which is focused on Investment products, offers:
Stocks & Shares
ETFs (Share ETFs and Index ETFs)
Investment trusts
Investment funds
Bonds & gilts
Venture Capital Trusts (VCTs)
ISAs & SIPPs
ii offer the following ISA and SIPP investment options:
Stocks and Shares ISA
Junior Cash ISA
Junior Stocks and Shares ISA
Self Invested Personal Pension (SIPP)
If you're new to investing, ii's ready-made global portfolios, known as 'Quick-start funds' are a great place to start. These six low-cost funds, chosen by ii's experts include three of Vanguard's popular passively managed LifeStrategy® funds and three actively managed funds from BMO (Global Asset Management).
interactive investor's Quick-start funds are some of the most competitively priced funds on the market. They also provide new investors with access to plenty of reading material on how to make informed investing decision which is really helpful.
The BMO portfolios are split into three funds: Cautious, Balanced, and Growth. These can be matched to your risk profile and are designed to be looked at as investment options that should be allowed three or more years to grow.
Charges for these six funds are as follows:
0.28% for the LifeStrategy® 20% equity fund
0.27% for the LifeStrategy® 60% equity fund
0.27% for the LifeStrategy® 80% equity fund
0.35% for the BMO Sustainable Universal MAP Cautious fund
0.35% for the BMO Sustainable Universal MAP Balanced fund
0.35% for the BMO Sustainable Universal MAP Growth fund
The BMO funds also give investors the opportunity to invest with ESG (environmental, social, and governance) principles.
ii Super 60
In direct competition with the Hargreaves Lansdown Wealth 50 list, ii have introduced their Super 60 list with a range of investments, including active and passive funds, investment trusts, and exchange-traded funds. The Super 60 list is split into the following asset groups:
Super 60 Equities
Super 60 Fixed Income
Super 60 Alternatives
I liked that ii were happy to go into some detail on their website as to the recent performance of these investments, and it certainly seems that they managed to maintain positive returns despite the upheaval to the market caused by the COVID pandemic and the war in Ukraine.
ii ACE 40
ii claim that their ACE 40 list is the UK's first rated list of ethical investments. The list holds what ii judges to be the 40 best-in-class sustainable funds, investment trusts and exchange-traded funds (ETFs).
There is plenty of information on the website about how each one attained ii rated status, as well as a host of informative articles that can help if you're considering a sustainable or ethical range of investments.
Model Portfolios
ii have launched four model portfolios to help make investing easier and offer growth or income options. That ii is so transparent with these portfolios is great, as it means even people who don't hold an interactive investor account can compare the data. The four portfolios are as follows:
Active Growth: 10 actively managed funds and trusts
Active Income: 10 high-yielding, actively managed funds and trusts
Low-cost Growth: 9 low-cost tracker funds and ETFs
Low-cost Income: 9 low-cost, high-yielding tracker funds and ETFs
interactive investor ISA Review
interactive investor's ISA account allows you to maximise your annual allowance (£20,000 for the 2023–24 tax year), making it simple to maintain a stocks and shares ISA tax-free.
Trading in your stocks and shares ISA is covered under your monthly fee, so this pricing structure is simple and transparent. It is free to transfer your ISA to ii, and it is also free to transfer your stocks and shares ISA to another broker in the UK if you choose to.
Depending on your confidence level, there are two ways you can approach creating your ISA portfolio: for the DIY investor, you can just start picking and choosing yourself, or, if you want a helping-hand, interactive investor has a range of options to help, including:
Quick-start Funds: allowing you to choose from three popular Vanguard portfolios
ii Super 60 Investments: a range of investment choices (picked by a panel of experts) ranked by category with a simple-to-use screener to help you narrow your selection
Model Portfolios: organised by investment goals to help you create a suitable portfolio that meets your needs.
From a cost perspective, interactive investor's ISA performs extremely well against the big UK brands. It has also been rated excellent on Trustpilot, scoring 4.7 out of 5 stars. The ii ISA was also named Best Buy ISA 2023 by Boring Money.
Opening an ISA account with interactive investor takes less than 10 minutes, after which you can enjoy your maximum allowance of tax-free investments.
The only negative I came across while conducting my review of the ISA account was the charge of £5.99 on fund switches. However, this can effectively be reduced with an upgraded service plan.
Important information - investment value can go up or down and you could get back less than you invest. If you're in any doubt about the suitability of a Stocks & Shares ISA, you should seek independent financial advice. The tax treatment of this product depends on your individual circumstances and may change in future. If you are uncertain about the tax treatment of the product you should contact HMRC or seek independent tax advice.
interactive investor Junior ISA
Anyone with parental responsibility for a child can open a Junior ISA account with interactive investor and create a tax-free way to invest for a child's future.
Contributions to the account can be made by anyone, including grandparents and friends, although all contributions will count towards the annual allowance as set by the government (which, for the 2023-24 tax year, is £9,000).
In order to open a Junior ISA with ii, you must either deposit a minimum of £100 as a lump sum or a minimum of £25 per month, which is level with competitors such as Hargreaves Lansdown.
Once the child on the account reaches the age of 18, interactive investor will automatically convert the Junior ISA account to an adult ISA, at which time the child will have full access to any money held within.
This interactive investor account is not available with the Investor Essentials plan.
interactive investor SIPP Review
A SIPP is a 'Self Invested Pension Plan' which is a fancy way of saying a DIY pension. ISAs and SIPPs go hand in hand at interactive investor – and how you manage them is practically the same. interactive investor's SIPP allows you to deposit money tax-free in order to invest for your retirement.
Low fees are key to helping improve the return of any investment, particularly a pension, so it makes sense to compare your current fees with ii's to see how they match up.
It's super easy and free to transfer your SIPP to interactive investor and on the flip side, should you ever choose to leave, it's just as easy and free to transfer your SIPP to another broker.
This account is not, however, available on the low-cost Investor Essentials plan.
Also consider: The most important pros and cons of investing in SIPPs
interactive investor's SIPP does incur an additional charge of £10 per month inclusive of VAT for customers who already have an ISA or a general investment account.
New customers to ii will incur a charge of £12.99 per month for the SIPP and upgrades to the general investment account, and junior ISAs will cost just £7 per month extra. This plan also includes free regular investing; however, there are no free trades.
interactive investor offers well over 40,000 global shares, ETFs, and Funds, covering the UK, EU, US, and rest of the world, on 17 exchanges and across 9 different currencies. So the bottom line is that they have everything you're likely to need if you're a standard investor.
What I particularly like about the interactive investor investment account is that all shares are stored in the same interactive investor share dealing account, and you can control when currencies are converted, which minimises currency exchange costs and even allows currency hedging.
Note: If you want to buy US-listed shares, you need to complete a W-8 Form (due to US regulations), which is very simple to complete. If the account is in your own personal name, then the form can be completed digitally online through the investment platform.
Pricing for the ii share dealing account is dependent on your subscription package. When compared to its major competitors, interactive investor is one of the most competitive in the market, allowing customers to get started for just £4.99 per month for trading accounts under £30,000 and £9.99 per month for trading accounts over that amount.
See also: My best shares to buy now UK guide
interactive investor Free Research Account
Interactive investor Joint Trading Account
The ii investment platform also offers a joint trading account, which means two named account holders both have equal access to any money held within it, and both parties can trade shares, investment trusts, ETF trades, and more.
The joint account has a flat fee of £9.99 per month and is particularly good for couples who like to manage their money in multiple currencies.
interactive investor Company Account
With a Company Account, traders can access trading on the investment platform in the name of a UK limited company with the exact same benefits available to holders of an ii account.
This offering helps ii stand out in a crowded marketplace as they are one of the only platforms to offer it. A Company Account can be actively managed by up to four people.
interactive investor Pension Account
A pension at ii provides investments in assets such as property that are not available within regular self-invested personal pensions (SIPPs).
Investors can set up this investment account in association with a SIPP.
interactive investor Offers
interactive investor offers various bonuses to new and existing account holders, which can help save you money when setting up news account. Currently, interactive investor offers the following:
Which? Recommended SIPP Provider 2023. Transfer your pension to an ii SIPP. Terms apply. Capital at risk.
Special offer – It's never too soon to start a pension. Don't delay – Open Which? Recommended ii SIPP today, from £5.99 a month. Trading Fees apply. Capital at risk.
interactive investor Platform Review
With interactive investor, you can manage all your investments using their web-based platform or their ii investing app on a tablet or mobile device.
Web Trading Platform
As you would expect from one of the UK's leading investment platforms, ii has a well-designed and easy-to-use web trading platform. This requires two-step authentication, but only if you are logging on from a new device; any subsequent logins only require your password.
The web trading platform allows users to set alerts and notifications on price movements, which are delivered via email or text. There is also a comprehensive search function that allows you to search by typing in a company's name, an asset ticker, or investment types or markets.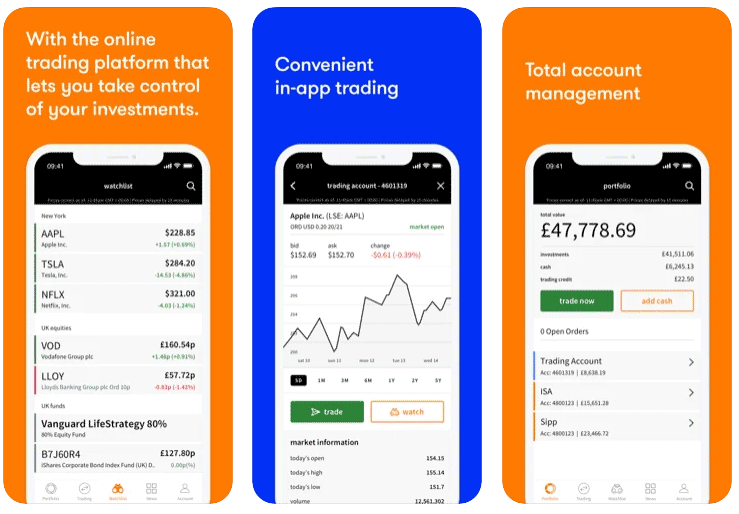 Interactive Investor App Review: Mobile Trading Platform
interactive investor's mobile platform has a solid 4.7 out of 5 star rating on the app store as, generally, users find it easy to use with a well-laid-out design.
Unfortunately, the app did experience a few teething problems when first launched. However, my experience would suggest that these have been effectively ironed out now.
The app provides access to:
Shares, ETFs and fund trading
Portfolio overview and management
Including your ISA, SIPP, JISA and trading account
Create and manage your watch lists and curate newsfeed
Access to customer service
Easy login via fingerprint and face-recognition
I do feel it's slightly lacking when it comes to advanced charting tools and customisable trading tools, which experienced traders might find frustrating.
Also consider: My guide to the best investment apps UK
interactive investor Research Tools Review
ii provides customers with a suite of research tools to help with investing and share-dealing decisions. These include:
Watch-Lists
ii has a more-than-adequate watch list for the typical investor; however, there are definitely better ones out there for more seasoned traders.
Charting
ii has partnered with MorningStar to provide charting features on the investment platform. MorningStar is great for fundamental analysis but is not necessarily known for its technical analysis. With 11 different technical indicators to choose from, the basics are covered, but charting functionality such as drawing and marking up isn't possible.
Here at investingreviews.co.uk, we prefer the long-term view of fundamental analysis, so don't see this as a major drawback. However, for those who prefer more detailed analysis, this is something to keep in mind.
Screeners
Through integration with Recognia, there are preset markups of the common technical patterns and a screener available for use.
interactive investor fees and charges review
interactive investor charges a flat monthly fee for use of their investment platform – something very few of its competitors offer.
This is how their pricing looks:
 
Investor Essentials
Investor
Super Investor
For investments up to
£50,000
Unlimited
Unlimited
Monthly subscription fee
£4.99 p/mo
£11.99 p/mo
£19.99
What's included in the plan?

Stocks and Shares ISA

Trading Account

Stocks and Shares ISA

Trading Account

SIPP (for additional £10 p/mo)

Junior ISA

Stocks and Shares ISA

Trading Account

SIPP (for additional £10 p/mo)

Junior ISA

Trading fees

UK and US trades: £5.99

Other international shares: £9.99

UK and US trades: £5.99

Other international shares: £9.99

Free monthly trade x 1

UK and US trades: £5.99

Other international shares: £5.99

two free trades per month

Friends and family
£5 p/mo
2 free members
5 free members
interactive investor charges for a SIPP account
£12.99 a month, reduced to £10 a month for Investor Plans and Super Investor Plans. (It is not available on the Investor Essentials Plan.)
The Investor option also gives you one free trade per month, while the Super Investor Plan gives you two free monthly trades.
UK and US trades are £5.99.
The verdict? This pricing structure makes ii a very competitively priced platform. For those with large portfolios, the fact ii charges flat fees, makes them a very attractive proposition.
interactive investor vs Hargreaves Lansdown
Hargreaves Lansdown is arguably ii's closest rival as the two are well-matched in other areas, although Hargreaves Lansdown offers its customers access to advice services, which is not something ii provides.
Here's how the two look side-by-side on costs:
 
interactive investor
Hargreaves Lansdown
Trading account

Funds:

0.45% (accounts up to £250k)
0.25% (£250k – £1m)

0.1% (£1m – £2m)

0% (£2m+)

Shares: No charge.

£4.99/mth (up to £50k) Investor Essentials plan

£11.99/mth Investor plan

£19.99 Super Investor plan

Stocks and Shares ISA
0.45% (capped at £45/yr for shares, ETFs, gilts, bonds and trusts)
Included in all plans including the cheapest Investor Essentials plan for £4.99/mth
SIPP
0.45% (capped at £200/yr for shares, ETFs, gilts, bonds and trusts)
+£10/mth if you subscribe to either the Investor (£11.99/mth) or Super Investor (£19.99/mth) plans.
Share trading fee: 0-9 deals/mth
£11.95
£5.99 (investor plan)
Share trading fee: 10-19 deals/mth
£8.95
£3.99 (super investor plan)
Share trading fee: 20+ deals/mth
£5.95
£3.99 (super investor plan)
As you can see, on interactive investor's Super Investor, trading fees are considerably lower than those charged by Hargreaves Lansdown across the board, meaning your funds will go further with ii.
What's more, if you had £100k invested in funds, the annual custody fee charged by Hargreaves would work out at £450, which, compared to ii's flat fee totalling £119.88 on the Investor Plan, is a big difference. At £250,000, the £1,125 custody fee due on a Hargreaves Lansdown account seems extremely steep.
Obviously, for smaller pots, the difference is more marginal and it, in fact, becomes cheaper to take the 0.45% offered by Hargreaves towards the lowest end of the scale. But for large pots, ii is certainly better on cost.
interactive investor vs Fidelity
There are some key differences in the account options between these two providers that could drive your decision. Firstly, if you are looking to open a Junior ISA or a Junior SIPP, these come free at Fidelity but will attract a minimum monthly fee of £9.99 as part of the Investor Plan at ii. There is also no Junior SIPP available at ii.
However, interactive investor offers excellent value for money for those with a large investment portfolio due to its flat fee structure. In addition, interactive investor offers a dedicated Trading account from which investors can trade in funds, shares, investment trusts, and ETFs, and includes the option to store money in nine different currencies.
interactive investor vs. eToro
So, what about ii vs. eToro? You can read my full comparison of the two platforms here. But, essentially, these are two very different propositions that are suited to different groups of investors.
If you are interested in social trading or copy trading, then there is no competition, as eToro is hands-down the winner with one of the largest social trading communities in the UK. The platform is also a winner for frequent traders who will benefit from eToro's fee structure.
However, ii pulls ahead when it comes to the range of investments on offer, and while eToro has introduced an ISA to their platform, it does not outperform the ISA offered by ii.
interactive investor Guide to Opening an Account
While conducting this ii review, I found opening an account to be pretty straightforward. Like opening any trading or share dealing account, you will need certain paperwork before you start, so make sure you have the following to hand:
Proof of identity: e.g. passport or driving licence
Proof of address: e.g. recent utility bill or bank statement
Also, as per Financial Conduct Authority regulations, you will need to complete a short questionnaire called a 'suitability test'. This will help ii understand the level of experience you have with trading and investing. It's pretty straightforward, but it does take a couple of minutes.
Once you have done that, your application will be reviewed and approved. While you wait, you have access to the platform but will not be able to trade until it is approved. This is the perfect time to utilise their free Research Account and create a virtual portfolio.
Funding your investment account is, happily, very straightforward. You can use your debit card, bank transfer, or even a good old cheque book. If you already have an ii account, you can do an inter-account transfer from within the platform.
interactive investor Guide to Transferring Your Investments
You can transfer the following investments into your ii account:
Trading account (General Investment Account)
Stocks and Shares ISAs
Cash ISAs
Pensions
Shares
Investment Trusts
Unit Trusts
This is all managed from within the platform (visit interactive investor's platform, click "cash & transfers" and then "transfers in"); just choose your broker, print and sign the paperwork, and send it to ii. They will then do the hard work and keep you updated. As always, this can take a while (read: a few weeks). If your portfolio is small or simple, it might be worth considering selling to your old broker and buying again on the ii platform to speed up the process. It's not the right strategy for everyone, but it does work.
Before you transfer funds to ii it is worth checking if there are any exit fees with your current provider.
interactive investor Customer Service Review
Customer service and trade support are offered via the investment platform's message service, via email, or over the phone.
While conducting this ii review, I found the waiting time on the phone was less than a few minutes, emails were answered within an hour, and the live chat was instant.
Supported languages are English, German, Arabic, Polish, Chinese, Japanese, and Hungarian, and as is traditional in the financial markets, customer service is available 24 hours per day, 5 days per week.
How do I contact interactive investor?
Telephone from the UK: 0345 607 6001
Phoning from overseas: +44 113 346 2309
For existing customers, you can also log into the platform and app and go to "account > secure messages."
Awards for ii
Which? Recommended Provider for SIPPs – July 2023
Boring Money Best Buy ISA – 2023
Boring Money Best Buy ISA – 2023
ADVFN International Financial Awards – Best Online Stockbroker – 2023
ADVFN International Financial Awards – Best Stockbroker for International Dealing – 2023
Financial Times Investors Chronicle – Investment Platform of the Year – 2022
Who is interactive investor suitable for?
This is a key question you should be asking yourself. In my view, the typical UK investor is in very safe hands on this investment platform. This includes people with tax-free ISA and SIPP accounts, investors who want to invest on a regular automated basis, have a portfolio of 70% UK stocks, want to invest in ETFs and funds, or have a lump sum to invest.
With their low fees, comprehensive product range, solid customer support, and easy-to-use investment platform, the ii investment platform is a great all-rounder.
I found the investment platform best suited to DIY investors with a significant portfolio who would benefit from the cost-effectiveness of a fixed fee rather than a percentage of the portfolio and who would be able to take advantage of the wide range of share dealing options available to complement their investment strategy. For investors who make regular trades, ii's Super Investor option offers excellent value.
It is wise to remember that the value of your investments can go up as well as down, and you may not get back the amount of money you originally invested.
interactive investor useful information
Below, I have compiled some useful information as part of my interactive investor review to help make your experience on the investment platform as seamless as possible.
How do I close my account at interactive investor?
To close your account, you need to contact customer support, who will help you with the transfer of your money to another broker. You also need to be careful if you are leaving the UK, as your eligibility for tax wrappers such as ISAs and SIPPs could change.
How do I withdraw my money from interactive investor?
Traders can withdraw their money from their ii account by logging on and selecting the Cash and Transfers tab followed by 'Withdraw/Transfer Cash'.
What happens if interactive investor goes bust?
To ensure its safety, any money you hold with ii is placed in a bank account which is established with statutory trust status. This means your money is kept separate from our own. You are also protected by the Financial Services Compensation Scheme.
Under the Financial Services Compensation Scheme, you are entitled to claim compensation in the event of ii being declared in default. In the unlikely event of the company going bust for any reason, you could be eligible for up to £85,000 of investor protection.
interactive investor FAQs
Is interactive investor any good?
The short answer is, yes. For the typical UK investor who wants to invest in an ISA, SIPP, 
ETFs
, Investment Trusts, or equities, then ii is a very good option. With a low fee structure and a full product range, ii is a service that has you covered.
Is interactive investor safe?
Yes, ii is safe. Your investments and money are held in segregated trust accounts and kept separate from the money of ii. As such, if something should happen to ii your money is safe. It is important to remember that the value of your investments can go down as well as up, and there is no guarantee that you will get back what you originally invested.
Interactive Investor Customer reviews
Most recent reviews:
I've had an account with ii for more years than I Remember. No doubt it is great but it drives me nuts with its constant updates, no access at weekends with these updates, keeps changing the layout (and the new layout is awful). It is competitive on price but the annoying bits make me think HL is worth it! And why I'm reading reviews of other platforms.
Likes
Fees
Account opening
Deposit and withdrawal
Customer service
Quick to install and setup the app is fairly easy to use but I tend to use other websites to research investments as they find they give more info and are easier to use, particularly when on a desktop pc.
I've found the app and website to be quite user friendly. It's a shame you have to pay £10 a month to keep your account open when some sites are completely free but I think it's worth paying a premium.
See which share tip is making the headlines

Have you considered transferring your pension?

Find the best trading platforms
*Capital at risk