Read my full Plus500 review to discover why Plus500's proprietary trading platform took my top spot as a 5 star platform for best forex broker, and why I recommend this platform for CFD traders but not for people who like to dip in and out of the financial markets.
Plus500 is a publicly-traded online multi-asset broker offering an extensive range of financial products including CFDs (forex, stock indices, individual shares, commodities, EFTs, and options), shares, and futures trading.
CFDs are complex instruments and come with a high risk of losing money rapidly due to leverage. 81% of retail investor accounts lose money when trading CFDs with this provider. You should consider whether you understand how CFDs work and whether you can afford to take the high risk of losing your money.
With access to 2800+ CFD contracts, Plus500 is a leading CFD broker in the UK. They offer commission-free trading and a free lifetime demo account, making them popular among traders.
Plus500 is heavily regulated, listed on a stock exchange, and discloses financial information, ensuring a secure online trading experience. They provide risk management tools like negative balance protection and guaranteed stop-loss orders.
Plus500 recently launched Insights, a real-time trading tool that identifies profitable trades, popular instruments, and more to aid informed decision-making.
However, Plus500 do not offer direct stock trading, and futures trading is only available to US customers.
CFDs are complex instruments and come with a high risk of losing money rapidly due to leverage. 81% of retail investor accounts lose money when trading CFDs with this provider. You should consider whether you understand how CFDs work and whether you can afford to take the high risk of losing your money.
Deposit and Withdrawal:
90%
Markets and Products:
90%
Pros
Commission-free trading
Easy-to-use platform
Tight spreads
Guaranteed stop-loss orders
New Insights trading tool exclusive to Plus500
Cons
Trading through CFDs only
Inactivity fees
Scalping not permitted
Who are Plus500?
Plus500 is an Israeli-based execution-only market maker with offices in the City of London, that provides Contracts for Difference via their innovative trading platform. To date, Plus500 has more than 300+ million positions opened, more than 430,000 active customers and $1700 billion in traded value.
Who owns Plus500?
In June 2018, Plus500 was listed on the London Stock Exchange and is now a FTSE 250 company the board of which is chaired by Dr Jacob Aharon Frenkel. The company was founded in 2008 by six alumni of the Techion – Israel Institute of Technology, Gal Haber, Alon Gonen, Elad Ben-Izhak, Shlomi Weizmann, Omer Elazari, and Shimon Sofer.
Plus500 product range overview
Plus500 is primarily a CFD trading platform with access to forex, stock indexes, stocks, ETFs, and commodities through CFD trading. It does not provide trading in real stocks or exchange-traded funds to UK customers.
For trading stocks and ETFs, I suggest you read my eToro review, as they offer zero commissions* on ETFs as well as low minimum investments. However, it is worth mentioning that Plus500 has launched their own share trading platform, Plus500 Invest, which is due to be launched in the UK soon.
CFDs are an agreement in which the trader speculates on the price movement of the underlying security without taking actual possession of the underlying asset.
CFDs are complex instruments and come with a high risk of losing money rapidly due to leverage. 81% of retail investor accounts lose money when trading CFDs with this provider. You should consider whether you understand how CFDs work and whether you can afford to take the high risk of losing your money.
CFDs are complex instruments and come with a high risk of losing money rapidly due to leverage. 81% of retail investor accounts lose money when trading CFDs with this provider. You should consider whether you understand how CFDs work and whether you can afford to take the high risk of losing your money.
Assets available from Plus500
For CFD traders, there is little doubt that Plus500 offers a huge selection of financial instruments from which to trade. Below, I have provided some further information on each of the asset classes.
Commodity CFDs
There are over 20 commodities CFDs to trade at Plus500, including gold, platinum and other precious metals, energy commodities, including oil and gasoline, and agricultural commodities like wheat and coffee. Leverage is up to 1:20 and account holders can start trading with as little as £100.
Cryptocurrency CFDs
Although Plus500 has historically offered trading in cryptocurrency, following a decision from the UK financial regulator (FCA), Plus500 stopped offering crypto trading to UK residents in 2021. This applies to retail clients only.
CFDs on EFTs
There are more than 90 exchange-traded funds to speculate on the price of with leverage, including VXX Colatility and SPDRISA500. Users are able to control profits and losses by setting stops and limits on their positions.
Forex CFDs
At Plus500, you can trade forex with up to 1:30 leverage on over 60 currency pairs including EUR/USD, GBP/USD and EUR/GBP. This all comes with advanced trading tools such as Stop Loss, Stop Limit, and Guaranteed Stop in order for traders to limit losses.
CFDs on Indices
Plus500 provides access to the most popular indices from across the globe, including USA 500, US-TECH 100 and France 40. You also have the option to magnify your trades with leverage of up to 1:20.
Options CFDs
Plus500 offers Exchange Traded Options, which allow for higher liquidity and reduced costs. Trade on call and put options on Germany 40, oil, and Meta all with leverage available.
Shares CFDs
Plus500 provides access to all the popular markets for you to trade shares with leverage and low spreads. Markets include the USA, UK, and Germany and advanced trading tools can help control profits and losses.
Before embarking on the trade of any financial instrument, you should consider your investment objectives, investment knowledge, level of experience and appetite for risk. Leveraged product losses are able to exceed the initial deposit and are therefore considered very risky and could result in the loss of your entire trading account balance.
Plus500 offers a maximum leverage of 1:5 for all retail trades on shares CFDs.
Plus500 customer service review
I found the customer service to be excellent, especially if you like to use live chat. I tested it on numerous occasions and got an instant response every single time. The agent was very helpful and answered all my questions right away. I couldn't find fault with the customer support on offer at Plus500, although there is no phone support available.
There is no phone line available for customer support, but considering the instant response times on live chat and WhatsApp, I can't see many traders grieving the phone option. Customer support is available 24/7. Overall I found the service to be outstanding.
Plus500 opening an account
With only one account type for retail customers, the account opening process at Plus500 is fully digital and completely seamless. Plus500 minimum deposit is £100 and traders can be up and running on the proprietary trading platform within a day.
It's important to note that the minimum deposit is only applicable for debit/credit cards and electronic wallets. Should you wish to use bank transfer to deposit money, then the minimum deposit is raised to £500.
There is a professional account available, however, this is by application only and you will need to meet certain criteria such as sufficient trading activity and a minimum portfolio of over £500,000.
How to open an account
Complete the online registration with personal details
Provide proof of identity such as a driving licence or passport
Provide proof of residency such as bank statement or utility bill
Traders are at liberty to try their hand at trading using the free, unlimited demo account while they wait for their real money accounts to be verified. Users can configure their demo account balance to their desired amount without having to contact customer support and without clearing the account history.
Plus500's proprietary platform, Webtrader, is well-designed and easy to use from multiple devices with excellent search functions and alerts available. However, there are no options for customisation or automated trading and Webtrader is a closed system that does not provide scope for incorporating third-party analytical and automation tools to assist with trading strategy.
This is an update to my original Plus500 review, to incorporate a new trading analytical feature, 'Insights', that Plus500 has introduced. I have gone into Insights in more detail below.
Because Plus500 have their own proprietary platform, they do not offer MetaTrader 4, which may mean traders looking for the advanced functionality and customisation options that MT4 offers need to look at other trading platforms instead.
Plus500 features I like:
Guaranteed stop
Trailing stop
Stop limit and stop-loss price levels
Traders sentiment
Price alerts
Insights
Watchlists
Security
Security on Webtrader is fully comprehensive with two-step login as well as Google and Facebook authentication for added convenience.
Search functions
Plus500 offers more than adequate search functions in order to make finding any asset a breeze. Products are all categorised on the left-hand side of the platform interface and a search bar allows you to type in the product name.
Placing orders
There are five order types available at Plus500 including:
Market – This allows traders to indicate that their trade request be executed at the market rate.
Limit – This allows for traders to determine the expiration time of an order as well as predetermine the entry point below, or above the prevailing market rate, depending on whether it's a buy or sell.
Stop – an order to buy or sell once the price reaches a predetermined point.
Trailing stop – an order designed to lock in profits or limit losses as a trade moves favourably.
Guaranteed stop – This ensures your position is always closed at your pre-selected price. This is only available on some markets and it is worth noting that it comes with an increase in spread. Guaranteed stops are not available for existing trades.
Alerts and notifications
Plus500 offers excellent alert and notification functionality, including the ability to receive alerts via email, SMS and push notifications. Alerts can be set to notify you when an asset reaches a certain price level or changes in price by a percentage amount. You can also choose to be alerted when the Traders Sentiment reaches a certain level.
Portfolio and fee reports
These reports are completely transparent and allow traders to stay abreast of how much they are paying in overnight fees as well as the composition of their current portfolio.
Charting
The technical analysis charts offer more than 100 technical indicators that can be applied to multiple time frames including tick charts and weekly charts. Traders can use 9 charts simultaneously as part of a recent update.
Scalping
Scalping is not permitted by Plus500. They define scalping as "a trading strategy based on the notion that client transactions are opened and closed within two minutes in order to accumulate quick profits from small price changes." If you plan to frequently open and close trades within two minutes, you may find your account blocked and closed with Plus500.
Plus500 mobile trading platform
The trading app is a great addition to the web platform with all the same tools and features as well as biometric ID and two-step login.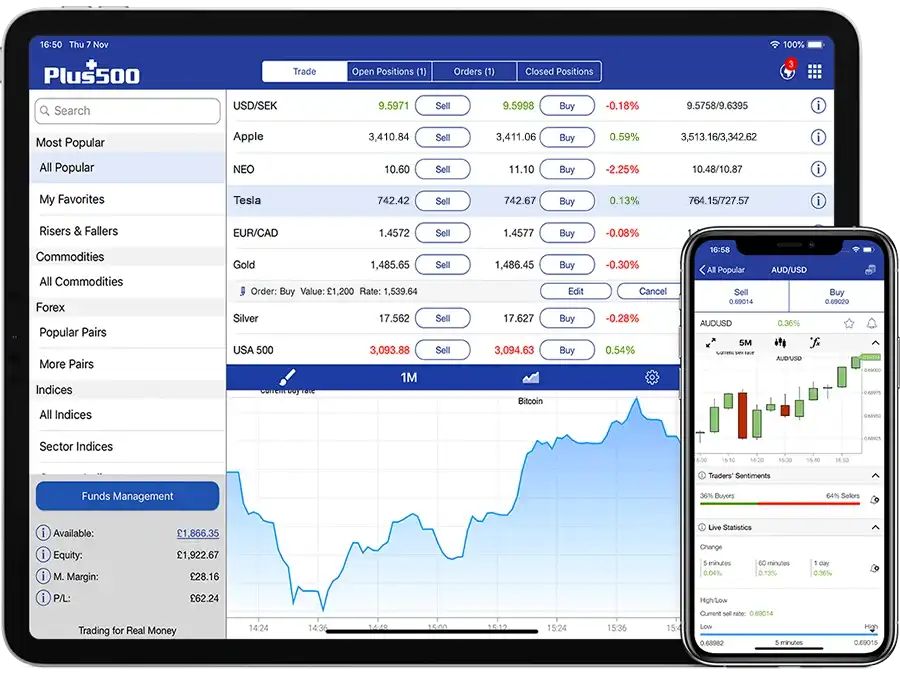 If you like the web platform for Plus500, then you will almost certainly be a fan of the mobile app. The layout and functionality are almost identical with all the same order types and notifications.
This version is also available for smartwatches, making it possible to act on alerts as they happen.
The mobile app has biometric identification available for convenience as well as a two-step login for extra security.
The research at Plus500 is a bit hit-and-miss. Whilst I found the economic calendar well designed and helpful, and they do provide excellent charting tools in addition to market analysis, there is a distinct lack of recommendations and fundamental data.
The charting tools here are almost certainly going to provide you with everything you need. With over 119 technical indicators, great editing tools, the ability to view more than one chart at once and the ability to save the charts, this is a very comprehensive offering.
In addition, traders can find useful data at News and Market Insights.
As mentioned, the economic calendar is well-designed and easy to use, and there is some market analysis that is prepared in-house at Plus500, but the platform really lacks a newsletter, which many traders find crucial, especially when trading forex.
The only other research tool worth a mention is the Traders' Sentiment tool, which illustrates the number of buyers and sellers on the platform for any given asset. There is also a live statistics feature that allows traders to access useful information about the price of an asset.
Insights, Plus500's new analytical tool
This is a brand new complementary tool developed to provide analysis of millions of trades in real-time in order to harness the wisdom of crowds to assist with trading decisions.
This is a really innovative offering from Plus500 and definitely fills the gap that I identified in my original Plus500 review with regards to the tools on offer. While it runs along the same principles as Copy Trading, this could arguably produce better results, if utilised correctly, as instead of following the trading activity of just one individual, this tool combines millions of data points that identify the highest-yielding trades and trader sentiment.
The demo account is definitely the highlight of the educational offering at Plus500. I've awarded it 5 stars. In addition, there is a 'Traders Guide' with educational videos, an ebook, and Plus500's latest addition, the Trading Academy.
Plus500 has taken steps recently to improve their education offering with the extensive Trading Academy, which offers a variety of educational products including eBooks, video traders guides, and FAQs.
While you might find a more comprehensive education offering, including live sessions, on other trading platforms, Plus500 has certainly taken steps to improve their trading academy.
The fact that Plus500's demo account is unlimited is a real bonus and is not something offered by many other trading platforms. It allows for a hands-on approach to learning the ropes without any risk to personal funds.
Plus500 is secured by SSL, and is safe in terms of protection against hackers.
Plus500 is listed on the Main Market of the London Stock Exchange (LON: PLUS), and is also regulated by several top-tier financial authorities including the UK's Financial Conduct Authority (FCA).
Plus500 is regulated by the following authorities:
Cyprus Securities and Exchange Commission (CySEC)
UK's Financial Conduct Authority (FCA) – Reference number: 509909
Australian Securities and Investments Commission (ASIC)
Financial Markets Authority (FMA) of New Zealand
Financial Sector Conduct Authority (FSCA) of South Africa
Monetary Authority of Singapore (MAS)
Israel Securities Authority (ISA)
Seychelles Financial Services Authority (FSA)
Dubai Financial Services Authority
Estonian Financial Supervision and Resolution Authority
UK residents are further protected by the Financial Services Compensation Scheme which provides up to £85,000 compensation should anything happen to your funds as a result of the platform becoming insolvent.
In addition to this, Plus500 keeps all client funds in a segregated bank account and provides negative balance protection.
Remember that despite these safety precautions and the risk management tools offered by Plus500, there is a very real possibility of losing some or all of your money when trading CFDs.
Plus500 does not charge commissions on any client transactions but make their money on the spread which is competitive among CFD brokers.
However, there are other fees which are explained below.
The fees and charges at Plus500 can be complicated to understand at first, so I have attempted to address each fee with an explanation.
Fees are subject to regular changes so it's best to check Plus500's website for the most up-to-date fees.
Outline of fees
Online brokers like Plus500 charge fees in the following different ways:
Trading fees – The fees that you pay when you actually do a trade, i.e. buying / selling Amazon stock or an ETF, for example. You will pay either a commission, a spread, forex fees, or financing rate. Some or all of these fees will apply:
Spread – The difference between the buy price and the sell price.
Overnight funding – This is charged when you hold your leveraged positions for more than one day.
Guaranteed stop order – One of the most useful risk management tools, used to guarantee the stop loss level
Non-trading fees – These are effectively operational fees for maintaining your account and typically include:
Depositing or withdrawing money.
Inactivity from not trading for a specific time period.
Plus500 trading fees
Guaranteed Stop Order
Choosing to use this feature guarantees that your position closes at a specific requested rate, but it will be subject to a wider spread.
Please see the Plus500 website for more details.
Plus500 spread
Plus500's commission is based on the spread (the difference) between the buy and sell price. The spread is calculated by subtracting the sell price from the buy price of the instrument.
You can see the information on the spread on the Plus500 website or trading platform in the "details" link, located next to the instrument name.
Overnight funding
The overnight funding fee amount is either added to or subtracted from your account when holding a position after a certain time.
Details, including the time these fees apply from, and the percentage you will be charged, can be found in the 'Details' link next to the instrument's name on the main screen of the trading platform.
Plus500 non-trading fees
Plus500 deposit & withdrawal fees
Plus500 does not charge a deposit or withdrawal fee.
Plus500 inactivity fee
The inactivity fee at Plus500 is $10 per month after 3 months of inactivity, i.e. if you don't log into your account for 3 months. This would make Plus500 inappropriate for buy-and-hold investors.
Currency conversion fee
Plus500's currency conversion fee is 0.7% for trades on instruments denominated in a currency different to the one you have chosen when setting up your account.
Who is Plus500 suitable for?
Plus500 is a thriving CFD trading platform with an extensive product range that would suit active traders looking for a streamlined trading experience, with competitive pricing and excellent customer support.
More advanced traders may miss some of the more sophisticated functionality.
Useful information
This section contains useful information to make your experience at Plus500 as seamless as possible.
How do I contact Plus500?
You can contact Plus500 via email, online chat, and WhatsApp, the details for which can be found in the FAQ section of the website or by clicking the floating 'contact us' button on the right-hand side of the web pages.
How do I withdraw money from my Plus500 savings account?
Withdrawing your money from Plus500 is fairly straightforward. Simply follow these steps:
Click the menu symbol in the top left-hand corner
Select 'Withdraw'
Choose your preferred withdrawal method
Enter the amount you would like to withdraw
Click 'Open a Withdrawal'
How do I close my account at Plus500?
Remember that Plus500 charge an inactivity fee, so if you no longer wish to trade through your Plus500 account, you should close it completely by following these steps:
Enter the name on your account
Enter the email address associated with the account
Select 'Other issues' in the 'Type of query field'
Write 'Account closure request' in the subject
State your reason for wanting to close your account
Click 'send' to confirm the account closure
Plus500 FAQs
How long does it take to withdraw money from Plus500?
Plus500 claim that all withdrawals are processed within 1-3 business days which is on the faster end of the scale for an online broker.
Most recent reviews:
I've found their platform very intuitive and easy to use. Great for beginners like me but my husband also trades with them and he says that they have a lot of advanced tools for experienced traders
Likes
Fees
Account opening
Deposit and withdrawal
Customer service
Used this app as I seen it advertised and I liked the easy to understand interface and that was a great way to get started. Easy enough to get your money deposited into your account and also easy enough to withdraw.
Simple and easy to use. Easy registration and lots of trading options. Simple to navigate through all the areas of the app. Live chat is available (although have never used it so cannot comment on the service received).
See which share tip is making the headlines

Have you considered transferring your pension?

Find the best trading platforms
*Capital at risk