Snoop is a budgeting app designed to help the average household save £1,500 a year by connecting all your bank accounts and credit card accounts in one place, helping you keep to budgets, and suggesting areas where you can save money.
With its easy tips on how to save money, the Snoop app is great for people who love a bargain. However, it lacks some of the superior budgeting tools found at some competitor apps and it does sell customer data in order to offer their service for free, although this is not necessarily of concern.
Within this Snoop app review I have made every effort to provide you with an impartial account of the service it provides in order to help you decide whether Snoop is the right budgeting app for you.
Snoop is considered by many to be one of the better personal finance monitoring apps now available, and with zero fees they are certainly worth consideration. But with the competition increasing all the time, is this the best app to meet your money management needs or would you be best to turn elsewhere?
Read my full Snoop app review to establish whether this would be a good option for you.
Pros
It's free
Quick and easy to install
Helps you save money
Cons
Not as many features available as some other budgeting apps
Sells customer data although not your personal information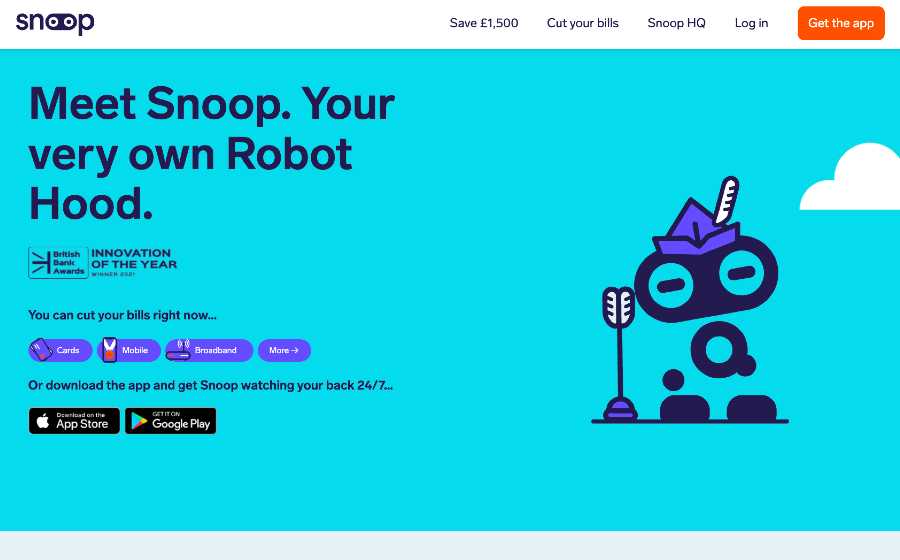 Who are Snoop App?
Snoop is a smartphone-based budgeting app that uses Open Banking technology and a clever robot in order to collate all your financial information in one place to give you a complete picture of your current finances, help you better understand your spending, and offering suggestions on where you might save money.
Who owns Snoop App?
Snoop was founded in 2019 by former Virgin Money executives, CEO Jane-Anne Gadhia and Managing Director John Natalizia. Snoop launched in 2020 and in 2021 raised £15 million from Paulson & Co investment firm.
Snoop App product range overview
Snoop claim that using the following features can help save the average household £1,500 over a year. Whilst there are a decent number of features available, there are other apps that will outnumber this offering. However, this could be sufficient for many households.
How does the Snoop app work? Once you connect all your financial data and transaction data to Snoop, including bank and credit card information, and all current accounts, it will use this to analyse your spending habits and provide you with money-saving tips using the following features:
Spending Sorter – This helps you understand where your money is going each month, helping you identify areas where you may be able to save.
Payment Hub – All your upcoming bills and payments are collated here, giving you an understanding of your regular outgoings, as well as suggestions of where you may find a better deal. There is also the option to add contract renewal dates to prompt you to shop around.
Discount Code Finder – Snoop identifies any vouchers or codes available at the places where you already shop.
Energy Checker – Snoop will notify you should any of your bills increase and help you identify other suppliers where you could save money on your energy bill should you switch.
Spending Summaries – Daily balance alerts, in addition to weekly and monthly summaries, puts you in control of your accounts.
Money-Saving Scanner – A daily feed notifies you of relevant money-saving ideas, sales, and offers.
Mobile and Broadband Checker – Snoop ensures you are not paying over the odds on your mobile and broadband by scanning the market each month and alerting you to any mobile or broadband deals.
Card Checker – Snoop checks you aren't paying unnecessary charges and fees on your credit cards.
Insurance Checker – Snoop can help you make sure you are getting the best price on your motor, home, and life insurance. This is soon to include pet and travel insurance.
Look Ahead – Each week Snoop will alert you to upcoming bills so you can ensure adequate funds are available.
Mortgage Manager – Snoop can help you find cheaper mortgage deals from across the market and make switching easy.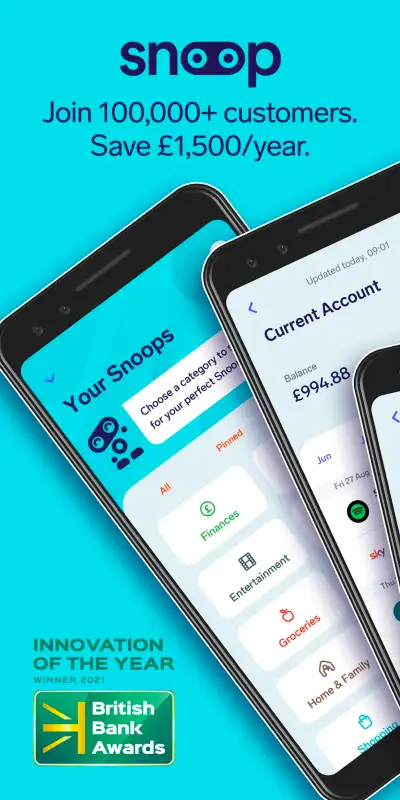 Snoop App customer reviews
Snoop get excellent reviews on several different platforms from customers who are very happy with the service and the money they have saved as a result.
Snoop have managed to score 4.4 out of 5 on the Google Play Store with many reviews citing the excellent and responsive customer service. On the App Store they score 4.6 out of 5 with some of the reviews including:
"Saved money in minutes"
"What an app! When the price of an app is minus£240 within the first 10mins of using it you've got to give it 5 starts surely. It's a beautifully laid out overview of where all your money is really going. My wife's mobile bill was massive for no reason other than being 4 years old. Mine similarly too high. Switched to a great new provider right from within the app. Road tax being paid out on a car I sold months ago, all made much easier to spot than any of the online bank apps themselves. Even works with my Santander business account which didn't even work with Santander's own app for years. Amazing. One very happy customer. Update. This app is also essentially a comparison site, in that it looks at your bills and succinctly suggests a couple of better alternatives then makes it super easy to 'switch'. Another £400 ish saved by the end of the year. It's really very very good!"
It is worth pointing out that custom categories are now part of Snoops developmental plans for the future.
"So far so good"
"I'm new to this app after someone I follow on Instagram mentioned it and I trust their judgement. Preferring it so far to another similar app I already have. However….instantly one thing that has massively disappointed me is only being able to customise three categories. I want to see my credit card repayments as it's own category, my tv subscriptions, my insurances, my petrol spending etc. I want to have a fully customisable analysis so at a glance I can see 'did my petrol usage go up this month' etc. I've hit my limit of three changes and that's me done. If I'm honest I think this might make me not stick about as that for me is the holy grail. Maybe that app doesn't exist. Who knows, but that's what I am searching for. Allow me to change as many categories as I like and I will be one 100% satisfied customer."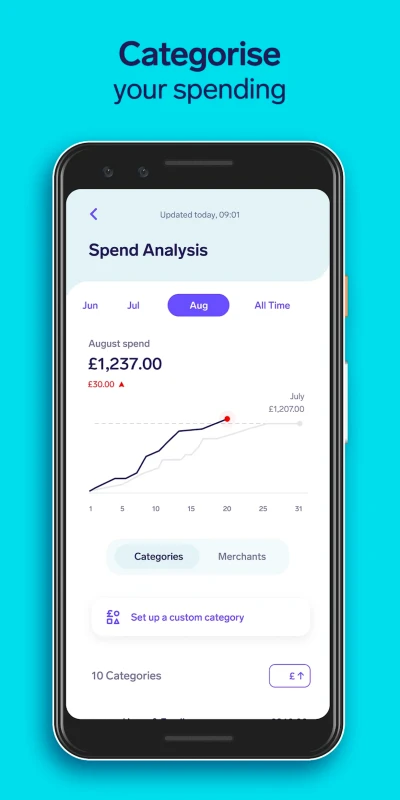 Snoop App opening an account
Opening an account with Snoop is quick, easy and fully digital. Simply download the app and provide Snoop with some basic information.
Once you have downloaded the app you will be asked to provide your name and mobile number. You will then be asked to provide a 6 digit code, sent to your mobile as verification. After that you will be asked for your email address and you can then set your 5 digit pin which will be used to access the app. There is also face ID should your phone support this.
Of course Snoop won't provide you with anything useful until you connect your bank accounts and credit cards via Open Banking. Snoop efficiently guides you through this process and if you have separate apps for all these already installed on your phone this is a quick and painless process. Alternatively, you will be prompted to log in to each one separately to upload them.
Snoop are authorised and regulated by the Financial Conduct Authority in addition to being registered with the Information Commissioner's Office. Snoop will never ask for your bank passwords or login details and employs 256-bit encryption technology in order to keep your details secure.
Does all this make Snoop safe? Yes, I could find no reason why you shouldn't feel comfortable using the service that Snoop provides in terms of safety. Snoop can only access your spending data and has no access to any of your login information or bank details on any of your accounts. This means that it would be impossible for Snoop to move any money from any of your accounts.
Snoop is a free app that makes money by selling consumer spending data and recommending third-party providers. It does not disclose your personal details or bank account details.
It's important to understand that while Snoop may sell insights into consumer spending trends based on your activity to other businesses, this does not take the form of personal data. All data is anonymous and third parties will be unable to identify you as a result.
Who is Snoop App suitable for?
Should you be looking for a way of seeing all your accounts in one place so you can gain a holistic view of your financial wellbeing, then this free app can provide you with just that service. The ability to find better deals on your household bills and identify if you are receiving the best interest rates on your savings accounts could in itself save you money.
Useful Information
This section contains useful information to make your experience at Snoop App as seamless as possible.
How do I contact Snoop App?
You can contact Snoop via email on [email protected]
Is Snoop app reliable?
Yes, my own experience and the reviews of other customers would suggest that Snoop is reliable and some reviews have even called Snoop one of the best personal finance apps available.  Considering their free services can help the majority of households save smarter, manage cash flow, and find a better energy deal, then this is a good option.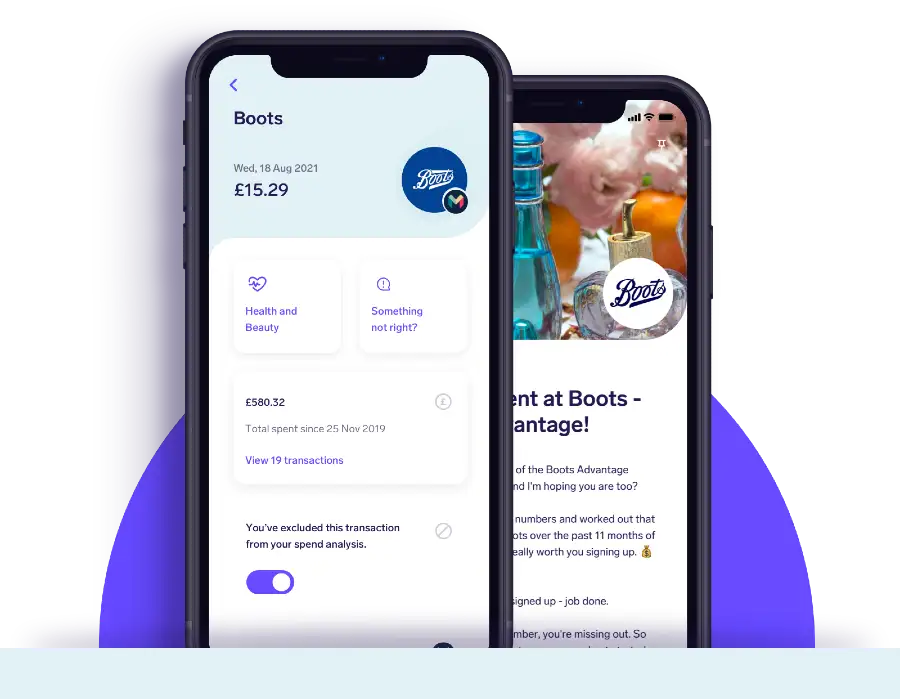 Does Snoop cost?
Unlike similar apps, Snoop is a completely free service. Snoop make money by recommending third party providers that could save you money and selling data that helps identify trends in consumer behaviour.
How does Snoop work?
Snoop connects to your accounts using technology called Open Banking. This is now used by over 2 million people worldwide and is a completely safe way of making more sense of your finances.
Snoop FAQs
Is Snoop App any good?
Yes, if you want to take control of your personal finances and identify areas where you could be saving money, then Snoop is a good option. However, Snoop is a fairly new offering to an already crowded market and is still in developmental stages.
Snoop is very useful at gaining a picture of your overall finances and suggesting ways to save money. However, there are some drawbacks. Firstly not all banks are represented as of yet and therefore you may not be able to get a complete overview. In addition to this, Snoop identifies places you like to shop at and then messages you when there are sales or offers available. This could encourage you to spend more.
Is Snoop better than Yolt?
Whilst Yolt provided an excellent service for tracking budgets, they have recently decided to close down and you can no longer open an account with them. Therefore I would easily recommend Snoop who are excellent at ensuring you are getting the best deal and keeping on top of your regular payments.
Most recent reviews:
Really good app to use, always up to date with their offers and advice. Helps a lot with budgeting and investing. Very user friendly and easy to navigate around things. Cost effective as well. Well worth using if you are someone who struggles with investing or saving in general.
An easy to use app for complete beginners (like me!) Simple to get started and easy to understand. It's a shame that the current market conditions are so poor as all I'm doing is watching my money decrease in value! But that's not the apps fault of course
I think this app is very good and is very user friendly. It is easy to access the things that I need, with minimal fees. The deposit/withdrawal procedure is a bit tricky, but I think that despite this the app is certainly very good.
See which share tip is making the headlines

Have you considered transferring your pension?

Find the best trading platforms
*Capital at risk