GoHenry is one of many pocket money apps recently launched to help parents teach their children good financial habits, and with over 2 million members in the UK and America, as well as the title of Best Children's Financial Provider 2021 at the British Bank Awards under their belt, they certainly seem to be doing something right.
GoHenry is aimed at giving 6 to 18-year-olds financial responsibility whilst parents retain control. What it won't provide users is any interest on savings, and there is a fairly substantial cost to be aware of.
As I write this GoHenry review my phone has just notified me that my 13 year old has just spent £2.95 in Sainsbury's, and I have been provided with his remaining balance. As a family, we have used GoHenry for the past two years, with mixed results.
Simplified, GoHenry provides a parent account, used to top up the child's account and apply parental control on children's spending habits, a child account where children can view their balance and spending limits, and a prepaid Visa card that can be used for online and in-store purchases and for cash withdrawals at ATMs.
There is a monthly fee associated with an account like this, and you may be wondering why a parent wouldn't just choose to register their children for high street bank accounts, which can often offer interest and come free of charge. However, these accounts are lacking the parental controls and features designed to help both you and your children understand their spending habits.
Go Henry has multiple features which I have gone into in more detail in this GoHenry review so as a parent, you can decide whether this is the best solution for you and your child. Certainly research has indicated that setting up good financial habits in children can lead to them becoming more financially responsible adults. GoHenry are seeking to achieve this in an easy and fun way.
Deposit and Withdrawal:
90%
Pros
Helps children learn how to manage finances
Allows adults to manage children's spending and pocket money
Controls used to limit where money can be spent
Card can be blocked instantly from the app
Cons
Higher than average cost
Only one free top-up per month
No interest available on savings
No FSCS protection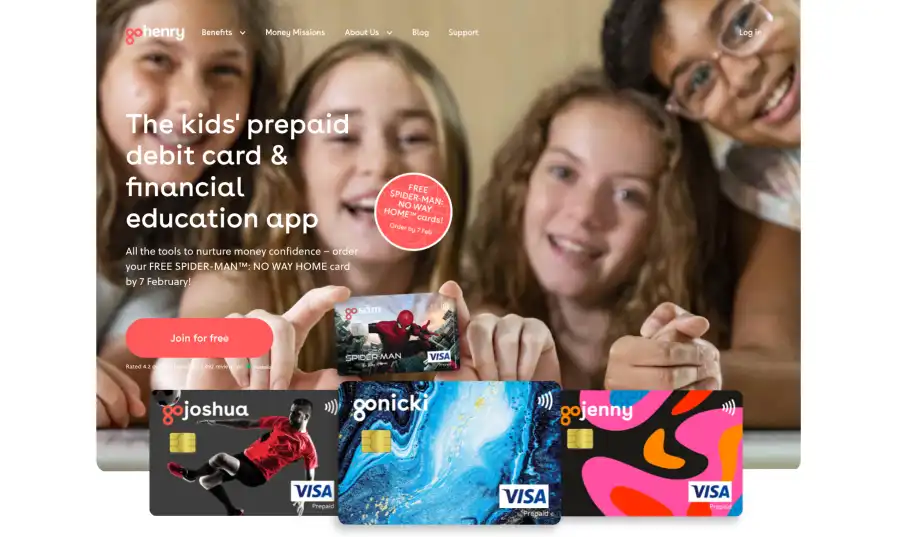 Who are GoHenry?
GoHenry is an educational product that provides tools for families to help kids gain vital skills to take control of their own financial wellbeing. It is an app that gives parents complete control over their children's spending habits, allows for paying of pocket money, and comes complete with a prepaid debit card that allows children to spend and withdraw money.
'We're on a mission to help millions of kids be good with money. We're strongly against telling young people what they should be doing when it comes to money. Instead, we'd rather help kids learn the ropes for themselves.'
GoHenry
Who owns GoHenry?
GoHenry was founded by parents and includes investors such as Edison Partners, Revaia, Citi Ventures, Muse Captial, and a network of Angel investors.  Today many customers also own shares following record-breaking equity crowdfunding campaigns on Crowdcube.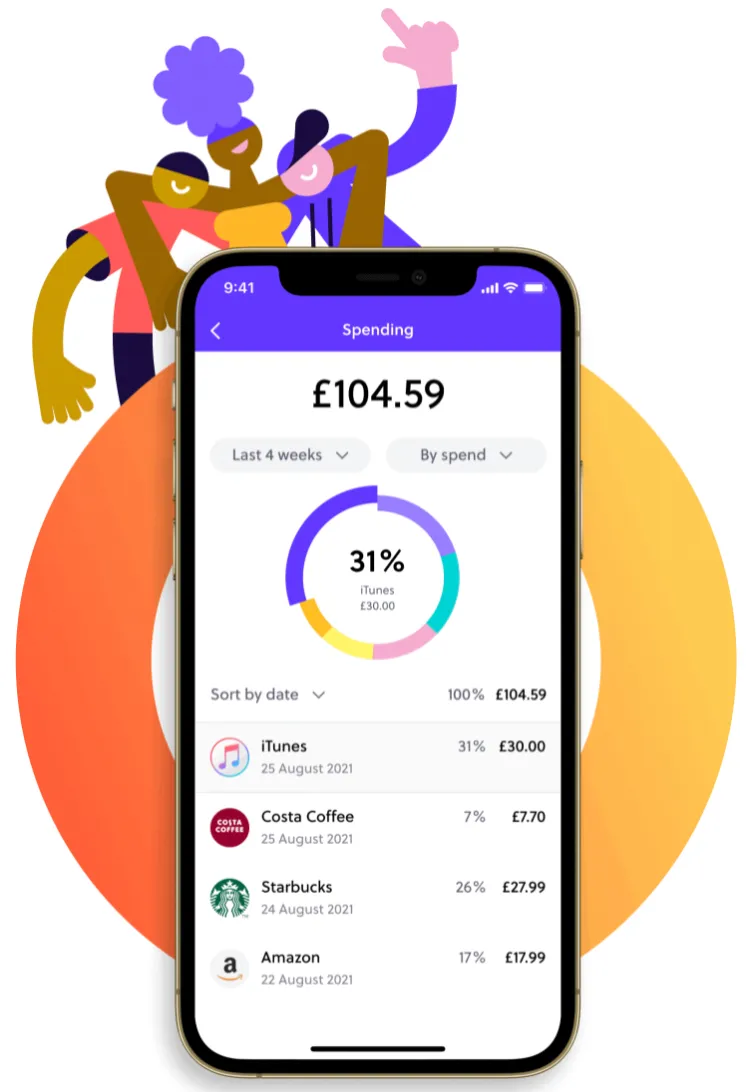 GoHenry product range overview
With GoHenry users receive a prepaid visa debit card and a mobile app that includes several tools such as instant notifications and spending limits. What it doesn't provide is an interest earning savings account, however, the full range of features is certainly more than adequate as I have detailed below.
How does GoHenry work? Children and parents have their own versions of the app, both with tools and functions to help them manage their finances as I have detailed below:
Go Henry Parent App
As a parent you have complete control over your childs spending via the parent app. I have found the parent app to be very well laid out and easy to use with links to all your child's accounts on the home page. Features of the parent app include:
Ability to view available funds on both the parent account and all children's accounts if you have signed up more than one child
Ability to load money onto any children's accounts
Ability to set up weekly allowance transfers for child's pocket money
Ability to add a co-parent for setting of boundaries, notifications and management of chores
Complete breakdown of all transactions
Ability to set tasks so children can earn extra pocket money
Set savings goals and track savings
Instant money transfers and ability to load money into the parent account
Child's spending notifications
Spending controls and limits
PIN retrieval
Ability to order or block/unblock bank card
The parent GoHenry app comes complete with fingerprint and facial recognition for added security.
GoHenry child app
This can be downloaded onto your child's phone or tablet and allows your child to check their balance and see if there are any chores that need completing. Your child can also create savings goals from within the child app to encourage important money management skills.
The child app is very functional and easy to use, even for youngsters and is a handy tool for children to learn money management. However, it is not designed as a long term saving tool, despite the savings goals.
With the GoHenry account there is also the option for family and grandparents to gift money straight into the child's accounts. This will prompt a notification from both the child app and the parent app and can include a message from the person gifting the money.
Teenagers may also benefit from the Split the Bill feature which allows them to easily split payments with their friends when out.
GoHenry Card
Whilst there is a free card that comes as standard when you sign up for a GoHenry account, there is also the option to order a custom card for your child for an additional cost of £4.99. We chose to stick with the free version of the card until our children could demonstrate that they would not lose their GoHenry cards for a year. Needless to say, there have been plenty of 'lost cards' and the process for replacing these was quick, easy, and free.
The ability to block and unblock a card from the parent app is essential in these instances and literally takes moments. The other handy feature of the card is the ability to link to ApplePay once your child turns 13.
GoHenry Money Missions
A new feature designed to help children save money and learn good money habits. Money missions is a series of videos and quizzes where children can earn points and badges while learning money basics, investing, saving, compound interest, borrowing, giving, and more.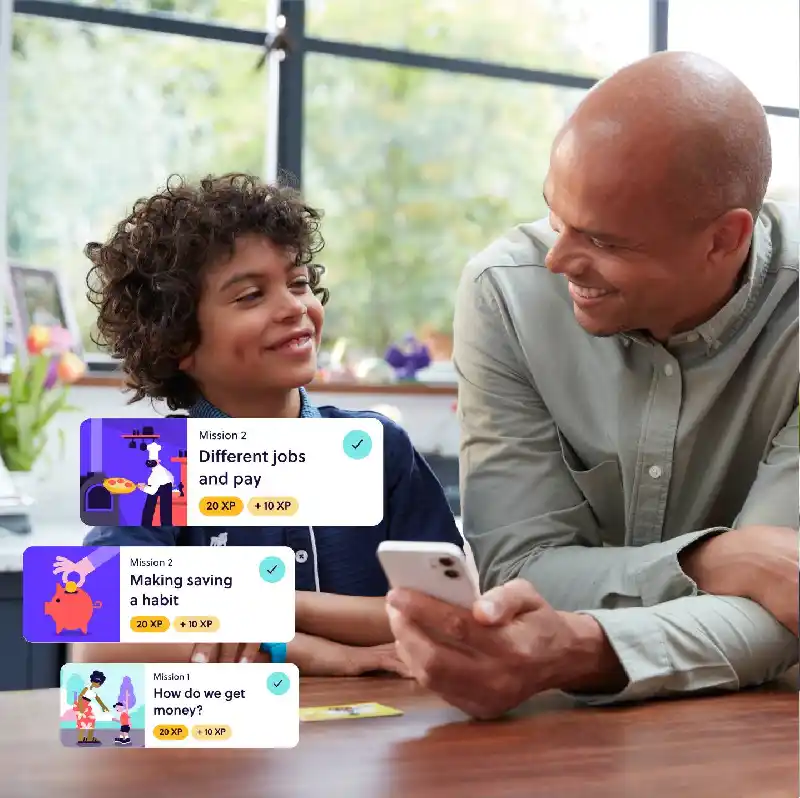 GoHenry Junior ISA
GoHenry have recently launched their very own Stocks and Shares Junior ISA. This invests your child's money into the Vanguard LifeStrategy 60% Equity Accumulation Fund. This fund had a cumulative growth rate of 54.7% over the previous five years.
GoHenry charge a platform fee of 0.45% per year on top of Vanguard's management fee of 0.22%. Were you to access this fund directly through Vanguard's own Junior ISA then your platform fee would be reduced to 0.15%. When you add this to the subscription fee you already pay at GoHenry, this seems like quite an expensive option.
GoHenry customer service review
When I tested the live chat I experienced a wait of around 5 minutes. The agent was unable to answer my query and asked me to email support instead. This response is still pending after 48 hours.
In fairness to GoHenry, in the two years of using their service, we have never had a reason to contact support. However, for the purposes of this GoHenry review, I did reach out on Live Chat and make enquiries about the Junior ISA tab that I am viewing on my parent app.
The agent informed me that this wasn't something she knew much about and suggested I email support as an alternative. I did get the standard automated email back informing me that response times were slow due to the pandemic and as of this time I am still awaiting a response.
GoHenry customer reviews

GoHenry have a rating of 3.7 out of 5 on Trustpilot. A quick glance through the reviews reveal that negative reviews are largely due to poor customer support.
'Great way for kids to learn about money'
GoHenry offers a great way for kids to learn about money, whilst adults still have control over security.
'No contact whatsoever'
No contact whatsoever, my email from the 26th January still hasn't been answered. My account has been closed for over a week, and they are still holding my money with no sign of it as I can't access my account.
'Fantastic way to get children into…'
Fantastic way to get children into banking and help them to learn about handling their own finances and get to have a debit card too!
Also great for motivating children to do chores and get paid!
'Brilliant'
GoHenry is a fantastic was for children to get used to using a card and managing there own budgets. My daughter loves it and loves it when she gets her pocket money on a Friday. She also has it set to save and earn extras if she does additional chores. Fantastic first steps to managing money.
GoHenry opening an account
Opening an account at GoHenry is fully automated and can be completed in minutes. As this is not a bank account, there is very little information required.
In order to open an account, you will need some basic information such as your name, email and mobile number. You will then be asked the choose a password to protect your account. Once this is done you can add each child to the account with their personal details.
You will link your GoHenry account to your primary bank account which is very quick and will allow you to load funds by bank transfer.
This really is a very quick and easy process and once this has been completed your child's card will be ordered and will be in the post within 5-7 days. Your child then simply needs to activate their card by using the PIN to make a purchase.
GoHenry Limits
There are certain limits when it comes to the GoHenry account which I have outlined below. For the average child, these shouldn't be of any particular concern.
GoHenry parent account limits
| | |
| --- | --- |
| Maximum account balance | £6,000 |
| Maximum account load at any one time | £500 |
| Maximum account load in a day | £600 |
| Annual load limit | £10,000 |
| Maximum number of loads in a day | 3 |
GoHenry parent account limits
| | |
| --- | --- |
| Maximum single bank transfer load | £500 |
| Maximum bank transfer loads in a month | £1,200 |
| Maximum spend in a day | £4,000 |
| Maximum number of spends a day | 10 |
| Maximum number of spends in 4 consecutive days | 20 |
| Maximum ATM withdrawal | £120 |
| Maximum daily ATM withdrawals | 3 |
| Maximum ATM withdrawals in 4 consecutive days | 4 |
GoHenry is regulated by the Financial Conduct Authority and all client funds are held in a secured NatWest account. However, as all client money is held as e-money, there is no protection under the Financial Services Compensation Scheme.
Despite having no cover with the FSCS, I found the level of security and protection at GoHenry to be more than adequate. There are a number of security features in place, such as biometric identification and the ability to immediately block and unblock lost cards. In addition, the ability for parents to set restrictions on where children can spend money is an additional measure that can help keep children safe. Real-time notifications are also a useful way to monitor where your child is spending their money, and because the card is pre-paid, there is no option for the child to spend money that is not in their account.
The app employs 256-bit encryption which acts to ensure all your personal details are kept secure.
So how much does GoHenry cost? Whilst I have detailed the exact breakdown below, you can expect to pay over the average for this type of account. However, with GoHenry you do get a good range of tools and features.
After the initial one month free trial, all account holders can expect to incur the following charges:
| | |
| --- | --- |
| Monthly Fee | £2.99 per child |
| Card fee | Free |
| Transaction fee | Free |
| UK ATM fee | Free |
| Loading fee | 1 free top-up per month, 50p thereafter |
| Card replacement fee | Free |
Who is GoHenry suitable for?
GoHenry great idea for younger children whereby parents can easily transfer cash and pocket money from their own linked bank account and benefit from the unique parental controls they have over the GoHenry card.
However, I think older children, who may benefit from more financial independence, may prefer a regular high street bank account, thus avoiding the monthly subscription fee.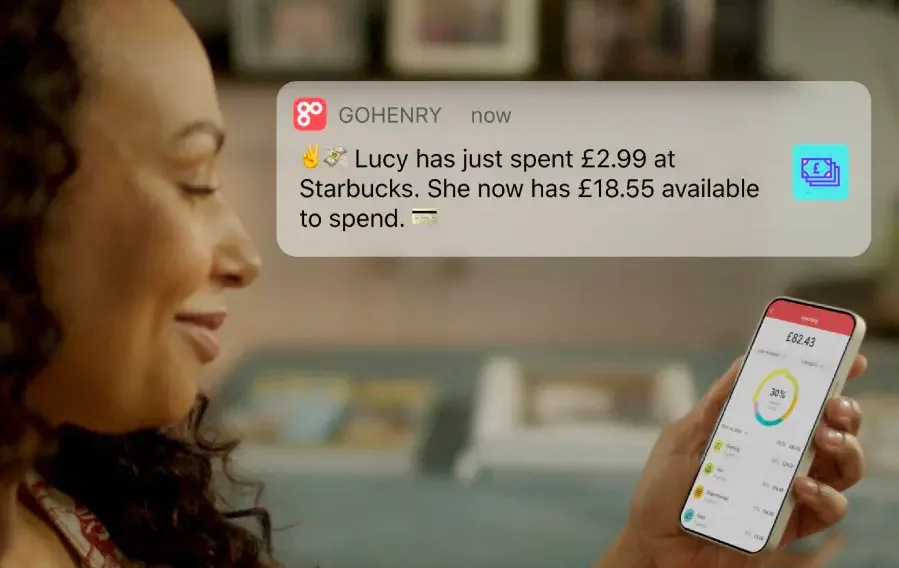 There are several alternatives to GoHenry that you may want to consider. Be aware that not all of these will include all the features you will find at GoHenry.
|   | Age | Cost (per month) | Extra accounts | Child's app | Top-up fees |
| --- | --- | --- | --- | --- | --- |
| GoHenry | 6-18 | £2.99 | £2.99 | Yes | 50 pence |
| Revolut | 7-17 | Free | up to £12.99 | Yes | None |
| Starling Kite | 6-16 | £2 | £2 | No | None |
| Osper | 8-18 | £2.50 | £2.50 | Yes | 50 pence |
| Rooster-Money | 6-18 | £2.08 | £1.67 | Yes | 50 pence |
| HyperJar | 6-17 | Free | Free | No | None |
| nimbl | 6-18 | £2.49 | £2.49 | Yes | None |
Some of these alternatives would represent better value, especially for parents with more than one child to consider. For a family like ours who rarely used any of the earning tasks, Revolut was a tempting alternative that would effectively half the monthly fee for two children and eliminate transfer costs between the accounts. However, you would have to have a standard Revolut account for this to be viable.
Useful Information
This section contains useful information to make your experience at GoHenry as seamless as possible.
How do I contact GoHenry?
The best way to contact GoHenry is via the chat function from within the parent app. Each time I have used this my query has been answered in under 5 minutes.
Emails can be sent to [email protected] however, response times for email are very slow.
How does my child withdraw money from their GoHenry savings account?
Your child's card can be used at any ATM just like a normal debit card. As a parent you will receive an instant notification when they use their card.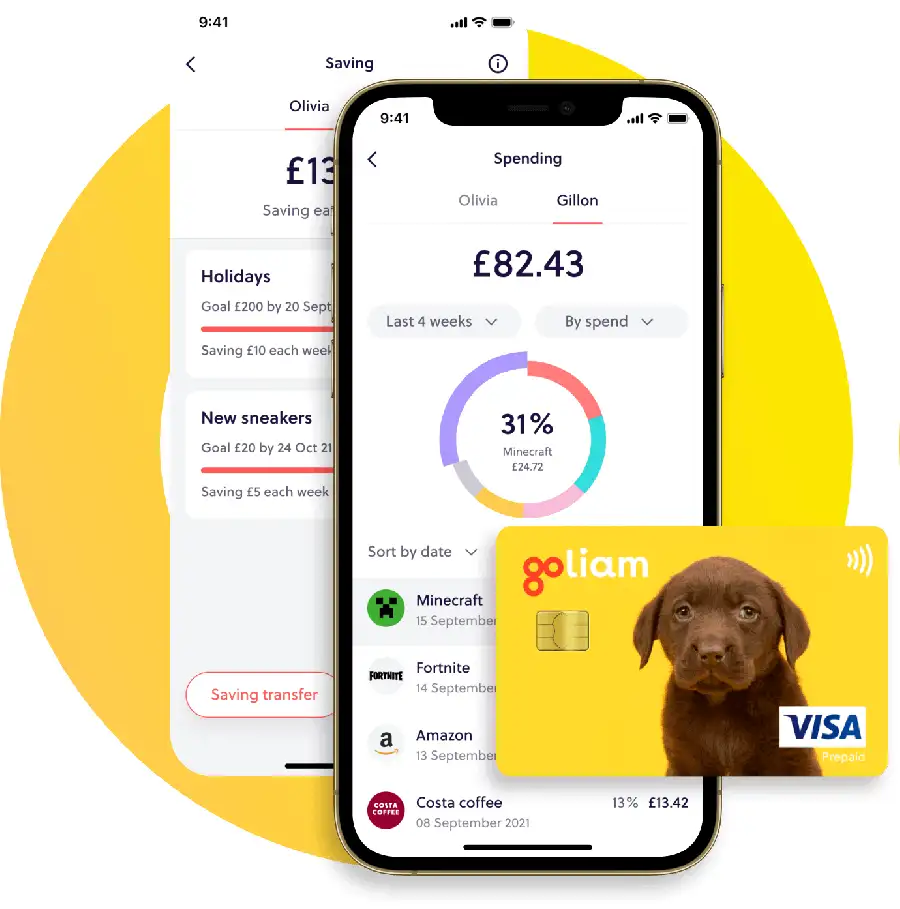 How do I close my account at GoHenry?
To close your account with GoHenry you need to call or email the customer support team. Given the long response times to email this could be considered a negative aspect of GoHenry.
GoHenry Trading FAQs
Is GoHenry any good?
GoHenry is a great means for children to have their own debit card and is a great starting point for teaching children good financial habits when it comes to managing their own money. It comes with a lot more tools and features than the standard children's bank account at most high street banks, however, the monthly membership fee of £2.99 per child may serve to put a lot of parents off.
In reality the tasks feature so kids can earn extra money didn't really work for us. The children only really checked the app to make sure there were enough funds for a purchase and for withdrawing money. In terms of a financial education, one declined payment has been a valuable lesson for one child, however, they have learnt little beyond that.
The free replacement card and ability to lock a lost card has however been a handy add on.
Can my child use their GoHenry card abroad?
Yes, the prepaid card can be used abroad without incurring any extra cost using the Visa Europe exchange rate.
Most recent reviews:
Good app over all but some minor issues . the Customer support is good and very helpful. but depositting money took a while to figure out , i have not tried other apps as found this one was okay for my needs.
Good user-friendly interface. My niece finds it easy to use and I like the educational aspect as its something I wish was available to me growing up as some these lessons are invaluable. Its good to know that she is learning about being responsible with money from such a young age.
its very good and practical, does everything i need and is very simple to operate and taking out cash and investing more is really straightforward. Would recommend it and is comparable with other apps that i use for the same purpose
See which share tip is making the headlines

Have you considered transferring your pension?

Find the best trading platforms
*Capital at risk