eToro is an Israeli Fintech startup that has been getting a lot of recognition as providing an excellent social trading broking site since its conception in 2007. Social trading on eToro allows you to observe the strategies of some of the more expert traders on the eToro trading platform in order to maximise your own results by copy trading or mirror trading.
Here in the UK, eToro are authorised and regulated by the Financial Conduct Authority which guarantees you an element of safety, however, as eToro is a multi asset trading platform that offers trading CFD assets, eToro can present a high risk option for traders who don't have a thorough understanding of CFDs. However, eToro also offers 0% fees on stock trading which for investors makes it a trading platform to take seriously.
Please be aware that all trading involves risk. 75% of retail investor accounts lose money when trading CFDs with this provider. You should consider whether you can afford to take the high risk of losing your money. This content is for educational purposes only and is not investment advice.
eToro Product Range Overview
eToro offers trading on a number of products including
CFDs
Forex
Real stocks
EFTs
Cryptocurrencies
eToro is primarily a CFD and Forex broker but what really sets eToro apart is their innovative features that change the way you trade which we will look at in more detail here:
eToro CopyTrader Review
Just as the name suggests, CopyTrader allows you to copy the portfolio of more experienced or successful eToro traders by browsing through profiles and selecting traders based on their previous performance, both on an annual level and monthly level.
Just to make your selections a bit easier, eToro also assigns each trader with a 'risk score' as well as providing information on the number of trades per week, average holding time, charted performance, and news feed comments. This is enough information to give you a real insight and you have the ability to copy up to 100 traders at the same time.
Whilst conducting our eToro review we found one of the great advantages of CopyTrader is that you can start copying other traders with no extra charge as there are no management fees. However, the minimum amount you can start trading with at eToro is $200 (note eToro only operates in USD).
eToro CopyPortfolio Review
CopyPortfolio allows you to invest in two main types of portfolio, Top Trader Portfolios which simply put, allows you to invest in a portfolio consisting of the traders who are achieving the best returns, and Market Portfolios which allow you to pick a market or theme of CFD stocks, commodities or EFTs.
Bearing in mind that trading on CFDs comes with a high risk of losing your money, and 75% of retail investor accounts lose money when trading CFDs with this provider, it's good news that eToro makes it easy to spot the proportion of CFDs in any specific portfolio. In addition to this, asset distribution, performance and investment strategy are all readily available to help you make the best possible decisions and we particularly like it that eToro will check whether you understand that CFDs are complex instruments and come with a high risk.
ISA Review
At the time of this review about eToro, ISA accounts were not available at eToro.
SIPP Review
At the time of this review of eToro, SIPP accounts are not available at eToro.
eToro Platform Review
eToro has designed a really clean, modern looking trading platform that is easy to navigate and highly functional. This is available both for web and mobile although they have yet to offer a desktop version to the market.
The eToro mobile app is most certainly an impressive offering to the market. Clean, easy to use, modern, and with a wealth of functionality, we enjoyed using it during our eToro review and it makes for a seamless trading experience whilst on the move.
In terms of security, eToro have installed an optional two-step login system which whilst it might make it slightly more fiddly to log in, it does provide you with an extra level of security.
Searching, placing orders, and alerts and notifications are all really straightforward and easy to use at eToro and provide investors with a great level of functionality. On the eToro mobile version you can even set a push notification when an asset reaches a certain price point or when your order has been fulfilled.
eToro has a really decent charting offering on the eToro trading platform, giving investors the option to change chart types, chart intervals and overlays, and the ability to compare six different charts at once with their eToro ProCharts functionality.
Research Service and Tools Review
For investors looking for a decent level of technical analysis, eToro won't disappoint. Unfortunately they only offer recommendations on a limited number of stocks, however, for the ones that do have recommendations, there is a wealth of information available such as average price targets and analyst reports.
Whilst the research offered at eToro was good, it didn't quite match up to providers like Interactive Investor or Hargreaves Lansdown, mostly due to the limited fundamental data on offer and insufficient research reports. As well as this, eToro has failed to provide investors with market news or stock screeners unlike most of their competition, which feels like a bit of an oversight.
However, eToro makes up for a lot of this with their social trading network. This works like a social feed, where other investors will offer their thoughts on stocks, often with supporting data to help you with your decisions. This social aspect of trading is not widely available and is a great little feature.
In terms of education, eToro has missed the mark. Their only offering are some hour long videos in their trading school, which whilst these do provide useful information regarding trading, placing trades and managing goals, they make it difficult for investors to find answers to specific questions without sitting through hours of webinars.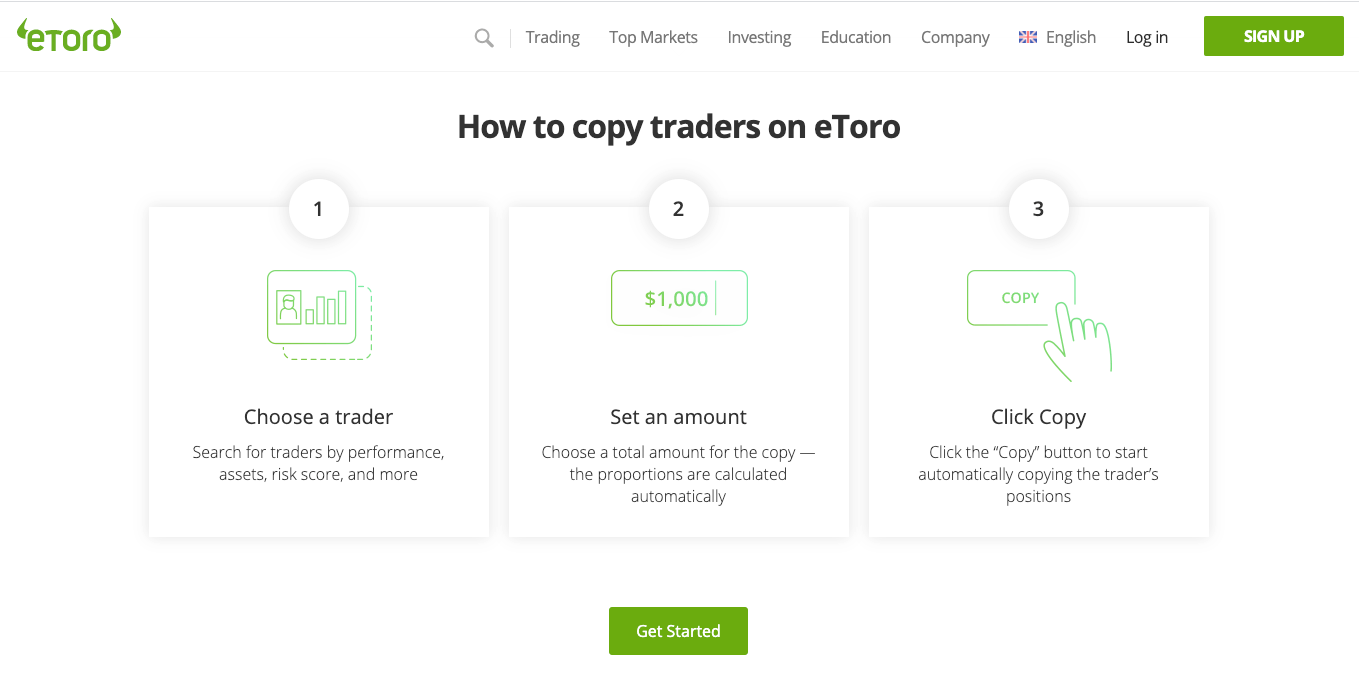 eToro Fees and Charges Review
Whilst eToro are quick to promote their 0% commission stock trading, there are conversion fees, withdrawal fees, CFD fees and inactivity fees which investors need to be aware of.
When we compared eToro to similar trading platforms we found their CFD fees to be roughly in the same range so nothing out of the ordinary there. However, it is worth noting that their Forex fees were high compared to their main competitors which is worth taking into consideration if you plan to trade on Forex.
As eToro only trades in USD, conversion fees are applicable when you deposit or withdraw money in any other currency. These vary according to the currency and how your money is deposited but range between 50 pips to 250 pips per conversion.
For withdrawals, eToro charges a flat fee of $5 with a minimum withdrawal amount of $30. There is also an inactivity fee of $10 per month once your account has laid dormant for 12 months. As a comparison, Plus500 don't charge for withdrawals and whilst they do have an inactivity fee, this is not on a monthly basis.
Guide to opening an eToro account
There is nothing bad to say about opening an account at eToro. If you are looking for a seamless, fully digital experience that takes moments, then you will find it at eToro. There are two main types of account on offer, their eToro Live Account where you can start trading and their eToro Virtual Account which gives you the option of experiencing the eToro trading platform with play money.
To open your eToro account you simply need to register your email address or Facebook / Google+ account and you will have immediate access to the eToro trading platform. There is a minimum deposit of $200 to start trading and the minimum amount for a bank transfer is $500.
Of course, in order to fund your eToro account you will need to verify your identity which is not unusual and can be done quickly by uploading a couple of supporting documents.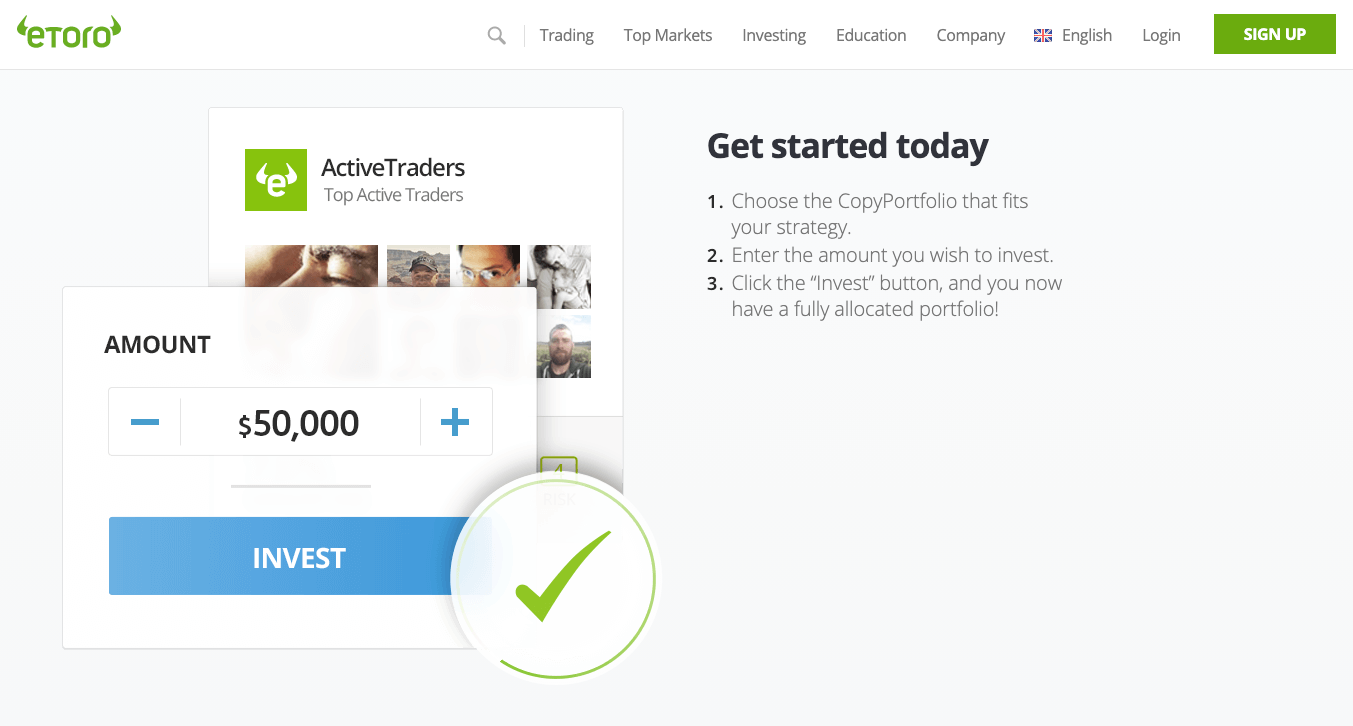 eToro Deposit and Withdrawal Review
eToro have certainly supplied customers with masses of options when it comes to depositing money including:
Visa
MasterCard
Diners Club International
PayPal
Skrill
Neteller
WebMoney
China UnionPay
Yandex
It is important that UK investors understand that eToro only operates in USD which means any deposits will be converted and charged the relevant conversion fee. This fee will also be applicable upon withdrawal back to GBP.
eToro bank transfers tend to take 4-7 business days to appear in your eToro account.
When it comes to withdrawals, eToro does levy a $5 withdrawal fee which is fairly substantial when compared to other brokers. However, by bank transfer the whole process only takes around 2 business days and is very easy to complete on the website.
eToro Customer Service Review
Whilst not outstanding, we did find the customer service offering at eToro to be satisfactory with several channels of communication including a live chat function and a web based ticketing system. The eToro customer service reps are polite and knowledgeable and our queries were answered in a timely fashion. However, unlike some platforms, there is no customer service on offer outside of normal office hours.
Who is eToro Suitable For?
eToro is a fantastic offering for retail traders who are interested in social trading and copy trading. It is also an ideal trading platform for very experienced traders as eToro offers rewards for successful traders who share their knowledge.
Investors should be aware that 75% of retail investor accounts lose money when trading CFDs with this provider. This is because CFDs are complex instruments that come with a high level of risk and before engaging with this provider you should consider whether you understand how CFDs work and whether you can afford to take the high risk investment strategy that comes with them.
Overwhelmed with how to invest?
Connect with a Financial Advisor near you for FREE.
eToro UK FAQ
eToro can be contacted by phone on +44 02038687213 or alternatively with their online ticketing system available on their webpages.
However, existing customers can make use of the eToro web chat facility that can be found on your account.
eToro is a market leader when it comes to social trading and there is no denying that they offer a great service when it comes to opening your account and trading features. However, the eToro Forex fees are high when compared to similar platforms and the withdrawal fees are generally an unpopular addition.
Please be advised that 75% of retail investor accounts lose money when trading CFDs with this provider and you should consider whether you can afford to take the high risk of losing your money that comes with investing with CDFs.
How do I withdraw my money from eToro?
Withdrawing your money from eToro is quick and easy. Simply select 'Withdraw Funds' from the tab in the left hand menu and enter the amount you wish to withdraw. You will then be asked to complete an electronic withdrawal form.
How do I close my account at eToro?
Closing your account with eToro is fairly painless and can be done by clicking the 'Withdraw Funds' tab in the left hand menu of your Account Settings page.
UK eToro customers are protected by the FCA and therefore entitled to up to £85,000 should eToro become insolvent at any time. eToro are also authorised and regulated by the Financial Conduct Authority which is a great sign of its safety, however, as eToro is still considered a startup, it is not listed on any stock exchange and there are no financial statements available from which to check its financial health.
Whilst eToro offers security for their customers, it is important to note that 75% of retail investor accounts lose money when trading CFDs with this provider. CFDs are highly complex instruments and investors should be aware that they come with a high risk of losing money rapidly due to leverage.
eToro is a privately owned fintech company with Israeli, US and Chinese shareholders