Looking for low-cost coupled with simplicity? 
You will struggle to find better value elsewhere.
InvestEngine allows investors to access over 500 ETFs with some of the lowest-costs I have encountered to date. With both DIY and fully managed portfolios, I found this to be a budget friendly service that caters to both novices and ETF enthusiasts.
With investment, your capital is at risk. This could mean the value of your investments goes down as well as up.
So is InvestEngine a good option?
Absolutely, with an impressive range of ETFs at an unbeatable price, it's a stella choice. Plus, they offer a free ISA which is a rarity. Whilst many of the reviews online criticise the platform's lack of ethical investments, I found the range of ESG ETFs to be more than sufficient.
And where does InvestEngine fall short?
Well, it's not the place for those eager to dabble in individual stocks, and you won't find any pension account options here.
Would I recommend InvestEngine?
Yes! Only having access to ETFs may feel restrictive to some investors; however, InvestEngine is offering a simplified and low-cost entry point where even the managed portfolios are coming in at a much more favourable cost than other robo advisors.
Given the Vanguard funds that they offer investors, it only seemed appropriate to compare the pricing structure with that of Vanguard themselves. It was my finding that InvestEngine represents excellent value; however, I recommend that you read my full review.
InvestEngine is authorised and regulated by the Financial Conduct Authority.
Deposit & Withdrawal:
90%
Markets and Products:
80%
Pros
One of the lowest fees achievable
Highly responsive customer service
Suitable for both experienced investors and newcomers
Cons
No SIPP
No direct share dealing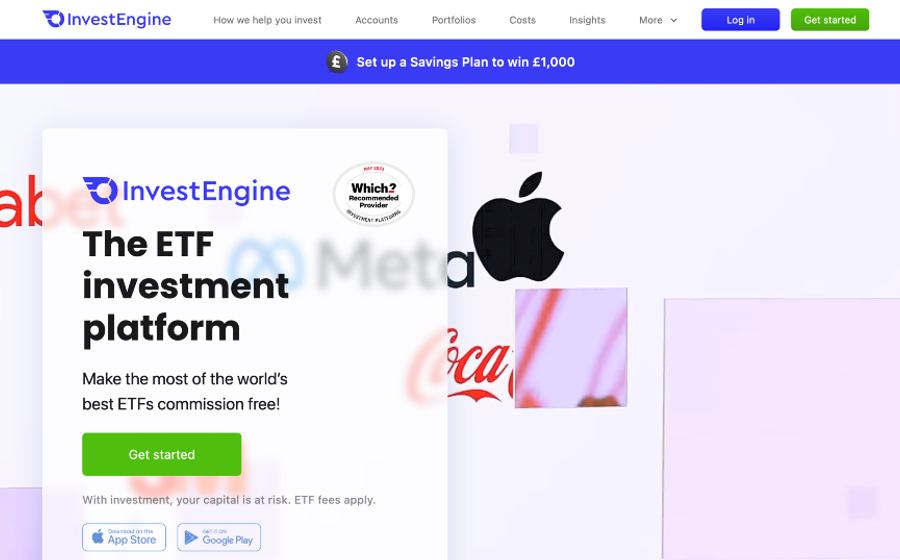 Who is InvestEngine?
InvestEngine opened its doors to online investors in 2019 with the aim of outperforming other investment platforms currently available to UK investors. In order to achieve this, they have shunned the traditional model of a DIY investment platform such as you would find at Hargreaves Lansdown, and turned away from the crowded Robo Advisory market in order to cater to all investors, regardless of their investment style.
InvestEngine has, instead, built an all-in-one investment platform where investors can build their own portfolio from a range of investment funds, or they can choose to let InvestEngine match them with one of 10 low-cost, fully managed Exchange Traded-Fund (ETF) portfolios.
Who Owns InvestEngine?
InvestEngine was co-founded by siblings Simon and Joanna Crookall. You may recognise the name Simon Crookall, as he is the successful co-founder of Gumtree, while Joanna Crookall is currently the Chief Executive Officer of Ramsey Crookall, the independent investment management firm.
InvestEngine Product Range
InvestEngine concentrates efforts within the general investment account on two main areas – DIY portfolios and managed-for-you portfolios – both of which I have dedicated a section to provide more detail. There is nothing to stop you from investing in both areas, should you wish to test your own investment style against that of the professionals at InvestEngine.
InvestEngine Fully Managed Portfolios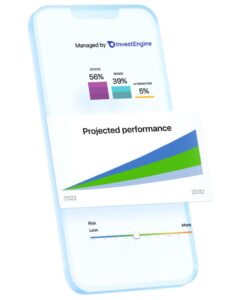 The managed-for-you investment portfolios at InvestEngine act much like a robo advisory service, in that
an ETF portfolio is created and managed for you by a team of experts according to your risk profile, goals and the amount you have to invest. 
These managed portfolios consist of a heavily diversified mix of stocks, bonds and alternatives, ensuring that should one asset underperform, your investment is still protected by the performance of the other assets included in your investment portfolio.
InvestEngine believes this diversification to be a vital element in ensuring consistent growth and will conduct portfolio rebalancing of the assets within your managed portfolios on a regular basis in accordance with changes to the market as well as changes to your own personal circumstances. This portfolio rebalancing ensures that your investments remain optimised throughout your investment journey.
At this time, InvestEngine is falling short on offering a managed ethical portfolio.
Growth Portfolio
There are 10 growth portfolios with different risk levels that are aimed at those investing for the long term. Upon registering and identifying your intention to invest for growth, you will be matched to one of these 10 growth portfolios within minutes. You will then have full access to the funds within the growth portfolio. InvestEngine also provides future growth projections in chart format on their site. This is intended to make up for the lack of past performance data caused by InvestEngine being such a newcomer to the market.
DIY Portfolios
For the more experienced investor who wants to manage their own investments, there is also the option to build their own portfolios with a range of asset classes to suit them from over 550 Exchange-Traded Funds. This is all done through a fully operational and easy-to-navigate interface with no account fee, no dealing charges, zero commissions and no setup fee.
The DIY portfolio service puts you in complete control, allowing you to personalise your investment strategy by setting the target weights for the Exchange-Traded Fund (ETF) you have picked as part of your investment portfolio. InvestEngine also offers one-click rebalancing so you can make adjustments to your DIY portfolios easily, in line with fluctuations to the marketplace and changing personal goals.
Again, InvestEngine has come in as one of the lowest cost options available, although the ETFs available may feel a little limited to more seasoned investors who wish to create their own diversified portfolio.
While this is no doubt an excellent proposition, it is worth noting that, as of yet, there is no access to direct share dealing when building your own portfolio, although it would be worth watching this space as InvestEngine is still growing their services. Still, for investors looking to build their own portfolios from a wider range of investments, it may still be best to consider an investment platform like Interactive Investor.
If investors are wanting to try their hand at creating a portfolio without risking any money, then it is possible to do so at InvestEngine without the need to invest.
InvestEngine portfolio sharing feature
InvestEngine's portfolio sharing feature was launched in the spring of 2022 and provides scope for investors to share details of what they are investing in with their family and friends. This does not include the value of your portfolio or any of your personal details, both of which will remain secure at all times.
Sharing your portfolio can be done quickly and easily simply by clicking on your DIY portfolio and selecting 'Share portfolio outline' then simply click on the 'Share' button and you are all set.
InvestEngine Savings Plans
Savings Plans are a new initiative that has recently been launched at InvestEngine, providing scope for investors to harness the power of regular investing in order to maximise their portfolio. Savings plans offer the following advantages:
Weekly, fortnightly or monthly investing: Open Banking technology ensures variable recurring payment so you can top up your investments as frequently as you please.
Top up from only £10 per week: Fractional investing allows you to top up small amounts in any combination of commission free ETFs.
Free across all InvestEngine accounts
Benefit from 'pound cost averaging': Regular investing is one of the most efficient ways to grow your portfolio over time and average out the price you pay for your investments.
The InvestEngine Stocks and Shares ISA is a new addition to the platform and certainly doesn't disappoint, with tax-free access to the low-cost investment portfolios available at InvestEngine.
Given the recent increase in dividend tax, this is a welcome addition to InvestEngine's offering and allows you to start investing up to £20,000 a year tax free.
Within the Stocks and Shares ISA, you can access all the InvestEngine Managed portfolios as well as the DIY option. It is also free to transfer any existing ISAs into the InvestEngine ISA and you will pay zero account fees and there are no exit fees, although you may want to check if there are any exit fees with your current provider.
Remember: Tax treatment depends on individual circumstances and is subject to change
InvestEngine Personal Account
The personal account at InvestEngine is a great option for investors who have already reached their ISA allowance. It provides access to all the low-cost features, managed portfolios and DIY options and investors can still take advantage of the £2,000 dividend allowance as well as the £12,300 capital gains tax allowance in order to reduce their liabilities.
InvestEngine Business Account
Again, InvestEngine have impressed with the scope of their offering by providing a business account where companies can invest any surplus cash they have in their business account. This provides companies with the means to increase the meagre returns they may be earning on interest within their business savings account. There are not many investment platforms that provide a business account so this is a fairly unique offering.
Research Services & Tools
This level of information would only be relevant for DIY investors who were building their own portfolios. For all the ETFs provided there is access to past performance in graph form, full descriptions of what the ETF is and the companies, indexes it holds as well as key investor information, documents, and fact sheets.
This can all be accessed from within the InvestEngine app by simply viewing the securities list and selecting the ETFs of interest.
Please note: Past performance is no guarantee of future results.
InvestEngine Promotions
InvestEngine has some of the best promotions I have come across thus far, including their welcome bonus, which I have gone into in more detail below. Throughout August, InvestEngine is also running a competition for their savings plans, which I have gone into in more detail under Savings Plans.
Refer a Friend Bonus – Available to all existing customers who refer a friend and who subsequently open and fund any InvestEngine account. Both you and your friend will receive an investment bonus of a randomly selected prize between £10 & £50.
InvestEngine Fees
InvestEngine fees are highly competitive – in fact, you will find their low fees hard to beat. The fact that InvestEngine doesn't levy any sort of management fee really puts them ahead of some of their main competitors.
In order to get an accurate picture of the fees involved, I have split them into the fully managed portfolio and the DIY portfolio.
Managed Portfolio Fees
Platform Fee: 0.25% per year
ETF Charge Growth Portfolio: 0.15% average per year
Market Spread: 0.07%
Average total fee for InvestEngine Growth Portfolio: 0.46%
DIY Portfolio Fees
Platform Fee: FREE
Cost Per Trade: FREE
A fee of 0.25% of Managed portfolios makes InvestEngine an easy winner for those looking for low platform fees. Of course, DIY investors will need to consider the usual ETF charges and market spread costs, however, these are unavoidable, regardless of platform.
In addition to this, InvestEngine doesn't charge any set-up fees, dealing fees, management fee, or withdrawal fees, making them a standout low-fees provider. 

Opening an Account with InvestEngine
Again, InvestEngine were impressive with their streamlined service as opening an account took minutes. The entire process can be completed in the following steps:
Select whether you are a business or individual
Create an account with an email address and password
Select an ISA or general investment account
DIY investors will then be taken to a tool to select their ETFs.
InvestEngine Platform Review
While they won't be winning any awards for their basic platform design, it does have all the functionality it needs, and its simplicity makes it easy to navigate.
The dashboard allows you to view the performance of your investments 24/7 as well as top up your account, buy and sell assets for DIY investors, withdraw, view investment projections, and add funds at any time.
The platform also offers smart top-ups and one-click rebalancing so DIY investors can stick to their investment strategy.
InvestEngine App Review
InvestEngine has scored 4.7 out of 5 on the App Store, which is difficult to achieve as most people will review it when they have a complaint to make.
"A really solid concept and beginning – Really liking IE so far. Excited for some more funds to drop, but a strong start I think. Would love to see some features like Touch/Face ID just to speed up the login process/security."
The app is functional and follows the same format as the web-based platform which is helpful for people who like to use both formats.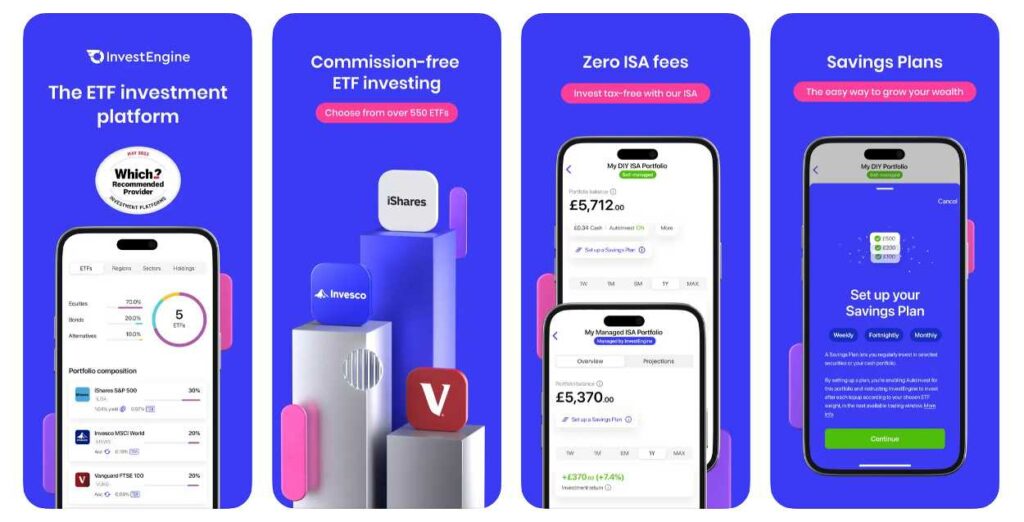 Transferring Your Investments to InvestEngine
InvestEngine has made this process as quick and easy as possible with a simple transfer form that takes moments to complete. InvestEngine will then take care of the rest, all completely free of charge.
InvestEngine Customer Service
I found the support team at InvestEngine to be excellent—possibly the best that I have tested to date.
Support is available only via email, Monday-Friday 5:30am to 9:00pm and Saturday-Sunday 8:30am to 5:30pm.
When I tested the live chat, my query was responded to instantly and dealt with in an informative and professional manner. I could not have asked for a better service and it certainly put some of the long waiting times that I have experienced at other investment platforms to shame. For a low-cost investment platform, you would be hard-pressed to find a better service.
I did check Trustpilot to see if I had simply gotten lucky, but InvestEngine had scored 4.5 out of 5 with InvestEngine customer reviews that mentioned customer support being very positive.
Useful Information
Below you will find useful information about InvestEngine and questions I get asked regularly.
How do I close my account at InvestEngine?
Closing your account is easy at InvestEngine. You simply need to contact customer support and request the closure. You will be asked the reason for closing your account, which you are under no obligation to reveal.
How do I withdraw money from InvestEngine?
To facilitate a withdrawal, you would need to select 'More' from within your dashboard, followed by 'Withdraw. Your funds will arrive within 1 to 4 working days to your nominated bank account.
How to contact InvestEngine
InvestEngine has a highly responsive live chat facility that can be accessed in the left-hand corner of the web pages or, alternatively, from within the app. In addition to this, you can contact them using the following:
Mail: InvestEngine (UK) Limited, 4th Floor, 57 Great Suffolk Street, London, SE1 0BB
Email: [email protected]
Is InvestEngine expensive?
No, InvestEngine is exceptionally low-cost, however, they seem to have achieved this without sacrificing any functionality, service or options. This is the cheapest investment platform I have come across, with good investment options across both a managed for you and self-managed portfolio.
InvestEngine Review Summary
This is an exciting new proposition to the investment platform market and InvestEngine has successfully managed to stand out from the crowd with the option of both a DIY investment portfolio and a fully managed investment portfolio. In terms of online wealth management, InvestEngine is successfully competing with the other robo advisors available while keeping their fee structure one of the most economical online.
InvestEngine FAQs
Is InvestEngine safe?
Yes, InvestEngine is safe to use and are authorised and regulated by the Financial Conduct Authority (FCA) and all client investments are covered by the Financial Services Compensation Scheme (FSCS) up to the value of £85,000 should the company go bust for any reason. In addition to this, all client funds are held in segregated accounts with NatWest Bank Plc.
Is InvestEngine any good?
Yes, InvestEngine is very good, in my opinion. This is worthy of consideration for both passive and experienced investors with its managed and DIY options. In terms of fees, these are the lowest you will find anywhere, with all the functionality included that we have come to expect from an online investment platform.
It is worth considering that although the risk questionnaire will match you with the best fit out of the ETF portfolios on offer, this is not the same as investment advice from an independent financial advisor.
InvestEngine Customer reviews
Most recent reviews:
Overall, the app is a solid choice for investors to use. While there is different fees that need to be paid for at many times, they are worth it as the interface of the app is easy to use for beginners. This is why i enjoy using this app alot for my investing comparing with other apps in my expereince.
Overall, the app is satisfactory. There are no cost associate to it as I chose the self managed portfolio. Even if the managed portfolio is chosen, the fee is less than 0.5% of the portfolio value annually. As it only took 1 day to finish opening the account, it seems good. I've only used the customer service once to ask certain question and they got back to me in less than 1 hour. Lastly, regarding the deposit, the overall process is good but took me about 3 days to verify my bank account to link to my investment account.
The Invest Engine app is very user friendly, it has a nice and sleek interface, you can see all your investments easily and return of investment functionality is intuitive. There is also a substantial incentive for signing up, great choice of investment options and no fees.
See which share tip is making the headlines

Have you considered transferring your pension?

Find the best trading platforms
*Capital at risk