In my detailed Cleo review, I scrutinise the AI budgeting and saving app that uses spending insights, expenses, trends and budgets to manage your finances, letting you know what you can afford to spend and what you can afford to save.
Read on to discover why I found Cleo to be a great budgeting app for millennials and Gen-Zs working to gain control of their finances, and why some people may be better suited to other savings apps available.
Cleo now has 3.1 million users worldwide, making it one of the fastest-growing Fintech apps available. It uses humour to engage its young audience, making money management more appealing and relatable.
Certainly Cleo is an effective budgeting and saving tool for anyone looking to gain some control over their spending and for saving up towards small financial goals. 67 percent of their users are still relying on Cleo after six months of downloading the app, having on average 14 conversations with Cleo per month. This has led to 78 percent of users reporting a reduction in financial worry as a result.
However, more substantial, long term savers may be better off with a saving app that offers interest and or investment opportunities to grow their savings.
Who is Cleo?
Cleo, otherwise known as Meet Cleo, is a chatbot that aims to help people take control of their finances in an easy, fun way. With a freemium business model, Cleo provides users with sound financial insights that aim to change their spending behaviours in order to facilitate better money management and help users save money.
Who owns Cleo?
Cleo was founded by former Wonga data scientist Barnaby Hussey-Yeo who retains his position as CEO of the successful Fintech company.

Cleo product overview
Cleo provides users with a number of tools, each designed to help manage your finances effectively and easily. In order to run these insights and help users start to save money, Cleo will need to connect to your bank account.
Cleo uses a chatbot to make this a fun and interactive experience. The chatbot uses artificial intelligence to track your spending patterns and manage your budget, recommending achievable amounts to save into your Cleo wallet.
Users can interact with the Cleo chatbot either through the app or via Facebook Messenger, with both options performing well during my review.
Track your spending
Cleo automatically categorises your spending so you can identify where your money is going. You can ask Cleo for details such as 'how much do I spend on groceries?' and what your largest expense is, as well as see upcoming bills and how you are doing with your budget.
Create budgets
You can easily set budgets for each spending category either yourself or by using Cleo's recommendations. This is a great feature for people who struggle to control their spending and Cleo will send you a message when you are approaching any of your set limits. In this way Cleo can help you make better financial decisions, letting you know if you can afford dinner or a new pair of trainers.
Budgets can also be set for occasions such as holidays, and within different time frames such as over the weekend.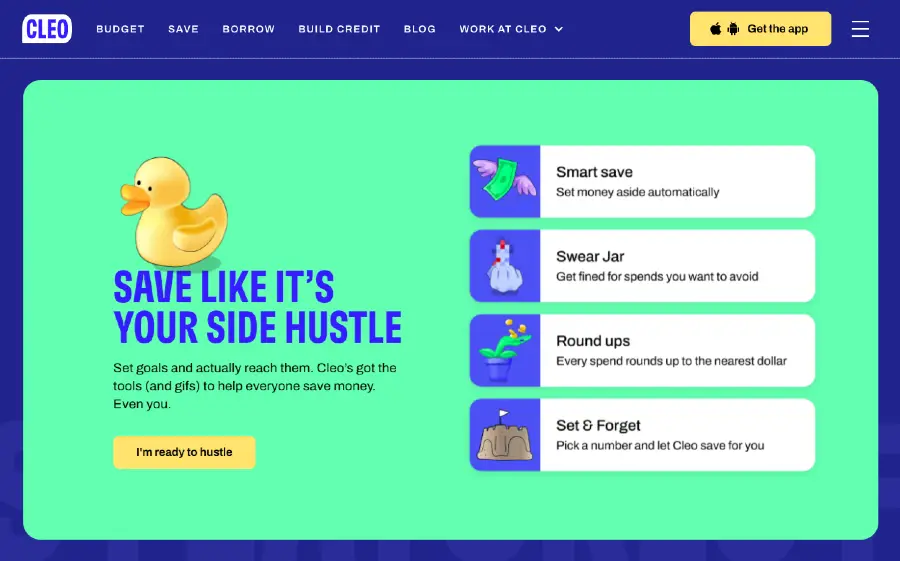 Save money
Cleo uses complex algorithms and artificial intelligence to identify whether there is any room for you to save some money. You can ask Cleo to save money automatically, but she will always check with you first before moving money into a savings account for you.
You can set saving goals and Cleo will work out your weekly or monthly obligations into daily payments in order to identify how long various saving milestones will take to reach.
Cleo monitors your income, direct debits and spending habits to ensure you never overspend and helps you get into good financial habits.
Where your savings are moved to is completely in your hands and therefore you may want to consider a savings marketplace like Raisin, to identify some of the best savings rates available.
There are also various tools available to make saving pain free such as goal setting, roundups and swear jars. It's worth bearing in mind that you won't be offered interest within your Cleo wallet.
Cleo game
To try and make managing your money more fun and engaging Cleo also provide a trivia type game that users can play every Saturday. The game involves a series of questions about your spending habits in the week previous and winners are entered in the draw to win cash prizes.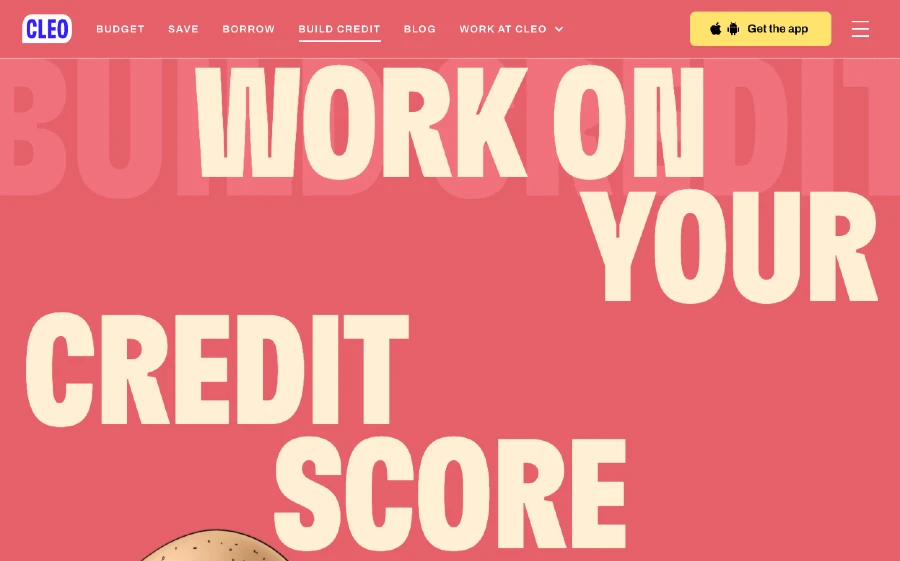 Cleo credit builder card
Working towards helping people with bad credit, the Cleo credit builder card is a secured credit card that comes completely free and doesn't require any hard credit checks. By putting cash into your security deposit to unlock a higher credit limit, you can start to improve your credit report.
The credit builder card takes about three minutes to set up and comes with no interest. You will need to put $14.99 aside per month and Cleo suggests that you use the card at least once a month so the credit check companies continue to monitor it but you will steadily increase your credit score this way.
Cleo Plus, the subscription service
Cleo Plus is a premium subscription service that comes with a few additional features. You will have to pay £5.99 a month to access this so let's see if it's actually worth it.
With Cleo Plus, you can access the following:
Cleo cover
This is essentially an overdraft service that lets you borrow up to $100 from Cleo to see you through to payday. It's interest-free and doesn't affect your credit score which is great but you must pay the money back within 3 to 28 days. When you find yourself short before payday, this instant cash can provide a lifeline.
Cleo daily cash
Cleo has partnered with certain stores in order to offer you cashback on your daily spending. You get to choose 5 stores or 'Money Makers' that you shop at the most frequently and you can swap and change your chosen stores at any time.
You can earn up to 7% every time you spend money through the Daily Cash page and there are shops such as Costa, Sainsbury's, Trainline and Netflix included in the lineup of participating stores. Depending on the cashback percentage this could cover the cost of your Cleo Plus subscription but you would need to be spending in the region of £460 a month.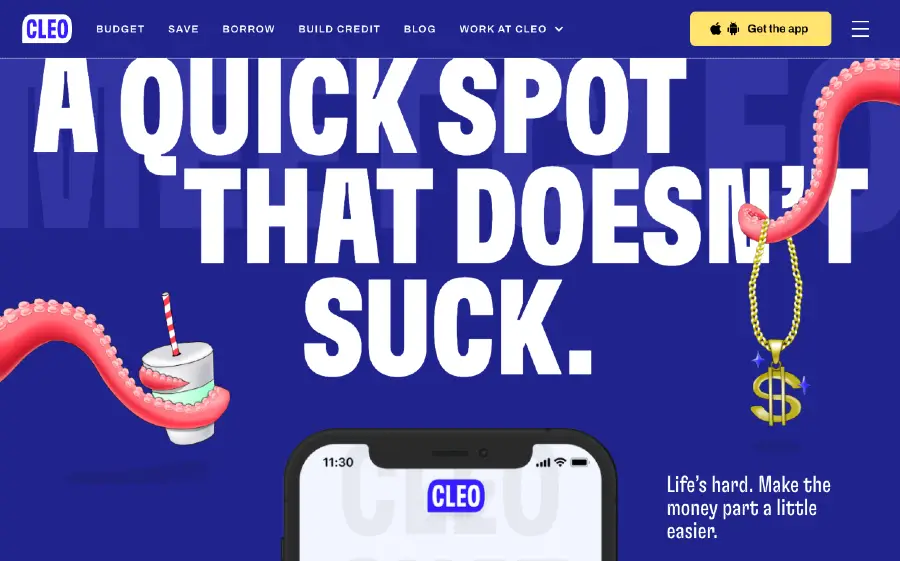 Opening an account at Cleo
The account opening process at Cleo is quick, easy and streamlined and can be completed in a few minutes. You will need to supply personal information and link your primary bank account on registration in order for Cleo to complete her analysis of your latest transactions, however, this can be completed in moments and Cleo automatically links to most highstreet banking apps.
It is also possible to connect multiple accounts to the app. To make the process as streamlined as possible it's best to ensure you have your banking details to hand.
The value Cleo can bring to your finances is almost instant upon signing up, offering advice on your spending attitude and account balance in a friendly and informal way.
Cleo can almost immediately tell you helpful bits of information such as you are spending above average on your gas bill, at which point she will recommend an alternative supplier. Should you take up this recommendation, Cleo would receive a kickback from the supplier she has recommended, which is one of the ways that Cleo makes money.
Cleo fees
Cleo is completely free to use, giving you the option to use the analysis to budget and save. The only charge comes if you decide to upgrade to Cleo Plus, at which point you will be charged £5.99 a month. However, my advice would be to think carefully as to whether the upgrade is worth the additional cost for you.
Cleo money app safety
Is Cleo safe to use? Cleo is authorised and regulated by the Financial Conduct Authority, ensuring that it upholds the stringent standards of safety and conduct that come with this level of regulation. However, they are not covered by the Financial Services Compensation Scheme. Cleo have mitigated this exposure by pledging to protect client funds up to the value of £85,000.
There are several measures in place to ensure that client information is fully protected including bank-level encryption.
Cleo also refrain from saving any banking data and have read-only access to linked bank account information and encrypted transactions ensuring funds can never be moved or accessed without your permission.
The advantage of opening an account with Cleo
If you struggle to budget and save then Cleo operates a completely free app that has helped thousands of people with their financial well being. There is no jargon or complicated processes to go through, just straightforward, no-nonsense AI to get you on track to financial freedom.
Another advantage is that Cleo support users who are struggling to get to the next payday by offering small loans through their premium version.
The disadvantage of opening an account with Cleo
Whilst Cleo is fantastic for helping you save money fast, it currently doesn't offer any interest in the Cleo wallet, meaning your savings will be losing value if left there for any time. There are also no investment opportunities available with which to try and grow your savings.
Cleo is also not suitable for people who are in severe financial debt, however there are other free services that can help gain financial health, such as Stepchange.org.
Cleo refer a friend
Cleo offers all account holders a refer a friend link in order to gain cash directly into your Cleo account. This can be done using social media and works in the following way:
The person you referred must hold an account for a minimum of seven days.
Your referred person must link their bank account.
Referral money earned will be paid to your Cleo account and can be transferred to your bank account from there.
You will be awarded £2.50 for each referral.
Customer Service
There is a chatbot on the Cleo website which you can access on meetcleo.com/intercom.
This was actually quite tricky to find, and once connected I was stuck in a loop of predetermined questions that didn't address the reason for my query.
Eventually, I was forced to select 'Close my account' at which point I was given the option of having a conversation with an actual human being. Responses from the chatbot can take around 10 minutes to come through, but they are also sent to your email so there is no need for you to sit and wait for the response.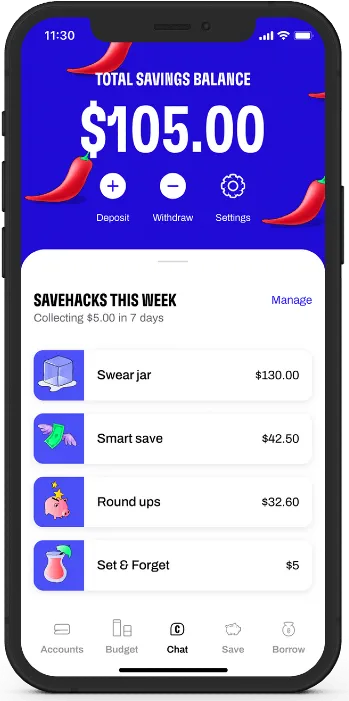 Cleo App Review
As well as their web version, Cleo have an app that is slick and functional and very much geared towards young savers who may be new to managing their finances. The mobile app version is navigated solely via the chatbot, which may not be everyone's preference as you do need to remember commands. I would have liked to see a menu as well.
There are also improvements to be made to the dashboard layout in order to obtain a breakdown of your finances in a more efficient manner.
Alternatives to Cleo
If your main objective is to save money then you may want to consider Plum as an alternative.
Whilst Plum is lacking some of the more sophisticated budgeting and categorising tools available at Cleo, they do offer interest on the money you hold in your Plum account and there is also the option of a stocks and shares ISA with a good amount of investment portfolios to choose from.
Money held in your Cleo account will actually lose value over time as it struggles to keep up with inflation, however, this is something Cleo are looking to rectify.
Cleo reviews
Cleo has scored 3.7 on Trustpilot with a lot of the most recent reviewers only leaving 1 star. A quick read through reveals plenty of unhappy customers experiencing issues when trying to withdraw back to their primary bank account and even more who are having issues trying to cancel their Cleo Plus subscription.
Slow or no response from customer care is also cited as a major issue.
"Much of the growth from the last year has been skewed by the high number of new users who have signed up for Plus simply to get a Salary Advance."
"Diversity and Inclusion are nothing more than talking points here, based on the company's own 2020 report. And most disturbingly, the product itself is harmful to its users, many of whom are low income, and often get stuck in a pattern of perpetually taking out Salary Advances to make ends meet."
"The CS team is run by inexperienced management, which is still figuring out how to operate from day to day. Best practices and procedures are essentially absent and there is a lack of cohesion amongst the team as a whole, especially since 90 percent aren't actually employees and are based in the US, thousands of miles away from the London home office. Worst of all, despite being five years old, the company has made no steps to upgrade to a proper ticketing system resulting in poor user experience, costly work redundancies, duplicate messages and other inefficiencies that eat into worker productivity."
"I like Cleo because of the sassy nature in conversation and how easy the app is to use. Because of the witty responses, it makes me feel like I'm chatting with a friend about my finances. I love it! I'm able to see exactly where all my spending is going and even customize my budget to make it make sense for the week."
Useful Information
Here I have included some useful information to help make your experience at Cleo as seamless as possible.
How does Cleo work?
Cleo connects with your primary bank account in order to analyse all your transaction data and personal finances. This can provide you with map of your spending habits, illustrating problem areas and helping you budget effectively so you can start saving money.
How do I withdraw from Cleo?
As with everything at Cleo, you simply have to tell her. Type 'Withdraw £x amount' and she will ask you to confirm the amount.
How do I contact Cleo?
Cleo is best contacted from within the app by asking the chatbot to put you through to a human.
Is Cleo any good?
Cleo has enjoyed massive success in terms of account openings since its inception, and the number of people who continue to use its service is a great testament to the quality of service the AI financial assistant is offering.
It's important to note that most of the features and tools can be accessed via the free account, which means with Cleo, you literally have nothing to lose and you may end up gaining better control of your finances. Cleo is certainly well placed among personal finance apps for people who tend to overspend each month or for anyone saving money towards a short term goal.
In terms of Cleo Plus, most people accessing the paid-for service seem to be doing so in order to take advantage of the cash advance feature. Ultimately you are paying for the cash advance and therefore it may not be the best option.
Cleo FAQs
How long does it take to get money from Cleo?
Cleo claim that it takes 2 working days in order for withdrawn funds to make their way to your primary account. However, customer reviews do tell a different story so it's worth bearing this in mind.
Does Cleo actually give you money?
Subscription account holders are able to access a payday loan from Cleo to the value of £100. This must be returned to Cleo within 28 days of borrowing the money.
Most recent reviews:
Clear and straightforward to use, help function very useful. Also helps to know that there are humans in the background. No negative issues to report. Withdrawals are straightforward and not time consuming.
It's user friendly and allows you to view funds in a straightforward way. It's a good way to keep an eye on finances and can give you a quick snapshot of your accounts/outgoings etc. I'd recommend it as a relatively simple method of keeping on top of things.
I find the app to be really easy to use. I like how relatable the app is and it feels quite different to the other competitors on offer. It feels like this app is much better designed and aimed at people in my app group (under 25s). I also like all of the other options it provides like tracking spending. The app is definitely very appealing to my type of person and feels more approachable.
See which share tip is making the headlines

Have you considered transferring your pension?

Find the best trading platforms
*Capital at risk