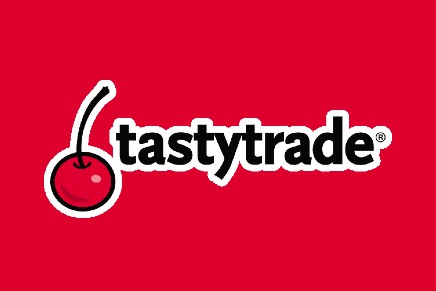 While tastytrade offers a range of trading products, including stocks, futures, and ETFs, it has a particular emphasis on options trading. With its trading technology, unique visual trading interface, low trading fees, and top-notch customer support, tastytrade offers a trading experience that is hard to beat.
This could be an intimidating option for new traders, especially given the lack of demo account. In addition, this is a US platform, and therefore all deposits will need to be converted to USD and may attract conversion fees. Also, there is no regulation by the FCA or protection from the FSCS.
A good alternative for UK traders would be IG. Read my IG review here.
We can't take you to this site at the moment.
Have you tried IG?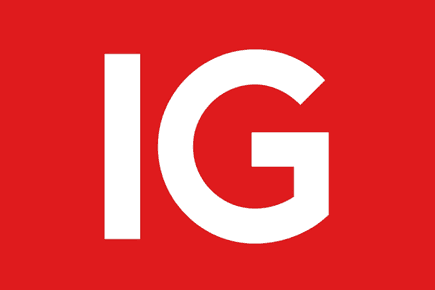 Spread bets and CFDs are complex instruments and come with a high risk of losing money rapidly due to leverage. 68% of retail investor accounts lose money when trading spread bets and CFDs with this provider. You should consider whether you understand how spread bets and CFDs work, and whether you can afford to take the high risk of losing your money.
tastytrade is a US-based online brokerage firm founded in 2017 by a team of traders with over 50 years of combined experience in the industry. The broker prides itself as a user friendly platform that is focused on empowering traders to execute options, stock, and ETF trades quickly. And that is not without reason, the platform has a relatively high execution speed and analytical tools which are quite advantageous to derivatives traders on the platform.
While it may not be the right fit for every trader, it's a good option for those looking for a low-cost and reliable brokerage to help them reach their investment goals. In my tastytrade review, I will take a look at the platform's features, fees, and services and help you decide if it's the right broker for you.
Deposit and Withdrawal:
80%
Markets and Products:
80%
Pros
Low trading fees
Advanced trading and analytical tools
Multiple educational resources
Cons
Limited research tools
Limited product range
No demo account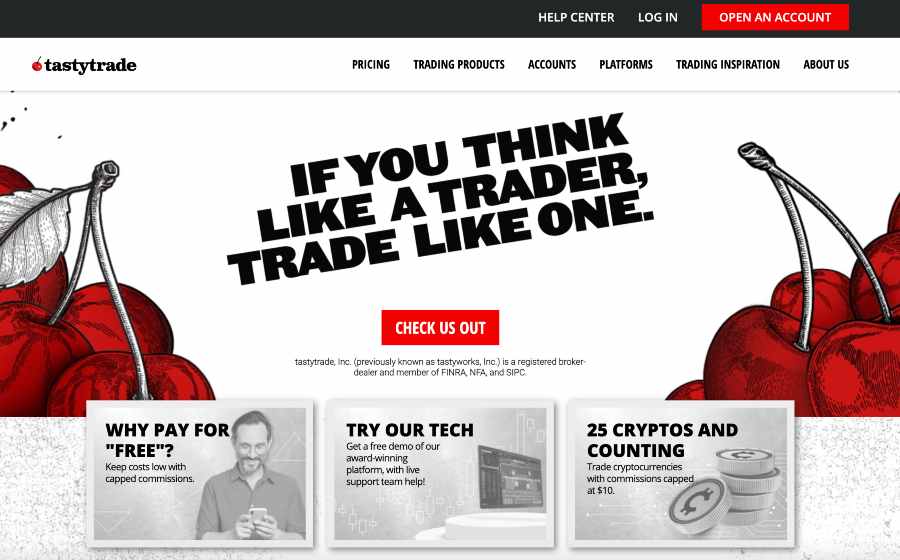 tastytrade is a technology-driven trading platform that offers fast, efficient, and customizable trading tools designed to meet the needs of active traders with an emphasis on servicing the needs of options and futures traders.
Since the platform commenced its services, it has continued to provide tastytrade customers with trading instruments such as options, stocks and ETFs.
The company has its headquarters in Chicago, Illinois, and is regulated by the Securities and Exchange Commission (SEC) and the Financial Industry Regulatory Authority (FINRA).
tastytrade is owned by its co-founders Tom Sosnoff and Scott Sheridan. The two are experienced CBOE floor traders with years of combined experience in the industry.
They also co-founded the Sosnoff Sheridan Corporation and were CEOs of the popular Thinkorswim trading platform, which was later acquired by TD Ameritrade.
Who is tastytrade best for?
tastytrade is suitable for active and experienced traders who need a low-cost, customisable trading platform that provides access to a wide range of trading products.
It is also a good option for active options traders, as the platform is explicitly designed to cater to the needs of this market segment.
The platform's focus on selling premiums and managing risk makes it an ideal platform for investors looking for ways to generate income from their investments while managing their downside risk.
While tastytrade is a great platform for many traders, it may not be suitable for everyone. The platform may not be the best option for beginner traders as tastytrade's focus on options trading can be intimidating for new traders navigating the advanced trading tools to work with.
There are two main accounts for individuals trading on tastytrade. The Cash account and the Margin account, the latter of which allows for trading using leverage.
Here are the different account types tastytrade offers:
Individual cash and margin accounts
This is tastytrade's standard trading account for individuals. You can choose between a margin or cash account.
For those that opt for margin accounts, tastytrade will lend you cash to purchase stocks or other financial products in the form of leverage.
On the other hand, if you go for a Cash Account, you won't have margin benefits. That means you must have enough money in your account to cover the full purchase price of your trades.
Joint account
The joint account is tastytrade's standard trading account for two people, and it can also be a margin or cash account. Two types of Joint Accounts exist, Tenants in Common (TIC) and With Rights of Survivorship (WROS).
This online broker offers a range of financial products whose target market seems to be traders of derivative products, including options, US stocks, some futures, and ETFs. What you won't find here is the option to trade forex, mutual funds, or international assets.
It is important to note that tastytrade only offers trading on the US market which does leave their product range a little narrow in terms of geodiversity.
Stocks
tastytrade offers commission-free US stock trading, meaning you can trade any particular stock without paying any commission fees.
Offering commission-free stock trading can be valuable for investors, as it can help to lower the cost of investing and potentially increase investment returns. In recent years, commission-free trading has become more common in the industry, with brokerages like TD Ameritrade, E*Trade and Robinhood now offering this feature.
They also offer a range of stocks from different industries, so you can diversify your portfolio, which can help you reduce risk and potentially increase your returns over the long term. This is a common practice in the industry, and many brokerages offer their users a wide range of stocks to choose from.
It's important to note that only US stocks are available here, so whilst you can diversify across various industries, you can not diversity across different countries.
Options
Options are financial products that give you the right to trade assets at a certain price within a specific timeframe. tastytrade offers options trading with low commissions and no assignment fees. I look at this in more detail in the trading fees section below.
One of the key features of tastytrade is its focus on options trading, as it even allows multi-leg options trades. Multi-leg options trades allow you to build more complex options strategies, such as, vertical spreads, iron condors and straddles, which can potentially increase your profit potential while limiting your risk.
To create a multi-leg options trade, you can use the platform's options chain to select the option contract you want to trade. When you have done this, you can then combine the contracts in various ways to create a customised options strategy that fits your risk tolerance and trading objectives.
They also offer a wide range of options, including futures options, micro futures, small features, ETF options, and individual stock options. A typical active options trader will prefer to actively trade options here, as many other online brokers do not offer these instruments.
Futures
Futures are financial products that allow you to trade an underlying asset at a specific price and time in the future. tastytrade offers futures trading with low commissions and no additional fees.
Based on my research, tastytrade offers a variety of futures products, including standard futures contracts and micro futures trades.
Also, the availability of micro futures trades on all account types is particularly advantageous for small account traders who want to trade futures but may not have the capital to trade full-size contracts.
I find tastytrade's micro futures unique in that many brokers offer futures trading, but not all of them offer micro futures contracts, which can be a major advantage for serious traders who want to enter the futures markets with a smaller account size.
Among a plethora of brokers that offer futures trade only E*TRADE, Ninja Trader and a handful of others have the micro futures option.
ETFs
ETFs are investment funds that track a particular index or asset class. tastytrade offers a wide range of ETFs from different providers, including iShares, Vanguard, and SPDR.
They also offer commission-free ETF trades, meaning ETF traders can buy and sell ETFs without paying any commission fees.
Cryptocurrencies
tastytrade also supports cryptocurrency trading to UK users. This means that you can trade popular cryptocurrencies like Bitcoin, Ethereum, and Litecoin directly on the tastytrade platform.
Other coins available on the platform include Dogecoin, Uniswarp, Cardano, SHIBA INU, Aave, Bitcoin cash, compound among others. If you are a UK crypto trader, these coins are all available and accessible on the platform.
Social trading
tastytrade offers social trading in the tastylive section of the platform. This not only allows you to copy the trades of experienced traders, but the Follow Feed allows you to see why they are making those trades as well as hear conversations about strategies and research.
This is a great feature, that takes social trading slightly further than you would expect to find at your average platform.
tastytrade have low trading fees including zero commissions for exchange-traded equities. Non trading fees are a mixed bag with no inactivity fee but high withdrawal fees for wire transfers.
When you open an account with tastytrade, there are no minimum account balances or annual fees. That means you can start trading immediately.
As competition has spiked up in the industry, it's not uncommon to see this feature in other brokers across the country. For instance, Interactive Brokers and Freetrade also allow you to open brokerage accounts with no minimum requirement.
However, tastytrade does charge a few fees for certain types of trades. For example, if you are trading options on futures, there is a $1.25 per contract fee, which is somewhat higher than what you will find with other brokers.
If you trade futures, there is a $1.25 per contract fee for opening and closing trades, and these fees are still incredibly low compared to most brokers in the industry since the usual price ranges from $1 to $3 across board. That way, we can conclude on tastytrade being low when compared to TD Ameritrade's $2.25 fee.
For crypto trading, commissions are capped at $10 per order ticket and I think it is relatively competitive compared to other trading platforms in the industry. However, the requirement of 1% of the total crypto purchase to open and close a trade may be higher than some other platforms, which may have lower or no opening/closing fees.
Options on stock require $1.00 per contract to open and $0.00 commission to close. Also, all stock options trades attract a clearing fee of $0.10 per contract. These are competitive fees for trading options on stocks.
tastytrade offers competitive margin rates for their traders. For accounts with a balance of $25,000 or more, the margin rate is currently 10.50% while that of Charles Schwab is 11.25.
Another important thing to note is that tastytrade does not charge any fee for deposits and withdrawals.
No account maintenance or inactivity fees exist, and margin trading rates are competitive. However, there are additional fees to be aware of, such as a $25 fee for wire transfers and a $10 fee for paper statements.
In all, tastytrade transaction fees are quite reasonable and transparent. Analysing their fee structure, you can see that most fees they charge are within the range of what other brokers like Charles Schwab and Interactive Brokers charge.
tastytrade offers a trading platform available on web platform, desktop platform, and mobile.
I found the platform to be user-friendly and intuitive, with advanced tools and features like the "The Curve view and quick roll," which allows traders to compare different trades side-by-side and to see the potential profit or loss of a trade at different expiration dates.
As expected, tastytrade's mobile app is available on iOS and Android devices. The mobile platform offers full access to the trading platform on the go, just like the desktop trading platform.
Currently, the broker does not work with other external trading platforms such as MetaTrader 4. But you can carry out trades and apply your trading strategies on the tastytrade desktop platforms or their browser platform.
Like most brokers that support active trading, the tastytrade trading platform offers multiple chart types, including the quick roll and the curve feature, as well as a variety of indicators to help users analyse market trends.
Indicators
On the tastytrade platform, you can find numerous indicators that can help you identify trends and patterns in the market. You can go a step further by customising the settings of these indicators to fit your specific trading strategy.
Charting Tools
The platform provides advanced charting tools for traders to analyse stock and option data. These tools include candlestick charts, volume charts, and tick charts. Traders can customise the timeframes for each chart to view different trends and patterns.
The Curve tool
The Curve tool is a visual trading tool that allows traders to compare different options trades side-by-side. Traders can input various options strategies, such as straddles or iron condors, and view their potential profit or loss at different expiration dates. With this feature, you can see the impact of different market conditions on your trades.
Quick roll
The Quick Roll tool allows you to roll your existing options positions forward to a new expiration date. This feature is useful for traders who want to extend the life of their options trades without having to close and reopen new positions. The tool calculates the cost of rolling the position forward so you can make an informed decision.
Compared to other brokers, tastytrade's options trading tools are on par with some of the top options trading platforms available. The customisable quick roll and Curve features are particularly unique features that are not always offered by other platforms.
How to open an account with tastytrade
Traders can open tastytrade accounts with relative ease. Just follow these easy steps to open a tastytrade account.
Go to the tastytrade website and click the "Open An Account" button at the top of the homepage.
Input your personal details on the registration form. This includes your name, email address, phone number, mailing address and social security number.
Link your account to suitable bank accounts for ease of fund transfers.
Choose the account type you wish to open.
Select the products you want to trade, such as stocks, options, futures, or ETFs.
Agree to the terms and conditions and submit your application.
Wait for approval, which typically takes around 1-2 business days.
The minimum deposits for each product vary depending on the tastytrade account type and trading product.
For example, there is no minimum deposit for a cash account, while the minimum deposit for an individual margin account is $2,000. This is only required if you want to gain certain privileges; otherwise, the standard minimum requirement is still $0.
I found that keeping the cash account at that low minimum leaves a lot of options open to some traders. With this, you can start trading with whatever amount you are comfortable with.
Deposit and withdrawal process
Traders can make deposits via wire transfer and check but not through external transfer from another brokerage account.
Withdrawals can also be made via wire transfer or check. Withdrawals typically take 1-2 business days to process, depending on the method used.
International accounts will find it better to use the bank wire transfer and CurrencyFair. And all transactions must be made in USD. The options here are obviously limited, so be ready to use mostly the bank transfer payment method if you are trading with tastytrade.
tastytrade provides excellent customer support to its clients. You can contact tastytrade customer support via phone or email. The phone lines are open from 7 am to 5 pm, Monday to Friday.
During my tastytrade review I tested the service both on email and phone. Phone calls seem to receive more attention from them than emails, because they answered my calls almost immediately and answered my questions, but my email was not replied for hours on end. So, instead of sending emails, you can call them directly if your question is urgent.
Mailing address:
1000 W. Fulton Market
Suite 220
Chicago, IL, 60607
Toll-Free Number: 888-247-1963
Local and International: 312-724-7075
Fax: 312-724-7364
Email: [email protected]
Two of the main research resources provided by tastytrade are the Research Recap and Research Specials Live videos.
The Research Recap is a video series in which the Tastywork research team summarises and analyses recent trading studies. The team takes the results of these studies and interprets them in a way that is accessible to traders of all levels.
The videos are typically around 3 minutes long and cover a variety of topics, including options and futures trading, stock research, market trends, and risk management.
Research Specials Live is another video series that focuses on specific topics or themes in trading. The research team takes a deep dive into a particular area of trading and provides their insights and analysis. The videos are available on the tastylive website and can be watched anytime.
One of the things I appreciate about these resources is how accessible and valuable they are and I think tastytrade's commitment to providing high-quality research resources is a real strength. By staying up-to-date on the latest research and trends, traders can make more informed decisions and potentially improve their returns.
One of the standout features of tastytrade is its commitment to education. Their education centre offers a treasure trove of resources to help users stay informed and up-to-date on market news, trends, and strategies.
From daily live shows with industry experts to on-demand video lessons and articles, you can find resources on the platform to help expand your knowledge.
Unfortunately, no demo account is available on tastytrade, meaning the platform does not support paper trading in order to test your trading ideas and investment strategies.
tastytrade is regulated by the Securities and Exchange Commission (SEC), National Futures Association (NFA), and the Financial Industry Regulatory Authority (FINRA).
This means that the company must adhere to strict rules and regulations to ensure the safety and security of its clients' money.
That notwithstanding, trading with offshore providers can come with some risks as these providers may not be regulated by the Financial Conduct Authority (FCA) or other UK regulators and this can come with additional risks like fraud and other financial crimes.
Since this provider may not be subject to the same level of oversight and regulations as UK-based platforms, you may not have the same level of protection and recourse as you would with a UK-regulated platform.
Useful information
Insurance coverage
tastytrade provides insurance protection for its clients' funds through the Securities Investor Protection Corporation (SIPC) which is definitely a positive aspect of the platform. This means that if tastytrade were to fail or go bankrupt, the SIPC would step in to cover eligible losses, up to a maximum of $500,000 per account (including $250,000 for cash claims).
While the SIPC coverage is a standard protection for brokerages, not all trading platforms or brokers provide this level of insurance coverage. However, most reputable brokerage firms and trading platforms, including major players like E*TRADE and Fidelity do provide SIPC insurance protection to their clients.
But keep in mind that SIPC insurance only covers against the failure of a brokerage firm and not against investment losses due to market fluctuations or poor investment decisions.
tastytrade FAQs
Can I use tastytrade in the UK?
Yes. You can open an account with tastytrade as a trader resident in the UK.
Is tastytrade worth it?
Yes. tastytrade is worth it especially if you are trading on derivatives like options and futures. The broker has advanced trading technology in place to support these kinds of trades.
tastytrade Customer reviews
Most recent reviews:
There are no reviews yet. Be the first one to write one.
See which share tip is making the headlines

Have you considered transferring your pension?

Find the best trading platforms
*Capital at risk