Interactive Brokers is an excellent all-round platform offering a stocks and shares ISA, a Self Invested Personal Pension, up to 4.58% interest on instantly available USD cash balances, and a wide range of platforms from which to trade on more than 150 markets.
It is little wonder that this is a popular platform for advanced traders and beginners looking for a plethora of choices with some of the lowest costs in the industry.
Open an account and start earning up to $1000 of IBKR Stock for free! Terms and conditions apply. See site for more details.
Simple Investing, Simple Pricing.
£3 / €3 per trade
for Western European Stocks.
No added spreads, account minimums or platform fees
Investing in financial products involves taking risk. Your investments may increase or decrease in value, and losses my exceed the value of your original investment.
In this Interactive Brokers review, I've taken the time to compare Interactive Brokers' fees to those of similar brokers, tested out their investment interface and tools, and gauged what you can expect from their customer service team. Read on to find out why I feel Interactive Brokers have successfully catered to all traders, regardless of experience.
I've personally downloaded their app and opened an account, as I have done with all the other investment apps I have reviewed, in order to bring you the most comprehensive Interactive Brokers review on which to base your decisions.
Interactive Brokers is a long-established, low-cost, global investment platform operating out of the US. There is little doubt that Interactive Brokers offers an excellent range of investments that can be accessed with low commissions and no added spreads.
This trading platform continues to attract sophisticated investors looking to engage with the vast array of asset classes and advanced trading tools available on the platform.
Interactive Brokers Ratings
Deposit and Withdrawal:
70%
Markets and Products:
100%
Pros
Low fees – One of the lowest cost platforms available
Huge selection of international investments
Up to 4.85% interest on cash balances
Cons
Trading platform can feel complex
Who are Interactive Brokers?
Interactive Brokers is one of the largest online trading platforms in the U.S., as calculated by the volume of daily average revenue trades. They provide their services to both retail investors and professional traders on over 150 market destinations across the globe.
Interactive Brokers is also known by its abbreviation and NASDAQ symbol, IBKR.
Who Owns Interactive Brokers?
Interactive Brokers was founded over 43 years ago by majority shareholder Thomas Peterffy, who stepped down as CEO in 2019 but retained his position as Chairman of the Board of Directors.
Today 24.5% is owned by their public company, Interactive Brokers Group, Inc, with the firm's employees and their affiliates owning 75.5% and a reported $2.0 billion of pretax profit for 2022.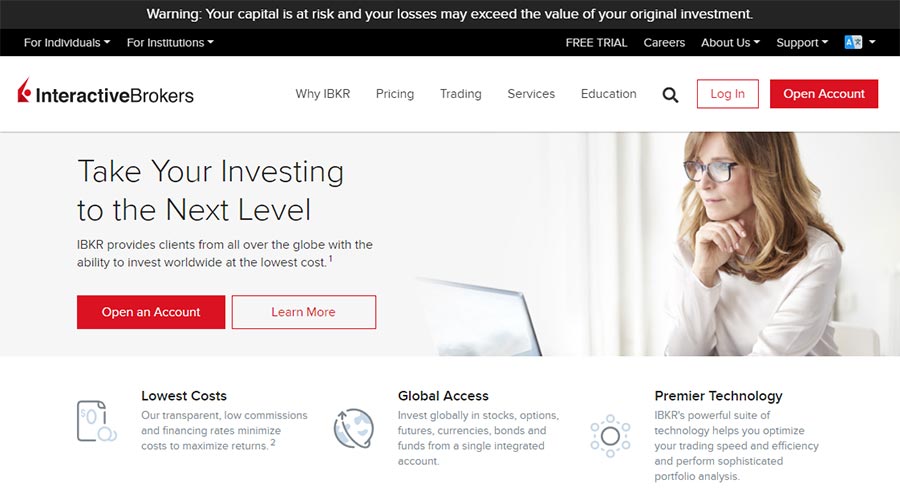 Product Range Overview
Interactive Brokers are known for their extensive range of bonds and ETFs. Interactive Brokers offers everything the seasoned investor could possibly want, including international trading in the following areas:
Stocks
EFTs
Forex
Mutual Funds
Bonds
Options
Futures
CFDs
Crypto
Warrants
Combinations
Structured Products
Physical Metals
Inter-Commodity Spreads
Hedge Funds
This is about as diverse a range as you can hope to encounter from most brokers, especially when it comes to trading on an international scale, with more than 150 international markets making up its global trading offering across 33 countries.
Not only this, Interactive Brokers continues to expand its range on a regular basis in keeping with the demands of their clients, and in 2020, Interactive Brokers introduced fractional shares for European stocks and ETFs to its growing portfolio of options.
Stock trading and ETFs
At the time of this Interactive Brokers review, they offered access to 90+ stock markets from across the globe and a total of 13,000 ETFs. This is an unparalleled offering and includes the provision of penny stocks and fractional shares for European stocks and ETFs. Interactive Brokers offer fractional shares that are only available on the following stock exchanges: NYSE, NASDAQ, AMEX, ARCA, or BATs.
Forex
With 105 currency pairs, Interactive Brokers has one of the largest selections available online.
Funds
Interactive Brokers was rated the Best Online Broker for Mutual Funds by Benzinga, and this seems like a title that is well deserved. With over 19,000 mutual funds from 550 fund families, investors can access funds from Allianz, Vanguard, and Blackrock.
Bonds
In keeping with all their other offerings, the selection of bonds at Interactive Brokers is extremely competitive. This includes the full suite of US government bonds as well as:
25,773 corporate bonds
1,023,647 municipal securities
20,249 CDs
Unfortunately, municipal securities are not available to UK residents; however, the selection without this is still impressive, and the search tools available here are extensive.
Options
Options at Interactive Brokers do not disappoint with the wide range of options markets, including names like Chicago Board Options Exchange and CME Group as well as more obscure markets.
Futures
With over 35 markets available at one of the lowest costs, Interactive Brokers is beating off most of the competition when it comes to trading futures.
CFDs
As always when writing these reviews, I must remind traders that CFDs are complex instruments that come with a high risk of losing some or all of your money due to leverage. 57% of retail investors lose money when trading CFDs with Interactive Brokers, so a decision to trade with CFDs should not be taken lightly.
At Interactive Brokers, you can trade CFD shares, index, metals, and forex with low commission rates across the board.
Cryptos
UK residents can trade Bitcoin, Bitcoin Futures, and Ethereum at Interactive Brokers via various stock exchanges, including the Stockholm Stock Exchange, US OTC (Pink) markets, the New York Stock Exchange, CME Group, and the Chicago Board Options Exchange.
Again, I would like to remind investors of the high risk involved in trading volatile Cryptocurrencies.
Interactive Brokers stocks and shares ISA
My initial review of Interactive Brokers lamented the lack of a SIPP or tax wrapper. However, this is no longer the case, as Interactive Brokers has added a stocks and shares ISA to their impressive offering of products and services. There are a number of advantages to the Interactive Brokers ISA, including:
No account or transfer fees
Low commissions
Low currency conversion fees
Interest on cash balances
Access to a large range of globally diverse assets
Available on mobile
Fractional shares
Powerful trading tools
No minimum deposit required
There is also a Junior Stocks and Shares ISA for those wishing to invest on behalf of their children. The Junior ISA comes with all the great advantages of the adult ISA.
Interactive Brokers SIPP
Another recent addition to their impressive suite of products and services is the self invested personal pension (SIPP). The SIPP account is specifically designed to help investors save for their retirement and has the following great advantages:
Huge range of tradable assets
Advanced trading technology and trading tools
Fractional shares
Stock Yield Enhancement Programme
No custody fees and no transfer fees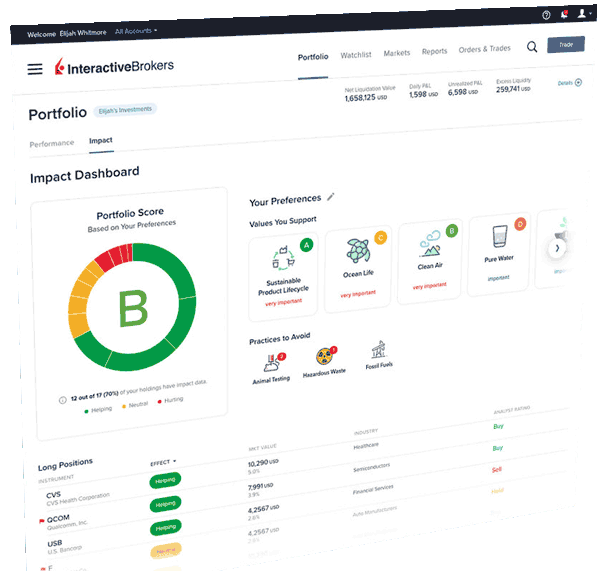 The recently launched Impact Dashboard at Interactive Brokers is the first of its kind and provides scope for socially responsible investing. As this is an area that is quickly gaining momentum among online brokers, I was pleased to see Interactive Brokers keeping up with market demand with 13 categories to choose from that include principles such as clean air and water, gender equality, and LGBTQ inclusion.
There is also the option to exclude investments based on 10 categories that have a negative impact, such as hazardous waste production, corporate political spending, or animal testing. This is about as comprehensive as you can get in this arena, and there is plenty of choice for even the most discerning investor. The dashboard provides the means for investors to identify their personal investment criteria based on 13 principles.
Automated Trading
Another area that sets them apart from much of the competition is the robo-advisor arm offered at Interactive Brokers, which allows investors to utilise their automated investment management service with as little as a $100 initial investment. While this is not intended to be financial advice, it is a handy little feature. Interactive Advisors provides access to a range of more than 70 portfolios containing a mix of stocks and ETFs. Investors can copy professional portfolio managers on an automated basis and select the manager that fits best with their investment style with a minimum deposit of $5,000.
There are associated costs with this service, with management fees ranging from 0.08% to 1.5%, which is fairly standard across the industry.
Interactive Brokers Demo Account
Interactive Brokers offers a demo account that gives investors free access to all the available platforms at Interactive Brokers in the form of paper trading without any risk to their personal funds, which is always a welcome addition to any platform offering. Perhaps most importantly, it gives you the chance to test drive the extensive trading tools available here.
Interactive Brokers Platform Review
Trading Interactive Brokers extensive list of assets can be done from five platforms, including IBKR GlobalTrader, IBKR Mobile, Trader Workstation (TWS), the Client Portal Platform, and IBKR APIs. The different platforms have been developed to suit different levels of experience, and the best one for you will depend on this and what assets you plan to trade.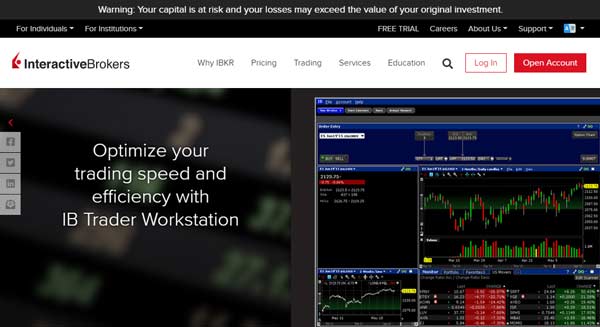 Trader Workstation (TWS)
Trader Workstation (TWS) certainly comes packed with an impressive array of features; however, investors who are just starting out on their investment journey will find it difficult to navigate and complex. The standout features include the Mutual Funds Scanner, Bonds Scanner, Options Strategy Lab, Volatility Lab, Risk Navigator, Market Scanner, Strategy Builder, and Portfolio Builder. This is a powerhouse of a platform for active, experienced investors with a full suite of tools.
Client Portal
This is the platform for the average retail investor and offers a much more user-friendly experience while still supplying a fantastic array of features. From here, you can effectively manage your portfolio as well as access watch lists, news, research, charting, and trading tools. One thing that really stood out from the competition for me was the iBot, an artificially intelligent digital assistant who is on hand to help you navigate your way around, place orders, and supply information. While this is not intended as personal finance advice, it is a handy little feature that demonstrates Interactive Brokers' commitment to technology.
Even beginners should be able to successfully navigate their way around the Client Portal Platform. In keeping with the international scope of Interactive Brokers, the platform is available in several languages and has a really intuitive and easy-to-use interface.
Finding your investments is very straightforward, with a comprehensive search function on the top left right hand bar. Typing in the asset name you are looking for will quickly reveal the list of exchanges and products available.
For traders who wish to place an order, there are all the options available, including
Limit
Market
Stop
Stop limit
Limit-On-Close
market-On-Close
Trailing Stop
Trailing Stop Limit
While there are more order types available on the Interactive Brokers desktop platform, this will satisfy most investors, and there is also the option to use several order time limits.
The usual alerts and notifications are all on offer, as are portfolio and fee reports, providing you with a clear indication of your portfolio's performance. I liked that the fees you have paid are all displayed, so you can account for this when calculating your profit and loss.
IBKR Mobile Trading Platform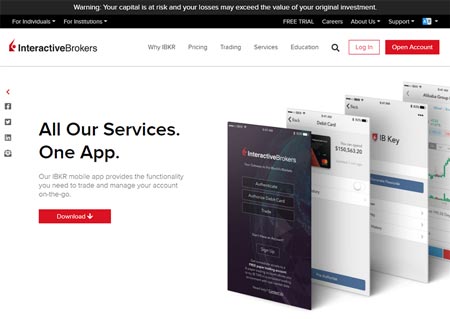 The IBKR mobile trading platform allows access to all the great functionality on the go. Data streaming is conducted in real-time, however, only on one platform at a time, which could be an issue for some traders. That being said, all the advanced trading tools were available, including over 400 data columns, option exercise templates, and spread templates. It's definitely intuitive enough for trading on the go, and it even lets you deposit checks straight into your Interactive Brokers account.
Security has all been taken care of with a two-step login (I consider this a minimum) and biometric authentication. IBot is also available on the mobile app, ready to swing into action on your behalf.
Interactive Brokers offers mobile apps for both Android and iOS.
IBKR Global Trader
This has been developed for beginners and is much more simplistic in design and functionality to reflect that. It's perfect for those just starting out who are happy to trade just stocks and options from their mobile device. You can also access fractional shares from this little app, and there is a demo version available for trading in a simulated environment.
IBKR APIs
As a retail investor, it would be best to steer clear of this platform, which has been configured for professional traders and could be too complex for the average trader. This has all the features and functionality that you would expect for this level of API trading.
Whilst IBKR Pro customers are able to access this platform, it is not available to IBKR Lite customers.
IBKR Research Tools Review
The market research available at Interactive Brokers ticks all the right boxes with analyst ratings, research reports, forecasts, and ESG ratings, to name a few. There are plenty of news services from third-party providers, such as Reuters, where you can gain access to fundamental data on over 30,000 companies plus over 5,500 analyst ratings. This is a comprehensive offering, with screeners and the ability to back-test past strategies as well as conduct portfolio analysis by asset allocation, asset class, geography, sector, industry, and many other measures.
Recommendations
Most of the recommendations on the platform are free, although there are a few that will incur a small fee. They are provided by entities such as Thomson Reuters, Morningstar, and Dow Jones free of charge in real-time.
For something a bit more comprehensive, traders can access tools such as Validea, which provides an analysis of a stock's potential with BUY/SELL/HOLD ratings as well as an overview of the historical ratings and investment opportunities. Stock reports and ratings with Validea will cost $10.80 per month following a free trial for their basic package.
Fundamental Data
For investors looking for income statements, a dividend calendar, company profiles, financials, and industry comparisons, there is a great selection of fundamental data on the client portal in the Fundamentals Explorer. This is all completely free of charge and provides scope to analyse and compare companies with their competitors for a more informed investment strategy.
Charting
It's difficult to know where to start with all the advanced charting available. Let's just say that you will definitely find what you're looking for and a bit more! You can open multiple charts, completely customise what you see, and select from over 120 technical indicators. On a negative note, I would say that this is quite complex, in both its breadth of information, and design, and may be a little confusing for the less experienced investor who may want to consider other brokers with a simpler offering.
News Feed
If you like staying on top of investment news, then you won't be disappointed with what you can access at Interactive Brokers via their in-house news domain, Traders Insight. Daily summaries, economic calendars, and third-party news are all part of the package.
Interactive Brokers Fees and Charges Review
Providing low-cost investing is at the core of Interactive Brokers marketing efforts, so it's no surprise that the fees Interactive Brokers charges are low. However, their pricing structure is somewhat complex, with two structures: tiered and fixed.
Commission-free trades are available for IBKR Lite customers; however, residents outside of the US can only take advantage of this if they are introduced by a broker who has been approved for the plan.
Tiered pricing: There are two entities that make up the tiered pricing structure for trading costs – the stock exchange you are trading on and the monthly volume of trades you conduct. Stocks, ETFs, and Warrants can all be traded at 0.05% of the total trade value; however, the more you trade, the lower your commissions will be. This is a beneficial structure for clients who trade frequently. There is a minimum per order of GBP 1.00.
Fixed Pricing: For UK residents, the fixed rate per contract is 0.05% for trades. There is a minimum order of GBP 3.00.
In addition Interactive Brokers offer extremely competitive margin rates which are up to 50% lower than the industry average.
Why are Interactive Brokers So Cheap?
Interactive Brokers are one of the lowest-cost platforms available in terms of price, and therefore you may be wondering how they turn a profit while keeping consumer costs so low. 
Interactive Brokers are able to achieve these low prices with the sheer volume of trades they process each day. This amounts to more than 2.05 average daily revenue trades.
In addition to this, IBKR SmartRoutingSM is an innovative addition to the platform that searches for the best firm stock, option and combination prices available at the time of each order and applies these prices to the order as it is immediately executed. 
In addition, any rebates offered by an exchange are passed directly on to the traders. 
This is how Interactive Brokers are able to keep their costs lower than similar brokers including Saxo Bank.
Non-Trading Fees
There are some other fees to be aware of, such as the previously mentioned subscription fee for market data as well as exchange and regulatory fees.
Interactive Broker vs IG
One of Interactive Broker's closest competitors when it comes to trading platforms in the UK space would have to be IG Investments, although it is important to point out that Interactive Brokers pulls slightly ahead of the race when it comes to the sheer volume of investment options it offers. If you are interested in which of these options is cheapest, then that will depend on the number of trades you execute each month. You would have to be in the region of 20 trades per month for Interactive Brokers to come in cheaper, any less than this and IG would be the most cost-effective solution.
| Feature | Interactive Brokers | IG |
| --- | --- | --- |
| Minimum Deposit | £0.00 | £0.00 |
| Share Trading: 0-9 Deals/ Month | (trade value x .0005) | £3 to £8 |
| Share Trading: 10-19 Deals/ Month | (trade value x .0005) | £3.00 |
| Share Trading: 20+ Deals/ Month | (trade value x .0005) | £3.00 |
| Annual Custody Fee: £0 – £250,000 | 0% | £96 (can reduce by trading) |
| Bonds – Government (Gilts) – Fee | 0.1% (2Euro min) | N/A |
| ETFs – Fee | (trade value x .0005) | £8.00 |
| Investment Trusts – Fee | £4.95 | £8.00 |
| Telephone Dealing Fee | N/A | £40.00 |
Interactive Brokers Guide to Opening an Account
As a Financial Conduct Authority regulated platform, it is necessary for Interactive Brokers to do a quick assessment to ensure you fully understand the risks associated with trading and investing. You will therefore be required to complete a short questionnaire relating to this, including providing some personal information, however, this shouldn't take longer than a couple of minutes, and the results are used to gauge your trading experience.
IBKR has pointed out to me that they have one of the lowest CFD loss rates of all online brokers. This will undoubtedly be due to the due diligence they take when assessing new investors to the site and ensuring they are provided access to securities and trades which suit their experience, knowledge and abilities.
This questionnaire will take the platform a few days to check, after which you will have full access to the trading platform. However, time spent waiting needn't be wasted, as at this stage you can still access the free demo account and start getting to grips with the features offered as well as the scope of investments at Interactive Brokers.
As well as the compliance questionnaire, you will need to supply a couple of ID documents, including:
Proof of identity, such as passport or driving licence
Proof of address – recent utility bill or bank statement
This wasn't the quickest or simplest account opening process I've been through; however, it is all fully digital.
Once you have opened your account, you will need to select from the extensive range of account types available. Account types include:
Paper trading account
ISA
SIPP
IBKR Pro
IBKR Lite
Interactive Broker Guide to Transferring Your Investments
Transferring positions and funds into Interactive Brokers or out of Interactive Brokers can be done via the Account Management section of the client portal. Simply select the Position Transfers or Fund Transfers page and request the transfer. There are six different methods to choose from, so how long you wait for your transfer to clear will be variable, however, Interactive Brokers suggests that under normal circumstances, transferring stocks to Interactive Brokers will take between four and eight business days.
Interactive Broker Customer Service Review
While Interactive Brokers has ticked off most methods of contact, I did find the customer service to be a little sluggish. You can use live chat, phone, or the message centre within the client portal, which acts very like email. The range of supported languages is impressive, but the fluctuating levels of support that I experienced really let it down. At times it was quick and the agent was able to answer our queries without hesitation, and at other times it was almost non-existent. This level of inconsistency seems to be reflected in their TrustPilot reviews, which have a rating of 3.1.
One of the things that is an advantage is that Interactive Brokers publishes all their menu options on their website, so you can check which option to press before making a call. This can help save time listening to all the options on a recording.
It is important to note that Interactive Brokers do not provide investment advice as part of their customer services, although this is not unusual with online brokers.
Interactive Brokers Safety
Interactive Brokers appear to take great pride in the safety and security of the platform and whilst conducting my review, I was pleased to encounter a number of precautions the platform has implemented in order to ensure all client funds are safe at all times. 
This includes daily segregation of all cash and securities owed to clients along with a larger buffer amount. The industry standard for segregation of client funds is weekly or monthly so IBKR are definitely ahead of the curve here. 
In terms of their own financial health, Interactive Brokers are very transparent, and on a consolidated basis, they exceed $12.2 billion in equity capital and over $9 billion in excess of regulatory requirements. 
In terms of safety, I felt that all levels of investors could trade with confidence using this broker.
Who is Interactive Brokers Suitable For?
It was very apparent to me that this platform is best suited to advanced traders who engage in active trading and would benefit from the vast array of advanced tools and research available at Interactive Brokers.
Are Interactive Brokers Good For Beginners?
For beginner traders, the web platform could be a feasible option, and there is a free demo account that could be used to get to grips with some of the more complicated aspects of the platform, such as charting and research. Whilst the IBKR mobile platform can be a little complex, Interactive Brokers have counteracted this with the introduction of Global Trader. This is a much more simplified and user-friendly interface which would undoubtedly suit beginners. In addition, the educational content on the site is worth considering, and they do provide a fairly comprehensive Trading Platform Tutorial.
Interactive Brokers (IBKR) Review Summary
There is a lot to like about the IBKR platform, and they certainly stand out in what is fast becoming a crowded market for online platforms, if only for their vast array of global investment options. I was pleased to see they cater to novice investors as well as seasoned professionals with their free demo account and detailed research.
The dual commission structure, which includes both tiered and fixed pricing, makes them highly competitive in terms of cost for both active traders and casual traders.
Interactive Brokers offer a highly functional place from which to trade an extensive list of assets at a considerably competitive cost.
In terms of security, Interactive Brokers has been in operation since 1978, which is a decent indication of the company's longevity. They also offer negative balance protection; however, this can vary depending on several factors, so I would encourage investors to check the level of protection on the Interactive Brokers website.
In 2020, Interactive Brokers was fined by The Financial Industry Regulatory Authority and The Commodity Futures Trading Commission for failing to prevent money laundering, although they have since addressed this issue with their app.
It is important to remember that investing always comes with a significant level of risk when trading stocks, options, futures, currencies, foreign equities, and fixed-income products, and past performance does not guarantee future results. However, Interactive Brokers (IBKR) keeps all client funds in a segregated bank account in order to protect those funds.
Useful Information
Important and useful information for IBKR (Interactive Brokers).
How to contact Interactive Brokers
There are several ways you can contact IBKR, including:
Telephone from the UK: +44 207-710-5695
Live chat from within the Client Portal
Message Centre located within Account Management
Ask iBot
Customer Service is available 24/7
IBKR Registered office: Level 20 Heron Tower, 110 Bishopsgate, London, EC2N 4AY
How to withdraw money from Interactive Brokers
Withdrawing money from Interactive Brokers can be done via bank transfer by following these steps:
Log into the Client Portal
Select 'Transfer & Pay', followed by 'Transfer funds'
Click the 'Withdraw Funds' tab
Select the currency you would like to withdraw in and your withdrawal method
Fill out the form
Submit your request
Withdrawals can be tracked in real-time on the Client Portal; however, you should expect to wait for at least two business days. There is no transaction fee for your first withdrawal each month.
How to close your account at Interactive Brokers
Closing your Interactive Brokers account can be done once you have closed all your positions and converted any foreign currencies as follows:
Log in to Account Management
Select Manage Account > Settings > Close Account
At this point, you simply need to supply the relevant information, including your reason for closing the account, and click 'Submit'.
Is Interactive Brokers UK safe?
In short, yes, Interactive Brokers are safe because they are authorised and regulated by the Financial Conduct Authority in the UK and the US Securities and Exchange Commission, ensuring that all safety measures have been met.
Is Interactive Brokers trustworthy?
Yes, Interactive Brokers are long established and are regulated by several top-tier regulators. There are a lot of negative reviews on TrustPilot; however, further investigation would suggest that these reviews have all come from the same person or entity, as they all contain the same email address.
Is Interactive Brokers any good?
Yes, Interactive Brokers are an excellent, low cost option for professionals and frequent traders. Their trading fees, access to global markets, research, and tools are standout offerings in the industry. However, while I would encourage casual investors to try the demo account, the platform can be quite complex, although there are user friendly versions available, and there are better options available to investors who only conduct a certain number of trades each month.
I have included Interactive Brokers in many of my 'Best of' lists, including:
Best Options Trading Platforms UK
How secure is my personal data and privacy with Interactive Brokers?
Your data is very secure at Interactive Brokers as they take all the relevant steps to protect your personal data and do not directly store your personal information and never track users when they cross from the IBKR website to third party websites.
Interactive Brokers FAQs
Are the fees Interactive Brokers offers competitive in the UK?
This very much depends on the volume of trading that you are likely to conduct each month, however, for advanced, active traders, this is definitely a competitive offering.
What happens if Interactive Brokers goes bust?
Interactive Brokers have been in operation since 1978 and are therefore very unlikely to go bust at any time. However, in the event this did happen, your money and assets would be transferred to a new provider. They are also authorised and regulated by the Financial Conduct Authority, which means should the company go bust for any reason, you could be eligible for up to £85,000 of investor protection.
Interactive Brokers Customer reviews
Most recent reviews:
The user interface is quite congested with a lot of information on display, this could easily deter a new investor from being overwhelmed. Fees are higher than others, but dont feel this is a short term trading app, more of a long term hold service. Onboarding was slightly longer and more complicated than expected, but feel this is for added security for this expert brand.
The account is easy to use and has loads of UK and foreign investments. The fee structure is fixed so it would be good for people with more money in an account (most of my investments are with vanguard) but for me theres probably cheaper alternatives for smaller amounts.
The fees are too high. I used interactive brokers to trade futures with NInja Trader but then switched to Ninja Trader as a broker instead which I found better with both customers service and fees. I found transfering money to Interactive Brokers from a GBP bank account was more complex than it needed to be. I only used the app as an emergency back up to get out of a trade if my PC were to fail. Also, I only traded futures and didn't buy and hold any stocks long term so can't commit on that aspect.
See which share tip is making the headlines

Have you considered transferring your pension?

Find the best trading platforms
*Capital at risk