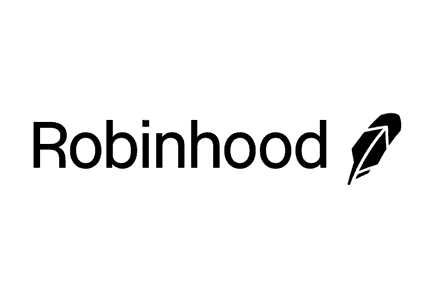 Robinhood made its name among trading platforms for being the only broker to offer commission free trading, attracting young people who were new to investing and drawing in over 10 million accounts. However, with some of the biggest names in the industry following suit and also offering free trading to investors as well as no non trading fees, in this Robinhood review, I look at whether Robinhood can still compete in a crowded marketplace.
Please Note: Robinhood is currently not available in the UK in 2023, and I recommend checking out eToro as an alternative.
We can't take you to this site at the moment.
Robinhood are not accepting new accounts from UK residents. For a commission free alternative, I can recommend eToro.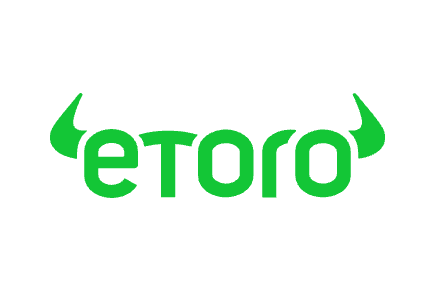 76% of retail investor accounts lose money when trading CFDs with this provider. You should consider whether you can afford to take the high risk of losing your money. Your capital is at risk. Other fees apply. For more information, visit etoro.com/trading/fees
Who is Robinhood?
Robinhood was founded in April 2013 in order to profit by selling customer data to the sharks of Wall Street. However, this was soon changed to democratise finance by making trading accessible to all. Named after the famous outlaw, the platform has been involved in much controversy in recent years.
Despite rumours that the platform would open its virtual doors to UK investors, this has yet to happen.
Who Owns Robinhood?
Robinhood was founded by Baiju Bhatt and Vladimir Tenev, who met at college and used the famous Facebook model of providing a free, addictive, and easy to use app that millennials would flock to.
Deposit and withdrawal:
60%
Markets and products:
50%
Pros
Free trading on US stock and ETFs
User friendly, functional mobile and web trading platforms
Quick and easy to open an account
Cons
Limited research and educational material
Poor customer support
Limited range of assets available for trading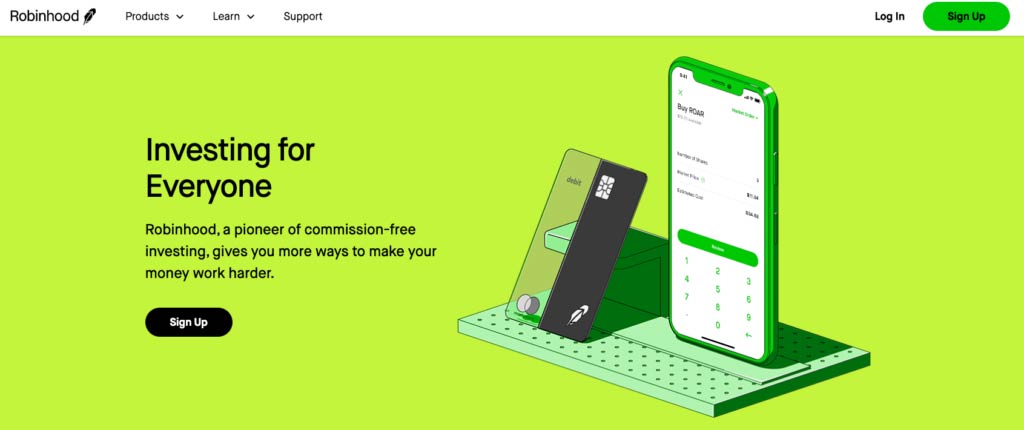 Robinhood UK Platform Review
Robinhood offers both a web trading platform and a mobile app. Both of these options are fairly minimalistic, reflecting the low cost model that they have built around attracting young investors looking for free trades.
Robinhood UK Web Trading Platform
We found the web trading platform at Robinhood to be well laid out and easy to use, with a sensible interface that provides a seamless experience. There are no options for customisation, however, this didn't seem necessary given that the interface was already so logically laid out.
The Robinhood interface, while simple in its execution, provides enough functionality for traders who know what they are doing to quickly and painlessly execute a trade with the option of utilising market orders, limit orders, stop orders, stop limit, and trailing stop.
There is also a handy little addition called collections, which allows users to search for stock options by sector or category, such as social media companies or tech companies. These collections can then be sorted and compared side by side, which I found to be a handy little feature. As well as this, a tab at the bottom of the page gives you access to portfolio values, watch lists, account statements, and transaction history.
We also have to give credit to the wide array of alerts and notifications that are available on the Robinhood web trading platform. These include:
Price movements
Earnings announcements
Dividends payments
Money transfers
Corporate actions
Orders
And in addition to this, there is a handy little portfolio and fee report that can provide you with interesting information about your Robinhood stock portfolio, such as the average cost of and returns to and a pie chart that illustrates the diversity of your portfolio.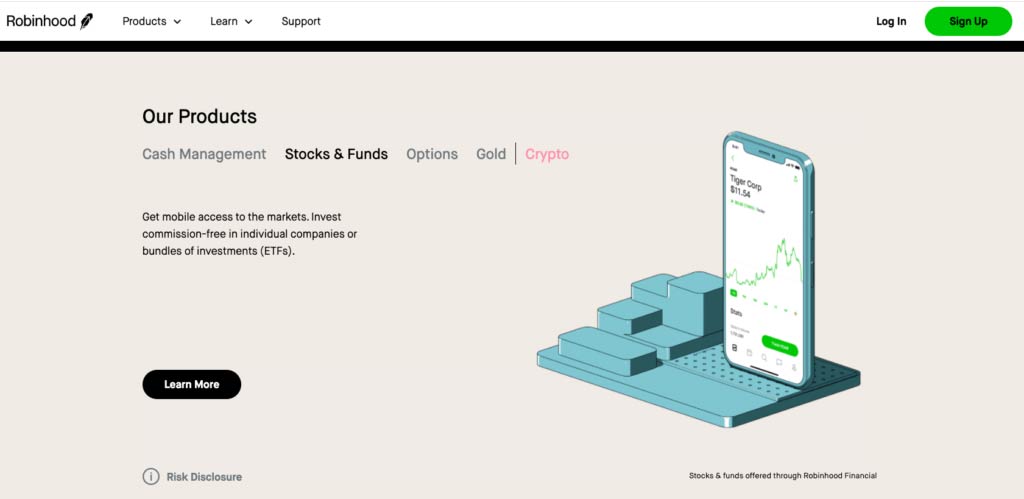 Robinhood UK Product Range Overview
While conducting this Robinhood review, I found the product range at Robinhood to be fairly limited, perhaps due to the fact that they are focused on keeping costs low, and for a newbie this could be an adequate offering; however, with a large number of the competition also offering commission free trading as well as a wider variety of assets, Robinhood are almost certainly behind the curve on this one.
Stocks ETFs
Robinhood provides access to over 500 stock ETFs, most of which are listed on the New York Stock Exchange, although you can find some stock options on various other global markets. It is also worth noting that there is no short selling available and no OTCBB (penny stocks).
Cryptocurrency Trading
Robinhood allows investors to buy and sell Bitcoin, Ethereum, and Dogecoin, as well as several other cryptocurrencies, with their commission free structure in the same account that you use for equities and options trading. I found this offering to be limited as they were missing various asset classes, such as fixed income.
Fractional Share Trading on Robinhood
Fractional share trading is available at Robinhood on almost 7,000 stock ETFs, which is a reasonable offering and allows investors to buy a fraction of a share per trade in a large company that otherwise may not be accessible to them. This can be a useful tool for investors looking to build a diversified portfolio with different companies in order to mitigate some of the risk.
Robinhood Gold vs standard
Robinhood offers a free version of its platform, but to unlock some of the more advanced features, you will need to upgrade to Robinhood Gold. I would recommend starting your journey with the standard account, and upgrading to Gold once you are ready to up your investing game. High rollers will benefit the most from the upgrade.
Upgrading to Robinhood Gold will cost you $5 a month.
| Feature | Standard | Gold |
| --- | --- | --- |
| Free cryptocurrency trading | Yes | Yes |
| 24/5 stock trading | Yes | Yes |
| IPO access | Yes | Yes |
| Robinhood Retirement | Yes | Yes |
| Zero Trading fees | Yes | Yes |
| Fractional shares | Yes | Yes |
| Morningstar news | No | Yes |
| 1.50% APY on uninvested cash | 1.50% | 4.65% |
| Instant deposits of up to $1,000 | Up to $1,000 | Up to $50,000 |
| Margin Investing | 7.75% | 11.75% |
| Nasdaq TotalView | No | Yes |
Robinhood UK Mobile Trading App
There is little doubt that Robinhood's true strength lies within its Mobile app, which I found to be one of the best offerings on the market. Obviously, given their target audience, this part of their service had to be on point, and they have managed to deliver a fast, simple app that is easy to use. Much of the functionality within the app is parallel to the web trading platform, with the addition of nice little features such as biometric authentication and a great search function.
Research Service and Tools Review
The level of research and tools available at Robinhood is dependent on whether you have upgraded your account to Robinhood Gold, for which Robinhood charges a monthly fee. For the purposes of this Robinhood review, I have looked at what is available on their Robinhood standard account.
One of the highlights of the research offering at Robinhood was The Robinhood Snacks news blog. This consists of bite sized summaries of the market each day and is well written, informative, and easy to understand. This is definitely worth subscribing to.
One of the features I liked at Robinhood was the ability to view analyst ratings of products by experts. This can help you make better decisions if you are on the fence and you can also view similar products to the one you are interested in.
A new offering from Robinhood is a feature called 'Profiles', which allows you to customise your own profile and search for other users in order to follow their investing practises. This is bordering on social trading, and I hope Robinhood takes this leap in the near future.
Unfortunately, I found the fundamental data at Robinhood to be a little too basic to really provide you with anything useful, and the same can be said for the charting tools, which were limited to past price movements of free stock and a handful of technical indicators. There's nothing groundbreaking here.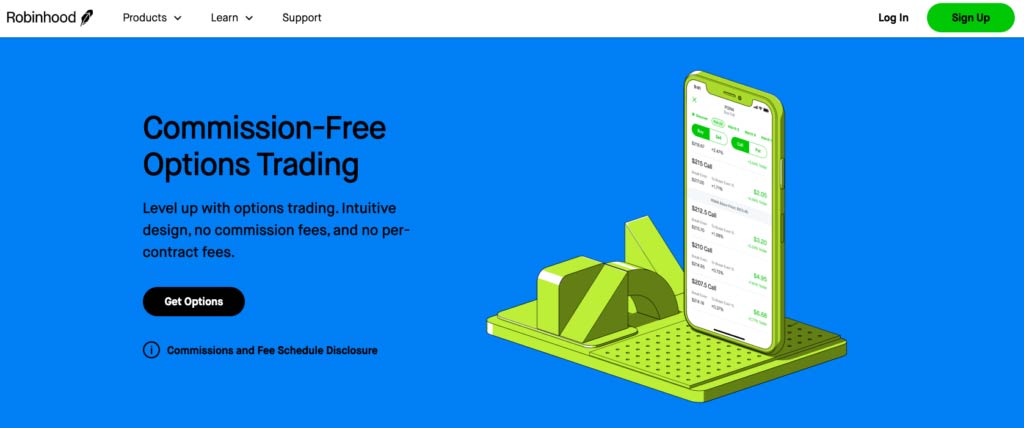 Robinhood UK Fees and Charges Review
Robinhood was one of the first platforms to offer free trading on stocks, ETFs, options, cryptocurrency, and options trading; however, since then, many of its competitors have followed suit, charging no fees. One of the great advantages of Robinhood is that they also have very low non trading fees, which include no account fee, inactivity fee, deposit fee, or withdrawal fee.
That being said, one of the offerings at Robinhood is the ability to trade on margin, and in order to do this, you need to upgrade your account to Robinhood Gold, for which Robinhood charges a $5 monthly fee.
| Robinhood Fee type | Fee |
| --- | --- |
| Minimum deposit | $0 |
| Stock Trades | $0 |
| ETF Trade fee | $0 |
| Options fee | $0 |
| Account fee | $0 |
| Deposit fee | $0 |
| Withdrawal fee | $0 |
| Inactivity fee | $0 |
| Robinhood Gold | $5 per month |
As I have recommended eToro as an alternative to Robinhood, here is a direct comparison of their fees.
| Fee type | Robinhood | eToro |
| --- | --- | --- |
| Minimum Deposit | $0 | £10 |
| Stock Trades | $0 | $0 |
| Options fee | $0 | $0 |
| Account fee | $0 | $0 |
| Deposit fee | $0 | $0 |
| Withdrawal fee | $0 | $5 |
| Inactivity fee | $0 | $10 pcm after 1 year inactivity |
Is Robinhood safe?
The quick answer is yes, Robinhood is safe with a number of security features that the platform uses to protect your funds.
Firstly Robinhood is a member of the Securities Investor Protection Corporation (SIPC) which means should Robinhood fail for any reason, all client funds are protected up to the value of $250,000.
In addition, all securities are regulated by the Securities Exchange Commission (SEC) ensuring that you are protected from financial crimes such as fraud. Robinhood are also a member of the Financial Industry Regulatory Authority (FINRA).
In terms of protecting your account, Robinhood employs two-factor authentication, the gold standard in login security.
Guide to opening a Robinhood UK account
Unfortunately, at the time of this Robinhood review, they have made the decision to postpone their UK launch indefinitely, which means you can only open an account with Robinhood if you are resident in the US.
That being said, opening an account with Robinhood is quick, easy and fully digital. You will need your social security number, a US residential address and proof you are over 18 years of age in order to complete your personal information. They will then ask you to answer some short questions with regards to your trading experience and ask for verification of your identity. All this can be completed in around 10 minutes and you should be up and running within one day.
Robinhood Deposit and Withdrawal Review
While deposits and withdrawals are both completely free at Robinhood, you can only deposit funds using a bank transfer from your bank account, which seems a little restrictive in the current market. There is an instant deposit option, which is limited, depending on your account type. Once you hit your limit, deposits usually take 4–5 business days. Limits are as follows:
Robinhood Standard account: $1,000 instantly
Robinhood Gold account (charged at $5 per month) : $50,000 instantly
There is no minimum deposit at Robinhood for the standard account.
One of the features that impressed me when depositing into my Robinhood account is their cash management service, which enables you to earn interest on any uninvested funds you hold in your account and access those funds using your Robinhood debit card.
Withdrawing your money from Robinhood is also free for bank transfers and relatively painless. You can expect to see your funds within 3 business days, and withdrawals are limited to $50,000 per day.
Transferring Your Investments to Robinhood UK
As with everything else at Robinhood, transferring your stocks and ETF options into your Robinhood account comes free of charge; however, Robinhood charges $75 for all outgoing transactions, so that is something to be aware of.
Robinhood UK Customer Service Review
We found the customer service offering at Robinhood to be severely lacking, with the only medium available being email, which completely eliminates the possibility of getting any customer support in a prompt manner. My other gripe was having to filter through the long list of support issues to find the one that most resembles the problem you are experiencing, which I found rather clunky and impersonal.
Who is Robinhood UK Suitable For?
One of the weak points for Robinhood is that they mainly offer trading on US stocks and ETFs while tending to ignore the rest of the global market as well as mutual funds and bonds. However, if US trading is what you are after and you want a great mobile platform to potentially make money from with commission free trades, then Robinhood is a great option. They are definitely marketed towards the younger population; however, their research and education are a little limited for complete novices.
Is Robinhood good for beginners?
Yes, Robinhood is excellent for beginners, with an easy to use app and trading platform coupled with extremely low costs. However, as mentioned the education is a little sparse so you may want to access this elsewhere. More advanced traders can access the Robinhood Gold account, which has some more advanced research features.
Robinhood Alternative
The best platform I can recommend as an alternative to Robinhood is eToro. Both of these platforms offer a really easy to use, low cost platform with access to a wide range of assets.
Where eToro pulls slightly ahead is with its range of advanced research and trading tools. In addition, eToro's social and copy trading facilities remain unrivalled.
Robinhood FAQs
Can you make money on Robinhood?
Yes, you can make money by holding stocks that pay dividends, via asset appreciation by buying low and selling high, or in the form of interest on any uninvested cash you hold in your Robinhood account.
How much should you invest in Robinhood?
At Robinhood, you can start investing for as little as 1 dollar. It is always a good idea to start small while you get to grips with the platform and experience the highs and lows of the stock market.
Robinhood Customer reviews
Most recent reviews:
There are no reviews yet. Be the first one to write one.
See which share tip is making the headlines

Have you considered transferring your pension?

Find the best trading platforms
*Capital at risk