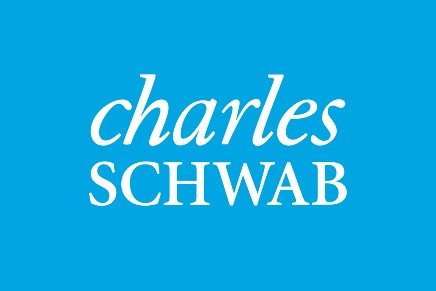 At Charles Schwab, you can trade commission-free stocks, ETFs, mutual funds, and other US-listed securities from the UK. This US-regulated financial service company has over 33 million active brokerage accounts and handles over $7 trillion worth of assets. As well as proprietary software and research, customers get access to low trading fees.
However, my Charles Schwab review looks at how this impressive online broker still may not be suitable for traders.
We can't take you to this site at the moment.
Have you tried eToro?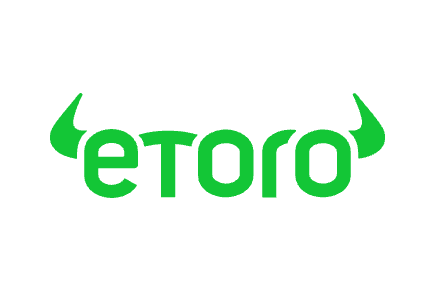 76% of retail investor accounts lose money when trading CFDs with this provider. You should consider whether you can afford to take the high risk of losing your money. Your capital is at risk. Other fees apply. For more information, visit etoro.com/trading/fees
Who is Charles Schwab UK?
Charles Schwab was created in 1971 to capitalise on the US financial deregulation that happened in 1970. This allowed Charles Schwab to pioneer discount sales of equity securities. From its first office in Sacramento, the company quickly expanded.
It was taken over by Bank of America for $55 million in 1983 but, owing to the success of no-charge mutual funds, Charles Schwab bought it back in 1986 for $280 million. Today, this company has over 360 branches around the world. Across all of its financial products, Charles Schwab manages over $7 trillion worth of client assets and has 33 million active brokerage accounts.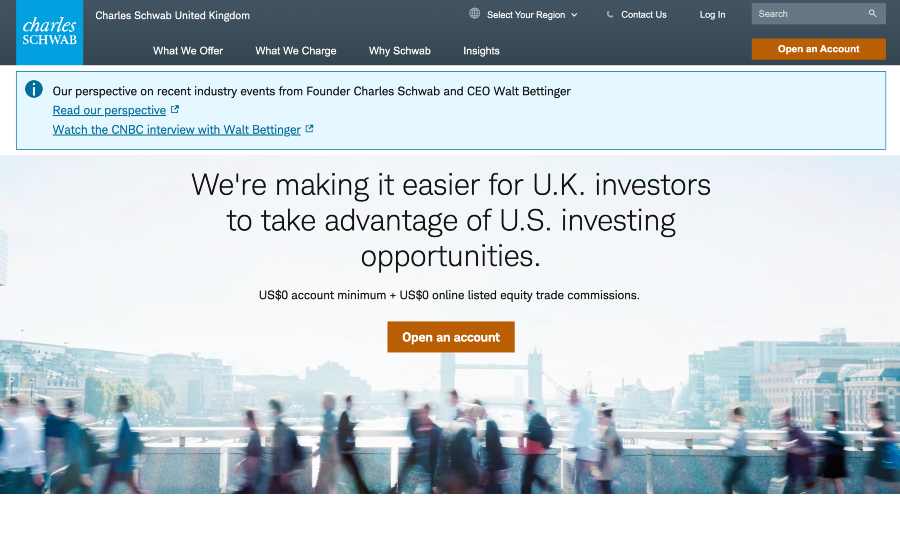 Who owns Charles Schwab?
The Charles Schwab Corporation was founded by Charles Schwab in 1971, who remains the chairman of the company. Charles Schwab is also owned by Toronto-Dominion Bank.
Who is this broker suitable for?
This online broker is suitable for active traders in the UK who want access to trading opportunities in the US. Specifically, Charles Schwab provides a bridge for UK investors to trade US-listed stocks and other securities in a cost-effective way.
It's worth noting that Charles Schwab doesn't offer forex trading.
Charles Schwab is most suited to experienced traders who want a reputable online broker that offers low trading fees and easy access to the US financial markets.
Accounts and products available at Charles Schwab
In the UK, you can open a Charles Schwab international brokerage account. This account gives you access to US financial markets and a variety of unique resources that I describe later in this Charles Schwab review.
Before I outline the trading tools you can use with a Charles Schwab account, here are the asset classes you can access with an international brokerage account:
Stocks
You can trade listed stocks with $0 commission charges. This is true for US-listed stocks. If you want to trade Canadian stocks and ETFs, there's a $6.95 charge per transaction. For foreign stocks there's a $50 transaction fee. Schwab's commission-free stocks cover a variety of sectors, and include penny stocks.
ETF
You can trade ETFs via Charles Schwab's international brokerage account on European-domiciled UCITS Exchange Traded Funds.
Bonds
You can trade money market funds, such as municipal bonds, with an international account. Charles Schwab offers markets for 36,000+ bonds, including US Treasury bonds (aka Treasury bills) and corporate bonds. You can also trade treasury inflation-protected securities (bonds) at Charles Schwab.
Offshore mutual funds
You can access a range of 15 offshore mutual funds via the desktop trading platform or Charles Schwab mobile app. These funds have been vetted by active traders and Schwab experts. There is a broad range of options, from emerging market mutual funds to fixed income mutual funds covering options such as Goldman Sachs, Morgan Stanley Investment, PIMOC and IVA Global SICAV.
American depositary receipts (ADRs) and foreign ordinaries
Non-US companies that aren't typically available to trade on exchanges such as the New York Stock Exchange can be traded as ADRs. This is a suitable option for experienced traders who want to invest in stocks and ETFs in local markets using Schwab's advanced trading platforms.
Options trading
You can trade options for as little as $0.65 per contract. Note: you must be approved to trade options at Charles Schwab due to the volatile nature of these financial instruments.
Fees and charges at Charles Schwab
Charles Schwab have recently dropped its minimum investment from $25,000 to $0 in a move to make the investment platform even more accessible to UK investors.
Other fees associated with trading stocks at Charles Schwab include exchange process fees. These fees are variable but, even when they are factored in, it's still more cost-effective to trade stocks at Charles Schwab than it is with other brokers online.
One final point to note is that broker-assisted trades will incur a $25 service charge. A broker-assisted trade is a transaction not made over the internet, i.e. you have to speak to a broker over the phone.
Charles Schwab has the following pricing structure for trading fees for other asset classes:
Options Pricing = $0 commission + $0.65 per contract (broker-assisted trades = online pricing + $25 service charge).
Fixed Income Securities (e.g. Bonds) = $0 commission for Treasuries, $1 to $250 per bond for Secondary Trades (e.g. corporate bonds), $0 commission for preferred listed stocks and REITs (broker-assisted trades = online pricing + $25 service charge).
*Charles Schwab reserves the right to change spreads at any time. 
Account fees and maintenance balance
Your account balance will be USD, even though you're trading in the UK. Therefore, you may be subject to currency conversion charges outside of the Charles Schwab platform. Schwab also reserves the right to charge variable exchange fees to cover the costs of currency conversions.
There is no minimum deposit or account maintenance fee.
Some other account fees you need to be aware of are:
Late settlement fee = $25
Transfer (out) of assets = $50 per account
Overnight and/or bulk delivers = $15+
Non-sufficient funds = $25
Wire transfers (outgoing) = $25 per transfer or $15 if submitted online
Wire transfers (incoming) = No fee.
Additionally, there are charges for transactions involving non-US listed securities. There may also be costs associated with specialist securities. For example, large block transactions (10,000+ shares or orders of $500,000) can be subject to additional handling fees.
If you want a managed portfolio, you can open a Schwab Managed Account Select®. There are no commission fees on this account.
Platforms available at Charles Schwab UK
You can trade stocks, ETFs, mutual funds and other securities via three platforms
Charles Schwab Web Trading
The web trading platform can be accessed via any internet-connected device. As well as access to your balance, the online trading platform lets you view all of your accounts, place orders, read the latest research, and use services such as customer support.
Charles Schwab StreetSmart Edge®
StreetSmart Edge® is Charles Schwab's proprietary trading software. It's a downloadable platform that not only gives you access to US financial markets but custom tools and resources. As advertised, the Schwab StreetSmart Edge® platform "thinks" like a trader.
Specifically, it allows you to check positions, assess the markets, analyse trade ideas, and execute orders. The interface is great for those who hold a diversified portfolio because you can adjust the layout using filters. This allows you to get a clear overview of your positions or specific groups of securities.
You can also customise and filter the data you see. For example, if you're ETF trading and want to only see news related to the companies you're tracking, you can do that. Schwab StreetSmart Edge® pulls content from a variety of financial news outlets, including CNBC TV. This means you see news articles and TV reports from within the Schwab StreetSmart Edge® platform.
Schwab StreetSmart Edge® allows you to apply a number of analytics to live price charts, including technical analysis and get research for all securities. This research is backed by comments and ratings from Schwab analysts, as well as experts at Morningstar® Equity Research.
Charles Schwab mobile trading
The Charles Schwab mobile app is available for iOS and Android devices, including smartphones, tablets and smartwatches. Once you download one of the mobile trading platforms, you'll get access to your accounts, analytics, research, and the financial markets so you can execute orders.
Charles Schwab services & tools
There are a variety of trading tools to use when you open a Charles Schwab account. I have outlined the range of research tools later in this Charles Schwab review. For now, here are some of the main tools to use when you trade assets online:
Schwab BondSource® to screen 36,000+ bonds. This tool allows you to screen bonds using pre-set variables in just a few seconds. Schwab also offers screeners for stocks and options.
All-In-One Trade Ticket®. This trading tool allows you to enter up to three conditional orders in the same trading window. This streamlines the process and makes it easier to place multiple orders. You can use this in conjunction with other trading tools, including Options Chains, to view, analyse, and trade multiple securities at once.
Advanced stock charting and fundamental research so you can get deeper insights and new trading ideas.
The Gain/Loss Analyser allows you to get a visual overview of your portfolio's performance. You can also use this in conjunction with Schwab's trading and probability calculator.
The Idea Hub allows you to generate trading ideas based on specific goals and screening data. This hub automatically updates itself throughout the day as the markets change. Therefore, you always get relevant trading ideas based on the latest data and your own preferences.
Alters and real-time quotes allow you to easily stay on top of the markets.
You can apply for a Schwab Visa card. This allows you to make fee-free withdrawals directly from your Charles Schwab account using ATMs around the world.
How to open an account with Charles Schwab
You need the following documents to open an account with Charles Schwab UK:
Tax ID Number
National Insurance Number
Passport of government ID
Recent utility bill
Employer's name and address (if applicable)
Additionally, you need a printer and scanner to sign and upload the application documents. You'll also need to complete a Substitute Form W-8BEN so you can reduce the tax liability on your account.
Once you're set, you can join Charles Schwab UK by following these steps:
Click here to start the registration process.
Click the "open an account" button on the Charles Schwab homepage.
Choose your country via the dropdown menu.
Choose the type of account you want to open: individual, joint or trust (requires an account minimum balance of $100,000).
Create a Charles Schwab login by accepting the brokerage terms (i.e. the account agreement).
Input your personal details, including your name, email address, phone number and country of residence.
Select and upload your government ID.
Answer the compliance question (e.g. things such as your financial status, employer and income).
Verify your identity and complete the registration process.
Make a minimum deposit and start trading commission-free stock and other securities.
Deposit & withdrawal process
The main way to deposit money is via wire transfer. There are different destination banks depending on where you're using Charles Schwab.
UK residents can send GBP to Citibank N.A. London. Full details are available when you log into your account, go to the cashier page, and select wire transfer.
Withdrawals are also processed as wire transfers and can be subject to external currency conversion charges.
For those who don't want to deposit or withdraw money using wire transfer, Charles Schwab accepts cheques. You can also use the Charles Schwab Visa for fee-free ATM withdrawals.
An alternative way to deposit money is MoneyLink®. This is a free service offered by Charles Schwab that allows registered users to transfer funds via ACH electronic bank transfer.
Charles Schwab Customer Support
If I'm honest, the customer support options at Charles Schwab could be better. There are plenty of FAQ sections, but direct contact with support agents isn't as readily available as it is at other online brokers with no 24/7 support available.
Email
Live chat
On-site contact form
Charles Schwab phone number (Sunday 10:30 pm to Saturday 6:00 am UK time):
New clients = 0800 917-1039 (UK) / +44 20 3795 2704 (outside the UK)
Existing clients = 0808 234 6306 (UK) / 1-800-362-1774 (in the US)
Charles Schwab UK Office (Monday-Friday 9:00 am to 6:00 pm UK Time)
Charles Schwab, UK., Limited, 33 Ludgate Hill, London EC4M 7JN
Research
You can access a plethora of data and research tools via any Charles Schwab platform. The main resources are:
US market research conducted by Charles Schwab's team of in-house experts. They provide general economic reviews and opinions on specific securities.
Schwab Equity Ratings is this company's proprietary methodology for identifying stocks. Charles Schwab rates 3,000+ US-traded stocks and grades them A to F so you can get a quick overview of potentially profitable options.
You can also access independent research via the online, desktop and mobile trading app. Charles Schwab pulls research from a variety of sources, including Briefing.com, Credit Suisse and Morningstar®. You can also get analysis on 4,500+ stocks from Market Edge®.
Education
You can learn how to trade futures, the nuances of rating stocks and how active traders manage their portfolios using Charles Schwab's educational resources, including:
The basics of trading
How to apply your skills to US markets
Identifying investment opportunities
Applying fundamental and technical analysis.
In addition, Charles Schwab publishes daily US and global markets commentary. I took the time to read a few of these and found them helpful and insightful. There is also a useful page on the benefits of investing in the US market.
This online investment broker is overseen by a financial industry regulatory authority in every region its operational. From its base in the US, Charles Schwab is regulated by the Securities and Exchange Commission. This means securities held in Schwab accounts are segregated from the companies operating capital, as per the Securities and Exchange Commission's Customer protection rule.
In the UK, Charles Schwab's mobile app and desktop trading platform are regulated by the Financial Conduct Authority and Commodity Futures Trading Commission. As it is in the US, this regulatory oversight means everything Charles Schwab offers, from its investment management options and ETF trading markets to investment advice, complies with strict regulations.
Finally, Charles Schwab is a member of the Securities Investor Protection Corporation. This non-government provides up to $500,000 worth of cover for each brokerage account should the company in question (Schwab in this instance) become insolvent.
Useful Information
Here I have provided some additional information that may be helpful to you when trading at Charles Schwab.
What tax fees are applicable at Charles Schwab?
Charles Schwab offers stock and ETF trades, as well as other equity trading options, to international users. However, because it's based in the US, accounts are subject to tax fees. Schwab withholds a certain amount for trades made in the US to cover tax liabilities (up to 37%). If you're a non-US resident and your country has a tax treaty with the US (the UK is one of these countries), you can reduce the amount of tax that gets withheld by completing a Form W-8.
Are losses covered by Charles Scwab?
Charles Schwab covers losses in any account due to unauthorised activity. As long as you take the necessary steps to protect your account and report any breaches as quickly as possible, Charles Schwab will cover losses in the event they can't be retrieved.
What's the price improvement rate at Charles Schwab?
The software is fast and efficient, which means orders are filled at better prices than the National Best Bid and Offer (NBBO) 96.8% of the time. This is based on market orders between 500 and 1,999 shares in the S&P 500.
Charles Schwab FAQs
How trustworthy is Charles Schwab?
Charles Schwab has been in business since 1971 and holds over $7 trillion worth of client assets. Therefore, it's a trustworthy and safe place for anyone trading futures, stocks, bonds, and options.
Is Charles Schwab good for beginners?
Yes, Charles Schwab would be a good 
choice for beginners
 due to the $0 account minimum. In addition, the broker provides plenty of trading tools and resources.
Charles Schwab Customer reviews
Most recent reviews:
There are no reviews yet. Be the first one to write one.
See which share tip is making the headlines

Have you considered transferring your pension?

Find the best trading platforms
*Capital at risk