As part of my continued efforts to provide you with the most up-to-date reviews, this my second version of my IG review, and I am pleased to say that I continue to be impressed with the low-cost platform which retains its place as one of the best trading platforms for UK investors.
As always, I have gone through the onboarding process at IG, checked their offering of investments, scrutinised their fees and contacted their customer service in order to bring you the most comprehensive IG review on the web.
Spread bets and CFDs are complex instruments and come with a high risk of losing money rapidly due to leverage. 68% of retail investor accounts lose money when trading spread bets and CFDs with this provider. You should consider whether you understand how spread bets and CFDs work, and whether you can afford to take the high risk of losing your money.
Who is IG Investments Suitable for?
IG caters to both moderately experienced traders and professionals with a platform that both works hard and extends to help both achieve their goals. Even if you don't have interest or experience in investing, the Smart Portfolio is still a decent option at a standard price and their risk assessment is akin to robo-investment advice.
The IG demo account is also a great starting place for less experienced investors despite new product launches like the Smart Portfolio, IG ultimately caters more for forex trading and those with active trading strategies than it does to new investors or those who are only interested in Stocks and Shares ISAs.
Even though every other IG review does warn novices to avoid spread betting, IG probably offers more options than other providers. Even so, the site may be a bit clunky for spread betting, at least when you first get started.
The bottom line: you might still get more out of the IG trading platform if you have a keen interest in trading than if you're a complete novice. You might find it easier to start elsewhere by comparing other investment platforms, and then transfer in.
IG have been providing investment services for over 45 years, and today boasts more than 313,000+ clients worldwide with access to over 18,000+ financial markets across the globe. They remain the largest online CFD provider as well as one of the most competitive platforms available in terms of fees.
One of the aspects of IG that really distinguishes them from their competition is their provision of both a Share Dealing ISA and an IG Smart Portfolio ISA, illustrating their continued commitment to both experienced traders and to investors looking for a fully managed service.
Who is IG?
IG are a British-run online trading provider in financial derivatives, including contracts for difference (CFD), spread betting and stockbroking, to retail investors from across the globe. They are fully regulated by the Financial Conduct Authority and have partnered with BlackRock in order to provide their IG Smart Portfolio accounts.
Who owns IG?
IG is part of the IG Group Holdings plc, trading on the London Stock Exchange as LSE:IGG. IG was originally founded in 1974 by Stuart Wheeler as a spread betting business, and now has Mike McTighe as the Chairman, and June Felix is CEO.
IG Group Holdings plc live share price
The current IG share price is:
Is IG regulated elsewhere?
Yes, IG are also regulated by the following tier 1 regulators:
Australian Securities & Investment Commission (ASIC)
Japanese Financial Services Authority (JFSA)
Monetary Authority of Singapore (MAS)
Swiss Financial Market Supervisory Authority (FINMA)
Commodity Futures Trading Commission (CFTC)
German Federal Financial Supervisory Authority (BaFin) and Deutsche Bundesbank.
New Zealand Financial Markets Authority (FMA)
Tier 2
Cyprus Securities and Exchange Commission
Financial Sector Conduct Authority (South Africa)
Tier 3
Bermuda Monetary Authority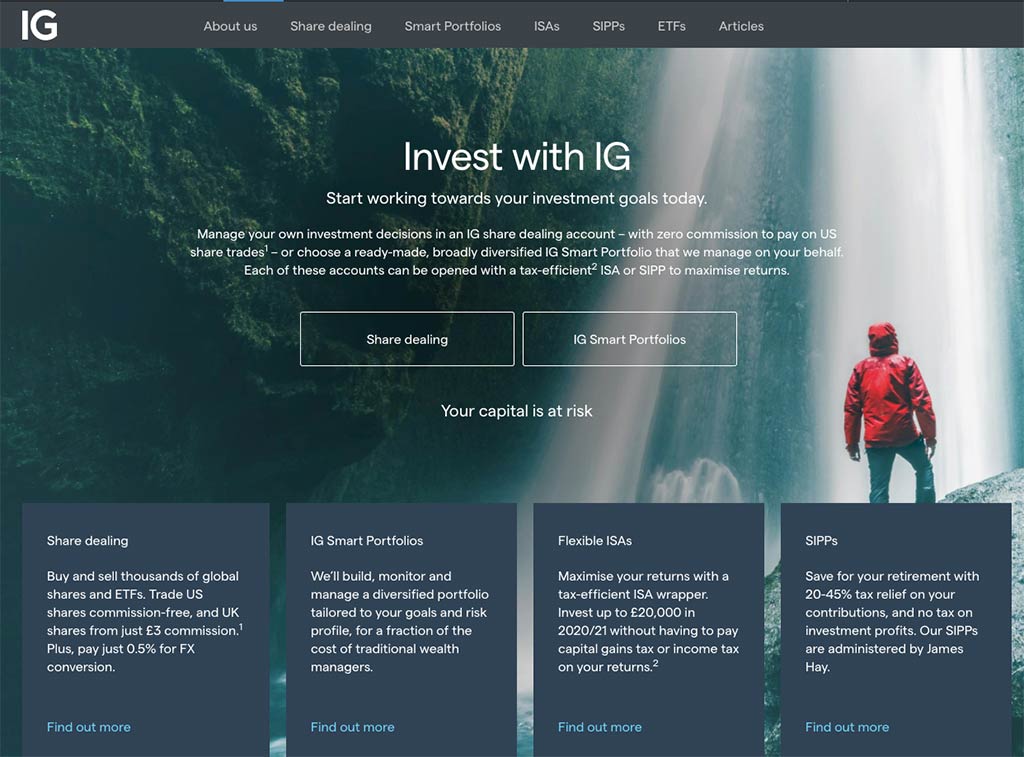 Product Range
With IG there are over 18,000+ markets to trade on with the following products:
Forex
Indices
Shares
Commodities
Cryptocurrencies not available to UK retail investors
Bonds
ETFs
Options
Industry Sectors
Interest Rates
With over 80 indices, 17,000 shares, and commodities that include iron, copper, lead, zinc, nickel or cobalt, there is plenty of choice, even for advanced traders. IG is best known as a CFD and forex broker. For investors with less experience who are after more of a managed service, IG offers an extensive range of Smart Portfolios which I will go into in more detail below:
IG Smart Portfolio Review
The Smart Portfolios were launched in 2017 in partnership with BlackRock and form what is essentially a robo-advisory service at IG. This is to say that they are fully managed, diversified, risk-assessed , low-cost portfolios that provide exposure to a wide range of IG markets in a mix of stocks, bonds and commodities.
These five smart portfolios offer an excellent investment for inexperienced investors similar to what you may expect to find at Nutmeg or Wealthify. They are also heavily used by experienced investors who are time-poor. Investors are asked to complete a questionnaire that is then used to establish their appetite for risk in an effort to match them with the most appropriate portfolio.
During my questionnaire, I was asked to identify how much money I would like to invest and for how long as well as how much money I had set aside in my emergency fund. IG will not allow investors to continue past this point unless they have more than 3 months of emergency funds available.
IG Smart Portfolio Fees
There are no withdrawal fees or inactivity fees to worry about when you invest with an IG Smart Portfolio. Total annual fees can be as low as 0.22% of your investment amount, which is explained in more detail in the table below.
| Investment amount | IG management fee | Average fund costs | Transaction costs | Total (annual) |
| --- | --- | --- | --- | --- |
| Up to £50,000 | 0.50% | 0.13% | 0.09% | 0.72% |
| Over £50,000 | Free | 0.13% | 0.09% | 0.22% |
To give you an idea of how these IG fees stack up against the competition, I have compared IG's offering to Nutmegs Fully Managed Portfolio and found them to be very competitive.
| Investment amount | Nutmeg management fee | Average fund costs | Market Spread | Total (annual) |
| --- | --- | --- | --- | --- |
| Up to £100,000 | 0.75% | 0.25% | 0.07% | 1.07% |
| Over £100,000 | 0.35% | 0.25% | 0.07% | 0.67% |
IG Smart Portfolio Performance
The IG Smart Portfolios have performed well in recent years with four out of five of their portfolios beating their respective benchmarks with the moderate and aggressive portfolios outperforming by +8.1% to +11.9%. Of course, this data is limited as IG only launched its smart portfolio in 2017, however, as an indicator, these results are certainly promising.
IG Smart Portfolio vs Nutmeg Fully Managed
Here I have compared the IG Smart Portfolio with that of Nutmeg so you can see how they stack up against each other.
| Provider | Minimum Investment | Annual Fee | Returns since 2017 |
| --- | --- | --- | --- |
| Ig Smart Portfolio Balanced | £500 | 0.72% | 26.7% |
| Nutmeg Fully Managed level 6 | £500 | 0.75% | 34.7% |
It is important to remember that past performance is not a guarantee of future results. However, both these providers have done well in recent years with Nutmeg pulling slightly ahead in terms of performance.
This is IG's answer to a General Investment Account and is very suited to experienced investors who have the time and resources to study the market in order to create their own diversified portfolio.
Under the general investment account, you can deal shares, buy ETFs, and participate in spread betting through CFDs and Forex trading. You get access to leveraged and unleveraged products. The general investment account is a valuable product and it's one of the cheapest dealing options in the UK.
Once you sign up, you get access to over 18,000 markets as well as 24/7 pricing on global indices. You also get access to leverage on hard and soft commodities as well as cryptocurrencies (Bitcoin, Ether, and Ripple) although this is only available on the Pro account with a strict joining criteria and no retail protection on trades.
IG Smart Portfolio vs Share Dealing
You may be wondering which of these two options would be best suited to you and your circumstances so I have taken the time to provide a quick summary which I hope will assist you with this decision.
In short, if you are new to investing, have limited knowledge, or don't have the time to commit to researching the IG markets, then I would recommend you consider a Smart Portfolio.
However, experienced investors, who want to choose their own investments, and understand how to diversify and assess risk, should choose the Share Dealing Account as their best option.
IG SIPP Review
IG has launched their brand new SIPP in November 2022, which is now provided for by Options Pensions. This is very quick and easy to set up with an existing IG account. There is an annual admin fee of £210 but this provides you access to 13,000 markets including commission-free US shares and the IG Smart Portfolios.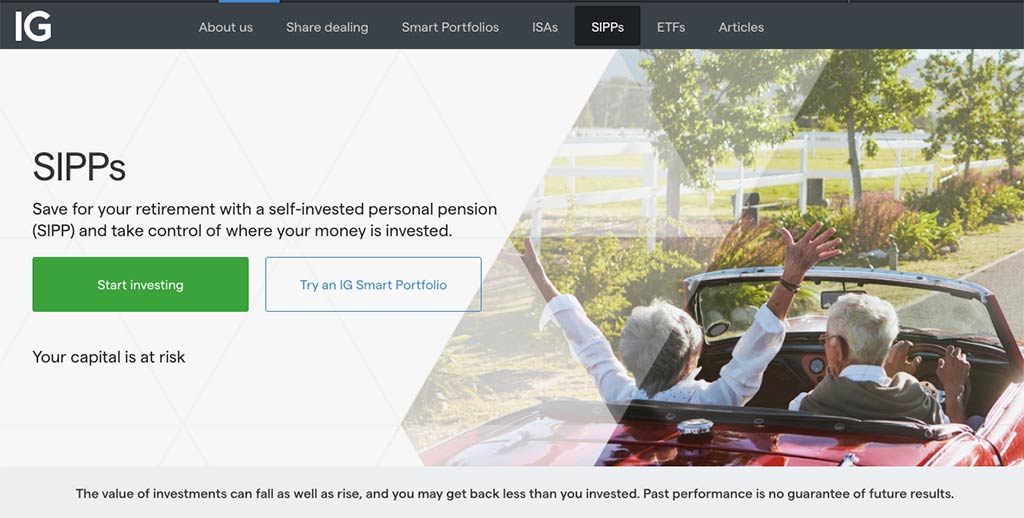 The stand-out feature of the IG Stocks and Shares ISA is that it affords you access to both the Share Dealing account for active, experienced investors and the Smart Portfolio for investors who are after a more hands-off approach. This means that in terms of choice they are hard to beat. In fact, at IG you can split your ISA allowance between the two account types, taking advantage of their huge range of investment options, and their fully managed portfolio at the same time.
Regardless of how you split your funds between the two ISA types at IG, your annual ISA allowance remains the same which for the financial year of 2021/22 is £20,000.
When you choose a Share Dealing ISA, you:
Get access to 13,000 global stocks and ETFs
Buy UK shares for £3 commissions when you trade 3 times or more per month.This increases to £8 per two shares or less which is less competitive for infrequent investors.
Enjoy foreign exchange fees of 0.5%
When you choose the IG Smart Portfolio ISA, you:
Receive a pre-built portfolio designed for your risk portfolio
Enjoy a fully-managed ISA portfolio
Receive access to global markets with BlackRock's iShares ETFs
Create multiple portfolios within the wrapper
Pay only management fees (no commission)
Watch your portfolio's construction
The other feature of note is that with the IG Stocks and Shares ISA you can withdraw funds at any time without reducing your ISA allowance. This is something that isn't always possible on other platforms and therefore a huge advantage if you think you may need to access your ISA funds temporarily.
If you already have an ISA with another provider, transferring to IG is quick and easy and comes at no cost to you whatsoever.
Whilst there are no transfer fees for electronic shares, there is a fee for paper transfers. Most transfers are completed within 14 days depending on your previous provider.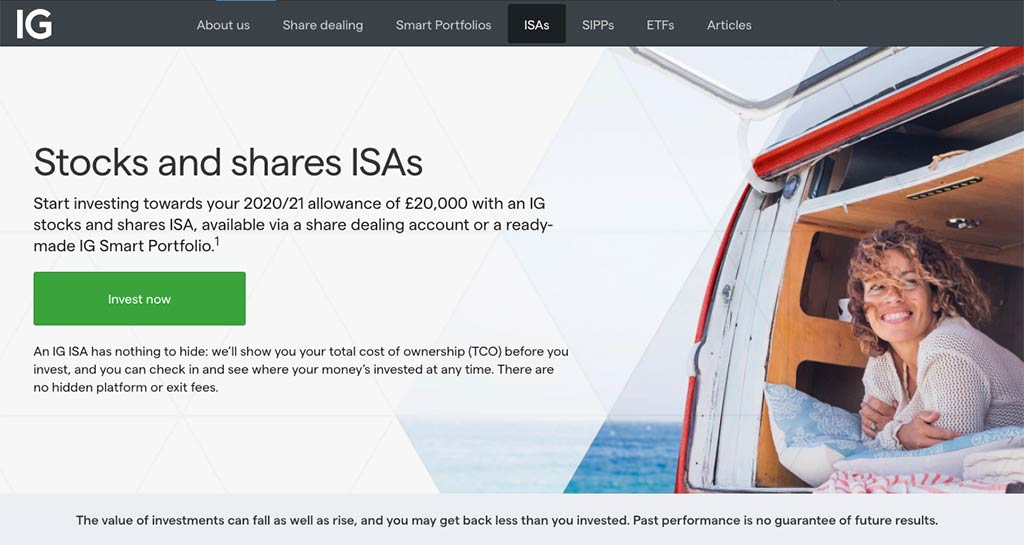 IG Review – ISA Fees
The total annual cost of an IG Smart Portfolio is 0.72% on the first £50,000 and 0.22% on everything over that figure. With most big players, you need to invest upwards of £250,000 before you begin seeing fees that low. IG drops the management fee on funds over £50,000, which means you only need to pay the fund cost and transaction costs. The fees offered on accounts up to £50,000 are quite high for the industry, but they're particularly attractive over £50,000.
IG doesn't list a maintenance charge on the share dealing ISA because the share dealing ISA isn't managed. Instead, you pay commission fees every time you trade. You'll pay £10 commission on US shares per trade if you only trade one or two times in the month, and there is no commission due if you trade more than three times. The rates apply up to £25,000.' Thereafter, fees are by negotiation and are very unlikely to be higher.
UK shares cost more. You'll pay £8 for 0-2 trades and £3 for three trades and over. The rates apply up to £25,000.
If you choose a share dealing account, you do better when you trade more. You get the most for your money when you trade three times a month or more.
Additionally, you'll pay a custody fee of £24 per quarter on both stocks and shares ISA types. However, you can avoid the custody fee if you deal three or more times per quarter or your IG Smart Portfolio is worth at least £15,000 at the end of the quarter. The custody fee is a flat fee which means it does not grow with your portfolio, unlike at other brokers.
IG Review Research Services & Tools
Because IG Investments offers a comprehensive trading service beyond ISAs and SIPPs, you'd expect a greater array of research tools compared to a robo-advisor or another low-cost firm. You get basic risk management tools and stop-losses included, but you can upgrade to more advanced tools if you pay a premium.
Charting includes ProRealTime charts and the option to split your charts for simpler viewing. However, you may either need to pay for access or make a certain number of trades to get access to some of the tools. You'll also need to pay a fee for stop losses although this is only charged if the stop loss is triggered.
If you're an advanced or professional trader, you can use IG via your own software or even on a Bloomberg terminal. You also have the option for trading in forex and CFDs trading via L2 Dealer and bypass IG's dealing desk through direct market access (DMA). However, ESMA requires that you have a professional designation, so this won't appeal to the average IG client.
IG does deliver more research tools than you'd find in a typical low-cost online broker in part because its service model caters to professional investors. However, not everything is geared to those who make a career in trading.
There are plenty of basic options, too.
Whether you're a new or experienced trader, you get access to an archive of articles covering news and commentary around market events. These articles cater to both new investors as well as more experienced traders. For example, you'll find articles on whether you should invest in a pension or ISA as well as posts analysing the impact of COVID-19 on Tesco's share price. There is also real time news that provides useful information and covers major currency pairs.
Beyond its informational archive, IG also offers the IG Academy. The IG Academy is a series of free online courses, seminars, and webinars aimed at teaching the art and science of trading. IG says it caters to both new investors and those who already know the basics. You'll find the most appropriate courses for novices are labelled 'Beginner', which makes them easier to find. Some of the more popular courses include:
Introducing the financial markets
How does trading work?
Orders, execution, and leverage
The factor setting IG's academy apart is the live sessions and webinars presented both online and in-person. These aren't just run on an ad-hoc basis. You'll find them daily – even on weekends. On Saturday evenings, IG runs a "The week in global markets" program as well as a "Key News Trading Events for the Week Ahead".
The research and tools used by experienced investors aren't a stand-out feature. However, you do get access to a forum, which allows you to both learn and give tips to the community. You may find you learn more from the forum than you might through using your research skills alone. There are 78,000 forum members and you can get on the forum both through the web trading platform and the IG mobile app.
Those new to the platform also have access to a full tutorial on IG's trading platform. Plus, you have the option to set up a demo account, which allows you to familiarise yourself without risking any real money. When you're ready, you can create your live account and start trading immediately.
IG Review Fees & Charges
Because IG offers so many different investment types on its trading platform, the fee structure isn't as straightforward as what's offered by a robo advisor app or an ultra-low-cost platform like DEGIRO.
IG promises low fees that help won't stifle your growing wealth. However, the fee structure differs by product, so let's break them down.
Non-Leveraged products
The non-leveraged products offered include:
ETFs
Shares
Bonds
Commodities
Leveraged products
Leveraged products allow you to get greater market exposure without requiring more investment.
You can trade leveraged products on IG's platform. IG's offerings include:
Spread betting
Forex
Options
Contracts for difference (CFDs)on equities and other asset classes
Cryptocurrencies
Generally speaking IG have higher than average forex fees and stock CFD trading fees. IG forex benchmark fees of a $20,000 30:1 long position held for one week comes in at $10.50 compared to eToro which was $8.10.
IG is perhaps best known for its CFD trading. Not only is IG one of the top CFD providers in the world, but its platform caters well to leveraged products. Keep in mind that when you engage in trading CFDs with this provider or any other that trading involves risk. You can always lose money. You'll find the following disclaimer on IG's site:
"Spread bets and CFDs are complex instruments and come with a high risk of losing money rapidly due to leverage. 76% of retail investor accounts lose money when trading spread bets and CFDs with this provider. You should consider whether you understand how spread bets and CFDs work, and whether you can afford to take the high risk of losing your money."
Remember that you can't use leveraged products in your ISA. It's not a platform choice: it's the law.
IG Review Web Trading Platform
IG offer a fully customisable web trading platform which is highly intuitive and a joy to navigate.
The clear, crisp design of the web platform can be completely changed to suit your style, providing scope for moving windows around and changing layouts. Investors are free to perform one-click trading manoeuvres and create their own personalised watchlists.
Two-factor authentication provides state-of-the-art security and there is plenty of functionality when it comes to placing orders including market order, limit order, stop-loss order, trailing stop order and guaranteed stop order.
IG Review Mobile App
As with the web trading platform, IG have provided a really well-designed and intuitive mobile app that is fully loaded with great functionality.
Biometric authentication makes it super convenient to log in to your account and from there you can easily search for assets using the comprehensive search function and place orders.
In terms of alerts, the mobile app isn't quite as loaded as the web platform with only the capability of setting price alerts. However, when it comes to mobile trading, I found the app to be fit for purpose.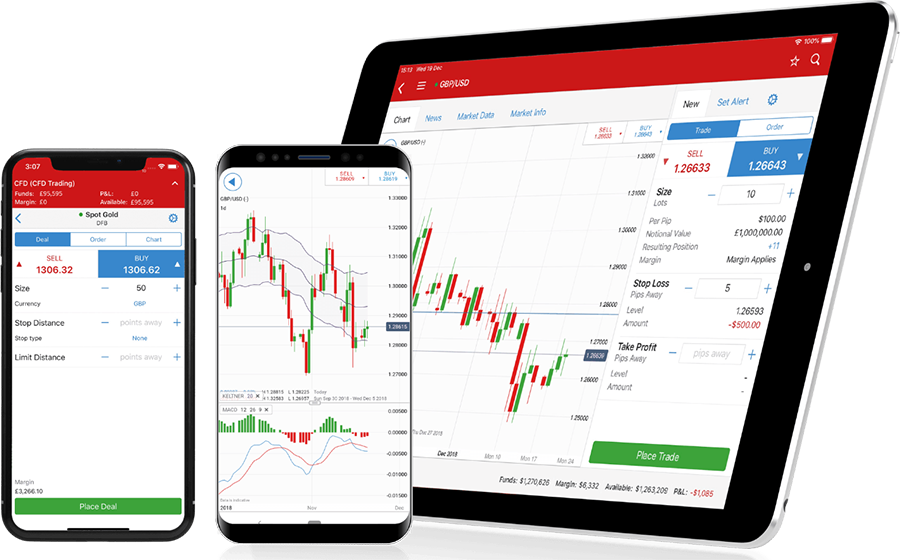 IG Review – Account Opening
The account opening process at IG is very quick and painless. To open an IG account, you click on 'Open a Live Account', located at the top-right corner of the home page. Once there, you can set-up your complete account in only a few minutes.
You can set up both the IG Smart Portfolio and share dealing at the same time. You only add a tax-efficient ISA once you have your IG trading accounts.
You can also open an account by calling 0800 195 3100 or emailing [email protected]
IG is available to residents of the UK as well as:
British Virgin Islands
Cayman Islands
Cyprus
Gibraltar
Guernsey
Ireland
Isle of Man
Jersey
Malta
There's an option for 'Other' on the dropdown menu, but if you choose it, then you will not be able to create your account.
It's unclear whether you can open an IG account as a U.S. citizen residing in the United Kingdom.
IG does require minimum investments for its ISA account. You need to invest a minimum of £500 for the IG Smart Portfolio ISA. There's no minimum investment published for the Share Dealing ISA.
Transferring Your Investments to IG
You can transfer your existing ISA to IG. IG doesn't assess any transfer fees, and there are no charges on electronic shares.
To transfer your account over, use the online transfer request form.
IG aims to complete all transfers within 14 days of receiving the request. However, the time frame depends on your current broker.
IG Customer Service Review
IG runs 24-hour customer service to give you the help you need on your schedule. However, this is not available between 10 pm Friday and 8 am Saturday.
You have the option to email the helpdesk, call the customer service number (0800 409 6789), tweet your question to @IGClientHelp, or use the live chat function. Help via Twitter is only available on weekdays.
Finding the live chat function can be a challenge and it isn't always operational, however, you can locate it on the contact us section of the webpage or alternatively it should appear once you have spent a few minutes on the site.
I have reviewed many platforms over the last few years, however, IG are the first platform to call me within 20 minutes of opening my account to offer their assistance. They tell me they aim to make this call as soon as possible upon any new account opening in order to help with getting started and answer any questions you may have.
I also particularly like IG's help and support site. It provides more than the answers to FAQS and instead serves as a good resource so you can answer your own questions rather than sitting on hold. When you combine the FAQs and the IG Academy, you get a good window into how the platform operates.
IG has several thousand ratings on Trustpilot and an average score of 4.1 (as of November 2022). Reviews on customer service itself remain mixed. Some say their experience with service providers is polite and helpful, and those who disagree also tend to berate IG's trading platform.
Useful Information for IG
Important and useful information for customers of IG Investments.
How to Withdraw Money from IG Investments
Withdrawing funds from your IG account is simple: Log into your My IG account and visit the 'live accounts' tab. Then, choose 'withdraw funds.'
How to Contact IG Investments
Getting in touch with IG is easy. You can get in touch 24 hours a day between Monday and Friday.
If you have questions about trading, the platform, or opening a new account, your options include:
How to close an account at IG Investments
If you want to close your account, you need to ensure there are no longer any open positions left on your account. You also need to withdraw all remaining funds. When you're ready to close the account, you need to make the request in writing.
You must email [email protected] from your registered email address to request the closure of your account.
What is the minimum deposit for IG Trading?
The minimum deposit at IG is currently £250 by credit/debit card or PayPal. There is no minimum for bank transfers..
Most recent reviews:
Wow. This outfit sets the standard for others to follow. Charting is first class, live priced charts available all day. Dealing from chart dialogue box. Tabs for as many securities as you want. Daily market preview streamed live at breakfast time, regular charting review of major indices at 1030. Forthcoming Economic calendar items in separate tab.
Likes
Fees
Account opening
Deposit and withdrawal
Customer service
Its a pretty clear and simple to use application, IG have mastered the art of making it easily accesible for people to invest. Their customer service team is outstanding and if they cant easily fix a problem they will keep you in the loop giving you the confidence its being addressed.
I love the app, it is very fast and it got a lot of different investment opportunities. Withdrawal with this company took less than 24 hours. Their customer support is 5 star, I will definitely keep using them as my main investment platform.
See which share tip is making the headlines

Have you considered transferring your pension?

Find the best trading platforms
*Capital at risk