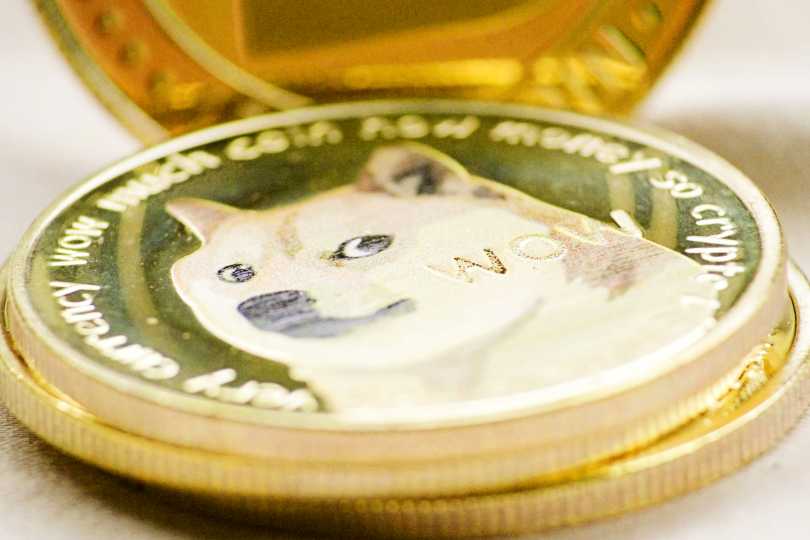 Since a surge in popularity in 2021, Dogecoin has been of the most talked about cryptocurrencies on the market. As a result, you may be wondering how to buy Dogecoin (DOGE) for yourself.
My guide will show you exactly how to buy Dogecoin UK, and what to think about before you invest.
See also: Buy Dogecoin at the top crypto exchanges
What is the current price of Dogecoin?
The current live price for Dogecoin (DOGE) compared to GBP is as follows:
Source: Livecoinwatch.com
5 quick steps to buying Dogecoin
Choose a cryptocurrency exchange. You'll need to choose a crypto exchange and open an account for you to trade Dogecoin through. I've listed five of the best crypto exchanges available in the UK below in my guide.
Decide how you want to invest. You can purchase Dogecoin and hold it yourself in a crypto wallet. Alternatively, you could invest in Dogecoin stocks, funds, and portfolios, or even trade derivatives on the crypto asset.
Deposit funds to your account. You'll need to deposit the money you want to use to buy Dogecoin into your account. You will typically be able to choose your preferred payment method from bank transfers, credit and debit cards, or even mobile payments, depending on which crypto exchange you open your account with.
Choose how much you want and make your Dogecoin purchase. Type "Dogecoin" or "DOGE" into the search bar on your chosen crypto exchange, and select how much you want to buy. Remember: you don't have to invest your entire deposit all at once.
Monitor your Dogecoin investment. That's it! You've invested in Dogecoin. Be sure to monitor your position as it moves, and make changes if it suits your investment strategy.
Top crypto exchanges to buy Dogecoin in December 2023
As I mentioned, you will need to open an account with a crypto exchange to buy and sell Dogecoin in the UK and there are many crypto exchanges available to UK investors. Read about the best crypto trading platforms below.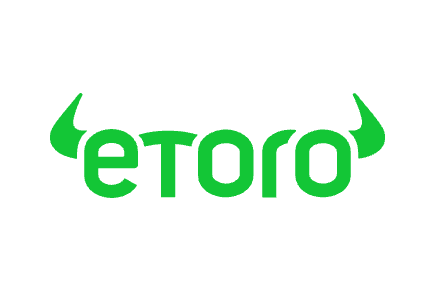 eToro is one of the most reputable platforms for investing in the UK, offering access to a wide range of assets including stocks and shares, funds, bonds, derivatives, and of course, crypto.
As well as Dogecoin, you can access a wide range of more than 30 cryptocurrencies on eToro, including:
Bitcoin
Litecoin
Stellar Lumen
eToro offers its own crypto wallet, meaning you can buy Dogecoin and hold it with the platform.
Alternatively, you can also invest in ready-made portfolios of crypto assets, such as the "Cryptos by Market Cap" and "CryptoEqual" portfolios. These are portfolios made up of many crypto assets available on eToro, a portion of which is likely to be Dogecoin in the "other" percentage.
You can open an eToro account online in just a couple of minutes. There are various supported payment methods on eToro, including bank transfer and credit or debit card. Simply choose your preferred method and start investing.
You'll face fees of 1% when trading crypto assets on eToro, the cost of which will be included in the price you're shown when you go to open or close a Dogecoin position.
There are no deposit fees with eToro, although you will have to pay a $5 withdrawal fee to access your funds. You'll also face inactivity fees of $10 for each month after 12 months of inactivity.
Don't invest unless you're prepared to lose all the money you invest. This is a high-risk investment and you should not expect to be protected if something goes wrong.Take 2 mins to learn more
Uphold claim to have the widest range of cryptocurrencies in the UK to buy, sell and trade. Users are also able to trade precious metals and foreign exchange.
Who should use Uphold?
Uphold is suitable for for both novice crypto traders and more experienced traders, however, there is particular value to be found here for those seeking early access to new coins.
Final thoughts:
This platform seems like a solid choice for buying, selling, and storing crypto. The app is really easy to navigate, and actually conducting transactions is super simple. If you want to spend your crypto, then the MasterCard debit card is a great addition.
Pros
Easy access of assets using the card
Zero foreign transaction fees
4% cashback on all card transactions
Cons
Fee for cash withdrawals at ATMs
High spread fees
Key Features
260+ supported cryptos
4% cashback up to £100 when you spend crypto on your Uphold Card
Staking rewards of more than 16% available on more than 30 cryptocurrencies
Zero foreign transaction fees
Low exchange rates
Real time analytics
FCA regulated
Quick to set up and user friendly
Fees
Deposit fee debit card: £3.99%
Withdrawal fee debit card: 1.75%
Credit card deposits and withdrawals: 3.99%
Apple Pay/Google Pay: 3.99%
Variable spreads apply Bitcoin and Ethereum 1.5%
One time shipping fee of £9.95 on physical cards
Products
More than 260 coins
Card
Staking
Business account
Cryptocurrency is not regulated by the UK Financial Conduct Authority and is not subject to protection under the UK Financial Services Compensation Scheme or within the scope of jurisdiction of the UK Financial Ombudsman Service. Investing in cryptocurrency comes with risk and cryptocurrency may gain in value, or lose some or all value. Capital gains tax may be applicable to profits from cryptocurrency sales.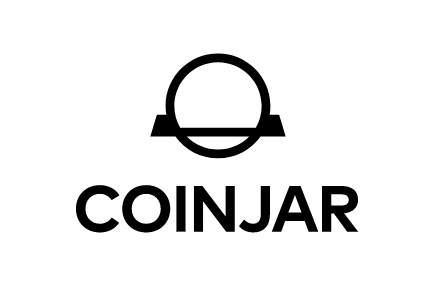 Not to be confused with others with a similar name, CoinJar is another great hot, custodial wallet in the UK.
If you're looking for a wallet with low fees, then this may be the one for you. There is no inactivity fee, and it is typically free to make deposits. Also, while there is a withdrawal fee, it is reportedly low and varies depending on the currency.
There is a commission on crypto trades when you buy and sell crypto using CoinJar, though this is only 1% on every trade, which is around the industry standard for crypto wallets.
CoinJar also supports most of the main cryptocurrencies, including Bitcoin, Ethereum and Litecoin.
What is the best crypto exchange for UK investors?
The best crypto exchange for UK investors, at the time of writing, is Coinbase. But, finding the best crypto exchange will be a matter of deciding which features matter the most to you.
You should compare the various features and benefits of each account, such as:
The fees you'll be charged, including account fees, transaction fees, deposit and withdrawal fees, and inactivity fees
How many cryptocurrencies you have access to
The quality of customer service and support in the event that you need it.
Look at features like these and make an informed decision about which account will best suit you before you start investing.
What is Dogecoin?
Dogecoin is a type of cryptocurrency, a form of decentralised digital currency.
The currency was founded in December 2013 to parody the sudden explosion of interest and speculation in the cryptocurrency market. According to Coinbase, it was initially worth £0.0003.
Dogecoin shot to prominence in 2021 as a "meme coin", a type of cryptocurrency that becomes popular thanks to buzz on social media. "Doge" is a well-known meme, featuring a Shibu Inu dog with an inquisitive look on its face.
Tesla founder Elon Musk added enormous fuel to the Dogecoin fire throughout the year by promoting it on social media, seeing its value fly up rapidly.
In the space of around five months, Dogecoin's value climbed from £0.0073 on 9 January 2021 to an all-time high of £0.53 on 8 May – growth of an astounding 7,160%.
For those who had bought the coin at its initial value of £0.0003 in 2013, this represented eyewatering growth of 176,567%. Even the most ambitious Dogecoin price prediction from the early days could not possibly have foreseen such rampant growth.
These figures were calculated using Coinbase data.
Can you buy products and services using Dogecoin?
When cryptocurrencies were first introduced, the major motivation behind them was to create a new, decentralised way of paying for products and services.
Crypto transactions take place on a public ledger, making it theoretically impossible to defraud. As a result, the intent behind cryptocurrencies like Dogecoin was for them to be used as a secure payment method.
Bitcoin has somewhat achieved this goal. Some companies allow Bitcoin transactions, but they are relatively few and far between. Electric vehicle manufacturer Tesla did briefly allow the use of Bitcoin in 2021, but has subsequently stopped accepting the currency.
For Dogecoin, the picture is similar. Some businesses will accept it as legal tender, although it is not that common. The coin is predominantly used as a tipping system for content creators on social media sites such as Reddit and Twitter.
Is Dogecoin a good investment?
Certainly, Dogecoin has the potential to be a good investment for you, depending on your circumstances.
As of 10 November 2022 at 9am, Dogecoin's price was £0.0726. This makes it highly accessible for beginners looking to start investing in crypto with small sums, especially when you consider that a single Bitcoin cost £14,740 at the same time and date.
Additionally, Dogecoin is in the top 10 largest cryptocurrencies by market capitalisation. Indeed, according to Coinbase, Dogecoin had a market cap of £9.5 billion as of 10 November.
Meanwhile, the number of Dogecoin transactions has fluctuated enormously since its founding in 2013. Largely thanks to spikes in 2017 and 2021, this took the average number of transactions between 2013 and 2021 to around 50,000 a day, according to Statista data.
Clearly, this is evidence of an appetite for Dogecoin. However, whether that means it constitutes a "good" investment is difficult to say. There's no guarantee that it will rise in value in future.
And in fact, as cryptocurrencies generate no "real" value like companies that you might buy stocks and shares in do, your coins could easily lose some or even all their value overnight.
Is Dogecoin safe as an investment?
Of all the asset classes available to invest in, a crypto asset such as Dogecoin is perhaps one of the most high-risk options.
While there is the potential to generate a return, there is practically no consumer protection with Dogecoin. Crypto assets are not regulated by the Financial Conduct Authority (FCA), and they have no UK or EU investor protection.
Unlike a fiat currency such as pounds and dollars, Dogecoin is a cryptocurrency. That means it's decentralised from a bank or government. This makes it practically untraceable, leading to digital currency like Dogecoin often being used to facilitate crime.
Furthermore, as I've mentioned, Dogecoin is highly volatile. Those unfortunate individuals who made an initial investment and bought Dogecoin at the £0.53 all-time high on 8 May 2021 would have seen a great deal of value wiped away rapidly. Just a couple of weeks later on 31 May, Dogecoin was worth £0.21, a 60.47% decline.
By 1 January 2022, Dogecoin was worth £0.12. Anyone who bought at the high seven months before would have shouldered losses of 77.4%.
The graph below from Coinbase shows just how much Dogecoin prices have fluctuated since its founding in 2013: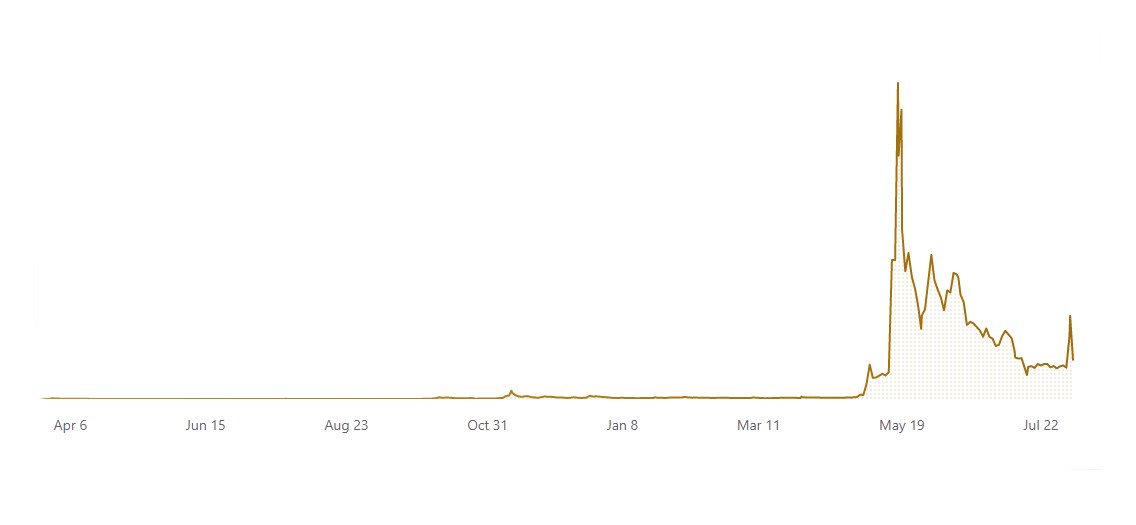 As a result, while there is potential to make money, this all makes Dogecoin a rather high-risk investment.
Dogecoin and tax
Like any other traditional investment, Dogecoin and cryptocurrencies are subject to Capital Gains Tax (CGT). Each individual does have a CGT exempt amount before tax is due, standing at £12,300 in the 2022/23 tax year.
However, any gains in value over this threshold will likely be subject to CGT. The rate of tax you pay on your Dogecoin returns will depend on your marginal rate of Income Tax. This means you'll pay:
10% if you're a basic-rate taxpayer
20% if you're a higher- or additional-rate taxpayer.
Tax only applies to Dogecoin gains that you "realise" – that is, once you sell your coins. So, if you only sell up to the CGT exempt amount each tax year, you'll be able to invest in Dogecoin without paying CGT.
Methods of buying Dogecoin
There are many different ways you can buy Dogecoin. Read about the most common ways that you are likely to do so.
Buying Dogecoin directly
The most popular way to invest in cryptocurrencies, you can buy Dogecoin directly. That means you buy and own Dogecoin personally, holding it in a crypto wallet.
Choosing a crypto wallet
To buy Dogecoin directly like this, you'll need a crypto wallet to store it in.
There are many different crypto wallets available for you to store your Dogecoin. The most common type are hot wallets, which are held digitally and are available online. Many exchanges offer their own wallet that would be considered "hot" in this way.
Meanwhile, a cold wallet is an external wallet. This might be held somewhere such as a USB stick or an external hard drive. A hardware wallet can be useful because, as it is not connected to the internet, it is practically impossible for hackers to access it.
On the other hand, there's also a risk that you'll forget the password to your wallet, or even lose it entirely. Make sure you keep a cold crypto wallet safe so you don't lose your holdings if you decide to go down this route.
Bear in mind that some Dogecoin wallets may have maximum limits on how much crypto you can hold in them. Check this before you open a new wallet, as it may not be suitable for your needs.
Investing in Dogecoin stocks
A Dogecoin stock is a company involved in Dogecoin in some way. This might include companies involved in the blockchain technology that underpins cryptocurrencies like Dogecoin.
In fact, some crypto exchanges are even publicly-traded companies. This includes Coinbase and CoinSmart.
Buying Dogecoin stocks like this allows you to gain exposure to the cryptocurrency without having to buy Dogecoin directly yourself.
Buying units in Dogecoin funds and portfolios
Rather than buying individual coins or Dogecoin stocks, you could invest in funds or portfolios that group these together.
For example, eToro offers portfolios that include a range of cryptocurrencies, including Dogecoin. However, it's important to note that these are not crypto funds strictly speaking, as crypto ETFs are currently not permitted by the FCA in the UK.
Similarly, ETFs such as the ARK Innovation ETF include many companies involved in cryptocurrencies, such as those that build the infrastructure that underpins the crypto network. Investing in a fund like this can give you access to a broader section of the digital currency market, while also limiting your own exposure to high-risk cryptocurrencies.
Trading derivatives on Dogecoin
You can also trade derivatives, such as CFDs and spread bets, on Dogecoin's value. This involves speculating on future price movement without owning the underlying asset itself.
Spread betting involves speculating on how many points Dogecoin's value will move in a certain direction. As this is a form of betting, there's no CGT to pay on spread bet profits.
Meanwhile, CFDs (contracts for difference) see you receive the difference in value from when you open a contract to when you close it.
These methods allow you to capitalise on both upward and downward movements in Dogecoin's value.
However, it's important to note that between 50-80% of retail investor accounts lose money when trading CFDs and spread bets. Make sure you fully understand this risk before you invest.
How to Buy Dogecoin UK FAQs
Is it legal to buy Dogecoin in the UK?
Yes, it's legal to buy Dogecoin in the UK. You'll need to have a
crypto wallet
and then simply find a
crypto exchange
that offers access to Dogecoin. Many crypto exchanges offer their own crypto wallet.
Can I buy Dogecoin directly?
See which share tip is making the headlines

Have you considered transferring your pension?

Find the best trading platforms
*Capital at risk