Not cut out for DIY investing? (Or just not ready for it yet?)
But not willing to pay traditional wealth management fees?
It's time to get acquainted with robo advice.
Nutmeg is a leader in the robo advice field, offering an automated investing platform to help you access a tailored, managed portfolio without the high costs – and with the added bonus of wealth management advice from human advisers should you want a bit more reassurance and guidance.
Approved by Nutmeg
22/03/23
As with all investing, your capital is at risk. Tax treatments depend on your individual circumstances and may change in the future. The value of your portfolio with Nutmeg can go down as well as up and you may get back less than you invest.
New Account Offer
Nutmeg are offering 0% Portfolio Management fees for 6 Months on all new accounts. Just click the Visit Nutmeg button to get started and of course T&C's apply.
Nutmeg was the first, and is now the largest digital wealth manager, in the UK. In a market where many robo advisors shutter after a few years in business, it has remained a constant. 
And for good reason. 
Nutmeg is a great option for beginners who want the reassurance of knowing their funds are looked after by a team with a high level of expertise that invests in great research. 
The variety of portfolios on offer means you can still choose the general structure of your investment strategy. In the case of the new Thematic Investing portfolios, you can even choose to invest in the trends you believe will shape the future. Or you can leave it all to the experts at Nutmeg.
Nutmeg's fees are a little higher than some stockbrokers but their pricing structure is blissfully transparent and easy to understand. Plus, with Nutmeg you get free access to their experts should you need a bit of human help, which you might think is worth its weight in gold.
Nutmeg is a great choice if you don't have the funds to go with a traditional wealth manager, and just want to start putting some cash away for your future.
Deposit and withdrawal:
100%
Markets and products:
100%
Pros
Leading UK Robo Advisor with expertly designed portfolios to choose from
No set-up fees, trading fees, transaction fees or exit fees
Full transparency on fees and performance backed by excellent customer service
0% Portfolio Management fees for 6 Months on all new accounts. T&Cs apply
Cons
Fees higher than other investment platforms
No relief for accounts over £1 million
Minimum investment contributions for each account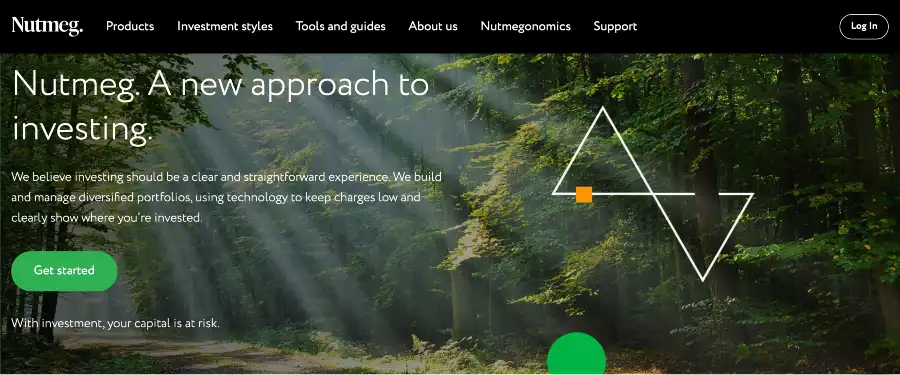 When investing with Nutmeg, their fees are a little higher than some stockbrokers but their pricing structure is simple and easy to understand. Investing with Nutmeg may also not be the best option if you like to be in full control of where your investments are held. Nevertheless, it is the perfect choice for people who don't have hours upon hours to spend researching tracker funds and instead just want to start putting some cash away for their future.
They have a wealth of blog posts and tutorials to familiarise users with all the lingo when it comes to investments and provide useful tools for calculating how much your money could be worth in the next decade.
Investing with Nutmeg is available on both iOS and Android and you can get signed up in just a few minutes.
Who is Nutmeg?
Nutmeg is one of the most established online discretionary investment management companies – meaning it caters to customers who prefer to have their investment decisions made for them. Nutmeg invests in Exchange-Traded Funds (ETFs), which provide exposure to certain investment classes.
Who owns Nutmeg?
Founded by Nick Hungerford in 2011, Nutmeg was an independent company owned by its shareholders.
On 21st June 2021, Nutmeg was acquired by J.P. Morgan Chase (NYSE: JPM) as part of their ongoing expansion into digital wealth management.
Product Range
Nutmeg offers investors simplified products that include UK tax efficient investments and a general investment account (GIA)
When you create an account with Nutmeg, you can invest in a:
Stocks and Shares ISA
Lifetime ISA
Junior ISA
Personal Pension
GIA
If you have a keen interest in investing and a fair amount of money left over at the end of each month to stick in the market, platforms that offer both tax-wrapper accounts and general investment accounts are an excellent choice. You can max out your annual tax-free contributions in your Stocks and Shares ISA and Personal Pension and then use your GIA once you meet your limit. Because they're offered by the same provider, you only need to learn and use one platform, which saves you time and even costly mistakes.
Also consider: Will ISA rates go up?
Nutmeg fills its investment portfolios with the assets and securities it deems to be most in line with its investment strategy, without ties to a service provider. This differs from providers like Vanguard. (Vanguard can only sell Vanguard ETFs, which limits your investment choice.) 
Nutmeg offers a range of portfolios, designed to align with your chosen risk level and investment style: 
Fully managed
Smart Alpha portfolios powered by J.P. Morgan Asset Management
Socially responsible investing
Fixed allocation
Thematic Portfolios
All five Nutmeg investment styles are built by experts and use exchange traded funds to diversify across stocks, bonds, industries, even countries.
The socially responsible investing (SRI) portfolio is proactively managed. 
What does 'socially responsible' mean to Nutmeg? Nutmeg offers 10 SRI options aligned to 10 different risk levels. Each portfolio is built by Nutmeg using thousands of data points on issues related to environmental, social, and governance (ESG) principles. You can learn more about the specific make-up of each portfolio on the Nutmeg website. All SRI portfolios, however, invest in ETFs, so they are diverse and regularly rebalanced for performance, and avoid companies engaged in controversial activities, while focusing on those that lead their peers on ESG. 
See also: Best Ethical Investment Funds
The fully managed account offers the same benefits as the socially responsible account, but there's no social responsibility focus.
The fixed allocation portfolio offers diversity and the same access to ETFs but it doesn't benefit from proactive management.
Nutmeg has collaborated with J.P. Morgan Asset Management to create a set of Smart Alpha investment portfolios that bring the power of J.P. Morgan Asset Management's market insights and deep research expertise while maintaining the same level of transparency and control seen across all Nutmeg investment styles. The Smart Alpha portfolios are now available for personal pensions and can also be accessed via the ISA and General Investment Account types.
The thematic portfolios style is the newest addition to the range. Thematic portfolios is a long-term strategy that focuses on growing trends shaping the future, such as artificial intelligence (AI) adoption, energy generation and the ageing population. This approach invests in the companies that are likely to benefit from the growth of these areas.
Nutmeg's thematic portfolios style gives you a globally diversified, risk adjusted portfolio with a tilt (up to 20% of equity exposure) towards your chosen theme. The majority of the portfolio is actively managed by the Nutmeg investment team, while the 'tilted' part of the portfolio is made up of the ETFs that the investment team believe will deliver the best returns from the growth of the trend – something that is reviewed annually. It should be noted that this is only available to those investors who place in Risk Level 5 or above, but is a good option if you're looking for more choice than with other investing styles and you want exposure to particular markets that you see as a smart choice.
While you won't get to choose your own ETFs within a Nutmeg Stocks and Shares ISA or Personal Pension, you can be more confident that your portfolio options will contain a mix of investments that serve you rather than the provider. That's because there are hundreds of thousands of ETFs available across all markets, allowing the Nutmeg experts to choose the funds they believe represent the best in class for each asset class, industry, or region.
Research Services & Tools
People know Nutmeg for its simplified approach to investing. It goes without saying that the charts and tools it provides are also going to be simple. After all, you don't have much of an option to make use of complicated tools, particularly if you stick to the ISA or Personal Pension accounts when investing with Nutmeg.
Instead of charts and graphs, Nutmeg provides more general tools for financial planning and gives you the option to sort through the tools based on your existing knowledge.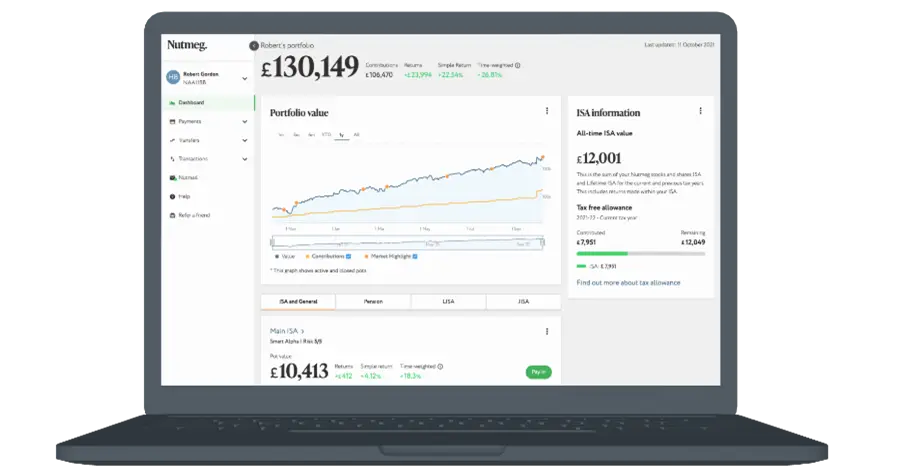 Nutmeg's knowledge centre reflects typical Nutmeg customers' concerns and questions around basic personal finance and investing topics rather than in-depth market knowledge. Even if you select the "I really know my stuff" option, Nutmeg directs you more towards its philosophies and strategies than to in-depth tools and learning, during the onboarding journey.
One thing that sets investing with Nutmeg apart from other robo advisers is its financial advice offering. All investors have access to free financial guidance with a Nutmeg Wealth Manager. If the conversation doesn't provide enough help, you will then be directed towards more in-depth financial advice.
The financial adviser packages are priced at £575 and include:
A review of your finances
An in-depth discussion of your goals
A review of your existing investments and retirement accounts
Retirement planning
Investment and pension advice
Nutmeg Fees & Charges
Fees correct as of November 2023. As fees may be subject to change, however, I suggest visiting the Nutmeg website for the most accurate and up-to-date figures.
Nutmeg charges sliding scale fees based on the five different investment styles you can choose to build your portfolio: 
Fully managed
Smart Alpha 
Socially responsible investing
Fixed allocation
Thematic Portfolios
Fixed allocation portfolios are the cheapest because of the low-touch approach taken, meaning Nutmeg doesn't need to service them as frequently. The annual fees for fixed allocation portfolios are:
0.45% up to £100k
0.25% beyond £100k
You will also pay investment fund costs to the fund providers. Fixed allocation portfolio costs are an average of 0.21% per annum. In addition, you can expect to incur a market spread of 0.04%.
A Fully managed, Smart Alpha, Thematic Portfolios and socially responsible portfolio will cost significantly more than the basic portfolio:
0.75% up to £100k
0.35% beyond £100k
The additional costs paid to fund providers include an average of 0.22% for fully managed portfolios, 0.26% for Thematic Portfolios 0.36% for Smart Alpha and 0.31% (on average) for socially responsible portfolios.
It's important to note that there's no relief on any of the portfolios for accounts holding more than £1 million in assets. The standard practice among investment providers is to stop charging management fees bonds once they meet the £1 million threshold. However, Nutmeg doesn't do this, and it's not clear whether it chooses not to or whether the typical Nutmeg investor never reaches a point where their account is worth £1 million.
Management fees are a standard charge across any investment platform that isn't a barebones stockbroker. You won't find a platform that doesn't charge them unless you manage your own portfolios entirely. However, Nutmeg did axe other charges still found among some legacy institutions. So, when you invest with Nutmeg, you pay no:
Set-up fees
Trading fees
Transaction fees
Exit fees
That means you can take your ISA or Personal Pension to another provider without paying a hefty fee to get your money out. Although it's an outdated practice, there are a few investment providers who still charge exit fees, so they're always worth looking out for before you sign up. There's nothing like pulling your money from a poorly performing portfolio only to take out less than what you invested as a result of exit fees. But, that won't happen when you invest with Nutmeg.
Nutmeg vs Moneybox & Wealthify

Let's compare Nutmeg's fees for the Fully Managed Portfolio with those of Moneybox and Wealthify so you can get an indication of where they stand in terms of cost in the marketplace*.
| Provider | Cost of investing £10,000 | Cost of investing £100,000 | Cost of investing £1 million |
| --- | --- | --- | --- |
| Nutmeg | £101 | £1010 | £6,500 |
| Moneybox | £87 | £762 | £7,512 |
| Wealthify | £82 | £820 | £8,200 |
* Costs correct at the time of writing this review
The Nutmeg Stocks & Shares ISA is the 'tax-efficient' investment account that allows you to earn money tax-free on up to £20,000 worth of deposits each year.
Nutmeg launched in 2011 and it has a long-term track record that you can use when assessing the performance of Nutmeg's investment portfolios. History is important when comparing Nutmeg with newcomers. A new provider may demonstrate better returns in its first two years of trading, but you have a better idea of how well your accounts will perform over 5 years or 10 years, which is a much stronger indicator of how stable a provider is.
Unlike other providers, such as Scottish Friendly, Nutmeg makes its fees transparent and demonstrates the difference they make in a way that's easily digestible. You can adjust its fees calculator to see exactly what fees you might pay on your deposit schedule. Nutmeg's easy-to-use website makes it clear what you will pay and when before you hand over your debit card details.
Nutmeg Personal Pension
A personal pension is another tax-efficient investment that you would do well to avail of before investing in the market through a general investment account.
Each pension is designed by Nutmeg's investment team, and different portfolios cater to your chosen investment style and needs.
As with the ISA, you have the option to choose between the five different investment portfolios.
Nutmeg's personal pension account differs from other robo advisors because the minimum investment is high considering its low-cost, low-maintenance position.
The minimum investment you can start a pension with is £500, which knocks out the section of the market interested in starting their own pension for the first time. However, you may enjoy better rates compared to low-cost competitors. It's, therefore, worthwhile comparing the rates of your preferred platforms and then coming to a decision on whether, or not, it's worth saving that first £500 and then opening a Nutmeg account.
Nutmeg's personal pension product comes with all the same great features that you would experience with its Stocks & Shares ISA. The platform is easy to use, based on your personal goals and risk levels. And you'll get the benefit of a fully managed portfolio at a competitive price.
Nutmeg Fully Managed vs Smart Alpha
The Nutmeg Smart Alpha portfolio range was launched in November 2020 in association with J.P. Morgan Asset Management. It includes five portfolios that each consist of between 7 and 13 passive and active exchange-traded funds (ETFs).
The Smart Alpha portfolio range is designed to achieve alpha returns beyond the market for investors, although being such a recent offering there is little data at present to support this. However, the involvement of J.P Morgan's multi-asset specialists will support the flexible asset allocation within the investment portfolio range and this is certainly worth consideration.
The fully managed portfolios offer investors 10 choices at varying risk levels and, much like the Smart Alpha range, they are consistently adapted to take advantage of opportunities as they arise. The fully managed portfolios hold between 11 to 28 ETFs.
Both ranges of portfolios consist of ETFs offering diversification, and both ranges share the same fees.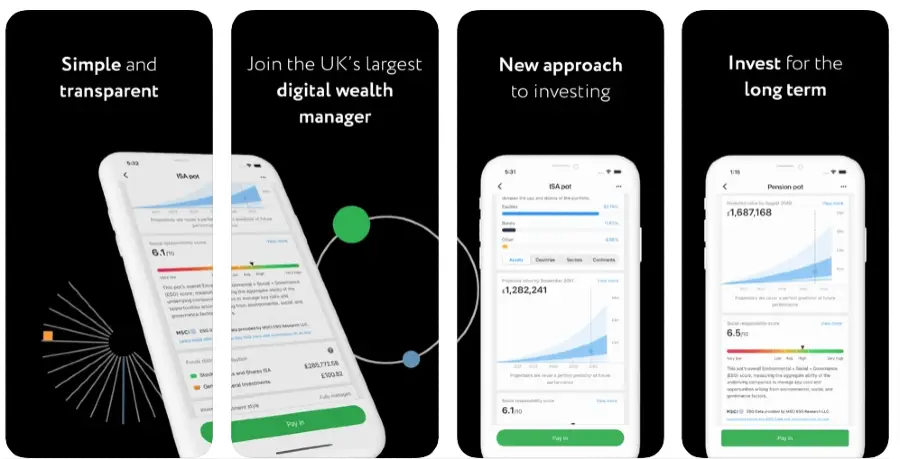 Opening an Account
Investing with Nutmeg is available on both iOS and Android and you can get signed up in just a few minutes.
The Nutmeg account opening journey is generally the same across all investment types. There are no setup or exit fees, and you can complete the whole process online. Nutmeg has excellent customer support to help you out if you get stuck along the way.
When you set up your account, you're providing the details Nutmeg will use to create your fully managed portfolios. You need to provide your goals and risk level that make the most sense for you.
However, unlike other robo providers and low-cost investment platforms, there are minimum investment fees for each account. These include:
£100 for Junior ISA
£100 Lifetime ISA
£500 Stocks & Shares ISA
£500 for pension
£500 for general investment
Nutmeg gives you the option to add cash to be invested later to your General Investment or Stocks & Shares ISA account. Nutmeg have informed me that this option was designed to secure your ISA allowance before the tax year end and drip feed your money into the markets which can be an effective way to mitigate risk, especially in the face of volatile markets created by both the Covid-19 pandemic and political instability in the UK and abroad.
In some cases, you might be better served opening an account with another provider and then transferring your accounts to Nutmeg once you meet the minimum deposit contributions. Because Nutmeg isn't a bank, you're not going to earn any interest on the cash sitting in your account as you would in a normal savings account.
Transferring Your Investments to Nutmeg
Transferring your investments to Nutmeg is straightforward. Once you create your Nutmeg account, you can provide your current investment account details to initiate the transfer.
In most cases, Nutmeg arranges an electronic ISA transfer with your current provider.
The process usually takes 5-30 days depending on your existing provider.
Unlike other providers, like Bestinvest, Nutmeg doesn't cover any transfer fees. If your existing provider charges you money to leave your account, you are responsible for eating the cost.
Customer Service
A quick hunt around the website suggests that Nutmeg provides great customer service, particularly given the fact that it's a robo investor.
The client services team offers an online chat function that caters to new clients (for account setup troubleshooting) and existing clients.
Nutmeg also offers an email option for more complex issues.
There is also the option to speak to Nutmeg's customer support team via phone. When I tested this option I was connected to a human advisor within 30 seconds.
Nutmeg's Trustpilot profile has a rating of 4.2 from 241,442 reviews.
Who is Nutmeg Suitable for?
Nutmeg suits investors and savers ready to commit to their tax-wrapper products but who want a low-maintenance option with fully managed portfolios.
Although the provider's fees are mostly in line with the low-cost platform standard, the high account minimums rule out anyone hoping to start their account with a bit of extra cash or £50 a month.
If you're ready to get serious about saving but you're more interested in the hands-off robo advisor approach, then Nutmeg should make it onto your list of potential platforms.
Nutmeg is available to UK residents with the exception of U.S. nationals (even dual citizens). The U.S. Internal Revenue Service's reporting requirements make American citizens (even accidental Americans) persona non-grata.
Useful Information
This section contains information to help make your experience at Nutmeg as seamless as possible.
How do I close my account at Nutmeg?
Closing your account is straightforward. First, you need to either request a withdrawal or provide your account details to your new provider if you want to close your account to switch providers.
Once you withdraw, you can send the request to close your account through the Nutmail function on your dashboard. It may take up to six months to fully close the account because you need to wait for the final payments of any interest income or dividends owed to you from your investments.
If you have more questions, it's probably easier to direct your request to the Customer Engagement Team over the phone.
How do I withdraw money from Nutmeg?
To withdraw from your Nutmeg ISA you need to make a withdrawal request within your account providing details such as your nominated bank account. Nutmeg doesn't charge for withdrawals on your Stocks and Shares ISA or any other account. Withdrawals take 3-7 business days because Nutmeg sells investments on a twice-weekly cycle.
However, you should remember there are government penalties for withdrawing from a Lifetime ISA.
How do I contact Nutmeg?
If you're a current customer, you can ring customer support on 020 3598 1515. The hours are 09:00-17:30 Monday to Thursday and 09:00-16:30 on Friday. The customer support team is based in London.
Nutmeg's live chat feature runs the same hours.
If you're a customer, you can also use the Nutmail function once logged into your account.
For other inquiries, you can email [email protected]
Nutmeg FAQs
How safe is Nutmeg?
Nutmeg is a safe provider as it is authorised to operate in the UK by the Financial Conduct Authority. When you invest in Nutmeg, your assets are protected by the Financial Services Compensation Scheme (FSCS).
Which is better: Wealthify or Nutmeg?
Wealthify
works out slightly cheaper, although this is reversed if you're investing £100,000+. Nutmeg outshines Wealthify with their LISA and free, human investment advice in addition to robo advice.
Most recent reviews:
Professional and courteous human contacts for any queries. Within my Stocks & Shares ISA, I chose socially responsible and am very pleased with their performance over the past chaotic year.
Likes
Fees
Account opening
Deposit and withdrawal
Customer service
Simple App and easy to use format with plenty of guidance. No adverse issues encountered in the last 2 years since opening. Would recommend.
Likes
Fees
Account opening
Deposit and withdrawal
Customer service
2022 and early 2023 have been difficult years for all investors. Just comparing Robo investment companies my Nutmeg Alpha fund has performed substantially better than those of competitors for the last two years now. The online portal is very easy to use and customer services are exemplary. The fees seem a little on the high side.
Likes
Fees
Account opening
Deposit and withdrawal
Customer service
See which share tip is making the headlines

Have you considered transferring your pension?

Find the best trading platforms
*Capital at risk