Bestinvest is a long-standing investment platform that offers access to a range of funds and shares. Their acquisition by Tilney has led to the added benefit of free financial coaching with a qualified financial planner which could be appealing for novice investors and those looking to broaden their knowledge.
Read my full Bestinvest review to discover why this is a good all-rounder platform for most investors but why beginners and those with small portfolios might benefit most.
Deciding between UK trading platforms too often requires a trade-off between cost and value. In many ways, Bestinvest is no exception to this rule. Bestinvest is a mid-sized investment platform with around £2.7 billion in assets under management. Because it's a part of the Tilney Group, you enjoy access to products and services that you won't otherwise get with budget investment platforms, such as three management options for your SIPP account.
At the same time, there are some core features of a standard investment platform that Bestinvest skips, which impact whether or not you should stay with Bestinvest long-term.
Without question, the Bestinvest SIPP is the platform's most attractive product, particularly for new investors and those just getting started with retirement planning. But is it worth starting or transferring an ISA here, too? My Bestinvest review answers these questions and more.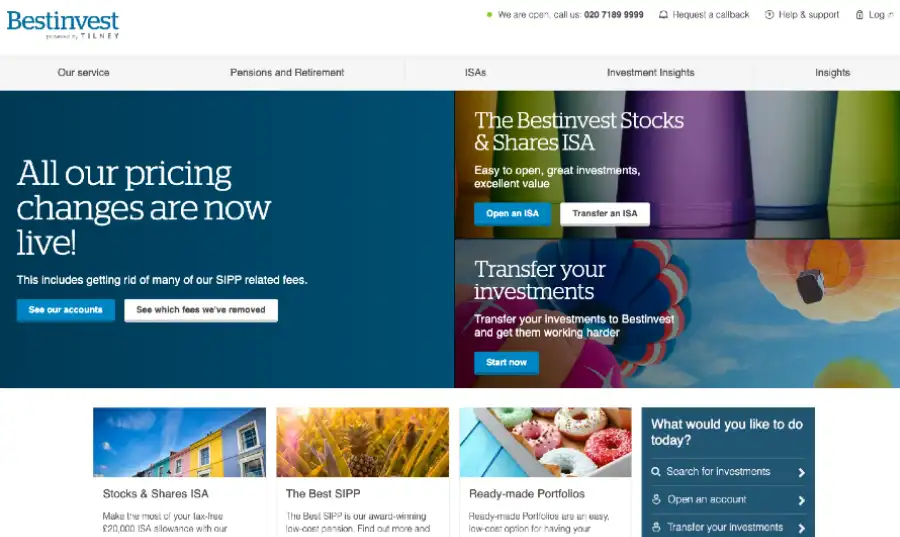 Their fees are a little higher than some stockbrokers but their pricing structure is simple and easy to understand. BestInvest may also not be the best option if you like to be in full control of where your investments are held. Nevertheless, it is the perfect choice for people who don't have hours upon hours to spend researching tracker funds and instead just want to start putting some cash away for their future.
They have a wealth of blog posts and tutorials to familiarise users with all the lingo when it comes to investments and provide useful tools for calculating how much your money could be worth in the next decade.
BestInvest is available on both iOS and android and you can get signed up in just a few minutes.
Who is Bestinvest?
Bestinvest is an online investment platform, offering a range of funds as well as stocks and shares. In 2011 Bestinvest launched its service for DIY investors, offering a trading account as well as a range of ISAs and a self-invested personal pension.
Who owns Bestinvest?
Bestinvest was founded by John Spiers in 1986 so is one of the longer-established platforms out there. In 2014 the platform merged with Tilney and rebranded as Tilney Group in 2017, and is now known as Bestinvest by Evelyn Partners, a trading name of Evelyn Partners Investment Management Services Limited.
Product Range
A quick review of the website shows that Bestinvest offers a simple range of tax-efficient products including:
Stocks and Shares ISA
Junior ISA
SIPP
General Investment Accounts
Using a platform that offers both tax-wrapper products and a general investment account means you can maximise your tax-free investments and put the excess in the market without opening and learning multiple providers' systems. It's a valuable proposition if you don't have a huge amount of time to dedicate to monitoring your investments. However, as you'll see elsewhere, Bestinvest doesn't have the kind of tools required to get knee-deep in share dealing through an investment account. As a result, the value proposition is a bit muddled in terms of execution.
Research Services & Tools
Even though Bestinvest focuses on providing an investment platform for easy-to-use tax-free accounts, it provides a decent range of education for investors, particularly those with basic financial literacy who want to grow their knowledge.
For example, their investment guide covers subjects like:
How to find stocks poised to outperform
How to find companies paying dividends
How to find green and sustainable funds
Bestinvest also provides customer-facing documents that help you parse funds, portfolios, and even help you "Spot the Dog" (i.e, the worst-performing funds).
You aren't going to get much in the way of charts and tools, which limits your ability to take advantage of the DIY options offered. Generally speaking, the technical side of the service is lacking. However, you do get easily digestible and regularly updated guides and posts to help you become a more confident novice investor.
Keep in mind that none of the content the team produces constitutes formal financial advice. If you need help with retirement planning tailored to your financial history, then you need to seek financial advice from an independent financial adviser.
But if you would rather keep everything in one place, you don't actually need to go far to find advice. Here's where the relationship with Tilney becomes valuable: the connections allow you to choose the Bestinvest Plus service for expert advice from an adviser. Bestinvest Plus is a free service available to walk you through your finances and learn more about what's available to you through the platform. The service offers recommendations on the Bestinvest ready-made portfolio products – not dealing. So, if you're completely new to investing and have an interest in the ready-made products, you can get some initial help to get you started.
Fees & Charges
Bestinvest UK accounts come with tiered account fees.
If you want an ISA, Investment Account, Junior ISA or SIPP, you'll pay:
0.2% on up to £500,000
0.1% on £500,000 to £1 million
Free over £1 million
Keep in mind that you'll still need to pay fund fees, which vary by product. It's worth noting that BestInvest's fees are much cheaper than Nutmeg and Wealthify, who charge up to 0.75% and 0.6% respectively and depending on your portfolio choice.
If you're interested in an Investment Account, then you'll also pay share dealing fees on £4.95 per trade. The good news: buying and selling funds is free. You still need to pay fund charges, which is par for the course.
Keep in mind that you still need to consider Stamp Duty as well as potential ongoing fund charges.
It's a bit disappointing that Bestinvest doesn't make it simple to see how much your account will cost you before you get set up. Several of its competitors like Nutmeg use graphs and charts to help you actualise the true cost of the management fees. It's a small quibble, but it demonstrates a lack of thoughtfulness around the user experience.
All in: the fees offered by Tilney Bestinvest won't make or break you, but the SIPP fees are very competitive. I like the use of the tiered fee based on the value of your portfolio as they tend to be more cost-effective compared to fixed annual fees. However, you should always compare fees based on your investment strategy.
Non-Leveraged products
Bestinvest offers two non-leveraged products: ISAs and SIPPs.
Leveraged products
Because of the tax-efficient nature of these investments, you can't use leveraged funds within an ISA or SIPP portfolio.
You don't have the option to invest in leveraged products with a Bestinvest account.
It's unclear whether Bestinvest's general investment account offers any access to leveraged products.
Bestinvest ISA
Bestinvest offers both a Stocks and Shares ISA and a Junior ISA. When you open an ISA account, you have access to over 2,500 funds, UK shares, ETFs, and investment trusts.
One of the ways Bestinvest differs from other low-cost platforms is that you have the option to choose between Bestinvest ready-made portfolios and the option to choose your own investments.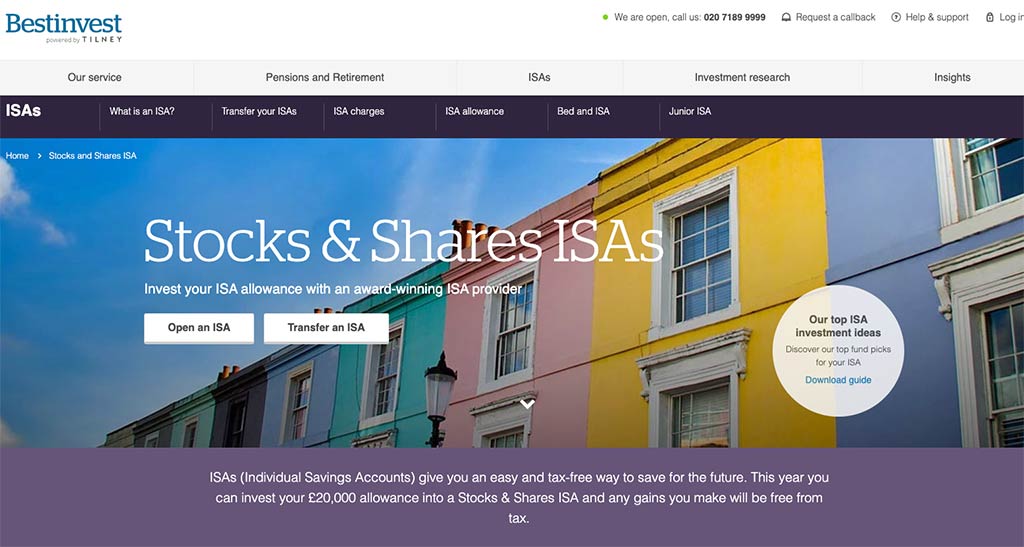 You can choose from one of seven ready-made portfolios on your own or ask Bestinvest for help through the Bestinvest Plus service. According to the provider, the Tilney Group investment team create Bestinvest's portfolios as well as the portfolios for the Tilney wealth management services.
The ready-made portfolios include:
Maximum Growth
Adventurous
Growth
Balanced
Defensive
Ethical
Income
Ready-made portfolios also enjoy management from the Bestinvest team. Yes, you do add on an additional fee that can bring your annual costs up towards 2%. However, you do get professional management in exchange for the fee.
The Bestinvest ISA product is competitive, even when you factor in the increased fund management fees should you choose to go that route. The annual management fee is only 0.4% for accounts under £500,000 compared to the 0.5-0.75% fee offered by the competition.
Overall, I like the number of investment portfolios, and the growth portfolio is a strong offering that does beat competitors like Hargreaves Lansdown in some respects.
If you're not interested in the ready-made portfolios, then there are tools that make investing fairly straightforward. The Investment Selector allows you to compare funds without opening a dozen tabs, and the range of informal educational tools does cater well to fund investing.
SIPP
Bestinvest's SIPP product is an award-winning pension and probably the platform's biggest draw.
Bestinvest promises value for money through tiered service fees, three investment strategies, and a plethora of customer service options in case you get stuck.
You'll quickly find that the product is called the Best SIPP. It seems to be both a play-on-words and a very clever marketing tool.
The big standout feature is the option to choose a fully-managed portfolio, work with an investor, or do it all yourself. A DIY SIPP is achievable because while the fee is average, you can invest in funds without paying fund dealing charges, which could save you a great deal when compared with other providers.
It's uncommon to find all three options within one low-cost investment provider. So, if you have a dream of one day controlling your own pension, then Tilney Best Invest makes it possible.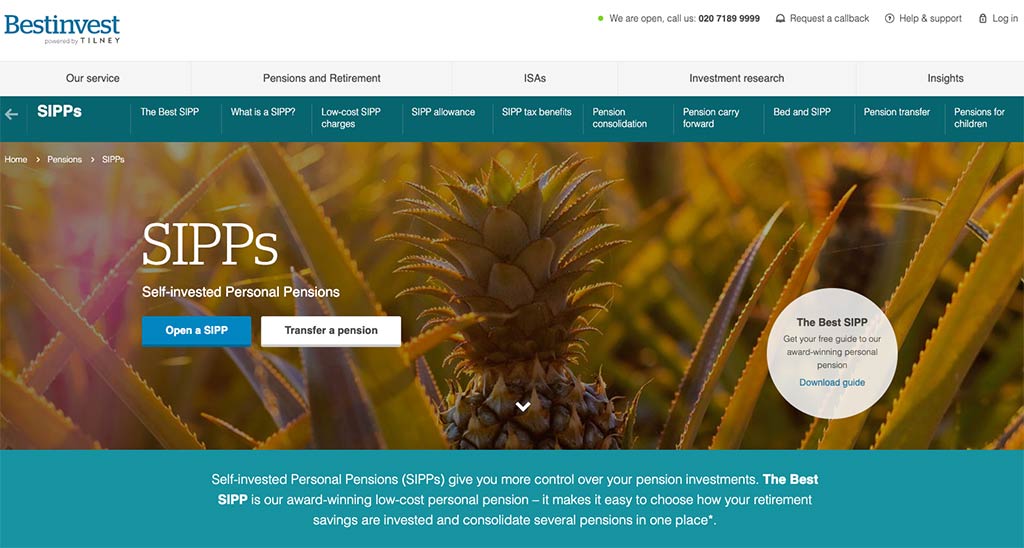 Be warned: you have to participate in lead generation to get further information about the SIPP product. The guides are available via email and providing your phone number is mandatory. So if you're just shopping around, you'll need to go back and update your marketing preferences afterwards.
The Bestinvest SIPP is considered by some to be the flagship product, and it's not hard to see why. Many of the same rules and tools apply to both the ISA and SIPP accounts. But the SIPP product is known to be substantially cheaper than many other SIPPs on the market, particularly for those just getting started. Again, the free fund dealing is a huge bonus for new investors. And if you are interested in share dealing, then the prices are on par with other providers: £4.95 seems to be the standard charge.
Bestinvest also offers some pension options designed for new investors that aren't part and parcel of the low-cost SIPP landscape. For example, you can schedule a free telephone pension review with Bestinvest advisors to review your pension and its growth, which is a great service. The free advice includes reviewing your fees, double-checking your investments, and ensuring you're making the most of allowances. Again, it's not free financial advice, but it does help you prevent simple mistakes that could damage your retirement goals. They'll even help you if you don't have all your pension paperwork or it's a mess.
All in, it's not hard to see why the SIPP is so well-reviewed and continues to win awards. You do get real value if you're just starting out and you get it at a cost that's substantially lower than other providers.
Opening an Account
You can open an account online with your email address, National Insurance number, and your debit card or bank details to fund the payment.
If you get stuck, you can phone Bestinvest on 020 7189 9999.
Transferring Your Investments to Bestinvest
Transferring your investments to BestInvest is straightforward. Once you create your BestInvest account, you can provide your current investment account details to initiate the transfer.
In most cases, BestInvest arranges an electronic ISA transfer with your current provider.
The process usually takes 5-30 days depending on your existing provider.
Unlike other providers, like Nutmeg, BestInvest doesn't cover any transfer fees. If your existing provider charges you money to leave your account, you are responsible for eating the cost.
Customer Service
The ability to get in touch with your investment provider is always important, particularly in times of volatility.
Unlike other providers, Bestinvest has a complete FAQ section that covers not only the basics, like adding money and withdrawing from your account, but it also covers questions on jargon, investing, and dealing. You'll also find information on transfers, transactions, and basic security measures.
Useful information
This section contains some useful information to help make your experience at BestInvest as seamless as possible.
How to contact Bestinvest
If you have more questions and you can't find the answers in the help section, you have multiple ways to get in touch:
Phone Bestinvest on 020 7189 9999
Request a call back from the team
Send an email
Chat to them via online support
The range of customer service options sets it apart from other providers because it allows you to be proactive. The callback feature is particularly helpful and means you avoid yet another half an hour on hold.
Who is Bestinvest Suitable for?
Bestinvest is suitable for new and intermediate investors who are still growing their portfolio. Because they cover exit fees from other providers, it's also a suitable place to move any languishing or forgotten existing SIPP or ISA accounts.
Bestinvest FAQs
Is Bestinvest safe?
Yes, Bestinvest are now owned by the well respected Evelyn Partners and are authorised and regulated by the Financial Conduct Authority.
Do Bestinvest support automatic monthly savings into a fund?
Yes, this can be easily set up on the monthly savings page within the platform interface. Simply click 'Add new monthly investment' and select investment.
Bestinvest Customer reviews
Most recent reviews:
There are no reviews yet. Be the first one to write one.
See which share tip is making the headlines

Have you considered transferring your pension?

Find the best trading platforms
*Capital at risk