Wealthify is a popular UK Robo-advisor investment platform who invest in a range of ETFs in a semi-managed way. As I show in my Wealthify review, they've used the power of analytics and algorithms to create five different investment options based on consumer's attitude to risk and have made some solid profits from working in this way.
Wealthify currently offer Stocks and Shares ISAs, Junior ISAs, ethical investments and pensions.
Read my full Wealthify review to discover why Wealthify is a great digital wealth management platform for those with little to no investment experience who want a tax-efficient way to save for their future.
As with all investing, your money is at risk. The value of your portfolio can go down as well as up and you could get back less than you put in. The tax treatment of your investment will depend on your individual circumstances and may change in the future. You should seek financial advice if you are unsure about investing.
Who are Wealthify?
Wealthify are a robo-advisory service, who have partnered with Aviva to offer affordable, effortless investing to everyone. With Wealthify, investors can choose their risk profile and then sit back while the platform manages them.
Wealthify operate a flat fee of 0.60% and with fund charges, this usually amounts to around 0.76% of the fund value for original plans and 1.3% for ethical plans, making them pretty much on par with most other Robo-investment service providers.
They have also received a Highly Commended rating at the Moneyfacts Consumer Awards in 2019, a Best Buy by Boring Money in 2022 and Best Junior ISA and Best Investment ISA at the Personal Finance Awards.
Who owns Wealthify?
Founded by Richard Avery-Wright, Michelle Pearce-Burke and Richard Theo in 2016, insurance giant Aviva bought Wealthify in 2017. Michelle Pearce-Burke, is still heavily involved in the company as Chief Strategy Officer.

Wealthify offers your standard ISA and investment products and have recently added a personal pension to the suite of products available.
Their products include:
General Investment Account
Stocks and Shares ISA
Junior Stocks and Shares ISA
Pension
Ethical Investments across all products
Wealthify work in a similar way to most other robo-advisors whereby they offer you a pre-made portfolio based on your attitude to risk.
All customers are required to complete a suitability questionnaire before determining their risk style and there are 5 options for the portfolios; Cautious, Tentative, Confident, Ambitious and Adventurous.
Your investment will be spread across the following products and the percentages changed depending on how adventurous your risk level is:
Cash
Shares
Government Bonds
Property
Corporate Bonds
Research services & tools
As Wealthify is a Robo-advisor service, it's all done for you, meaning you can't control investments beyond choosing your risk level as Wealthify choose where to allocate your money. Because of this, there is a lack of research tools available that you would normally see with other self-directed services.
Nevertheless, they still have a pretty good 'blog' section on their website which can keep you up to date with all the latest news and trends from Brexit to the Coronavirus having an effect on world markets.
Wealthify actually has one of the better blogs that I have come across. It's updated a couple of times a week and you can filter the posts by category so you can learn all about investing if you're a newbie or filter articles about investments for children all within a couple of clicks.
They also have a hearty FAQ section which is super easy to navigate thanks to the categories on the left-hand side of the page.
Wealthify has tried to make their fee structure nice and simple by splitting them into two costs; the Wealthify fee and the average investment fund cost; though the latter can be a bit harder to predict as it purely depends on the fund.
They try to be as transparent as possible with their customers and on their website you can find a slider in their fees section that helps to estimate the exact pound amount you'll be paying each month.
The Wealthify fee
This is basically Wealthify's platform fee and is pretty competitive when I looked at it compared to other Robo-advisor services. They charge a straight 0.60% fee that doesn't change whether you're investing £1,000 or £100,000.
Like with all Robo-advisors, the rate is much higher than what you'd get if you were building yourself a bespoke portfolio with traditional big-name platforms like AJ Bell, Charles Stanley Direct, or Cavendish Online but is in-keeping with rates for a done for you portfolio…well to an extent.
Their fee represents good value for money for those with smaller sized investments of say, less than £10,000, but quickly becomes more expensive than their competitors when you have a portfolio size of over £50,000.
When I compare Wealthify's fees to Moneyfarm, for example, you'll find that once you've hit the 10k mark you should really be starting to shop around, even if you are sticking with a Robo-advisor service as there are much more competitive fees out there.
Average investment costs
This is basically the fund fees, however, Wealthify has no control over this amount. They do state on their website that they try to select funds with an average fee of around 0.16% for regular funds and 0.7% for ethical funds. This fee includes any fund charges as well as market spread.
Opening an account with Wealthify
Signing up to Wealthify can be done online in just a few clicks. You select whether or not you want to make an initial deposit as well as what you'd like your monthly investment to be.
Then you pick your investment style (there are 5 levels of risk to choose from) and the handy calculator on the right will give you a rough estimate of how much you could have in your account in 10 years' time. Next, you select whether you want to go down the regular route or ethical route in terms of funds.
You're then given a quick summary of some key information about the types of investments that are going to be in the funds you're investing in as well as the geographic location and the names of the funds themselves so you can go out and do some further research if you prefer.
You are then taken to a suitability questionnaire to ensure that you know what you're doing and understand that your capital can be at risk. This is due to Wealthify being regulated by the Financial Conduct Authority and is designed to protect investors such as you from taking risks you're unaware of.
Wealthify only allows you to attempt these questions twice and if they deem you unsuitable, you won't be able to open an account. The questionnaire itself is fairly simple as it asks how you personally feel about risks towards losses, job security and other factors and will take you no more than a couple of minutes to fill out.
You'll then be asked about your salary before tax annually as well as your monthly take-home amount, monthly living expenses and total debt before assessing whether or not the product you've selected is appropriate for you.
Transferring your investments to Wealthify
Transferring your investments is really easy and is free of charge. When you're initially signing up you can actually select whether or not you'll be transferring in from another provider. If you decide to transfer in at a later date, you just need to fill out this form to get the ball rolling.
They didn't actually have information on the website about how long transfers in can take so I reached out to support for clarification on this one and they stated that Cash ISAs take around 15 working days to complete, with Stocks and Shares ISAs taking much longer; around 30 working days to complete. The latter, being 6-weeks in real-time is pretty slow compared with other providers who can usually have you transferred in within the month.
The great news is that transfers-in don't count towards your annual tax-free allowance, however, if you're transferring from a cash ISA, Wealthify doesn't offer a cash ISA product and you would be investing in a more risky Stocks and Shares ISA. You'll also have limited control over where your money is being invested.
Opening a Stocks and Shares ISA with Wealthify is a great way for you to learn the basics of investing and take advantage of the generous £20,000 tax-free savings allowance per year.
I really like that you can open an account with as little as £1 or a regular monthly contribution of just £10 as some other Robo-investing services require much higher deposits like Nutmeg and Moneyfarm who require £500 and £1,500 respectively.
Their ISA is not flexible, which isn't exactly a deal-breaker, but with many competitors offering it, it is a nice backup to have should you want to access funds in an emergency and replenish them within the same tax year.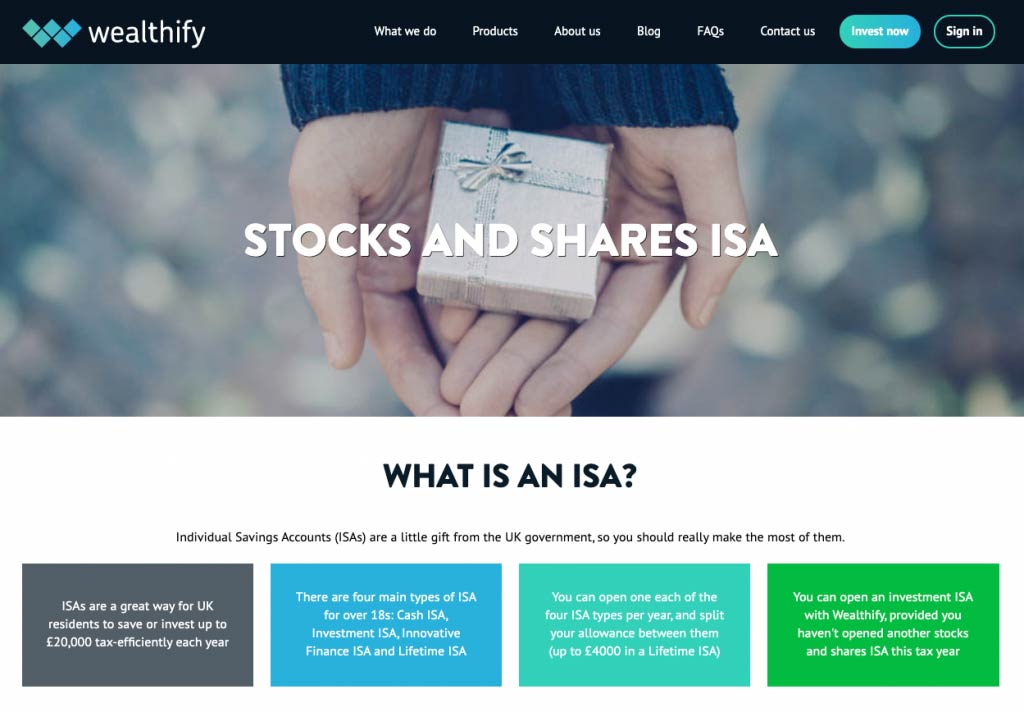 Wealthify was founded in 2016, but generally speaking, their performance has been pretty good across all of their funds; however, on more cautious funds, other Robo-advisor investment services did make their clients slightly more over the last few years. The 2018 year was a pretty poor year for everyone, but Wealthify customers who were in the most cautious fund only made a slight loss of 1.53% with the adventurous losses being at 7.21%. Compare this to the losses of Nutmeg's riskiest portfolio and you'd have been better off with Wealthify.
Wealthify did also manage to make back the 2018 losses with a great year in 2019 where they performed slightly better than Nutmeg in their Tentative and Confident funds and even showed a solid advantage on Wealthsimple in their Tentative fund.
It's always great to see investment services providers open up their products to a wider market which is why I'm happy that Wealthify offers Junior ISA accounts too to encourage saving for the little ones. Because Wealthify has a great user-friendly app too, you can sit down with the kids, monitor the investments and teach them about what's happening to their money in an easy-to-digest format. Wealthify gives you the opportunity to invest the full allowance for a Junior ISA per tax year (£9,000).
Wealthify have recently added the functionality for friends and family to contribute towards a Junior ISA upon invitation by the parents. This may be one of the contributing factors that has earned Wealthify the award of Best Junior ISA at the Personal Finance Awards 2019/20
In line with the rest of their offering, Wealthify's pension is quick and easy to set up with a short number of questions that include your expected retirement age, initial and monthly investments and your investment style.
Wealthify will then present you with an estimated value for your pension when you come to retirement age.
Wealthify provide you with all the details of how your pension will be invested including assets types, regions and funds. Once you are happy with your investments and have opened an account, you will pay a flat fee of 0.60% on top of fund fees of approximately 0.22%. This makes your total fees approximately 0.82, which is higher than some other providers with Moneyfarm costing between 0.35% – 0.75% and AJ Bell costing up to 0.25%.
Wealthify customer service
Wealthify have one of the better customer service teams we've come across, especially when it comes to response times. I love their live chat function for quick-fire questions and think that it's something that all investment service providers should offer.
The team are available from Monday to Friday, 8 am-6:30 pm and Saturdays 9 am-12:30 pm. From our experience with them, they were very knowledgeable about their platform and you can also give them a call or send a secure message if live chat isn't really your thing.
Their FAQ section covers most questions that you can think of and it's very easy to navigate. They also provide a search option if you specifically know what you're looking for.
Useful Information
Who is wealthify suitable for?
Wealthify is a perfect option for those who are new to investing, want to dip their toes in and are looking to invest around £10,000 or less. If you have more than £10,000, you may want to check out some of their competitors as you'll find you can potentially get a slightly better rate based on their fee structure.
If you want control of exactly where your money is going then this product is not for you but it's great for investors who want everything done for them, yet can easily check how their money is doing on the go using the app. A solid choice for young people wanting to take advantage of some tax-free savings while learning about the stock market.
Here is some useful information to help make your experience at Wealthify as seamless as possible.
Are Wealthify Regulated?
Wealthify are authorised and regulated by the Financial Conduct Authority but are not able to offer advice to clients at this time. They're also backed by the Financial Services Compensation Scheme meaning your money is covered up to £85,000.
How do I close my account at Wealthify?
It can take up to 10 business days to close your account. You start the process by contacting customer support over the phone or via the message centre on the platform.
How to contact Wealthify?
You can contact Wealthify via their websitehere or phone the (UK) on 0800 802 1800
Wealthify FAQs
How safe is Wealthify?
Wealthify uses Winterflood Securities Limited, who hold the funds for their ISA, pension, and General Investment Accounts, and Embark Investment Services Limited as custodians. These custodians keep your investments in segregated accounts and are regulated and supervised by the Financial Conduct Authority. In case any of these companies go bankrupt, your first £85,000 is protected under the Financial Services Compensation Scheme (FSCS).
Is Wealthify any good?
Yes, I think Wealthify is perfect for those that are new to investing. Wealthify lets you get started with any amount of money and with regular direct debits you can build great investing habits. For more experienced investors I recommend checking out our
Interactive Investor review
or
Hargreaves Lansdown review
.
Wealthify Customer reviews
Most recent reviews:
Wealthify is easy to use and understand. It's simple to add and withdraw funds or set up regular pay ins. The app makes it easy to see how the plan is performing and regular messages are sent to report on any changes made to the plan.
Likes
Fees
Account opening
Deposit and withdrawal
This was my very first go at investing and the app made it so approachable and straightforward. This is still the service I use more often and for the highest amount of money as it's still the one I trust the most, and I'm also the most familiar with. It's very easy to visualise and understand how your money is invested and how the investments have performed. It's easy to ask questions and quick to get answers. I've recommend it to friends and colleagues
Likes
Account opening
Deposit and withdrawal
Customer service
I do enjoy this app and use it regularly however, I get slightly annoyed with the constant adverts etc to upgrade my account. These marketing ploys make me feel very undervalued as a customer and suggests the company is more interested in making money than looking after their customers and creating a positive user experience.
See which share tip is making the headlines

Have you considered transferring your pension?

Find the best trading platforms
*Capital at risk