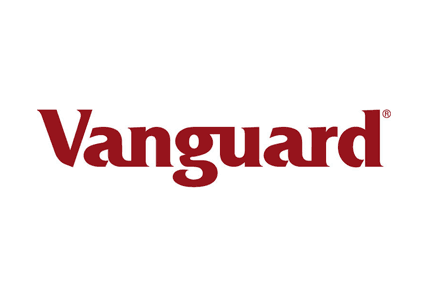 Vanguard was founded in 1975 and launched its DIY UK platform, Vanguard Investor, in 2017. Vanguard is one of the world's largest fund managers, offering low-cost investing accounts, stocks and shares ISAs, junior ISAs, and SIPPS.
Vanguard is authorised and regulated by the Financial Conduct Authority and currently holds investments for over 20 million users worldwide. What makes Vanguard stand out from the competition is that it is owned by investor funds and therefore is totally committed to positive outcomes for its investors, offering low-cost index-tracking funds that are some of the cheapest to invest in.
One thing of note is that with Vanguard, you will only have access to Vanguard funds, giving investors little in the way of choice. Indeed, given that you can access Vanguard's funds on other platforms alongside an extensive array of other funds, the Vanguard platform may not always be the best option. To illustrate this point, a direct comparison of Vanguard to InvestEngine will reveal that you can actually access the Vanguard ETFs at InvestEngine for less cost. I will go into this in more detail further down in this review.
Vanguard has recently expanded its offering by introducing its 'Managed ISA' which is carefully matched to your appetite for risk and offers hands-off investors a fully managed service. Read on to find out more about this service.
In this Vanguard review, I look at the service provided by Vanguard and how it competes in a crowded market for your business.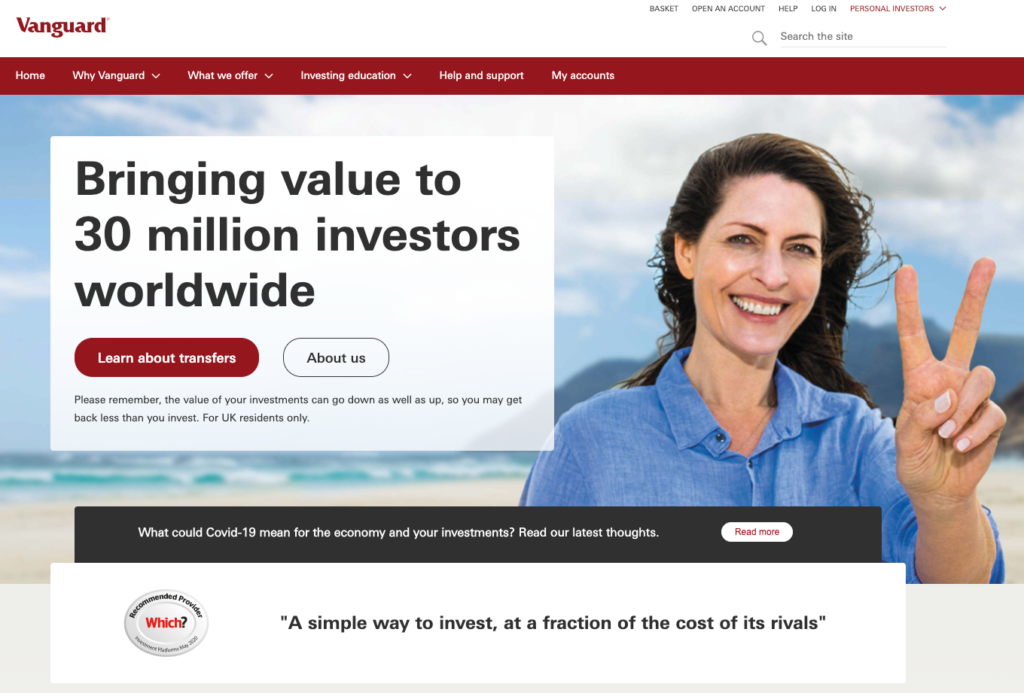 Who is Vanguard Investor?
Vanguard Investor is part of the Vanguard Group Inc., an American registered investment advisor. Vanguard is the largest provider of mutual funds and the second largest provider of exchange-traded funds (ETFs) in the world.
Vanguard launched its fund platform in the UK in 2017.
Who Owns Vanguard?
Vanguard was founded in 1975 by John C. Bogle.
Today, Vanguard is owned by its member funds, which means that anyone who has purchased shares in a Vanguard fund is a Vanguard owner.
Vanguard Investor Product Range Overview
Vanguard offers the following products:
Stocks and Shares ISA
Junior ISA
General Investment Account
Personal Pension
Also consider: Best General Investment Account
Unfortunately, Vanguard Investor only allows you to buy Vanguard funds, of which there are around 75, which is great if you are a passive investor but less so if you are looking for shares in a specific company.
Their LifeStrategy funds provide investors with readymade investments to suit novice and passive investors. Each LifeStrategy fund holds between 6,000 and 20,000 shares and bonds from across the globe, effectively helping to reduce your exposure to risk and ensuring you can take advantage of the low costs available at Vanguard.
In 2019, Vanguard also launched the Vanguard Active UK Equity Fund, aimed at long-term investors seeking to invest in the shares of UK companies at a typically low cost whilst remaining actively managed.
Vanguard Lifestrategy funds in more detail
The Vanguard Lifestrategy funds remain one of the most popular funds in the UK; however, with plenty of alternatives, many of which deliver better returns, it's worth taking a closer look at why so many investors have chosen to invest their money here.
Each fund delivers exposure to shares and bonds in a risk-weighted manner and aims to track the returns of an index. This is a simple and cost-efficient way to invest with automatic rebalancing, ensuring the maintenance of a specific asset allocation.
The thinking behind the LifeStrategy funds is that the weighting of bonds will help to dampen the volatility of shares, as bonds are able to sustain their value in times of recession better than equities. However, as a holder of these funds, I can attest that this isn't always the case, as this certainly hasn't been my experience over the past year. In fact, bonds have fallen in value more than shares in the past 12 months.
There are five of these funds in total, which I have gone into in more detail below:
Vanguard LifeStrategy 20% Equity
Vanguard LifeStrategy 40% Equity
Vanguard LifeStrategy 60% Equity
Vanguard LifeStrategy 80% Equity
Vanguard LifeStrategy 100% Equity
Vanguard LifeStrategy 20% Equity
This fund is considered the lowest risk with a 3 out of 10 rating. It is made up of only 20% equities, with the remaining 80% being invested in bonds. Being the lowest risk rating of all the Vanguard funds, you might expect this fund to have ridden out the recent volatility reasonably unscathed. But this is not the case. In fact, the 20% equity fund has performed poorly, with a negative growth of -10.63% from 07/21 – 07/22 and -4.52% for 07/22-07/23 making this the worst-performing fund in the LifeStrategy range in the last two years.
However, as always, past performance is not an indicator of future performance, and this fund has performed well in the years leading up to the recent market turmoil, with a five-year return of 9.03%, illustrating why it is best to hold your investments for a minimum of five years.
Vanguard LifeStrategy 40% Equity
The 40% Equity fund has a medium risk rating, meaning it is likely to experience some volatility in the short term but should provide income over the long term.
This fund is weighted with 40% shares and 60% bonds, with most equities coming from the US and UK. In the last five years, it has returned 17.17%, which actually outperformed most of the funds in this sector; however, the most recent performance doesn't look so rosy, with October 2021 to October 2022 seeing a loss of -15.8%.
Vanguard LifeStrategy 60% Equity
As the name would suggest, this fund is invested in 60% shares and the remaining 40% in bonds, which gives it a medium risk rating of 5. Since its inception in 2008, the fund has returned an average of 6.6% per year, which aligns with the performance of the index it tracks (the MSCI World Index).
For 2022, this fund returned 9.2%, which is decent, and 2021 saw returns of 10.3%. Of course, the markets are still volatile, and it would be a mistake to rely on historical returns for future returns.
Vanguard LifeStrategy 80% Equity
With 80% of this fund being shares and the remaining 20% being bonds, this is a much higher-risk fund, with the objective of higher returns for long-term investors who can stomach market volatility.
This is the only fund in the LifeStrategy range to consistently remain in the top quartile sector over the past five years, and since its inception in 2008, it has returned an average of 7.7% per year.
2022 saw returns of 10.4%, and in 2021, the fund returned 11.1%.
Vanguard LifeStrategy 100% Equity
This fund is for investors who are willing to assume more risk with 100% of their investments in equities. This is considered high risk, with a rating of 7 out of 10. However, over the previous 5 years, this fund has fallen below the sector average, although the returns have still been reasonable, with 2022 returning 10.9% and 2021 returning 11.6%.
Due to the nature of the assets it holds, this fund would only be suitable for investors with time to ride out market volatility.
What exactly can you invest in with Vanguard?
In addition to the LifeStrategy funds, the range of investment products at Vanguard includes 86 funds, 31 of which are equity index tracker funds.
These include:
Target retirement funds: These are ready-made portfolios that are designed to mature automatically as you get closer to retirement age. There are thousands of individual bonds and shares in each fund, and the weighting is adjusted to grow your wealth while preserving your retirement savings.
Index and active funds: This includes the LifeStrategy range and can be filtered by region, risk level, and management type.
ETFs: The ETFs at Vanguard offer a basket of assets designed to track an index. They are a low-cost way of diversifying your portfolio in a highly liquid environment.
ESG Funds: These are a type of EFT that are designed to invest solely in companies that have good environmental, social, and governance practices. This is so individuals can invest in line with their principles, and some studies have even shown that investing in this way can outperform traditional funds in the long term.
Vanguard fund performance
While they are not the top-performing funds available, Vanguard funds have still achieved solid returns, often outperforming their benchmarks on average, over the past 10 years, according to Morningstar.
The following is a breakdown of how different funds at Vanguard have performed over the past 10 years:
Vanguard FTSE 100 Index Fund
This fund tracks the performance of the FTSE 100 index, which in turn tracks the performance of the 100 largest companies listed on the London Stock Exchange. The fund has returned an average of 7.1% per year over the past 10 years.
Vanguard FTSE 100 Index Fund – source: Morningstar
Vanguard US Equity Index Fund
This tracks the performance of the US stock market and has returned an average of 10.2% per year over the last 10 years.
Vanguard US Equity Index Fund – source: Morningstar
Vanguard Global Bond Index Fund
Tracking the performance of the global bond market, this fund has managed to return an average of 3.9% per year for the past 10 years.
Vanguard Global Bond Index Fund – source: Morningstar
Also consider: My guide to the best FTSE 100 ETFs to buy in 2023
How does Vanguard manage its funds?
There are two main ways that Vanguard manages its funds, including
Passive management: Typical passive management is the approach at Vanguard, as the funds often track an index. This means that rather than picking and choosing individual stocks, the fund manager simply buys and sells the bonds and stocks that make up the index.
Index sampling: Index sampling is how Vanguard tracks its indexes. This allows the manager to buy a representative sample of stocks or bonds in the index rather than buying each stock or bond individually. This is how Vanguard keeps its fund costs so low.
Vanguard Investor ISA Review
The Vanguard Investor stocks and shares ISA offers all the tax benefits of investing with an ISA and gives investors the option to choose which funds go into their ISA from 75 different options, as well as ready-made options for the more novice investor.
There is also the option of adding money and selecting your funds at a later date if you need more time to make a confident decision.
The Vanguard ISA also permits the full 2020 annual ISA allowance, however, there is no traditional cash ISA available.
As always, Vanguard has made this a low-cost option with no charges for switching holdings, dealing, making payments, or exit fees. Your account can also be totally managed online for convenience, and you can withdraw your funds whenever you like.
For parents looking to invest in Vanguard, they also offer a Junior ISA with the option of a ready-made portfolio or choosing your funds yourself. Unlike the stocks and shares ISA, there is no access to these funds until your child turns 18, but you are free to transfer to another provider at any time.
There is important information available on the Vanguard website regarding the key features of the Vanguard ISA, which you should read before considering transferring an ISA to Vanguard.

Vanguard Investor SIPP Review
Vanguard have a decent SIPP offering to help customers save for retirement.
There are various options, such as transferring an existing SIPP across or investing £100 per month with a £500 lump sum to get your investments off the ground.
There are over 75 funds to choose from, including the ready made Vanguard Target Retirement Fund, consisting of thousands of bonds and shares in one package in order to effectively manage your exposure to risk.
Customers can choose a fund that matches their year of retirement and Vanguard will take care of the rest, ensuring your investments are constantly changing as you draw closer to retirement age, decreasing shares and increasing bonds in order to achieve stability.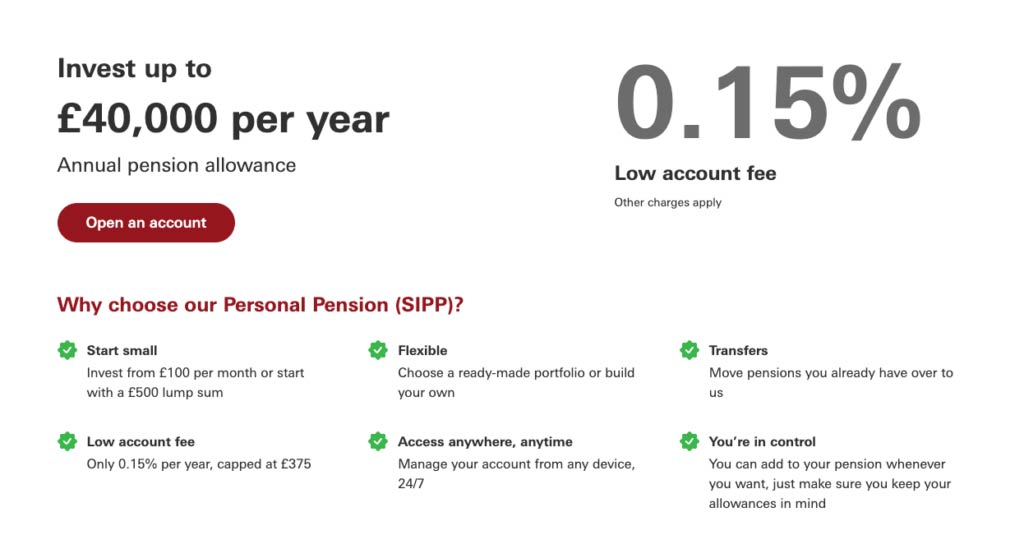 Vanguard Investor Platform Review
The obvious downside to the Vanguard Investor Platform is that, in terms of funds, Vanguard will only accept investments from their own Vanguard index funds.
However, this is balanced out by the low fees on offer at Vanguard, which would impact your bottom line favourably over time.
Due to the fact that Vanguard is aimed at investors who can withstand a long-term holding period, it is an important consideration that the total expense ratio is generally lower on ETFs than for equivalent mutual funds, and therefore, over time, these lower costs will favourably impact your bottom line.
The other main issue with the Vanguard Investors platform is its failure to offer a mobile app to its customers. However, as investing in Vanguard is more suited to passive investors, perhaps this is not a bad thing, as there is little advantage to constantly checking your investments with this kind of strategy. That being said, in this day and age, most tech-savvy investors would expect an app.
In terms of usability, we found the platform to be really user-friendly and easy to navigate, with adequate security and decent search functionality. However, it did lack price alerts, which would be a great addition to the Vanguard Investor offering.
Does Vanguard offer ethical investing?
Yes, there are a range of ESG funds on offer at Vanguard that are designed to meet your investment values while still offering good returns. ESG stands for "environmental, social, and governance," providing the fund manager with guidelines on the types of companies that can be included in the fund.
Vanguard's ESG funds include:
Index funds that exclude companies that are involved with certain practises, such as weapons or tobacco, or those that breach international principles.
Actively managed funds investing in companies with leading or improving ESG practises.
Research Service and Tools Review
Vanguard is offering very limited charting tools, which really lets them down. That being said, for passive investors, this needn't be an issue.
There are, however, a number of financial services tools available that focus on retirement planning, including a pension calculator, educational tools, an investing personality calculator, asset mixer tools, and a calculator to provide you with the total cost of investing.
The education section at Vanguard can only be described as limited, primarily in the form of articles with some video offerings discussing investment products, retirement planning, and the general economy. However, as Vanguard has positioned itself as a buy-and-hold solution, it stands to reason that their investors won't need streaming data and dynamic charting facilities.
Vanguard Investor Fees and Charges Review
There can be no doubt that this is where Vanguard's strong suit lies, with highly competitive low fees that not many providers can match.
Vanguard is free of any fees when it comes to transferring out, switching funds, withdrawing money, and closing accounts. Their annual account fee is just 0.15% per year on investments up to £250,000, capped at £375. This is less than half of the industry average, which highlights the great value Vanguard is offering. As a comparison, Hargreaves Lansdown is charging 0.45%, and you can expect to pay 0.35% at Fidelity.
For accounts of over £250,000, there is no annual account fee.
For fund charges, Vanguard yet again comes in far lower than the industry average, with ongoing charges that range from 0.06% to 0.08%.
Breakdown of fund fees
| Vanguard Fee type | Fee |
| --- | --- |
| Index funds | 0.05%-0.20% |
| Actively managed funds | 0.15%-0.30% |
| Target-date funds | 0.10%-0.15% |
| ETFs | 0.03%-0.15% |
Vanguard vs alternative providers
| Provider | Index Fund Ongoing Charge | Actively Managed Fund Ongoing Charge |
| --- | --- | --- |
| Vanguard | 0.05%-0.20% | 0.15%-0.30% |
| BlackRock | 0.08%-0.12% | 0.45%-0.75% |
| Fidelity | 0.04%-0.12% | 0.15%-0.55% |
| Schwab | 0.03%-0.09% | 0.20%-0.55% |
Guide to opening a Vanguard Investor account
Opening an account with Vanguard is relatively quick and can all be done online.
You will need your name, address, mobile phone number, debit card details, bank account details, National Insurance Number, and Date of Birth.
Verification is usually done instantly but can take up to five business days if additional verification is needed.
Guide to transferring your investments to Vanguard Investor
Vanguard offers a free transfer service for ISAs and retirement funds. They do require you to fill out an ISA transfer form, which can be found on their website, and it is important to note that transferring a cash ISA across to Vanguard will automatically turn it into a stocks and shares ISA.
Most transfers take up to 30 business days, but this depends on your existing provider and can vary.
Vanguard Investor Customer Service Review
Vanguard offers phone support, Monday through Friday from 9 a.m. to 5 p.m.; however, the amount of time you spend waiting on hold is reliant on the size of the account you hold with them, so for smaller account holders, this could be a disappointment. They don't offer any live chat facilities, which is a letdown.
Who is Vanguard Investor Suitable For?
Vanguard is most suited for buy-and-hold investors, whereas active traders will find the broker disappointing due to a lack of a strong trading platform.
Investors looking for a low cost model will also be rewarded with Vanguard's highly competitive fee structure, making it the ideal provider for retirement savers and long term investors.
For anyone new to investing, Vanguard offers really low costs and is perfect for investors considering a long term solution.
Here you can find some alternatives to Vanguard and a brief outline of how the two providers differ from each other.
Fidelity vs Vanguard
These are two popular investment giants, both offering a wide range of index funds and actively managed funds. In terms of fees, the two platforms are comparable, both are well known for their low cost investment services.
In reality, there is little to set these two options apart, although you may find the research tools at Fidelity a little more comprehensive. The major difference is that UK investors are able to access individual stocks at Fidelity in addition to the ETFs and Mutual Funds.
Vanguard vs InvestEngine
If you are interested in accessing the LifeStrategy funds, I would recommend that you consider InvestEngine as an alternative to Vanguard, as there are no platform fees here, meaning it would actually cost you less than investing in the same fund with Vanguard themselves. To put this into perspective, investing £10,000 in 10 ETF trades per year for 10 years with 5% annual investment growth would cost £231 at Vanguard and £0 at InvestEngine for the exact same fund.
While Vanguard has a somewhat dated platform, InvestEngine is much newer to the market and provides a very slick, easy to use experience. There is also a healthy welcome bonus at InvestEngine of £25 when you invest £100.
Is Vanguard worth it?
Of course, you must consider your own personal needs and investment goals, but needless to say, Vanguard is a highly competitive provider with a wide range of funds at excellent prices. Yes, it would be cheaper to invest via InvestEngine, but you won't get the same number of funds there or the security of being with a long established provider.
Vanguard Investor FAQs
How do I contact Vanguard Investor?
Vanguard can be contacted via email or phone (0800 587 0460), available Monday through Friday from 9 a.m. to 5 p.m. You can also contact Vanguard via secure message from your account.
Is Vanguard Investor any good?
Vanguard is a reliable, low cost offering for exchange traded funds (ETFs) and mutual funds; however, if you are after comprehensive trading tools and in depth education, Vanguard may not be up to the standard you are looking for.
Vanguard UK will definitely fall short of the mark for investors looking for short term investment opportunities, with a distinct lack of charting tools and only Vanguard index funds to choose from.
If you are looking for financial advice concerning your individual circumstances, Vanguard Investor is unable to offer you assistance in this area, and you would be better off sourcing investment advice from a financial adviser.
How safe is Vanguard Investor?
Investing with Vanguard is as safe as it gets with any online provider, and being covered by the Financial Services Compensation Scheme, you can get back up to £85,0000 should Vanguard cease trading for any reason.
Vanguard UK is also authorised and regulated by the Financial Conduct Authority.
That being said, there are associated risks with placing your money in a stocks and shares ISA, as unlike a cash ISA that guarantees you a rate of return, with a stocks and shares ISA, your initial investment can go down as well as up, depending on how your chosen funds perform.
Vanguard Customer reviews
Most recent reviews:
Although Vanguard do not have a native APP, their web interface is great on a mobile or tablet device. This allows me to go to the website anytime, anywhere and check my investments. The acts of adding and withdrawing are super easy. Costs are competitive, some others may be better, but for an all around investing platform and online presence I can't fault it.
I think Vanguard is one of the best out there. The interface is so simple, the fees are very low and they offer a range of top quality index funds. If someone is new or wanting to get into investing I would recommend Vanguard for the points above
I really like the user interface on the app. It's very simple and easy to see where my money is invested and the value of my investment. This reduces my stress levels. The app is similar to the desktop site making it easy to follow and I like that I can check my investments anywhere, without needing my laptop.
See which share tip is making the headlines

Have you considered transferring your pension?

Find the best trading platforms
*Capital at risk