Zengo is one of a new generation of crypto wallets for retail investors which uses the latest technology to boost security. With more than 900,000+ global users, they claim to be the most secure of all the crypto wallets, with no customers falling victim to hacking or account takeover since its launch in 2018.
Zengo is a beginner-friendly option suitable for anyone seeking a wallet for all their crypto assets across a variety of blockchain networks. It's a hot wallet, so not suitable for those looking for a hardware solution.
Crypto wallets are essential for keeping the keys to your digital assets safe.
Zengo is one of a new generation of crypto wallets engineered to offer enhanced security and overcome potential weaknesses in the prevailing crypto wallet security model.
To write this review, I've put Zengo to the test, exploring its features, security credentials, app, fees, services and customer support to give a verdict on how it stacks up against competitors and how well it serves the needs of different customer bases.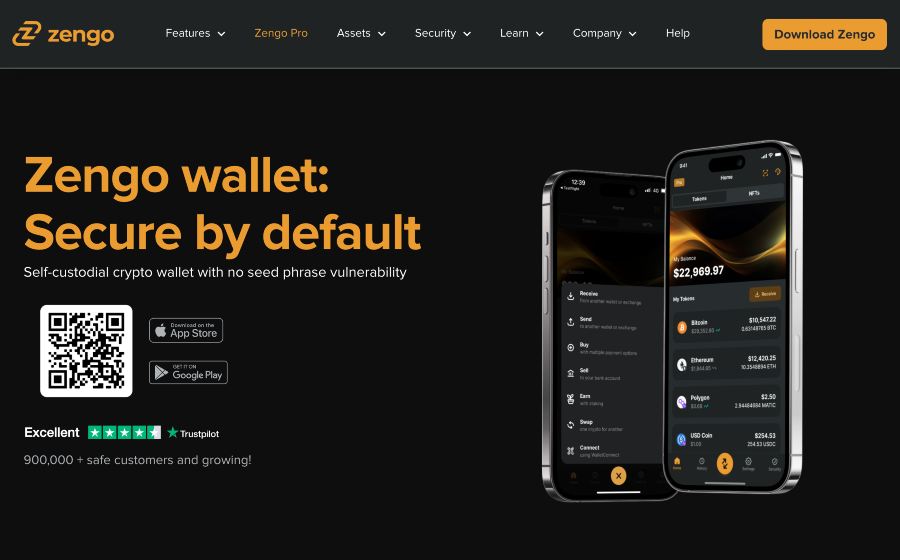 Who is Zengo?
Zengo is headquartered in Tel Aviv, Israel, and was founded in June 2018 by Ouriel Ohayon (current CEO), Tal Be'ery (current CTO) and Omer Shlomovits.
In early 2020, the start-up launched the Zengo wallet on iOS and Android. Zengo has gained huge success since, clocking up over one million downloads and more than $1 billion in transaction volume to date.
In July 2023, Zengo introduced its new premium subscription service, Zengo Pro, along with a handful of new features.
Who owns Zengo?
Zengo was created by, and remains owned by, Kzen Networks Ltd. Kzen Networks is based in Israel.
The company has raised $24 million from 14 investors since its inception, including $20 million from its recent Series A funding round in April 2021. New York-based Insight Partners and Tel Aviv-based Oak Ventures are the largest investors in KZen Networks.
Zengo is a hot crypto wallet designed for storing, selling, and receiving crypto assets. Zengo is one of the few providers that allows you to buy directly into your wallet. Zengo offers a choice of free, basic account or the paid-for Zengo Pro account.
The key functions of a Zengo wallet are:
Store: Store your tokens and coins in a Zengo wallet. Zengo is compatible with 120+ crypto assets including Bitcoin, Ethereum, Polygon, Doge, USD Coin, and NFTs. Zengo also offers full NFT functionality, enabling you to store and view your Web3 assets via the wallet.
Buy: With Zengo, you can buy crypto assets using a variety of payment methods including Apple Pay (via certain banks), credit card, bank transfer, or debit card (Maestro).
Sell: You can cash out and sell your crypto assets straight into your bank account directly from a Zengo wallet.
Swap: Alternatively, you can swap your crypto to stable coins instead, or trade one crypto coin for another.
Stake: Currently, Zengo offers staking with Tezos (XTZ) through its 'Zengo Earn' service. The team at Zengo plan to add more staking assets in the future and are currently revamping their Earn offering.
Zengo users can either select a 'Zengo Essentials' or a 'Zengo Pro' account.
Zengo Essentials
Basic accounts are free and include:
Secure wallet recovery with 3FA: Your account is always recoverable with: your email; 3D FaceLock; your Zengo recovery file.
MPC technology: No seed phrase needed.
NFT spam filter
Zengo Pro
Zengo Pro includes additional features, including:
Legacy transfer: a tool for bequeathing access to your assets to named beneficiaries in the event of your death.
MFA on transactions: Zengo Pro uses 3D FaceLock biometric verification to prevent unauthorised withdrawals.
Advanced Web 3 Firewall: For real-time risk assessment and alerts against potential scams and attacks. (Note: Since the introduction of Zengo Pro, the Web 3 firewall feature is no longer available for free.)
Priority agent support: Requests for support are typically responded to within 5 minutes but are guaranteed within an hour with a Pro subscription. Support is available in 180 languages.
Zengo Trade
Zengo Trade allows you to trade (or swap) one crypto asset for another of the same value, for example, £100 worth of Bitcoin for £100 worth of Ethereum (minus fees).
In general, you can trade most assets supported in your Zengo wallet. There may be certain asset pairs that are not supported for lack of liquidity, but this can change from time to time. The best way to check which pairs are currently available is by selecting them in the app. If your pairing isn't listed, Zengo suggests reaching out to them directly as they're always looking to expand supported assets.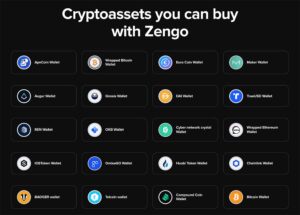 'Zengo Earn' is a service for anyone interested in earning a passive income just by holding cryptocurrency. In a few clicks, it's possible to start earning daily interest and rewards.
Zengo are currently revamping their Earn section and plan to come back with a new offering in the near future. They have, therefore, sunsetted the previous Earn program, and all that remains for the time being is Tezos (XTZ) staking.
The minimum amount to activate staking with Tezos is 1 XTZ.
The only fees you need to pay are network fees (not paid to Zengo but to the blockchain networks) to complete your deposit and withdraw transactions, or to activate staking. Zengo is one of just a small number of crypto buying services where you can choose your network fee (economy, regular or fast). That means that, if you're prepared to wait, you can keep your costs low.
Security is where Zengo really sets itself apart. Zengo proudly boasts that it has never been hacked, not even when they set a hacking challenge, encouraging hackers to try and get into a Zengo wallet containing 1 BTC. No-one was successfully able to get their hands on the coin.
Unlike competitors such as Coinbase, Kraken, MetaMask, Exodus, and Ledger, Zengo does not use a seed phrase. A seed phrase is a sequence of 12 or 24 random words that provide the information you need to recover a lost or damaged cryptocurrency wallet. Millions of dollars in crypto are lost every year when users forget their seed phrase or lose it to theft.
Zengo has recognised that seed phrases are a point of security weakness and has substituted them with next-gen multi-party computation (MPC) technology.
MPC secures a wallet and prevents anyone at Zengo from gaining access, while simultaneously allowing the user to recover the contents of their wallet if they get locked out. These 'self-custodial' wallets are favoured by many crypto enthusiasts because they are entirely user controlled and have no single point of failure for criminals to target with phishing attacks.
Zengo Essentials continues to be the most secure crypto wallet you can obtain for free. That's not to say it's not worth upgrading to a paid-for Zengo Pro account though. It unlocks a suite of premium industry-first security features for a fair price.
There are a variety of services in the Zengo app — some require fees and others are free to use. Zengo promises that users will always be able to send, receive, and securely store cryptocurrency in Zengo free of charge, anywhere in the world, without limits.
Account fees
Zengo Essentials 
Basic accounts are free.
Zengo Pro
A Zengo Pro account costs $19.99 if paid monthly. If paid annually, that fee is reduced to $199.99 per year.

Trading fees
Fees for sending, receiving, buying, or selling crypto will comprise all, or some, of the following:
Network fee: This is paid to the blockchain network operators. This fee changes over time, based on network conditions.
Processing fee: Paid to the operators of the buying, selling, and trading services. This is a % of the total transaction amount and varies by operator and asset, where usually a minimum applies (see below).
Spread: Paid to the operators of the buying, selling, and trading services. Represents the difference between the asset's price, which is presented by the operator during the purchase and the asset's market price (spot price). This is a % of the total transaction amount and varies by operator and asset.
Gateway fee: Paid to the operators of the buying and selling services in order to cover their costs for receiving and processing the transaction with credit card companies, banks, and other payment providers.
Local currency conversion fee: Paid to the operators of the service when you buy cryptocurrency in a local currency in order to cover the costs of converting currencies.
Fees to receive crypto
Processing fee/spread: 0%
Minimum: Not applicable
Maximum: Not applicable
Network fee: Not applicable
Fees to send crypto
Processing fee/spread: 0%
Minimum: Not applicable (but you need the minimum for network fees (not paid to Zengo)
Maximum: Not applicable
Network fee: Yes
Fees to buy crypto via a bank transfer
via Banxa 
Spread: 1.99% up to 2.29%
Processing fee: included in the spread
Gateway fee: 0%
Local currency conversion fee: No
Network fee: Yes
Minimum: 50 GBP
via Moonpay
Spread: Usually 1.5%-3.0%
Processing fee: 1.99% (with a min. €3.99/£3.99/$3.99 or currency equivalent)
Gateway fee: 0%
Local currency conversion fee: Yes
Network fee: Yes
Minimum: 30 USD/EUR/GBP
Fees to buy crypto with a credit card, debit card, Apple Pay, or Google Pay
via Banxa
Spread: 3.75%
Processing fee: included in the spread
Gateway fee: 1.99%
Local currency conversion fee: No
Network fee: Yes
Minimum: 50 USD, 50 EUR or the equivalent in your local currency
via Moonpay
Spread: Usually 1.5%-3.0%
Processing fee: 4.0% (with a min. €3.99/£3.99/$3.99 or currency equivalent)
Gateway fee: 1.99%
Local currency conversion fee: Yes, for non-USD/CAD/AUD/EUR/GBP currencies
Network fee: Yes
Minimum: 30 USD (Approximate, subject to change)
Fees to sell crypto to a bank account
Spread: From 1.00%
Processing fee: 1.99% (with a min. €3.99/£3.99/$3.99 or currency equivalent)
Gateway fee: 0%
Minimum: Typically set at USD 30, the minimum transaction limits may vary based on the specific partner.
Maximum for United Kingdom: £10k daily, £20k monthly
Network fee: Yes
Fees to swap crypto
via Changelly 
Processing fee: up to 2%.
Spread: Up to 2.0%, for most pairs but can vary
Minimum: Differs by trading pair and market liquidity
Maximum: Differs by trading pair and market liquidity
Network fee: Yes
Fees to activate Tezos staking
Processing fee: 0%
Minimum: N/A
Maximum: N/A
Network fee: Yes
Fees for using 3rd party Defi and Web3 services
When you connect your Zengo wallet to a 3rd party Dapp to manage a crypto asset, Zengo does not charge any fee. You may be presented with a network fee paid to miners.
What are crypto transaction fees?
Opening a Zengo account is quick, easy, and free. It took me less than 3 minutes to complete account opening.
Follow these steps to set up your Zengo wallet:
Create your Zengo account
Download Zengo from the App Store or Google Play Store.
Open Zengo and enter your email address.
Confirm your email.
Return to Zengo and set up a local biometric authentication (choose between Face ID, Touch ID, etc)
Back up your account
Tap 'My Account' tab
Tap on 'Back Up Now'
Create your Face Scan
Zengo has been a disruptive force, raising the bar on security and offering services highly focused on customer needs. It is a convenient way of buying, selling crypto assets.
Zengo is impressive for many reasons. Firstly, the number of cryptos it supports; 75 different cryptocurrencies, which, for a hot wallet, is very high. For comparison, Coinbase supports eight.
Many crypto wallets support a single blockchain, like ETH or BTC. But, as Zengo supports multiple blockchains, you don't need three of four different crypto wallets to support each blockchain: Zengo has the ability to act as a one-stop-shop, making it a very convenient solution. The fact that you can buy, trade, send, and receive crypto directly from the Zengo wallet is also a big plus.
Zengo has really moved the needle by identifying a pain point that is rarely tackled by crypto wallets: what happens if someone steals your phone? If someone has access to your phone and knows your passcode, they can easily steal your digital assets. With Zengo's 3D FaceLock biometric authentication, users can enable another layer of security for outgoing transactions. What's more, by swapping seed phrases in favour of threshold signatures, there's no single point of failure and no risk of irretrievably losing your crypto if you lose your password.
The additional security features that come with a Zengo Pro subscription make Zengo the most secure wallet on the market and are ideal for users who have large quantities of crypto assets or who are concerned about security. That's not to say that the free account isn't also somewhere Zengo shines. The included features in an Essentials account mean it is the most secure wallet on the market for no-fee.
It's a shame that the opportunities for staking are reduced at the moment while Zengo Earn is revamped. Hopefully, more options will become available, meaning users can benefit from greater returns.
Zengo's clean and intuitive UI, and its self-styled "legendary" 24/7 live customer support, all help to give the impression that this is a company that 'gets' its users and works hard to meet their needs. It's even said that you might get the CEO himself answering your enquiry on the live chat – such is their commitment to understanding their customers' needs.
The legacy transfer feature means that if you die, it isn't necessary for lawyers to become involved to decide who inherits the contents of your wallet. Now, a user can invite someone they trust to become their legacy contact. Zengo plans to improve the legacy system in the future, adding the ability to list several contacts and define a split.
Zengo customer service review
Zengo performs extremely well on customer reviews, scoring better across the board than many of its competitors.
Zengo provides 24/7 live agent support. You don't need to have an account to speak to the support team, who are accessible via instant messaging, email, and X/Twitter. If you pay for Zengo Pro, requests for support are typically responded to within five minutes but are guaranteed within an hour.
On Trustpilot, Zengo scores a healthy 4.4. That's far higher than rivals Coinbase, Uphold, Trust Wallet, MetaMask, Kraken, and Gemini.
On G2.com, Zengo rates better than Uphold and Coinbase, out-scoring them both on 'Meets expectations', 'Ease of use' and 'Quality of support'.
Along with the majority of commentators on customer review platforms, I found Zengo's response times to be quick and their agents went out of their way to be helpful and answer my questions.
Other reviews praise the sleek UI and how easy it is to use the various features and functions.
Zengo deposit and withdrawal review
Setting up Zengo is very quick and easy. Off-ramping is equally made as easy as possible.
It took me less than 3 minutes to create and verify my account. Onboarding is easy – one of the easiest processes I've gone through – and the wallet is free to download.
Again, this is where Zengo is likely to suit those new to crypto, because there is no need to write down a seed phrase when creating an account, and no need to worry about secure storage of the seed phrase in case of needing to recover a lost or stolen wallet.
Selling your coins and other crypto assets can be achieved in four steps. You'll need to choose from one of three off-ramp providers and go through their KYC verification journey, but once you've done that, you can receive your funds directly into your bank account.
Who is Zengo suitable for?
Zengo is a great crypto wallet for beginners as well as providing all the features more experienced crypto traders will be looking for. The various services and functions are simple to access, and there's a fantastic learning centre and 24/7 support for any questions you might have. If you're looking for a wallet that can hold all your cryptocurrencies across different blockchains, then Zengo is also a great option.
Lastly, for anyone with large amounts of crypto assets to protect and anyone concerned about security and seed phrase vulnerabilities, there's peace of mind in knowing this is an app that takes security to the next level.
Alternatives to Zengo
Zengo vs Coinbase
Coinbase is one of the most high profile crypto exchange platforms in the world.
However, a fear of security breaches and being locked out of assets ("not your keys, not your coins"), has meant traders have increasingly been looking for a way to gain more control over the storage of their coins. With Zengo, you don't have to worry about storage of your private key as you are the private key. This is a big selling point.
Wallets don't often have as many features as an exchange. However, Zengo steps up here. Zengo has a built-in exchange and offers staking and lending.
Zengo staking rates on Tezos beat current comparable rates on Coinbase. However, staking on Zengo is currently limited to Tezos, whereas Coinbase offers users the chance to earn rewards on 68 different assets.
Zengo scores higher than Coinbase based on user reviews on G2.com for 'Ease of Use', 'Quality of Support' and 'Product Direction'. Zengo also offers 24/7 customer support; Coinbase falls short here.
When looking at the increased security you receive from Zengo, it's fair to say that the competitive rates they charge present even better value than Coinbase's.
Zengo vs Kraken
The main difference between Kraken and Zengo, is that Kraken is a crypto exchange and Zengo is a Web3-ready non-custodial wallet that allows users to control their own private keys.
Much of what makes Zengo stand apart from Coinbase, in terms of security, is mirrored in this comparison too. With Zengo, there is no seed phrase to worry about, and enhanced security which keeps the user firmly in control.
Kraken has an attractive, easy-to-use UI, an attribute it shares with the equally intuitive and user-friendly Zengo UI.
Both Zengo and Kraken offer staking although Kraken offers a wide choice of digital assets for staking, whereas Zengo currently only offers staking on Tezos (they plan to add more digital assets soon). Kraken also enables traders to trade crypto on margin, something Zengo doesn't.
Comparing customer services, both Kraken and Zengo offer 24/7 live chat support and both have stellar reputations on the quality of their customer support. While the education offering on Kraken is impressive, it does not offer live learning sessions as Zengo does.
Fees at Kraken will vary depending on your trading volume and the type of cryptocurrency you are trading. For frequent trading, Kraken is competitive; for infrequent trading, Kraken works out relatively expensive.
How do I contact Zengo?
You can get in touch with Zengo via email: [email protected]
On X: twitter.com/zengo
On via direct message on their website: https://zengo.com/contact/
24/7 in-app support is available when you download the Zengo app.
How do I withdraw money from Zengo?
You can sell crypto and receive it as fiat in your bank account in four steps on Zengo:
Tap on the action button in the bottom centre of your Zengo app, then press "Sell to your bank account."
Tap on the offramp provider you prefer to use. You have the option to swap your crypto to stablecoins instead, if you prefer. Different options might appear based on your current location.
You will be automatically directed to your chosen off-ramp partner provider's page to complete the KYC verification process and enter in the amount of crypto you wish to sell. Once completed, the offramp partner will provide you with a wallet address to send your crypto to complete the process.
Return to your Zengo app and tap the "Send" button. Enter the exact amount you were told to input based on the previous step. Paste the wallet address provided by the offramp partner, and send.
How do I close my account at Zengo?
Deleting an account is irreversible. Zengo reminds users wanting to delete their account, closing an amount means permanently losing:
Any funds left in the wallet
Access to any pending transactions that have not yet been confirmed
All of your crypto addresses
Any future transactions sent to your crypto addresses
All of your account data, including transaction history
There will be no option to regain access to your account after it is deleted.
To delete your Zengo account:
Make sure that your Zengo wallet does not hold any funds (balance = 0) and that there are no pending incoming transactions or purchases. If there are currently funds in your wallet, you can send them to another wallet.
In the app, go to the settings tab, and at the bottom, tap "Delete Account" and follow the steps.
Then you may delete the Zengo app from your device.
Zengo FAQs
Is Zengo any good?
Zengo is an excellent choice if you're looking for a crypto wallet. It is highly secure and is the only self-custodial wallet with no seed phrase vulnerability.
Is Zengo wallet safe?
Zengo is one of the safest
crypto wallets
. There is no seed phrase for hackers to get their hands on, and it uses MPC security and 3FA which Zengo believes makes it virtually unhackable.
Most recent reviews:
There are no reviews yet. Be the first one to write one.
See which share tip is making the headlines

Have you considered transferring your pension?

Find the best trading platforms
*Capital at risk