Kraken is a well established cryptocurrency trading platform offering a wide range of digital assets on a user-friendly interface with robust security features.
Kraken Pro is most suited to experienced traders and institutional investors. Complete beginners may find the basic app palatable, but high-frequency traders may prefer a specialised platform with faster execution.
Kraken promises a seamless trading experience, and it does not disappoint. The powerful and secure cryptocurrency trading platform offers a wide range of trading options, allowing users to explore the cryptocurrency market in a secure and user friendly environment.
A more indepth look at the platform will reveal comprehensive educational resources that can lead to a greater understanding of the crypto universe.
This is a sophisticated platform with a low entry point of only $10 and the option to buy, sell, or stake more than 200 cryptocurrencies. It is bound to delight crypto enthusiasts with its low spreads and deep liquidity.
Deposit and Withdrawal:
90%
Markets and Products:
60%
Pros
Sophisticated cryptocurrency trading platform
Good customer service
Wide range of educational material
Cons
Limited number of fiat currencies accepted
Higher fees outside of Kraken Pro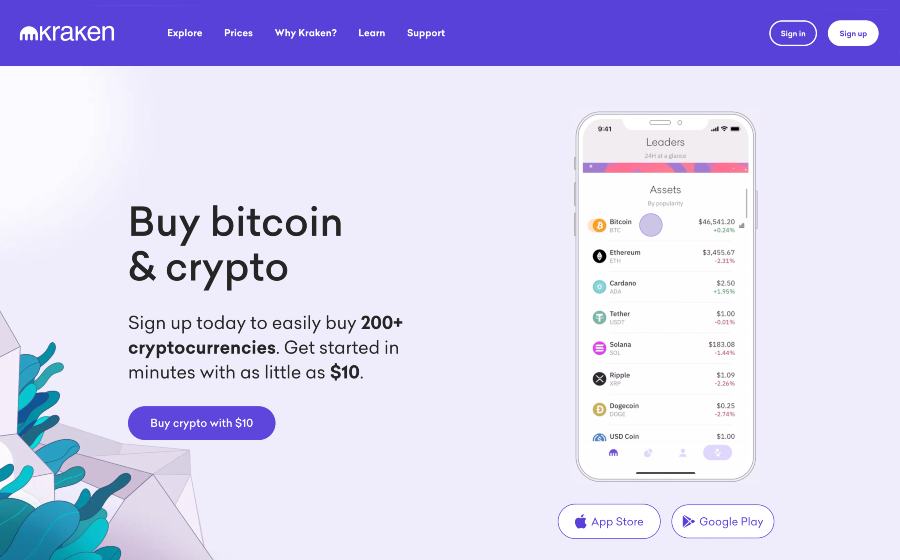 Who are Kraken?
Kraken is one of the most established crypto exchanges, founded in 2011 by Jesse Powell. Its security, reliability, and extensive range of crypto options have earned Kraken an excellent reputation among cryptocurrency traders.
Who owns Kraken?
Kraken is privately owned, with founder Jesse Powell still at the helm. This continuity, with the same CEO still managing operations after a decade, serves to instil confidence and trust in the crypto community.
Kraken product range overview
There are over 200 cryptocurrencies at Kraken, with all the major players like Bitcoin (BTC) and Ethereum (ETH) present in addition to a diverse selection of altcoins.
Spot trading: Spot trading allows Kraken users to buy, sell, and trade cryptocurrencies using real-time market prices, starting with just $10.
Margin Trading: Kraken offers margin trading, allowing users to borrow funds in order to increase their trading position and potentially amplify their profits and losses.
Futures Trading: Users are able to engage in over 95 perpetual cryptocurrency futures contracts with leverage to hedge their positions.
Staking Rewards: Users can earn up to 24% yearly with rewards on crypto and cash holdings.
Trade NFTs: 10,000 Bored Ape NFTs with zero gas fees.
Kraken Pro: The advanced trading platform designed for experienced traders with additional features and tools.
OTC (Over-the-Counter) Trading: Designed for large-volume trades by institutional investors and high net worth individuals.
There are two apps available at Kraken, each designed according to your level of experience. The Kraken app and Kraken Pro have both scored an impressive 4.7 in the app store.
Kraken has nailed the design and usability of the app. My own experience was very positive, with easy navigation and all the relevant information at your fingertips. Some of the main features include:
The ability to buy and sell crypto
Get an exact price before you buy or sell
Review your past transactions
See your available balance
Track your crypto portfolio
Gain market overview and prices
Get low fees for buy/sell orders
Get 24/7 support
Kraken Pro is slightly different in that it caters for advanced crypto traders. This means you will find lower fees and an interface that includes advanced trading, charting, and order types that are not available on the standard platform.
Education at Kraken is strong, with a dedicated section called Kraken Learn that is full of articles, videos, blogs, and guides on all things crypto.
Kraken Learn: Accessed via the Kraken website, Kraken Learn contains articles, guides, and tutorials covering various topics related to cryptocurrency. This can help users gain a basic understanding of blockchain technology, cryptocurrencies, trading methods, and security best practices.
Blog Posts: There are regular blog posts published on the Kraken website that include market analysis, explanations of new features, and discussion about the latest trends.
Webinars: There are some useful webinars available where users can learn topics such as trading strategies and market insights from industry experts.
Kraken customer service review
Customer service at Kraken appears to be a mixed bag. Reviews on TrustPilot vary, with some very happy users and others who have experienced long delays or difficulties getting their issues resolved.
It is worth noting that due to the extreme growth in the crypto market, coupled with high demand from users, customer service has proved a challenge across the crypto industry as a whole.
When I tested the customer service whilst conducting this Kraken exchange review, I found the chatbot quite helpful which is not something I would usually say. However, I requested to speak to a specialist (human) and although I was told there was an expected wait of 60 minutes, my query was answered within the first minute by an agent.
The agent was helpful and quick to respond, so my own experience with Kraken support was very positive.
Kraken opening an account
Opening a Kraken account took me less than 5 minutes. Have a form of ID on hand.
I found the sign up process at Kraken very straightforward. Simply download the app and follow these steps:
Provide your email address
Provide your phone number
Confirm your country of residence
Provide your legal name
Provide your address
Verify your email by clicking the link to sent to your email address
Provide proof of ID, such as passport or driving licence
This literally takes moments to complete, and you will immediately be able to access the exchange and all its features.
Verification
As part of its compliance with the regulatory authorities, Kraken is required to comply with Know Your Customer (KYC) regulations. There are some basic services that you can access without completing the verification, such as accessing the app, depositing cryptocurrencies, exchanging funds, and withdrawing a limited amount of cryptocurrencies. However, you will need to provide proof of ID for fiat currency deposits, to withdraw cash, and to use leverage.
I completed the KYC verification when I opened my account and can confirm that this is a very quick and simple process that can be completed in moments using your ID and mobile device.
Kraken scores highly when it comes to safety, with state of the art security measures ensuring your digital assets are protected at all times. In the UK, Kraken is authorised and regulated by the Financial Conduct Authority for Crypto Facilities Ltd.
There are a number of strong security measures at this crypto exchange, including two-factor authentication (2FA) for account logins, encryption protocols, and cold storage for the majority of user funds. This helps protect all users from any attempts to hack their accounts.
Kraken appears to take security seriously and has even undergone multiple security audits in order to enhance their safety standards.
I could find no reason for concern when it comes to buying, selling, and storing your crypto assets when conducting this exchange review.
The fee structure at Kraken is relatively competitive, especially for users with a higher trading volume. There are some useful tips you can use in this section to minimise your fees.
Fees at Kraken will vary depending on your trading volume and the type of cryptocurrency you are trading. I've scrutinised the fees, including non trading fees, as outlined below.
Deposit fees
Don't deposit before reading this section! There is a fairly hefty fee of 3.75% for deposits made via debit or credit card. This is in addition to any currency conversion fees, depending on the currency you are depositing in.
This can be easily avoided by depositing via bank transfer straight from your bank account, which is completely free and instant. Also, transferring any existing crypto into your Kraken account is free of charge.
However, I can't blame Kraken for their hefty card fees, as these are a common problem among all cryptocurrency exchanges and are actually charged by the card provider and not the exchanges.
Instant buy is available on Kraken for a fee of 1.5% on crypto and 0.9% on stablecoin purchases. This actually comes in quite competitively when compared to other platforms, such as Coinbase.
Trading Fees
Trading fees vary depending on the trading pair and the user's trading volume over the last 30 days. Certainly, these fees become more attractive for those conducting a high volume of trades using the Kraken Pro account. These come in at no more than 0.26% using a maker-taker model.
Here's a look at what you will pay, correct at the time of writing:
| 30 Day Volume (USD) | Maker | Taker |
| --- | --- | --- |
| $0 – $50,000 | 0.16% | 0.26% |
| $50,001 – $100,000 | 0.14% | 0.24% |
| $100,001 – $250,000 | 0.12% | 0.22% |
| $250,001 – $500,000 | 0.10% | 0.20% |
| $500,001 – $1,000,000 | 0.08% | 0.18% |
This is a really competitive fee schedule and definitely gets the thumbs up from me.
Kraken vs Coinbase
In terms of the service they offer and the number of cryptocurrencies available, these are two very similar offerings with some subtle differences.
If it is cost effectiveness you are after, then Coinbase cannot beat the really low maker taker fees for crypto trading at Kraken.
For staking, Coinbase users are able to stake their cryptocurrency at varying interest rates on spot currency markets. While Kraken does not support varying interest rates, it does support cryptocurrency futures, which are not available on Coinbase.
Who is Kraken suitable for?
Kraken has successfully catered to both beginners and experienced crypto traders with its two platforms, Kraken and Kraken Pro.
Beginners can register and buy crypto with a few simple navigations, and they are supported throughout with a comprehensive learning centre.
Experienced traders can tap into the liquidity found at Kraken and enjoy lower fees as they trade more. There are also some pretty advanced trading features, such as margin trading, advanced charts, and trading options.
Kraken futures are also a nice feature that could suit more experienced traders looking to go long or short with leverage.
Useful Information
This section contains useful information to make your experience at Kraken as seamless as possible.
How do I contact Kraken?
I contacted Kraken by live chat from within the app, which worked very well and got me an instant response. However, should you prefer, you can also make contact by phone using the number +44 808 501 5031.
How do I withdraw money from my Kraken savings account?
Withdrawals at Kraken are very straightforward and can be done by following these steps:
Sign in to your Kraken account and select 'Withdrawal'
Select the currency you wish to withdraw from the drop down menu
Under Withdrawal Type, select your preferred funding provider
Fill in your bank account details
Click withdraw once you have checked all the details are correct
How to buy crypto on Kraken
Once your account has been set up and you have deposited funds, you simply need to navigate to the trading section of the website or app and select the cryptocurrency you wish to purchase. From there, you are able to place a market or limit order, depending on what suits you, and the platform will provide you with clear instructions on how to purchase your coins.
How do I close my account at Kraken?
To close your account, you will need to create a closure request by following these steps:
Sign in to your Kraken account
Navigate to 'Contact Support'
Create a closure request by selecting 'Other questions'
Select 'Close Account'
Kraken FAQs 
Is Kraken safe in the UK?
Yes, Kraken is considered safe in the UK, with a strong track record of security and the implementation of several security measures to protect user funds, including two-factor authentication and cold storage for most assets.
Is Kraken a Trustworthy Exchange?
Yes, Kraken is regarded as a trustworthy
cryptocurrency exchange
with a long standing presence in the crypto market, full transparency, and strict adherence to regulatory requirements.
Most recent reviews:
There are no reviews yet. Be the first one to write one.
See which share tip is making the headlines

Have you considered transferring your pension?

Find the best trading platforms
*Capital at risk