Established in 2012, Coinbase is now one of the leading cryptocurrency exchange brokers in the world, offering a simplistic platform from which to buy, sell, spend, earn, save, and use crypto.
Read my full Coinbase review UK to discover why this is an excellent choice for traders looking for an easy to use platform with access to a large number of cryptocurrencies.
Coinbase supports the easy purchase of a wide range of digital coins as part of its brokerage service. In addition to this, it also acts as an exchange, allowing cryptocurrency trading that is suited to day traders or swing traders.
Coinbase is well known for its ease of use, providing a space where even complete novices can efficiently navigate the platform in a safe and regulated environment.
Being one of the largest platforms available, Coinbase is well known for its high liquidity, in addition to the fact that they provide access to popular digital coins that are not available on other platforms, all contributing to Coinbase being one of the most popular cryptocurrency exchanges in the country.
The success of the Coinbase exchange can also be attributed to the simplified interface that is designed to make trading crypto as easy as possible. Coinbase also provide their users with the Coinbase wallet, which allows storage of crypto and NFTs as well as trading in over 500 assets on decentralised exchanges.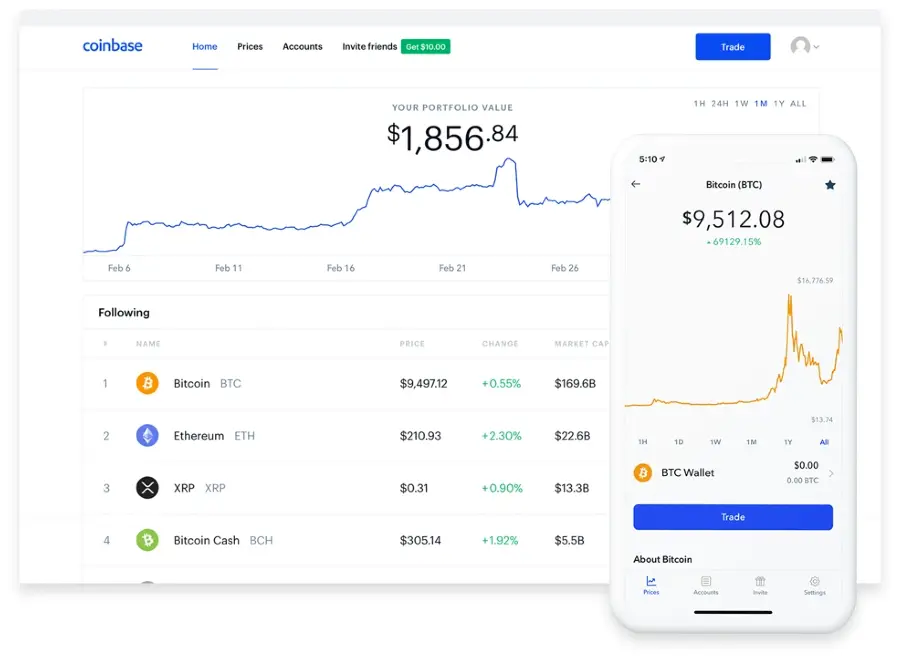 Who are Coinbase?
Coinbase are an American based cryptocurrency broker, often used by inexperienced investors looking to dip a toe into the world of crypto for the first time.
Coinbase claim that they now have over 35 million customers since its launch in 2012, in over 103 countries worldwide including more than 20 billion in assets under management.
Who owns Coinbase?
Coinbase was co-founded by Brian Armstrong, a former Airbnb software engineer, and Fred Ehrsam, a former currency trader. Brian Armstrong retains his role as CEO to this day.
Coinbase Global Inc. is listed on the NASDAQ exchange where investors can buy Coinbase shares at the current rate.
Coinbase product range overview
Coinbase provides access to over 3,000 crypto assets like Bitcoin and Ethereum, as well as access to some of the more obscure assets that you wouldn't find at other brokers.
There are two main account types at Coinbase; Coinbase and Coinbase Pro which I have gone into in more detail below.
Coinbase
For a crypto newbie, this is the perfect vehicle from which to launch into the world of crypto investments. The Coinbase platform is well known for its simplistic and easy to use interface which can be accessed via a browser or on an app.
Once logged in, users are immediately faced with their portfolio balance on the main dashboard as well as the performance of their portfolio across a set time frame. This time frame is easily adjustable, providing users with an accurate depiction of how their assets are performing.
Buying crypto is easy and straightforward and can be done directly via the main dashboard. In addition, you have the option to convert or sell cryptocurrency, as well as have standing orders in place to send and receive crypto.
Coinbase Pro
Coinbase Pro caters more towards the more experienced cryptocurrency investor with all the trading options that can be found on the basic Coinbase account as well as the option to trade crypto to crypto. This is all supported by a decent range of charting tools.
Whilst the interface on the Coinbase Pro platform is still excellent in its design and easy to navigate, there are advanced charting tools that may be confusing for beginners. More experienced users will appreciate the functionality, including being able to track the market and view their trading history. There is also the ability to buy or sell orders. This enables trading of any particular asset, once it reaches a predetermined price.
One of the main advantages to Coinbase Pro is that there is the opportunity to drastically reduce or even completely eliminate the fees, depending on the value of the trade.
On the negative side of the coin, Coinbase Pro does lack some of the more advanced functionality that you might find at MT4 such as technical indicators and advanced charting tools.
Coinbase Wallet
Once you have purchased your cryptocurrency, the next issue is how to store them securely, and to this end, Coinbase have provided a crypto wallet. The Coinbase Wallet is a secure place to store your crypto and comes in two formats, the web wallet, and the Coinbase mobile wallet.
Coinbase insist that their web wallet is fully secure with less than 2% of cryptocurrency holdings being kept online and the rest held in cold storage, a hardware wallet, completely free from any online breaches. I will go into this in more detail in the security section of this review.
The mobile app wallet gives users complete control over their digital assets in a fully secure app that utilises biometric ID to keep your funds secure. There is also a QR scanner tool for easy transfers.
Watch the following video to learn more about the Coinbase wallet.
Coinbase Wallet – Your key to the world of crypto
Coinbase Card
Coinbase also offer their users a Coinbase Visa Debit card, allowing them to spend their crypto anywhere in the world. This works in exactly the same way as it would a fiat currency, including contactless options, PIN, and cash withdrawals from any ATM.
Of course with crypto you often have more than one currency in your account, however Coinbase provide the means for you to choose which crypto you wish to pay with through the Coinbase app. This process takes a few seconds and can be done on the go as and when you decide to switch currencies.
The app also provides you with instant notifications on spending, transaction receipts, and spending summaries.
Coinbase customer service review
Coinbase make it almost impossible to contact a human being and are known to have lengthy response times.
I found the Coinbase support to be poor and this opinion is mirrored by hundreds of disgruntled users on Trustpilot who have submitted negative reviews about the poor customer service.
This is where Coinbase appear to be letting themselves down. Sadly there is no direct way to speak to an actual human being, with the two main forms of contact being a virtual assistant chatbot, and an automated phone system and email form.
The reviews on Trustpilot are indicative of the poor customer support that Coinbase users have received with hundreds of frustrated people detailing the lack of support available including the lack of provision for accessing funds once they have been locked out of their account by Coinbase.
Coinbase appear to have a lot of ground to cover in this area if they are to compete with the plethora of cryptocurrency exchanges available.
An excellent education section whereby users can earn actual crypto while learning about trading and the various coins available.
The education section within Coinbase, Coinbase Earn, is nothing short of impressive, with the option to earn actual crypto while you learn about it, a worthwhile incentive.
This is all facilitated via a series of video classes and tests which are designed to educate users in cryptocurrency trading as well as some of the more obscure currencies on offer at Coinbase. Users are able to earn up to $115 should they manage to achieve successful results in the exams provided.
Given the volatile nature of cryptocurrencies and the fact that many newbies are being stung upon entering the world of crypto, I do believe this is an excellent feature that certainly sets Coinbase apart from many of their competition.
Coinbase opening an account
Opening an account at Coinbase is quick, easy, and fully digital. However, on the negative side, the verification process can be cumbersome, however, I will guide you on how to make this as easy as possible.
Here is my step by step process on how to open an account with Coinbase:
Head to the main Coinbase website or download the Coinbase app and select 'Sign up'.
Fill in details such as your name, email, password and location.
Complete the captcha and certify that you are over 18.
Accept the user agreement and privacy policy.
Go to your email in order to click the verification link.
Select your country and phone number.
Verify your phone number by adding the 7 digit code sent to your mobile device.
You may at this point be automatically asked to verify your ID. I would advise that you complete this process as it is required in order to purchase crypto.
Verifying your ID
This part of the account opening process is required in order to meet regulations surrounding anti-money laundering. A simple KYC (know your customer) process will ensure that Coinbase is meeting these standards.
In order to verify your ID you will be required to upload a clear, concise copy of ID documentation which could include your passport or driving licence. This is definitely easier to complete if you are registering your account through the mobile app as access to your device camera will give you a clearer copy of the ID and result in a quicker analysis from Coinbase and less chance of being asked to repeat the process.
Within the UK, Coinbase is authorised by the Financial Conduct Authority, which ensures the highest levels of security when it comes to buying, selling and storing digital currency.
However, as with all cryptocurrencies, any funds held within your Coinbase account are not covered by the Financial Services Compensation Scheme and Coinbase's own insurance offering to cover lost funds is only open to customers in the US.
If you are concerned with safety when it comes to a crypto exchange, then you have every right to be. In the relatively short time that crypto has been available, it is believed that a whopping $1.3 billion has been hacked from various exchanges. So, let's take a look at the measures that Coinbase has in place to ensure the safety of your funds.
Security
Coinbase have taken all the appropriate measures to ensure your account remains secure at all times. This includes two-factor authentication when accessing your account via your mobile device. In addition to this, any login from a new device or IP address will require an additional security step in order to gain access.
Cold storage
Where your digital coin is kept is paramount to its security. At Coinbase 98% of user assets are kept in cold storage, which means that they are kept offline, and are therefore almost impervious to external attack via hacking. The remaining 2% are used to buy and sell coins and facilitate withdrawals back to your bank account.
Coinbase Vault
The Coinbase Vault is an additional security feature, intended to protect larger account balances from unauthorised withdrawals. This works via a 48 hour lock-up period on all withdrawal requests, giving the account holder time to act in the case of unauthorised withdrawals.
There is no denying that Coinbase remains one of the more expensive options when it comes to cryptocurrency exchanges. The high trading fees and transaction fees can start to chip away at your gains, especially for smaller transactions.
One of the main fees to be aware of is the 3.99% levied on debit/credit card transactions which is very high. Coinbase charges either the flat fee, or a variable percentage fee, depending on which is greater.
There are several fees that make up the complex structure at Coinbase. The Coinbase spread, transaction fees and trading fees. I have gone into these in some detail.
Coinbase spread
Essentially this is the difference between the price Coinbase buys the coins for and the price you then pay for those coins. The spread at Coinbase is currently in the region of 0.50%, however, you will need to take fluctuations in the market value of each cryptocurrency into account.
Coinbase fee
Coinbase's fees can be calculated either as a flat fee or as a percentage fee, depending on which is greater. The flat fee is applicable on transactions below the value of $200 and is calculated depending on the transaction amount as below:
| Transaction amount | Fee |
| --- | --- |
| $10 or less | $0.99 |
| More than $10 but less than or equal to $25 | $1.49 |
| More than $25 but less than or equal to $50 | $1.99 |
| More than $50 but less than or equal to $200 | $2.99 |
| More than $200 | Variable percentage fee applies |
The percentage fees are calculated as follows:
| Transaction Method | Fee |
| --- | --- |
| Bank transfer | 1.49% |
| Debit/credit card | 3.99% |
| SEPA Bank transfers in or out | Free/€0.15 |
| Faster Payments | Free |
| Instant card withdrawals | Up to 2%, minimum fee £0.55 |
As you can see, the fees change considerably depending on your preferred payment method, however, these are high in the industry, especially the fee for debit/credit cards.
To give you an idea of how this would work out, in order to buy £100 of Bitcoin using a debit/credit card, you would incur a cost of £3.99 as the percentage fee would outweigh the flat fee of $2.99.
Coinbase Pro fees
For advanced traders this is the most cost effective way of trading at Coinbase. A Coinbase Pro account comes with a relatively simple fee structure whereby your fees are calculated according to your trading volume in the previous 30 days.
There are two main fees to be aware of, the 'taker fee' and the 'maker fee'. The taker fee is calculated each time you place an order at the market price and your order is filled immediately. Conversely, a maker fee applies when you place an order which is not immediately matched by an existing order and your order is therefore stored in an order book in anticipation of another customer placing an order that is the exact match of your order.
Should part of your order be matched immediately, and part of it stored for a later match, your order will be split, with the matched portion attracting the taker fee and the stored portion attracting the maker fee.
However your order is completed, the main thing you need to know is that the fees charged for Coinbase Pro are considerably less than with a regular Coinbase account.
| Total Trading Volume | Taker Fee | Maker Fee |
| --- | --- | --- |
| Up to $10,000 | 0.50% | 0.50% |
| $10,000 – $50,000 | 0.35% | 0.35% |
| $50,000 – $100,000 | 0.25% | 0.15% |
| $100,000 – $1 million | 0.20% | 0.10% |
| $1 million – $10 million | 0.18% | 0.18% |
| $10 million – $50 million | 0.15% | 0.05% |
| $50 million – $100 million | 0.10% | 0% |
| $100 million – $300 million | 0.07% | 0% |
| $300 million – $500 million | 0.05% | 0% |
| $500 million – $1 billion | 0.04% | 0% |
| More than $1 billion | 0.04% | 0% |
Who is Coinbase suitable for?
For beginners looking to start their crypto journey, the easy to use interface, ridgid security, and excellent educational facilities make Coinbase an excellent choice.
That being said, there is also a lot of offer for the more seasoned long term crypto investor with all the major services to assist you in your crypto purchase and storage as well as an excellent selection of currencies.
However, the fees at Coinbase are certainly worth consideration, being that they are higher than at other exchanges. I would expect the vast majority of investors to consider this worthwhile given the convenience, choice and educational facilities. However, if you are the sort of investor who makes multiple withdrawals, there may be a better option.
Useful Information about Coinbase
This section contains useful information to make your experience at Coinbase as seamless as possible.
How do I contact Coinbase?
Coinbase can be contacted from within the UK by dialling 0808 168 4635 although this process is much easier if you call from the number associated with your Coinbase account.
Alternatively you can email Coinbase using the contact form found on their website.
How do I withdraw money from my Coinbase savings account?
Once you have made a deposit from your bank account to your Coinbase account, you will be in a position to withdraw using the following steps:
Select Portfolio from the menu at the top of the page
Click the Withdraw button in the GBP Wallet
Select the UK bank account details that you would like to withdraw your funds to
Enter the amount you would like to withdraw
Click Confirm
How do I close my account at Coinbase?
Firstly ensure you have a zero balance before attempting to close your account.
Then, in order to close your account you should scroll to the bottom of the Profile page and select Close account. This will prompt some clear instructions on how to close your account.
How do I deposit money at Coinbase?
There are several deposit options at Coinbase including Faster Payments, SEPA Transfer, and 3D Secure Card. To deposit using a UK bank account follow these steps:
Go to Settings > Payment Methods in order to link your account
Select Portfolio from the menu at the top of the page
Select Deposit in the GBP Wallet
Initiate the transfer from your bank
Your purchase will be initiated immediately and your digital coin will be available in your Coinbase account. Should you have security concerns then at this point you have the option to withdraw your coins to a private wallet or alternatively send them to another cryptocurrency exchange.
Is Coinbase legit? Is Coinbase safe?
Given the amount of cryptocurrency that was stolen in the last year alone, it is important to establish that the exchange you are considering is as safe as possible. To this end, Coinbase have taken all the necessary precautions, however, it is up to you, as the user, to ensure that you store your cryptocurrency as securely as possible, using the options provided by the exchange. In this instance, storing your digital currencies in cold storage would be the most appropriate option.
Coinbase FAQs
Is Coinbase any good?
Yes, Coinbase is a good option, however, there are other options available that would represent an advantage in terms of lower trading fees as well as additional features such as copy trading. That being said, the major advantage of Coinbase is the sheer number of digital coins available including some of the more obscure options which could be why Coinbase remains one of the most popular crypto exchanges in the UK.
How long does it take to withdraw money from Coinbase?
Should you wish to withdraw from Coinbase to your bank account using SEPA you can expect to wait 1-2 business days for your funds to clear. However cashout via wire should be complete within one business day.
Does Coinbase accept Paypal?
Sadly, Coinbase only allows you to buy cryptocurrency using PayPal as a payment method if you are a US customer. Customers in the UK are however able to use their PayPal account to cash out or sell their digital coins. Other everyday payment methods include bank transfer, debit/credit card, and faster payments.
Coinbase Customer reviews
Most recent reviews:
i like coinbase mostly because of its instant withdrawals. it allows me to be flexible and saves time when taking money out. it also has a Pro exchange where i can place trades on the market which i have tried with other exchanges like crypto.com but the login page does not work. overall it provides a clean and simple structure to invest in crypto.
I was interested in cryptocurrency so I did my homework and saw that Coinbase was highly recommended. The interface is easy to navigate and it started you off with a bit of money to try different features with. I liked that I could compare different cryptocurrencies at one glance. I'm still a novice but it seems designed for novices with not much financial know how. I can clearly understand my gains and losses. (More losses recently than gains, but that's how it goes.)
It is great as long as you are using Coinbase Pro instead of standard Coinbase, as standard Coinbase as crazy high fees which can be hard to justify especially if only buying small amounts of crypto at a time. Customer service can be a pain to get a hold of but usually the service runs smoothly so there is no need to contact them that often anyway.
See which share tip is making the headlines

Have you considered transferring your pension?

Find the best trading platforms
*Capital at risk