TransferGo is an international money transfer service that provides fast, low-cost, transfers for both personal and business customers. In my TransferGo review, I look at the services and features offered by TransferGo to establish who would most benefit from their provision. I've also had an in-depth look at the fees charged for their service and compared them to other international money transfer services, so you can see where they are placed in the marketplace and whether they represent a cost-effective means for your money transfer requirements.
TransferGo is a fast-growing Fintech brand based in the UK and claim to conduct international money transfers in as little as 30 minutes. Certainly, they have a broad reach, offering payouts to 104 different currencies across 163 countries. They also provide their users with a range of flexible transfer options with varying transfer times and associated costs.
TransferGo will almost certainly save users on the fees charged by traditional banks, however, they are not always the most cost-effective solution. That being said, there are circumstances whereby TransferGo may well be the best option, and I have made every effort to supply you with all the appropriate information so you can make the best decision.
At the time of this in-depth TransferGo review, there were plans afoot to expand their offering to include a TransferGo wallet. This would be a welcome addition, allowing users to receive and store money easily and access faster payments as well as bringing TransferGo in line with some of their competitors who already offer this level of service, such as Wise.
Deposit & Withdrawal:
80%
Pros
Low-cost
Good selection of funding and pay-out options
Offers quick transfers
Cons
Unavailable for sending money online from United States, Canada or Australia
No live chat support
Limits on large transfers
Who is TransferGo?
Launched in 2012, TransferGo offers online, secure global money transfers at a fraction of the cost of what you would pay at a traditional high-street bank. In 2018 they received the accolade of Fastest Rising Start-up at the TechCrunch Europa Awards and were also named one of the hottest scale-ups in the UK by TNW.
Who Owns TransferGo?
TransferGo is owned by CEO and founding partner Daumantas Dvilinskas who along with three other founders, had the vision to provide low-cost money transfers that were reliable, convenient and quick to migrant workers looking for a way to send money to family at home.
Last year TransferGo received an additional 10 million in funding, used to support the expansion of the platform into new markets. They have also secured industry partnerships with Mastercard, Visa Thought Machine, Sumsub and Veriff.
TransferGo focuses on delivering fast, reliable money transfers using Spot Contracts from over 33 countries across Europe and the UK. Where they differ from some other online money companies is their ability to pay out to Visa and Mastercard, although this level of service is subject to availability depending on where your recipient resides.
However, before you sign up to TransferGo, it's important to note where the service falls short. At this time TransferGo can't support cash pick up, bill payments, digital wallets, or personal travel cards. Therefore if you are transferring money to someone abroad who doesn't have a bank account, then it would be best to switch to another provider who supports cash pickups, such as WorldRemit.
How TransferGo Works
TransferGo utilises the SWIFT network with local bank accounts to deliver international transfers around the globe at a fraction of the cost of what you would pay at a traditional high street bank. The disadvantage to this is that the SWIFT network can incur additional charges at the recipient end, the exact cost of which is dependent on the amount and the bank in question. However, these costs can be anywhere up to the value of £25 and are therefore worth taking into consideration.
TransferGo's ingenious way of sending money internationally
Users can transfer as little as £1 and a maximum of £1 million making it accessible to both individual users and business users. The main advantage to using an online service such as TransferGo is the ease with which you can conduct transfers.
In terms of usability, TransferGo have kept things simple enough to make the process easy and seamless. However, this could be at the expense of some useful functionality that other money transfer companies have employed but I will go into this in more detail below.
TransferGo Payment Methods
TransferGo offer a great variety of payment methods that cater to most needs. They provide access to the following payment methods when conducting an international transfer:
Local bank transfer
debit or credit card
Google Pay
Apple Pay
It is worth noting that debit and credit card payments are only available for transfers under the value of £2,500. Due to their faster payment system, bank deposit is only accessible in the UK.
TransferGo Business Services
TransferGo offer a very basic suite of business services including batch payments and API integration.
Batch payments allow small businesses to make multiple payments to multiple recipients quickly and easily.
API integration allows you to transfer funds at a scale not available on your personal account. This can help you transfer to customers, employees and suppliers quickly and easily.
On a negative note, there is plenty of functionality offered by other providers that are missing from the TransferGo business account. As an example, Wise offers business account holders employee debit cards, bulk payments, direct debits, and volume discounts. Wise and CurrencyFair are also fully integrated with Xero accounting software.
How Do You Receive Money From TransferGo?
With TransferGo you can send money to a recipient abroad, either directly to their bank account, or in some instances to a Visa or Mastercard. Unlike some other money transfer companies, they don't support cash pickups, or mobile top-ups, however, this isn't a requirement for everything wishing to send money abroad.
The list of countries that TransferGo supports for Visa and Mastercard transfers includes:
Austria, Belgium, Bulgaria, Croatia, Cyprus, Czech Republic, Denmark, Estonia, Finland, Germany, Hungary, Iceland, Latvia, Lithuania, Luxembourg, Malta, Netherlands, Norway, Poland, Portugal, Romania, Slovakia, Slovenia and Sweden, Russian Federation, Turkey and Ukraine.
How Long Does Each Money Transfer Take?
TransferGo offer three transfer speeds when you are transferring funds abroad. Which speeds are available to you will largely depend on where you are transferring money to, and the amount of the transfer. This can be checked on the homepage of the TransferGo website, where you can establish the details of your intended transfer within seconds.
The fastest service will incur an additional fee, however, should this be available, your funds can be at your intended destination within seconds. This is about as fast a service as you can hope to encounter and can be accessed for transfers to most of Europe and the UK. However, there are some limitations to be aware of.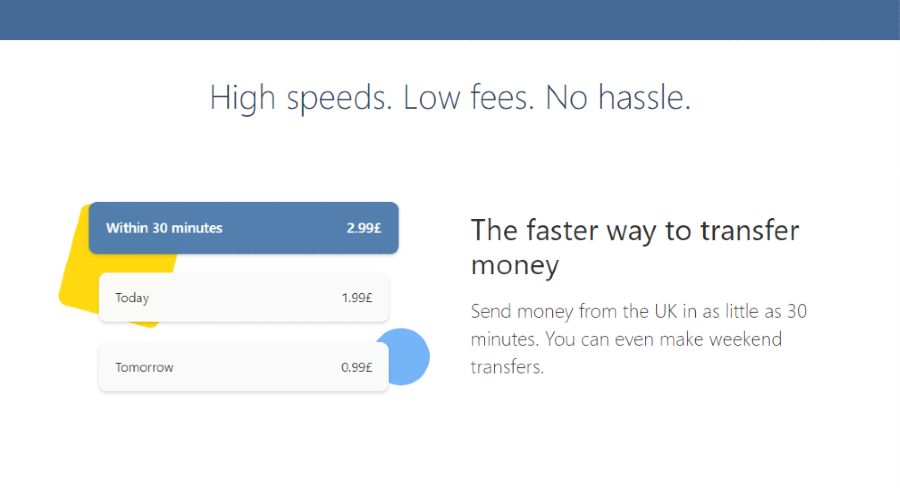 TransferGo 30 Minute Service
Transfers using the 30-minute service are limited to the value of £2,000 and you will be required to verify your identity with the appropriate ID beforehand. Pay in options are limited to credit/debit cards outside of the UK and additionally bank transfers from within the UK.
TransferGo App Review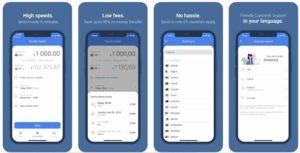 The TransferGo App has scored a respectable 4.7 out of 5 on the App Store with 634 ratings. I found the app to be clear, concise and easy to use with good access to customer support.
App Store Reviews
"Great app for sending money home – I am using TransferGo for 3 years to send money back to my parents. Never got disappointed. I am really happy to see they have an app now that works perfectly."
"Ui bug – There is a UI bug with the spinner blocking user from entering the IBAN number. I'm not able to send money."
On a negative note, some users seem to experience various bugs, no doubt the result of updates. The app is available for both Apple and Android devices and from within the app, you can track the status of any transfers you have in progress.
TransferGo Fees and Exchange Rates
If you are looking to beat the cost of an international transfer conducted at a High Street Bank, then TransferGo have you covered. The transaction fee structure has two main components; a transfer fee and the exchange rate. To get an accurate figure of what you will pay for a particular transfer, it would be best to go to the TransferGo website and use their handy calculator which will give you your transfer fees, options and exchange rates.
Transfer Fee
This will depend on how quickly you need your money to arrive and where you are sending it to. If you are in a hurry then you can expect to pay more. There are three main tiers to consider here:
|   | Cost | Delivery Time |
| --- | --- | --- |
| Tier 1 | FREE – £0.99 | Up to 4 business days |
| Tier 2 | £0.99 – £1.99 | Same Business Day |
| Tier 3 | £2.99 | Within 30 minutes |
Not all tiers are available for all destination countries so again it would be prudent to check the calculator on the main web page to confirm your options.
Exchange Rate
The calculator on the main web page will also display an exchange rate for the currencies you are converting. It's important to point out that this is not the mid-market rate, but rather an inflated version of it.
The exchange rate margins at TransferGo will usually range between 0% to 2.2%, depending on which currencies you are converting, the amount you are sending and where you are sending to. The average exchange rate margin you can expect to incur is 0.819%.
How does this compare to other providers? Well if we take the average cost of a transfer with TransferGo which is 0.84% of the amount you are sending, and compare it with Wise, at 0.50% of the amount you are sending, then it's considerably more. However, MoneyGram will perform the same transfer for an average cost of 3.50%.
Hidden Fees
There are some small hidden fees to be aware of, which are often charged by the sending and receiving bank at either end of the transfer and not a cost that is incurred by the TransferGo service. Unfortunately, it is impossible to pinpoint where exactly these hidden fees might exist as it depends on the country you are transferring to and whether TransferGo already has a local bank account in that country. On the whole, for transfers out of the United Kingdom and into Europe, you will avoid these types of charges.
Sending Large Amounts
To facilitate the transfer of large amounts at a competitive price, TransferGo reduce their exchange rate margin as your transfer amount increases. This makes them an attractive option for large transfers as not all transfer companies will offer reduced margins for large amounts.
TransferGo Refer a Friend
Like most of the money transfer services available, TransferGo offer rewards for every friend you get to sign up and use their service. These are all pretty standard across the industry and TransferGo is no exception. For every friend who signs up using your unique referral code, TransferGo will award you 22 euros. You can earn this an unlimited number of times, however, your friend needs to transfer a minimum of 115 Euro in their first six months, in order for you to qualify.

TransferGo Verification Process
Any transfers of over £900 require you to complete the account verification process at TransferGo. This is a standard procedure and demonstrates the transfer service's commitment to security.
Verification consists of supplying a valid photo ID which includes a passport, a national ID card, residence permit, or a photo driving licence. This will all need to be completed before TransferGo will permit you to conduct a second transfer, regardless of the value of that transfer.
For transfers of up to £6,500 you will also need to provide proof of address such as a utility statement and for transfers of up to £1,000,000 proof of funds are required.
My verification was completed quickly and painlessly, although some customers may experience a small delay if there are any issues with the documentation they have supplied.
Opening an Account at TransferGo
The account opening process at TransferGo was as quick and painless as you could hope for with only some very basic information required including your full name, email address, mobile phone number, date of birth, nationality and physical address.
TransferGo Safety
TransferGo is authorised and regulated by the UK Financial Conduct Authority ensuring that your funds are always safe. This includes holding all client funds in segregated accounts, ensuring their protection regardless of what happens to TransferGo as a business.
In addition to this, the TransferGo website is fully protected with TLS encryption, ensuring your data is always protected. This level of security is about as comprehensive as you can hope to encounter from a money transfer company.
TransferGo Customer Service Review
Many of the other reviews available for TransferGo report how excellent the customer service is at TransferGo, however, if you are the sort of person who prefers to communicate over live chat, this won't be your experience as they simply don't offer it. This is unusual in this space and a shame for what is otherwise an impressive customer service offering.
If the lack of live chat hasn't put you off, then you can make use of their phone and email service. During my TransferGo review, I found them to be timely in their responses and my customer service representative displayed a good level of knowledge.
The other positive thing about the customer service facility at TransferGo is the number of supported languages. This includes English, Lithuanian, Polish, Romanian, Latvian, Russian, Ukrainian, Turkish and German.
TransferGo Useful Information
Below I have detailed some useful information to make your experience at TransferGo as seamless as possible.
How do I contact TransferGo Customer Service?
TransferGo can be contacted via telephone or email on:
How do I close my TransferGo account?
Closing your account can be done quickly and easily by contacting customer service on the email provided above. Simply state that you would like your account to be closed and your profile to be deactivated.
How long will TransferGo keep my personal data?
As per regulatory requirements, TransferGo are required to retain your personal data for 5 years following the deactivation of your account.
How can I transfer money through TransferGo?
Once you have opened an account and completed any necessary verification, the initial transfer process at TransferGo is quick and easy to complete.
Simply sign in to your account and enter the sending and receiving countries and the amount you would like to send. At this point, you will also receive your send options and can select your transfer speeds.
At this point, if you have yet to complete the identity verification process, you will be asked to do so if your transfer exceeds £900.
Next, you will be required to enter the bank details of your beneficiary including their full name, country, and local bank account details.
Having completed all this the final step will be to review the transfer details of the transfer and click the 'Pay In' tab to pay for your transfer. You can choose to pay via bank deposit, credit/debit card, Apple Pay or Google Pay to transfer funds into the local bank account.
Does TransferGo have any introductory offers available?
After a bit of searching around on their webpage, I was able to locate an introductory offer for a FREE, same-day money transfer for TransferGo customers when you use the promotional code THANKYOUBLOG. This is a great way to test the service on your first transfer.
TransferGo FAQs
Is TransferGo Legit?
In short, yes. Transfergo is a legitimate, cost-effective transfer service with all the appropriate regulations and safety measures in place to offer a service that you can trust.
As well as being supervised by HM Revenue and Customs (HMRC) under Money Laundering Regulations 12667079, they are also regulated by the UK Financial Conduct Authority (FCA).
Who Uses TransferGo?
TransferGo is currently the preferred international money transfer service for more than 2.5 million users worldwide. They are ideally placed for migrant workers wanting to send money back home.
At the time of this TransferGo review, there were plans to extend the list of receiver markets, opening up international money transfers to more people across the globe.
TransferGo Customer reviews
Most recent reviews:
There are no reviews yet. Be the first one to write one.
See which share tip is making the headlines

Have you considered transferring your pension?

Find the best trading platforms
*Capital at risk