MoneyGram is one of the biggest global money transfer services in the industry, second only to Western Union.
In my MoneyGram review, I have taken a detailed look at this service, as well as its colourful history, to determine whether this is an entity worthy of your consideration.
One of the most impressive things about MoneyGram is its sheer scale, and therefore the global reach of the transfer service. For people wanting to transfer funds to a lesser-known country, where traditional banking services may still be limited, this could be a saving grace.
The fact that MoneyGram allows cash transfers also makes this a convenient option for people transferring funds to a third world country, although bank transfers are also available, making this a viable option across the globe.
MoneyGram has been on a downward spiral in recent years in terms of market capitalisation as it has failed to keep up in terms of cost and efficiency with some of the newcomers in the money transfer space.
However, with over 80 years in the industry, MoneyGram currently enjoy the sort of reputation that can only come with longevity. That's not to say that MoneyGram haven't had their time in the spotlight for the wrong reasons, including a $100m fine for fraud in 2012. However, its resilience has continued to pay off and MoneyGram have since integrated Ripple into its payment system.
In order to identify whether MoneyGram is the best option available, I've taken the time to compare their service to other money transfer companies, including looking at transfer times, reliability, and fees.
I aim to supply you with all the information you need, including any negative aspects, in order to make your final decision.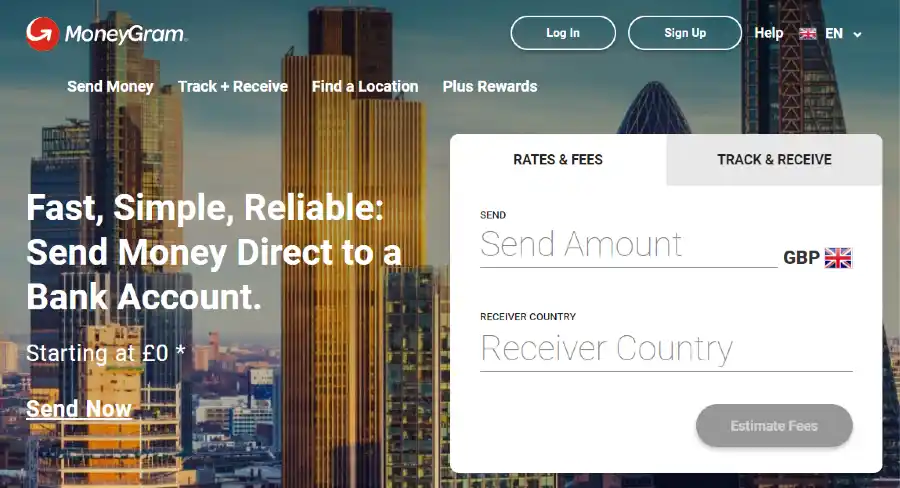 Who is MoneyGram?
MoneyGram is one of the longest-serving money transfer services in the world, currently headquartered out of Texas, United States and with regional offices across the globe.
MoneyGram provides international transfer services to private individuals and businesses and currently operates in over 200 countries and territories.
Since its inception, MoneyGram has evolved to offer a web-based service, alongside a fully functional app for conducting transfers.
Who Owns MoneyGram?
MoneyGram is a public payment services company with Pam Oarsley as the current CEO and Chairman. MoneyGram was formed in 1940 as the result of the merger of two businesses, Minneapolis-based Travelers Express and Denver-based Integrated Payment Systems Inc. It became an independent company in 1998 following its acquisition by Travelers Express and transformed to MoneyGram Internation Inc in 2004.
MoneyGram Review – Product Overview
MoneyGram is one of the most international companies available with a global reach of 347,000 agents supporting a multitude of languages and 58 currencies.
The way MoneyGram operates is by acting as a third party intermediary between the person sending the funds, and the person receiving the funds. Its main areas of business include sending money online, sending money directly to the recipient's bank account or sending money to a mobile wallet.
How MoneyGram Works
There are two ways to facilitate an international transfer using MoneyGram:
1. In-Person at a MoneyGram Location
MoneyGram claim to have locations in just about any corner of the globe, and indeed when I checked my nearest agent, there was one less than a mile from my front door. It's quick and painless to locate your nearest agent using the MoneyGram location finder.
To make a transfer in person, you simply need to show up at your MoneyGram agent with a government-issued ID (this can include a passport, photo driving licence or National ID card) and enough cash to cover the transfer and any fees that might be incurred. You will need to choose your payment method, which can include bank transfer, or credit or debit card including Visa, MasterCard, Maestro and Visa Electron.
You will also be required to complete a document with details of the transfer including your full name, your recipient's name and location and the amount your wish to send.
Upon completion of this, the agent will hand over an eight-digit pin which you will be required to give to your recipient. Your recipient will then use this pin, along with their ID, to collect their transfer at a MoneyGram kiosk.
2. Online via the MoneyGram Website or In-App
Of course, MoneyGram wouldn't be competitive in the international remittance space if they didn't have an option to send money online. The process for online transfers is fairly standard and convenient and can be done from the MoneyGram webpages or from their app.
All that's required to transfer funds online is for you to create a MoneyGram account, supply details of the transfer including the recipient's details and the amount being transferred.
Next, you will be required to select a payment method, which includes debit or credit card and bank transfer. One of the nice touches about the online service at MoneyGram is that you can start the process online, and then head to a MoneyGram agent and complete your transfer in cash.
Of course, this method does require some KYC (Know Your Customer) verification, to which end you will be required to upload a relevant photo ID.
How Do You Receive Money From MoneyGram?
MoneyGram facilitates international money transfers to two payment methods which I have gone into in more detail below:
Send money directly to your recipient's bank account
From the UK you can send a wire transfer using MoneyGram directly to your recipient's bank account in over 50 countries across the globe. This is a slightly slower option but can end up being more cost-effective if you are not in a hurry. It is also a convenient option for your recipient as it doesn't require them to go to a physical location in order to pick up their funds. As well as transfers directly into a bank account, MoneyGram facilitates deposits directly into Credit Union and other financial accounts.
Send money to a mobile wallet
This is a quick and reliable method of sending money overseas using MoneyGram and can result in your recipient receiving their funds within minutes. Mobile wallet transfers are increasingly popular in third world countries where banking facilities may not be available.
Sending to a mobile wallet is one of the MoneyGram services that can be done both online and by using one of MoneyGram's physical locations across the UK.
Send Money for Cash Pickup
Depending on the location you are sending money to, cash pick up may be available, allowing your recipient to walk into one of many MoneyGram agents and retrieve their money by showing relevant ID. This option can be available in as little as 10 minutes, although you will need to take into account the local time at the location you are sending to.
Send money to a debit card
This certainly offers a good level of convenience, with the funds being credited directly to your recipients debit card. Of course, you will need all their debit card details, and it is worth considering that this is only available for Visa debit cards from within the UK.
Send money for home delivery
In some instances, you will have the option to select home delivery as a method for sending money. Where available, this will result in the money being delivered by a local MoneyGram agent, directly to your recipient's door.
Send money for bill payments
You can use MoneyGram to pay bills including utility, phone, government agencies, healthcare providers and credit card bills abroad in some instances. You will need to use the online bill pay search function to find out if the company you wish to pay is supported by the MoneyGram network.
MoneyGram money order
For domestic payments that don't require a bank transfer, there is the option to walk into your local MoneyGram agent and request to send money using MoneyGram money orders. You will need the value of your money order in cash and MoneyGram will issue you with a physical money order.
This is really useful if there is no access to traditional banking facilities as your recipient need only take the money order to a post office or MoneyGram agent to cash it in.
MoneyGram Mobile Top-Up
In some circumstances, MoneyGram will also offer mobile top-ups which could be useful if you are looking to put credit on the mobile phone of a loved one abroad so you can stay in touch.
MoneyGram assure me that this is available within a few minutes and all that is required is for you to supply your receiver's mobile phone provider and their mobile number. You can only access this online via MoneyGram, and with the list of locations I tested it wasn't available, so I would hesitate to rely on this service. You can only use a credit or debit card to pay for this service.
MoneyGram Business Services
MoneyGram have a separate website for corporate clients where they can access tools such as spot contracts, forward contracts, and limit orders.
How Long Does Each MoneyGram Money Transfer Take?
The speed of transfers is one of MoneyGram's strong suits, however, the transfer speed does vary depending on a number of factors such as how you are sending the money, how your recipient is receiving the money, and the country you are sending the money to.
As a rule of thumb, transfers that you make in person will usually be available to your recipient within 10 minutes. This is about as fast a service as you can hope to find and in some circumstances may be worth the slightly inflated prices you can pay at MoneyGram.
I was also pleased to encounter reasonably fast processing times when I conducted my transfer online. Whilst they won't beat the in-person service, they can still arrive within a few hours. However, if you are utilising bank account transfers, you should be prepared to wait for up to 5 business days for your funds to arrive. You will also need to take into account whether you have verified your account as this can add delays of up to five business days.
Of course, the factors mentioned above will come into play in terms of transfer times, however, MoneyGram do have a fairly comprehensive tracking system so you can stay in the loop.
MoneyGram Transfer Limits
MoneyGram have limits that vary depending on which method you are using to send your transfer. For transfers using the online service, the limit stands at £7,600 a day, however, should you need to send additional funds, you could also send a further £5,000 from a MoneyGram agent location on the same day. Of course, you would need to complete two separate transfers in order to facilitate this, but it is entirely possible if a little laborious.
I took the trouble of checking all this with MoneyGram customer services and was surprised to learn that whilst this was offered as an option, there was no guarantee that the second transfer would actually go through. Customer services were unable to offer me any explanation for this.
I imagine this to be very frustrating for MoneyGram customers wanting to transfer large amounts with some guarantee that the funds would reach their destination.
MoneyGram App Review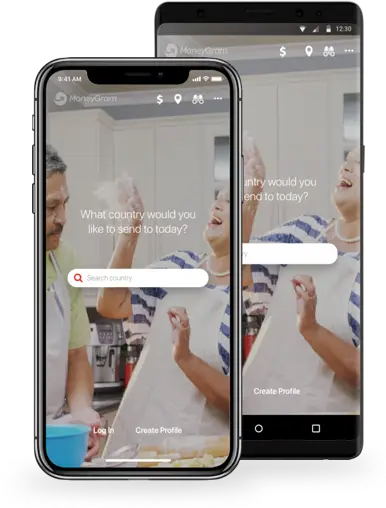 MoneyGram have a great, highly functional app that has scored an impressive 4.8 out of 5 on the App store. The app allows users to initiate transfers which can then be completed in-store, and also helps you find your nearest MoneyGram agent location using GPS. It will also provide you with tracking notifications, biometric login, and fee estimates.
I liked it that you were able to scan your card using your phone's camera to make payments really quickly and easily, and as well as this you can use your phone camera to upload your photo ID for verification purposes.
The app also allows you to check exchange rates on the go and share details of your transfer with your contacts so your recipient can access the tracking PIN number.
The MoneyGram app is available from the App Store and the Google Play Store.
App Store Reviews
Some of the positive reviews about the app include:
"Lovely app – Just what I can say is Amazing app very good fares. You don't have to go and queue in the Post Office or somewhere else. Just with couple of clicks job done. I Love it. You'll too I'm sure."
"Brilliant! This is a great app I don't know why I didn't download it sooner it has saved so much time having to go to a post office and stand in the queue. Easy to set up and quick and easy to use highly recommend!!"
And some negative reviews contain the following:
"Useless – Kept sticking and laggy. Information not displaying correctly. not suitable for iPhone"
"Good if it works – The app itself is good, well designed and easy to use. My account got irreversibly blocked due to an automatic security trigger (for no obvious reason) which they don't have to explain according to their T&Cs. I think this policy is a bit of a joke but I guess things were good while it lasted"
MoneyGram Fees and Exchange Rates
If finding low cost transfers remains your greatest priority, then you may be best to continue shopping around as it was my finding that MoneyGram was one of the more expensive options when it comes to online money transfers. I have gone into this in more detail here.
The fees that you will pay for a transfer at MoneyGram will vary according to your send destination, the amount you are sending, and your funding and receiving methods. However, whilst MoneyGram will comfortably come in as a more cost-effective method of transferring funds abroad than a traditional bank, they are one of the more expensive international money transfer companies available. There are two factors that you need to be aware of with MoneyGram, and their fees are not always completely transparent.
MoneyGram do provide a fee calculator on their website much like some other transfer companies, so it is a fairly quick and easy process to compare their fees for the transfer you are intending to send with other companies such as Wise. When I did this, I found that on the whole Wise was a significantly cheaper option.
The other thing that I found whilst testing the fees at MoneyGram, was that the in-person option of transferring money at a MoneyGram location was significantly more expensive than conducting the same transfer online.
Transfer Fees
This is calculated according to the amount of money you are sending. However, you should be aware that the fees can be higher for higher amounts, typically rising at around the £500 and £1000 mark.
On the whole, bank to bank transfers are often the cheapest way to send money through MoneyGram, whilst paying for your transfer via credit card for cash pick up is often the most expensive way to conduct a transfer.
Exchange Rate
The other consideration when transferring money abroad is the exchange rate you are offered. Whilst companies like Wise will provide you with the current midmarket rate, MoneyGram are not quite as generous and will use an inflated version of the mid-market rate. Of course, the actual rate you will get will depend on where you are sending the money to, with transfers to major currencies such as GBP, EUR and USD offering more favourable rates.
However, should you be transferring funds to a more ambiguous currency, in an emerging market, then you should be prepared for a less favourable exchange rate.
Not only are MoneyGram somewhat ambiguous about the exact exchange rate you will get, but it seems that on the whole their mark-up on the midmarket rate can be as much as 5%, and is therefore very expensive among online transfer providers. For this reason, if your main objective is to save money on your international transfers, you may want to look elsewhere.
Example of a Transfer Cost
As an example I have used MoneyGram's calculator to estimate the cost of a transfer from the UK to Australia.
Using MoneyGram to send £100 to Australia would set you back £1.99 in fees and your recipient would get $180.97 at todays rate.
The exact same transfer using Wise would cost you £0.92 in fees and your recipient would get $184.96 at todays rate.
From this you can see that MoneyGram fail to remain competitive in terms of fees, however, their global reach can make up for this on occasion.
MoneyGram Refer-a-Friend
Like so many other international money transfer services, MoneyGram offer their users a customer referral program whereby you can earn free international money transfers for every friend that you refer who registers an account and completes an international money transfer online within 30 days of receiving the referral link.
This is fairly unremarkable in this space, however, most other companies that I have reviewed to date have a minimum transfer amount that the referee must complete before the free transfer can be applied. This is not true of MoneyGram and makes this an easy bonus to achieve.
MoneyGram Plus Rewards

MoneyGram have a loyalty program, which is unusual across the money transfer companies I have reviewed to date. Whilst their sign up offer is on the stingy side at only 20% off your second transfer with MoneyGram (other money transfer companies will offer your first transfer for free), with the rewards program you can expect to receive 40% off the fee after every 5th money transfer.
For people who are transferring money regularly, this could start to add up, however, you would need to weigh the advantage of the Plus Rewards program against the disadvantage of the inflated fees at MoneyGram.
MoneyGram Verification Process
Verification is a necessary part of the process at any reputable money transfer company who employ stringent safety measures for international money transfers. At MoneyGram, you will be required to upload a government-issued ID, such as your passport or driving licence the first time you attempt to send money abroad.
This is best done from within the app as you can access your phone's camera to scan and upload your ID quickly and easily. You will get notifications as to the status of your verification, and once it is complete, all future transactions should be quick and painless.
Opening an Account at MoneyGram
Account opening at MoneyGram is a fairly standard procedure and shouldn't take you longer than a couple of minutes.
You can open your online account on their web pages, or from within the app and you will need some personal information including your email address, full name, residential address, mobile phone number, country of birth and date of birth.
Once that is completed you will be ready to embark on the account verification process.
MoneyGram Safety
Is MoneyGram safe? As one of the longest-serving money transfer services, MoneyGram offers a solid track record and is also authorised and regulated by the Financial Conduct Authority (FCA). This means that MoneyGram offers a safe and secure money transfer service.
However, MoneyGram has had its ups and downs in the past and is often a preferred method for scam artists due to the difficulty of tracing funds over borders. Scammers will often request that you wire money to them, which cannot be retrieved once it is sent.
That being said, as a vehicle for moving money from one country to another, I find no reason for alarm and indeed, MoneyGram appear fully compliant with all licensing and regulatory requirements.
As the second-largest money transfer provider in the world, MoneyGram has increased its fraud prevention measures in order to keep its customers safe. In fact, MoneyGram now take steps to educate their customers on potential fraud including IRS extortion scam, refund scams, disaster relief scams, foreign lottery scams and vehicle sale scams.
MoneyGram Customer Service Review
MoneyGram offer live chat which I accessed through the FAQ page on the website. In the middle of the day, my queue position started at number 8 and within 20 minutes I was online with a customer service representative.
My main gripe with MoneyGram's service was the speed at which my live chat timed out. If left for 2 minutes and 30 seconds, you were automatically disconnected, which barely gave me time to type out the question I had. I ended up asking my questions, in short, half-sentences in an effort to combat this.
This is a fairly middle of the road standard of customer service, with some money transfer companies failing to offer any live chat at all whereas others will answer your questions immediately.
MoneyGram has managed to score 3.8 out of 5 on the Consumer Affairs website, with most reviews being made in America where MoneyGram still has the bulk of their business. However, on the whole, customer experiences were positive.
"MoneyGram is the best money transfer device. It's, fast easy and convenient with little to no additional fees. Transferring money just got easier. You can even get funds to friends and loved ones from the comfort of your home; MoneyGram offer services online and the app which I happen to use myself. I love MoneyGram!!"
"I created my account and was not able to send money online for a week. Called three times and been told my account is under review. On my last call they told me to use another company 'cause I am blocked?!"
These are two typical reviews, and as you can see vary wildly from each other. Whilst this may be confusing when trying to gauge the efficiency of a company, this is fairly typical across all transfer companies and is probably more a reflection of individual circumstances, especially when it comes to verifying an account, rather than a reflection of the company itself.
MoneyGram Useful Information
Here I have compiled some useful information to make your experience at MoneyGram as seamless as possible.
How do I contact MoneyGram Customer Service?
Money Gram have a live chat service that can be accessed on the MoneyGram website. Alternatively, you can contact MoneyGram UK via phone or email on:
How do I close my MoneyGram account?
Closing your Money Gram account can be done easily by contacting their customer support team. It is advisable that you ensure that any pending transfers have been completed before requesting your account be deactivated or MoneyGram can cancel these transfers.
How much does MoneyGram charge to send $100?
To send $100 from the United States to the United Kingdom you can expect to pay $4.99 in transfer fees for cash pickup and $0 for bank deposit. Be aware of the exchange rate for such a transaction as this will represent an additional cost.
How can I transfer money through MoneyGram?
Transfers through MoneyGram can either be done online at www.MoneyGram.com or by downloading the MoneyGram app. Alternatively, you can transfer money from any post office or Tesco store throughout the UK.
Does MoneyGram have any introductory offers available?
Yes, MoneyGram offer 20% off your second transfer.
MoneyGram FAQs
Can you get scammed with MoneyGram?
Yes. MoneyGram is in fact a preferred method of payment for scammers and therefore it is prudent to be diligent when asked to send funds using MoneyGram. In an effort to combat this, MoneyGram have detailed some of the scams to be aware of.
Does MoneyGram work in the UK?
Yes, in fact, MoneyGram is not only available online in the UK but can also in accessed in person at any Post Office or Tesco Store throughout the UK.
Is MoneyGram trusted?
Yes, as one of the longest established transfer companies available, MoneyGram has a long service history as well as a rating of 4.3 out of 5 on Trustpilot with a wealth of MoneyGram reviews from happy customers. I found no cause for concern when it comes to the reliability of MoneyGram.
See which share tip is making the headlines

Have you considered transferring your pension?

Find the best trading platforms
*Capital at risk