In my Wise Review, I have taken an in-depth look at the UK's biggest money transfer service to ascertain whether this is the safest and most cost-effective way to conduct international money transfers.
I've taken the time to review their transfer fees and services and looked at all the pros and cons associated with the Wise service.
Wise (previously known as Transferwise) offers a multi-currency, international bank account that can be managed quickly and simply from the convenience of a handy little app. They claim that transferring funds between currencies is six times cheaper using Wise than you would get with traditional banks, and Wise users are able to hold up to 50 currencies within their Wise account.
I have recommended Wise in previous articles as a cost-effective and convenient way for grandparents to save for grandchildren who live abroad.
Customers can also use Wise for their business needs using their highly functional Business Bank Account. Wise claims that they transfer over $6 billion every month in foreign exchange, saving individuals and businesses $3 million in hidden fees every day.
Based in London, Wise is the biggest and cheapest money transfer company in the UK and is authorised and regulated by the Financial Conduct Authority, with over £4 billion in monthly turnover.
Deposit & Withdrawal:
90%
Pros
Massive savings on Wise transfers
Full transparency on fees
Easy to use mobile app
Full transparency on fees and performance backed by excellent customer service
Quick account opening and onboarding process
Cons
No loans or overdraft facilities
No interest earned on funds held within Wise although with the launch of Assets, you can now grow your money in a fund.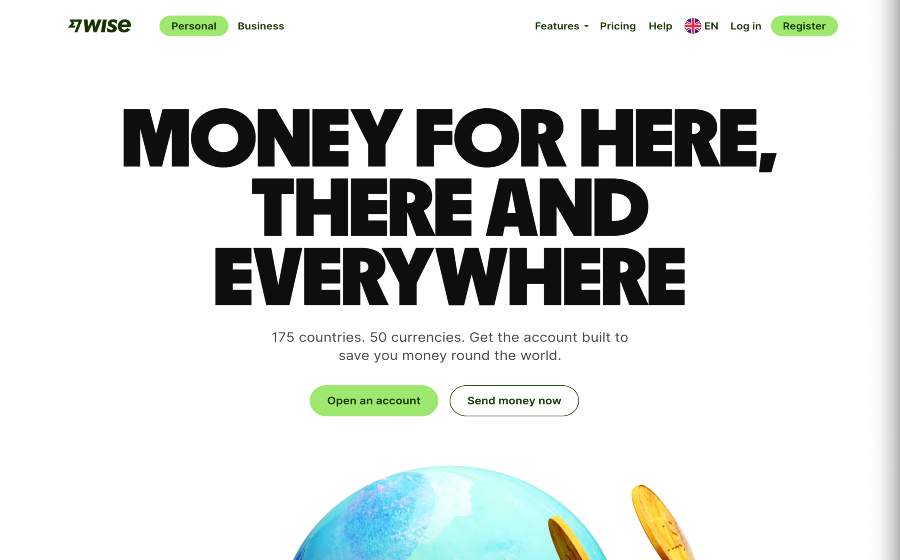 Who is Wise?
Wise was launched in 2010 with the sole aim of providing its users with a cheaper exchange rate than would be provided by traditional banks. Considered a market leader in the Fintech space, Wise has experienced remarkable year on year growth and today has a valuation of over $5 billion dollars with numerous offices across four continents.
Who Owns Wise?
Wise was started by two Estonian entrepreneurs, Taavet Hinrikus (Skype's first employee) and Kristo Käärmann, who early on in the process received massive investment from both PayPal co-founder Peter Thiel and Virgin founder Richard Branson.
On July 7, 2021, Wise was the biggest ever London tech listing to go public via a direct listing, despite rumours that there would be an IPO. The company went public at £8 a share, bringing the valuation to a staggering £8 billion. Wise also secured an investment licence in 2020, providing a hint at what is to come.
For further information regarding this listing, and the opportunity to buy shares in Wise, follow this link to IG.
Product Overview
Wise has a number of standout products that together make up the excellent offering they provide to their service users.
Wise Multi Currency Account Review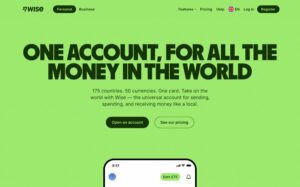 Wise offers one simple to use, multi-currency account, previously referred to as the Wise Borderless Account. Here we will go through some of the main features:
You can send money overseas 7 times cheaper than with a traditional bank by utilising Wise's smart technology, which links local bank accounts in countries all over the world.
You can receive money in 10 different currencies.
You can hold money in your account in over 50 currencies, converting using the real exchange rate; however, you won't earn interest on this cash.
You can spend money directly from your multi currency account using your Wise debit card in over 200 countries using Google Pay and Apple Pay.
You can set up direct debits for free and without borders.
These features are certainly appealing to people living and working abroad and to frequent travellers who stand to save on the usual currency conversion fees.
Assets
In August 2021, Wise launched Assets for UK customers in order to help them grow the money held in their Wise account. Assets allow you to hold your money in different asset classes while being able to withdraw it and spend it as normal.
The first of what is expected to be many asset classes is stocks. This tracks the MSCI World Index, with an average annual growth of 13.07% since 2012. If you want to try this new feature, you will still be able to access 97% of your money instantly, and you can transfer it back to cash at any time if you feel this isn't for you.
This is a great feature, and not one I have come across before. There are costs to be aware of, but they seem reasonable at a 0.15% annual fund management fee and a 0.40% annual service fee. This could get expensive for larger balances; however, there are not many places where you can access your funds and grow them at the same time.
Wise Interest
Wise has recently launched market leading interest rates on any cash held in your account. Wise emailed me about their new interest rate, and since then the rate has gone up again. This is because the rate they use follows central bank rates. When central bank rates go up, so do Wise's. 
As I write this review, the rate stands at 4.22% on GBP. This is very close to the leading rate in the UK for an easy access account. Wise also allows account holders to earn interest on other currencies they hold, including 4.79% on USD.
You can access your money and spend it as normal while earning interest. This is a great offering from Wise and definitely worth considering.
Multi-currency account cons
On the flip side of the coin, there are some negatives that I found with this account. There is no overdraft or loan facility, and while your money is safeguarded, it is not guaranteed by the Financial Services Compensation Scheme.
The other thing to consider is the regulations that can cause a transaction to be frozen. When reading through customer reviews, this seems to be a common complaint.
Wise Business Account Review
The Wise Business Account is certainly an excellent offering for anyone conducting business internationally. Some of its appeal lies in its simplicity, allowing business owners to easily manage transactions across borders, but of course, the main appeal, as always with Wise, is the low-cost international transfers that could potentially impact a business's bottom line.
The new interest rates introduced at Wise are also available on their business account, making this an even more attractive proposition.
Wise Business Account vs Paypal
For businesses currently using Paypal, Wise is up to 19 times cheaper and allows businesses to pay invoices in over 70 countries, sometimes instantly.
There are some other key differences that may encourage Paypal users to consider switching to Wise, such as the Wise integration with Xero (a cloud-based accounting software service), employee debit cards, affordable bulk payments, direct debits, and volume discounts.
It was my finding that the Wise Business account was perfectly geared towards online businesses and freelancers. While there is no physical bank and therefore no way to pay in cheques or cash, the money saved on bank transfers and the speed and simplicity of the account certainly make it an appealing option. However, with Wise, there is no loan or overdraft facility and no credit card facility, so if these are services you think you would require, then this wouldn't be the best service for you.
International Money Transfer Savings With Wise
Wise, formerly Transferwise, continually runs independent research to compare how their prices for conducting international money transfers stack up against the competition. This research has found that in the UK, Wise is, on average:
9x cheaper than leading UK banks to send £250,
7x cheaper to spend £250 with a Wise debit card abroad,
4x cheaper to withdraw £250 from an overseas ATM,
10x cheaper than Paypal to send £250 and
1.8x cheaper than Western Union to send £250
How Wise Works
Wise uses the mid market exchange rate, which means the exchange rate that you see on Google is the same one you will get at Wise without any extra costs or exchange fees.
Traditional banks will add a markup to the exchange rate when you transfer money with them, leaving you to pay more than you should. But Wise has bank accounts all over the world that they link together, so you can transfer money at the real exchange rate. In this way, money never actually crosses any borders, and you can avoid any unnecessary charges.
Once you have decided where you want to send your money transfer and how much, Wise uses technology to link two bank accounts in the two countries in order to facilitate the Wise money transfer into the recipient's account.
Wise Guaranteed Rate
Unlike most money transfer providers, Wise will guarantee the exchange rate you are offered for 2 to 72 hours, depending on the currency you select. As long as Wise receives your money within that time frame, you will receive the guaranteed rate. Anything outside of that time frame will revert back to the mid-market rate at that moment.
How Long Does Each Money Transfer Take?
Like many money transfer companies, Wise is one of the quickest ways to transfer money abroad. They claim it can take up to two business days for funds to reach the recipient's account; however, the reality is that this is often much quicker, and a quick look at customer testimonials will support this.
Wise MasterCard Debit Card
The Wise Mastercard Debit Card is a really handy feature of the multi currency account. It enables you to spend your money, both at home and abroad, in a way that deducts money in the same currency and uses the same currency you hold in your account in order to keep transactions as low cost as possible.
You can also use the card to withdraw money from ATMs all over the world, with the first £200 of withdrawals a month being completely free of charge.
The Wise card is available to residents of Australia, New Zealand, the United States, the UK, EEA countries, Switzerland, and Singapore. Whilst there are spending limits associated with the card, these can easily be modified within the mobile app.
As a negative, there is a charge of £5 when you order a Wise card, and any lost or stolen cards will incur a charge of £3 to replace.
Wise Direct Debit
In 2020, Wise launched their direct debit service, further expanding their suite of online services for people living and working abroad. The direct debit comes free of any charges and again utilises the great currency exchange rates available at Wise in order to reduce costs for the user.
This service is available in the UK and Europe, and Wise will send you a notification when you have a direct debit going out or if your balance is too low. One nice feature is that you won't get charged if your balance is too low and the direct debit gets bounced back.
Wise App
Wise has a streamlined and intuitive app that consistently gets positive reviews from its users. It has scored a very healthy 4.8 on the Apple App Store, with many reviewers commenting on the ease of use: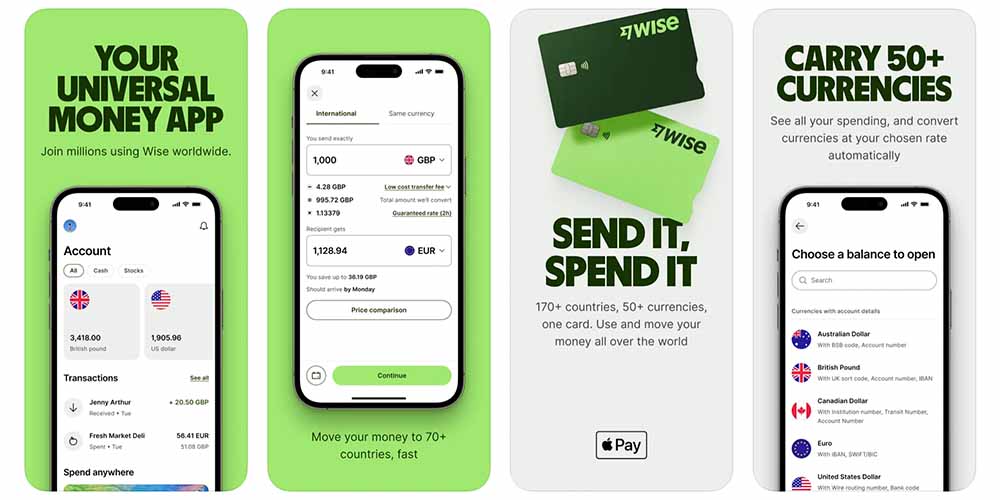 "Shockingly convenient and easy. This is an amazing app for independent consultants. The borderless account is exactly that, borderless. I have client all over. First invoice payment from an Australian corporate client into my borderless account using Australian bank details was just amazingly smooth. I was nervous about the whole thing but, I got paid in AUD to the borderless account, I transferred it to my UK bank account and all of it happened in less than 5 minutes and all on my phone. It's just lovely!!"
The Wise app is available on both Android and iOS and includes all the tools with which to fully manage your borderless account, including making Wise transfers, managing your bank card, and instant notifications.
This mobile app definitely succeeds in its mission to make banking and transferring money as seamless as possible.
Wise Fees and Charges
Given that the entire business model at Wise is providing low cost international transactions, it stands to reason that the fees would be their strong suit, and this certainly appears to be the case when sending money overseas. There are a number of factors that will affect what you pay, including:
Where you are sending money from
Where you are sending money to
The sum you are sending
The method of your transaction
The mid market exchange rate
Wise makes regular updates to their pricing in line with fluctuations in price in each currency corridor, passing any savings on to their users. Wise is completely transparent about their fees, and you will know in advance exactly what costs are incurred for a wire transfer.
To give you an indication of what you would pay for your Wise money transfer, I have outlined below the cost of certain transactions at Wise, compared to HSBC at the time of writing this Wise review.
|   | Wise | HSBC |
| --- | --- | --- |
| Send 250 GBP to EUR | 1.13 GBP | 9.36 GBP |
| Spend 250 GBP on debit card in EUR | 0.93 GBP | 6.88 GBP |
| Withdraw 250 GBP from ATM / month cash in EUR | 1.93 GBP | 11.88 GBP |
Of course, being a low cost money transfer service, you would expect Wise to come in cheaper than a high street bank.
However, I also compared Wise's fees to those of other online money transfer providers and found them to still be competitive in this space, especially for small amounts.
Wise is also well known for its complete transparency when it comes to fees, so you won't come across any nasty surprises from hidden fees. In fact, you can check the exact amount you will pay for the transaction you wish to make, using their handy calculator.
Fees are calculated in the following way:
Operation
Cost
Opening the account
Free
Monthly fee
None
Wise Debit card
Free
Incoming foreign transfers
Free
Outgoing foreign transfers
0.35%-2% + 80p fixed fee
Reloading account with money

Free from credit card or bank transfer,

0.2% from debit card

ATM withdrawals
x2 withdrawals up to £200/month is free
In addition to this, Wise charges a small fixed fee when you send money to a bank account in the same currency. This is why Wise is better suited as a complementary account to your standard bank account, used mainly for the purposes of international transfers.
Wise Money Transfer Fees
| Currency Sent | Wise.com Fee 2021  |
| --- | --- |
| AUD | 0.32% – 0.45%, depending on amount sent + $ 0.66 AUD fixed payment fee. |
| BRL | 2.55-2.6%, depending on the amount sent + R$ 1.48 BRL fixed payment fee. |
| CAD | 0.46% – 0.59%, depending on the amount sent + $ 1.77 CAD fixed payment fee. |
| CHF | 0.3% – 0.43%, depending on the amount sent + 0.58 CHF fixed payment fee. |
| CZK | 0.33% – 0.45%, depending on the amount sent + Kč 6.50 CZK fixed payment fee. |
| DKK | 0.31% – 0.44%, depending on the amount sent + kr 2.32 DKK |
| EUR | 0.28% – 0.41%, depending on the amount sent + € 0.50 EUR fixed payment fee. |
| JPN | 0.63% of the amount that's converted + ¥ 63.00 JPY fixed payment fee. |
| NZD | 0.35% – 0.49%, depending on the amount sent + $ 2.05 NZD fixed payment fee |
| TRY | 0.66% Fee + ₺ 10.57 TRY fixed payment fee |
| USD | 0.31% – 0.41%, depending on the amount sent + $6.25 USD fixed payment fee |
The Mid Market Rate
Traditional banks and service providers all set their own currency exchange rates when it comes to moving money abroad. Often, this will be a vastly inflated version of the exchange rates you see on places like Google, otherwise known as the midmarket rate.
The midmarket rate falls between the price a currency is being bought at and the price a currency is being sold at. It represents the truest, or fairest, exchange rates available, and at Wise, these exchange rates are pulled directly from Reuters, where they are updated in real time when the market is open.
Of course, it is a massive saving for the customer to be able to access these exchange rates for all their transactions. However, what really stood out to me during this Wise review are the tools available so you can keep track of themidmarkett rate. Wiseprovidese an exchange rate tracker where you can get a daily rate update and sign up for alerts when a rate reaches a certain value. This can end up saving you a significant amountof money ifd you need to transfer a large sum of money.
Sending Large Transfers
There are many Wise reviews that claim that Wise isn't great for sending large transfers in terms of cost. However, this wasn't my experience at all. This is because, as well as offering the best exchange rate, Wise also offers something called a Monthly Volume Discount.
With the Monthly Volume Discount, it doesn't matter whether you send one large amount or several small amounts, and it doesn't matter if you are sending to multiple currencies. As soon as you send over £100,000 in any one month, you will activate the discount. Not only this, but the more you send, the more you will have discounted.
| Volume (GBP) | Discount (%) |
| --- | --- |
| 0–100k | 0 |
| 100k–300k | 0.1 |
| 300k–500k | 0.15 |
| 500k–1m | 0.16 |
| 1m+ | 0.17 |
This makes the already low fees at Wise even lower. Therefore, I wouldn't hesitate to recommend Wise for large transfers.
Wise Verification Process
In most instances, there will be no need to have your identity verified, as Wise can access this information from third party sources like your credit card provider. However, there are occasions when Wise will require additional verification in order to process your transaction.
In this instance, you will be required to upload a picture of a government ID, such as a driving licence or passport, and proof of your address, such as a utility bill or bank statement.
While this may slow down the transaction that is in progress, you will only ever be asked to verify your identity once at Wise and shouldn't experience any further issues in the future. The process for verifying your identity is also fairly quick and straightforward.
Wise vs Revolut
Of course, there are other international money transfer companies available, and Revolut is another online money transfer company aiming to provide low cost transactions to people travelling and living abroad. They offer a very similar service to Wise, which is why I felt it appropriate to compare the two offerings in this review.
|   | Wise | Revolut |
| --- | --- | --- |
| Number of countries available | 50 countries | 32 European countries and Australia |
| Currencies | 96 | 140 |
| Currencies you can hold in your account | 50 | 24 |
| Debit Card | Yes | Yes |
| Receiving Currencies | GBP, EUR, CHF, USD | GBP, EUR, CHF |
| Mobile App | Yes | Yes |
| Web Portal | Yes | Yes |
| Money Transfer cost | 0.3% – 0.7% | Free up to £1,000 per mth, 0.5% thereafter |
| Guaranteed amount received | Yes | No |
| Trustpilot score | 4.6 | 4.3 |
Opening an Account at Wise
Wise has one of the easiest and quickest onboarding processes that I have experienced. While you can open an account from the website with ID and bank details, quickly and easily, iOS users would be better off downloading the app, from where they can simply select 'Sign in with Apple'.
Once you complete your registration, you will immediately gain access to local bank accounts in five different countries. This includes the UK, US, Australia, New Zealand, and Europe. At this point, you will receive your unique account number, which allows you to receive money.
Once in, you can start transferring money straight away, all starting with a handy little calculator that tells you exactly what charges you will incur and the exact amount your recipient will get. There is also a price comparison button, which directs you to details of what that exact transaction would cost you at competitor banks.
Wise Safety
There is no need for any concern regarding the safety of conducting Wise transfers, sending money abroad, or indeed storing money within your Wise account. First and foremost, Wise is authorised and regulated as an Authorised Electronic Money Institution by the Financial Conduct Authority, guaranteeing that Wise is adhering to their strict rules of conduct.
In addition to this, Wise is also regulated by several governing bodies around the world, including the Financial Crimes Enforcement Network (FinCEN) in the US, the Customs and Excise Department in Hong Kong, and the Australian Securities and Investments Commission (ASIC).
The other important factor when considering the safety of your money is the security of the app itself, which in this case is covered by two factor authentication upon accessing your account. In addition, all client funds are kept separate in a segregated bank account, ensuring your money will remain safe should Wise become insolvent.
Wise Customer Service Review
Wise operates a customer support team out of the UK, which can be contacted by phone between 8 a.m. and 4 p.m., Monday through Friday. Contrary to reviews I've read from other customers, I found the service to be quick and informative, with polite operatives who were helpful and keen to assist.
It is my belief that some of the negative reviews with regards to the customer service are beyond two years old and could possibly have been written during a time when the company was experiencing extreme growth.
Regardless, Wise appears to have ironed out any kinks they were experiencing and now offers a great service. Their Trustpilot rating is the equivalent of 5 stars, and they certainly seem to be providing their customers with outstanding service.
Wise Useful Information
Here are some useful bits of information to make your experience at Wise as seamless as possible.
How do I contact Wise?
Within the UK Wise can be contacted by phone between the hours of 8 a.m. and 4 p.m. on +44 203 5143 782.
There is also the option to email them within the app, and they claim they will always get back to you within one working day.
How do I close my Wise account?
The first step to closing your account at Wise is to ensure you have emptied out any funds and all pending transfers are complete. This being the case, you should then log in, go to 'Settings', and 'Close your account'.
How do I withdraw from Wise?
Small withdrawals can be made using your debit card at any ATM that supports Mastercard. However, should you wish to withdraw the full amount in any of your currencies and close off your account, you should follow these steps:
Go to the Home page within your account and select the balance you wish to withdraw.
Click 'Send'
Select the bank account you wish your funds to go to.
Select the amount you wish to withdraw.
Confirm the transaction
How do I send money to a recipient overseas?
To send money overseas, follow the simple process below:
Register an account with your email address, Google account, or Facebook account
Choose the amount you wish to send and check the Wise money transfer fees
Fill in your recipient's local bank details (they don't need an account with Wise)
Verify your identity if you are sending a large money transfer
Pay for your Wise money transfer with a debit and credit card or bank transfer
Bear in mind that the fee you pay will vary slightly depending on how you choose to pay for your transfer, with payments from your bank account having a low fee, and payments from debit or credit cards having a slightly higher fee.
Is Wise Reliable?
As far as international money transfer companies go, yes, Wise is providing a reliable service to their customers. That is not to say that you won't experience issues when making certain transfers. Like all money transfer companies, Wise is subject to certain regulations, which can create problems with certain transfers.
In this instance, you may find that your transfer has been frozen or suspended, and a quick glance through customer reviews will confirm that this does happen from time to time. However, the customer support team at Wise is on hand to help resolve any issues, and of course, your funds are always safe, regardless of any issues with the transaction.
Wise FAQs
Is Wise UK safe?
Yes, Wise (formerly Transferwise) is as safe as you can possibly expect from a banking entity. They have taken all the necessary precautions to protect client funds and have strict adherence to the rules of the Financial Conduct Authority. Transactions are completed with utmost security and there is no reason for concern in this area. Since their launch, over 8 million customers have trusted Wise with their overseas banking transactions.
Is Wise safe for large amounts?
Yes, Wise is completely safe for large amounts, and it is also one of the cheapest ways to conduct transfers from one currency to another, saving clients around 6 times what they would be paying at their high street bank. I would definitely recommend this method for any large transactions across borders.
Most recent reviews:
There are no reviews yet. Be the first one to write one.
See which share tip is making the headlines

Have you considered transferring your pension?

Find the best trading platforms
*Capital at risk