In my WorldRemit review, I have taken the time to detail all the information you could possibly need to identify whether WorldRemit is the best money transfer service for your requirements.
It may not be the cheapest money transfer service on the block but there is still plenty to like about WorldRemit, and if you need to send money abroad in a hurry, they may just be best placed to save your bacon.
As with any financial services company, there are important elements to take into consideration, such as the safety and security of your transactions, customer service, products, and ease of use.
With this in mind, I have spent time using WorldRemit and testing every angle of the money transfer service they offer in order to provide you with a full and comprehensive review. It was my finding that WorldRemit provides a means for your to transfer money conveniently online, at a reduced cost when compared to high-street banks, however, there are areas which may not be suited to some users and I would therefore encourage you to read the full review before choosing this as a service to send money abroad.
WorldRemit currently provides this service to over 130 countries around the globe in more than 70 currencies.
Deposit & Withdrawal:
90%
Pros
Easy to use
Extensive list of payment options
Cash pickups
Cons
More expensive than some other money transfer companies
No hedging options
Daily limits on how much you can transfer
Who is WorldRemit?
WorldRemit is an international, digital payment provider that allows users to transfer money across borders, free from the crippling charges traditionally experienced at high street banks. Today the business has grown to a user base of 5.7 million customers, with over 1000 employees operating out of six locations across the globe.
Who Owns WorldRemit?
WorldRemit is chaired by Ismail Ahmed, a Somali student in London who founded the company after experiencing difficulties and extortionate charges when sending money to his family back home. Ismail founded the company in 2010, alongside co-founders Richard Igoe and Catherine Wines.
WorldRemit received substantial investment of $40 million in 2014 from Accel Partners, which became the first of four rounds of funding, the most recent being in 2019 whereby WorldRemit raised $175 million in a Series D funding round led by TCV, Accel and Leapfrog Investments.
Get Your First Transfer FREE
Enter the code "FREE" in the promo code area when transferring money for the first time and you won't pay a penny in fees.
WorldRemit Review: Product Overview
The products on offer at WorldRemit are simple and straightforward. They offer a low-cost, fast way to send money overseas to more than 130 countries in a simple and convenient format. They don't offer a multi currency account such as you would find at Transferwise, or a business account for conducting multiple payments and you won't get a bank card or any of the other banking features. At WorldRemit they have focused on doing one thing, and doing it well.
Where they do shine is in the convenience of transferring money and with the number of payment method available when it comes to sending money including:
Bank transfer
Debit Card
Credit Card
PrePaid Card
Apple Pay
Android Pay
Sofort
Once you have supplied World Remit with details of the transfer, you will receive information relating to the transfer such as transfer fees, the exchange rates you will get and the estimated time it will take for your recipient to receive the money. This information is only valid for 24 hours after which time you may not get the same exchange rates.
How WorldRemit Works
WorldRemit relies on an extensive banking network of countries all over the world. This allows them to swerve the traditional SWIFT network and its associated costs and time frames and deliver a low cost service where money is transferred within seconds 70% of the time.
This network of banks means that World Remit already hold the currency you are transferring money to, and once they receive your instruction, they in turn instruct their partnered institution to forward the funds on to your beneficiary. This results in transfers that are not only quick, but allows WorldRemit to conduct these transfers at a much lower rate than you might be used to.
How to Send Money with WorldRemit | WorldRemit
The WorldRemit Wallet
The WorldRemit wallet is a secure place where you can send money, receive money, and store money, in a wide range of currencies. It is available to customers in the UK, but limited overseas, however, if your recipient can access the wallet, it can make World Remit transfers almost instant.
The World Remit Wallet can be accessed easily within the WorldRemit mobile app and opening new currencies within the wallet is easy. This is World Remit's answer to a multi currency account and seems to do the job well.
How Does Your Beneficiary Receive Their Money
There are a number of different options when it comes to how your beneficiary will receive the funds you have sent, and it definitely seems like WorldRemit have covered most bases even for people who don't have access to everyday banking services. Of course, not all the options are available in all locations but I will cover all the options here as part of my World Remit review.
Bank-to-Bank
Bank transfer is the most obvious choice and convenient for most people receiving money. Funds are sent directly from your bank account, to your recipient's bank account, using WorldRemits network.
Of course you will need your recipients banking details such as account number, IBAN number and SWIFT code to complete a bank transfer. Once you have completed the bank transfer the funds are deposited into your beneficiaries account and the bank transfers are complete.
Cash PickUp
This is an unusual offering in this space, and great if you are sending money to children traveling overseas who may not have a bank account in the country they are currently in. This option is also useful when sending to countries where World Remit doesn't have a banking partner.
Cash pickup is available in Africa, Americas, Asia, Europe and Middle East, although a more comprehensive list of the exact cash pickup locations is available on the WorldRemit website.
Physical cash pick-ups can be available almost instantly and all your recipient will need on collection is a valid photo ID and the transaction reference which they will receive via SMS as soon as their payment is ready for collection.
On the flip side of the coin, cash pick ups require your recipient to make their way to a physical location, which could mean a trip their end. Different countries will have different levels of convenience where this is concerned, depending on the partner agreements WorldRemit has managed to secure in that region.
Mobile Money Transfers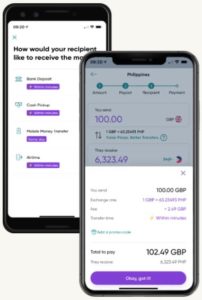 Again, mobile money transfers are more useful in some countries than others. Third world countries tend to be the winner here as they use mobile payments as part of everyday life more than we do here in the UK. Your recipient can use the mobile money you send to purchase goods and services at a number of partnered locations simply by displaying their mobile wallet to the vendor.
Of course in order for this to happen, your recipient will need a mobile wallet prior to the transfer taking place. Then all you need to provide is their mobile number and the amount you wish to transfer.
Airtime Top Up
Airtime Top-Up is not only almost instant, but provides a perfect way for you to stay in touch with loved ones abroad (I'm thinking of those gap year students who always claim to have run out of credit). Again this is a fairly unique offering in the international money transfers space and can provide an instant way to get in touch with loved ones overseas. Airtime Top-Up is available in many countries, but you can check the country your recipient is in on the WorldRemit website.
How Long Does Each Money Transfer Take?
The time it takes to complete the transfer process at WorldRemit depends on the country and currency you are sending money to. Each country has a different transfer time, however, World Remit claim that 70% of their international transfers are instant which is a good starting point.
It takes a mere moment to check exchange rates and transfer times using their handy little currency form which can be found on the homepage of their website.
WorldRemit App Review
The WorldRemit app has scored 4.2 out of 5 on the Google Play store and an even better 4.7 out of 5 on the App Store. Many of the more recent reviews were negative, however, I think this was more a reflection on the service users had received rather than of the app.
I found the app to have a clear, concise interface that was easy to navigate and conducting international transfers from it was quick and easy. It has all the functionality you would need.
Fees and Charges
Sadly you can often end up paying over the odds with World Remit, depending on the exact service you require. That's not to say they aren't competitive, and when compared to high street banks, they still represent excellent value with low fees and a competitive exchange rate . However, when it comes to digital money transfer services, there are cheaper options available. Below I have broken down the fees that you can expect to encounter on a transfer.
Transfer Fees
These are the fees charged by WorldRemit for handling your transfer. They are dependent on a number of factors, including the amount of money you are sending, the transfer method, the payment method to your recipient, and the country you are sending to and from. This can either take the form of a flat transfer fee, or on occasion WorldRemit will charge a percentage of the amount you are transferring.
To give you an idea of what you will pay at WorldRemit compared to a traditional provider like Western Union, Western Union's fees will vary according to how much you are sending and where to, but fees can start at £5 and climb up to £45 for some transfers that are being done via credit or debit card.
WorldRemit will vary depending on where you are sending your money, however, most countries will set you back around £3.99 which is still much cheaper than what Western Union are charging at the lower end of the scale.
The only way to check what the transfer fee would be for any particular transfer would be to put the amount and destination into the transfer interface at which point the fees will be clearly displayed.
Exchange Rate
The exchange rates you get will of course affect how much your recipient will receive. Unlike Wise, World Remit does not offer the mid market rate, but rather a slightly inflated version of it. This margin will vary across different currencies and according to the payout method you select.
Once you have been quoted a rate, this is locked in for 24 hours so it's prudent to ensure you complete your transfer within that time frame.
I was disappointed to discover that WorldRemit failed to disclose their exchange rate margin up front as this is a significant portion of your total cost when sending transfers.
WorldRemit vs XE

This is intended as a guide only as there are too many elements to consider in each transfer to be definitive. However, when I compared the fees at WorldRemit to those charged at XE, I found that XE came out at a lower cost on most transfers. This is because XE does not charge any fees or commissions on international money transfer, however, they do charge a flat fee of £2 on any transfers below the value of £250.
Sending Large Transfers
When it comes to sending large transfers of money abroad, you will probably be best served to consider a provider such as Wise. This is because World Remit have limits on the amount of money you can send and because they don't offer any discount on their fee for large amounts. In instances where you are paying a percentage of the transfer amount, this could end up being an expensive option.
Whilst the limits vary depending on the location you wish to transfer money to, there is a maximum daily limit of £50,000 on all transfers you make in any one 24 hour window out of the UK.

WorldRemit Refer a Friend
WorldRemit offer a refer a friend scheme whereby both you and your friend are able to earn a £20 WorldRemit voucher to be used against future transfers once your friend signs up using your WorldRemit referral code and transfers at least £100. This all seems fairly straight forward and achievable.
WorldRemit Verification Process
As part of their regulation with the Financial Conduct Authority, World Remit are required to conduct a basic KYC (know-your-customer) process. This is fairly standard procedure among financial institutions and demonstrates a level of commitment towards safety and industry standards.
At World Remit, depending on how much you need to send and to where, you may be asked to supply supporting documentation to verify your identity. This can be done with a photo ID and proof of address such as bank statement, council tax bill, utility bill or telephone bill.
Opening an Account at WorldRemit
Opening an account with WorldRemit was a quick and painless process that was completed in mere moments. You can open your World Remit account from the app or from your web browser and all you need is your full name, address, date of birth and email address.
WorldRemit Safety
When it comes to safety, users of WorldRemit have no cause for concern. They have taken all the appropriate measures to protect your transactions including being authorised and regulated by the Financial Conduct Authority (FCA) and being licenced as an Electronic Money Institution.
In addition to this, money WorldRemit holds on behalf of clients is kept in separate accounts ensuring customer funds are always protected, regardless of what happens to WorldRemit in the future.
They have also taken all measures to protect your data and personal details with dedicated security teams and machine learning to monitor all transactions.
WorldRemit Customer Service Review
There are many reviews from customers who have transferred money using WorldRemit on both the app store and Trustpilot complaining about the poor customer service received at WorldRemit in recent months. This may be down to mishandling the pandemic, however, poor customer service can have a significant impact on the level of confidence that users have in the service provided.
WorldRemit's Trustpilot score has dropped to 4 out of 5 in recent months, which whilst this is still a decent score, it is a shame that they are losing stars. A read through all the reviews will show frustrated customers who are experiencing delays with their WorldRemit money transfers. However, equally there are plenty of positive reviews that praise the level of service received.
Whilst there is a chatbot at WorldRemit, it isn't always available and you can expect to wait for a reply to your queries. If you need more information about how to contact customer support, please scroll down for details.
WorldRemit Useful Information
Here I have compiled some information to make your experience at WorldRemit as seamless as possible.
How do I contact WorldRemit customer service?
WorldRemit have a chatbot which will answer a lot of your questions. This can be accessed from the bottom right corner of the webpage, or directly from the app. If you can't find the answer to your question, there is the option to speak to an agent. At the time of this WorldRemit review, there was a bit of a wait as they were experiencing a high volume of queries.
Alternatively you can call them on UK: +44 203 9666899
How do I close my WorldRemit account?
To close your account with WorldRemit simply email [email protected] and request your account be closed. It is best to ensure that any outstanding transactions have been completed before you request for your account to be closed.
How do I withdraw from WorldRemit?
Withdrawing from your WorldRemit wallet is fairly straightforward and funds can be withdrawn to a local bank account, a mobile money account or alternatively collected as cash from one of WorldRemit's cash pickup locations. Just follow these steps:
Within the wallet tab of the app select the currency account tile you would like to withdraw from:
Click 'Transfer'
Click 'Withdraw'
Select how you would like to receive your money
Enter the amount you would like to withdraw
Click 'Withdraw now'
How do I send money to a recipient overseas?
Sending your first WorldRemit transfer is very quick and FREE. Simply follow these steps:
Download the app or open their webpage and sign up for an account
Use the drop down list to select the country you wish to send money to
Enter the amount you wish to send (this is when you will see the fees and exchange rate)
Add the details of the person you are sending money to
Enter the code FREE in the promo code area to receive your first transfer free of any fees
Is WorldRemit reliable?
Millions of active clients seem to think so and being registered in the UK means that as a company they are governed by the strictest financial regulations. WorldRemit have a satisfactory history of delivering a quality service to millions of customers across the globe. Services such as WorldRemit, are offering a low cost alternative to traditional banks and international money transfer services such as Western Union which are historically more expensive for sending money abroad.
Is WorldRemit available in the UK?
Yes, residents of the UK are able to register an account and send money and receive money using WorldRemits international service.
WorldRemit FAQs
Is WorldRemit a legitimate company?
Yes, WorldRemit is a legitimate company, bound by a legal framework that ensures its services remain completely safe and secure for its users. During the review process I could find no reason why users shouldn't trust WorldRemit for their international money transfer requirements.
How do I get my money back from WorldRemit?
Should you wish to cancel a transfer this can be done via the Transfer Status page of the app or website. Once cancelation has been requested, you can expect to wait 1-7 days for your refund.
WorldRemit Customer reviews
Most recent reviews:
No service..No one answer the phones. No e-mail. No way to get in contact with this company. Money are delayed for days ir weeks, if delivered at all.
Dislikes
Fees
Deposit and withdrawal
Customer service
See which share tip is making the headlines

Have you considered transferring your pension?

Find the best trading platforms
*Capital at risk