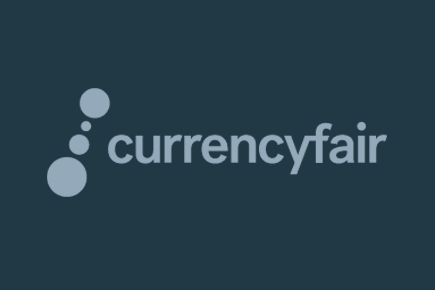 In my CurrencyFair review, I have remained committed to providing you with an honest and comprehensive account of the service offered at CurrencyFair, including any negative elements I may have uncovered. You can be rest assured that this is an impartial look at the international transfer service.
I have personally opened an account with CurrencyFair and tested the service they provide. I've looked at all the currencies they support, and how their pricing compares to high street banks but more importantly, how they compare to alternative money transfer services.
Whilst conducting this CurrencyFair review, it was my finding that CurrencyFair provides a low-cost international money transfer service, however, it is more suited to some users than others. I would suggest that you take the time to read through this CurrencyFair review, to identify whether this is the best service to meet your personal requirements.
When you open a new account with CurrencyFair, you can get your first 10 international transfers for free – this is a very competitive signup offer in this space and certainly one worthy of your consideration.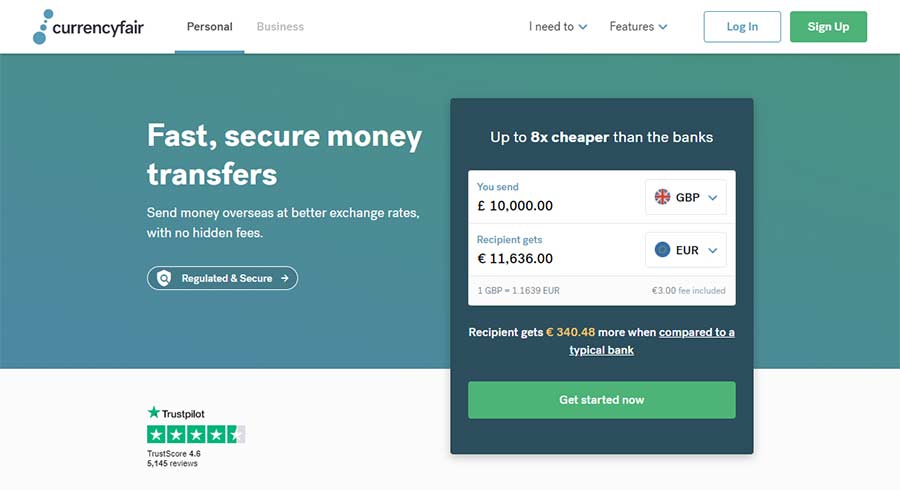 Who is CurrencyFair?
Headquartered in Ireland, CurrencyFair is a currency exchange service that utilises peer to peer exchanges, to provide low-cost, international money transfers in over 20 global currencies.
Catering to both personal and business users, CurrencyFair is licenced and regulated by the Central Bank of Ireland.
Who Owns CurrencyFair?
CurrencyFair is a privately owned international money transfer service that was founded in April 2009 by co-founders Brett Meyers, Jonathan Potter, Sean Barrett and David Christian.
Product Overview
CurrencyFair focus their business model on providing fast, reliable, low-cost international money transfers. That being said, there are other money transfer services available with a wider global reach than CurrencyFair, however if your needs are limited to Europe, East Asia and Australia then they are certainly a good contender.
It is also worth noting that CurrencyFair only handles 20 currency pairs, which isn't a lot when compared to other transfer services
How CurrencyFair Works
CurrencyFair are able to exchange between 20 different currencies, and you can send money abroad, to and from over 150 countries, with local accounts in almost all the supported currencies, ensuring almost instant transfers.
CurrencyFair are able to deliver some of the cheapest money transfers available with their unique business model, which consists of matching you with a CurrencyFair customer who is looking to exchange currencies in the other direction from you. This peer-to-peer service means you can choose your own exchange rate and wait for another customer to accept your rate.
Is this really the most cost effective way? Well over 10% of people who use this service achieve a rate that is more favourable than the mid-market rate. Of course the disadvantage is that you will need to wait for your rate to be accepted by another customer, meaning that this method isn't usually suitable for customers who are looking to exchange money instantly.
However, if you are one of these customers who would rather exchange their money instantly, CurrencyFair have an alternative option for you. You can accept CurrencyFair's competitive exchange rates, which on average are just over 0.45% of the mid-market rate at that time.
CurrencyFair – How It Works
CurrencyFair Multi-Currency Account
The CurrencyFair multi-currency account allows you to hold more than 20 currencies and exchange to any currency you want, when you want. It provides access to the CurrencyFair exchange and to CurrencyFair's FX rates, however, unlike the multi-currency account at Wise, it doesn't come with a debit card so you can easily access the funds you hold within it.
CurrencyFair Business Services
For companies operating on a global scale, CurrencyFair also provide business accounts which includes the provision to pay overseas employees and international suppliers in over 20 currencies whilst avoiding substantial bank fees. You can also receive international payments free from transfer fees from over 150 countries.
In order to make their business services user friendly they also have the provision for multi-user access which allows users to create tailored permissions, custom roles, and enable dual approval. CurrencyFair are also fully integrated with Xero accounting software allowing for streamlined cash management.
CurrencyFair Rate Alerts
One of the features I liked at CurrencyFair was the email rate alert. It is pretty straightforward to set up from within your account, and of course you can get alerts as soon as the rate reaches a level you want. You can do this from within the CurrencyFair mobile app which is convenient, however, I would expect this level of functionality from a money exchange service so whilst this is great to have, it doesn't really set CurrencyFair apart from their competitors.
How do you receive money from CurrencyFair?
CurrencyFair can conduct transfers from bank-to-bank or card-to-bank, however, if you are trying to transfer money to someone overseas who doesn't have a bank account, then you may want to consider an alternative.
In this instance, WorldRemit would be a great alternative, as they support a large number of ways for your beneficiary to receive their money including cash pickups and mobile money transfers.
How Long Does Each Money Transfer Take?
CurrencyFair claim that their transfers can be completed in one to two working days for most major currencies. Of course, the exact amount of time it takes will depend on where you are sending money from and to, and your method of payment. Card payments are usually completed within 24 hours however a bank transfer can take longer.
CurrencyFair App Review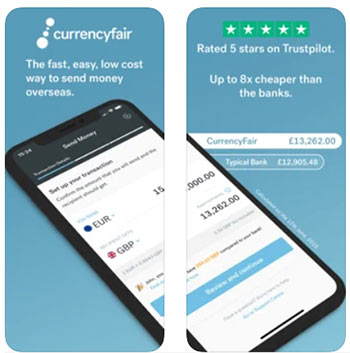 The CurrencyFair mobile app has a slick, modern interface that makes conducting CurrencyFair transfers a breeze. Their score continues to climb on the app store and they now have an impressive 4.7 out 5 from very happy users.
From the app you are able to perform a multitude of tasks including operation of positions, conducting international currency exchanges, and transferring money from your CurrencyFair account.
On a negative note, customer support can not be reached from the app which feels like a flaw and definitely leaves the CurrencyFair app behind the competition in terms of functionality. However, it does have plenty of great reviews from happy customers, so if you are happy to go to the desktop version to contact customer service then you needn't be deterred by this.
"Great App – Easy to use and fast. Would like to see a "rate refresh" button on the exchange screen, and a "requote" button in the screen when creating a quote but overall fantastic app!"
Fees and Exchange Rates
As always, transfer fees vary depending on a number of factors like where you are sending to, however you can expect to encounter the following:
Fixed Fees
3 Euro fixed transfer fee when sending Euros
Up to 40 ILS fixed fee (roughly the equivalent of £9 but check exchange rates at the time) for transferring Israeli Shekels.
$5 for payments sent in SGD
25 DKK for payments sent in Danish Krone
FREE for payments sent in GBP
**Remember that your first 10 transactions are FREE, in which case none of these charges will apply**
Exchange Rates
Being a peer to peer service, exchange rates can vary wildly, however CurrencyFair offer users two options – the first being to accept their rate which is on average 0.45% more than the mid-market rate. There is no question that this exchange rate margin beats traditional bank transfers which usually come in 3% to 6% more than the middle rate, however, transfer companies like Wise will give you the middle rate and therefore come in at a lower cost than CurrencyFair.
However, being an exchange you can set your own rate if you are prepared to wait for a match on the peer to peer marketplace. The way this works is that you choose the rate you want for the currency you are selling, and wait for CurrencyFair to match you with a buyer who is willing to accept the rate you have chosen.
Alternatively, you can check their peer-to-peer FX, which allows you to view the exchange queue and select a rate that suits you.
These would represent the most cost effective methods in this instance. However, it may not be an instant solution. My main gripe with their exchange rates was the average 0.45% on top of the middle rate, regardless of the amount you are transferring. This exchange rate markup could start to add up on large transfers. That being said, their innovative marketplace is a great way to shop around for the best rate, but you could be left waiting a while to be matched on a very large transfer.

CurrencyFair vs Wise
Being very similar offerings for international money transfers, it can be difficult to distinguish which of these two entities are more suitable for your unique requirements. Here are some of the main differences to help you with your decision
CurrencyFair
P2P marketplace to give you the opportunity to lock in the best possible rate.
Available in 62 countries supporting 153 countries.
Wise
Debit card so you can access money held within your multi currency account easily home and abroad.
Free ATM withdrawals up to £200.
Available in 59 countries supporting transfers to 60+ countries.
Wise offer the opportunity to lock in a desired rate for up to 48 hours.
Offers the middle rate without any additional margins.
The debit card offered at Wise would obviously be a consideration for anyone who travels abroad often.
Sending Large Transfers
This is one area where I felt CurrencyFair fell a little short of the competition. Whilst any flat fees would of course remain the same, the exchange rate which is on average 0.45% greater than the middle rate, would of course start to become fairly hefty when dealing with large transfer amounts. Of course you could look to the peer-to-peer exchange in order to obtain a better rate, however, as the amount you are looking to exchange increases, it can become increasingly difficult to find a match.
Other money transfer services will offer a reduced fee for large transfers and I would therefore recommend that you shop around before selecting the transfer service that most suits you.
CurrencyFair Refer a Friend
The CurrencyFair refer a friend scheme is fairly uncomplicated in its set up. You can obtain your referral link from the app or website and earn 50 Euro for every referral who completes a transfer of 2,000 Euro (or currency equivalent). This is quite a high amount to qualify when compared to other referral schemes however CurrencyFair will also pay 50 Euro to your friend.
CurrencyFair Verification Process
Like all reputable money transfer companies, CurrencyFair require customers to confirm their identity by sending in a copy of a photo ID before they can complete their first transfer. This is standard practice, and CurrencyFair have employed an electronic method of verifying your identity which means the entire process can take as little as one working day.
You will also be required to supply proof of address, which can include bank documents, utility bills, or any government issued documentation. To make the process as seamless as possible you should ensure all dates are within the last 3 months.
Opening an Account at CurrencyFair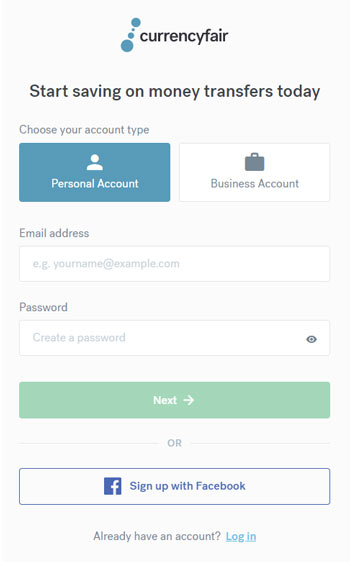 I found opening an account at CurrencyFair to be a fairly straightforward procedure. This is easy to do via the website but you would be best to have some personal information to hand such as your full name, home address, date of birth and contact details. Opening an account takes minutes and once you have verified your identity you will be ready to start making transfers.
CurrencyFair Safety
I could find no reason for concern when it comes to safety at CurrencyFair. They are regulated and authorised by the Central Bank of Ireland under the European Communities Regulations of 2009 as well as being regulated by the ASIC in Australia. CurrencyFair are considered a reliable and long standing money transfer business.
In addition to this, all client money is kept in segregated accounts ensuring your funds are safe, should CurrencyFair become insolvent. In terms of security they employ two factor authentication and 256-bit encryption from VeriSign as well as biometric security in order to access their servers.
CurrencyFair Customer Service Review
With over 5,000 reviews on Trustpilot, earning them a score of 4.6 out of 5, there is no doubt that CurrencyFair are doing something right. Some of the positive CurrencyFair reviews are as follows:
"Quick, Simple & Easy… Have been making multiple transfers since I joined up a few years ago and couldn't be any happier with the services provided. If I need help Customer Service are on it straightaway and have my issues resolved in no time."
"I've been using CurrencyFair for several years now and am always happy with the service. With regard to customer service, it's always nice to have a person answer the phone rather than a machine. Great work."
"I am generally happy with the service and reliability provided by CurrencyFair. However, I hope there could be an improvement on how an exchange rate could be locked in for few hours or maybe a day during which an exchange and transfer process is completed."
"Sent funds from the EU to the USA took a little over two days, had a little bit of anxiety so mailed the currencyfair team, they were back onto me very quickly, to reassure me and what I could do next, very helpful and friendly, even asked for a follow up on how I got on, great service."
There are very few complaints on Trustpilot but any negative reviews generally gripe about the amount of time it takes to verify ID. This can be the case for any money transfer company as a KYC (know your customer) has to be performed in order for them to meet regulations. Whilst some verifications are straightforward, there are occasions when CurrencyFair will make contact in order to obtain further information which can delay the process. To ensure your verification is as quick as possible, it is prudent to ensure that you have provided a picture of a relevant ID card and photo identification.
"ID selfie required – As a customer I'm strongly dissatisfied with CurrencyFair services: during the verification there was written there will be two stages ID document and proof of address check. ID selfie was required from me of sudden. Then I was informed by e-mail they are still going to keep my ID photo despite I requested to close my account!"
CurrencyFair Useful Information
Here I have compiled some information to make your experience at Currency Fair as seamless as possible.
How do I contact CurrencyFair Customer Service?
Week days only
Phone UK +44 (0) 203 3089353
Live chat available
Email:

[email protected]
How do I close my CurrencyFair account?
In order to close your CurrencyFair account you firstly need to ensure you have closed off any pending transactions and have emptied any funds from your multi currency account. Once this is done, you are simply required to contact customer service and request that your account be closed.
How do you use the CurrencyFair app?
Once you have downloaded the App from the App Store or Google Play for Android, you can open your account and verify your identity from the app.
Should you wish to begin sending money overseas, you will be required to enter the amount and currency you wish to be exchanged and enter the local bank account details of your recipient. Then it is simply a case of selecting your deposit method for transferring money into your CurrencyFair account and the transfer can be completed.
CurrencyFair will use one of its local bank accounts, based in your beneficiary's country of residence which allows them to complete your transfer quickly and easily without any funds actually crossing borders.
How do I transfer funds to CurrencyFair?
Funding your CurrencyFair transfer can be done in two ways, a bank account transfer or via debit card. Should you be opting to fund your account via your bank account, then this will count as a domestic bank transfer to another UK bank account and the funds should be available immediately.
How do I activate my CurrencyFair account?
To activate your CurrencyFair account you will be required to verify your identity. This will include submitting a copy of your photo ID, completing a selfie check and providing a proof of address.
How do I withdraw money from CurrencyFair?
Once an exchange has been completed you are at liberty to withdraw your funds using the following steps:
Go to the Transfer Out menu on your account
Select the bank account you wish to withdraw to or add an additional bank account
Enter the amount you wish to withdraw. To withdraw all your funds simply select 'Transfer full amount'
Click 'Next'
Click 'Submit'
CurrencyFair FAQs
Is CurrencyFair com legit?
Yes, CurrencyFair is a legitimate and reliable money transfer company, authorised by the Central Bank of Ireland and with around 60 thousand
active customers. In addition, under the European Communities (Payment Services) Regulations 2009, CurrencyFair are required to protect client funds to the highest standards.
Where is CurrencyFair based?
CurrencyFair is headquartered in Ireland however, they also have offices in UK, Australia, Greece, Hong Kong, Poland and Singapore giving them a truly international presence.
See which share tip is making the headlines

Have you considered transferring your pension?

Find the best trading platforms
*Capital at risk