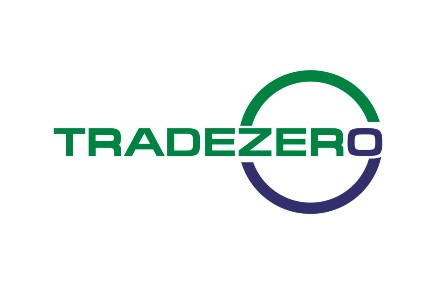 An excellent, low-cost option for swing traders and frequent traders looking exclusively for US stocks and ETFs. TradeZero has struck a good balance between good features, low commissions, and a decent number of stocks to trade.
We can't take you to this site at the moment.
Have you tried eToro?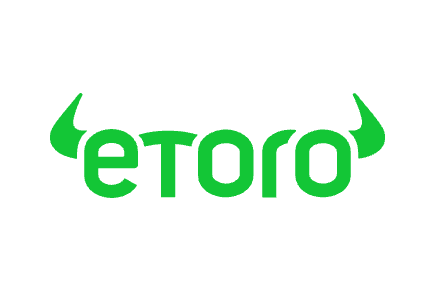 76% of retail investor accounts lose money when trading CFDs with this provider. You should consider whether you can afford to take the high risk of losing your money. Your capital is at risk. Other fees apply. For more information, visit etoro.com/trading/fees
TradeZero has hit the bullseye for active traders looking for commission-free trading on US stocks and ETFs. But before you rush off to open an account, my in-depth scrutiny revealed that there are some restrictions to this as you must meet certain criteria to qualify for free trades, which I will go into in more detail under fees. The main drawback however, is the fee to deposit and withdraw which could really hurt those trading with small amounts.
That being said, don't be put off this international brokerage firm just yet as I still feel the pros outweigh the cons. There is a killer platform to help make your trading smooth sailing, and whilst it doesn't support the MetaTrader platforms, it is still heading in the right direction with its live market data and advanced trading tools.
Deposit and Withdrawal:
80%
Markets and Products:
60%
Pros
Commission-free trading for US stocks and ETFs
Advanced trading platforms with real-time market data and advanced tools
Fast order execution
Excellent support
Cons
Limited product offerings and doesn't accept GBP
High deposit and withdrawal fees
Not regulated by the FCA (but don't panic, there is regulation in other countries)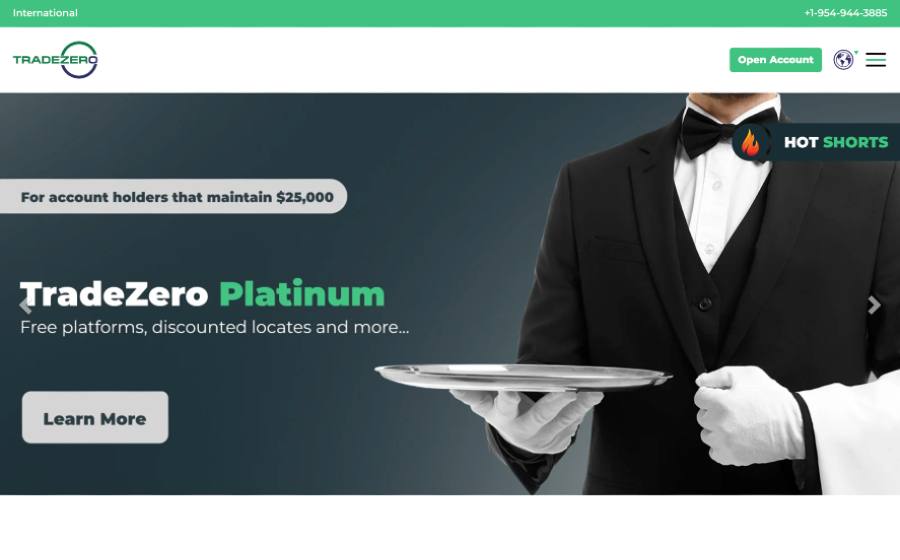 TradeZero was founded by Dan Pipitone, who recognised a gap in the market for an affordable and accessible trading platform. Based in the US, TradeZero has expanded its operations to Canada, the UK and other parts of the world, making it a global player in the online trading space.
TradeZero is headed by a group of seasoned traders and entrepreneurs passionate about democratising market access. They say they recognised that high trading fees and outdated technology prevented many people from investing in the stock market and set out to create a platform to level the playing field.
Who is TradeZero suitable for?
TradeZero is a great option for swing traders and scalpers looking to trade exclusively on US listed stocks. Keeping the trading fees low helps keep margins big although it is worth noting that commission-free trades are only applicable when you use a limit order and the stock price is over $1.
If you are looking to trade stocks from outside the US, then TradeZero is definitely not for you. They also don't pay dividends and you will need a good transfer service to avoid hefty FX fees.
TradeZero trading fees are low, sometimes zero. However, as always there is a catch, and in this instance deposit and withdrawal fees are high and there are some platform fees to consider. There is also a currency conversion fee to consider but I will give you a way to mitigate that.
If you are a frequent trader, which is my recommendation for this platform, then trading fees are going to be what impact you the most. However, it is worth considering the non-trading fees in this instance, as they are surprisingly high.
Trading fees
There are free orders and paid orders on TradeZero, depending on how you trade. Here is a breakdown:
Free Orders
Limit order must not create an immediate match.
Symbol must trade on NYSE, AMEX, or NASDAQ and be greater than $1.
This applies to all orders that are 200 shares or greater.
Paid Orders
Orders less than 200 shares: $0.99 flat fee.
All stocks, ETFs and warrants on NYSE, NASDAQ, AMEX.
All equity securities below $1.00: $0.005 per share with a $0.99 minimum and a $7.95 max charge up to 250k shares.
When trading fewer than 200 shares, there is a flat fee of $0.99.
For equity securities below $1.00, TradeZero charges $0.005 per share with a $0.99 minimum and a $7.95 max charge of up to 250k shares.
TradeZero charges $0.59 per contract for options trading, with a flat fee of $35 for option exercise and assignment.
Non-trading fees
Deposit fee:$25 (waived for initial deposit of over $500)
Withdrawal fee:$50
Inactivity fee:$0
Minimum deposit:$250 cash account
$500 margin account
Currency conversion costs
As TradeZero is a US company, there are currency conversion charges to be aware of when changing your GBP to USD. However, TradeZero actually makes it relatively easy to mitigate this when compared to similar US brokers by allowing deposits from money transfer services.
Therefore, if you have an account with a money transfer service (I can recommend Revolut who has partnered with Wise) you can convert your pounds into dollars with minimal cost.
TradeZero trading instruments
This is an especially good option for traders who are solely interested in US stocks, ETFs, and options. If you want to trade UK or EU stocks, then this is not the platform for you.
Let's take a closer look at each of these products:
Stocks
Stock trading is the main product provided by TradeZero, and yet while conducting my TradeZero review I found there is a frustrating lack of information when it comes to the actual number of stocks available. What I can tell you is that all the major US stock exchanges are represented like NASDAQ, ARCA, EDGX, and the NYSE. The number of stocks available appears to exceed what you would expect to find at other brokers like FreeTrade or Trading212. I wouldn't recommend this broker for penny stocks due to the fee structure.
Options
Options trading is also available on TradeZero, including US options and options on stocks and ETFs. You can trade calls and puts and choose from various expiration dates.
ETFs
TradeZero offers a range of ETFs (exchange-traded funds), a type of investment fund that tracks an index, sector, or commodity.
The broker does not offer other instruments like bonds or mutual funds. So, if you are looking to trade such instruments, you may have to look elsewhere.
There is nothing unusual about TradeZero's account types, but be aware that you can't trade using live data with a demo account.
In my TradeZero review, I discovered the platform offers several types of accounts to cater to the needs of different types of traders. TradeZero offers margin, cash, and corporate accounts – common accounts across most brokerage firms – but you first have to select your location.
When I hit "Open Account" on the homepage, I was asked to select whether I wanted to do so with TradeZero America, TradeZero Canada, or TradeZero International. What's good is they make it quite clear what citizenship or legal status you require for each account. As a UK resident, you will need to open an international account before you can then specify the account type you want.
Here's an overview of the account types TradeZero offers:
Cash account
With an individual cash account, you must have sufficient cash in your account before placing a trade.
TradeZero's cash account gives you a buying power that is equal to the amount of settled cash you have in it, a standard offering for firms in this sector.
Margin account
This account lets you trade stocks, options, and ETFs on margin, which means you can borrow funds from TradeZero to increase your buying power.
However, trading on margin involves additional risks, and you'll need to maintain a minimum account balance to qualify for margin trading. What this means at TradeZero is that your account must have up to $500 before you can use it for day trading.
Corporate account
TradeZero provides the option to open corporate accounts. This account attracts a different fee structure from individual cash accounts. Also, the minimum account funding requirement is $50,000.
Compared to eToro's $10,000 minimum requirement, TradeZero's requirement seems to be quite steep. But as this is more like an institutional account than a retail account, I didn't investigate much further.
Platinum account
Designed for high-volume traders who require advanced trading tools and features. With a minimum deposit of $25,000, you'll get direct market centre access routing, which allows you to choose where your orders are executed.
Plus, you'll get access to personalised services and benefits, such as a dedicated account manager who can help you navigate the market and make more informed trading decisions.
A Platinum account also gives you access to low-latency direct market access (DMA), advanced charting tools, level 2 quotes, and other features that give you an edge in the market.
TradeZero's Premium account is similar to Tickmill's VIP account. And though the Tickmill VIP account requires $50,000 as the account minimum, it seems to lack some features, such as DMA. So, in that sense, TradeZero's Premium account beats other providers on the market.
Demo account
TradeZero offers a demo account for traders to practise their trading strategies without risking real money. However, it's important to note that this account has limitations, such as providing 15-minute delayed data and simulated executions that mimic but do not precisely reflect live trading.
If you are a beginner trader, you should only use the TradeZero demo account as a starting point to familiarise yourself with the platform and refine your strategies. While I think that's helpful for beginners, it puts TradeZero behind some of the market's top trading platforms whose practice accounts let investors practise trading in live markets without using real funds.
There's a great range of platforms here but I was a little surprised to see that TradeZero charge a really high monthly subscription for some of them. There is also no access to MetaTrader platforms.
One drawback to be aware of is that I was required to have at least $200 in my trading account before I could access the software and at least $500 in order to disable pattern day trading restrictions.
Despite rumours to the contrary, there is no cryptocurrency trading platform on offer. The available TradeZero platforms include:
ZeroFree
If you're wanting to test the water, ZeroFree is a great platform to start with. This browser-based platform runs on any device connected to the internet, including phones, tablets, desktops, and laptops.
I found it easy to use and comes with a range of helpful features, real-time charting, custom watchlists, and more.
ZeroPro
For professional traders, ZeroPro is the premium option. It's a desktop-based platform that offers lightning-fast execution, advanced charting, and customizable hotkeys.
ZeroPro provides access to Level 2 data, real-time alerts, and a variety of order types, making it easy to trade with precision.
To use this option, you will have to pay a monthly fee of $59. And when you are not using the software, you can place your account on hold or switch over to ZeroFree to avoid paying software fees while you are away. Platinum account members can enjoy having their ZeroPro platform fees waived and a personal account liaison to help with their trading.
ZeroWeb
If you prefer a web-based trading platform, ZeroWeb is a good option. It's a browser-based proprietary trading platform that offers a range of tools and features for trading, including direct hard-to-borrow locating, hotkeys, level 2, real-time data, watchlists, and advanced charting.
The ZeroWeb platform allows you to access real-time market news and research, making it easy to stay on top of market trends and make informed trades. Sadly this also comes with a charge of $59 per month.
ZeroMobile
For traders who are always on the move, ZeroMobile will do the job. This TradeZero mobile app is available for both iOS and Android devices, offering access to all the tools and features you need.
With this mobile app, you can access real-time data, view your account balance, and execute trades from anywhere at any time. ZeroMobile comes free when you subscribe to ZeroPro, ZeroWeb, or ZeroFree.
How to open an account with this broker
Before you can start trading, you need to open a TradeZero account. Opening an account with TradeZero is quite straightforward.
Here's how to do it:
Visit the TradeZero website
Click on 'Open an Account'
Choose the type of account you want to open
Fill in your personal information like your name, email and password
Upload the required documents and verify your identity
Fund your account
And here are the minimum Deposits for international TradeZero accounts:
1:1 leverage – $500
4:1 leverage – $500 to $2499
6:1 leverage – $2500+
TradeZero Deposit and withdrawal
International customers (including those from the UK) can only deposit into their TradeZero accounts via bank wire transfer. The main drawback here is the high fees associated with depositing and withdrawing.
If you are a UK trader operating an international account, you can deposit funds into your trading account through a bank wire transfer, Wise, and Revolut. It's important to note that this broker only accepts USD. Your bank will need to convert it, however, using Wise and Revolut can help to mitigate this cost as they offer excellent rates.
Don't forget, you will get converted on both sides of the journey, regardless if it's going to or leaving your personal bank.
When it's time to withdraw your funds, you can receive them through a bank transfer. This will take about 3 to 5 business days to be processed. While depositing or withdrawing funds, be sure your name and legal address from your bank match the information on your account paperwork.
This is the cherry on top for TradeZero, with a highly responsive customer service team offering an unrivalled level of support 24/7 over live chat, phone and email. Excellent!
This might be the best customer support I have tested to date. I fail to see how any platform could outdo TradeZero. Helpful, knowledgeable staff jump at the opportunity to assist you at any time of day or night.
TradeZero offers a solid range of research options but not as many as that of other bigger platforms.
First up, there's the Benzinga live feed. If you're not already familiar with Benzinga, it's a leading financial news and data company. While I think this may be useful for novice traders to get news within the platform itself, I imagine most traders will opt to do their research elsewhere.
TradeZero also offers access to various other research tools, including Level 2 quotes and charts, all designed to provide fundamental data and help you make informed trading decisions. If you decide to become a platinum user, you'll get level 2 access for free. TradeZero also supports Pre and Post Market Trading on stocks and options.
TradeZero takes a multimedia approach to educational resources, so most people can find something that suits their learning style here.
TradeZero provides some sets of educational tools. If you're new to trading or want to brush up on your knowledge, the demo account and TradeZero's ZeroPro manual are useful resources. The manual contains comprehensive information on everything from navigating the platform to executing trades and managing risk.
For those who prefer visual aids, TradeZero has training videos. I found most of these videos aimed at introducing users to their software. While this is helpful, I think most new traders will end up going elsewhere for their trading education, as this section mostly covers the technical aspects of their platform.
The broker also has the 'Technically Speaking' live sessions through which it educates traders on topics ranging from the use of trading software to trading techniques. I thought these conveyed more personality compared to other education options, and were quite interesting.
TradeZero is not UK-based and therefore not FCA-approved, but it is licensed to offer trading services by several regulators.
Though the FCA does not regulate TradeZero, they are registered with the Securities Commission of the Bahamas and adhere to strict regulations.
Client funds are kept in segregated accounts, and TradeZero is a member of the Securities Investor Protection Corporation (SIPC), which protects up to $250,000 per customer.
Useful Information
I've picked out some bits of information here for those that want to dig a little deeper into the platform.
Who owns TradeZero?
The broker platform, TradeZero Incorporated, is a subsidiary of TradeZero Holding Corporation, a registered broker-dealer and a member of FINRA and SIPC. The parent company is headquartered in the Bahamas and regulated by the US Securities and Exchange Commission.
Is TradeZero regulated?
Yes, TradeZero is regulated as an online brokerage firm in several different jurisdictions making this a safe platform to trade from.
TradeZero FAQs
Is TradeZero good for day trading?
TradeZero is a good platform for
day traders
and experienced traders who want short locates.
Is TradeZero reliable?
Yes, TradeZero is reliable. They provide an excellent service across a number of platforms and are generally popular among scalpers who prefer online brokers from where to trade in US stocks.
TradeZero Customer reviews
Most recent reviews:
There are no reviews yet. Be the first one to write one.
See which share tip is making the headlines

Have you considered transferring your pension?

Find the best trading platforms
*Capital at risk