Revolut has transformed traditional financial services by offering a streamlined and innovative platform with cutting-edge technology. As a user, I've had a fantastic experience with Revolut, and in this review, I'll go over the key features that make it truly exceptional.
Founded in 2015, Revolut is a London-based start-up well known for its money management, investment, and travel services. The idea behind the launch of Revolut was to bring a fintech company to the market that offers services that include prepaid debit cards, peer-to-peer instant payments, and currency exchange, among others.
All this is available within the confines of a modern, easy-to-use mobile app.
One of the things that appealed to users of Revolut the most was their fee-free spending abroad. Sadly, in 2021, Revolut took the decision to remove fee-free transactions of any kind for Standard account (free account) and Plus account holders, with Revolut Premium account holders able to access one free international payment per month and Revolut Metal account holders allowed three free international payments per month.
Revolut still represents excellent value on international transfers compared to traditional high-street banks; however, within this Revolut review, I will take a closer look at their new charging structure so you can decide whether Revolut is still the best option for your financial service needs.
Deposit and Withdrawal:
90%
Pros
Low-cost international transfers to over 29 currencies
Great mobile app
Excellent built-in budgeting features
Cons
No option for paying in cash or cheques
Not FSCS protected
No mortgage or overdraft facility
Who is Revolut?
Revolut describes itself as a 'financial super app' born out of frustrations with the available foreign exchange products. Today, Revolut has expanded its offering and currently serves over 16 million customers from across the globe. They are now the most valuable UK fintech company.
Revolut is ideally placed for people who conduct a significant amount of transactions abroad, with low fees and favourable exchange rates when you transfer money abroad.
Who owns Revolut?
Revolut was founded by Credit Suisse and Deutsche Bank investment bankers Nik Storonsky and Vlad Yatsenko. Nik Storonsky has retained 20% of the company and, at 37 years old, is worth an estimated $7.1 billion. After raising $580 million in funding in 2020, Revolut is now valued at $5.5 billion (£4.2 billion).
When you open a Revolut current account, you will get a UK account number and sort code just like any other UK current account, and with that comes all the functionality of a traditional account, such as recurring payments, ATM withdrawals, contactless payments with your Revolut card, and Apple and Google Pay.
However, Revolut financial services are conducted through an app that also offers much more than this in terms of additional functionality, including:
Monthly spending budgets
Instant spending notifications and instant payment notifications
Ability to track all your accounts and investments in one place
Weekly spending analytics with categorisation features
Get cashback and rewards with Revolut's rewards feature *Reward amounts may vary and are subject to availability
Split bills with friends and family and easily send and request money
Send money to other Revolut users instantly and for free
International money transfer service at the real exchange rate
Hold up to 30 currencies in your Revolut app
Link your card to Google Pay and Apple Pay
Earn up to 1.2% interest* in the Revolut Savings Vault (in annual interest paid daily)
Round up spare change for saving
Get your salary paid into your Revolut account early
Sort your money into pockets for budgeting for payments
Take our overseas medical insurance from as little as £1 a day
Get phone insurance with the Revolut premium plans
Card management tools such as the ability to freeze your card and set monthly spending limits as well as further security
Direct debits in GBP and EUR
* Correct at time of publishing
Revolut Personal Accounts
There are five account offerings at Revolut. Here I have attempted to highlight the main differences between these accounts:
|   | Standard | Plus | Premium | Metal |
| --- | --- | --- | --- | --- |
| Monthly Fee | FREE | £2.99 | £6.99 | £12.99 |
| ATM Fees *third party providers may charge a withdrawal fee and weekend fees may apply | FREE up to £200 per month | FREE up to £200 per month | FREE up to £400 per month | FREE up to £800 per month |
| Overseas ATM Fees *third party providers may charge a withdrawal fee and weekend fees may apply | FREE up to £200 per month | FREE up to £200 per month | FREE up to £400 per month | FREE up to £800 per month |
| Daily Savings Interest *in annual interest paid daily | 1.99% | 2.05% | 2.5% | 3% |
| Overseas Medical Insurance | NONE | NONE | YES | YES |
| Revolut Junior Account | 1 Child | 2 Children | 2 Children | 5 Children |
| Cashback | 3% on accommodation booked | 3% on accommodation booked | 5% on accommodation booked | 1% capped at £12 per month and 10% cash back on accommodation booked |
| Loungekey | NONE | NONE | You plus 1 friend | You plus 3 friends |
| Free International Payments | NONE | NONE | 1 per month | 3 per month |
Revolut current accounts are available in 28 currencies, including AED, AUD, BGN, CAD, CHF, CZK, GBP, HKD, HRK, ILS, ISK, JPY, MAD, MXN, NOK, NZD, PLN, QAR, RON, RSD, RUB, SAR, SEK, SGD, THB, TRY, USD, and ZAR. However, until Revolut has acquired its UK banking licence, they will be unable to offer full current account services such as loans and overdrafts.
Full terms and conditions apply for all paid plans. 
*ATM payments are on a rolling monthly basis, weekend markups apply and ATM fair-usage fees apply
The Revolut business account is perfect for small businesses that need to send money abroad on a regular basis. It allows users to hold, receive, and exchange 29 currencies using the real exchange rate and comes with handy prepaid multi-currency business cards that can be set with spending limits for each employee.
There is a basic free plan available that comes with some basic features, but you will be charged £0.20 for money transfers within the UK after the initial 5. International money transfers will cost £3 each plus a 0.4% fee on all foreign exchange transactions, including card payments (payments are on a rolling monthly basis; weekend markups apply). For the free business account, you will be charged £49 for each card you order.
There are four subscription plans available:
Grow: This costs £25 a month but comes with 1 free metal card, 10 free international payments, and 100 free local payments. You also get an allowance of £10k per month for foreign exchange at the real rate, after which a 0.4% markup will apply.
Scale: For the sum of £100 per month, you will get 2 free metal cards, 50 free international payments, 1000 free local payments, and an allowance of £50,000 per month for foreign exchange at the real rate.
The final plan is Custom, which, as the name suggests, is fully customisable to your company's needs.
*Weekend mark-ups apply on all plans
The most recent offering to come to market, Revolut Pro, is a product aimed at serving the needs of freelancers, sole traders, contractors, and self-employed individuals. This is intended as a one-stop shop for the efficient management of business funds.
You may question the necessity of such an account when Revolut already offers a business account. However, the main difference between the two is that Revolut Pro is designed to sit alongside the Revolut personal account, with access still being through the retail app. Conversely, the business account is a separate entity that can only be accessed via the business app and platform.
The other big difference is that Revolut Pro is a completely free account that has no monthly fees and no minimum balance requirement. There is also a 1% cashback on all card spends (terms and conditions apply), making this a much more cost-effective solution for small business owners.
Creating a Pro account can be done in moments from within the retail app. Once set up, you will have access to income, payment, and expense management tools and multi-currency payments using QR codes, payment links, invoice templates, and a card reader.
For children aged between 6 and 16 years of age, Revolut has introduced a Junior account. This is intended to help teach children about money and budgeting while still allowing parents and carers full control of their finances.
There are a few features connected with the Junior account, which include:
Junior card and app
Track pocket money
Set tasks for earning pocket money
Instant spending alerts
Custom card controls
This is a fairly standard offering for junior accounts. Parents are required to have a Revolut account, and T&Cs apply.
Read my full review of Revolut Junior here.
Revolut customers can set up savings vaults within their accounts where spare change from transactions can be stored and earn interest (annual interest is paid daily). There is the option for multiple vaults, each with its own intention, and one feature that you won't find at many other establishments is the option to set up a group vault, where you can combine your saving efforts with friends and family towards a common goal.
While the saving vaults are a nice addition and come with some handy little features to help you save money, only Premium Revolut customers can really unlock all the features and take advantage of the 2.5% in annual interest paid daily on funds held within the vault.
The contactless Revolut card is a prepaid Visa card that is especially useful for making purchases abroad and withdrawing cash. You can use your Revolut card to spend in multiple currencies while enjoying mid-market rates. The advantage of the card being pre-paid is that it makes it possible to lock in an exchange rate at the time that you choose to load the card in the currency of your choice. Alternatively, it is entirely possible to just load your card with sterling and leave Revolut to automatically apply the exchange rate at the time you make purchases in other currencies.
Revolut also offers a virtual card that can be set up in mere moments and used almost instantly. Of course, the virtual card won't allow you to withdraw money at an ATM, and some of the security features, such as a pin, aren't available with the virtual card; otherwise, it can be used in much the same way as the physical card, and Revolut even claims that using disposable virtual cards can protect the user against online card fraud due to the fact that it can be renewed easily and frequently should a site leak your card details.
Guide to opening a Revolut account
Opening an account at Revolut is a fantastic experience. Smooth, quick, and fully digital, with no minimum balance, you can be up and running in moments.
In fact, Revolut claims that you are able to open an account with them in as little as 60 seconds due to the lack of credit checks or proof of address. To open your Revolut account, you simply have to download the app and create your account, after which you can order either your physical or virtual card.
At this point, you may want to link up a debit card or external bank account to make it possible to quickly transfer money into your Revolut account.
Everything to do with your Revolut account is managed via the app, so you will need to be comfortable using this level of technology in order to get the most from your Revolut account.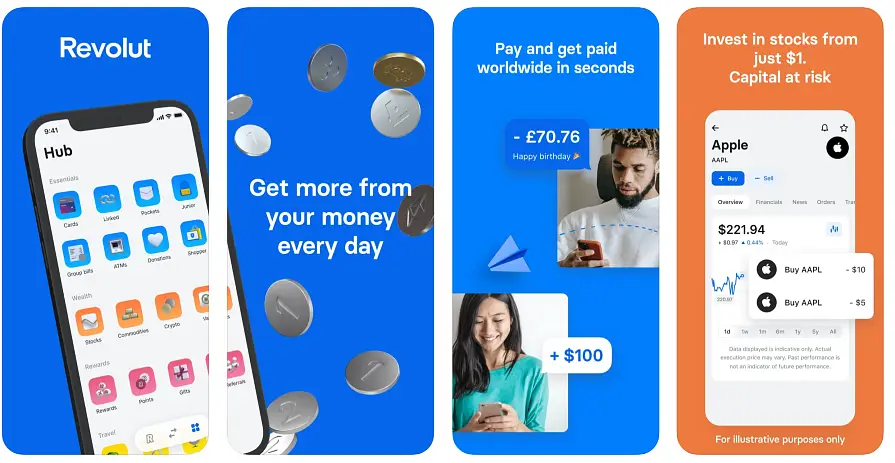 The app has a slick, clean, easy-to-use interface that is split into five main sections.
Home: Where you can manage your accounts, cards, linked accounts, pockets, and junior accounts.
Wealth: Where you can manage your savings vaults
Payments: Where you can make payments to external bank accounts and other Revolut accounts, set up recurring payments, direct debits, split bills, and pay contacts.
Rewards: Management of your rewards and cashback with specific retailers * Reward amounts may vary and are subject to availability. T&Cs apply.
Hub: Where you can manage your existing Revolut subscription, upgrade to one of Revolut's premium accounts, or invite friends to join Revolut.
While Revolut prides themselves on their transparent fees visible in the Revolut app, aside from the costs associated with the various subscription plans at Revolut, there are some fees to be aware of.
| | |
| --- | --- |
| Additional Revolut Card | £5 |
| International Transfers | 0.3% if in the same currency, $4 for USD, GBP, EUR, or Swiss Francs and $6 for any other currency |
| ATM Withdrawals | 5 free a month (or to the value of £200, whichever is first), 2% fee thereafter minimum £1. Third party providers may charge a withdrawal fee and weekend fees may apply. |
| Spending Abroad | Up to £1,000 fee-free per month and 0.5% thereafter. |
| Weekend Exchange Rates | The interbank exchange rates will be marked up by 1% for most currencies, and 2% for Thai Baht and Ukrainian Hryvnia. |
It is important to note that for people who travel a significant amount, the real exchange rates offered at Revolut are as good as you can hope to achieve, and in order to avoid the weekend fees, it is possible to exchange money during the week and hold it in your Revolut account in the currency of your choice for the weekend. This way, you have locked in the midweek rate and avoided the additional charges levied at the weekend.
In addition, Premium and Metal accounts have inflated limits for spending cash abroad and double the value of free ATM withdrawals for withdrawing cash abroad. This can save users both transaction fees and poor FX rates.
Deposit and withdrawal review
True to their low-cost model, Revolut has kept all deposits and withdrawals completely free of charge.
As well as this, there are several means of depositing money into your Revolut account, including:
Credit/debit cards
Apple Pay
Google Pay
External bank transfer
Bank transfers from external banks to your Revolut account can take several business days; however, using a credit or debit card to put money into your Revolut account is instant.
Customer service is best done using the in-app chat function from within the Revolut app. I found them to be quick to respond, and the representatives appear to be knowledgeable and professional. However, it is worth mentioning that priority is given to Premium and Metal customers, and therefore, if you are on the standard plan, you should expect to wait for one to two hours for a response.
It is a shame that Revolut has decided not to offer email support, as this is still a strong favourite for a lot of people. As well, their phone line is fully automated, which I found to be barely helpful with limited information.
Useful information about Revolut
Is Revolut legit?
Revolut is licenced as an electronic money, or e-money, institution in the UK and is a trusted financial service provider with a good reputation.
Is Revolut safe?
While Revolut has managed to obtain a banking licence in Europe and has completed their application for a UK banking licence, this has yet to be approved, which means that customer money is not covered by the Financial Services Compensation Scheme (FSCS).
However, Revolut is authorised to operate in the UK as a Financial Conduct Authority-authorised electronic money institution, which means that all client funds are held in ring-fenced accounts with external UK banks as per the Electronic Money Regulations 2011. This effectively protects client money should Revolut ever go bust. Revolut is also bound by the Payment Services Regulations 2017, and all card transactions are processed by Mastercard or Visa and therefore protected by their rules.
Is Revolut any good?
Revolut definitely has a lot to offer in the financial services space; however, Revolut's services will mostly appeal to frequent travellers and overseas students who need to spend abroad. It is also well suited for users who have family living abroad or who conduct a lot of business outside of the UK and are therefore being paid in a foreign currency.
Revolut FAQs
How do I contact Revolut?
The best way to contact Revolut is through their in-app chat. Unfortunately, Revolut does not offer email support, and their phone line is fully automated with limited information. However, should you wish to cancel a card, you can do so by calling this phone number: +442033228352.
Is Revolut better than PayPal?
For sending money abroad and general international transactions, there is no doubt that Revolut is a better option than PayPal. They operate in all the major currencies, have excellent exchange rates, and have a whole host of additional features and functions. However, if you are using the Revolut basic account, which is free of account charges, you will need to be aware of the fee-free thresholds.
See which share tip is making the headlines

Have you considered transferring your pension?

Find the best trading platforms
*Capital at risk