I found Trading 212 to be excellent on many levels. The sheer range of investments, including over 12,000 shares, will outperform many available platforms. But perhaps one of the most compelling reasons to pick this platform is the exceptionally low trading and non-trading fees.
There's something for everyone here. Of course, I did uncover some minor weaknesses, such as the lack of copy trading or cryptocurrencies, but overall, this platform gets the thumbs up from me.
Read on to see how Trading 212 stacks up against its competitors.
Important: The Trading 212 waiting list may apply to some countries, but they are now accepting new customers from the UK.
CFDs are complex instruments and come with a high risk of losing money rapidly due to leverage. 83% of retail investor accounts lose money when trading CFDs with this provider.You should consider whether you understand how CFDs work and whether you can afford to take the high risk of losing your money.
Get a Free Share Worth up to £100
Register a new account and deposit at least £1 to get a random free share worth up to £100. Use code "INVESTUK"
As with all investments, your capital is at risk. Investments can fall and rise and you may get back less than you invested.
Trading 212 was launched in the UK in 2013 with the aim of making trading in various assets easy and accessible to everyone. Based in London and approved by the Financial Conduct Authority, the Trading 212 mobile app is now ranked number one in the UK.
Trading 212 offers investors a freemium business model, allowing users to utilise the basic features of the platform for free; however, if you want to make use of some of the more sophisticated features, you will be charged a fee. Trading on the CFD area of the platform will also incur a cost.
Deposit and withdrawal:
90%
Markets and products:
70%
Pros
Exceptionally low cost across the board
Massive choice of investments
Highly functional, user-friendly mobile app
Cons
No copy trading
No cryptocurrencies
No two-step login for extra security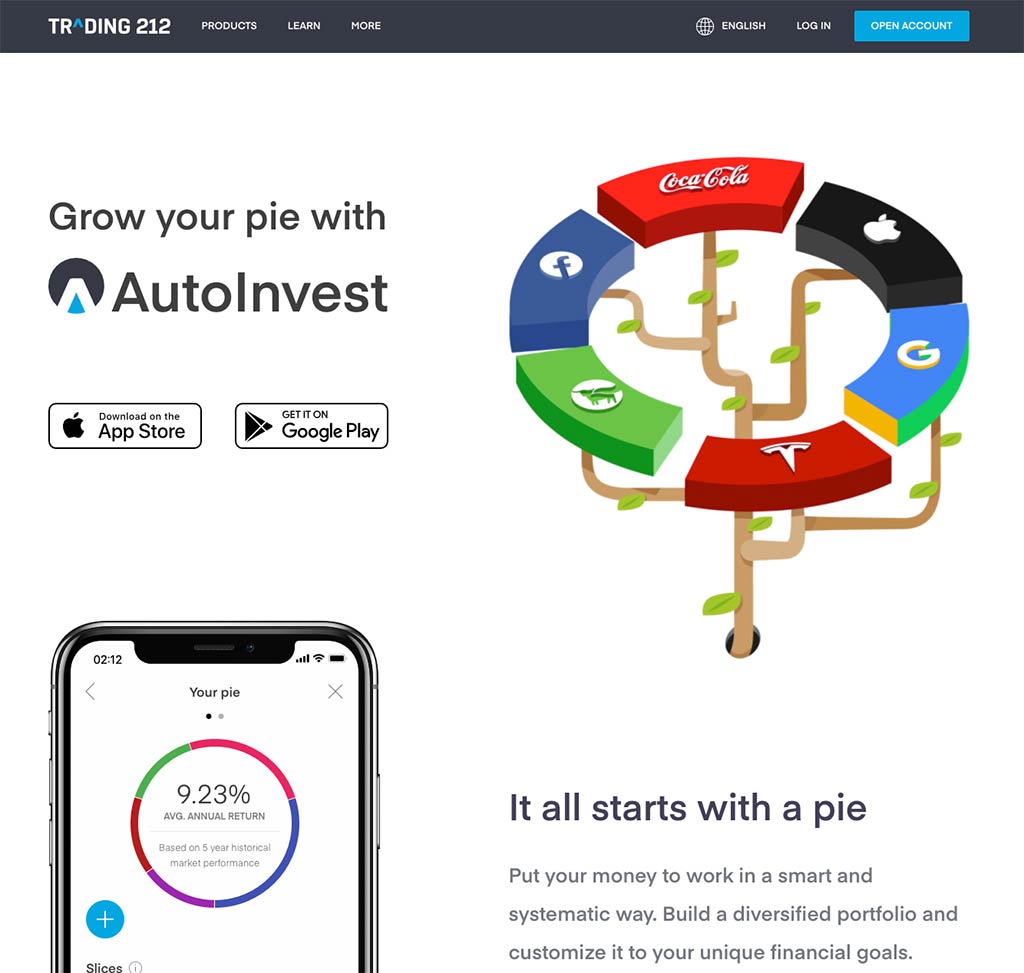 Trading 212 is a global online financial trading platform and multi-asset online broker based in London that provides investors with commission-free trading in global CFDs, forex, global stocks, and Exchange Traded Funds.
The zero-commission fee structure has helped cement its place as one of the most popular trading apps in the world.
Who owns Trading 212?
Trading 212 is a fintech start-up that was founded by Ivan Ashminov, who plans to use his background in computer science to introduce new and innovative additions to the platform. Trading 212 is the Trading name of Trading 212 UK Ltd.
Trading 212 Product Range Overview
At the time of this Trading 212 review, it had four main account types: Trading 212 CFD, Trading 212 Invest, Trading 212 ISA, and Trading 212 Pro, which I will look at in more detail.
Trading 212 CFD Review
Trading on CFDs is essentially a gamble on whether you think an asset's price is likely to rise or fall and is probably best left to more experienced traders who can afford to take a risk.
That being said, the Trading 212 CFD account offers investors the opportunity to trade across a variety of asset classes, including stocks, forex, and commodities, and takes some steps in an attempt to reduce the risk for their traders, such as stopping accounts from going into a negative balance with negative balance protection and allowing traders to select a price point from which to stop investing and redeem their profits or stop once they reach a certain point in losses. However, even with these measures, 76% of retail CFD accounts have been shown to lose money when trading CFDs with this provider, and investors should be aware that there is a currency conversion charge of 0.5% and the minimum deposit is £10.
There are no deposit or withdrawal fees on CFD trades with Trading 212.
Trading 212 Invest Review
An appealing feature of Trading 212 Invest accounts is that you can start free trading with as little as £1 in over 3,000 stocks, shares, and ETFs. Trading 212 offers users zero commission fees, which is great when compared to other trading platforms such as Halifax, which charges £12.50 per trade. With Trading 212 Invest, shares can be purchased from within the UK, Germany, America, theNetherlands, Switzerland, and Madrid, which is a great choice.
The only negative I could find was an FX fee of 0.15% for trades that are conducted in a currency other than the account base currency. This is still excellent value when compared to other platforms.
Watch the Trading212 video on how to buy your first share with their Trading212 Invest solution.
Trading 212 ISA Review
Again, I found the Trading 212 ISA account to be a great offering with a minimum deposit of only £1 and no fees for administration, commission, or dividend investment.
The Trading212 ISA account allows UK residents to take advantage of everything the Invest Account offers, with the additional benefit of being tax-free. The UK allows traders to invest up to £20,000 per tax year; however, it is prudent to know that the Trading 212 ISA requires traders to create their own portfolio, and therefore, for the purposes of this Trading 212 review, I have found this to be more suitable for experienced investors looking for a tax-free account from which to conduct trades.
Trading 212 Pro
This account is for experienced traders and can only be accessed by meeting the following criteria:
Traders must have traded previously on financial instruments such as CFD or significant sized forex an average of 10 times in each of the preceding quarters.
Traders' investment portfolio must be to the value of 500,000 EUR or more.
You must have at least 1 years of work experience in the financial sector in a position that clearly demonstrates your knowledge of CFD trading.
While upgrading to this account is free, there are some protections that you will sacrifice that have been put in place to protect retail investors. Therefore, I would only recommend Trading 212 Pro to very experienced investors.
Trading 212 Fractional Shares
Both the Trading 212 Invest and ISA accounts offer investing and trading in fractional shares. This can be accessed by enabling the Fractional Shares Indicator from Trading Preferences in the settings menu on your account.
Once enabled, a small circle will appear above each instrument where fractional shares are available.
Trading 212 Platform Review
Trading 212 offers investors both web trading platforms and mobile trading platforms, which I will look at in more detail in this Trading 212 review.
Web Trading Platform
Trading 212 has their own in-house-designed web trading platform, which I found to be really easy to use and simple to navigate. One of the outstanding features was its customizability and search functions. As well as this, there are other handy little functions such as alerts and notifications, in addition to portfolio and fee reports giving you access to your results, interest charged and earned, and other useful bits of information.
Another feature that I really liked was the ability to place trades in several ways and execute several manoeuvres on the same trading pair at the same time.
Trading 212 App Review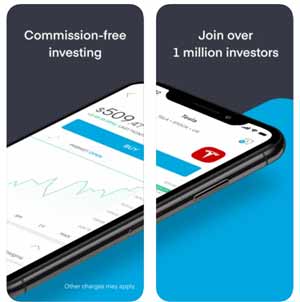 While conducting this Trading 212 review, I found using the mobile trading app to be a great experience for both novice and more experienced traders. It has a clean, modern interface that is easy to use. Simple swipes can help you switch between different functions and areas of the app, and there is the capability of setting price alerts and accessing forums and training videos via the menu.
The mobile app also gives new traders the option of using a demo account so they can experiment with the platform without risking their investment funds, and it takes less than a minute to set up and start trading. This demo account can then be switched between real and practise funds should you decide to take advantage of one of the three account types on offer and start trading with real money.
On the downside, security could have been a little tighter with a two-step login option and features such as touch or face ID login.
Research Service and Tools Review
Research and tools can be a bit hit-and-miss with Trading 212. While users can take advantage of daily trading ideas and their charting includes over 60 technical indicators, making it one of the most comprehensive offerings on the market, their news feed is extremely limited.
That being said, they do offer a detailed economic calendar and technical analysis to their users, as well as tutorials on how trading works in all its elements within their education section. Trading 212 also offers research-backed analysis on financial markets and investments from top analysts, and traders are able to set price alerts and notifications about entities such as executed orders, important news, or margin calls.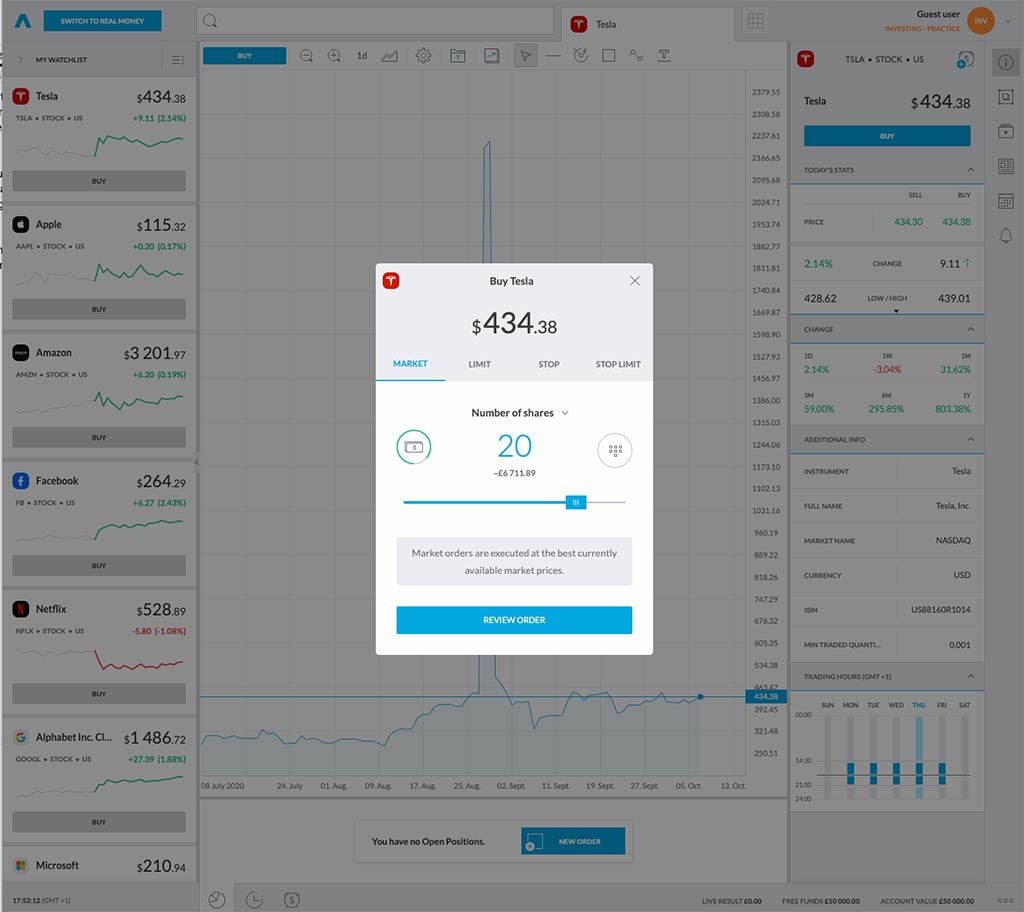 Trading 212 offers users very low fees, in particular their zero-commission stock and ETFs and low CFD fees.
When it comes to comparing their fees to those of other brokers, they are comparable to eToro, with slightly higher CFD trading fees, which they make up for by scrapping the inactivity fee that eToro charges. Forex trading fees are comparatively high at Trading 212 when held up against other online brokers, which is worth consideration should you be intending to trade forex.
When it comes to fees, Trading 212 is certainly an attractive offering, although they have indicated in the past that they plan to add more 'premium' financial services to the platform, which users will almost certainly need to pay for to access.
In terms of non-trading fees, Trading 212 does not charge account fees, inactivity fees, deposit fees, foreign exchange fees, or withdrawal fees.
From January 4, 2021, they will offer a lifetime limit on free deposits via all payment methods except bank transfers and instant bank transfers, otherwise known as Open Banking.
If you fund your Trading 212 account with credit or debit cards, Google Pay, Apple Pay, or Skrill, there are no fees until you have deposited £2,000 in total. After this, a fee of 0.7% will be applied, which, in their words "is to cover costs levied by payment providers and card companies".
A bank transfer remains free unless your bank charges you for making it.
Future plans in 2021 include BACS Direct Debit, which enables you to make recurring and one-off bank transfers in the UK, or SEPA Direct Debit if you reside in the EU.
It is also worth noting that if you make a deposit into your CFD account, this will remain fee-free without any limits.
Trading 212 Invest fees
| Fee type | Fee amount |
| --- | --- |
| Trading commission | Free |
| Custody fee | Free |
| FX fee | 0.15% |
| Deposits via bank transfer | Free |
| Deposits via Cards, Google Pay, Apple Pay & other | Free up to £2,000, 0.7% thereafter |
| Withdrawals | Free |
Trading 212 ISA fees
| Fee type | Fee amount |
| --- | --- |
| Trading commission | Free |
| Custody fee | Free |
| FX fee | 0.15% |
| Deposits via bank transfer | Free |
| Deposits via Cards, Google Pay, Apple Pay & other | Free up to £2,000, 0.7% thereafter |
| Withdrawals | Free |
Trading 212 CFD fees
| Fee type | Fee amount |
| --- | --- |
| Trading commission | Free |
| Custody fee | Free |
| Spread | Dynamic |
| FX fee | 0.5% on results only |
| Deposits | Free |
| Withdrawals | Free |
| Overnight holding fee | Dependent on instrument |
How to Open an Account with Trading 212
Guide to opening a Trading 212 account
For first-time users, Trading 212 provides a demo account where you can test out the platform and trading tools without any risk or registration. You can be ready to start trading on this in seconds, and I found it to be very easy to use.
Should you decide to open a real trading account, you will be required to provide some documentation as proof of identity and address, such as a recent bank statement; however, this is standard for any provider, and my account was verified within one working day.
I liked that Trading 212 asks you to complete a set of questions at this point so they can understand what experience you have with trading, including financial details such as your annual salary and estimated savings. With Trading 212 CFDs being such a high-risk option, they will at this point reject trading accounts where they feel the account holder is too inexperienced to start trading high-risk CFDs.
While conducting this Trading 212 review, the whole process of opening an account took around 2 minutes to complete.
Trading 212 Deposit and Withdrawal Review
Trading 212 offers the following deposit and withdrawal options:
Bank transfer
Credit cards
Debit cards
Skill
Paypal
Dotpay
Giropay
Direct eBanking
Google Pay
Apple Pay
Trading 212 also offers nine different account base currencies, and in any one country you can still trade in 2 to 3 different account base currencies, which is a better offering than some of Trading 212's nearest competitors and can save users paying conversion fees.
There is a minimum deposit of only £1, which is great for investors who want to start slowly.
Withdrawals to your bank account are free of any fees, and while conducting my Trading 212 review, I found the process to be quick and easy.
Trading 212 Customer Service Review
Trading 212 offers its users support in the form of email, phone, and live chat. A quick glance at TrustPilot has shown a fairly consistent level of service, and certainly I found that response times were fast and the replies I received were informative and relevant.
One of the strong points of their customer service is that they are available 24/7 in 16 different languages, which is very competitive.
Who is Trading 212 Suitable For?
Trading 212 could be a useful trading platform for beginners, as their demo account and user friendly trading platform make for a great learning experience.
That being said, CFDs are extremely risky and are best left to more experienced traders who are also interested in equities or leveraged FX and want to take advantage of zero commission fees. There are also some useful trading tools, such as pies, that could benefit experienced traders.
Therefore, I feel that Trading212 has something to offer most levels of traders, regardless of experience.
Regardless of your level of experience, trading any financial instrument carries a level of risk, and doing so will always be at your sole risk.
Trading 212 Alternative options
|   | Trading 212 | Freetrade | eToro | Moneybox |
| --- | --- | --- | --- | --- |
| Trustpilot score | 4.6 | 3.9 | 4.4 | 4.6 |
| Stocks and Shares ISA | FREE | £5.99 per month | Free but yet to fully launch | £1 per month |
| Stocks and ETFs | 12,000 | 6,000 | 3,400 | 1600 |
| CFDs | Yes | Not available | Yes | Not available |
| Forex | Yes | Not available | Yes | Not available |
| Cryptocurrencies | Not available | Not available | Yes | Not available |
| Desktop/web app | Yes | Not available | Yes | Not available |
| Demo account | Yes | Not available | Yes | Not available |
| Minimum investment | $0 | $0 | $10 | £1 |
Trading 212 vs Freetrade
Freetrade is another 'freemium' business model available to investors in the UK and arguably one of Trading 212's main competitors within this space. At Freetrade, you will automatically get a free share worth between £10-£100 when you fund your account with £50. Similar to Trading 212, you can access free trading on stocks and ETFs; however, the choice of assets is much more limited in Freetrade. Freetrade also don't offer any CFDs or Forex options. Beginners may also lament the lack of demo account at Freetrade. All in all, I found Trading 212 to be a better option for most investors.
Trading 212 vs eToro
The glaring omission on eToro is the current lack of stocks and shares ISA. While this is gradually being launched, it won't offer all the functionality and access to various assets that you will find at Trading 212 and therefore can't really compete. That being said, there are two areas where eToro can't be beaten, the first being social and copy trading, and the second being access to cryptocurrencies. For investors looking for either of those options, eToro is the clear choice.
Trading 212 vs Moneybox
These are two very different propositions, so it should be fairly straightforward to work out which would suit your needs better. For those looking for an easy, hands off solution that also offers automated savings straight from your bank account, Moneybox is the clear winner. However, Moneybox lacks the assets and trading tools available at Trading 212, and there is a £1 monthly subscription fee to be aware of. Therefore, Trading 212 is a better option for savvy investors who want to take an active role in how their money is invested.
Trading 212 vs Plum
Plum is a saving and investing app that uses artificial intelligence to calculate small, unnoticeable amounts, that it automatically deducts from your bank account and places in a savings or investment account. It runs with very little interaction from the user, and there are a small number of funds to choose from should you decide to invest with Plum. Therefore, as with Moneybox, experienced investors looking to retain control over their investments and choose from a large number of assets, would be better served at Trading 212.
Below are some useful bits of information to make your experience with Trading 212 as seamless as possible.
Useful Information
How do I contact Trading 212?
Contacting Trading 212 is relatively easy and can either be done by email at [email protected], if you are logged in via phone, or by clicking on the live chat function on the trading platform itself.
How do I withdraw my money from Trading 212?
Withdrawals can be done either from your app or from the web trading platform by selecting the three lines icon at the bottom right corner of your screen on the app, or by selecting your email address on the top corner of the screen if you are using the web platform. Then it is simply a matter of selecting 'Manage Funds' followed by 'Withdraw'.
Is Trading 212 good for beginners?
The Trading 212 app is well designed and would offer a beginner friendly trading experience. However, there is also a lot to offer experienced traders, not least the wide range of tradable assets.
How do I close my account at Trading 212?
Closing your account at Trading 212 is quick and easy and can be done by emailing [email protected]. Before closing your account, ensure you have closed all open positions and withdrawn your balance. You may also want to consider looking at alternatives to Trading 212.
Trading 212 FAQs
Is Trading 212 any good?
Yes, Trading 212 is very good, in my opinion. The app has an excellent design, trading is commission free, and they have excellent educational and research features. There is a minimum deposit of £1, as well as no non trading fees and 24/7 customer support.
Is Trading 212 safe?
Yes, Trading 212 is safe, and as secure as you will get from an online trading platform. They are authorised and regulated in the UK by the Financial Conduct Authority (FCA), and all client funds are stored separately from company funds. There is also protection from the Financial Services Compensation Scheme, which entitles users to up to £85,000 should the company ever go insolvent.
Trading 212 Customer reviews
Most recent reviews:
You cannot change your account's currency to a different one than your country's. I prefer US dollar because of US market dominance but my home country use Euro
Likes
Fees
Account opening
Deposit and withdrawal
Customer service
The app was one of the first which saw huge popularity in the UK at the start of the Covid Pandemic, I was able to sign up early luckily but I am aware that now there is a huge waiting list. It has very low fees, instant deposits and fast withdrawals, no minimum amount nonsense. It also offers "Gambling" accounts aka CFDs for those with a much higher tolerance to risk. Overall it's a solid app, the UI is readable and well presented and it doesn't trick you with any of its terminology.
Likes
Deposit and withdrawal
Customer service
A good app overall, slightly confusing at first but easy to learn. All the information is displayed on there. Useful notifications/emails. Reward upon opening the account if you're referred/refer someone so good to use.
See which share tip is making the headlines

Have you considered transferring your pension?

Find the best trading platforms
*Capital at risk