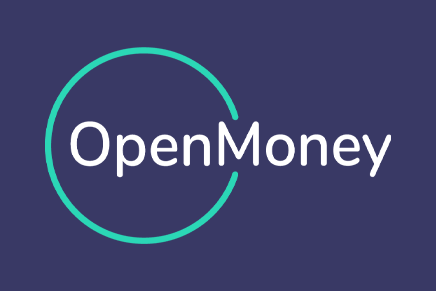 What sets OpenMoney apart from all the other UK robo adviser platforms out there is their ability to access professional financial advice to help inexperienced investors navigate complex financial services. It's more than just an investment platform, it's a money management app that aims to help users with all aspects of their spending and investing.
OpenMoney is the sister company of Evestor, launched in 2019 with the aim to separate their advised service in order to support novice investors with a wider range of financial needs. The idea is to help would-be investors to rid themselves of debt and create a cash buffer in order to then turn their efforts towards investing.
Who is OpenMoney Suitable For?
OpenMoney is suitable for everyone. Even if you don't use them as an investment service, their financial advice is tailored and free of charge and it seems always in your best interest. Even a financial health check would benefit most people.
For beginners this really is the most cost effective way to start investing and possibly one of the safest without engaging the services of a financial advice firm to manage it for you which would automatically drive up the cost.
OpenMoney is more than just a robo adviser, they have chartered financial advisors on hand to offer you bespoke solutions to your unique circumstances. They are there through every step to ensure you don't make costly financial mistakes and to help you navigate their easy to use app.
OpenMoney has been recommended by Martin Lewis from Money Saving Expert.
Deposit and withdrawal:
90%
Markets and products:
70%
Pros
Low cost
Personalised financial recommendations based on your unique circumstances
Sleek well designed app
Cons
Onboarding issues within the app
Can be expensive for larger investment pots
No 24 hour support
OpenMoney Product Range Overview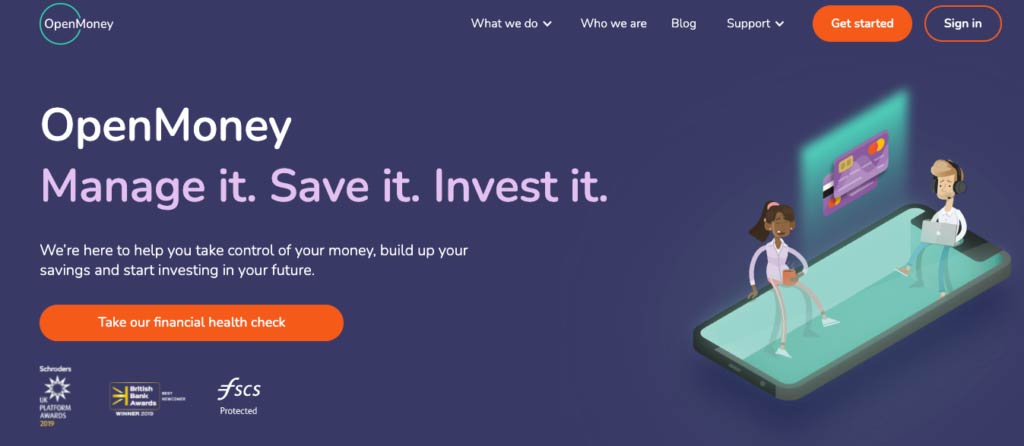 OpenMoney offer the following products and their financial advisers can help customers identify which of these is best suited to their circumstances.
GIA
Stocks and Shares ISA
SIPP
Money Management
Money Management is the first port of call for OpenMoney users and can help ascertain whether you are ready to start investing. The idea behind the money management service is to link all your existing accounts to the OpenMoney app in order to have all your financial data in one place so you can start reducing debt, budgeting and setting savings goals. Within this feature OpenMoney has plans to partner with uSwitch in order to automatically let users know when they can save on their energy bills.
Whilst there were several teething problems at the start of their launch, the developers seem to have ironed most of these out and their partnership with Moneyhub in April of 2020 has provided OpenMoney users with a seamless money management experience.
Of course the major draw card at OpenMoney is their access to a human financial adviser rather than simply relying on robo advice. When it comes to making the most out of your money, nothing can beat the bespoke financial services you can get from an actual adviser who can make a recommendation based on your unique circumstances.
Investments
Should the financial adviser at OpenMoney deem your financial situation as suitable for investing then you will have access to one of the three ready made risk portfolios on offer. Your adviser will ascertain which of the three portfolios would be most suited to your unique circumstances depending on your risk appetite. The three main investment portfolios are:
Portfolio 1 Cautious – mainly focusing on defensive assets from across the globe
Portfolio 2 Balanced – comprising of growth assets (equities and property) and defensive assets (Cash and fixed interest)
Portfolio 3 Aggressive – made up of primarily growth assets such as equities with exposure to emerging markets.
These three investment portfolios use a passive investment solution including a mix of index funds from Vanguard Lifestrategy, iShares and Fidelity.
If you would like to start investing with OpenMoney you only need a starting capital of £1 and their annual fees are placed at only 0.50% which is competitive, especially given the personalised service. Also investors are able to keep tabs on their investments with 24/7 tracking available. As your bank accounts are linked to the OpenMoney app it is quick and easy to set up a direct debit so you can add to your investment capital in small painless sums.
Mortgages
One of the features OpenMoney plans to roll out is a mortgage service which they tell us will be available in the spring of 2021. This proposition will be another step towards OpenMoney providing a one-stop shop for all your financial affairs.

OpenMoney Platform Review
OpenMoney offers professional guidance on all your financial affairs including recommendations around debt, savings, credit cards, utilities and insurance. It combines robo advice with Chartered Financial advice in order to provide customers with a seamless experience all in one place.
Their financial advice can also help users looking to consolidate various pensions. They offer a free pensions review which consists of you answering a few simple questions about your current financial circumstances, long term financial aspirations and any pension products you currently have in place. With this information, professional financial advisers can offer you guidance to help you maximise on your returns. This may mean consolidating your existing pensions and taking out your own SIPP which, if right for your situation, OpenMoney will handle for you.
The advisers can also help you make the most of your ISA allowance in order to mitigate your exposure to tax with the Open Money Stocks and Shares ISA.
Also consider: Will ISA rates go up in 2022?
What we liked about the financial advice services offered by OpenMoney is that it seems to genuinely be focused on your best interests. In fact, the majority of consumers are advised by OpenMoney not to invest at present but offered alternative financial advice in order to strengthen their financial position first.
Research Service and Tools Review
Whilst OpenMoney do have a handy little blog section on their website where you can access informative and helpful articles about money management, how to improve your credit score, and investments and news, users of the OpenMoney service have hands on access to actual financial advisers who can look at their current circumstances and will make all the difficult decisions for them. Therefore there isn't really any real need for a lot of information unless users were keen to educate themselves along the way.
As a negative, whilst they do have a news section on the website, at the time of this review the most recent article was over three months old so this couldn't really be regarded as current. A bit of a shame in the current financial climate when investors might be feeling on edge about their investments and what the recession may hold in store for them.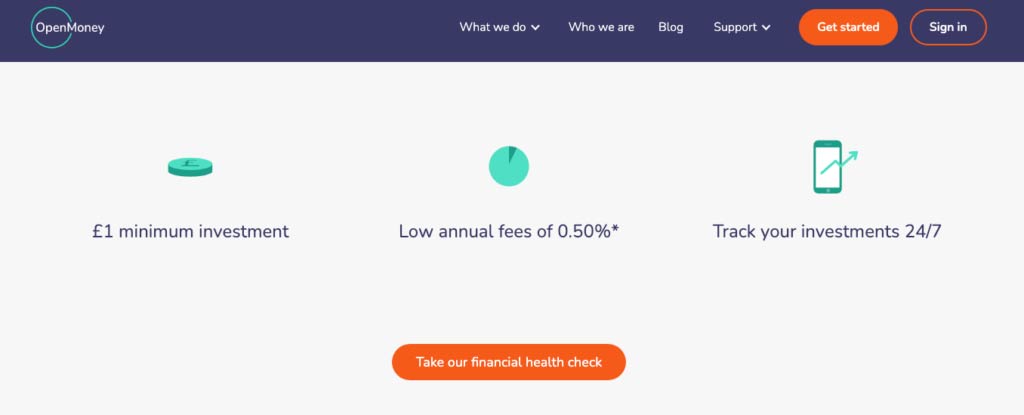 OpenMoney Fees and Charges Review
OpenMoney are highly competitive when it comes to fees and charges with a flat fund charge on each of the three portfolios they have on offer:
Portfolio 1 – OpenMoney management charge 0.25%, Product charge 0.10%, transaction charge 0.03% and Ongoing charges figure (OCF) 0.11% giving a total charge of 0.49%.
Portfolio 2 – OpenMoney management charge 0.25%, Product charge 0.10%, transaction charge 0.02% and Ongoing charges figure (OCF) 0.10% giving a total charge of 0.47%
Portfolio 3 – OpenMoney management charge 0.25%, Product charge 0.10%, transaction charge 0.02% and Ongoing charges figure (OCF) 0.09% giving a total charge of 0.46%
As a comparison, Plum charges a £1 monthly platform fee to use their investment service plus a 0.51% annual fund management and provider fee. This makes OpenMoney a very competitive option for investing.
However, one of the market leaders for investment platforms is still Nutmeg and on the Nutmeg platform investors can expect to pay 0.75% fees on their first £100k and 0.45% on anything after that, which means for investors with a larger pot, it would make more sense to swap to Nutmeg. At this point it is unlikely you would need the financial advice offered by OpenMoney.
Guide to opening an OpenMoney account
Opening an account takes around 10 to 15 minutes which is a fairly standard user experience for an online platform. Because Open Money links to all your accounts you will have to have this information to hand, including account numbers and your national insurance number. If you have your banking app on the same device then this process is all fully automated and can be done in the click of a few buttons.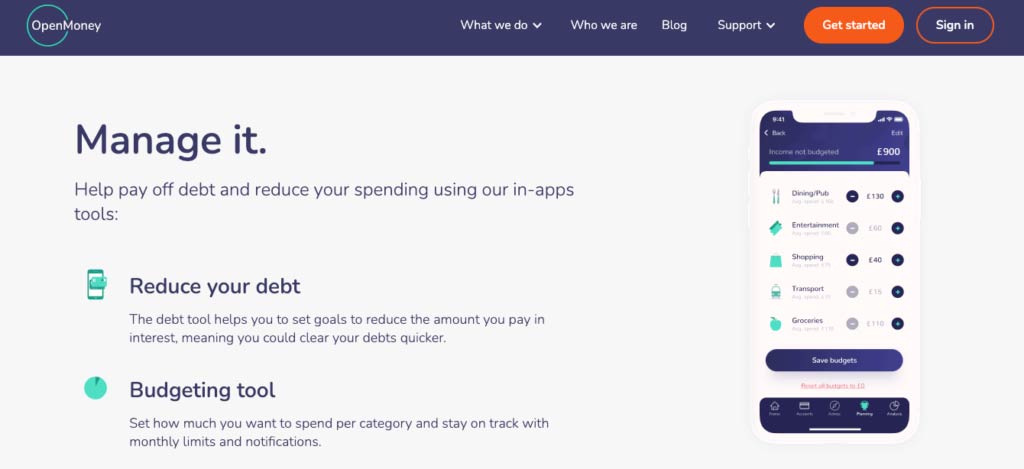 Guide to transferring your investments to OpenMoney
All transfers into OpenMoney are handled by product provider, Gaudi. The time it takes for your investments to reach your OpenMoney account will largely depend on your existing provider, however, OpenMoney's payment procedure works on an 8 working day basis. There are also no fees for transferring money in and out of OpenMoney.
OpenMoney Customer Service Review
The customer service we experienced at OpenMoney was outstanding and has definitely earned it's rating of 10 out of 10 despite not being available 24/7. There is a handy little chat function on the website and our enquiry was answered within seconds. We tested this facility on several occasions and each time got immediate responses to our enquiries. The support team was knowledgeable and helpful at all times. There is also the option to email or call should you need to get in touch and the advisers you will speak to are all detailed on their website so you can gain a picture of who you are speaking to and how they might be able to help your situation.

Frequently Asked Questions
How do I contact OpenMoney?
OpenMoney can be contacted via Live Webchat, Monday to Friday between 9am and 8pm and Saturday between 9am and 1:30pm. Telephone support is available Monday to Friday from 9am to 5pm. The phone number is 0161 204 3200. Alternatively you can email them on [email protected].
Is OpenMoney any good?
It hasn't been all smooth sailing for OpenMoney and their reviews on the app store are reflective of this. That being said they do seem to have made significant advances in ironing out all the various glitches and rolled out some impressive new features so I would take all this with a pinch of salt. More recent customer feedback appears to be mostly positive.
In terms of the service they offer, it would be hard work to find free, tailored financial advice elsewhere and they can help you discover if you are in a financially viable position to start investing and if not what steps you need to take to help you get there.
How do I withdraw my money from OpenMoney?
In order to withdraw your funds simply contact Customer Support either via the webchat, phone or email and request your withdrawal. Your withdrawal can take up to nine working days to complete as your investments will need to be sold and cash transferred to your linked bank account.
How do I close my account at OpenMoney?
As with withdrawals, closing your account can be done by making contact with customer support and requesting they close your account. If you have already withdrawn your funds, then your account can be closed immediately.
How safe is OpenMoney?
OpenMoney is regulated by the Financial Conduct Authority and your funds are protected by the FSCS making it a very safe option. They also employ bank-level encryption technology to protect your data.
Who owns OpenMoney?
Anthony Morrow and Duncan Cameron of MoneySuperMarket founded OpenMoney and launched the investor app in April 2017.
OpenMoney Customer reviews
Most recent reviews:
There are no reviews yet. Be the first one to write one.
See which share tip is making the headlines

Have you considered transferring your pension?

Find the best trading platforms
*Capital at risk