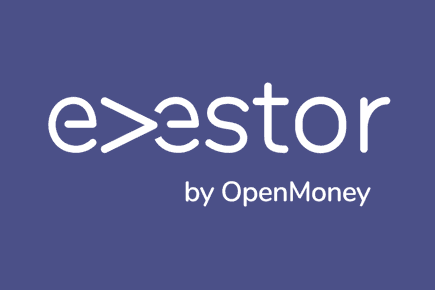 Evestor was launched in 2017 so is relatively new to the market, however, being founded by Duncan Cameron of Money Supermarket and Anthony Morrow it has picked up pace quickly.
Evestor claims to be aimed at all ages and levels of experience as a robo adviser and portfolio management service, although our general findings were that with the minimum investment amount of £1, it was more suited to novice investors who want to try dabbling in the investment market for the first time. Being regulated by the Financial Conduct Authority and covered by FSCS, Evestor offers clients a relatively safe option when it comes to investing your money.
Here I take a look at whether Evestor offers anything that sets it apart from the competition.
Who is Evestor?
Evestor offers its customers three main ways of investing your money with them including an online financial advice service, whereby you are recommended one of three investment portfolios based on your answers to a 15 minute questionnaire.
In reality the questionnaire took around 10 minutes, possibly this could be more comprehensive and include questions that could identify the best wrapper for your purposes as currently investors are asked to choose between ISAs, pensions and GIAs which assumes that a novice investor knows the difference between these wrappers.
As there are only three investment portfolios on offer, all investing in passive mutual funds, this can be chalked up as restricted advice and is really not that different from other robo advisers onboarding options.
The second option for investing your money with Evestor is to have their robo investor assess whether it might be of value to transfer all your savings across to their platform, and the third option, which is possibly more suited to more advanced investors is to set up an Evestor ISA or pension portfolio without any assistance from their robo advisor.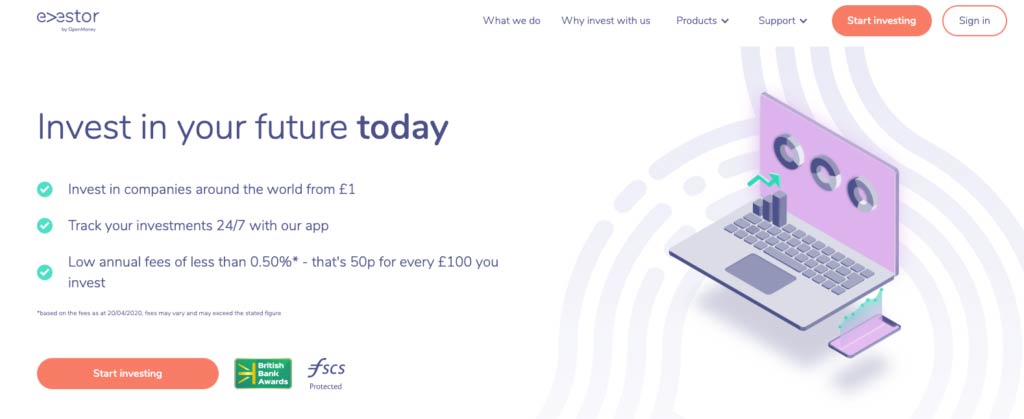 Evestor Product Range Overview
Stocks and Shares ISA
Self Invested Personal Pension (SIPP)
Evestor General Investment Account (GIA)
As two thirds of the customers who came to Evestor since its launch were advised not to invest their money, Evestor have launched 'Open Money', a digital financial advice service designed to help clients make the most of their money and partnered with uSwitch to ensure customers are not overpaying on their household bills. Whilst this is a nice offering, the financial advice component used to be part of the Evestor platform and served to set them apart from their competition.
Evestor only offers three investment portfolios, which is small compared with the competition and doesn't include any ETFs which are often cheaper than tracker funds. Investments are a range of index funds including big names like Fidelity and BlackRock, which should give investors some confidence. The least risky investment portfolio offers assurance to investors with over half the investment portfolio invested in fixed interest assets whereby the level three portfolio has only around 3% invested in fixed interest.
The general investment account at Evestor allows you to invest your money without any limits and whilst it offers a less tax efficient option to ISAs and SIPPs, it is a good alternative for those who require greater flexibility.

Evestor ISA Review
The Stocks and Shares ISA at Evestor is easy to set up and offers flexibility as well as the option to withdraw your money at any time free of any charges. The obvious advantage to the novice investor is the ability to start with just £1 and this can be added to on a monthly basis via direct debit.
Evestor offer handy little calculators on their website so you can see how your money would have grown in past markets in order to provide you with a forecast for future growth for your Stocks and Shares ISA within your agreed risk portfolio.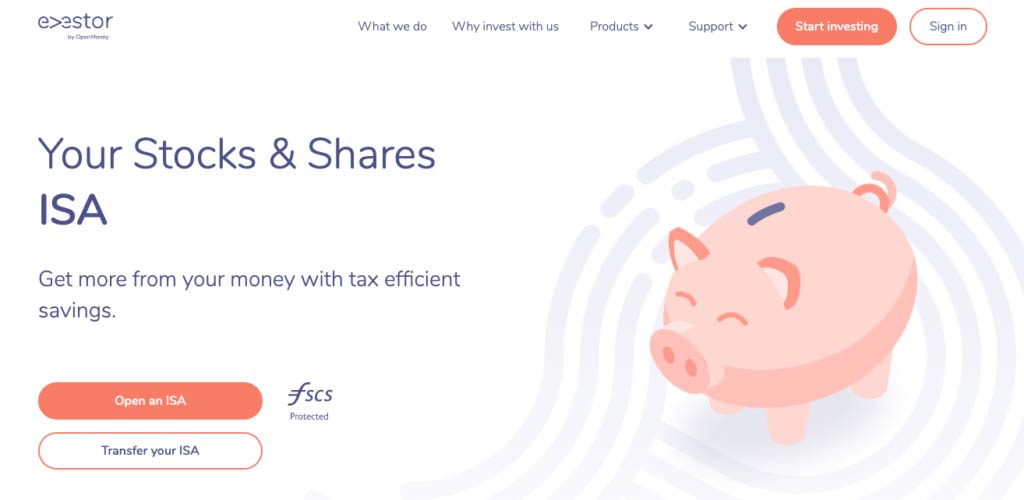 Evestor SIPP Review
Whilst you can transfer your existing pension to Evestor, and they will largely handle this for you, as with all their other products, you will be assigned one of three portfolios based on your risk appetite. Currently Evestor don't offer a drawdown option although they do claim they are looking to add this in the future. They do offer you the option to transfer to another provider if you are looking to drawdown, however, this seems arduous and clunky.
Evestor Platform Review
The Evestor app is only available to clients who have already signed up so it's impossible to see what the app holds in store until you have an account up and running. That being said, the Evestor app has a sharp and simple to use platform that gives you 24/7 access to your investments so you can track their performance in real time. The app is also available on Android or iPhone although this hardly sets them apart from any other investing app on the market today.
Research Service and Tools Review
This is where Evestor really let themselves down. Given that they are offering a relatively inexpensive investment option to the novice investor, it would make sense that they would offer some comprehensive education. However, we found their research service and tools to be very limited, with only short explanations of how investing your money works and why it's important.
Evestor Fees and Charges Review
Evestor offer really competitive fees for smaller sized funds with no initial fee or exit fee which is a fairly attractive offering. They have an annual management fee of 0.25%, in addition to an administration free of 0.10% on each of its portfolios. You can also expect to pay a fund fee which covers the cost of investing your money and is calculated as:
Level 1 Portfolio – 0.17% fund cost
Level 2 Portfolio – 0.16% fund cost
Level 3 Portfolio – 0.15% fund cost
Generally fees work out as the following for their different portfolios:
Level 1 Portfolio – 0.52%
Level 2 Portfolio – 0.51%
Level 3 Portfolio – 0.50%
By comparison, Nutmeg charges 0.75% on funds up to £100,000 as well as an underlying fund charge of 0.19% plus 0.08% to cover transaction costs.
And for further comparison, Moneyfarm and Wealthsimple both charge 0.7% for investments worth up to £10,000 making Evestor a much more cost effective option than all three of these competitors.
Guide to opening an Evestor account
Opening an account with Evestor is quick and simple for a basic sign up with just your email, name, dob and password. Once you are on the dashboard, should you opt to get advice you will then be directed to the 15 minute questionnaire which in turn will provide you with an honest answer as to whether it would be worth you investing your money now.
As robo accounts go, this is a fairly straightforward and quick user experience. From here is it fairly straightforward to set up your direct debit straight from your bank account should this be the path you decide to go down.
Evestor does accept debit card payments, however, should you wish to use a debit card the minimum amount is £1,000.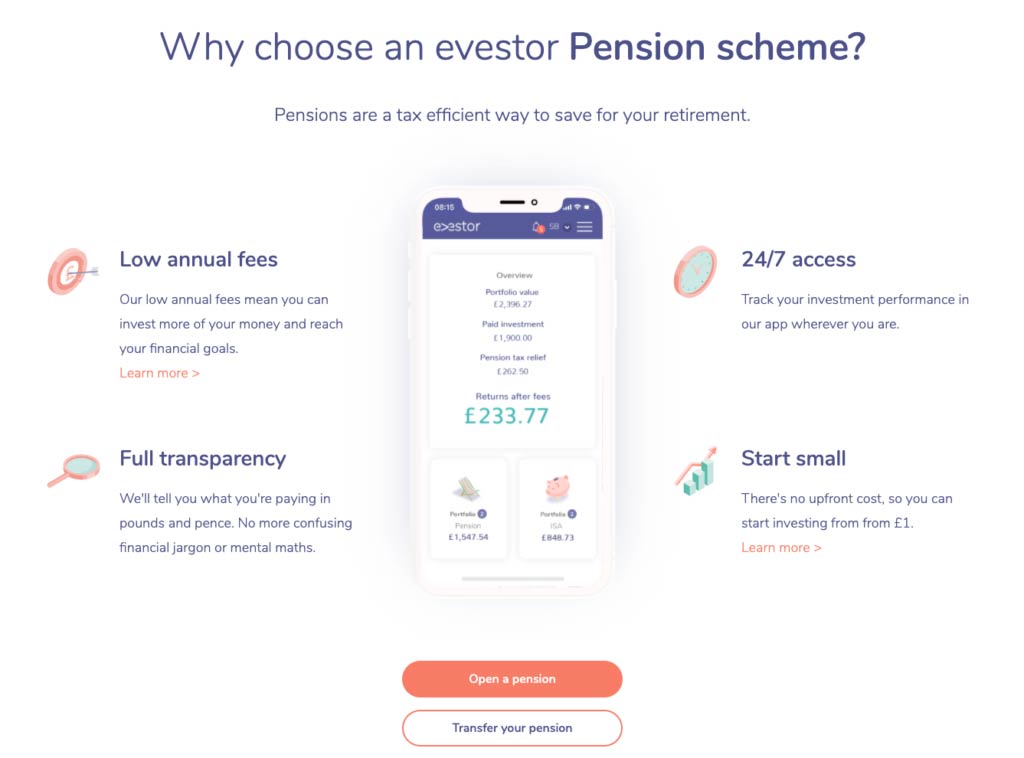 Guide to transferring your investments
All that is required in order to transfer your investments is for you to complete a letter of authority and Evestor will contact your current provider for you. However, they will only transfer your investments across if they think it is worth it for you.
Evestor Customer Service Review
Evestor offers a live webchat function that is available Monday to Friday 9am to 8pm. We found the customer service representative to be quick to respond and they provided us with clear knowledgeable answers to our questions and a generally good user experience. They also provide customer support via an email address although this is mainly for grievances and we found their FAQ section to be fairly comprehensive.
We were unable to find a phone number for telephone support.
Who is Evestor Suitable For?
Evestor offers low cost robo financial adviser services aimed at novice investors. It's a shame that they chose to remove the financial adviser element into a separate solution (OpenMoney) as this was what really set them apart from their competition.
One of the main advantages to Evestor is the ability to link savings, current accounts and credit cards in order to employ a holistic approach to managing your money and allowing you to set investment goals.
Most recent reviews:
There are no reviews yet. Be the first one to write one.
See which share tip is making the headlines

Have you considered transferring your pension?

Find the best trading platforms
*Capital at risk