In this Fidelity review, I aim to provide you with an informative, impartial assessment of the Fidelity investment platform, based on my own findings and experiences, so you can make an educated decision about whether this is the best trading platform to meet your unique requirements. Over the course of this Fidelity review I have made every effort to highlight not only the positives about Fidelity, but also any negatives that I have come across when downloading and using the platform.
I also look at the products and investment options available at Fidelity including their ISA and SIPP offerings, as well as the charges and fees that you can expect to encounter.
Fidelity Investments set up shop in 1946 and in 1969 launched Fidelity International, servicing clients in the UK and Europe.. With clients around the world, Fidelity is a well-known global brand which has continued to grow with the recent acquisition of the Legal and General personal investing business in the autumn of 2020.
They are more a traditional ISA and SIPP provider and not necessarily a sort of digital maverick. Their 50-years of experience explains why Fidelity still offers personalised services, like phone service, in person meetings, and access to relationship managers as well as their online investment platform, even for clients who have less than five figures in their accounts.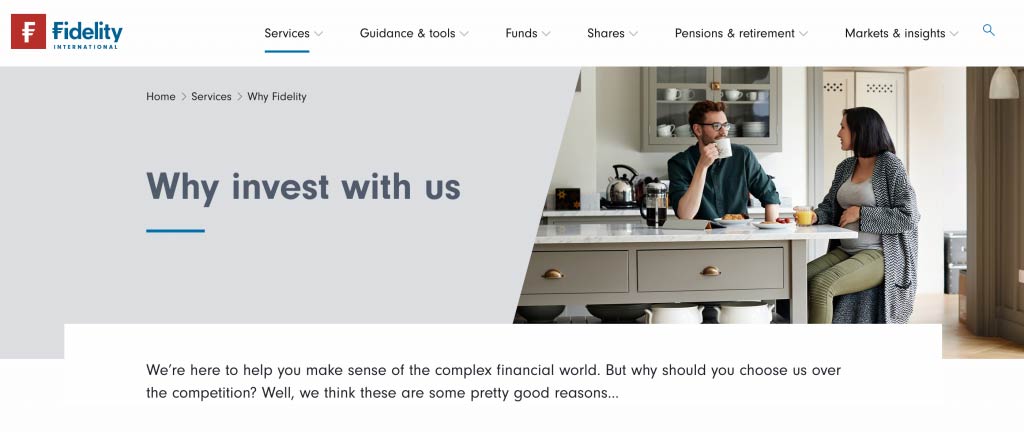 Who is Fidelity Investments
Fidelity Investments is a brokerage firm providing a wide range of stocks, bonds and mutual funds to retail investors through retirement and non retirement accounts. Established in 1946 as a mutual fund company, Fidelity Investments launched their international arm in 1969 which today services more than 2.5 million users across the globe.
Who Owns Fidelity Investments?
Fidelity Investments is privately owned by CEO Abigail Johnson and her family that owns 51% of shares, the remaining 49% is owned by current and former employees.
Should you go with a provider who's 'Old Dependable' as your online broker? Or is your investment style better suited to the innovators whose aim is to shake things up? I walk you through Fidelity's product below.
Fidelity Investments Accounts Available
Fidelity.co.uk offers the standard investment and retirement accounts including:
Stocks and Shares ISA
SIPP
Investment Account including Index Funds and Mutual Funds
Fidelity Junior ISA
Junior SIPP
Cash Management Account
The international arm of Fidelity focuses solely on investment banking and wealth management, so you won't find traditional savings accounts here, however for US citizens there is the option of Checking Accounts and Credit Cards via a US Fidelity account, similar to TD Ameritrade and Charles Schwab.
The Fidelity Cash Management Account is a holding account, useful for moving money between other accounts and paying fees. Fidelity doesn't charge any fees for money held in this account and because it's not invested, your funds will remain the same as opposed to fluctuating with the stock market.
Fidelity also doesn't accept the transfer of Lifetime ISAs; it provides stocks and shares and Junior ISAs only.
Fidelity Accounts vs Interactive Investor and Hargreaves Lansdown
| Account Type | Fidelity | Interactive Investor | Hargreaves Lansdown |
| --- | --- | --- | --- |
| Investment Account | Yes | Yes | Yes |
| SIPP | Yes | Yes | Yes |
| Stocks and Shares ISA | Yes | Yes | Yes |
| Cash ISA | No | No | No |
| Lifetime ISA | No | No | Yes |
| Junior SIPP | Yes | No | Yes |
| Junior Stocks and Shares ISA | Yes | Yes | Yes |
| Cash Management Account | Yes | No | No |
Fidelity Investment Options
Fidelity offer the following investment options:
How does this compare to the competition? Below I have listed the investment options available at Fidelity compared to Interactive Investor and Hargreaves Lansdown.
| Investment Option | Fidelity | Interactive Investor | Hargreaves Lansdown |
| --- | --- | --- | --- |
| Stocks | Yes | Yes | Yes |
| ETFs | Yes | Yes | Yes |
| Mutual Funds | Yes | Yes | Yes |
| Forex | No | No | No |
| Bonds | No | Yes | Yes |
| Options | No | No | No |
| Futures | No | No | No |
| CFDs | No | No | Yes |
| Crypto | No | No | No |
As a product portfolio, I found this is a little limited, with no bonds, options trades, futures or CFDs to choose from. Only stocks and ETFs traded on the London Stock Exchange are included which is a thin offering when compared to Interactive Investor or Hargreaves Lansdown, however, the selection of over 3,000 mutual funds is extensive and includes a range of mutual funds provided by BlackRock and Vanguard as well as their own mutual funds.
If you are looking for a mutual fund that allows you to invest in line with ESG principles then Fidelity have a great selection, including the Liontrust Sustainable Future Global Growth Fund which is one of my top picks for best ethical investment fund.
In addition to this, Fidelity offer access to over 180 Investment trusts from various providers as well as a decent range of penny stocks.
Fidelity Platform Review
The desktop platform at Fidelity is well designed and easy to navigate with a two-step login for your security. There is a good level of search functions available to help you locate assets or tickers and these can be filtered to show only mutual funds and investment trusts or ETFs.
I was disappointed to see the lack of alerts and notifications on the desktop platform, however, I'm hoping these will be rolled out in future updates. That being said, the overview of your investments and how they are performing is informative and easy to access.
Active Trader Pro
For active traders who have heard of Fidelity's Active Trader Pro interface, it provides a more comprehensive set of features which includes charting functionality and trade tools. However, Active Trader Pro is currently only available through Fidelity Investments, the US arm of the business, and investors in the UK can not access this level of usability which seems a shame. I'm hoping Fidelity will correct this and launch Active Trader Pro for active traders in the UK soon.
Fidelity Mobile App
Fidelity provides a well designed mobile app that features two-step authentication as well as biometric authentication. Again, I found a distinct lack of alerts which won't help Fidelity keep up with the competition, however, their speed times have really improved with the latest update which is good to see. Still, I didn't find the mobile app as slick as some of the other robo advisers out there and getting to the watchlist in order to access portfolio reports is a little arduous. That being said, they are scoring a respectable 4.5/5 from customer reviews on the app store although a lot of users report the lack of landscape format as an issue for the client experience.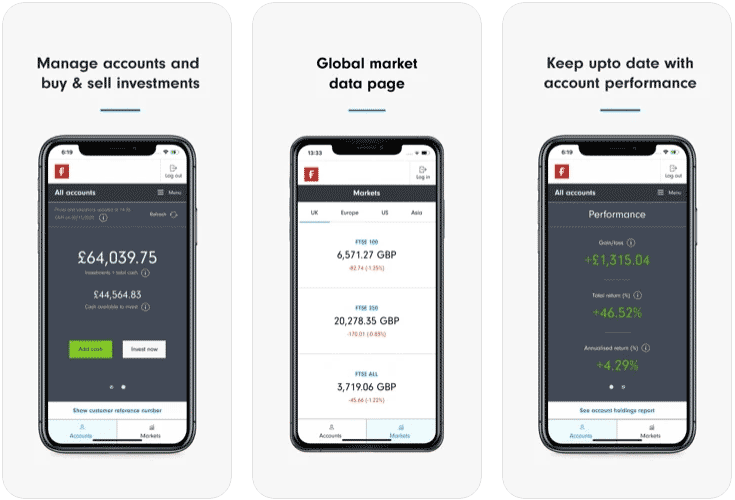 Fidelity Research Services & Tools
Fidelity offers a helpful introduction to investing geared towards customers with a focus on retirement planning.
The trading platform provides a combination of retirement planning calculators, introductory videos about investing with fidelity, and guides that promote the ease and value of taking control of your pension via a SIPP account. There's also a tool that helps you identify the best account for your needs and provides helpful charts to compare investments.
The research tools are geared towards those who aren't otherwise regular investors and they break down data using easy comparisons — even if you don't consider yourself someone who is 'good with numbers.'
We like that they offer more comprehensive views of investments without skipping some of the tools that make their competitors so attractive for first-time investors. For example, the PathFinder tool helps you choose a fund according to your preferred risk and whether you're looking for growth or income funds.
The Investor Finder tool also gives you a road map through other types of personal finance investments offered, including funds, shares, ETFs, mutual funds and investment trusts. Simply choose the investment type that best suits you and then use the filter function to find your ideal match.
For those who are already more involved with their accounts, Fidelity also provides market news, including a daily market review and a regular podcast. The team also delves into investment ideas, personal finance, and insights into the company's own market perspectives. These published items are useful, and the team of writers are largely veteran journalists with decades of experience in financial reporting, and it shows.
Beyond this, Fidelity has an internal commitment to providing proprietary insights via their online broker investment platform. The scale of the company means that its portfolio managers and financial analysts do their research in the field rather than through an RSS feed of aggregated online news. The in-house research team provides insights on 90% of fund holdings, giving portfolio managers plenty to work with.
In other words, whether you choose to take control of your accounts or put your trust in the hands of one of Fidelity's advisors, you can be sure that you'll enjoy a research-focused approach to investing.
Fidelity Fees & Charges
Fidelity charges an annual fee on a tiered structure according to the value of your investment. Although Fidelity claims the account fee structure is simple, it does have more caveats than other services.
Let's begin with the charges Fidelity doesn't apply. There are no charges for the following transactions:
Set-up
Annual
Account closure
Fund switching
Fund transfer
Tax relief re-investment into funds
Exit fees
Fidelity also leaves behind most pension charges, like administrative charges on drawdown accounts, transfer charges, and pension splitting on divorce.
The complications begin once fees are introduced.
For example, accounts valued at less than £7,500 pay £45 a year (or £3.75 a month) in fees. However, the fee changes to 0.35% if you use a monthly regular savings plan and invest £50 a month or more (even if you only have a few thousand pounds in the account).
The fees aim to encourage investors to save regularly, and £50 a month for retirement seems like a small ask. However, it does hurt people who invest in a lump sum, such as through their tax refund or through an inheritance structure, and those who can't commit to £50 every month.
The next tier is Fidelity's standard service fee: 0.35% for accounts worth between £7,500 to £249,999.99.
Once you reach £250,000, then you enjoy a significantly lower rate of 0.2% up to £1 million. There's no further fee assessed on anything above £1 million.
However, the fees differ for Junior ISA and SIPP products: these accounts pay £25 a year on investments under £7,500. Additionally, the £25 fee applies even when you have multiple accounts. So if you have an account with £5,000 and another with £3,000 in it, then you pay £25 per account even though both accounts feature a total of over £7,500.
Fidelity also assesses fund management fees on relevant accounts.
The cost for managing funds begins at 0.06%, and these fees depend on the individual fund's characteristics to include:
Bid-offer spread
Performance fee
Fund manager buy/sell charge
Finally, you'll pay share dealing charges (including investment trusts and ETFs) for each transaction.
Although Fidelity charges a levy of £10 per deal (when made online), this can be quite expensive. Other providers, like Hargreaves Lansdown, tier the charges to give those who are more hands-on a break. There's no winning or losing with Fidelity's £10 deal charge: it's a simple flat fee. Whether or not it benefits or hurts you depends on how often you intend to deal shares. You know yourself what the fee will mean for you.
Phone trades come at the steep cost of £30 per deal.
Fidelity vs Hargreaves Lansdown Fees
|   | Fidelity | Hargreaves Lansdown |
| --- | --- | --- |
| Minimum deposit | £1,000 | £1 |
| Standard Platform Charge | 0.35% | 0.45% |
| Trading fee | £10 | £11.95 |
It is worth noting that with the flat fee of £45 per year for portfolios of less than £7,500, this makes Fidelity an expensive option for small portfolios.
Opening an Account with Fidelity
You can open all available accounts online with only a few pieces of information:
National Insurance number
Debit card details (for a lump sum payment)
Bank details (for a regular savings plan)
All new accounts require a minimum initial investment of £50.
During my Fidelity review, I was able to be verified electronically, which made the whole process quick and easy, however, should electronic verification fail for you, you will find the process a little clunky with the requirement to send hard copies of your documentation via the post.
Transferring Your Investments to Fidelity
Transferring your investments is easy and can be done mostly online in a few minutes. (Though, it takes weeks for the transaction to reach completion.) You need the same details as you open an account with (e.g., NI number, contact details) as well as the details of your current provider.
Before initiating a transfer, you should use the Fidelity Investment Finder tool to see if the investment you want to transfer is also available with Fidelity.
Existing stocks and shares ISAs can be transferred to Fidelity. If Fidelity doesn't offer the same stocks and shares, it sells those assets and then places them into your Fidelity ISA as cash so you can reinvest it.
Note: Fidelity doesn't allow you to transfer in a Junior ISA from another provider.
We like that Fidelity offers to cover exit fees on investments moved to Fidelity and held through the Personal Investing service. It won't apply to all accounts, and you should read the T&Cs. However, it can save some investors up to £500 on fees.
It's worth noting that if you choose to transfer out of Fidelity, there are no exit fees. However, you may face a transaction fee, including fund sell charges.
.
Fidelity ISA Review
Fidelity's Investment ISA is a popular product that offers plenty of choice to those who want it and also gives you access to expert guidance when you need it.
As a Fidelity Stocks and Shares ISA account holder, you can choose from over 3,000 funds and a significant number of UK shares, bonds, ETFs and trusts. Your experience can be as independent or plugged in as you like, by either selecting your own investments or choosing a ready-made package via the investment platform.
The combination of the two offers the best of both worlds. For example, Virgin Money only allows you to choose from one of five funds. At the same time, other services require you to put all the work yourself, which can be too much of a burden for new investors.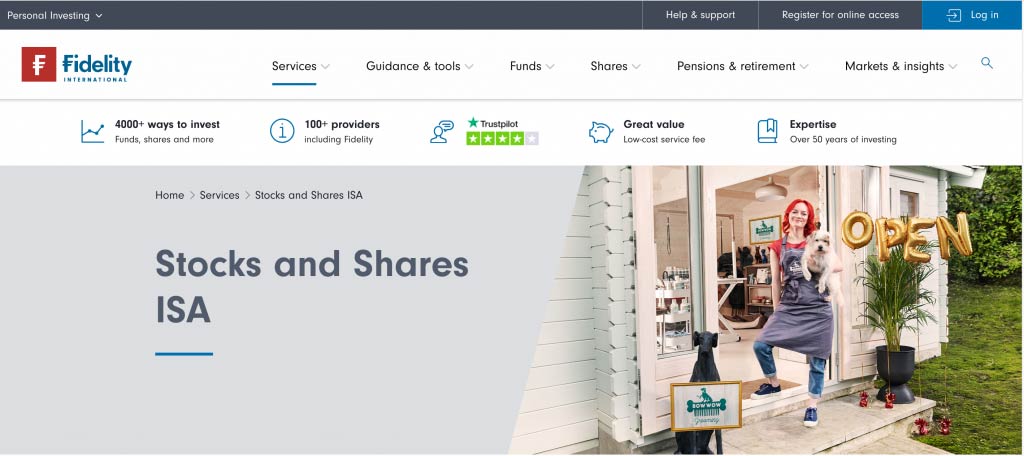 Perhaps the biggest issue for new investors is the minimum account value. You either need to commit to £50 a month which is a very low barrier to entry and you can even deposit via credit card (get those points!) or you need to pay in a minimum of £1,000 lump sum. So, if you have £500, you can pay it in instalments but you can't deposit it into a new brokerage account. The lack of flexibility with this is somewhat unique compared to the more 'online competitors,' and it may be off-putting, particularly given that the fees for accounts under £7,500 are so high.
For example, if you agree to deposit £50 a month, then half of one of those monthly payments will come out of your account as a service fee (roughly £21). The fee also doesn't improve until you reach £250,000, and it doesn't include any adviser fees.
Fidelity SIPP Review
Fidelity's SIPP product offers the same access to the 3,000 funds and other investments offered through its SIPP. You'll also get access to the planning tools and insights found across the Fidelity brand.
The barrier to entry is lower for the SIPP product: it requires that you save £40 a month at a minimum to hold a brokerage account with Fidelity. However, the lump sum option is also available.
One of the standout features is that Fidelity's SIPP also offers zero drawdown fees. The lack of drawdown charges along with the 0.35% fee may make it attractive compared to providers like James Hay or Selftrade (now EQi), both of which charge an annual drawdown fee of over £100 in addition to the trading platform fee.
Customer Support
Fidelity's status as a global brand and investment powerhouse shows in its customer support. The provider's customer support and access to professional staff compares to Hargreaves Lansdown (though, HL does charge 0.5-1.0% more in fees than Fidelity).
Fidelity is one of the few brokers who will meet clients in person without the need to hire a personal financial or investment advisor. The company opened an Investor Centre in London (111 Cannon Street) to do just that. Customers can pop into the office to ask questions, seek tax and account information, and attend free individual retirement consultations with Fidelity's advisers.
These face-to-face sessions exist for customers to work out the correct account options or learn about retirement plans. A free retirement consultation will provide you with:
Information about approaching retirement
Fidelity Investment accounts options
Income options at retirement
Pension facts (including tax rules)
Practical advice about personal finance Investment strategy guidance
Saving Accounts available
Pension consolidation guidance
They won't include regular or ongoing personalised investment advice. Though, you can seek it through other relationship managers. Even still, the free service is valuable as the team will also help you with standard legal documents, like Power of Attorney forms.
Fidelity International Review Bottom Line
Fidelity is a well-established global name, and you can expect access to exceptionally well-researched resources and advice that even offers a level of personalisation not available from online or robo-investors.
That being said, the fees and services cater to those with relatively mature accounts. The annual fee is very expensive for someone who is just starting out: you wouldn't necessarily want to open your first account here or transfer an existing ISA or SIPP until it's worth at least £10,000 — if not more. If you're investing only the minimum, you could spend a significant portion of one month's deposit just on the fee.
However, if you want the kind of handholding needed to make the most of a new account, you will get it from Fidelity. What's more, Fidelity offers some really helpful features, like retirement planning meetings also offered by competitors like Hargreaves Lansdown, but at a lower price (Fidelity charges 0.35% on accounts under £250,000 and HL levies a 0.45% fee).
Those who are serious about saving and intend to build their portfolio quickly (from the ground up) may find that Fidelity is a happy medium between the low-cost investment providers and the high-fee wealth management advisers.
Useful Information
Below I have provided some useful information to make your experience at Fidelity Investments as seamless as possible.
How do I Close my Account at Fidelity International?
Log into your account, click "Manage Investments" and select "Buy, Sell or Switch". From here you can sell down your investments and withdraw your cash.
How to Withdraw Money from Fidelity International?
Super simple, just log in to your account, click "My Accounts" and then select "Manage Investments", from here you can click "Withdraw Cash"
How to Contact Fidelity International?
From the UK you can call: 0333 300 3350 or send a secure message from the portal once you have logged in.
How Safe is Fidelity International?
With over 2.4 million clients globally and over £305.9 billion in client assets and founded in 1946, Fidelity Investments is big and stable. Apart from that in the UK it is regulated and supervised by the UK FCA and in the US the Better Business Bureau.
Is Fidelity Any Good For Beginners?
This very much depends on the size of your investment pot, as with a flat fee of £45 for investments of less than £7,500, this can work out to be an expensive option. That being said, they provide a handy section of their website which is geared towards helping beginners make the right decisions.
Fidelity Customer reviews
Most recent reviews:
I had tried an investing app before, and hadn't enjoyed the experience. Fidelity was recommended to me, and I found it incredibly easy to use, and very transparent with its fees. It is very easy to invest, withdraw, and also move money between funds. I have been using it for around 4 years or so, and have recommended it to others. It's not only the ease of use, I find the company to be reliable and trustworthy
using the app is simple. the process of adding money , buying funds is seemless and straightforward. the app provides excellent tools for monitoring performance. family accounts can be linked to provide an overall summary
Quick and easy to use. Application process is relatively straight forward. Depositing and withdrawing funds is also quick and simple. Regular updates. Variety of choice of investment options is good.
See which share tip is making the headlines

Have you considered transferring your pension?

Find the best trading platforms
*Capital at risk