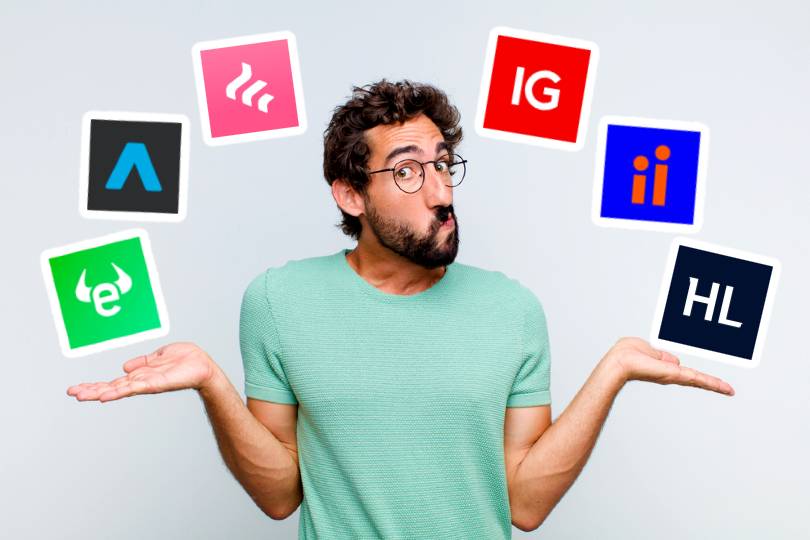 Our UK investment platform comparison tool compares all the best UK stock broker and trading platform ratings, features, and fees easily for you to make your decision on which investment platform to choose.
You can filter the best UK investment broker selections and compare investments available, the fees, tools available, education, customer service contact details and more.
Overall Rating
Platform
Ratings

Deposit and withdrawal:

50%

Markets and products:

40%

Deposit and withdrawal:

90%

Markets and products:

70%
Fees
Platform

Minimum Deposit

The minimum amount required to open an account

£1

£1

Minimum Trade

The minimum amount to trade or buy shares

£1

£10

ETFs Fee

Fee per ETF trade

£0

0.50%

Investment Trusts Fee

Fee per investment trust trade

NA

NA

Junior S&S ISA Fee

Subscription fee per month and the platform fee

NA

NA

Non Trading Fee

Fee for not trading in a period

£0

£0

Stocks & Shares ISA Fee

Subscription fee per month and the platform fee

£3 monthly

£0

Telephone Dealing Fee

Fee for trading over the telephone

NA

NA

Withdrawal Fee

Fee for withdrawing funds from your account

£0

£0
Platforms & tools
Platform

Android App

An Android app available in the Google Play store

Copy Trading

Offers the ability to copy other traders portfolios

Demo Account

Offers a demo account

iPhone App

An app available for download from the iOS app store

Islamic Account

Does the platform offer a sharia compliant Islamic account

MetaTrader 4

Offers the MetaTrader 4 trading platform solution

MetaTrader 5

Offers the MetaTrader 5 trading platform solution

Social Trading

Offers the ability to share your trades on social media

Stock Alerts

Ability to set price alerts, volume alerts

Web Platform

Offers a web-based browser trading platform
Investments available
Platform

Auto Investing

Ability to set auto-investing options, usually per month

CFD Trading

Offers CFD trading

Corporate Bonds

Offers corporate bonds

Crypto

Ability to buy and sell cryptocurrency

Ethical Investments

Offers ethical investment themed funds and ETFs

ETFs

Ability to trade ETFs

Forex

Able to trade Forex

Fractional Shares

Able to buy fractional shares

Funds

Able to buy funds

Government Bonds (Gilts)

Able to buy government bonds and Gilts

Investment Trusts

Able to buy investment trusts

Junior S&S ISA

Able to buy a junior stocks and shares ISA

General Investment Account (GIA)

Able to buy and sell shares

Spread Betting

Able speculate on rising and falling of financial markets

Stocks & Shares ISA

Able to buy a stocks and shares ISA
Research
Platform

Research - Shares

Has share trading research available

Research - CFDs

Has CFD research available

Research - Funds

Has funds research available

Research - ETFs

Has research available for ETFs

Research - Bonds

Has research available for bonds
Customer service
Platform

Phone

Main phone number for customer services

NA

NA

Live chat

Has live chat available

Chat in app

NA

Email

Main email address for customer services

NA

24/7 Availability

Available 24/7 for customer services

No

Yes

TrustPilot Rating

The TrustPilot rating of the platform

4.3

4.6

Twitter

The Twitter account for the platform

https://twitter.com/freetrade

https://twitter.com/trading212/
Education
Platform

Share Trading Guides

Has guides on share trading

Funds Education

Has guides on trading funds

Retirement Education

Has guides and education on retirement

Podcasts

Has podcasts available

Videos

Has videos on education available
What is an investment platform?
Whilst the stock market was historically difficult to access for retail investors, this has all changed with the emergence of online investment platforms.
Put simply, they are a piece of software that provide access to financial instruments listed on the stock market, which you can then place in an account of your choice, be it a stocks and shares ISA, SIPP, or General Investment Account.
Developers of these investment platforms have aimed to make them as user-friendly as possible, with the original onus of desktop trading being gradually replaced by mobile trading in the form of investment platform apps. It is now estimated that approximately 9 million users are now trading from an investment app.  Typically these are retail investor accounts looking to build a self invested personal pension or save for a life event such as a first home or university.
What is investment trading?
Investment trading is the act of buying and selling financial instruments with the express aim of making a profit. Investment traders will buy and hold assets for months or years until the price is right to sell.
What is a stock?
A stock is a share in a company. When you buy a stock in a company, you will then own part of that company and any increase in the value of the company will be reflected in the value of your portfolio.
Stocks represent one type of financial instrument. Other assets include EFTs, mutual funds, CFDs, and options.
How do I buy stocks?
The first step toward buying stocks is to register an account with an investment platform using your personal information and National Insurance Number. My guide here will help you decide which platform is most suited to your level of experience and needs.
Next, you will be required to fund your account using a debit or credit card or bank transfer. Once you have funded your account you can use the search function to find the stock you are interested in and then choose the amount you wish to purchase.
What is an investment ISA?
An investment ISA, otherwise known as a stocks and shares ISA, is an account whereby any financial gains made are free from tax. ISA stands for Individual Savings Account, and whilst anyone over the age of 16 with a National Insurance Number is free to open an ISA, there are strict rules governing their usage.
You can open a stocks and shares ISA in addition to a Lifetime ISA, and a Cash ISA.
You can only pay into one stocks and shares ISA in any one financial year.
The maximum amount you can pay into an ISA for the tax year 2022-2023 is £20,000.
Any unused ISA allowance will be lost at the end of the tax year and cannot be carried into the next financial year.
You can choose to make a lump sum investment, or alternatively, make regular or ad-hoc contributions throughout the year.
You are at liberty to open one new stocks and shares ISA with the provider of your choosing each financial year.
What is the cost of an investment ISA?
There are potentially a few fees to be aware of when it comes to investment ISAs, although these will vary between providers.
Platform fee – This can be annual or monthly and can either be calculated as a percentage of your investment pot, or as a fixed fee. These platform fees are at the discretion of the provider and will therefore vary between investment platforms.
Fund management fee – Should you invest in a fund, you can expect to pay a small fee towards the cost of managing that fund. This is usually calculated as a percentage of your total investment in the fund.
Trading fee – This is the cost of buying or selling investments including funds, trusts, stock and ETFs (exchange traded funds). Some platforms have zero commission trading, which means they have waived this fee. However, for platforms with a trading fee, this is usually a flat sum, regardless of the value of the trade.
Transfer fee – This is also at the discretion of the platform with some platforms allowing users to transfer funds in and out of their ISA without any costs incurred.
What sort of fee structure is best?
Most providers will either charge a flat fee or a fee that is calculated as a percentage of your investment pot. Which of these is best for you will depend on the amount of money you intend to invest. For large investment pots, you would be best served using a fixed fee, however, fixed fees can start to erode gains on small investment pots, which would almost certainly be better served with a percentage fee.
If you are in any doubt, work out what you would be paying as a percentage of your investment pot and compare this to some of the fixed fees available.
How to select the best investment platform
When identifying the best online trading platform for your needs there are several aspects to take into consideration.
Fees
It's important that you select a platform that has a fee structure to suit your level of experience and investment amount.
For advanced and experienced traders, a higher fee can sometimes reap rewards in terms of advanced tools and features to aid your investment decisions. However, beginners with a small investment amount would probably be best suited to a low-cost provider with a simple and easy-to-use interface.
Be wary of any hidden fees such as withdrawal fees when making your selection.
Minimum investment
Depending on the sum of money you wish to start investing with, you may want to be aware of any minimum deposit required by the UK investment platform in question.
Tools and features
Charts, data and research tools can all help you make smarter investment decisions and therefore improve your outcomes. Make sure the platforms in the UK you are considering have access to the tools and features that would benefit you.
Education
Are you looking to improve and enhance your trading skills? Many platforms now offer robust education and some will even offer rewards for courses you complete.
Once you have identified which platform is best suited to your needs, I would strongly recommend you take advantage of the free demo account should this be something the platform offers.
A demo account gives you the opportunity to test the platform interface for usability and practice your investment skills using virtual money before risking any of your own funds.
What is the best investment platform in the UK?
Depending on the type of investor you are, and the amount of experience you have, I have identified the best investment platforms as the following:
IG – Best overall investment platform UK
eToro – Best for beginners and copy trading
Interactive Investor – Best for investing in funds and best for families
Freetrade – Best low-cost investment platform
Fineco – Best for frequent traders
What's the best trading platform for beginners UK?
eToro is my pick for the best trading platform for beginners in the UK. There are several factors that contributed to this choice including:
The robust copy trading facilities which can help less confident traders mimic the trades of more experienced and successful traders
The easy-to-use, streamlined interface
The free demo account to practice before risking any personal funds and good educational resources
The commission-free trading
However, eToro do not offer an ISA, so for beginners who require the tax efficiency of a stocks and shares ISA, I would recommend Freetrade who also provide zero-commission trading, with a very easy-to-use interface and access to a wide selection of financial assets.
What are the best investments in the UK?
The best investments in the UK will depend on your experience and appetite for risk as well as whether you are investing for the short or long term.
If you have a decent level of knowledge and experience then you may want to pick your own investments and manage your own investment portfolios. In this instance, you should aim to diversify across a variety of different asset classes such as shares and bonds, across different sectors and countries, such as emerging markets and developed countries. This can help even out peaks and troughs in the stock market.
For less experienced investors who would rather rely on the experience and expertise of others, there are two main options. Firstly, you can head to eToro and engage in copy trading, whereby you will automatically mirror the trader of your choice in all their trading activity. Therefore, their success will also be your success.
Alternatively, you could head to a platform like interactive investor or Hargreaves Lansdown and choose a fund, or several funds, that are being actively managed by a professional. Funds, including exchange-traded funds (ETFs), come with different risk levels to suit your appetite and are diversified for you as well as being continually tweaked to suit changes in stock exchanges.
What are ethical investments?
Ethical investments or socially responsible portfolios, are investments or investment funds that will only consider investing in companies that operate in a socially conscious way and avoid companies that are involved with stigmatised activities, such as gambling, alcohol, smoking or firearms.
What is the best platform for day trading UK?
Day trading involves making the most of moment-to-moment fluctuations in the financial markets in order to make a profit. It requires a platform with access to a good selection of research tools, advanced technical analysis and access to a variety of markets.
My two top picks for day trading are eToro and IG.
eToro has an excellent range of financial assets including cryptocurrencies and CFDs. Day traders will enjoy eToro's own research and analysis interface as well as their charting software which has over 100 technical indicators.
Another great feature at eToro is their thriving social community, where ideas and musings can be swapped with other day traders.
IG is one of the most established online trading platforms in the UK and popular with day traders, especially those interested in spread betting which is of course free from any capital gains tax in the UK.
Whilst IG will cost a bit more than eToro, they are still an inexpensive option for spread betting and CFD trading and their robust demo account offers the perfect environment to practice day trading free from any risk.
For experienced day traders, IG offer their own proprietary platform called ProRealTime. This has everything the professional could want including personalised watchlists, customisable indicators, automated trading tools, and forex signals. This platform will feel a little complex to less experienced day traders but is certainly a powerhouse for professionals.
What is a self-select ISA?
A self-select ISA is an account that allows you to invest in a range of financial assets whilst keeping your gains sheltered from the taxman. It gives the account holder complete freedom to pick the investments held within the ISA from either a range of individual assets or a ready-made portfolio of your choice.
The financial assets held within a self-select ISA can include stocks and shares, funds, gilts, bonds, investment trusts, unit trusts, Exchange-Traded Fund, Open-Ended Investment Companies (OEICs) and structured products.
With the exception of eToro, all the platforms in my list offer a self-select ISA.
Should I seek independent financial advice before investing?
Whether you should seek personal advice very much depends on how complex your finances are. As a general rule of thumb, you should not consider investing unless you have enough savings to last you three months and are free of any debt. Always remember that when investing, your capital is at risk and you should never invest more than you can afford to lose.
However, more complicated financial setups may benefit from the services of a financial advisor.
Enter your postcode to find a local financial adviser near you for FREE
All advisors are registered with the Financial Conduct Authority
100% GDPR Compliant. Please view our Privacy Policy.
Are investment platforms safe?
Yes, the platforms I have listed above are all heavily regulated and offer state-of-the-art security so you needn't be concerned about safety.
However, before you open an account, it is always worth checking whether the platform in question is regulated by the Financial Conduct Authority and whether your money is protected by the Financial Services Compensation Scheme.
FAQs
What are trading fees?
Trading fees are the charges levied by an online broker or advisor in the form of commissions for the use of their service. In the case of a platform, the trading fee will represent the cost to buy or sell any securities.
What are trading apps?
Trading apps and 
stock trading apps
 perform the exact same role as a desktop investment platform, however, they allow for the management of your investment portfolio from your mobile device. These mobile apps still provide the means to buy, hold and sell stocks and other assets, as well as view your portfolio and access tools and features such as charts and market research.
See which share tip is making the headlines

Have you considered transferring your pension?

Find the best trading platforms
*Capital at risk