AJ Bell You Invest began operating in 1995, and it's one of the best known brokers in the UK in part because of its groundbreaking nature. AJ Bell offered the first online SIPP back in 2000, and today, it boasts nearly 225,000 customers and manages assets worth over £50.7 billion.
As we show in our AJ Bell YouInvest review, the Youinvest platform is simple to use and well-recognised within the industry as a top performer. AJ Bell won the Best Online Investment Platform at the 2019 Your Money Awards. It also won Best investment Platform from the Investment Wealth Management Awards in 2018 and won Best Investment Platform for Personal Tax Calculations at the Investment Wealth Management Awards in 2019.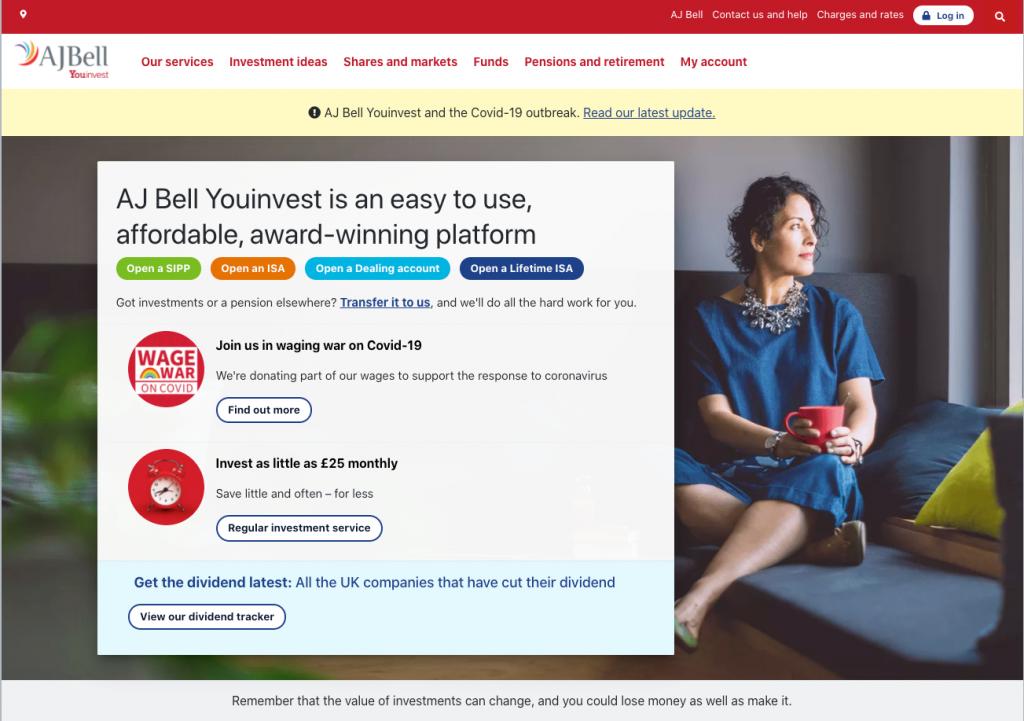 One of the standout features is the integration of the desktop platform into the mobile app. Although most platforms offer an app at this stage, the Youinvest app is more than just functional: it's also appealing and offers enough features that new investors may find they can manage their investments and take care of all online mobile trading needs. However, functionality does slow if you have several different holdings.
AJ Bell Investment Product Range
AJ Bell Youinvest as an online broker offers four primary products:
SIPP (Self-invested personal pension)
Stocks and Shares ISA
Lifetime ISA
Dealing accounts
The platform also offers Junior SIPPs and Junior ISAs for parents interested in saving for their children.
The star of the show is the SIPP personal pension option, which is both award-winning and AJ Bells most popular product.
When you open your account, AJ Bell gives you three options as you begin to make choices about your investments based on your personal circumstances, including:
Choosing pre-made and AJ Bell favourite funds and skip day-to-day investing decisions (the 'no hassle' option)
Use a pre-built portfolio and manage it on your own
Build a portfolio based on the list of funds provided through the investment tools (see the next section)
Research Services & Tools
The research tools available suit new investors and those who want to take control of their retirement funds or trading accounts for the first time. Like most platforms, the research data comes from Morningstar. You'll also enjoy several industry standard tools like:
Quickrank
Financial Market Diary
Dividend Dashboard
Portfolio Manager
X-Ray Vision
Account holders also have complete access to in-house content, which includes regular blog posts, videos, a weekly podcast, AJ Bell's Shares magazine. The magazine is more than company marketing material. It offers useful information and it's intelligently written, which is a welcome surprise. Indeed, most of the research compiled internally is helpful and applicable to investors with various backgrounds, so it is worth diving into their blog posts and videos if you are in the process of acquainting yourself with trading for the first time.
If you consider yourself to be a regular or savvy investor, then you may find the tools and charts middling at best. You have 10 technical analysis indicators and the option to add dividends and news events to your charts. However, you can't set stock alerts nor can you create and save individual charts or templates.
It's not hard to see why the firm pushes its hands-off and pre-packaged portfolios as doing the research to put together a comprehensive package would be cumbersome with the research tools on offer.
AJ Bell Trading Fees & Account Charges
AJ Bell Youinvest offers competitive pricing that's attractive to customers who are still in the early days of saving for retirement. To keep their products low cost, AJ Bell got rid of the vast majority of the fees including:
Account set up fees
Inactivity fees (the bane of all buy & hold investors)
Cash holding fees
Cash withdrawal fees
Additionally, regular dealing charges are £1.50 which is excellent for investors
The trading fees cater more to people who only want to make a few deals per month. Expect to pay a steep fee of £9.95 per deal for the first 0-9 trades each month. If you intend to use the account for regular trading, you may be better suited to a platform that bundles the trades, which lowers the cost of each transaction substantially.
It's also important to note that Youinvest does still assess an exit fee if you choose to leave. It hasn't taken the lead from competitor providers like Hargreaves Lansdown and done away with them entirely, which we think merits a substantial black mark on their record. Expect to pay a £25 transfer-out fee for each fund. Essentially, if you grow your portfolio to a point where it makes sense to go somewhere that caters to midsize to large accounts, then AJ Bell will make sure it costs you dearly.
Finally, you'll pay a hefty £29.95 fee for any deals you do via telephone rather than online. So, if you're the type who rings customer service regularly, you might find this platform doesn't cater to your needs.
AJ Bell ISA Fees
The ISA charges come with a shares custody fee of 0.25% of the value of the shares in your account with a maximum charge of £7.50 per quarter.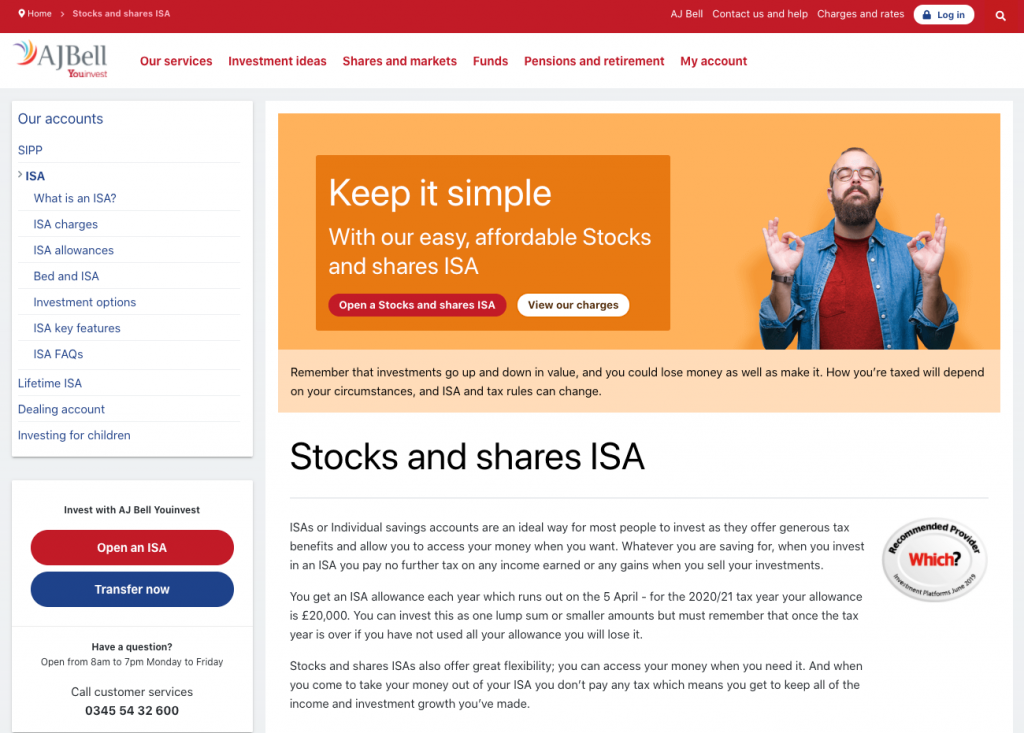 There is also a funds custody charge that scales as follows:
0.25% on the first £250,000
0.10% on £250,000 to £1 million
0.05% on £1 million and £2 million
No charge on funds valued over £2 million
No charge on cash
To buy and sell shares in an AJ Bells Stocks and Shares ISA, you'll pay:
£1.50 for funds online
£9.95 for shares online
£4.95 for shares when you made 10 or more share deals the previous month
If you hold cash in your ISA, you'll receive the following interest rates:
0.15% above £50,000
0.10% above £10,000
0% below £10,000
AJ Bell SIPP Fees
The SIPP fee includes a 0.25% shares custody charge with a maximum of £25 per quarter. There is also a funds custody charge that scales as follows:
0.25% on the first £250,000
0.10% on £250,000 to £1 million
0.05% on £1 million and £2 million
No charge on funds valued over £2 million
There are also no charges for cash holding.
Buying and selling investments is a bit steep:
£1.50 for funds online
£9.95 for shares online
£4.95 for shares when you made 10 or more share deals the previous month
The interest rates on cash SIPP accounts includes:
0.25% above £100,000
0.15% above £50,000
0.10% above £10,000
0% below £10,000
Opening a AJ Bell Account
Opening a AJ Bell Youinvest platform account is simple and takes under 10 minutes.
Before starting the application for an ISA, you'll need your National Insurance number and a way to fund your account, either a debit card or the details of the existing account that you want to transfer to YouInvest.
To apply for a SIPP, you'll need your NI number, employers details, and either a debit card or existing pension to fund the account.
Junior accounts require your NI number and your child's name and ideally their NI number, as well. One thing you may find is that you can only open one Junior ISA and that the software blocks you from opening a second one for a second child. It's unclear why this happens, but if you are interested in opening multiple investments, then you may want to call customer service and ask them to talk you through the process.
How to Transfer Investments to AJ Bell
You can transfer most existing SIPPs (or pensions) as well as ISAs to Youinvest.
To get started, you need to open the relevant account with Youinvest. You then have the option to enter the details of your existing account to initiate the transfer. Like most platforms, Youinvest then gets in touch with your current provider to initiate and finish the transfer.
Although Youinvest doesn't have an account origination fee, your current provider may charge you exit fees. However, you may be able to avail of offers from Youinvest to cover those costs. Youinvest's transfer offer is worth up to £500 and usually applies to accounts worth at least £20,000.
The transfer time takes 2 to 12 weeks depending on the type of investment involved. Cash only investments wrap up in around two weeks, but shares take four to six weeks. Anything held internationally takes up to 12 weeks.
AJ Bell YouInvest ISA Review
The Youinvest service offers three ISAs:
Stocks and shares ISA
Lifetime ISA
Junior ISA
AJ Bell focuses on ensuring its platform is cheaper than its competitors, but it does remain cost effective as your portfolio grows from the ground up. If you are desperate to find something cheaper, like Vanguard, you need to be prepared to lose some control: for example, Vanguard only allows account holders to invest in its funds.
The Stocks and shares ISA is the most popular ISA at Youinvest because it's easy to use and offers a fair amount of control without handing over the reins entirely. In addition to itsThe program allows you to choose your preferred investments from a wide range including stocks, shares, 2,000 funds, investment trusts, and ETFs.
However, the majority of customers end up choosing from 88 'favourite funds,' six passive funds, and four ready-made portfolios.
You'll need a minimum investment of £25 per month or a £500 initial deposit, and you'll pay £1.50 per deal within the ISA.
The Lifetime ISA is available to UK residents aged 18 to 39 who want to save for retirement or enjoy tax-free savings for a mortgage deposit. Youinvest offers the same proposition to these customers as to Stocks and shares ISAs, but you will adhere to the HMRC rules that apply to this type of fund.
AJ Bell YouInvest SIPP Review
The Youinvest SIPP is the company's flagship product, and if you wanted to transfer your accounts away from another provider, then the SIPP would be the product to migrate your account for.
The YouInvest SIPP product offers access to a wide range of investments, including shares, ETFs, investment trusts, and unit trusts. You'll enjoy benefits like:
Low annual custody charges
Low cost dealing
Invest as little as £25 per month
Tax relief
Great customer service
AJ Bell Customer Service
AJ Bell Youinvest provides excellent customer service and offers two UK-based customer service teams, so you can phone, chat online, or send an email and get an answer within hours. They operate between 8 AM and 7 PM Monday through Friday, which means you don't need to phone in from work.
The customer service experience is an important component of Youinvest because its where the fees begin to shine. Often, ultra-low cost services have appalling service, so when the A+ level of customer service provided here is worth considering when you're comparing AJ Bell with a lower cost platform.
Who is AJ Bell Suitable For?
So who should invest with AJ Bell Youinvest? We believe they cater to a specific demographic: people who want to save money on the costs of keeping a modest portfolio but who aren't finance professionals or who don't have an interest in more extensive trading.
The focus on AJ Bell funds and AJ Bell ready-made portfolios combined with the low fees make the accounts an attractive option. It's unfortunate that the provider charges an exit fee because it can be expensive for people with larger portfolios, who generally fare better with fixed fee brokers, like Interactive Investor.
If you're interested in comparing this AJ Bell Youinvest review with its closest competition, read our Interactive Investor and Hargreaves Lansdown reviews.

Overwhelmed with how to invest?
Connect with a Financial Advisor near you for FREE.
AJ Bell YouInvest FAQ
Who Owns AJ Bell YouInvest?
Founded by Andy Bell (still the current CEO) and Nicholas Littlefair in 1995, AJ Bell is now a publicly listed company on the FTSE250 (LSE:AJB)
How Safe is AJ Bell YouInvest?
If we look at the facts, AJ Bell is regulated by the UK FCA has over 240k UK customers and over £54.7 billion in client assets
How do I Close my Account at AJ Bell YouInvest?
The process is simple where all you need to do is contact customer support and they will walk you through the process
How to Withdraw Money from AJ Bell YouInvest?
Just log in to your account and click on "Withdrawals"and in our testing the money arrived in 4 days
How to Contact AJ Bell YouInvest?
Is AJ Bell YouInvest any Good?
AJ Bell YouInvest  is perfect for investors with small portfolios that are cost conscious