In this independent AJ Bell review I have made every effort to uncover both the positives and negatives of this investment platform so you can decide whether this is the best platform for you.
I've personally tested their ISA, SIPP and General Investment Accounts as well as their research and education and taken the time to compare their fees to similar platforms. Read my full review to discover why AJ Bell made it to my top spot for 'Best Trading Platform For Ease of Use'.
AJ Bell's platform began operating in 1995, and it's one of the best known brokers in the UK in part because of its groundbreaking nature.
AJ Bell offered the first online SIPP back in 2000, and today, it boasts nearly 295,000 customers and manages assets worth over £56.5 billion. It also has one of the more extensive suites of account options, catering to different investors of all levels of experience and ages.
As I show in my AJ Bell review, their platform is simple to use and well-recognised within the industry as a top performer.
In 2021 alone AJ Bell have won numerous awards including 'Best Platform 2021' in the Money Marketing Awards and 'Investment Platforms 2021' Which? Recommended provider and 'Self-Invested Personal Pensions 2021' Which? Recommended provider.
Deposit and withdrawal:
100%
Markets and products:
90%
Pros
User-friendly trading platform which is clear on phone, iPad and laptop
One of the cheapest options for small and medium portfolios
No account set up fees, inactivity fees, holding fees or withdrawal fees.
Cons
A fixed fee broker would be better value for larger portfolios
Cheaper investment platform fees are available.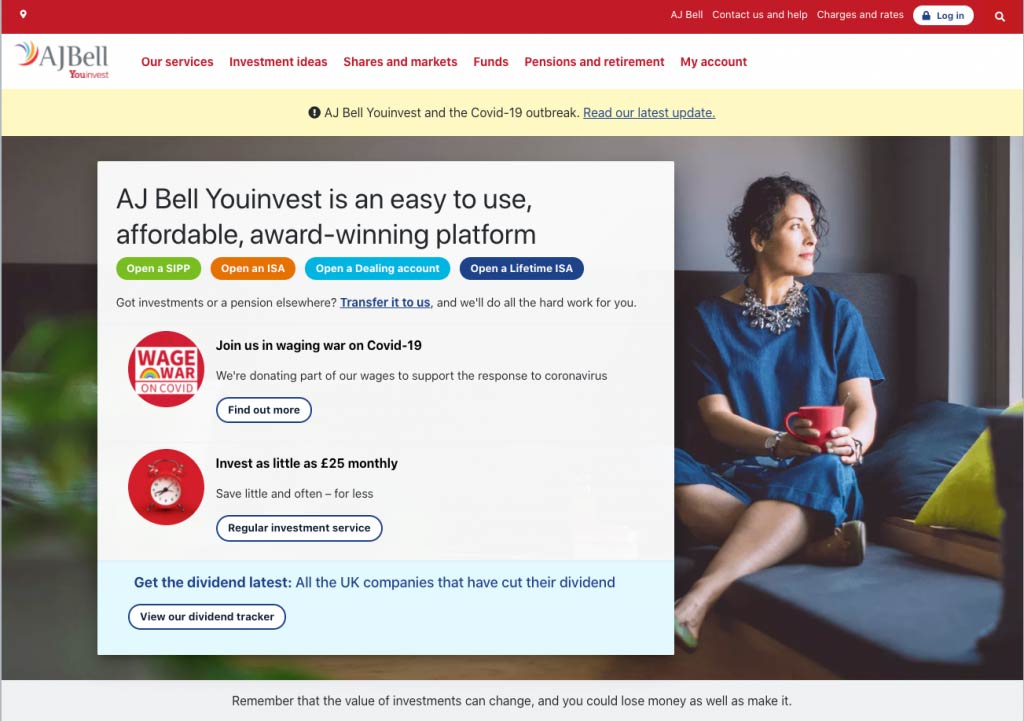 One of the standout features is the integration of the desktop platform into the mobile app. Although most platforms offer a mobile app at this stage, the AJ Bell app is more than just functional: it's also appealing and offers enough features that new investors may find they can manage their investments and take care of all online mobile trading needs. However, functionality does slow if you have several different holdings.
Who is AJ Bell?
AJ Bell is a publicly listed company on the London Stock Exchange that provides one of the UK's largest investment platforms to retail investors. They currently have £65.2 billion in assets under administration for 346,700 customers making them one of the financially strongest platforms in the UK.
Who owns AJ Bell?
AJ Bell was founded in 1995 by Andy Bell and Nicholas Littlefair. In 1918 the company floated on the London Stock Exchange for £675 million, at which time Fergus Lyons was awarded a significant stake in the company. Since then the company has tripled in value and today Andy Bell owns 22.7 per cent while Lyons retains 3.8 per cent in the company.
AJ Bell Product Range
AJ Bell as an online broker offers six primary products:
SIPP (Self-invested personal pension)
Junior SIPP
Stocks and Shares ISA
Junior Stocks and Shares ISA
Lifetime ISA
Share Dealing account
Note the investment platform offers Junior SIPP accounts and Junior ISAs for parents interested in saving for their children.These options aren't readily available on all the platforms and are therefore worthy of consideration.
The AJ Bell Dealing Account is a solid option for investors who have maximised their ISA and SIPP allowance for that year.
The star of the show is the SIPP personal pension option, which is both award-winning and AJ Bell's most popular product. I will go into each of these products in greater detail further down my review.
When you open your account, you can build a portfolio based on the list of funds provided through the investment tools. In addition, AJ Bell provides investment ideas to help you make choices about your investments based on your personal circumstances.
AJ Bell Passive Funds
Choose from eight low-cost AJ Bell passive funds and leave the day-to-day investing decisions to their investment specialists. With the AJ Bell Funds, your first choice will be whether you are investing for growth, income or responsible growth.
AJ Bell Growth Fund
The growth fund at AJ Bell throws up six risk options which include:
Cautious
Moderately Cautious
Balanced
Moderately Adventurous
Adventurous
Global Growth
For the purposes of this review, I have taken a more in-depth look at the Balanced Growth Fund. This fund consists of 61% shares to make up an aggressive asset for growth with 29% bonds which provide lower-risk assets for balance. This mix has a risk rating of 5 out of 10. The highest gain this particular fund has achieved is 23.9% in 2009 following the largest loss of – 17.42% in 2008.
AJ Bell Responsible Growth Fund
This fund has a risk rating of 7/10 with the asset allocation being made up of shares, fixed income assets like bonds, alternatives, and cash with shares making up 89% of the total allocation in order to achieve maximum returns whilst ensuring the fund remains focused on companies with a commitment to the environment and society.
Historically this fund has performed well with its best year being 2009 when it experienced gains of 29.78%. Notably, this fund returned a very respectable 4.22% in 2020, despite the pandemic.
AJ Bell Income Fund
Built to provide you with a consistent income of 4% per year, this fund carries a moderate risk level of 5 out of 10. It contains 61% shares and 33% bonds. Historically this fund has performed well with its highest gain an impressive 20.9% in 2016. Whilst the fund did experience a loss of – 14.9% in 2008, this was true of a lot of funds that year, and in 2020 they managed to sustain a gain of 3.4% despite the upheavals thrown up by the pandemic.
AJ Bell Favourite Funds
This offers investors more of an active approach, without having to spend hours researching individual companies and stocks. AJ Bell claims to carefully select funds for inclusion that are economical, achievable and proven when compared to benchmarks and peers.
To help you make your selections, AJ Bell have provided a handy tool to filter the funds by type, sector, and investment goal.
AJ Bell Ethical Investment Fund
This fund returned 240% in the last ten years prior to 2022 and is available using AJ Bell's excellent user interface on the investment platform at a fund cost of 0.79%.
AJ Bell Research Services & Tools
The research tools available could be useful for new investors and those who want to take control of their retirement funds or online trading accounts for the first time. Like most platforms, the research data comes from Morningstar.
You'll also enjoy several industry-standard tools like:
Quickrank
Financial Market Diary
Dividend Dashboard
Portfolio Manager
X-Ray Vision
Account holders also have complete access to in-house content, which includes regular blog posts, videos, and a weekly podcast. AJ Bell customers can also read the free Shares magazine when maintaining a balance of £4,000 across their accounts. The magazine is more than company marketing material. It offers useful information and it's intelligently written, which is a welcome surprise. Indeed, most of the research compiled internally is helpful and applicable to investors with various backgrounds, so it is worth diving into their blog posts and videos if you are in the process of acquainting yourself with trading for the first time.
If you consider yourself to be a regular or savvy investor, then you may find the tools and charts middling at best. You have 10 technical analysis indicators and the option to add dividends and news events to your charts. However, you can't set stock alerts nor can you create and save individual charts or templates.
It's not hard to see why AJ Bell offer its hands-off and pre-packaged portfolios as doing the research to put together a comprehensive package would be cumbersome with the research tools on offer.
Remember, the value of investments can go down as well as up and you may get back less than you originally invested.
AJ Bell Trading Fees & Account Charges
AJ Bell offer competitive pricing that could be attractive to customers who are still in the early days of saving for retirement.
To keep their products low cost, AJ Bell got rid of the vast majority of the fees including:
Account set up fees
Inactivity fees (the bane of all buy & hold investors)
Cash holding fees
Cash withdrawal fees
Exit fees
Additionally, the charge for their regular investment services is £1.50 per deal which is good value for investors
The trading fees cater more to people who only want to make a few deals per month. Expect to pay a steep fee of £9.95 per share deal for the first 0-9 trades each month. If you intend to use the account for regular trading, you may be better suited to an investment platform that bundles the online trades, which lowers the cost of each transaction substantially.
Finally, you'll pay a hefty £29.95 fee for any deals you do via telephone rather than online. So, if you're the type who rings customer service regularly, you might find this investment platform doesn't cater to your needs.
The ISA charges come with a shares custody fee of 0.25% of the value of the shares in your account with a maximum charge of £7.50 per quarter (Maximum £3.50 per month from January 2021)
There is also a funds custody charge that scales as follows:
0.25% on the first £250,000
0.10% on the next £250,000 to £500,000
No charge on funds valued over £500,000
No charge on cash
From 1st July 2022 AJ Bell have introduced payaway rates to be levied on any cash held in accounts. These are as follows:
| Cash balance | Interest rate (AER) |
| --- | --- |
| Above £100,000 | 0.15% |
| Above £50,000 – £100,000 | 0.10% |
| Above £10,000 – £50,000 | 0.05% |
| Below £10,000 | 0% |
To buy and sell investments in an AJ Bell Stocks and Shares ISA, per deal you'll pay:
£1.50 for funds online
£9.95 for shares online
£4.95 for shares when you made 10 or more shares deals the previous month
There is also a dividend reinvestment charge of £1.50 per deal.
Opening an AJ Bell Account
Opening an AJ Bell platform account is simple and takes under 10 minutes.
Before starting the application for an ISA, you'll need your National Insurance number and a way to fund your account, either a debit card or the details of the existing account that you want to transfer to AJ Bell.
To apply for a SIPP, you'll need your NI number, employer details, and either a debit card or existing pension to fund the account.
Remember, the value of investments can go down as well as up and you may get back less than you originally invested.
Junior accounts require your NI number and your child's name and ideally their NI number, as well. One thing you may find is that you can only open one Junior ISA and that the software blocks you from opening a second one for a second child. It's unclear why this happens, but if you are interested in opening multiple investments, then you may want to call customer service and ask them to talk you through the process.
Capital at risk. Pension rules apply.
How to Transfer Investments to AJ Bell
You can transfer most existing SIPPs (or pensions) as well as ISAs to AJ Bell.
To get started, you need to open the relevant account with AJ Bell. You then have the option to enter the details of your existing account to initiate the transfer. Like most platforms, AJ Bell then gets in touch with your current provider to initiate and finish the transfer.
Although AJ Bell doesn't have an account origination fee, your current provider may charge you exit fees. However, you may be able to avail of offers from AJ Bell to cover those costs. AJ Bell's transfer offer is worth up to £500 per customer and to be eligible the account being transferred must be valued at £20,000 or more. Make sure you check the terms and conditions of the offer.
The transfer time takes 2 to 12 weeks depending on the type of investment involved. Cash-only investments wrap up in around two weeks, but shares take four to six weeks. Anything held internationally takes up to 12 weeks.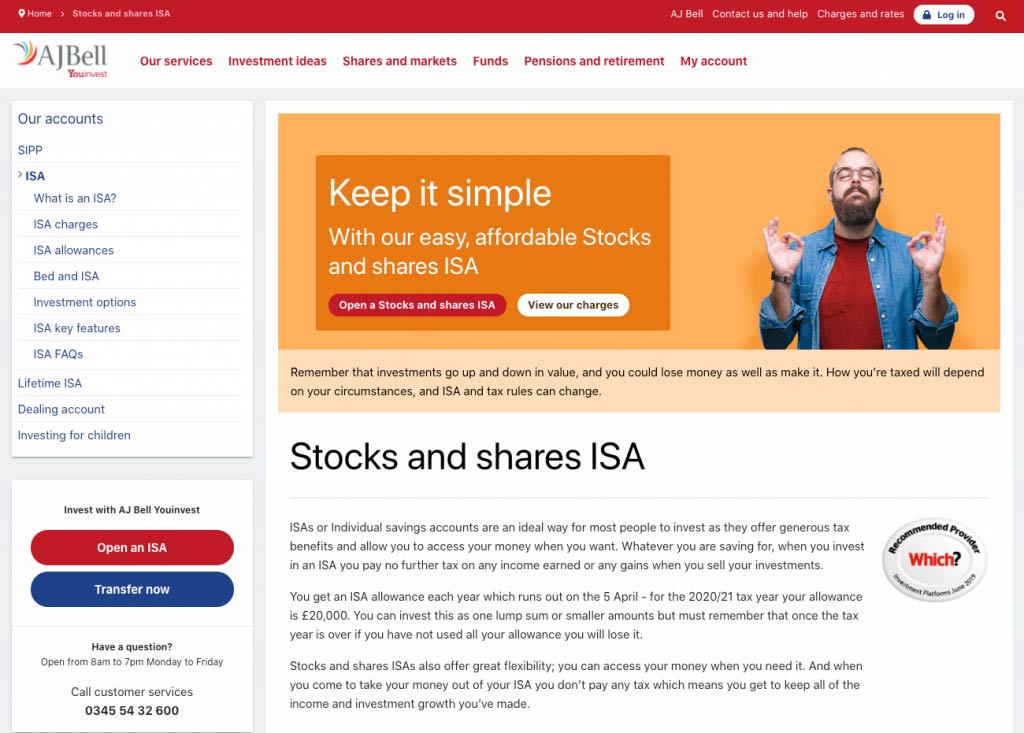 AJ Bell ISA Review
AJ Bell offers three ISAs:
Stocks and shares ISA
Lifetime ISA
Junior ISA
AJ Bell focuses on ensuring its investment platform is cheaper than its competitors, but it does remain cost-effective as your portfolio grows from the ground up. If you are desperate to find something cheaper, like Vanguard, you need to be prepared to lose some control: for example, Vanguard only allows account holders to invest in its funds.
The Stocks and Shares ISA is easy to use and you can choose your investments from a wide range including stocks, shares, 2,000 funds, investment trusts, and Exchange Traded Funds.
The Lifetime ISA is available to UK residents aged 18 to 39 who want to save for retirement or enjoy tax-free savings for a mortgage deposit on their first home. AJ Bell offers the same proposition to these customers as to stocks and shares ISAs, but you will adhere to the HMRC rules that apply to this type of ISA.
AJ Bell also feature as my Best Stocks and Shares Lifetime ISA which you can read about in my Best Lifetime ISA guide.
Capital at risk. Pension rules apply.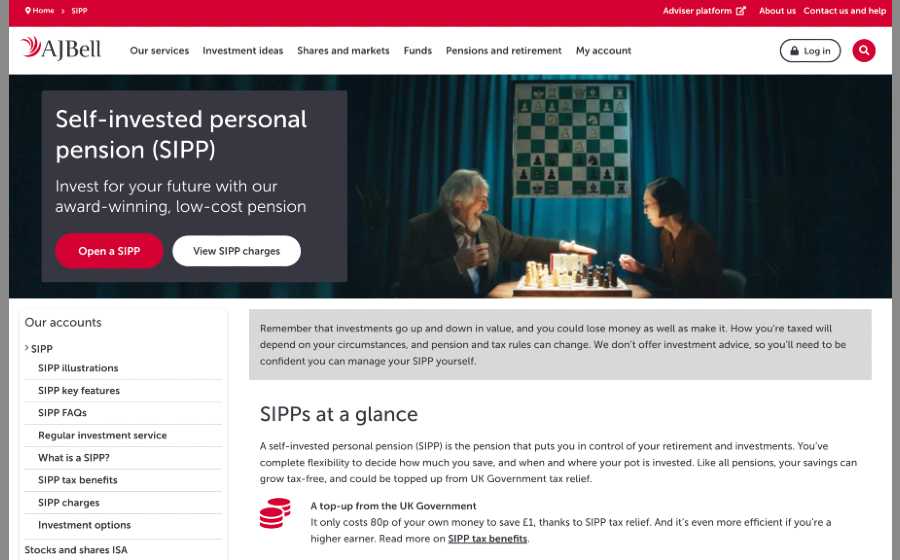 AJ Bell SIPP Review
The AJ Bell SIPP is the company's flagship product, and if you wanted to transfer your accounts away from another provider, then the SIPP could be the product to migrate your account for.
The AJ Bell SIPP product offers access to a wide range of investments, including shares, ETFs, investment trusts, and unit trusts. You'll enjoy features like:
Low annual custody charges
Low cost dealing
Invest as little as £25 per month
Tax relief
Very good service
Capital at risk. Pension rules apply.
AJ Bell provides excellent customer service and offers two UK-based customer service teams, so you can phone, chat online, or send an email and get an answer within hours. They operate between 8 am to 7 pm Monday to Friday and 10 am to 2 pm Saturday, which means you don't need to phone in from work.
The customer service experience is an important component because it's where the fees begin to shine. Often, ultra-low-cost services have appalling service, but AJ Bell has an A+ level of customer service, which is worth considering when you compare them with other platforms.
AJ Bell have scored 4 out of 5 on Trustpilot with many of the negative reviews mentioning delays and issues when transferring in and out of the AJ Bell and many customers receiving no answer to emails. That being said, there are plenty of reviews from customers who are more than happy with the level of service they have received.
Who is AJ Bell Suitable For?
So who should invest with AJ Bell? I believe they cater to a specific demographic: people who want to save money on the costs of keeping a modest portfolio but who aren't finance professionals or who don't have an interest in more extensive trading.
The focus on AJ Bell funds and AJ Bell ready-made portfolios combined with the low fees make the accounts an attractive option.
If you're interested in comparing this AJ Bell review with its closest competition, read my ii and Hargreaves Lansdown reviews.
Who is AJ Bell Suitable For?
So who should invest with AJ Bell? I believe they cater to a specific demographic: people who want to save money on the costs of keeping a modest portfolio but who aren't finance professionals or who don't have an interest in more extensive trading.
The focus on AJ Bell funds and AJ Bell ready-made portfolios combined with the low fees make the accounts an attractive option.
If you're interested in comparing this AJ Bell review with its closest competition, read my ii and Hargreaves Lansdown reviews.
Alternative to AJ Bell
People with larger portfolios can get stung by the percentage price structure at AJ Bell, and I have therefore included an alternative. ii is also a solid choice for funds and they have an extensive list of investment options for investors looking to build their own portfolio.
Interactive Investor vs AJ Bell Fees
|   | AJ Bell | Interactive Investor |
| --- | --- | --- |
| Cost per Trade | £9.95 | £7.99 |
| Frequent Trader | £4.95 | £0 |
| Annual Custody Fee | 0.25% | £9.99 per month |
| Bonds Fee | 0.25% | £40.00 |
| ETFs Fee | 0.25% | £7.99 |
| Investment Trusts Fee | 0.25% | £7.99 |
| Phone Dealing Fee | £29.95 | £49.00 |
| Platform Fee | 0.25% | £9.99 per month |
From this table, it is clear to see that the fixed fee structure at interactive investor would be more profitable for investors with a larger investment pot.
Note: AJ Bell does not provide advice or access to financial advisers. Tax treatment depends on your personal circumstances and rules may change. LISA, ISA and pension rules apply.
Useful Information
Important and useful information for customers of AJ Bell.
How to Contact AJ Bell
You can call them on 0345 54 32 600 or email them at [email protected] for customer service.
How to close your account at AJ Bell
The process is simple where all you need to do is contact customer support and they will walk you through the process
How to Withdraw Money from AJ Bell
If you want to withdraw cash from your Stocks and Shares ISA or your share dealing account, you can log in to your account and click on "Withdrawals" and your money should arrive within five working days to your nominated and registered bank accounts.
AJ Bell FAQs
Is AJ Bell Safe?
Yes, AJ Bell is very safe. If I look at the facts, AJ Bell is regulated by the UK FCA and has over 295k customers and over £56.5 billion in client assets. Any client assets at AJ Bell are also covered by the Financial Services Compensation Scheme
Is AJ Bell any Good?
Yes, I believe AJ Bell is very good and worth considering for investors with small portfolios who are cost-conscious and looking for a user-friendly platform.
Most recent reviews:
The app works well for buying shares and investing. Its quite clear. The cost per trade I feel is quite expensive when there are apps that will let you trade for free. Logging in can be a pain due to the amount of memorable information you need to type in.
Likes
Deposit and withdrawal
Customer service
AJBell YouInvest is a decent app for investing into equity funds within an ISA Wrapper. It's extremely easy for me to set up regular payments that will automatically invest into my desired equity fund and it has an easy way for me to see how much of my net worth is invested in different investments, along with being able to see how much profit I've made
Likes
Account opening
Deposit and withdrawal
Customer service
The app is functional, a bit bare and more geared towards long term investing than trading (high transaction cost) – this is fine by me and matches my needs. I have never tried to withdraw funds or used the customer service so I can't really comment on those.
Likes
Account opening
Deposit and withdrawal
See which share tip is making the headlines

Have you considered transferring your pension?

Find the best trading platforms
*Capital at risk