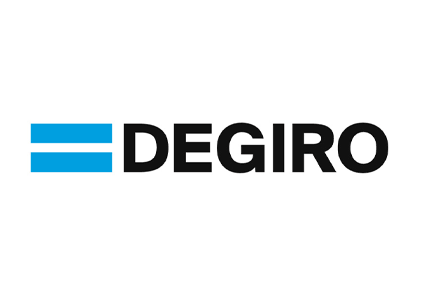 In my DEGIRO review, I've taken a close look at who they are and if they are worth considering as your investment platform of choice.
My DEGIRO review walks you through everything you need to know about this low-cost broker including how to set up your first DEGIRO trading account.
We can't take you to this site at the moment.
Have you tried eToro?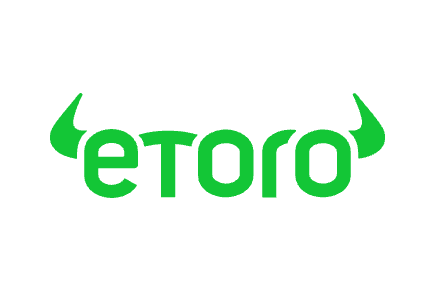 76% of retail investor accounts lose money when trading CFDs with this provider. You should consider whether you can afford to take the high risk of losing your money. Your capital is at risk. Other fees apply. For more information, visit etoro.com/trading/fees
DEGIRO is a Dutch (now German-owned) broker known for its access to a huge number of products as well as fees that cut almost every other broker off at the knees. With 633,175 customers and over 24.5 million transactions (in 2020), DEGIRO is generating serious revenue and buzz.
The field of discount brokers grows more crowded by the day, but one of the broker platforms that continuously stand out from the crowd is DEGIRO, a European firm famous for its low fees.
Remember:  Investing involves risk and losing money rapidly due to trading risky financial instruments is not uncommon.
Deemed authorised and regulated by the Financial Conduct Authority (FCA). The nature and extent of consumer protections may differ from those for firms based in the UK. Details of the Temporary Permissions Regime, which allows EEA-based firms to operate in the UK for a limited period while seeking full authorisation, are available on the Financial Conduct Authority's website.
Who is DEGIRO?
Founded in 2008 by five former Binck Bank employees, DEGIRO is Europe's fastest-growing online stock broker with its own banking licence. Initially intended to service professional investors, DEGIRO opened their doors to retail investors in 2013 and today offer their services to investors from several European countries and the United Kingdom.
Who owns DEGIRO?
DEGIRO is one of the largest retail stockbrokers in Europe. Although the company is a Dutch one, in December 2019, Germany's Flatex AG announced its intention to acquire 100% of DEGIRO. At the time, it owned 9.4% of the company. The final 90.6% of DEGIRO shares were acquired in July 2020, after formal regulatory approval from the Dutch government and relevant authorities. However, the group chose to leave the DEGIRO brand in place.
Flatex's acquisition made DEGIRO one of the largest stockbrokers in Europe. Early in 2020, Muhamad Charour, Flatex AG's CFO, said he expected the acquisition to help the company reach 1 million customers by 2020. DEGIRO had 450,000 customers in 2018, and in 2020 this figure had climbed to 633,175 which is short of Flatex's ambition but still up by 45% when compared to the same period in 2019.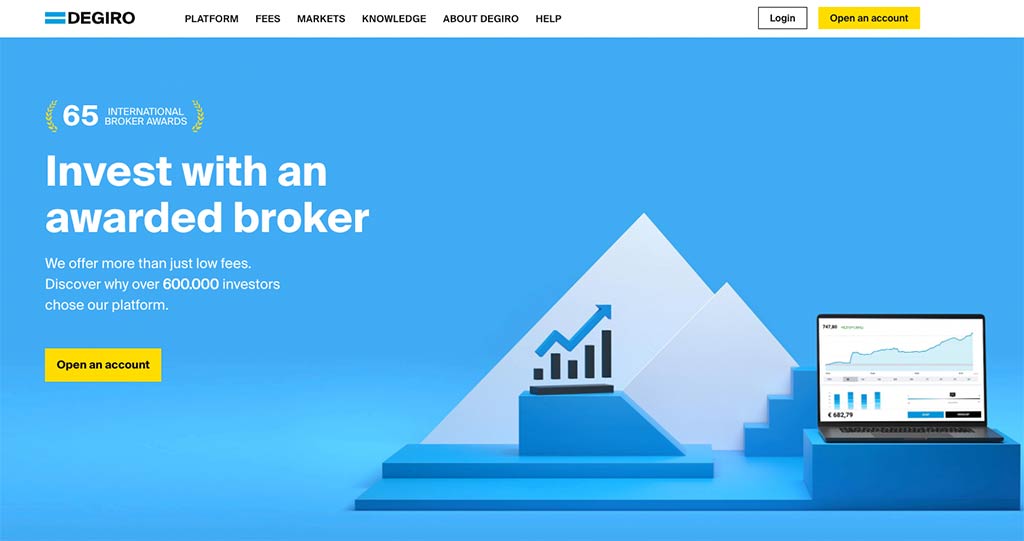 Product Range
When looking for the right online broker, you typically want a platform that grants you the most access to a large number of products. DEGIRO opens up a whole new world of trading that you previously needed both a personal stockbroker and a significant budget to access.
The full list of DEGIRO products and order types in 2020 includes:
Shares
Investment funds
Exchange-traded funds (ETFs)
Futures trading
Leveraged products
Bonds
Options
Warrants
With so many products, DEGIRO can cater to passive investors who maximised their UK tax-free accounts and want to invest additional funds in ETFs. However, DEGIRO also offers enough products for day traders. The only thing the team doesn't provide is forex trading.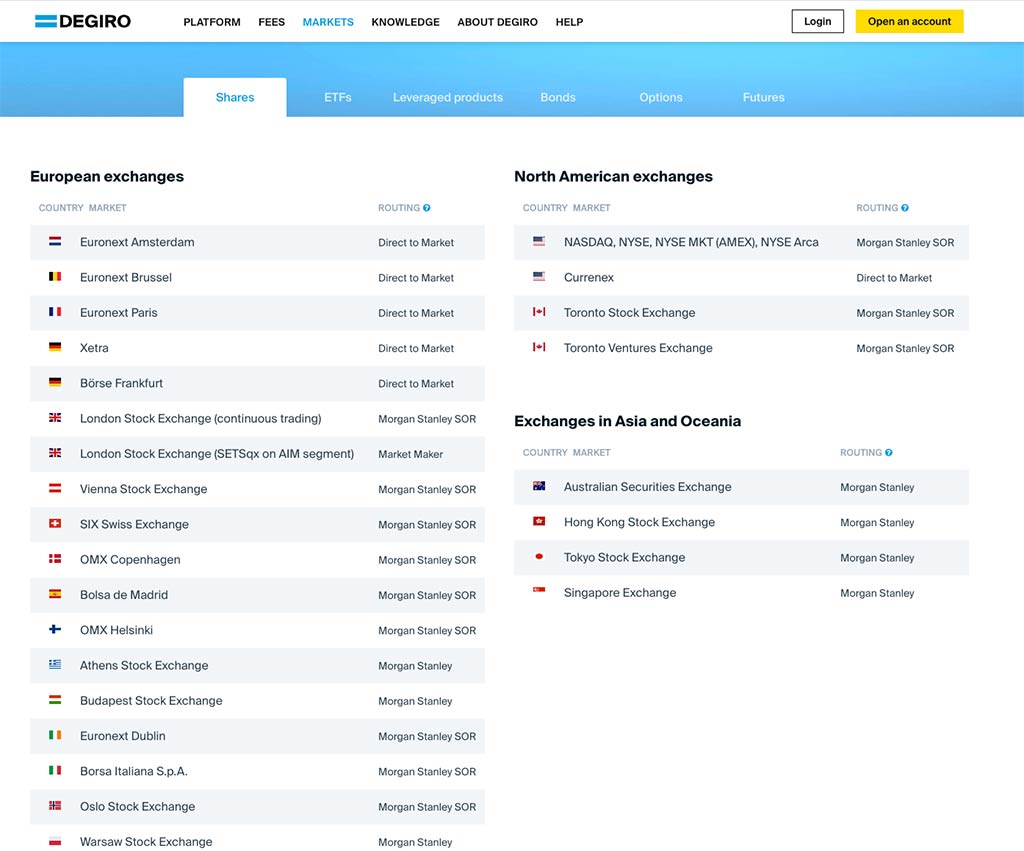 DEGIRO also offers access to more stock exchanges than the typical DIY investor might want. You have access to 22 European stock exchanges, four North American exchanges, and four Asian exchanges. Are you looking for a specific exchange? We'll add the full list of financial markets and exchanges at the end of this section.
Your bond choice is limited to six European exchanges, but they are the largest ones.
You can invest in ETFs on 19 exchanges. You have access to the best European ETFs as well as those on two exchanges in Asia and Oceania. However, you don't have access to ETFs listed solely on North American exchanges. Some investors consider this a deal-breaker given the performance of U.S. ETFs and the fact that other competitive brokers allow you to buy U.S. ETFs.
Finally, DEGIRO promotes futures trading on 14 exchanges as well as the option to trade options on 12 exchanges.
Stock Exchanges Europe:
Euronext Amsterdam
Euronext Brussel
Euronext Paris
Xetra
Borse Frankfurt
London Stock Exchange
Vienna Stock Exchange
SIX Swiss Exchange
OMX Copenhagen
BOlsa de Madrid
OMX Helsinki
Athens Stock Exchange
Budapest Stock Exchange
Euronext Dublin
Borsa Italian S.p.A.
Oslo Stock Exchange
Warsaw Stock Exchange
Euronext Lisbon
OMX Stockholm
Prague Stock Exchange
Istanbul Stock Exchange
North American Exchanges:
NASDAQ
NYSE
NYSE MKT
NYSA Arca
Currenex
Toronto Ventures Exchange
Asia and Oceania Exchanges:
Australian Securities Exchange
Hong Kong Exchange
Tokyo Stock Exchange
Singapore Exchange
Research Services & Tools
When you practice active trading, the platform becomes far more important than it is with a fix-it-and-forget-it managed SIPP or ISA. There's a lot of debate regarding whether budget trading platforms can offer the features you need to succeed.
DEGIROs calls its trading platform WebTrader, and you get full access both on the web and through the mobile app.
WebTrader grants you access to your complete portfolio, order capabilities, real-time streaming quotes, and news of the financial markets. The app does allow you to work quickly: a QuickOrder button sits at the top of the page so you won't miss a beat. You also place orders either by order value or number of stocks, so you always know what and how much you're buying. You can also add products to your Favourites, which saves you time when buying and selling.
Because DEGIRO sells individual assets and caters to novice investors, it doesn't provide any meaningful resources for research or education. Instead, DEGIRO runs what it calls its Investors Academy, which functions as an online training course for those who have never made a trade before. Some of the topics the DEGIRO Investor Academy covers include:
What kind of investor are you?
What is a broker?
Basic financial products
Complex financial products
What determines the price of a stock?
Choosing your first stock
Order types
Spreading risk is the key
Thinking ahead
All lessons come in video format as well as in a text version.
These concepts walk you through an introduction to stock trading from deciding whether investing is right for you to place your first order to creating a long-term strategy. The lessons are by no means in-depth, but they are a refresher for someone with an interest.
Even charting and predictions fall by the wayside. They exist, but they're very much average and cater to those just getting started with investing. DEGIRO also doesn't offer basic features like stock alerts.
However, the lack of investment in these items does allow DEGIRO to offer trading at a cost that's substantially lower than its competitors.
In other words, if you want an all-in-one, sophisticated platform, then you need to pay for it. DEGIRO works best for investors willing to sacrifice the tools in favour of lower trading fees.
DEGIRO Fees & Charges
DEGIRO's trading fees are significantly less than its competitors. You'll pay £1.75 + 0.014% per trade when you trade stocks in the UK. The maximum charge is only £5 per trade. Plus, the same rules apply no matter how much you trade per month.
For US and Canadian stock exchange trades you won't be charged any commission, however a €1 handling fee will apply.
The other trading charges for stocks, leveraged products, and warrants depend on the exchange used:
Germany – XETRA – 4.00 EUR + 0.05%
Germany Zertifikate-Borse Frankfurt -2.00 EUR + 0.11%
Germany – Frankfurt (Stocks) – 7.50 EUR + 0.09%
Austria, Belgium, Denmark, Finland, France, Ireland, Italy, The Netherlands, Norway, Portugal Spain, Sweden, Switzerland – 4.00 EUR + 0.05%
Poland – 5.00 EUR + 0.16%
Czech Republic, Greece, Hungary, Turkey – 10.00 EUR + 0.16%
Canada – 2.00 EUR + CAD 0.01 per share
Australia, Hong Kong, Japan, Singapore – 10.00 EUR + 0.06%
Your total cost ultimately depends on the exchange you use and whether or not it's in your own currency. Clarity on foreign transaction fees shows real room for improvement
You also pay 2.50 EUR per year as a connectivity fee for every exchange you trade on that is not the London Stock Exchange.
As with most stockbrokers, you will always pay a hefty fee for any trades you make over the phone.
You'll also pay a dividend fee when you use a DEGIRO Custody account. Right now, the fee is 1 EUR + 3% of the dividend. It caps at 10% of the total dividend. We'll talk more about the difference between accounts later in the DEGIRO review.
Here's something new: DEGIRO offers free ETF trading on certain products each month. If you are a passive investor looking to stick to ETFs, then you can save a bundle. In theory, you can even build a complete portfolio based on free ETFs.
Non-Leveraged products
DEGIRO offers the chance to buy non-leveraged stocks, ETFs, bonds, futures, and options. As noted above, you have access to a few dozen financial markets, so there's no shortage of opportunities to trade with DEGIRO.
Leveraged products
DEGIRO also allows you to leverage some of your stocks and ETFs. DEGIRO allows you to buy on margin while accessing very low-interest rates. You can also use options for leverage.
If you want to buy leveraged products, you have access to them via three European exchanges:
Euronext Access Paris
Xetra
Borse Frankfurt
Your choices are limited, but given DEGIRO trading fees, they are worth considering if leveraging investment funds is important to you.
DEGIRO ISA Review
DEGIRO operates in the United Kingdom, but it doesn't provide tax-wrapper accounts like the ISA. Instead, DEGIRO is a no-frills stockbroker.
DEGIRO SIPP Review
DEGIRO operates in the United Kingdom, but self-invested personal pension products (SIPP) aren't available.
DEGIRO Platform Review
The trading platform is a no-frills operation that caters solely to investors willing to give up tools and toys to save – really save – on fees. As a result, the typical DEGIRO review tends to focus on what the platform lacks rather than what it offers because its value proposition is solely on cost savings. I don't think this is an appropriate way to go, particularly given the value the broker offers.
DEGIRO offers five account types:
Basic
Custody
Active
Trader
Day Trader
It's worth noting that although the trading platform is user-friendly, DEGIRO doesn't offer a demo account. This lack of demo account means there's no way to play around with the platform without committing money. So, if you're not someone who dives into new sites quickly, then you might consider another low-cost option that includes this feature, like a demo account.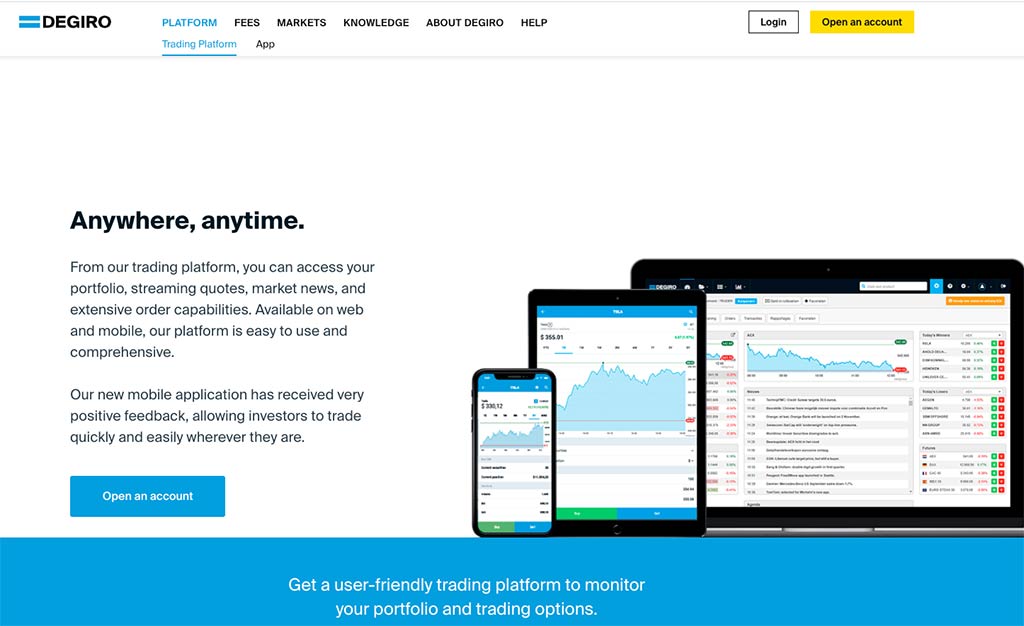 Let's talk about the different retail investor accounts. You need to know what account type you want before you sign up because you can't switch retail investor accounts once you sign up. To switch between two accounts, you need to create a whole new account, and even if you do that, DEGIRO treats them as two separate accounts, which means you pay transfer fees.
The Basic account is strangely named because it's the most versatile account offered by DEGIRO. You don't have access to leveraged products, but you also don't pay the extra fees.
If you're interested in leveraged products, then you need to choose an Active, Trade, or Day Trader account.
Here's the big thing you must know before you set up an account with DEGIRO. When you have all accounts bar the Custody account, DEGIRO lends share positions to third parties. Doing so helps them keep fees low, and it can be of benefit to you. However, you lose your money if both DEGIRO and the third party go bust at the same time. When you combine this strategy with the lower protection threshold from the Dutch regulator (20,000 EUR vs. £50,000 from FCIS), cracks start to form. In an ideal world, DEGIRO wouldn't make it the default option and would instead allow you to opt into an account that offers this.
Finally, there are a few complaints that crop up among users. There are no instant execution or price alerts, which irritates regular traders. The exchange fees can also be hard to spot, but this isn't uncommon for an online broker. Each exchange carries its own fees, and hidden fees are unfortunately part and parcel of trading.
Before we wrap up, it's important to note that you need to consider tax efficiency before trading with DEGIRO. DEGIRO doesn't offer any tax-efficient accounts nor does its existing account offer any tax-efficient features. There's no opportunity for automatic dividend reinvestment, so you will need to keep a close eye on your accounts at the end of the tax year. Is this a reason to steer clear from DEGIRO? Not at all. If you have a savvy accountant, then the savings from cheaper execution rates may offset what you spend on increased taxes. You'll need to decide whether you believe in the idea that it's better to make the money and pay tax on it than to never have made the profit at all.
Opening an Account
You can open your account in as little as ten minutes. However, it will take two or three business days for full access to the DEGIRO WebTrader platform. Your first account is the Basic account, but you can add on the other options once you're up and running.
To get started, DEGIRO allows people from 18 countries to open an account, to simplify things if you are resident in the UK, EU, Norway or Switzerland you are fine, outside of these countries sadly you will have to find an alternative provider.
If you're a UK citizen, you must use a bank located in England, Scotland, Wales, or Northern Ireland. DEGIRO doesn't accept transfers from Jersey, Guernsey, Gibraltar, or the Isle of Man. It also doesn't accept transfers from UK overseas territories.
Once you complete the registration form, you need to manually transfer money to your new account. You don't have to spend much: the minimum deposit is only £0.01. Once the bank transfer reaches your DEGIRO account and the team clears your identification, you can then begin trading. The good news is you can use Instant Deposit for free when you open the account. Though, it will cost fees after you start trading. DEGIRO doesn't allow you to fund or withdraw using your debit or credit card. You need to manually transfer every single time you fund your account. Any uninvested, deposited funds will be automatically invested into Money Market Funds in line with the requirements of the Dutch regulator.
Your UK passport will allow you access to DEGIRO for now, but it's unclear how this will progress once the Temporary Permissions Regime has expired. . If you are a dual-citizen and hold a passport from another EU country, then you can technically use DEGIRO, but you will still need a European bank account. For example, if you also hold citizenship in the Republic of Ireland, you need to fund your account with a bank in the Republic of Ireland.
DEGIRO doesn't allow you to connect a bank account from:
Bulgaria
Croatia
Cyprus
Estonia
Latvia
Lithuania
Malta
Romania
Transferring Your Investments to DEGIRO
As with most brokers, there's no real way to transfer your investments to DEGIRO. If you want to close your current account and open a new one, you'll need to sell your investments, withdraw, and then fund your DEGIRO account with the minimum deposit via bank transfer.
Customer Service
DEGIRO garners mixed customer service reviews. Some love it, and some say that the service is the worst they ever experienced. Again, DEGIRO doesn't exist to cater to the whims of its clients. If you want a personal broker, then you need to pay management fees. Its low-cost status may be at the heart of some of the more visceral complaints people leave on its TrustPilot page.
To get in touch with customer service, you'll need to phone or send an email. They also provide customer service in 18 languages, so there are no worries if you don't speak Dutch or German.
Unfortunately, DEGIRO doesn't provide chatbots or internal mail. If you have a very pressing query, you really do need to pick up the phone. They do offer support between 7 AM and 9 PM on weekdays, which would be generous for an ISA platform but is less so for a broker providing access to Asian and Australian financial markets.
Even still, DEGIRO has won awards for its customer service, so it's clearly doing something right, at least in terms of industry standards
Who is DEGIRO Suitable for?
DEGIRO is a great platform if you understand the fundamentals of investing and your big interest is finding the lowest fees. It's incredibly cheap, offers more products than the typical investor needs, and you can use the instant transfer to set your account up on the same day.
It can be used as a novice investor and some say it only caters to novice investors. However, there's nothing stopping experienced investors from trading with DEGIRO as long as you have access to the resources you need elsewhere. Remember that charting is basic and there are no price alerts or stock suggestions. If you're used to frills, you need to adjust your expectations.
Who wins when they trade with DEGIRO? While investment always comes with the risk of losing everything, those who want to trade ETFs are likely to be the big winners, especially if you focus on DEGIRO's free ETF of the month.
DEGIRO and Brexit
Many DEGIRO users have rightly been concerned about Brexit and the effect this could have on the services offered by DEGIRO. At the time of this DEGIRO review, it would appear that the investment platform is still subject to the Temporary Permissions Regime. DEGIRO have the following message in very small print on their website:
'Deemed authorised and regulated by the Financial Conduct Authority (FCA). The nature and extent of consumer protections may differ from those for firms based in the UK. Details of the Temporary Permissions Regime, which allows EEA-based firms to operate in the UK for a limited period while seeking full authorisation, are available on the Financial Conduct Authority's website.'
Useful Information
Important and helpful information to help you manage your account at DEGIRO.
How to close your account at DEGIRO
To close your DEGIRO account, you need to send an email to [email protected]. It can take a few days for the customer service team to answer you. Once your request is received, they close your DEGIRO account and return any deposits to your nominated bank account via bank transfer.
How to withdraw money from DEGIRO
You can withdraw money from DEGRIO into your bank account from the trading platform, WebTrader. All you need to do is log in and choose 'Deposit/Withdraw'. Then, you 'Transfer funds from your investment account to your nominated bank account'.
Unfortunately, there's no way to deposit or withdraw via your credit or debit card. Everything happens via bank transfer. There are no DEGIRO withdrawal fees to worry about which is great news for investors.
How to contact DEGIRO
If you want to contact DEGIRO, you can contact the Service Desk between 7 AM and 9 PM. Your options include:
If you have a complaint, then you can email [email protected]
DEGIRO Summary
DEGIRO is a great offering for investors whose main focus is on finding low-cost commission fees although this does have its drawbacks.
One of the main negatives I could find was the lack of tax wrapper in the form of an ISA or SIPP account. Of course, this isn't everyone's priority and DEGIRO is still considered one of the biggest online, execution-only brokers in Europe, largely due to the large array of investment options available.
The other disadvantage to the no-frills, low-cost offering at DEGIRO is the lack of fundamental research available to investors so they can make informed decisions about whether an asset is over or under-valued.
That being said, DEGIRO have an extensive list of investments on offer and they are regulated by multiple top-tier authorities and therefore still tick a lot of boxes for many investors. However, the uncertainty surrounding where they sit following Brexit may just be enough to tip the balance in favour of another investment platform.
DEGIRO FAQs
Is DEGIRO Regulated?
Yes, Degiro is regulated by the Netherlands Authority for the Financial Markets (AFM) as well as the De Nederlandsche Bank (DNB). In the UK Degiro is also authorised and regulated by the Financial Conduct Authority (FCA).
Is DEGIRO any good?
If you're looking for a low-cost broker and you aren't concerned with an all-in-one, sophisticated mobile trading platform, then yes, DEGIRO is a good choice. If anything, it offers you the chance to trade a long list of exchanges and choose between as many products, even if it doesn't provide
forex trading
.
Is DEGIRO safe to use?
Yes, DEGIRO are considered safe to use as all client funds are kept in segregated accounts with a separate entity and are therefore left untouched in the event that something should happen to DEGIRO. DEGIRO also falls under the German Investor Compensation Scheme, returning up to EUR 20,000 of investor assets.
Most recent reviews:
DEGIRO has worked well for me. I did find setting up and registering the app to be slightly cumbersome. However, post registration everything has been easy and I have enjoyed using the app. Deposits/withdrawals have been no problem and app is very responsive.
excellent for trading shares, options futures and eft's with fees 85 percent lower than competitors access to global markets it has face id for added security real time quotes and safe and secure deposits and withdrawls
The app is low cost, which usually means a poor product, but the Degiro app works very well and is intuitive. The basics (viewing holdings/deposits/withdrawals/purchases/sales and easy to become accustomed to. I have no experience of the customer service as I haven't experienced any issues. The research section isn't great but I already do this externally.
See which share tip is making the headlines

Have you considered transferring your pension?

Find the best trading platforms
*Capital at risk