As more and more people make the switch to online banking, the number of online banks* are increasing expeditiously, offering users a host of impressive tools and functions that are revolutionising the way we do our banking.
But with this rise in the number of banking apps and online accounts, how do you choose which of the ones on offer is best for your particular requirements?  And is now the time to make the switch completely to an app-only online account?
Also consider: Best Online Business Accounts
* Please note that not all the 'online banks' or personal accounts listed in this article have a UK banking licence, and may not be protected through Financial Service Compensation Scheme (FSCS). Please check individual websites for full details.
Full UK banking licence
FSCS protection up to £85,000
Best overall online bank and best for overdrafts and loans
Sign up and get a £10 top-up
Get 1 month of Revolut Premium for free
Exclusive rewards and save as you spend
App and online accounts
Set up an account in 10 minutes
Unlimited £50 refer a friend scheme
Open a personal or business bank accounts with Wise
Authorised and regulated by the Financial Conduct Authority
Get your own UK account number, Euro IBAN, US routing number, and more…
Get £5 FREE with a new Curve Card
Authorised and regulated by the Financial Conduct Authority
Travel insurance and rewards available
A bank account that can build credit history
Apple iOS and Google Android apps available
Online banking available
Open a full UK bank account from your phone, for free
Free international withdrawals and Mastercard exchange rates
Clear summary of savings accounts and spending
What is an online bank or mobile bank?
Unlike their high street counterparts, online banks, or app-only banks, seek to provide you with all your banking needs from the confines of an app. They eliminate the need to visit a physical bank as opening and managing an account can be done quickly and securely from your mobile.
You can still access customer support services through live chat, email or phone. All of the best digital banks are free to sign up with, however, you may encounter fees for premium services and products.
If you open a new bank account, you will be in a position to order your debit card with an account number and a sort code, just as you would in traditional high street banks.
Through mobile banking, you will be able to pay bills, make cash withdrawals, transfer money, and set up direct debits the same way you would with traditional banks.
The increase in popularity of mobile app and challenger banks is primarily a result of the United Kingdom government introducing the reforms to create digital open banking. Digital open banking simply means that your bank must provide you with the opportunity to share your personal financial data like bank statements, regular payments and spending habits with other banks or budgeting apps.
Which online bank is best?
I've compared the services and products of more than 60 nationally available banks that operate online in order to provide you with the best digital banks for your circumstances.
Starling Bank: Best overall online bank & best for overdrafts and loans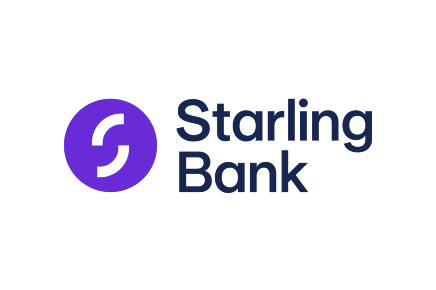 Starling Bank have won the Best British Bank for the last three years in a row and the Best Current Account Provider award for 2020 at the British Bank Awards. 
With your personal accounts at Starling, you get a contactless Mastercard debit card. Starling offers account holders access to overdraft facilities and personal loans with a competitive interest rate of 15% AER. Starling is also helpful for budgeting with access to multiple pockets.
0.05% AER on balances of up to £85,000
Starling Bank offers the following accounts to choose from:
Personal Account
Joint Account
Euro Account
Starling Kite (a debit card for children)
Teen Account (for 16 and 17-year-olds)
Business Account
Sole Trader Account
Multicurrency Accounts
Features of Starling Bank I like include:
Supports multiple saving goals under one roof
Real-time daily spending updates
Freeze your card if stolen or lost
24/7 support services
Send funds overseas
Blends effortlessly with Samsung Pay, Fitbit Pay, Google Pay, Apple Pay and Garmin Pay
Spending insights on all of your Starling Bank account activities
Mobile cheque deposits can be made through the app
Fee-free spending abroad
Round up feature
Tree planted for every friend that you refer
Maximum of six cash withdrawals a day up to the value of £300
Charges for using overdraft facilities
Monzo: Best for budgeting / business banking
For users looking to save money, Monzo is an excellent challenger bank due to its wide range of savings accounts and favourable interest rates.
Monzo became a fully licenced bank in 2017 and therefore offers accounts with all the trappings of more traditional banks including account numbers and sort codes.
Monzo is a very similar offering to Starling Bank with many of the same features and tools including the ability to set up direct debits, loans, and an overdraft facility. Checking whether you are eligible for a loan won't affect your credit score and you could be approved to borrow up to £15,000. With Monzo, you get a debit card that is easy to manage from within the app.
A nice new feature at Monzo is the Monzo Flex, which allows you to pay later with a pre-agreed credit limit, allowing to you pay for your purchases in 3 monthly instalments at 0% interest or 6 and 12 instalments at 19% AER.
Where Monzo really shines is with their business accounts. Whilst Business Lite is completely free, Business Pro offers advantages such as separate tax pots and integrated accounting with Xero, FreeAgent, or QuickBooks.
Monzo Bank offers the following accounts to choose:
Current Account
Monzo Plus
Monzo Premium
Business Account
Joint Account
16-17 Account
Fixed Term Account
Cash ISA
Easy Access ISA
Features of Monzo I like, include:
Real-time notifications
Easy energy switching with cashback options of up to £50
Easy and clear summary of savings accounts and spending
Accepted worldwide
Free international withdrawals and Mastercard exchange rates
No transaction fees on overseas spending
A member of the Financial Services Compensation Scheme
£1,000 optional overdrafts
Set spending budgets
Freeze card if stolen or lost
Blends smoothly with Google Pay, Samsung Pay and Apple Pay
Withdrawals are limited to £400 a day and £5,500 a month
Interest charged on an overdraft
Revolut: Best for holidays and international payments
Revolut are ideally placed for people who travel a lot as they have low fees and favourable exchange rates. From the Revolut mobile app, users can transfer money all over the world, invest in crypto, stocks and commodities, get travel insurance, and exchange money with zero hidden fees.
Opening a Revolut account automatically provides you with an account number and sort code, as well as a host of traditional banking functionality like recurring payments, ATM withdrawals, contactless payments, and Apple and Google Pay.
Whilst Revolut do offer favourable interest rates on their Revolut Plus, Premium or Metal plans, it is worth bearing in mind that these accounts do attract monthly fees.
Standard Account – 0.15% AER
Plus Account – 0.4% AER
Premium Account – 0.5% AER
Metal Account – 0.65% AER
Revolut offers the following accounts to choose:
Standard Personal Account
Plus Personal Account
Premium Personal Account
Metal Personal Account
Business Account
Features of Revolut I like, include:
Low-cost international transfers in over 30 currencies
Interbank exchange rate
A built-in budgeting feature
Instant spending notifications
Offers travel insurance
Lock and unlock the card when it is stolen or lost
Virtual card and physical contactless card available
Withdraw cash overseas fee-free (a £200 monthly limit applies as well as a 2% fee above that)
Not FSCS protected
Monthly fee for the Plus, Premium and Metal accounts
Atom Bank: Best for loans, mortgages and savings
Atom Bank managed to secure 'Best Online Lender' at the What Mortgage Awards and were the first digital-only bank to obtain a banking licence. If you are looking for a mortgage, or simply after a savings account, they are a great option, however, it is prudent to point out that they don't have a current account.
If you are a business looking to secure a loan, then Atom is also an excellent choice, with access to secured business loans.
Instant Saver – 0.5% AER
Fixed Saver – up to 1.86% AER
Atom Bank offers the following accounts to choose:
Instant Saver
Fixed Saver
Features of Atom Bank I like, include:
Biometric Security
24/7 customer care services
Competitive savings rates
Quick and easy registration process that only takes ten minutes
High maximum savings balance of up to £200,000
Doesn't offer current accounts
Only accepts residents from the UK
Monese: Best for non-UK residents and overseas students
As a registered Electronic Money Institution, Monese offer safe online banking and accounts can be held in GBP or EUR. You can open an account with Monese in just a few minutes, without a credit history and without a UK address making this a favourite option for foreign nationals, ex-pats, freelancers and overseas students.
However, there are some fees at Monese that you should be aware of as these can start to add up.
You won't get any interest rates at Monese.
Monese offers the following accounts to choose:
Personal Instant Account
Joint Accounts
Business Account
Features of Monese I like, include:
Offers a prepaid card that also functions as a debit card
UK address isn't required when creating an account
Allows for spending abroad
Offers current accounts
Available to every individual within the European Economic Area
Accepted across the world
Withdraw a maximum of £200 fee-free each month from an ATM
Not a registered financial institution, meaning your cash isn't FSCS protected
2% charge on ATM withdrawals over £200 per month
2% exchange fee for international bank transfers to non Monese accounts, and foreign currency card spending
No overdraft facility
Which is better: Starling or Monzo?
These two app-based bank accounts have been neck and neck in the race for digital banking supremacy for the last few years. Both these offerings provide the user with money pots and allow for more creative management of your money with the categorisation of spending habits and clear financial goals.

Whilst Starling did achieve my ranking of Best Overall Online Bank above, I have taken the time to pitch the two offers side by side, highlighting their key differences and so you can see how similar their offering is in the world of digital banks, and why Starling has pulled slightly ahead in the race.
|   | Starling Bank | Monzo |
| --- | --- | --- |
| Interest | 0.05% AER on balances of up to £85,000 | 0.10-1.07% (fixed term) AER |
| Travel | FREE | Foreign ATM withdrawal FREE up to £200pm, 3% thereafter. |
| Business Account  | FREE | £ 5 pm for Business Pro |
| Paying in | Bank transfer, standing order, pay in salary, or at any Post Office | Bank transfer, standing order, pay in salary |
If you travel frequently and are likely to withdraw more than £200 per month, then Starling would be the clear winner for you with their fee-free foreign spending.
The other advantage with Starling is the range of great features that you can access through their business account, for which you would have to pay the upgraded fee at Monzo and the ability to conduct cash deposits at any Post Office.
However, if you are a saver, who is looking to protect their savings from tax, then Monzo do offer access to an ISA, as well as some pretty favourable interest rates on their fixed-term savings accounts.
Also consider: Will interest and savings rates rise in 2022?
High street banks vs digital banks
The banking industry in the UK is still ruled by the big four banks, which include HSBC, Lloyds, Barclays, and NatWest/Royal Bank of Scotland. However, UK digital banks are becoming highly competitive in this space. New ways of providing financial products and services as well as innovative technology have allowed them to be recognised in the industry.
While many traditional banks are also trying their best to offer online services, the neo and challenger banks are more able to capitalise on the latest technology. They aren't impacted by clunky IT systems, years-old traditions and historical ways of offering services. As a result of this, they can easily respond to the unique needs and requirements of their customers. Some of the new features and services that digital banks provide as opposed to their high street counterparts are:
Bill splitting
Spending reports
No withdrawal and payment fees abroad
Instant notifications
The feature to lock and unlock cards via apps
24/7 support services
Future spending projections
Spending limits for certain purchases
In-app account creation and approval within a few minutes
Specific saving pots
Robust identity and verification processes
Limitations for problem spending like online gambling
Advantages and disadvantages of app-only / mobile banks
All types of banks have advantages and disadvantages, and app-only banks are no different. The best part is that the advantages outweigh the disadvantages.
Advantages of app-only banks
Paperwork isn't required when opening a bank account
You can manage everything from the palm of your hand
A low exchange rate
Low fees on transactions
Advanced money management tools and real-time spending notifications
Lost or stolen cards can be frozen from within the app
Disadvantages of app-only banks
Only a few app-only banks offer unarranged overdrafts or loans
Need a smartphone or tablet to use
Reliant on mobile data or internet connection
Difficult to deposit cheques and cash
Is now the time to switch to an app-only bank?
The rate at which app-based banks have dominated the banking world is a clear indication of people's enthusiasm for the potential to make finances easier and more accessible. However, this is still a relatively new concept and requires some consideration before you make the switch in its entirety.
Personally, I like to run my app-only bank, in conjunction with my traditional bank, thus ensuring that I can take advantage of all the features on offer such as favourable overseas transactions and advanced money management tools, but my traditional bank is on hand should I need to deposit cash, pay in a cheque, or access some of the advanced banking facilities like overdrafts and loans which are rarely available with a bank account online.
Whilst there have been several significant advancements with app-only banks, there is yet to be one online bank, that offers all the useful features you might require throughout your lifetime.
Online banks FAQs
Are online banks safe?
Yes, online banks are safe, and there is little cause for concern when it comes to the safety of your money when using an online banking service. Online banks are often regulated by a governing body such as the
Financial Conduct Authority
and many fall under the
Financial Services Compensation Scheme
which automatically protects your funds up to the value of £85,000. We recommend using
Starling
, or
Revolut
.
What do I need to open a UK digital bank account?
Unlike traditional banks, digital banks have completely streamlined their account opening service and often you will be up and running in a matter of minutes. Whilst you won't require proof of address, most online bank accounts will require you to take a selfie with your ID and provide your personal details. Proof of ID can include the following: Drivers Licence, UK Passport, EU and EEA National Identity Card.
See which share tip is making the headlines

Have you considered transferring your pension?

Find the best trading platforms
*Capital at risk