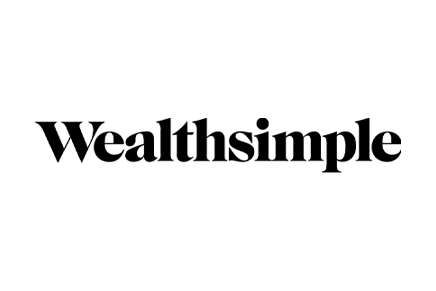 As of December 2021, Wealthsimple will no longer be offering their investment services to UK residents as they move to shift their focus to their Canadian business.
Existing account holders will be eligible for an automatic transfer to Moneyfarm who currently hold my 'Best Set it and Leave it Stocks and Shares ISA' as well as 'Best Performing Stocks and Shares ISA'.
Important information for Wealthsimple account holders
Do not panic, your money is safe and you now have a number of options as to how you would like to proceed. Here I have attempted to answer any questions you may have:
Why is Wealthsimple transferring client accounts to Moneyfarm?
Moneyfarm is the obvious choice for people who enjoy the services at Wealthsimple. They have a similar offering and are one of the largest and best funded UK robo advisors with seven managed portfolios to choose from and a favourable tiered fee structure. However, there are of course other options and you may wish to check my Best Robo Advisors UK guide before making your final decision.
You can also read my full Moneyfarm review where I have compared Moneyfarm to Nutmeg.
Deposit and withdrawal:
80%
Markets and products:
80%
Pros
Higher account management fees than other robo-advisors
Limited tools for personal finance
No live chat
Cons
No mobile app
Limited information on the efficacy of the templates
No internal community or marketplace for exchanging strategies
What if I would like my investments transferred elsewhere?
Easy, simply select the platform of your choice and withdraw your funds, or initiate a transfer of your ISA, JISA, SIPP or personal account. Wealthsimple have provided access to their team of investment advisers for all account holders in order to facilitate a smooth transition.
How will transferring to Moneyfarm affect the fees I pay?
It won't. Your fees will remain the same, or in some cases decrease in line with Moneyfarm's tiered fee structure. Moneyfarm will even honor any promotions that you are currently receiving.
Can I still access investment advice?
Yes! Wealthsimple will still provide access to their team of investment advisors and should you choose to transfer to Moneyfarm, you can access their team of investment consultants who are on hand to help you select the best investments for you from Moneyfarm's seven portfolios.
You can access more information on what lies ahead for you and your Wealthsimple account here.
In this Wealthsimple UK review, we explore what the online investment provider has to offer and whether they can offer you a cost-effective solution to your investment needs.
Wealthsimple is a Canadian robo-advice firm that launched in the UK in 2017 and at the time of this Wealthsimple review, has accumulated £3 billion assets under management for 1 million clients. As a company, this makes them a sustainable and therefore a safe, online investment manager. Wealthsimple also enjoys the backing of the Power Financial Group, one of the largest financial companies in the world, who have invested $100 million in Wealthsimple. In addition to this, Wealthsimple have also received a further $100 million from Allianz X.
Wealthsimple join other robo-advisors on the market who use highly sophisticated and complex algorithms to provide investors with 'done for you' managed portfolios that offer solutions for would-be investors who have neither the time nor knowledge to effectively manage their own portfolios.
Who owns Wealthsimple?
Wealthsimple was founded in 2014 by Michael Katchen, however, today it is primarily owned by the company Power Corporation.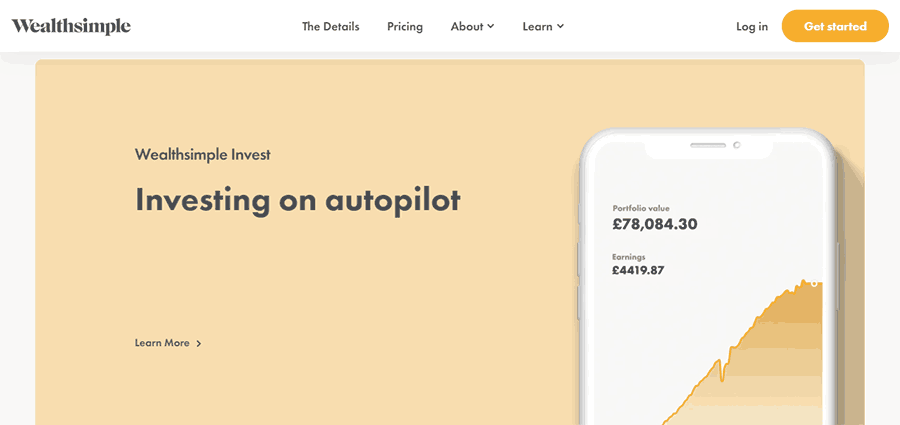 Product Range Overview
In terms of products on offer, Wealthsimple have a generous selection which includes the following account types:
Stocks and Shares ISA
Personal Account
Junior ISA
SIPP
Wealthsimple also have a tiered fee structure to their account which is based on the amount that you have in your account. Each tier carries its own fees and benefits as detailed below:
Wealthsimple Basic Account
Access to: Investment advice, automatic rebalancing of your portfolio, dividend reinvestment.
Investment amount: £0-£100,000
Management fee: 0.7%
Average fund fee: 0.18%
Wealthsimple Black Account
Access to: All Basic Account benefits, investment planning, VIP airport lounge access
Investment amount: £100,000-£500,000
Management fee: 0.5%
Average fund fee: 0.18%
Wealthsimple Generation Account
Access to: All Black and Basic Account benefits, dedicated investment adviser. Customised budgeting and cash flow planning, ongoing portfolio monitoring
Investment amount: £500,000+
Management fee: 0.5%
Average fund fee: 0.18%
The Wealthsimple Stocks and Shares ISA offers all the tax benefits that come under the ISA umbrella and Wealthsimple allows transfers in, free of charge. Not only this, if your current provider charges you for transferring out, Wealthsimple will cover this cost for you. The Wealthsimple Stocks and Shares Individual Savings Account is, of course, subject to all the usual conditions surrounding ISAs and account holders will only be able to deposit the ISA allowance each tax year, which currently stands at £20,000 for the 2020/21 tax year. The Wealthsimple Stocks and Shares ISA provides access to the portfolios on offer and caters to people who want to invest in line with their values and faith.
Wealthsimple Personal Account
The Wealthsimple Personal Account acts in exactly the same way as a General Investment Account (GIA) in that it offers unlimited deposits and the opportunity to invest your cash in Stocks and Shares. However, any income that you earn in the Wealthsimple Personal Account, will be subject to income tax and therefore we would only recommend this account if you had already reached your £20,000 ISA limit for the current tax year. There are no account minimums required and should you choose to empty your account, you will not face any charges.
Wealthsimple Junior ISA
The Wealthsimple Junior ISA is the perfect vehicle for parents who want to start saving and investing for their children early. As with the Stocks and Shares ISA, the Wealthsimple JISA provides access to the Wealthsimple low-cost portfolios and any income earned is tax-free. The Wealthsimple JISA is available for children under the age of 18 who are living in the UK, however, deposits into a JISA must remain within the JISA allowance which currently stands at £9,000 for the 2020/21 tax year.
Wealthsimple SIPP
Wealthsimple are one of a handful of robo-advisers who also offer a SIPP, or pension account. The Wealthsimple SIPP gives account holders the flexibility to choose their investments from a diversified range of portfolios and low-cost funds. This means you can take advantage of the low management fees that come with passive investing through a robo-adviser whilst mirroring the performance of the stock market. What we liked about the Wealthsimple SIPP is that your portfolio is automatically re-balanced and they have human advisors on hand to discuss your investments. This really sets them apart from a lot of the robo-advisors currently available.
These investment accounts represent a decent offering in the market, although we would have liked to have seen a Lifetime ISA added as part of their product offering.
Wealthsimple Investments
Wealthsimple offers five portfolios to you as an investor, consisting of Conservative, Balanced, Growth, SRI and Shariah-Compliant which can be carefully matched to your risk profile. A quick check under the hood will reveal that the standard portfolios use 12 exchange-traded funds, including ETFs from Vanguard, Legal and General, PIMCO, BlackRock and Amundi Asset Management. The SRI portfolios use 6 ETFs and the Shariah-compliant portfolio has 50 individual stocks. This represents a well-diversified mix, although we would have liked to see greater exposure to international bonds.
The obvious place to start with the Wealthsimple investment options is with the socially responsible investing portfolios, designed for the investor who likes to invest in line with their values. There are three portfolios to choose from depending on your appetite for risk, made up from six exchange-traded funds that exclude companies involved in fossil fuels, tobacco and weaponry. Wealthsimple professes to actively look for companies that have a track record of socially responsible values including gender equality. However, whilst conducting this Wealthsimple review we did come across controversy surrounding the actual content of the Socially Responsible portfolio at Wealthsimple and we would have liked to see some more transparency as to which companies Wealthsimple invest in under the SRI umbrella.
The Wealthsimple medium risk SRI portfolio was their top-performing portfolio for the 12 months preceding September 2020. With investment returns of 5.55%, this was sufficient to beat a lot of the competition. As a comparison, the Wealthify confident portfolio experienced a rate of return of just 2.29% over the same time period.
Shariah-Compliant Portfolio
This is a fairly unique offering in the Robo-advisor space and a welcome addition for anyone looking for investment options that are in line with Islamic law. Within this portfolio, investors can access 50 individual stocks that exclude companies that profit from gambling, alcohol, firearms, tobacco or other restricted industries.
Portfolio Performance
When compared with other robo-advisors, Wealthsimple's portfolios performed very well with a 14.43% growth on their balanced portfolio in the last three years. In comparison, the average managed fund 20-60% equity performance was 5.37%.
Wealthsimple Investment Platform Review
Wealthsimple have presented the information on their investment platform user interface with an attention to detail that is often overlooked. Sharp, modern graphics and the use of subtle animation makes complex chart reading more accessible and easy to use. There is no doubt that Wealthsimple have taken steps to decipher some of the greater complexities surrounding the industry jargon. Their questionnaire was very quick to complete and results in a match with a suitable portfolio that is in line with your risk profile and lists the exact funds they recommend.
We particularly like the projections that are available with each investment portfolio giving you an insight into how your investment might perform over time.
Wealthsimple Mobile App
Wealthsimple have done a great job with the layout and formatting on their mobile app. It's slick, clean and easy to use with a strong focus on the value of your investments. Topping up your money is quick and easy and you can even open your account straight through the app. The app also provides access to personal finance articles which are great for helping to educate the more novice investors. Customer reviews are generally positive and Wealthsimple have scored a very respectable 4.3 out of 5 on the app store which is testament to the innovative and clean experience they provide.


Wealthsimple Research Service and Tools Review
Being more of a 'set it and forget it' type platform, Wealthsimple are fairly sparse when it comes to research services and tools. We couldn't find any access to calculators or planning tools which is ideal for savers who would rather have everything managed for them but could be a little frustrating for investors who like to take a more active approach. There is access to human advisors vs robo advice if you have queries about your investment or require financial advice but the offering outside of this is a little limited.
However, when it comes to education we found their resources to be quite outstanding for investors to get started, with short videos to educate you on subjects like the stock market, when to pick stocks, and how much you will need to retire. This 'course' can be completed in around 45 minutes or done in short, sharp modules. They also have a very informative personal finance section on their website which is accessible to everyone, even non-account holders.
The Wealthsimple Magazine is also a free resource, available to everyone, and provides helpful articles and insights to help you on your investment journey. There is also a comprehensive 101 glossary and investment FAQ's
Fees and Charges Review
Wealthsimple market themselves as a low-cost provider with management fees of only 0.7% per year. This amount is reduced to £0.5% per year as soon as you invest more than £100,000. In addition to this, you can expect to pay an average fund fee of 0.18%. There are no nasty surprises and Wealthsimple will even cover the cost of transfer fees when you transfer your money across to them.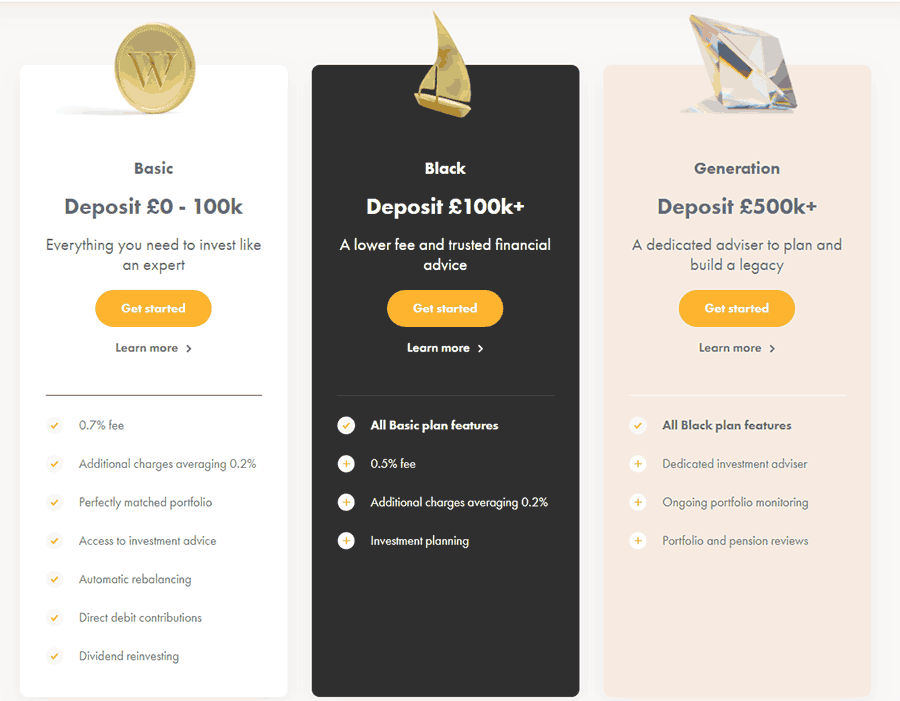 Fees will soon eat into your investment gains so it's important to compare Wealthsimple with other robo-advisers.
Vanguard's LifeStrategy Funds currently come with a management fee of 0.22% which is excellent value when it comes to low fees, however, you won't get the same slick experience from Vanguard which is more of a hands-on investment approach. Nutmeg on the other hand currently charge 0.45% for their fixed allocation portfolio, however, their fully managed portfolio goes up to 0.75% which is slightly higher than Wealthsimple. Wealthify come in slightly under the Wealthsimple costs with an investment management fee of 0.60% and investment costs of 0.16%.
Guide to Opening a Wealthsimple Account
As of December 2021, Wealthsimple are no longer accepting new accounts from UK residents.
As you would expect from such an innovative platform, opening an account is slick, quick and easy. The initial registration is as simple as providing an email address and secure password, after which time you will be asked to provide your date of birth, address, and National Insurance Number.
Once you have completed the quick registration process you will be directed to a short questionnaire asking about your investment goals and personal financial circumstances, the results of which will give you a recommendation on how you should proceed. At this point, Wealthsimple may recommend that you build up some savings before you look to invest, however, unlike other investment platforms, it will allow you to proceed even against its recommendations. Should you choose to ignore this kind of recommendation and proceed with your investments, Wealthsimple will follow up with an email asking to discuss your investment plan and risk score. This kind of attention to detail is great for new investors and shows Wealthsimples commitment to their customers.
Guide to Transferring Your Investments
As you would expect from a robo-advisor of this calibre, Wealthsimple have a fairly seamless transfer process which is completely free of charge. That being said, it is possible that your current provider will charge an exit fee, however, the good news for Wealthsimple Customers is that they will cover any exit fees.
Should you wish to transfer an existing Stocks and Shares ISA to Wealthsimple, perhaps to take advantage of the low fees, then the good news is that transferring ISAs from previous tax years has no impact on your ISA allowance for the current tax year.
Transfers can be executed either directly from the Wealthsimple website, or alternatively through the Wealthsimple mobile app. It's as simple as answering a few easy questions about your current account, and then Wealthsimple will take care of the rest for you. This process is the same regardless of whether you are transferring a Pension, ISA, JISA or Personal Account and can be done in around five minutes.
Wealthsimple Customer Service Review
The most important aspect of the Wealthsimple Customer support offering is the fact that they allow their customers to get access to human Investment Advisers. This is rarely encountered in the robo-adviser arena and a very welcome addition. The investment advisers customers can get access to can offer advice on ETFs and mutual funds and this investment service is completely free of charge. This enables customers to make sure that they are investing in line with their financial aspirations and their appetite for risk.
Their first point of contact, however, are their 'Relationship Managers' which appears to be a fancy way of saying customer support agent. They can be reached by phone, or email although there doesn't seem to be any hours listed.
One thing that we thought was a little lacking with Wealthsimple is that they don't offer any live chat functionality. Being a tech company this seems like a bit of an oversight and in the process of doing these reviews, we have noticed that this sets them back from the competition.
Who is Wealthsimple Suitable For?
Wealthsimple offer sound investment methodology for novice or time-restricted investors who would rather have a digital wealth manager making strategic investment decisions on their behalf. Their low-cost model is certainly attractive for beginners to start investing and with solid historical returns, they offer a reliable vehicle for growing your money.
The access to an actual investment advisor, provided by Wealthsimple, is rarely seen on investment platforms and a welcome addition to their robo-investing service. The app gets good reviews on the app store and from there you can gain access to all your accounts at the same time. Also with no minimum investment, this opens up the service to anyone interested in investing, regardless of their current bankroll. Wealthsimple is also an excellent choice for investors looking for a socially responsible portfolio. It's important for any potential investor to remember that investing is a long term endeavour and they should be prepared to leave their investments for a minimum of five years. Therefore, should you need access to your money sooner, investing with any platform might not be suitable for you.
Useful Information about Wealthsimple
Is Wealthsimple expensive?
Whilst they are not the cheapest service provider available, Wealthsimple provide free access to human financial advice, helping you make the right decisions for your money, which in our opinion makes them a very reasonable offering in the marketplace. It is also worth noting that with no minimum investment, Wealthsimple offer an accessible solution to all walks of life interested in investing, regardless of bankroll.
Do Wealthsimple charge investors exit fees?
No Wealthsimple don't charge exit fees and are very transparent with all their fees and there are currently no exit fees to be concerned with. Fees of this nature can quickly eat away at your money so it's important to be aware of them before you open a Wealthsimple account.
Is Wealthsimple any good?
Generally speaking, Wealthsimple have an excellent offering for anyone looking to grow their money and we had a positive experience with them whilst conducting this Wealthsimple review. There are a few standout features that we think help elevate its position in the market including:
Direct debits providing you with automatic contributions
Dividend reinvesting ensuring you can quickly earn more money by putting dividends back to work instantly
Automatic rebalancing of your portfolio as and when the market changes
Access to human support and a human adviser to offer investment advice
No minimum investment
Pension provider
Whilst Wealthsimple may not be the cheapest offering on the market, these features may ultimately lead to a more successful investment strategy. The other advantage with Wealthsimple is their tiered account structure which when you get to the Wealthsimple Black account leads to a reduction of fees to 0.5%.
How do I withdraw my money from Wealthsimple?
Withdrawing your money is a relatively quick and simple procedure and can be done by logging into your investment account on the Wealthsimple website. At the top left of your profile, you will see an option to 'Move Funds'. Next, you simply need to select 'Withdrawal funds', enter the account and amount of money you would like to withdraw and click 'Set Withdrawal'.
Can Wealthsimple Go Bust?
It is possible for any robo-advisor to go bust, however, Wealthsimple currently have £3 billion in assets under management, which in the wealth management arena represents a profitable business model. As well as this, Wealthsimple enjoys the backing of the Power Financial Group and Allianz X, two financial giants.
Of course, as with all robo-advisers, client money is protected in the unlikely event of the company going bust. All securities are registered in your name and you would have the option to either transfer to another provider or withdraw to your chosen bank account.
As a company, Wealthsimple are also covered by the Financial Services Compensation Scheme (FSCS) which would compensate you up to the value of £85,000 should Wealthsimple go out of business.
How do I close my account at Wealthsimple?
Firstly it is important to ensure that you have withdrawn all your money and your account balance is £0 before you attempt to close your account. Once this has been achieved you simply log into your account on a desktop and click 'close this account' located below the yellow button.
If you wish to use the mobile app to close your account, simply click the '…' icon in the top left corner and select 'close account'
It is prudent to know that keeping your account open at Wealthsimple carries no charges and there is the option to unsubscribe from receiving any emails from them.
How safe is Wealthsimple?
As with all robo-advisers, Wealthsimple employ innovative encryption in order to ensure your money is always kept safe. They are also authorised and regulated by the Financial Conduct Authority meaning you can feel as comfortable as you would if your money was being held in a traditional bank. That is not to say that you can't lose money using Wealthsimple.
Investing always carries a degree of risk, and the value of your investments can go up as well as down, meaning you may not always get back what you deposited. It's important to realise that investing is a long term endeavour and you should be prepared to leave your investments in your account for a minimum of five years in order to ride out any volatility in the market.
Wealthsimple also take the protection of your data seriously and will never share your data with a third party.
Does Wealthsimple offer a rounding up service?
Sadly, you have to be a Canadian client in order to take advantage of Wealthsimple's rounding up service. This is a feature we would like to see rolled out to the UK as it is an excellent investment strategy for people looking to maximise their savings.
Is Wealthsimple Good for Beginners?
Definitely. Wealthsimple offers investors a low fee, hands-off way of growing their money in line with their financial aspirations. Wealthsimple provide access to a globally diversified portfolio that aims to minimise risk while maximising the potential returns.
They also provide account holders with features such as direct debits, dividend reinvesting to earn you more, automatic rebalancing as the market shifts and easy access via their award-winning website, or by using the Wealthsimple app. For the novice investor looking for automated investing and access to a financial advisor, this is a solid option.
Can I engage in share dealing with Wealthsimple?
Wealthsimple is a 'done for you' option, with ready-made portfolios that you can choose from to suit your needs. If you would like to engage in share dealing, you would be better off finding an alternative platform like Interactive Investor.
Is Wealthsimple in the UK?
Whilst Wealthsimple was originally launched in Canada in 2014, they opened their virtual doors to clients in the UK in September 2017. From December 2021 Wealthsimple are no loner offering investment services in the UK
How do I contact Wealthsimple?
Contact with Wealthsimple is made through their Relationship Managers either by phone on 0800 808 5653 or via email on
[email protected]
. At the time of this Wealthsimple review, there was no live chat on offer.
Wealthsimple Customer reviews
Most recent reviews:
There are no reviews yet. Be the first one to write one.
See which share tip is making the headlines

Have you considered transferring your pension?

Find the best trading platforms
*Capital at risk