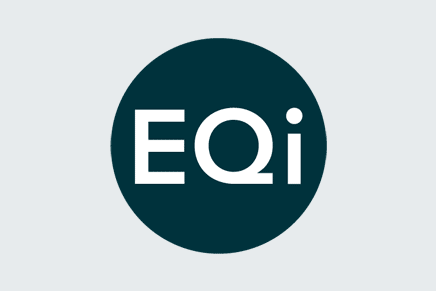 Please be aware that as part of the acquisition of EQi by Interactive Investor, new ISA, SIPP, Lifetime ISAs and dealing accounts will be transferred to Interactive Investor later this year. 
Who is EQi?
EQi, previously Selftrade, is an online brokerage and part of the Equiniti Group (authorised and regulated by the FCA). As I will show in our EQi review, they offer good value to investors with midrange sized portfolios up to £250,000.
EQi offer five main account types; a Dealing Account, Stocks and Shares ISA, Lifetime ISA, Child Trust Fund (for existing account holders) and SIPP account where you can find all the usual offerings such as gilts, unit trusts and a variety of stocks and shares.
I like that they give investors the opportunity to get involved in IPOs too, which I don't always see from smaller brokers.
Their research and analysis tools powered by Morningstar are complimented well by their own research and advice which is easily accessed on their website. It's actually one of the better investment brokers I've seen in terms of information provided and this is reflected through their 2018 award from Shares Magazine for 'Best Investor Education'.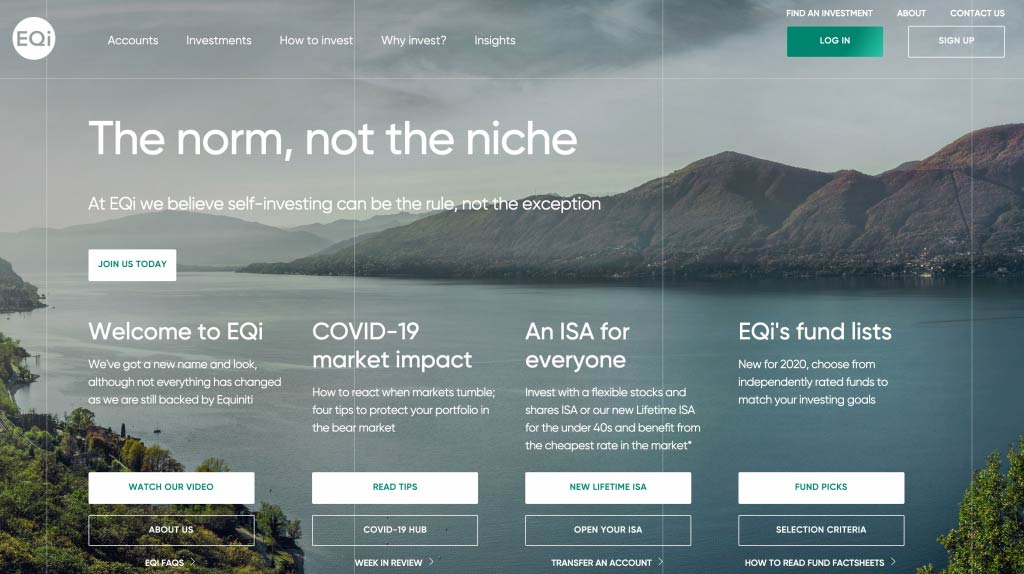 EQi's SIPP and ISA products don't particularly offer anything that you can't find elsewhere, but, having said that,their platform and dealing fees come in a little cheaper than other major competitors – which could persuade you, especially if you're making a lot of trades.
Transferring accounts to EQi is pretty straightforward, although their sign-up process can end up taking longer than expected if they're unable to verify you online – which we think if they're not asking for a driving license or passport numbers on the online application, is going to happen more often than not and their customer service can be a little lacklustre.
If you're looking for a broker with low fees and are new to the investing game, EQi could be a great way to introduce yourself to the world of investments and markets. If you're more of an experienced trader, you're likely to hit a few too many hiccups to make you want to stay with them.
Product Range
EQi offer a decent range of products for UK investors with their five main product choices being a Dealing Account, Stocks and Shares ISA, Lifetime ISA, Child Trust Fund (only available to people with an existing child trust fund) and a personal pension (SIPP) account all from one investing platform. Their Dealing Account gives you access to shares on both the UK and international stock markets where you have the option to invest in:
Mutual Funds (Unit Trusts)
Fixed Income Investments
Stocks and Shares
ETFs
Investment Trusts
IPO
Dealing Accounts can also be opened as a Joint Dealing Account which you can share with up to four friends or family members and all accounts allow for a regular investment set-up.
Research Services & Tools
EQi's Market Insight and Research tab had us all very impressed. Unlike some other mainstream brokers, it's easy to navigate and has a wealth of information to help any kind of investor.
They have the usual market activity monitors on their website which is powered by Morningstar. They give you all the latest information on the FTSE 100, 250, as well as the Dow Jones. You'll also be swimming in data from their market news section which pulls the latest market updates from Alliance News Ltd.
Despite the general consensus that EQi is more for confident/experienced investors, they are making their site easier to navigate for newbies and we were impressed with their comprehensive selection of articles and advice for first-time investors available on their investing platform. Everything from what a mutual fund is to how much research you should be carrying out before investing is available.
They've even teamed up with Stockomendation if you're looking to get some expert tips on who you should be investing in for the short, medium and long term which is a service provided free of charge for all EQi clients.
For those of you looking to sink your teeth into a mutual fund or two – which is great for longer-term investments, they have partnered with an independent third party; Square Mile, to help you assess your appetite for risk and help choose a fund that suits you down to a tee.
Need to know about investing for retirement and how to fund your personal pension SIPP? EQi also has you covered here, with an entire page dedicated to helping you understand everything you need to know about saving for your future.
Overall, we think EQi's selection of market research and analysis tools, as well as their partnerships with independent advisors, is some of the best we've seen a broker offer.
Trading Fees & Account Charges
We've listed the typical fees that you're likely to want to know about in this section, but you can see more detailed information on their pricing structures, such as prices for international trades and government duties/levies here.
Platform Charges
EQi has pretty competitive platform charges which are slightly less than the fees charged by the likes of Charles Stanley Direct and Hargreaves Lansdown, making them a great option for those with low to mid-value portfolios. However, if you have more than £250,000 to invest, you may find it's cheaper to go with another broker as many of them tend to waive platform fees over this amount.
Here's a roundup of EQi's platform fees:
Up to £50,000 0.3%
£50,001-£250,000 – 0.25%
Over £250,000 – 0.15%
Custody Fee
Custodial fees are kind of like the admin fees of the investing world. EQi will be looking after your assets, allocating dividends and buying and selling stocks and shares as you request. Their fees are all flat rate meaning that the price doesn't increase as the value of your investment does. Therefore their fees better value for clients with a higher portfolio than those who are just starting out.
Here are their current custody fees which are charged per quarter:
Dealing Account
ISA – £17.49
SIPP – £17.49
ISA & SIPP – £17.49
As you can see, if you hold both your ISA and your SIPP with EQi, the custody fees are bundled saving you a little extra cash.
Additionally, if you open either a SIPP or ISA with EQi, they'll also include a dealing account free of charge, so you'll only pay one lot of custody fees.
Dealing Fees
As is the case with many brokers, you can save yourself a bunch of cash by trading online as opposed to trading over the phone.
If you trade online, shares, investments, trusts, bonds and gilts are all charged at a flat rate of £10.99 per trade. However after your 20th trade each month, this fee will be reduced to £5.99. Nothing spectacular, and pretty typical (maybe a few pence cheaper) of online brokerage companies.
All mutual fund purchases are free of charge although any sales of these are £10.99 (whether you sell online or over the phone), or £5.99 if you've made more than 20 trades in a month.
One great selling point of their dealing fees, however, is that they're offset their custody fees, so if you make a couple of trades per quarter, you'll just pay the dealing fees and not the custody fee.
SIPP Fees
EQi's SIPP fees are a little less than some similar online brokers – Charles Stanley for example. They charge an annual administration fee of £118.80 and drawdowns will cost you £180. If you want to transfer out of the EQi SIPP there is a fee of £90.
If you want to see how EQi's fees work in practice, this guide gives you a pretty realistic overview of what you can expect to pay.
Opening an Account with EQi
You'll need to make sure you have a few bits of paperwork on hand when opening a EQi account so you can access your full account right away.
They have a few prerequisites for you to be able to open an account, you must have:
UK address
UK bank details
National Insurance Number (or any tax numbers if you're a British citizen living overseas)
Info on any other nationalities you hold
The online account application is fairly self-explanatory and we found you can get everything set up in around 5 minutes.
However, they may ask you for further details to identify yourself, which is where, for me, I find things can get a little bit inconvenient and annoying.
This confirmation of ID has to be done by post and when other brokers are able to ID you online this seems a little too old school for my liking.
Their confirmation of ID form requires you to either have to send in an original or a certified copy of your passport, driving license or EEA ID card alongside either a P45 or P60, bank statement, council tax or utility bill. It would be nice to see EQi improve their online ID process in the coming year.
Transferring Your Investments to EQi
At the time of writing, EQi has a bit of a welcome offer for transferring your investments to them – which is great for those of you with smaller investments who want to give your money a bit of a boost.
For Dealing Accounts and ISAs, you'll first need to open a EQi account and then download and complete a 'transfer in' form, you then post it off to them and they do all the leg work for you which is typical of many brokers when you're transferring products to them.
Transferring your SIPP is a little easier and as soon as you've opened a SIPP account with them you can transfer in online through Gaudi – their pension provider. More information on SIPP transfers can be found here.
EQi ISA Review
A major upside to opening a EQi ISA is that it's flexible; meaning that you can deposit and withdraw funds throughout the tax year without it eating away at your allowance. For example:
If you hit the £20,000 threshold for the tax year but then circumstances mean that you need to withdraw £5,000 for something, you'll still be able to go back and replace that £5,000 later on in the tax year. Some providers don't allow you to do this as they would see it as having paid £25,000 in the tax year as they don't deduct withdrawal from your tax-free allowance.


EQi makes their ISA options easy to understand for those who may not be all too familiar with the stock market and how to maximise their ISA allowance. By simplifying funds into Cautious, Balanced and Adventurous funds, investors have some idea of where their money is going and the risks associated with it.
Though these offerings are appealing, we struggle to see how EQi is really differentiating itself from other brokers – their fees are a little lower than the average broker, but that's about it. We do commend them, however, for their impressive research tools available to all users of the site and their explainer videos are perfect for novice investors.
EQi SIPP Review
The SIPP options at EQi are just like their ISA and you can invest in a bunch of mutual funds, stocks and shares, IPOs, gilts, bonds and more.
EQi offer easy options for you to transfer your SIPP from your existing broker and other than a quick form that you need to fill out, all the rest is handled by their team.
They are actually one of the more flexible SIPP providers in the UK as they also allow you to choose SIPPs from external providers but manage them through the EQi platform.
We like their Retirement Planning Calculator tool which allows you to see how much you really need to depositing via a regular investment for your retirement, as, judging by recent statistics – especially amongst millennials, we actually think we need less than what we will.
Customer Service
Unfortunately, the customer service at EQi appears to be one of its biggest pitfalls with many investors taking to review sites to complain about their serious lack of urgency as well as poorly updated international stock prices.
There is no way to contact EQi via email if you want to discuss personal account information however you can send them a secure message or give them a call. Their lines are open Monday to Friday from 7:45 am to 7 pm which is a little later than some brokers.
It would be nice to see them invest in a secure live chat service, and address the long hold times that some customers have reported experiencing.
EQi Review Summary
EQi is an ideal choice for confident traders who are looking for the freedom to invest where they like, yet still take advantage of low platform fees.
However, this doesn't mean that we think new investors should steer clear as they have a wealth of information to get you more than up to speed on the jargon and help you to confidently make your first few trades, however if you are unsure, it's probably best to check our Hargreaves Lansdown review.
We like that they've teamed with multiple third parties to deliver unbiased information about the variety of stocks and shares they allow you to purchase.

EQi FAQs
We attempt to answer the most frequently asked questions about EQi, previously Selftrade.
Whilst their customer service can be a little lacklustre, EQi have five accounts, covering the needs of most people, although we would love to have seen the addition of a Junior ISA. Their LISA is the cheapest on the market at just 0.2% which is a great reason to open one here and their education tools and podcasts are excellent, offering great insights for all levels of trader.
Yes. EQi do have an app but with a rating of 1.4 on the app store it certainly seems to need a lot of work in order to bring it up to the standard of EQi's competitors. This seems to be EQi's major weakness with users reporting major issues to the functionality as well as the interface and somewhat unforgivably for an investment app, it seems to not function at all a lot of the time.
Withdrawals can be made from the main dashboard by selecting 'view' or 'deal' from the account you wish to withdraw from. From there you can simply select 'Manage' and 'Move your Money' where you will see the option to 'Withdraw Money'. From there you simply need to confirm cash balances and enter the amount you wish to withdraw.
Closing your account at EQi can be done easily by emailing the Customer Experience Centre who will supply you with an account closure form.
EQi are regulated by the Financial Conduct Authority, and in addition to this they are also part of Equiniti, a FTSE 250 listed company. EQi customers are also protected by the FSCS, providing compensation of up to £85,000 in the unlikely event that the company was to go bust.
EQi also have two-step authentication with logging in, which provides additional security and are totally transparent with ownership and financial statements.
Selftrade was purchased by Equiniti in 2015 at which time it became known as EQi. EQi is a FTSE 250 listed company that manages the shares for 70% of the FTSE 100 and boasts 70 million shareholder records.
Most recent reviews:
There are no reviews yet. Be the first one to write one.
See which share tip is making the headlines

Have you considered transferring your pension?

Find the best trading platforms
*Capital at risk