As a member of the Virgin Group, Virgin Money UK has incredible name recognition. You know the name even if you're not an account holder and if you're new to investing.
Virgin spent years attempting to upend the banking experience by transforming its branches into 'stores' and 'lounges' and providing simple options to make money management easier. It's meant to be a lighter, leaner version of your high street bank with a little bit extra, including ISAs and pensions.
Who is Virgin Money Investments?
Virgin Money Investments is a subsidiary of Virgin Money, who are a financial services company founded by Richard Branson in 1995. The company offers a variety of services including credit cards, mortgages, savings accounts and investment products, and insurance.
It operates primarily in the UK and is a publicly traded company on the London Stock Exchange.
In June 2018, Virgin Money entered into an agreement to be acquired by CYBG plc. The takeover was completed in October 2018 and Virgin Money was subsequently merged into Clydesdale Bank plc on October 21, 2019. It operates under Clydesdale Bank plc's banking license and continues to use the Virgin Money brand name, phasing out the Clydesdale Bank, Yorkshire Bank and B brands.
How does the group compare? As I will show in my Virgin Money Investments review, the good news is that Virgin Money's Stocks and Shares ISA won the Your Money Award for best provider in 2016, 2017, 2018, and again recently in 2019. However, you'll quickly notice that your investments options are limited compared to other service providers.
Is Virgin Money's product right for you? Read on to learn about the different account options in my review.
Virgin Money Investments Ratings
Deposit and withdrawal:
60%
Markets and products:
100%
Pros
Wider product range than most investment platforms
Option to start investing with as little as £1 when you open a cash ISA
Opening an account comes with access to Virgin Money lounge facilities
Cons
Limited customer service
High annual ongoing charges
Very limited education on investing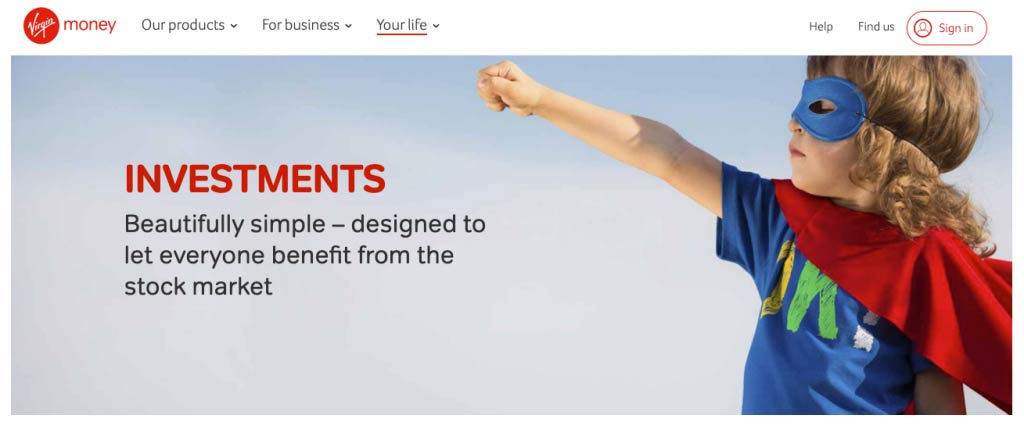 Virgin money runs a wider product range than most investment platforms because it also operates as a bank that offers current and savings accounts as well as mortgages.
Among its investment opportunities, it includes:
Cash ISAs
Stocks and Shares ISA
Personal pension
Children's pensions
Workplace pensions
Unit trust product
The unit trust product is available for those who use up their annual ISA allowance and are looking for a place to invest further available cash in stocks and shares.
Research Services & Tools
Virgin Money provides access to hand-selected funds. There's no need for you to get involved in buying and selling, so there's no real access to research services or tools. Virgin Money goes as far as explaining basic concepts (e.g., "What is an ISA?"). However, once you have a basic level of knowledge, you'll need to look elsewhere for more in-depth resources.
Unlike other providers like Hargreaves Lansdown, Virgin Money also won't offer financial advice — even for a fee. You can ask product questions (e.g., how do I open an account?), but they won't direct you towards a product in any way. Instead, Virgin Money specifically suggests searching for an independent financial adviser.
The basic documents provided solidify Virgin Money's position an easy place to go if you are opening an investment account for the first time and don't intend to do more than (hopefully) watch it grow.
However, those with an interest in being more hands on may find that you and your money outgrow the product within a few years.
Trading Fees & Account Charges
Each of the main ISA funds (outlined below) come with an annual charge of: 0.60% or 1% of your investment value depending on the fund you choose. There is a higher fee of 1.3% for the Climate Change Fund. Virgin Money deducts the annual management charge from the underlying fund each trading day.
The same 0.60%-1.0% fees also apply to the pension funds and grow based on the fund you select. https://uk.virginmoney.com/virgin/pension/popups/ongoing-charges-figure.jsp
Because you aren't buying or selling, there are no dealing fees.
The account fees can be very steep compared to the management fees of 0.1-0.35% elsewhere. Unlike other providers, Virgin Money doesn't scale its fees: the management fee applies whether you have £1,000 or £1 million in your fund.
To open a Virgin Money ISA account, you need your National Insurance number and either your bank account details (for direct debit) or debit card details (for lump sums).
The standout account opening feature is the option to start investing with as little as £1 when you open a cash ISA. Although other providers also allow small minimum initial deposits of £25, it is one of the lowest initial deposits available.
The same account opening structure is also true for any pension accounts. However, if you open a pension account, Virgin Money will also want to know more about your employment situation.
Transferring Your Investments to Virgin Money
Virgin Money allows you to transfer in existing ISAs and pensions to its products by completing its transfer form https://uk.virginmoney.com/virgin/assets/pdf/isa-transfer-form.pdf). You must then return a physical copy of the form by post.
It's important to note that you cannot transfer a Lifetime ISA to a Virgin product.
Additionally, unlike other providers, Virgin Money doesn't provide a transfer timeline: it says that it may take weeks and the full timeline depends on your current provider.
Very often, the stocks and shares ISA offered by a provider is the star of the show. However, in Virgin Money's case, it is potentially its cash ISA product that makes it worth the switch.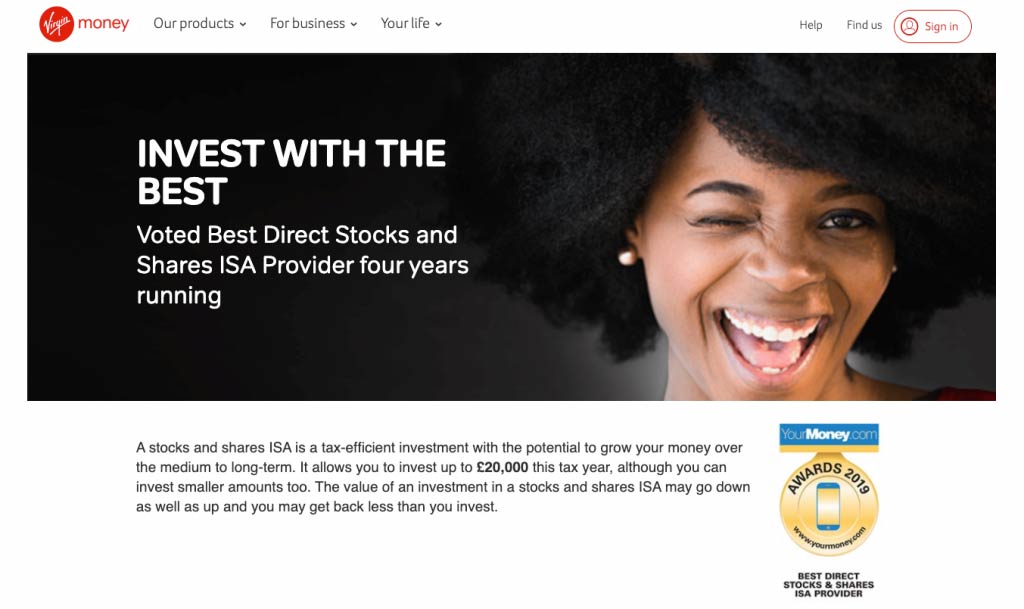 Cash ISA rates are usually poor, but Virgin Money offers improved rates that are attractive. The 1 Year Fixed Rate Cash E-ISA (available online only) offers a fixed rate of 1.26%. The other E-ISA products offer:
Double Take E-ISA – 1.21% (offers up to 2 withdrawals per calendar year)
Man Utd Double Take E-ISA – 1.21% (2 withdrawals per calendar year)
Easy Access Cash E-ISA – 0.50% (withdrawals any time)
https://uk.virginmoney.com/savings/find/results/#online
The 1 Year Fixed Rate Cash ISA and Easy Access Cash ISA are also both available offline.
These rates combined with the minimum initial deposit of only £1 sets Virgin Money's options apart from competitors, who often require at least £100 to access some of the better cash ISA rates. Plus, unlike a high-interest savings account, there's no limit on how much you may deposit each month.
When you open a Virgin Money stocks and shares ISA, you have the option of five different pre-built funds, including:
Bond and Gilt Fund (lowest risk)
Bond, Gilt and UK Share Fund
Bond, Gilt, UK and Overseas Share Fund
UK FTSE All-Share Fund
Global Share Fund
Virgin Money also offers what it calls the Climate Change Fund, which allows you to keep your investments among companies vetted against their environmental records. However, Virgin Money also charges substantially higher fees for managing the fund (1.3% compared to 0.6% or 1% for the five funds listed above).
You have the option of choosing more than one fund when you open the account. It's also possible to switch funds as your financial goals change, and there's no fee for doing so.
Self Invested Pension Plan (SIPP) Review
Virgin Money advertises its personal pension as a way of gaining 'full control,' but it's a misnomer. Account holders can start, stop, and change payments online or through a call centre agent.
Those new to saving may find they appreciate this level of control as it allows you to deposit only £1 a month if you go through a rough patch without necessarily penalising you. However, this is the relative extent that your personal control reaches.
The Virgin Money personal pension allows you to either begin a basic pension, which leaves all investment decisions up to Virgin Money or to choose your own investments through one of the five available funds:
Pension Bond and Gilt Fund (lowest risk)
Pension Growth Fund
Pension Bond, Gilt and UK Share Fund
Pension Bond, Gilt, UK and Overseas Share Fund
Pension Global Share Fund
The Climate Change Fund is also available to pension investors.
As with the ISA, the pension funds fees are tiered between 0.6% and 1.0%.
Virgin Money personal pensions are easy to manage, and you will get updates on what's happening with your account. However, there aren't many moving parts to your account, at least on your end.
Of course, any stocks and shares investment comes with an inherent risk.
The customer service experience is somewhat lacking compared to other investment providers. Although there are Virgin Money Stores across the UK, you can't get help in branch for the online-only products, like the E-ISAs.
Additionally, you'll pay the 0300 number charges to speak to anyone on the phone. Because there's no option for advice (strictly Q&As about the site and account), the service fee seems to be somewhat high, especially at 1%.
The middling service is where Virgin's attempts at offering something new and flashy tend to step in.
If you open a Virgin Money account (current or investments), you do have access to the Virgin Money lounge facilities (as well as discounts with other Virgin Family members). The lounge concept asks, "why bank when you can lounge?" and attempts to redefine the bank branch. All include complimentary refreshments and wifi and each has a local draw, like a cinema area or even a bowling alley.
You'll need to register to use the lounge. However, you can only do banking on-site in the following locations:
Cardiff
Sheffield
Glasgow
London Haymarket
The other lounges are available in Manchester, Edinburgh, and Norwich.
Virgin Money seems to try to use flash to make up for a below average customer service on its investment products. It may not be ideal for those looking to learn how to actively grow their wealth through their ISA or pension. You can use the wifi to log-in to your online account at a lounge, but you won't learn much more about investing — at least not directly from Virgin Money.
Who Should Use Virgin Money?
Virgin Money works best for new investors setting up their first accounts or who aren't making enough of their current investment accounts to justify the fees. If you are looking for simplicity, then choosing Virgin Money offers it better than most other platforms. All in all, there's very little choice to be had with the ISAs and pensions. It appeals to the fix-it-and-forget-it style of saving and investing.
Virgin Money also caters to new investors because it allows those who are more cautious to choose very risk averse funds. If you have real reservations about the idea of investing, then the Bond and Gilt Fund allows you to dip a toe in with minimal risk. (There is always risk involved in any type of investment.)
However, opening an account here also comes at a cost. You can expect to pay 0.6%-1.0% in annual ongoing charges each year, which is not only expensive at the start but also becomes very expensive once your investments begin to mature. Virgin itself gives examples of fees on £1,000, so it seems that the provider sees itself very much as an introduction to investing rather than a provider to call home for the full term of your accounts.

Virgin Money Investments FAQs
Who Owns Virgin Money Investments?
Virgin Money Investments is owned by publicly traded Virgin Money UK PLC, firm founded by Richard Branson in 1995 who now owns approximately 13% of the company.
How Safe is Virgin Money Investments?
As part of the 6th largest bank in the UK and fully regulated, Virgin Money Investments is very safe.
How do I Close my Account at Virgin Money Investments?
To close your account you will need to close all of your investments and then request an account closure. The simplest way to do this is contact support over the phone and they will walk past you.
Virgin Money Investments Customer reviews
Most recent reviews:
There are no reviews yet. Be the first one to write one.
See which share tip is making the headlines

Have you considered transferring your pension?

Find the best trading platforms
*Capital at risk