CMC Markets is a spread betting and CFD trading platform that provides access to over 12,000 financial instruments via their own proprietary web-based platform in addition to MetaTrader 4 and their own highly regarded mobile application.
The excellent educational and research tools make this a good prospect for beginners however, experienced and professional traders are also well provided for with dedicated sites, rebates, and a free API interface.
Spread bets and CFDs are complex instruments and come with a high risk of losing money rapidly due to leverage. 69% of retail investor accounts lose money when spread betting and/or trading CFDs with this provider. You should consider whether you understand how spread bets and CFDs work and whether you can afford to take the high risk of losing your money.
CMC Markets are widely considered one of the best forex and CFD brokers available, with a long-standing, excellent reputation and the added security of being listed on the London Stock Exchange.
Its own proprietary trading platform, 'Next Generation' is an excellent platform that delivers a modern and functional trading experience but loyalists of the MetaTrader platform won't be disappointed either.
This is one of the most comprehensive offerings of forex and CFDs which comprises several different asset classes including a wide range of forex, commodities, indices, individual shares, government bonds, and cryptocurrencies.
Traders will also find favourable spreads and some useful tools such as negative balance protection and guaranteed stop losses to aid their trading.
CMC is a low-cost broker within the industry with competitive pricing, especially for regular traders who can take advantage of rebate programs and frequent retail trader discounts.
In my CMC Markets review I have looked at the services offered, pricing, customer service, and tools and features in order to ascertain whether CMC Markets offers a good trading experience and how CMC Markets compares to other trading platforms available.
Who are CMC Markets?
CMC Markets are a UK-based financial services provider. They primarily offer trading in shares, spread betting, CFDs, and forex. CMC Markets are a long-standing company that are listed on the London Stock Exchange as well as being authorised and regulated by the Financial Conduct Authority.
Who owns CMC Markets?
CMC Markets was founded by Peter Cruddas in 1989. Since then it has experienced huge growth including a number of acquisitions and in 2007 Goldman Sachs bought a 10% stake in the company for £140m. Following this in 2016 CMC Markets was listed on the main market of the London Stock Exchange. In 2017 Norwegian Central Bank Norges bought a 3% stake in the company.
However, it hasn't all been plain sailing as in 2018 CMC suffered a 76% drop in profits and continued its downward trajectory into 2019 which prompted the CFO and COO, Grant Foley to leave the business.
The year 2020 saw a good recovery for CMC Markets although there has been some volatility in recent months.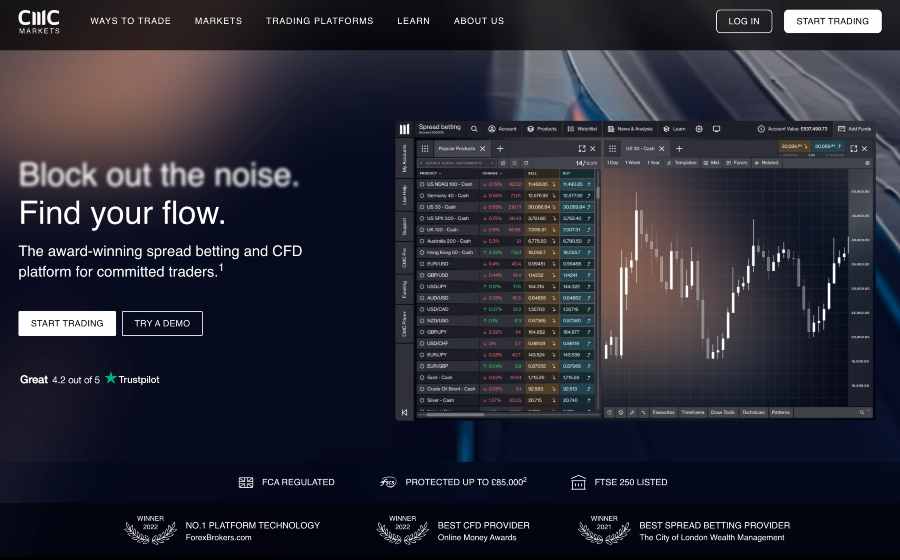 CMC Markets product range overview
CMC Markets is primarily a forex and CFD trading platform with access to over 12,000 financial instruments from global markets.
Forex and CFDs traders won't want for choice at CMC Markets with access to over 330 forex pairs and 10,500 shares.
Forex pairs: There are 330 forex pairs available to trade which is the most extensive offering I have come across to date. This includes majors, minors, and exotics and currency pairs are quoted both ways. As an illustration, the next highest number of forex pairs can be found at Capital.com which offer 137 pairs. If you are looking at trading forex, then I can happily recommend this broker.
Commodities: The 136 commodities at CMC Markets includes metals, energies, agriculture, and commodity indices. This is a highly competitive offering.
Shares: Arguably one of their strongest offerings, the 10,500 share CFDs available to trade at CMC should be sufficient for even professional traders.
Share baskets: Share baskets allow traders to trade shares in a particular theme focused on emerging industries, providing exposure with just a single position. These are handpicked by CMC market analysts and include themes such as Big Tech and Renewable Energy.
Indices: Trade on more than 80 cash and futures global indices with leverage, including the NASDAQ, S&P500, FTSE100, and the Nikkei.
Treasuries: CFD trading is available on over 50 US and European bonds and Rates, an extensive offering not found elsewhere.
ETFs: Again, CMC Markets have impressed with their extensive offering of spot contracts on over 1,000 of the most traded exchange-traded funds.
Cryptocurrencies: Trade with leverage on 18 major and alt coins as well as crypto baskets, providing scope to trade on multiple cryptos with a single position.
CMC Markets Demo Account
CMC Markets offer a free demo account where you can practice your trades using virtual funds. It's worth bearing in mind that the demo account does not include prices for share spread bets and CFDs, however, opening an account can be completed in a moment with minimal information required.
CMC Markets customer support review
CMC Markets have covered all bases with phone support, live chat, email, and a good array of FAQs.
CMC Markets have not disappointed with their customer service provision. Support is available 24/5 via email, phone, and live chat. My phone call was answered immediately by a professional and knowledgeable agent who was quick to deal with my inquiry.
Equally, live chat was highly responsive. That being said, I did have to wait for over 24 hours for a response to my email enquiry and the only other negative was the lack of support on the weekends.
CMC Markets web trading platform
The proprietary platform 'Next Generation' at CMC Markets is excellent in its design and functionality. MetaTrader 4 is also available as a web platform.
'Next Generation' is an impressive platform that is highly customisable and a pleasure to use. Whilst MetaTrader 4 is also available to trade CMC Markets on the web, it is my opinion that Next Generation trading platform is an upgrade in terms of trading experience.
Next Generation may seem a little daunting to complete novices, however, CMC Markets have counteracted this by providing a comprehensive platform guide. Even without the guide, the intuitive design soon makes navigating the interface a breeze and the provision of a demo account makes familiarising yourself quick and easy.
This is one of the most customisable trading platforms I have encountered to date with 10 custom templates to choose from. Searching for an asset is easily done using the search bar or by browsing product categories and there are a few order types to choose from including
Market
Limit
Stop
Trailing stop-loss
Guaranteed stop-loss
In addition, there are two order types Good 'til cancelled (GTC) and Good 'til time (GTT). Price alerts are easy to set and you have the option to set notifications for breaking news of events within the economic calendar.
A quick visit to the 'History' tab will provide you with a view of all your trading costs and payments for recent trades, making this platform one of the most transparent trading platforms available.
Security is all taken care of with a two-step authentication login. All in all, CMC Markets seem to have thought of everything with their web platform and I was impressed with the functionality and modern design.
CMC Markets Mobile trading platform
Both the proprietary platform and MetaTrader 4 are available for mobile trading with excellent design and functionality.
In keeping with the CMC Markets web platform, CMC Markets have produced a mobile trading app that is user-friendly and has some excellent tools. It's easy to navigate your way around the CMC Markets mobile app and find assets using the search function. Order types, order time limits, and alerts mirror those found on the web platform and security is first class with two-step login and swipe code or fingerprint authentication.
Sadly you cannot access the proprietary platform on desktop. However, you can still access CMC Markets using the MetaTrader 4 platform for desktop which will please MetaTrader loyalists.
Only MetaTrader 4 is available for desktop trading at CMC Markets. This is a third-party platform and whilst I found it to be a poor alternative to the proprietary platform, plenty of traders hold MetaTrader in high regard.
Certainly, MetaTrader is great for customisability, however, it is a little clunky and dated and lacks the security of a two-step login found on the proprietary platform. There is also no option to search for an asset by name and no option to place a Guaranteed Stop Loss order type.
The main consideration for MetaTrader 4 is that it does not offer any share trading but rather only offers trading on CFDs. However, in its defence, it does outshine Next Generation in its back-testing capabilities.
CMC Markets opening an account
Opening a trading account at CMC Markets is a smooth, easy, quick and fully digital process. Accounts are verified and ready to use between 1 to 3 working days.
There is no minimum deposit required to open an account at CMC and the entire process is very streamlined. You will need some basic personal information as well as your national insurance number.
To open your account follow these steps:
Click 'Start Trading' on the CMC website or download the app
Select your country of residence and choose your account type and base currency
Complete the form with your name, date of birth, phone number, email, and residential address
Complete the questions about your employment status and previous trading experience
Select 'Submit'
Go to your email where you should have received a link to a third-party verification service where you will be asked to display your ID (driving licence, passport, or national ID) via a video link
Provide proof of address such as a bank statement, utility bill, or credit card statement
Wait for your account verification to be completed before commencing trading
CMC Markets deposit and withdrawal
CMC Markets offers ample options for depositing and withdrawing your funds and most transactions are free of charge.
There are a number of base currencies to choose from at CMC Markets including USD, GBP, EUR, AUD, CAD, PLN, SGD, NOK, NZD, and SEK. For UK residents I would recommend selecting GBP as your base currency in order to avoid conversion charges.
Obviously, conversion fees are unavoidable when trading on instruments in other base currencies. However, in this instance, CMC Markets will charge a currency conversion fee of up to 0.5% of the trade's net profit or loss. This is a little on the high side.
Funding your account is easy and can be done using the following methods:
Bank transfer: This option is free. However, it can take a few days for your funds to appear in your CMC Markets account.
Credit/debit cards: This option is also free and funds will appear in your CMC Markets account instantly.
eWallets: This includes Neteller and Skrill and all deposits are free and instant.
Some withdrawals do carry a charge which it is prudent to be aware of although withdrawals to your bank account are free of charge. CMC Markets withdrawal fees are as follows:
Bank transfers: These are free of charge unless they are international bank transfers in which case a 15 EUR fee will apply
Credit/debit cards: Withdrawals take one day to process and carry a 1% fee for credit cards and 0.6% on debit cards
eWallets: Instant and free. This would be my recommendation for both deposits and withdrawals
CMC Markets offer great research facilities for all traders regardless of experience. Traders will find a good news feed, charting, innovative trading tools, technical analysis, and trading ideas to help them.
The research facilities will vary depending on whether you choose to trade using the MetaTrader 4 platform or the Next Generation platform, CMC Market's own proprietary platform.
MetaTrader4 has financial alerts and tools to provide traders with news from exchanges, market events, and geopolitical developments. However, there is no historical data for backtesting available.
Next Generation certainly outshines MetaTrader in this department with comprehensive news and analysis from large financial institutions such as Morningstar.
What I liked about CMC Markets is the access to some of these features directly from the website. News and market analysis can both be accessed before committing to opening an account, which may be a good enticement for many traders. In addition, news sources can be filtered by region or asset class.
Trading ideas include market-related information and speculation as well as Chart Forums which resemble social trading in that both CMC experts and users can contribute and share their chart analysis.
Fundamental data is provided via Morningstar and seems to be kept up to date and informative.
Where CMC Markets really shine is with their charting tools. There are more than 80 technical indicators to choose from and impressive features such as the option to save your favourite charts and share your analysis in the Chart Forums.
There isn't much missing from CMC Markets in terms of research, although there could be slightly more cohesion between the trading platform and the website.
CMC Markets have a great selection of educational materials. However, these are mostly aimed at beginners.
I don't necessarily feel that the educational materials being aimed at beginners is a negative, being that this would be the obvious target audience for education.
Given the wide range of tools and features available on the Next Generation software, it stands to reason that there would be an extensive section dedicated to the use of the platform itself. CMC Markets have certainly provided a good level of instruction in this area and the demo account is an excellent additional resource.
In terms of actual trading instruction and help with trading strategies, there are useful articles with videos and graphs to illustrate the more complicated financial concepts. There are also webinars which could be more suited to advanced traders and are provided in partnership with Trade with Precision.
There is also a useful glossary, however, traders looking for help with a particular topic will lament the lack of search function within the education section.
CMC Markets is a long-standing establishment with all the correct levels of authorisation.
CMC Markets are authorised and regulated by the UK's Financial Conduct Authority and CMC Markets clients can rest assured that their assets are automatically covered up to the value of £85,000 by the Financial Services Compensation Scheme.
It's important to establish with any forex broker how they store client funds as this can dictate what should happen to your assets in the unlikely event that the forex broker goes bust. At CMC Markets all client funds are held in segregated accounts at fully regulated banks ensuring they are fully protected in accordance with the FCA's client money rules.
Additional security comes in the form of two-factor logins, ensuring your account and data remain safe at all times. There is also biometric authentication on the mobile app and automatic logout when the account has been inactive for a certain period of time.
Being listed on the LSE provides an additional layer of security as this ensures total transparency of all CMC Markets' financial data.
In addition to being authorised by the Financial Conduct Authority, CMC Markets are also authorised in several other jurisdictions including
Australian Securities & Investment Commission
CMC Markets Canada inc – Investment Industry Regulatory Organization of Canada
Monetary Authority of Singapore
Financial Markets Authority of New Zealand
Dubai Financial Services Authority
CMC Markets have a competitive fee structure with most trading costs being included in the spread and minimal non-trading fees. However, the cost for trading individual shares can be high.
For traders looking for a cost-effective platform, CMC Markets is certainly worthy of consideration, in particular for active traders.
The spreads are consistently low for all accounts and typically come in around 0.7 pips on EUR/USD to 0.9 on GBP/USD.
Active traders can take advantage of the Active Trader Program which seeks to reduce the spread with discounts on trading costs. This is achieved via a system of Trading Points which are calculated according to the financial markets you trade and your overall trading volume in any given month.
FX Active is a new initiative, also designed to help reduce costs to 0.0 pips by rewarding high-volume trading. Here the spreads are tighter and commissions are fixed so traders can access full price transparency. Commissions across all forex pairs are 0.0025% per transaction. 0.0 pips is available for six major pairs with a 25% discount on all other currency pairs offered.
FX Active is available on both the proprietary CMC Markets Platform and MetaTrader 4.
Alpha Trading is another initiative designed to reduce costs and also provide trading perks including a subscription to the Financial Times, premium reports, market data and Trading Central. Traders are categorised into one of three tiers depending on their trading volume – Classic requiring a minimum of 11 traders per month, Active Investor requiring 11-30 trades per month and Premium Trader which requires more than 30 trades in any given month. The Alpha account allows for savings of 5% to 28.6% on your spreads and also comes with priority customer service. However, users must maintain a minimum account balance of £25,000.
Who is CMC Markets suitable for?
CMC Markets is an excellent choice for all levels of traders, with discounts and rewards for high volume trading, as well as excellent usability and educational resources for beginners.
There is an exceptionally wide offering of products on which to trade under the most stringent security measures and with access to highly responsive customer service.
Useful Information
This section contains useful information to make your experience at CMC Markets as seamless as possible.
How do I contact CMC Markets?
CMC Markets UK Plc can be contacted using the live chat facility within the online trading platform. Alternatively, you can phone or email at +44 (0)20 7170 [email protected].
How do I withdraw money from my CMC Markets savings account?
Withdrawing your funds can be done in a few clicks from within the platform or app.
Go to the 'Funding' tab
Select 'Withdrawal'
Select your preferred withdrawal destination 'Card', 'Bank transfer' or 'PayPal'
Is CMC Markets any good?
Yes, CMC Markets is good, in fact, it is widely considered one of the best CFD and forex brokers available. CMC Markets offers competitive pricing, with access to an extensive number of tradable assets, excellent market research and good educational tools.
How do I close my account at CMC Markets?
In order to close your account at CMC Markets, you will first need to ensure you have withdrawn any remaining funds in your account. Once this is done you should write to the Client Management team from your registered email address providing full contact details and your account number.
What is a good alternative to CMC Markets?
There are several good alternatives to CMC Markets including
CMC Markets FAQs
Is CMC Markets safe?
Yes, CMC Markets are a highly regarded and completely trustworthy forex and
CFD platform
. They have all the appropriate regulations and in addition, are listed on the London Stock Exchange.
How long does it take to withdraw money from CMC Markets?
Withdrawals can take up to 2 business days for funds to arrive in your nominated bank, however, they are often processed on the same day that you make your request.
Spread bets and CFDs are complex instruments and come with a high risk of losing money rapidly due to leverage. 69% of retail investor accounts lose money when spread betting and/or trading CFDs with this provider. You should consider whether you understand how spread bets and CFDs work and whether you can afford to take the high risk of losing your money.
CMC Markets Customer reviews
Most recent reviews:
There are no reviews yet. Be the first one to write one.
See which share tip is making the headlines

Have you considered transferring your pension?

Find the best trading platforms
*Capital at risk