In my Saxo review I have opened an account and tested every corner of the advanced trading platform in order to provide you with a comprehensive overview of what to expect from the trading broker.
I've taken an in-depth look at what trading with Saxo will cost you, as well as some of the investment options, customer service and research and tools available.
Who is Saxo Markets?
Saxo is an award-winning, online trading and investing platform that is part of the Saxo Bank Group. With over 660,000 users the Fintech provider facilitates over 180,000 trades a day from their headquarters in Canary Wharf.
Saxo Markets (formerly Saxo Capital Markets and known as Saxo Bank outside of the UK) is a Denmark-based trading platform that offers investor and trader accounts, as well as tax-efficient investment accounts for UK residents.
Who Owns Saxo Markets?
Saxo is part of the Saxo Bank Group, a privately owned company with the largest shareholder being Geely Financials Denmark A/S. Its founder and current CEO, Kim Fournais retains 27.53% of the company with the remaining shares being held by Sampo Plc and minority shareholders.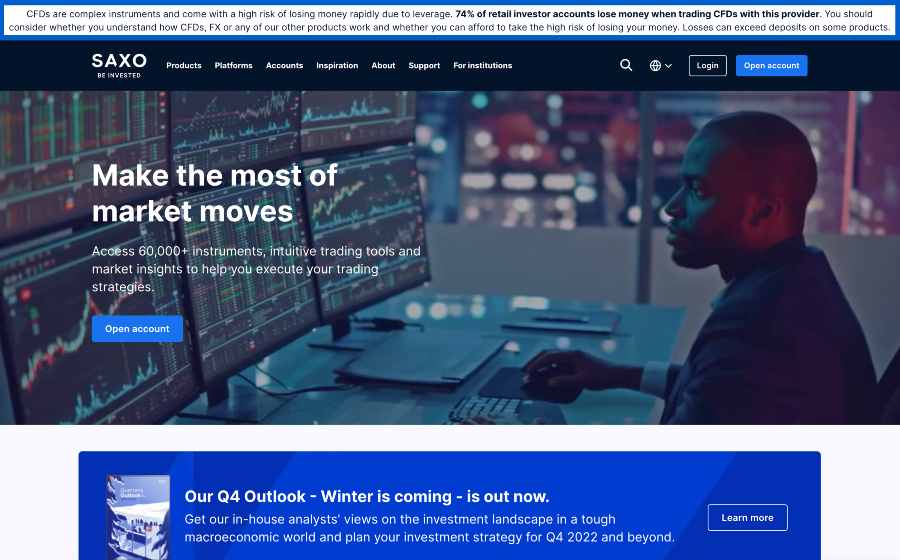 Compared to many trading platforms, Saxo Banks platform offers a professional sheen and a long list of financial instruments only offered by a handful of platforms within the UK. When you sign up for a Saxo Bank account, you get access to 40,000 instruments on 37 leading exchanges.
On the surface, Saxo Capital Markets looks like a brilliant option. But is it the right choice for you? Read my full Saxo Capital Markets review to learn more about the trading platform and the Saxo Bank ISA.
Saxo Markets Product Range
Saxo Bank offers a long list of account types, including
SIPP
General Investment / Trading account
Corporate account
Joint account
Trust account
Within these accounts, Saxo Capital Markets provides you access to a long list of investments across a multitude of asset classes. All retail investor accounts come with access to over 40,000 instruments. In this way, Saxo Bank offers a similar product offering to Degiro, but Degiro doesn't offer Forex through its retail investor accounts. You would only need to consider an alternative forex broker if you require high leverage, risk management tools or a low minimum deposit.
It's worth noting that you may not have access to all instruments or global markets in certain tax wrapper accounts, usually per HMRC and UK Government rules. For example, you won't have CFDs with this provider within your ISA account. CFDs come with a significant risk of losing money rapidly, so they aren't available in government programs.
Saxo Capital Markets primary product is its trading platform – the SaxoTraderGo web platform, which grants investors global access to a variety of asset classes including Futures, ETFs, bonds, mutual funds, forex options and listed options
However, you aren't limited to executing individual transactions. Saxo Capital Markets UK also offers portfolios that are managed (SaxoSelect) and cater to those with different risk appetites and goals who don't want to complete a high number of trades on their own. You can still access and monitor the investments through the Saxo Bank trading platform. However, you don't need to worry about the ins and outs of managing asset classes.
The SaxoSelect portfolios are the product of a partnership with asset managers, including BlackRock and Morningstar. Like most managed, ready-made portfolios, they are automatically rebalanced. They range from low- to high-risk, but they typically aim to provide long-term returns.
Many people looking to use an investment platform for retirement enjoy access to managed, ready-made portfolios, regardless of whether they are experienced traders or new to the subject.
Saxo Capital Markets managed, ready-made portfolios are for investors who have a fair chunk of change to initially invest in their Saxo Bank account.
The portfolios managed by BlackRock include
Defensive (low risk)
Moderate (medium risk)
Aggressive (high risk)
Each requires a minimum investment of 10,000 GBP. According to Saxo Capital Markets, the portfolios have offered returns of 26.8%, 37.9%, and 39.6% respectively since the funds were started (as of July 31, 2020).
The two Morningstar-managed, ready-made portfolios include:
Saxo Morningstar MOAT (high risk)
Saxo Morningstar High Dividend (high risk)
The Morningstar portfolios require a minimum investment of 30,000 EUR. They also have a total return (since inception) of 22.6% and -10.40% respectively (as of July 31, 2020).
The final two portfolios offered include
Brown Advisory Ethical Selection (high risk)
NASDAQ DW Global momentum (high risk)
The Brown Advisory Ethical Selection requires a minimum investment of 30,000 USD and has a return of 23.3% since inception.
The Nasdaq DW Global momentum is a high-risk portfolio with a minimum investment of 30,000 USD with a 5-year total return of 66.4%.
Returns are as of July 31, 2020.
Research Services & Tools
It's rare to review a platform that provides outstanding research and market analysis, but Saxo fits the bill.
Let's start with the live tools and data.
Saxo Bank provides detailed data and clear recommendations for trade ideas, as well as charting suitable for new and intermediate-level investors.
The chart function is largely lauded as being very user-friendly. It includes 50 technical indicators and a whole host of editing tools, including a trading signal tool.
Is there a catch? Naturally. Producing the kind of market research services and tools needed to run a platform like the one Saxo Bank offers requires resources. So, the data provided isn't free. Instead, Saxo Bank teases you with stock fundamentals on big names, like Apple, Barclays, Nokia, and Microsoft. The rest of the data is available on a subscription basis.
Other tools include
Stock screener
Newsfeed
Trading ideas
Market analysis
Technical analysis
In addition to providing helpful tools for live trading, Saxo Bank also invests in new traders. You can open a demo account and get started with trading using a combination of the platform tutorial and Saxo's long list of videos introducing you to trading in the Saxo Academy. Saxo Bank also offers webinars to help grow your knowledge.
Is there a catch? Data is 15 minutes behind unless you subscribe to live pricing from an exchange, so it's not real-time. There also seems to be some lagging with charting.
In addition to providing helpful tools for live trading, Saxo Bank also invests in new traders. You can open a demo account and get started with trading using a combination of the platform tutorial and Saxo's long list of videos introducing you to trading. Saxo Bank also offers webinars to help grow your knowledge.
Saxo also offers protection against losing more than you have in your account with negative balance protection, however, there is no guaranteed stop-loss protection which can lead to extreme losses.
Saxo Fees & Charges
Saxo Bank talks a lot about its "industry-leading prices", including entry prices, spreads, and commissions. Because of the breadth of the trading platform, it's impossible to cover every single trading cost in this review. And there are a lot of fees, so you should make sure you review them in-depth before you trade. However, it's worth using this space to put those fees in context.
Like many providers, Saxo Bank offers the best trading fees to those that generate the most income for the broker. In other words, you pay less and receive better service as you invest more in the platinum and VIP accounts. Saxo Bank also has low forex fees and the more you trade, the less commission you pay.
The Saxo Bank account tiers are:
Classic (minimum funding £500)
Platinum Account (minimum funding £200,000)
VIP Account (minimum funding £1,00,000)
These apply to the Saxo Account rather than the ISA or SIPP.
Commissions for Saxo Bank include
5 GBP for UK Exchanges
10 USD for US Exchanges
10 EUR for EU Exchanges
8 AUD for AU Exchanges
There's a review or two out there that considers Saxo Bank to be one of the most expensive trading platforms in the UK. There's no doubt that 5 GBP is a high per-trade fee, especially compared to no-frills online brokers. However, Saxo Bank doesn't claim to be a low-cost broker. It claims to be industry-leading. And when you compare the research, tools, and platforms with other brokers, the claim starts to ring true.
For example, the commissions make Saxo competitive with low-cost platforms like Interactive Investor, who charge 7.99 GBP on both UK and US Exchanges. It's also far cheaper than Hargreaves Lansdown, who apply trading fees of 11.95 GBP across the board.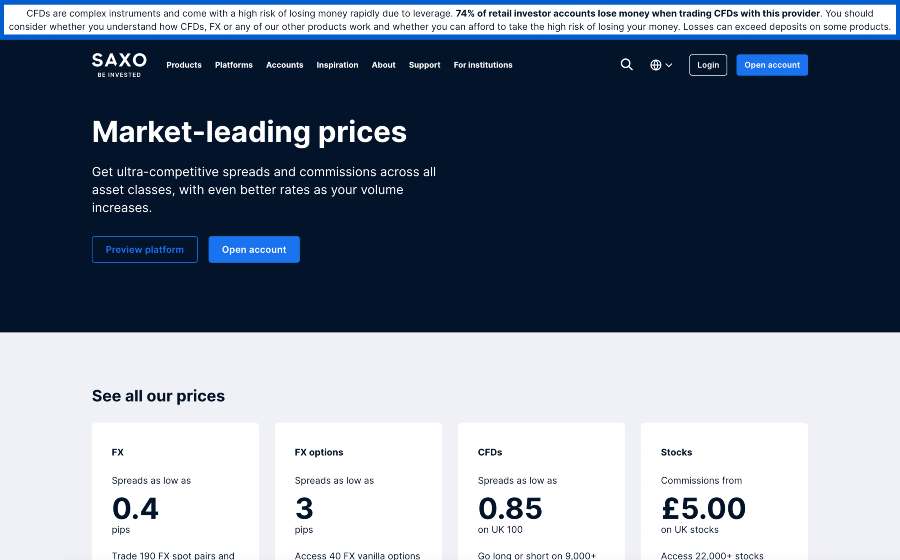 Stock execution prices are also competitive. The Classic tier charges the following prices on these major exchanges:
NASDAQ – 0.02 USD/share (min. 10 USD)
NYSE – 0.02 USD/share (min. 10 USD)
London Stock Exchange – 0.10% (min. 5 GBP)
NYSE Euronext Brussels – 0.10% (min. 12 EUR)
Hong Kong Exchanges – 0.15% (min. 100 HKD)
Australian Securities Exchange – 0.10% (min. 8 AUD)
The cost of bonds as a Classic account holder is as follows:
European government bonds – 0.20% (min. 20 EUR)
US government bonds – 0.20% (min. 20 EUR)
European and US corporate bonds 0.20% (min. 20 EUR)
Emerging Markets bonds – 0.20% (min. 20 EUR)
Those prices fall to 0.10% and 0.05% at the Platinum and VIP tiers respectively.
What do the other instruments cost?
FX spreads as low as 0.4 pips
FX options spreads as low as 3 pips
CFD spreads as low as 0.85 on UK 100
Stocks commissions from £5 on UK stocks
Commodities commission as low as $1 per lot
ETFs commissions from $3
Futures commissions from $1 per lot
Listed options as low as $0.85 per lot
Other Saxo Fees
Saxo Bank also assesses several other fees on its accounts.
You'll pay a fee of 0.12% p.a. on a classic or platinum account or 0.08% VIP accounts for holding a Bond, Stock and/or ETF / ETC positions, with a minimum monthly fee of EUR 10 or the GBP equivalent. This is your account custody fee. An account custody fee wouldn't make sense if you were investing in a low-cost fully-managed ISA, but if you're actively trading at the volume Saxo Bank expects, then a custody fee is far less likely to eat into your returns. It's not ideal, but it's not a deal-breaker.
Saxo Bank also assesses a transfer-out fee. You pay 50 EUR per ISIN with a cap set at 160 EUR. The fee applies if you transfer stocks to an account outside Saxo Bank.
Saxo has an excellent product portfolio containing a long list of non-leveraged products, including
Stocks
Bonds
Commodities
Managed portfolios
Leveraged Products
In addition to non-leveraged products, Saxo Bank also offers leveraged products, including CFDs. The full list of leveraged products include
Forex
CFDs
Futures
Commodities
Forex options
Listed options
Trading strategies
Saxo's leverage ratio is up the 1:50 mark (maximum). The maximum threshold is very low compared to other brokers. Saxo also stresses both in its learning material and in the mandatory warnings on its site that CFD trading magnifies profits and losses.
At the time of writing, the warning statement says that 67% of retail investor accounts lose money when trading CFDs with Saxo. This is updated quarterly.
Saxo ISA Review
The Saxo Stocks and Shares ISA account grants you access to the Saxo investment platform – SaxoTraderGo as well as access to most of the 11,000 eligible investment instruments on 25 exchanges. There's no minimum deposit for the ISA.
You won't have access to leveraged products, but this is a product of UK government rules rather than trading platform features.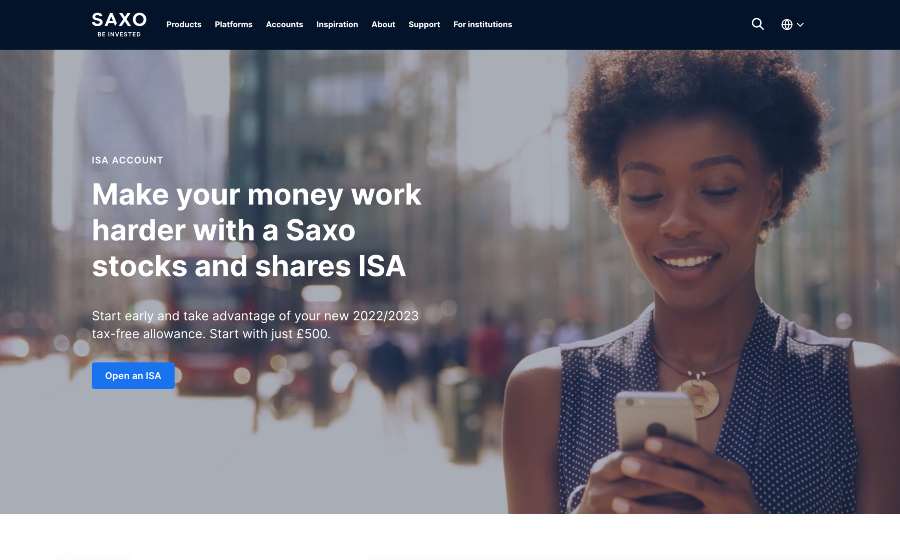 There's no minimum deposit for a Saxo ISA. You also don't need to commit to a direct debit or lump sum each month. Saxo recommends all account holders take it upon themselves to invest an amount that justifies the Saxo Bank charges assessed.
You can open a Saxo account as well as an ISA or another tax-wrapper account. However, you will get a dedicated ID for your ISA.
The Saxo SIPP provides access to a significant product range with access to a personal account manager.
Saxo isn't the provider, administrator, or trustee of the pension schemes seen on its site. Instead, Saxo provides the trading platform for you to trade funds held within your SIPP (or allow your investment advisor to do so on your behalf). Even still, Saxo Bank requires a minimum deposit of 10,000 GBP or the equivalent in another account currency.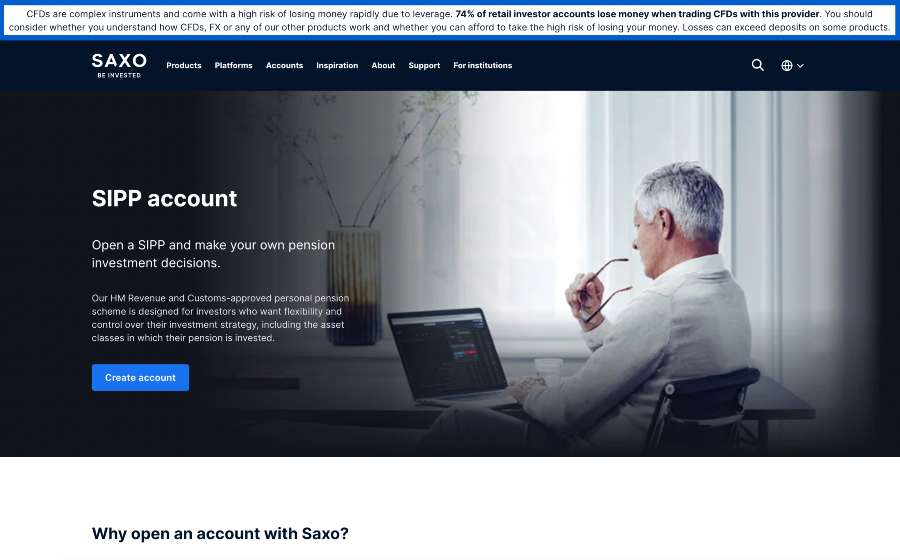 As a result, you need to choose a trustee for your SIPP. You'll need to see whether Saxo has an existing relationship with your current trustee (if applicable). Otherwise, you need to choose one from the list of approved trustees.
Saxo does allow you to trade derivative products within your SIPP (with respect for SIPP restrictions). There is a restriction on FX Options and other products. There are also increased margin requirements compared to other accounts. You can't seek the same leverage, but this reflects the risk associated with spread betting and is a requirement made by HMRC to allow you the option.
Additionally, you can open a SIPP in 18 different currencies. The account currency conversion fee is only 1%.
Opening an Account at Saxo
You can online using the account generator. You'll need your personal information as well as your National Insurance number to get started.
You can fund your Saxo account via bank transfer or with your debit card. However, Saxo doesn't accept electronic wallets.
If you want to open a SIPP, you will need to fill in a paper application form and mail it to Saxo. The form is 10 pages long and requires a fair amount of information. You'll likely want your investment advisor to look at it on your behalf.
Transferring your Investments to Saxo
To transfer in your SIPP, you need to request and complete a Transfer Discharge Application from your current pension provider.
Then, you can either email it or post it to Saxo. The correct email for SIPP transfers is [email protected]. The mailing address can be found at the end of my Saxo Markets review.
Saxo ISA Review
The Saxo Investment ISA is a complicated ISA compared to many of the different ISAs available on the market. Largely for experienced investors, the ISA offers competitive fees for those who aren't drawn in by the promises of robo-investors or who don't find the trading tools they want from big-name UK investors, like Hargreaves Lansdown.
The big value add offered by Saxo is the flexibility and control provided. You have total control over your trading strategies and can create something truly tailored to your goals. From instruments to currencies, you'll struggle to find as much leniency as you get from Saxo.
All of this is compounded by the powerful platforms. Most investors will use the SaxoTraderGo account, but you can also get access to SaxoTraderPRO. As a result, you can grow with Saxo without worrying about transferring your account as your experience grows.
Another big benefit is the option to get better rates and service as you grow your account and number of trades. You spend less as you trade and invest more, which provides a real incentive to stick around. Too often, brokers don't give those with accounts worth 1 million+ to stay, but Saxo does try to offer a premium experience.
Saxo SIPP Review
Many of the benefits of opening an ISA with Saxo also apply to the SIPP account. You get access to a wide product range, pay 1% currency conversion fees, and you can play with the SaxoTraderGo platform, which is very user-friendly (for experienced investors).
The big issue with opening a Saxo SIPP is the need to find your own trustee. For many UK pension holders, this adds an extra complicated step that will drive them away. However, experienced investors who want greater control over their accounts will see the trustee selection process as just another way to maintain control over their accounts.
Keep in mind that your trustee will have terms and conditions regarding your product range. Saxo automatically disables those products you can't trade, so you won't violate those terms.
The other big benefit of using a Saxo SIPP is the option to trade derivatives, subject to your trustee's requirements and SIPP restrictions. However, mentioned earlier in the review, Saxo restricts services and uses increased margin requirements. So, you can trade derivatives, but you can't use the amount of leverage you'd find in a Saxo Account. The risk increases as you increase leverage, and it's generally acknowledged that your SIPP is not the place to take massive risks as you're more likely to lose money when trading.
It's worth considering customer service when you open a SIPP account, too. While your trustee will be your primary point of contact, Saxo Bank can be slow to work with. Slow customer service can be particularly frustrating when you're trying to optimise your SIPP or start making decisions about drawdown.
If you need help when trading with Saxo, you have the option of the question and answer section and chatbot in addition to phone and email support.
Another Saxo review mentioned that they found the best success when contacting Saxo via phone. You may get the most relevant answers, but you may need to wait on hold. However, hold time is not uncommon across all financial institutions in 2020, and it's likely to continue as events create a huge amount of uncertainty over the next few years.
Unlike other brokers, Saxo doesn't offer live chat on their website (only in the trading platform to existing clients) or 24/7 customer support. The lack of round-the-clock support is a disadvantage given the access that Saxo provides to global financial markets, which means you can trade around the clock.
Saxo Group has a 3.3 rating and 432 reviews on UK Trustpilot. Many of the positive comments note that the trading platform is easy to use and the features make trading simpler.
Reviews from users suggest it takes a while to get an answer. Even positive reviews suggest they would prefer more support from Saxo in everything from trading to account withdrawal.
When reading reviews, keep in mind that Saxo is a global company. You'll read reviews from Singapore users, European users, and UK users. They all work in different offices, which is worth remembering.
All in all, people seem to really love or really hate Saxo.
Who is Saxo Suitable for?
There's no doubt about it: Saxo Capital Markets is suitable for advanced traders.
The fees are justified by the extent of the platform and the breadth of available products and tools. If you're just starting out, then you won't get much value from the product. You'll also miss out on the nuances that could ultimately cost you a fair bit of money either in fees or losses.
Even if you're interested in the managed, ready-made portfolios, these remain largely out of reach for inexperienced retail traders or those new to saving. The minimum threshold is at least 10,000 GBP and they are all geared towards investors able to take a significant amount of risk.
Does that mean you can't use Saxo Capital Markets as a new trader? Not at all! Remember that there is a demo account available and the trading platform is easy to use both for the retail investor and professional traders. Saxo Capital Markets is a great place to learn, but you will pay more than you'd pay at a budget broker. Ultimately, the value may not be as great with Saxo Bank.
Saxo Capital Markets is not suitable for those who are looking for a simple solution for the ISA, SIPP, or wealth generation accounts. The products are too aggressive in my opinion, and there is a substantial chance of losing money rapidly when trading.
Remember that trading CFDs is very complex and 62% of retail investor accounts lose money when trading CFDs with Saxo.
Useful Information
Important and useful information for Saxo customers.
How to contact Saxo
There are a number of various methods available for contacting support at Saxo Capital Markets including chat, email, and phone.
Chat: Click 'Support' in the menu and select 'Chat'
Phone: +44 207 151 2100
Email: [email protected]
How to withdraw from Saxo
To withdraw cash funds from your Saxo account go to the menu within the platform and follow these steps:
Select 'Deposits and Transfers'
Click 'Withdraw Funds'
Select the Saxo account you wish to withdraw from
Select the bank account the money is going to
Click 'Transfer'
How to close your account
To close your account at Saxo simply raise a Support Ticket and register a request to have your account closed.
Saxo Markets FAQs
Is Saxo Market legit?
Yes, Saxo Capital Markets is a legitimate and secure platform from where to trade. They are authorised and regulated by the
Financial Conduct Authority
and therefore adhere to the rules including ensuring all client funds are kept separate from corporate funds in segregated accounts. Client funds are also protected by the
Financial Services Compensation Scheme
up to the value of £85,000.
Is Saxo Markets good for beginners?
No, I wouldn't recommend this platform for beginners as the complexities of the tools and charting would no doubt be overwhelming. However, there is a demo account available to both novice and advanced traders and therefore it may well be worth a test drive.
What is the minimum deposit for Saxo Markets?
The minimum deposit at Saxo Capital Markets is £500.
Are Saxo Markets expensive?
Saxo Capital Markets is not claiming to compete in price with low-cost, no-frills online trading platforms but rather are offering experienced and professional traders a comprehensive platform with a full suite of tools and investment options with which to trade. This all comes at a cost, however, when compared to trading platforms such as
interactive investor
and
Hargreaves Lansdown
, this cost seems competitive and justified.
Most recent reviews:
I think the app generally is quite decent. The main point of issue is around withdrawal which can take a bit of time and therefore, if you need to move money there be a significant lead time requiring lots of prior planning. I think fees and commissions can be made more competitive too. But other than fairly satisfied.
I find the graphics, charts and data on Saxo their best feature. I consider myself sophisticated investor, so the detail and increased data points available is a real bonus. Also I found their customer service helpful when creating an account.
Saxo App presents a wide range of investment options as well as an intuituve UI and user expereince. Onboarding was simple and easy and I am confident in the legitmacy of the business and that gives me confidence in placing my finances there. Multiple ETF and individual stock options as well as charts, graphs and other company data. I can also quickly open and use the app to get a broad portfolio overview.
See which share tip is making the headlines

Have you considered transferring your pension?

Find the best trading platforms
*Capital at risk