Circa5000 is the new brand name for what was previously known as tickr. All the investments remain unchanged, as does the ethical focus of the investment platform. However, the name and look of the platform have changed.
Read my full CIRCA5000 review to find out the products and services offered by this so-called ESG Robo Advisor.
Fee FREE Pensions
A CIRCA5000 Personal Pension is now free of platform fees until April 2023*
*Until April 2023, then 0.45%
Circa5000 does something different from all the other investment platforms out there. It allows you to invest your money in your own future, whilst also investing in the future of the planet. It's called impact investing. An opportunity to grow your wealth in a socially conscious way, in order to support the businesses that are leading the way in making a positive global impact.
But does Circa5000 work to achieve this at the cost of your returns, or is this the best time to be investing in socially responsible companies? Tens of thousands of people taking part in Circa5000 investing in the United Kingdom seem to think so, 80% of whom have never invested before.
Circa5000 users aren't the only ones getting on the ethical investing bandwagon.
In fact lockdown saw a massive rise in the number of socially conscious investors looking to reduce their carbon footprint by supporting companies who are having a positive impact on the environment.
But is Circa5000 the best investment platform to handle your investments or would you be better off taking your money elsewhere? I've downloaded and used the Circa5000 app myself in order to provide you with this comprehensive Circa5000 review so you can judge for yourself if this is the best platform to meet your investment needs.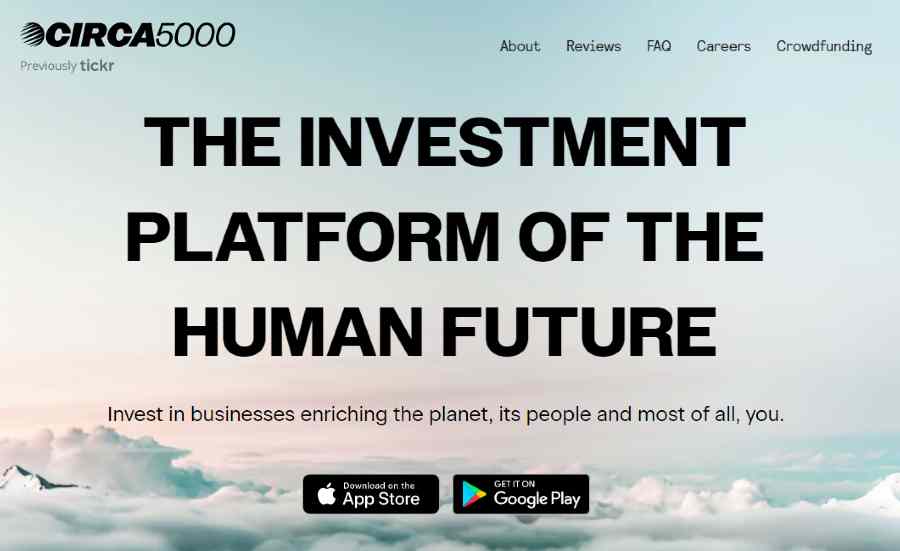 Circa5000 is an investment platform that aims to simplify impact investing for the millennial market in one, easy to use app.
Circa5000 provides its users with a range of ready-made portfolios, with themes that include renewable energy sources and pharmaceutical innovation.
Circa5000 is authorised and regulated by the Financial Conduct Authority and is also covered by the Financial Services Compensation Scheme.
Who Owns Circa5000
Circa5000 Ltd was co-founded by Matt Latham and Tom McGillycuddy in 2019, raising investment through Seedrs to fund the venture with a vision to change the culture of capital markets so investors no longer had to compromise their social and environmental values in order to make money.
Both Matt Latham and Tom McGillycuddy worked in the investment management industry before setting up the Circa5000 app with a view of creating an investment strategy that can have a positive impact on society.
They used their experience in the finance sector along with modern technology, to align a profitable impact investing platform with social impact, and have grown a dedicated team of professionals who continue to develop and expand the business model for the profit of their investors.
Circa5000 is the trading name of Circa5000 Ltd, which is authorised and regulated by the Financial Conduct Authority.
Circa5000 Product Range Overview
There are four main account offerings at Circa5000:
Stocks and Shares ISA
GIA (General Investment Account)
JISA (Junior Individual Savings Account)
Personal Pensions
As well as this there are three themes to choose from:
People
Planet
People and Planet
Circa5000 Stocks and Shares ISA Review
The Circa5000 ISA provides you with the platform from which to invest in shares, funds and bonds, tax-free, in the United Kingdom, up to £20,000 per annum. There is no fee for using the Circa5000 ISA and it provides a tax-efficient way of holding your Circa5000 investment.
Circa5000 GIA Review
The General Investment Account at Circa5000 allows you to use their platform to invest in shares, funds, and bonds without any limits on how much you can place into your account. However, unlike the ISA, the profits you make are taxable.
Circa5000 JISA
The Circa5000 JISA is the latest platform offering from Circa5000, one of the many new products and features I expect them to roll out on their platform in the next couple of years as they expand their platform offering to the United Kingdom market. You can start a JISA for your child with as little as £5 and invest up to £9,000 a year tax-free. Of course, as with all the offerings at Circa5000, your child's investments will go towards socially responsible companies that are paving the way for a brighter future for our planet, which seems like an apt way to invest for your children's future.
Circa5000 Personal Pensions (SIPPs)
The newest offering to Circa5000's range of account options is their personal pension, offering savers the option of taking control of how their pension is invested by choosing from their own range of positive impact investments.
There is also the option to consolidate any existing pensions, correcting any investments that may be damaging the planet and redirecting them into businesses that are helping to build a better future.
Essentially Circa5000 has fractional shares built into its platform as you can invest with as little as £5 into the portfolio of your choice. This opens up opportunities to investors that otherwise wouldn't be available without a larger stake, as an example, the L&G Cyber Security ETF costs around £13 for just one unit, however, on Circa5000 you could invest £5 and be invested in this Cyber Security.
Circa5000 Round-Ups
Circa5000 also offer round-ups to their users by securely connecting to your bank account and rounding up the spare change on your transactions to the nearest pound. This spare change is then invested straight into your Circa5000 portfolio.
The Circa5000 themes are essentially the portfolios that they have on offer to facilitate your impact investing.
There are three themes to choose from before you get started, covering People, Planet and a combination of the two. Each investment theme clearly outlines the global companies you will be investing in and the locations across the globe your money will be spread across.
Circa5000 does cater to different risk profiles within its themes; cautious, balanced and adventurous and you have the option to choose the risk level that suits you the most before you start investing on the app. Due to the fact that Circa5000 does not offer the services of a financial adviser or robo advisory service, it is totally up to the user to select the theme that suits them the most. This can be an issue in terms of risk profiling.
Because Circa5000 uses only Exchange Traded Funds to invest across these themes it is a little limited and ETFs by their very nature can make it difficult to achieve the sort of returns you might with other funds that are being actively managed. That being said, they do offer users investments in a number of companies from around the world, clearly illustrating which countries users will be investing in under your chosen theme as well as details such as weighting to government bonds, green bonds and cash.
Circa5000 Custom Portfolios
This is Circa's most recent offering and puts users in control of how their money is invested. Using the pre-built portfolios as a foundation, customers can now adjust the percentage of their money that goes into particular investment areas. This also allows them to omit certain investments completely and add investments that they would like included. For more proactive investors, this is a welcome addition.
Circa5000 Platform Review
Circa5000 only offers people a mobile app at this time which I felt was a bit of a letdown as many investors prefer to use a web based platform to view their investments.
That being said, as founders Matt Latham and Tom McGillycuddy targeted their business model at millennials, it stands to reason that they would be app-based.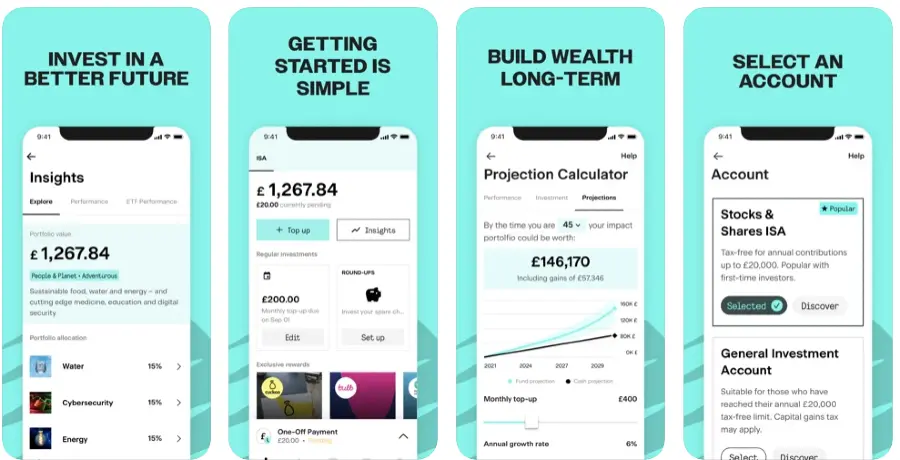 Circa5000 App Review
If you had to compare the Circa5000 app to another well-known app on the market, then Moneybox would spring to mind, however, the Circa5000 app gets its edge by focusing on impact investing.
Certainly, the easy to use Circa 5000 app is one of the most appealing platforms we've come across, with an intuitive layout and fresh, slick design. The founders of Circa5000 have worked hard to eliminate all the financial jargon from its investment app, and present investing in easy to understand language, making investing accessible to everyone in a quick, simple format.
All the steps you go through to get started on the platform are picture led, and the process couldn't be simplified more, simply select your theme from Climate Change, Disruptive Technology, Equality or a Combination, select your risk level, choose your monthly amount and then sit back and let Circa5000 do the work for you.
Once you have chosen your relevant theme and selected your risk level, you can start investing with a minimum investment of just £5.
Research Service and Tools Review
As Circa5000 aim to make investing simple and remove the financial jargon from the process, the education on their investment app is fairly good with 'financial education' videos available that can walk complete novices through impact investing in simple to understand terms.
There are also great charts and graphs that show the progress of your investments, as well as information about how the companies you invest in are using your money. Each company in the various portfolios also comes with a short video profile as well as stats so you can really get a handle on the positive impact your investment is having.
Of course, the traditional research tools are lacking, but as you are investing in pre-made portfolios using ETFs, this wouldn't be relevant for this kind of offering.
Circa5000 Fees and Charges Review
The fees at Circa5000 are fairly straightforward, with a £1 a month flat fee and no trading fees.
Whilst Circa5000 does give new customers their first month for free, this £1 fee can be a lot more counter productive than it sounds on small investment amounts, and should you be holding less than £150 in your portfolio, you may find the annual cost comes to more than your investment returns.
As a comparison, other platforms such as Wombat, will only implement the £1 per month fee once your balance has reached £1,000 in order to avoid smaller investors losing more than they earn. Wealthify also mitigates this problem by charging a percentage fee of 0.6 of your investment amount, again better for smaller investors but possibly not so great for investors with a larger pot.
There are no annual platform fees unless your account goes over £3,000 then Circa5000 will add an additional 0.3% fee to the portion of your money above £3,000.
The only other fee that Circa5000 users should be aware of is the cost of the underlying investments which range between 0.45%-0.65%, depending on which theme you select.
Circa5000 don't really charge any other platform fees, all withdrawals, deposits and opening and closing accounts are free of charge.
Guide to opening a Circa5000 account
Opening an account in the United Kingdom is fairly quick and painless at Circa5000, another streamlined process that appeals to the younger investor. In order to get started, you will need:
Your bank details
A form of ID
National insurance number
Once Circa5000 have taken some of your personal details such as name and email address, you will be asked to choose a six digit pin, after which you will be ready to choose your investments. All in all a very straightforward process which can be completed in about 10 minutes.
Circa5000 Deposit and Withdrawal Review
Once you have gone through the usual verification process which can take up to eight days, depositing money into your Circa5000 account is simple and painless.
Deposits are completed by simply tapping on your portfolio pie and stipulating the amount of money you wish to deposit.
Withdrawals are done in much the same manner, however, they can take up to 12 working days to process but my experience was more like 5 working days.
Circa5000 Customer Service Review
Whilst information on the Circa5000 website is sparse, they do have a reasonable FAQ section, although I felt that there were gaps in the information provided. However, Circa5000 do have a chat function that worked well for me and the agent was quick to respond, and they also provide email support.
Who is Circa5000 Trading Suitable For?
Circa5000 is mainly aimed at Millennials or first time investors, with a refreshingly un-corporate feel and transparent, genuine information that links investors to the companies they are investing in.
Circa5000 also draws in the millennial crowd by offering a minimum investment of just £5 on socially responsible ETFs.
More than 40% of it's investors are female and the average age is just 31. As well as this, 50% have never invested before. Circa5000 also runs a great refer a friend scheme allowing you to earn an additional £10 for you and your friend, and they promise to plant two trees for every referral they get, making it an excellent choice for social and environmental investors.
Useful Information about Circa 5000
Here are some helpful bits of information to make your experience with Circa5000 as streamlined as possible.
How do I contact Circa5000 Ltd?
If you are struggling to find a Contact Us section on the Circa5000 website, it's because all contact with Circa5000 Ltd is conducted through their investment app. There you will find an excellent chat function, with quick response times and detailed, informative answers to your questions. The alternative is to email Circa5000 on the email address: [email protected].
How do I withdraw my money from Circa5000?
Withdrawing your money from Circa5000 is very straightforward and can be done by going into your account settings within the Circa5000 app. Once there, all you need to do is click withdraw and by the following Wednesday your request will be in motion and your money will appear in your chosen bank account.
How do I close my account at Circa5000 Ltd?
Closing your account is very seamless and can be achieved by emailing the email address; [email protected] or alternatively using the in-app chat function. Ensure you have withdrawn all your money from Circa5000 prior to requesting a close of account.
Circa5000 FAQs
Is Circa5000 any good?
In short, yes, I think Circa5000 is very good. Whilst making money and doing a good deed may seem like a bit of a fairy tale, Circa5000 does in fact manage to achieve this with their impact investing model achieving great returns whilst providing a happier, more sustainable way to invest your money in important areas such as climate change and gender equality. All this is achieved in an easy to use app that functions well with constant updates to their overall offering. Circa5000 have managed to make impact investing accessible, and socially responsible at the same time, no mean feat.
Is Circa5000 safe to use?
Circa5000 Ltd is definitely a safe option for investors as your money is held by third party custodians that are authorised and regulated by the Financial Conduct Authority. In addition to this, Circa5000 is covered by the Financial Services Compensation Scheme (FSCS) which means your investments are protected up to £85,000.
Circa5000 also has a stringent privacy policy, ensuring all your data is protected to the highest standard, as well as employing 256-bit TLS encryption to protect your personal information.
Circa5000 Customer reviews
Most recent reviews:
CIRCA5000 makes it easy to align my investments with my sustainable values. I am also sitting on a 6.2% profit at the moment which I am finding great.
Likes
Fees
Account opening
Deposit and withdrawal
Customer service
Easy to use and my returns are in line with expectations and a little higher than on another platform I use. The ethical investing side of things is what tips the balance for me.
Likes
Fees
Account opening
Deposit and withdrawal
Customer service
They have been really good to date and have helped me set up my account easily and answer any questions I have along the way. They have ensured a smooth set up and it provides a clear platform from which I can watch my money as it is invested.
See which share tip is making the headlines

Have you considered transferring your pension?

Find the best trading platforms
*Capital at risk